Sunday, January 24, 2016
A week ago, the National Weather Service predicted the Washington, D.C. area, along with most of the East Coast of the United States-- would be under a Blizzard Storm Watch by Friday, January 22, 2016. They were right.
It is beautiful, however I am glad I do not have to be anywhere- anytime soon.
It is also very cold, so I am not sure how long it is going to take to melt.
We installed an Indoor/Outdoor Thermometer several years ago. The outdoor sensor is under the porch overhang and the companion device that measures indoor temps and reports both readings, sits on the wall adjacent to the front door and hall closet.
Pay no attention to the time reading, I reset the device last week and forgot to set the time.
In preparation for the blizzard, we stocked the fridge, freezer and pantry with an assortment of my favorites.
So what have I been doing for most of the weekend?
Movie: The Imitation Game
Tennis: The Australian Open
Fashion research. I have new sites I am following on my Tumblr blog.
Eating...
Research for my Amazon Stores:
By the way, did I tell you that last week, when I updated the Verizon FiOS Mobile app on my Android, the problem I was having viewing television programs disappeared? I watched "The Imitation Game" using my Android. I am happy this feature is working again.

Friday, January 22, 2016
When I was in high school, leather coats and boots were in style. I wore a lot of winter white back then- that I paired with my long caramel leather coat and boots or my shorter suede jacket in a more rust/caramel color.
Gauchos, knickers, high waisted baggy pants with pleats and pockets, vests, blazers, etc. I also worked in business offices part time in high school, so this is when I also started buying the little business suits, I prefer today.
I reference Knickers in the last paragraph. What are knickers? Wool short pants that fit close to the leg but taper at the knee. Like some golfers wear. My brown tweed pair actually buttoned at the knee. Sometimes I put long baggy pants in my boots [also popular back then], so that it appeared as if they were knickers.
I had a winter white pair of straight leg gauchos that were not wide but hung nicely over my boots. I do not define these as knickers because they did not taper at the knee.
I also had a long oversized brown/tan tweed cloth coat with "Sherlock Holmes" like details [not the full cape, just the pleated overhang detail in the back, with collar and cuff epaulettes] that also went well with my style back then.
Yes, I was a little conservative.. jeans? Not really, I had high waisted Painter's Pants in white that I paired with platform sandals and socks, or my earth shoes- that went well with the many little tube tops and matching gauzy blouses I tied at the waist. Tube tops underneath my tied blouses, the extent of my risqué style.
I also liked some of the styles the women wore in old shows like "The Big Valley" and "High Chaparral". Gauchos, boots and vests. Do you remember Linda Evans in "The Big Valley"?
So anyway, this to explain why- in high school I decided to make a wide leg gaucho outfit for one of my Home Economics Sewing classes.
Photos of the vest.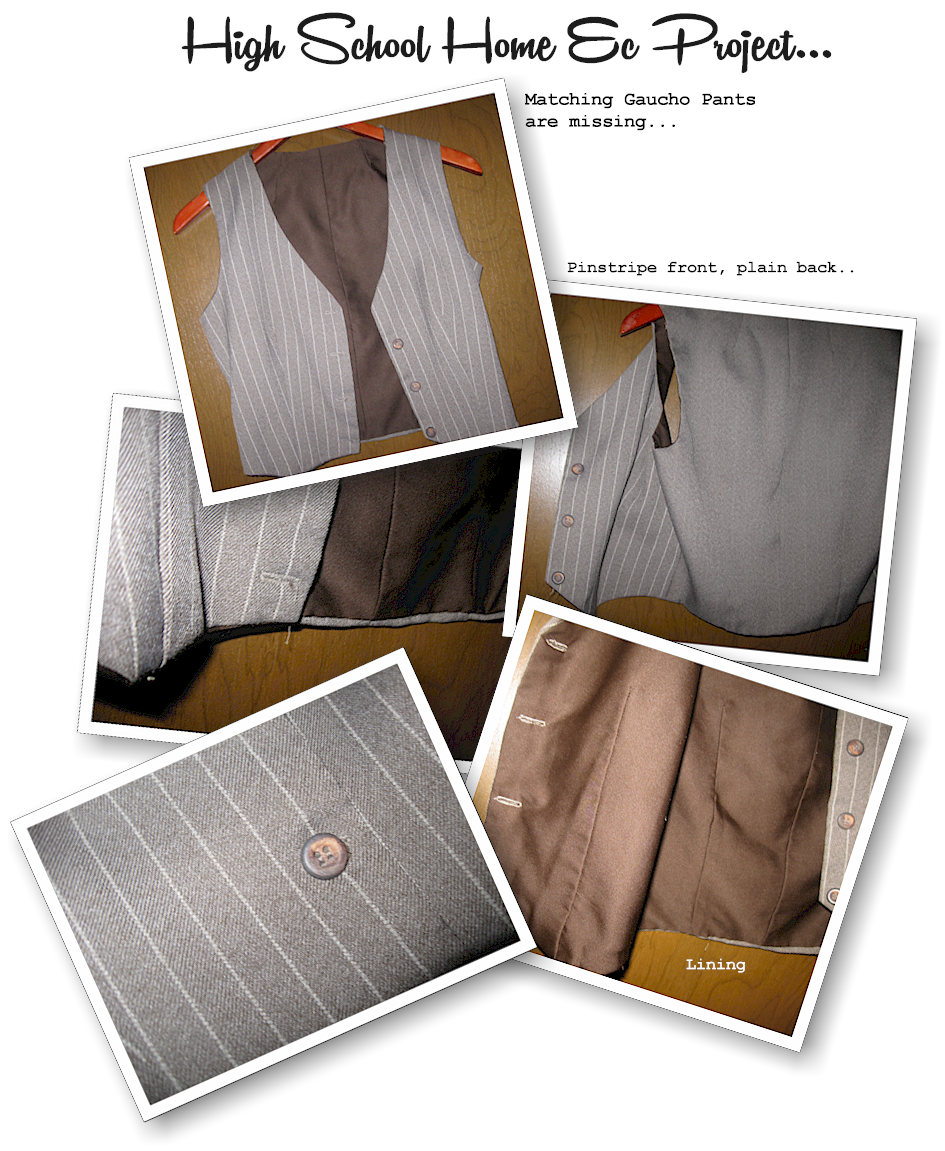 I no longer have the gaucho pants to the set. They were the long wide leg type [wide aline] that went well with boots. The material for the pants matched the back of the vest in that I opted to forgo the pinstripe detail used in the front of the vest.
Note: Everything I owned used to go to the dry cleaners, including non-lined Painter's Pants. I have had this vest for a lot of years-- and it still looks as if- I made it yesterday. The material and lining would not have held up well in the wash.
I keep thinking about how much my life has changed. I cannot remember the last time I went to the dry cleaners and in high school-- all I owned was dry cleaned. The flannel pajama bottoms and tees I now wear to the office-- hold up well in the wash.
That said, this does not stop me from researching the more classic conservative styles I love, which I cannot now afford. I am no longer a size six nor can I justify the cost of a new outfit I do not need for non-existent business meetings and lunches. I am still thinking about where to place the camera I am going to use for Skype calls.
Note, most of the Tumblr blogs I follow via my own Tumblr account, are promotional tools for well known fashion houses.
Someone once noted, I have my own style. I agree.... and I have had strong thoughts and ideas about my style since early high school. Do you watch old Gene Tierney movies?

Monday, January 18, 2016
For reasons I am not going into just yet, I did not get around to making enchiladas until today. Reminder, in an earlier post I indicated I would be making them last week. And then it was almost a disaster, anyway.
However, it worked out and they were pretty good.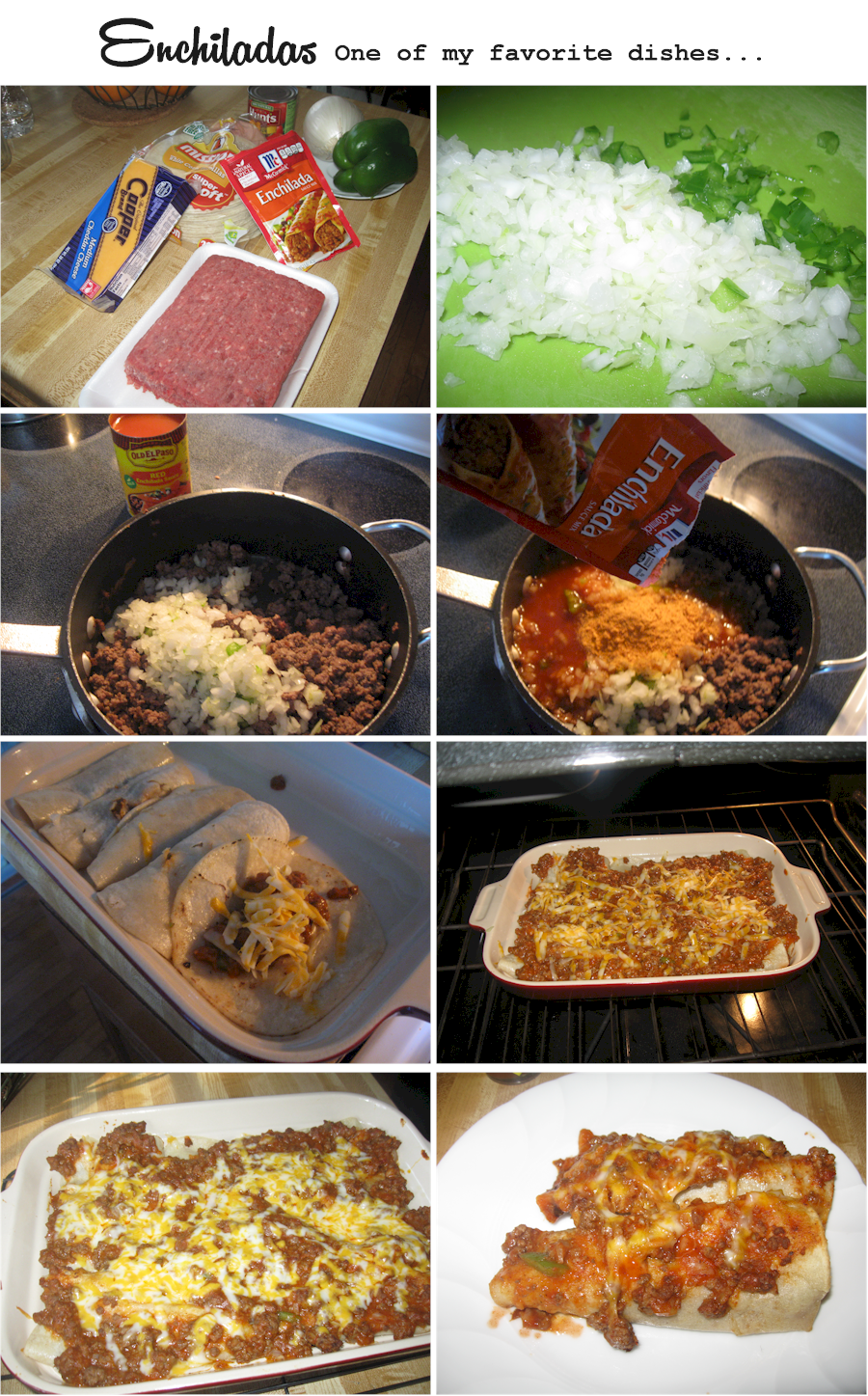 It's about 6:40 here in the evening and in about 20 minutes I am going to continue watching live first round action from the Australian Open via watchESPN.
Saturday night, I checked [via OverDrive] the status of the books I have on hold at Maryland's Digital eLibrary-- thinking if I found nothing to do during the day these next two weeks [plan on watching a lot of the tennis in the evening], I could catch up on my reading.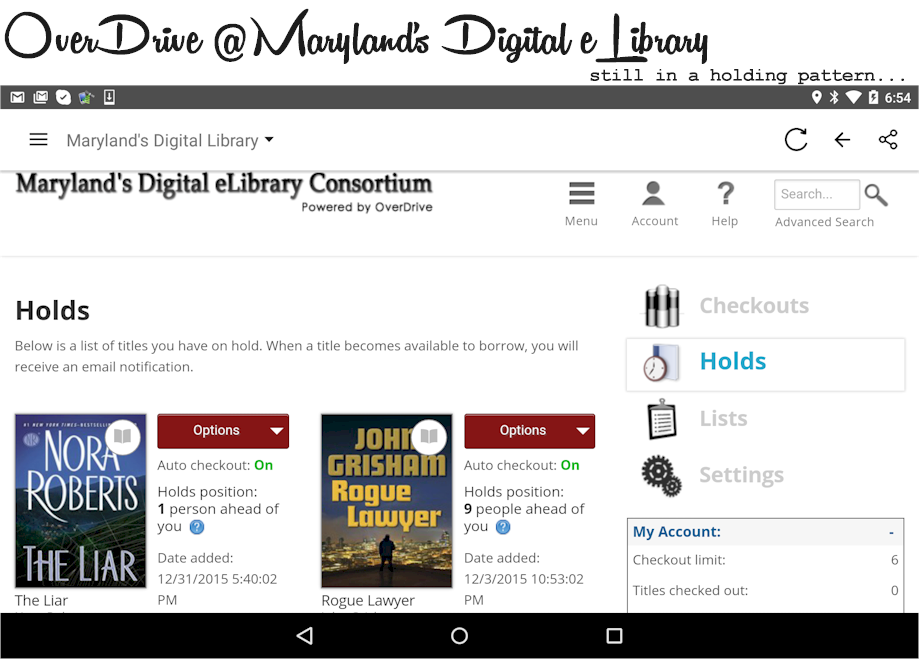 Since I am still in a holding pattern insofar as the books, things I will probably do instead:
Update my Amazon Stores, have a small issue with the Amazon widget in the upper area of this blog's sidebar that I want to research.
Continue to research Hanover Businesses.
Have fun with my Instagram account.
Fill in my Australian Open draw sheets. I hate wasting toner for updated PDF draws, so I normally fill them in to get a better idea of what's next.
Believe it or not, I just received notification that one of the ebooks is now available.
Should be a good week.

Saturday, January 16, 2016
Out of bed at 12:20 pm today. Asleep by 10:45 pm last night, up again at 4:07 am this morning [not on purpose, however watched part of the ATP Sydney Final]. Then up and about after twelve noon. This is very unusual for me. I feel rested now, but it was a hard morning.
Anyway, tomorrow evening I plan on watching several of the early round matches from the Australian Open via ESPN.
Of course, since the Australian Open is one of four Grand Slams, prize money is higher than that for most of the other types of professional tennis tournaments. Australian Open prize money [AUD currency] break-down and points for the 2016 tournament: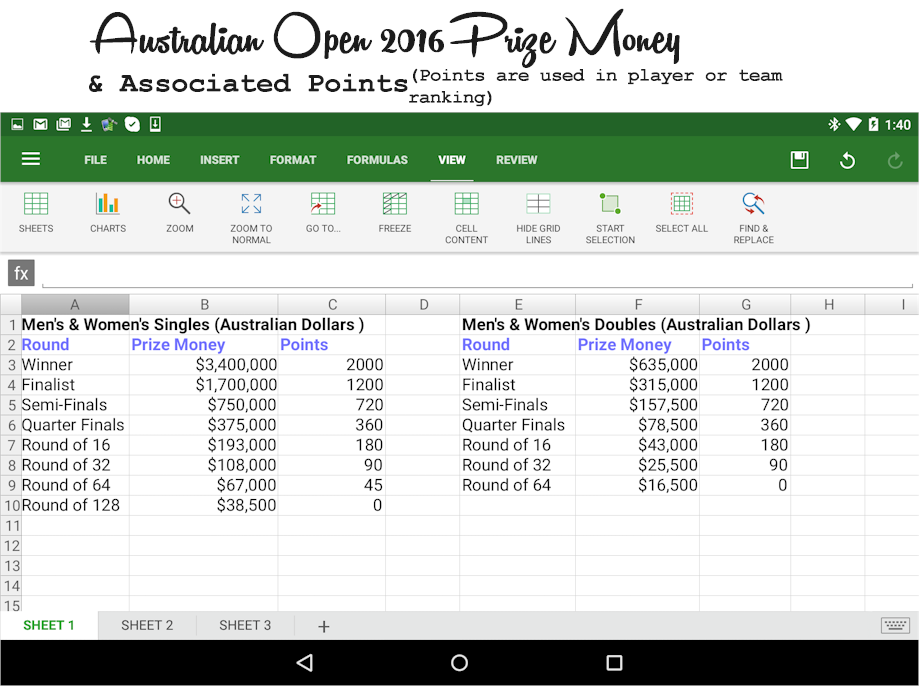 Shown, screen-grabs of the 2016 Men's Singles Draw.
Use the links below to print or save to file- this year's draws you wish to track.
The prize-money spreadsheet shown above was created using the OfficeSuite Pro App on my Android.
You can find the specific OfficeSuite Pro App for your device using one of these links: Apple App Store, Google Android App Store
Initially, I installed the non-Pro version of OfficeSuite, however found I could do more insofar as staying compatible with Microsoft Office Suite Tools and their file formats by upgrading to the OfficeSuite Pro version.
Here are the links for the non-pro version of OfficeSuite: Apple App Store, Google Android App Store

Thursday, January 14, 2016
Lately, I have been so tired that I have done very little. Over the last two days, I felt pretty good, however the seven days prior- too tired. Too much noise at night that I cannot escape from. FBI, I need relief from this, in that it is beginning to amp up, again. This is too invasive, too hard and too unfair.
That said, I did get a couple of things done. My Mother and I, both have extensive brass collections and when we combined them-- those collections became even larger.
I have discussed the set of brass fish in the main bath before, however earlier in the week I finally found a set that is very similar so I added it to my Amazon Store under the Brass category.
What have I been doing since waking this morning [out of bed at 9:00 am or so, this is late for me]:
Paid my Verizon cell phone bill
Lunch
Updated the blog I maintain at qisoftware.wordpress.com with my Gravatar photo. See note below.
Noting the Oscar News and posting to my Tumblr account.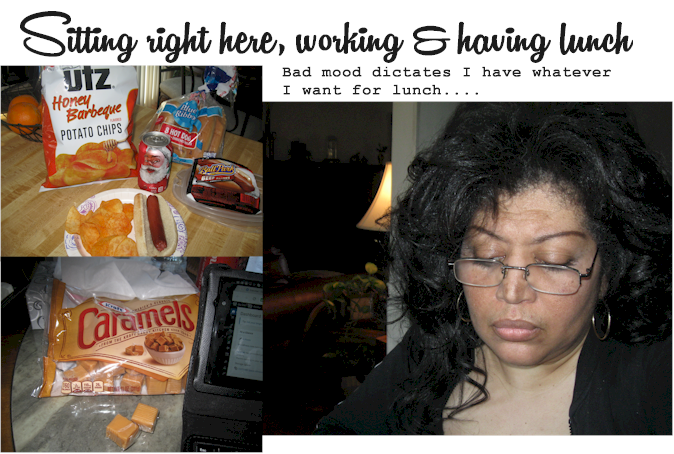 You may have noticed, more of my accounts [i.e., Facebook, Instagram, Patch, about.me, blogher.com, etc.] are now using the same profile photo. The photo was taken in the Summer of 2015 and originally posted in this blog entry.
The Australian Open begins Sunday, so this morning I also captured the screen-grab shown below. ESPN and the TennisChannel will be carrying a lot of the action.
Of course, most of the live action can only be seen between 8:00 pm and 6:00 AM Eastern Standard Time.
The fact that I been watching some of the early action from other down-under tournaments, these last two weeks- have anything to do with my lack of sleep? No. See the photo from the last post. I am extremely tired in that photo. It was taken last Saturday, January 9th, 2016. Compare the photos from August and last Saturday. Both are untouched. I have complained about being tired before. A photo of me taken today [where my eyes are lifted], does not look as tired. Why is this still happening? What really bothers me? I was so tired, but could not sleep. Then at last Wednesday, no problems. This morning, I slept because I stayed in bed late. The problem has been ongoing since about 4:00 this morning. I need this to go away... Please look into this. I am too tired with this constant hammering.
Could someone check with old prison guards. My earpiece was put in sometime around 1995. I am told they stopped using that version because it was too dangerous. I am being tortured by crazy people. Please check.
There should be tapes, that show the constant drum on my heart can cause me to fall asleep within hours of my waking. There should also be tapes of the constant hammering that keeps me awake at night. This is not on my heart. Massaging my heart puts me to sleep. Should a console in a house within a block of me-- be able to do that?
On tuesday, I could not sleep and yet I could barely keep my eyes open. Please listen to the idiots doing this. I never left my bedroom the whole day. This is dangerous and idiots are doing this... Please listen.

Sunday, January 10, 2016
I know, you have had your Instagram account for so long that my newbie research in this area- tends to suggest I need to get a life. That said, I am having fun playing around with this resource.
I have been researching how others are using their accounts. Recently, a Blogher article suggested ways to use Instagram as an advertising tool, however I have not gotten that far.
I simply take photos of every day things I see-- or, thinking about. For instance, one of my recent photos was of a Verizon FiOS remote. This because, at the time I was looking into issues related to my Android and FiOS Mobile television viewing.
I was out Saturday, and took these photos with Instagram in mind.
I have also been thinking about videos, however have not come up with anything I can post online. I am making Enchiladas one day this week-- however I don't think I am going to video myself doing this. Maybe photos, in-line with what I normally do when I cook and post online. I also found this great app which allows me to post Instagram images, I like to my Tumblr blog. I think I am going to be doing a lot with my Instagram account.
I have also been thinking about minor changes to my upstairs office. I used to work in there all the time-- however rarely these days. Well not since I decided to go mobile with my Macbook in 2008. Purchased my Macbook in January 2008 and we went broadband with Verizon FiOS Internet in March 2008. I tend to work from anywhere, but mostly downstairs in front of a nice view of the backyard or in bed.
The minor changes? Adding my diplomas and awards to my office walls, like lawyers tend to do. They call theirs "I love me" walls, this according to one of the attorneys I met with in 1995.
I used to have a Rockwell award on one of my office walls at work-- however, I can no longer find my "Engineering Excellence" award, or the Cup, but I do have an anniversary pendant. I never installed my diplomas and other awards in offices outside of the home.
Does it always seem as if I am always making a case? Just in case I need to prove something?
Anyway, Saturday when I was upstairs working, I also took photos of me in the office.
I am planning a full week of new projects and more Tennis. The Australian Open, a Grand Slam begins Sunday, January 17, 2016 for us-- for them its Monday, so I plan to catch a lot of that.

Friday, January 08, 2016
Late last year, my Mother decided to take up Microsoft's offer of a free download of Windows 10. I thought it was a great idea as well- in that it would give me another operating system to test my programs on.
Systems available to me for testing:
Apple Macbook 13" OS X 10.4.11
Apple eMac PowerPC OS X 10.2
Windows XP Systems:

Acer Netbook
Gateway Desktop upgraded in January 2015 to Windows XP from Windows98 2nd Edition
Mother's Dell Desktop

My Nexus 7 2013 Android Lollipop 5.1
Mother's Verizon Android JellyBean
Mother's iPhone ios [not sure]
Mother's HP Pavilion G7 Notebook upgraded from Windows 8 to Windows 10 late 2015.
Windows 10 offers a new browser, Windows Edge. Initially, I thought the excessive amount of pop-up ads was because of the new browser. So I installed every browser I could think of, including Windows Internet Explorer, Firefox, Chrome, and Opera. The ads were not that bad with the Opera browser, however the others were just as bad as Windows Edge insofar as pop-up ads.
I looked at this problem several times over the last 3 months, always in my Mother's workspace. I mostly played around with pop-up blockers. Nothing worked.
More often than not, she booted her older Dell Windows XP Desktop rather than her newer HP Notebook w/Windows 10, explaining it was just too hard. When she declined my offer to revert the system back to Windows 8, I thought that was the end of the issue as far as I was concerned.
Then this morning, after her latest complaint, I asked her to unplug everything and let me look at it. Within an hour I found the problem, but first I tried to update settings for each browser and the "Extensions" they were using. This did not work- although at least two of the browsers showed the Strong Signal Extension installed for the browsers in question.
The short answer to the problem if you are Windows 10 literate? Uninstall the Strong Signal [your malware maybe powered by something else, the pop-ups on my Mother's system provided Strong Signal the application causing the problems] application from your system. Not from individual browsers.
Here's how if you are not Windows 10 literate. Keep in mind, when I decided to provide this graphical tutorial I had already performed the uninstall for the Strong Signal application so the illustration below shows the "Uninstall" Option using another application. If Strong Signal is your problem, the Uninstall option will be available on your system.
Again note, I researched the application "Strong Signal". There were several hits indicating others had problems with this application as well. The software allowed pop-up ads all over most browser pages running under Windows 10 on my Mother's system. Did not matter whose site. When I "Uninstalled" the application in the manner shown above-- there were no pop-up ads while using any of the popular Internet browsers installed on my Mother's system. We are both pleased about this.

Wednesday, January 06, 2016
I opened my first checking account when I was a sophomore in high school. The bank was a local Maryland Bank and I kept the same checking account until I graduated from college and started working in Tysons Corner, VA for Boeing.
The reason I needed a new checking account after college? I lived in Maryland, worked in Virginia and wanted to deposit paychecks to a local account in Northern Va. At the time direct deposit was either not offered or not popular. Cannot now- remember which.
The bank I chose [after college], later became one of the largest banks in the United States, however in May 2012- because of a settlement process being considered, I made sure that all checking accounts I had ever opened, were closed with the exception of the business checking account I opened in 2004 at another large U.S. bank.
In 2004, I opened my first business checking account [referenced in the last paragraph]. In 2014 I also opened a business savings account with the same bank. Since I am able to use my social as a sole proprietor, my business account is almost like a personal checking account and I saw no need to have a personal account.
In 2015, I received notification from Boeing that they were offering a payout on one of my retirement accounts. Not much, but enough for me to consider asking them to go ahead and start the payments. The problem? I did not want the funds to go to either of my business accounts.
I am told, solutions are being sought for my situation, so that was another consideration. Why start early retirement payments?
That said, since I received gifts in the form of money for Christmas, I decided to go ahead and open another personal checking account. I did it online and I have to say, it was so easy.
All I had to do was run over to the bank and deposit funds. I could have transfered from the bank where I have my business accounts-- but I do not like money transfers for my financial dealings. My financial accounts are to accessible by too many in Washington so I will never set up money transfer access for any of my accounts.
Anyway, the new personal checking account is with the same bank I used right after college. Or what it became.
I found the whole process of opening the account online so easy I wanted to write about it. I did all of this a week ago-- but wanted to wait until I received all of the cards, pins and checks via the US Mail before posting about it.
What else have I been up to?
Instagram integration that I discussed in the last post.
Professional Tennis is back and the Australian Open is about 2 weeks away, so I have been watching who is doing what in some of the early down under tournaments.
As I have discussed before, in November 2015 or so, I rooted my Android tablet to get my SmartReader to work. I need access to external drives and USB printers and needed USB support. The only way to do this was to root my Android. What I did not know? I no longer have Verizon FiOS cable support for television viewing on my Android. Research on the Verizon site confirms that a rooted Android causes the problem. I can get ESPN and most other services-- but not Verizon FiOS via their app. Looking at a work around. I also have the TennisChannel as a separate APP so this is not a real hardship--just surprising. The root process changes security settings that Verizon FiOS does not like. I considered spending the money for an Apple iPad that ships rooted, however still looking at my options... An iPad is on my wish list if this ever ends. Right now, I wish I could justify the expense just to watch Verizon FiOS on a tablet. I use all of my computers for a lot of things [mostly business], including my Android. An iPad can do the same things, plus. How much have I spent trying to obtain USB support on the Android? My tablet was close to $200 in Feb. 2015. An iPad Mini about $300 with the same 16GB as on my Android, however the iPad comes rooted with USB support... My Android is nice-- however I had to learn a lot given this was my first tablet and it cost.
Paid off my credit card which was used for part of my holiday spending. This felt good.
Researching how to set up an Apple iPad with a Mac Mini so that the iPad acts as an external display [both on my wish list]. I want a huge 27" Thunderbolt monitor for use with the Mac Mini-- simply researching whether or not an iPad can be used as a more mobile solution in a time of need.
Updating my Amazon Stores.
Am I telling my banks anything they did not know? No.

Tuesday, January 05, 2016
Yesterday afternoon I installed an Instagram feed in the sidebar of this blog using the Intagme.com resource and my Instagram account.
Of course, Instagram provides an API for developers, however for reasons previously discussed [summarized below], at this time I am not writing new widgets nor updating the old ones [mostly used on WiredPages].
Note: A couple of years ago, the QiSoftware owned hosting-q.com domain where I host most of the servlets and tools I write for use on qisoftware.com was moved to a new IP. At the time, I chose not to update the security triggers I put in my code for most of my tools-- so now, visitors mostly see "Not Authorized" where the widgets used to be. When I move the site, I will update all of my tools.
The new Instagram feed installed on this blog, is the only widget anywhere on qisoftware.com that is powered by someone else's software. Yes, I love the resource [intagme.com], however it did not work with all of my old browsers, so I spent most of the afternoon writing JavaScript to work around the problems.
I started my Instagram account in February 2015 after I purchased my tablet. Before that, I did not have a device that could access an Instagram account and my visits to bloggers' blogs who use Instagram feeds- often caused issues with my older systems and browsers.
This afternoon, I added the Instagram Widget to my WordPress.com blog @qisoftware.wordpress.com, not to be confused with Q's Wire which is also a WordPress blog, however maintained on qisoftware.com @qblog.qisoftware.com. Note: my WordPress blog on WordPress.com is only to maintain a presence and provide "Howtos" if the need arises. I rarely update it.
This was a little tricky in that initially- I could not connect to my Instagram account to authorize WordPress.com to access the account. This, even though I had logged in. I found, if I simply went to the Widgets tab rather than the "Customize" button next to the Theme menu item, I could get it to work. I think the "Authorize" pop-up dialog has a bad target when used from the "Customize" button. The Widgets menu works better when adding the Instagram Widget to your WordPress blog.
About two weeks ago, I also added an Instagram App to the QiSoftware business page I maintain on Facebook. I have not done much with the QiSoftware Business page on Facebook. I wanted to understand how to integrate Instagram to a Facebook page, the reason it is installed on that page. You will note of course, my Instagram photos are more personal in nature and not really related to business, the reason I provide this explanation.