Monday, February 29, 2016
Last Friday, for the first time- I noticed an Amazon Service Truck in my neighborhood.
A little research provided the answer for this. Amazon now offers Home Services for customer purchases. I am not sure how long they have offered these services, however I love this idea.
Some of the items I list in my stores are big ticket items and in most cases need to be put together or installed after delivery.
One of my Amazon purchases [not listed], an elliptical- took about 3-4 hours to put together and required two people to line up the rather heavy fly-wheel.
My mother and I, though handy with a screw-driver really would prefer someone else do it. This option [Amazon Home Services], given Amazon is one of our favorite online shopping destinations is perfect for us.

Sunday, February 28, 2016
A couple of days ago, I found this video on Instagram and decided to check in on Bei Bei via the Smithsonian Zoo Cam links for the Giant Pandas.
I started watching the live video last night around eight I think, and Bei Bei was just about to fall asleep. So this morning around 6:40, I waited and he and his mother started moving about around 6:50 or so. Mei, his mother came in to the area where he sleeps twice before he decided to join her in the larger area.
An hour later he was outside climbing a tree.. He is really kind of funny.
Around 3:00 pm this afternoon, Mother and son were having a meal and both fell asleep when they finished. Screengrabs taken after they finished their meals:
I watched as Bei Bei pulled his fresh bambo into the area where I saw him sleeping last night, eat a bit, roll around, and then fall asleep. His mother was already eating in the larger area where Zoo keepers had placed a lot of bambo [no I did not see that], when I tuned in. She ate a lot more than Bei Bei then fell asleep. I guess it takes a lot of energy to eat all that bambo.
I am researching live video capture on my Android-- so I decided to post this Instagram video to test compatibility issues with older browsers. I used the Instagram Embed code offered-- but I am also looking into capturing live video from the screen.
That said.. I really like the Giant Pandas at the National Zoo and the technology that allows me to check in to see them.

Tuesday, February 23, 2016
Normally I do not have breakfast unless on an exercise schedule. I am not currently on an exercise schedule and lately I have been getting up after 10:00 in the morning.
Whenever I get out of bed and go downstairs, I usually have a large espresso with cream and sugar and later, a big lunch.
This morning, I was awake by 3:30 am and decided to get up- around 6:30 am. Normally, I keep my Android on the ready to review things when I have early mornings like this, and this morning was no exception.
The exception to the morning? I decided to have more than an espresso for breakfast. To be exact, Espresso and Orange Sweet Rolls.
When cooking, I find I am more efficient if I lay out all of the things I will need for the preparation of the meal, however the photo above, was taken in case I wanted to blog about it later...
Here's how this morning's meal preparation evolved.
Yes, breakfast was good. Am I sleepy? Yes, a little. May have to take a nap.

Monday, February 22, 2016
Every three months, I pay the web hosting for qisoftware.com. This year, the domain registration will also be extended which is currently due to expire in June 2016. I have had the domain since June 2002.
Every now and a again, I like to remind everyone-- that I pay this bill, along with my Skype business phone line & subscription, Verizon cell phone, Maryland business registration, my business address [in Columbia, MD], domain registrations for not only qisoftware.com but also hosting-q.com as part of the myriad of business expenses I incur to be in business.
Several years back, The Department of Justice sent a letter to my business address in Columbia. I still have the correspondence. What does this mean? Not only does the State of Maryland recognize QiSoftware as the legal business entity I own, but the Department of Justice also knows who I am.
This, just a reminder....

Sunday, February 21, 2016
Because I now keep buttermilk on hand [love this Buttermilk Belgian Waffle recipe], I have been looking for other recipes that include the ingredient.
Thursday, Feb. 18th, I found what appeared to be a promising Buttermilk Chicken Tenders Recipe and decided to try out a slightly modified version on Friday for lunch.
Must say, it was pretty good even though I did not have the garlic powder the recipe suggested. Instead I used the McCormick Original Chicken Seasoning [shown] which included garlic. Not shown in the photo below, the baking powder I also used.
I only marinated the chicken tenders for about 2.5 hours rather than overnight. I was pleasantly surprised by how good I thought these tenders were and coupled with two of my favorite side dishes-- a great lunch-- as well as dinner that evening.
What else have I been up to this weekend? Updating my Amazon Stores [purse, Samsung Set Top Box compatible with Verizon FiOS and a dress], watching great old movies, "Jade", "Final Analysis", "Sliver", and the finals for this week's tennis tournaments. Tonight, I will also be catching the next episode of "Billions" on Showtime.

Thursday, February 18, 2016
I slept well last night. This is the first time I have been awake at 6:30 am in the morning and felt fully refreshed. I was asleep by 11:30 last night and slept straight through until 6:30 am. This is rare these days.
So I laid in bed, checked overnight and early morning results for tennis tournaments I am tracking, added two items to my Amazon wish list and researched a brand I recently referenced.
Anyway, so after I got up about [7:00 am], I went downstairs and made these Buttermilk Belgian Waffles, bacon and sausage for breakfast, unloaded the dishwasher then loaded it back up.
Here's what I look like this morning, except where noted.
I then gathered the trash for pickup tomorrow.
Gathered my dark clothes for the wash.
Also, took photos to show the current state of the tasks I am working this morning, including these.
Now why would I do this, i.e., take photos of the mundane tasks I have this morning? Well FBI, why would I do this? Yes, I want this morning flagged. Please get the tapes so we all understand.
Yes, horrific issues that have been ongoing for awhile were held at bay last night, however other issues still on the table. This morning, I remarked-- now that I am not in pain-- I can complain about issues still remaining. I thought someone threatened me again. Do you have the tapes?
FBI-- why do I have to layout my mundane morning in this manner?
It's 11:08 am and I am going to layout the photos for this post. All taken this morning except where noted.
FBI, do I look incompetent? You do know that all of the work for QiSoftware and my online interests is mine. I can also prove this. Why are so many under the impression I am incompetent? Don't believe me? Get the tapes from this morning.
What did you have for breakfast? Is your kid in school learning to solve for X? I learned in middle school. Get off me. I graduated with a four year degree in math... I repeat, get off me.... Because my mundane household tasks are not done? I can assure you, there are. DOJ-- I said no.. I really need you to shut this crap down.

Monday, February 15, 2016
I did nothing special for Valentine's Day other than cook.
Saturday evening, I made a butter cake with chocolate buttercream icing. Sunday, after defrosting and braising a huge chuck roast [from Christmas/ we had Pork TenderLoin instead], I put the roast in the slow cooker for three and a half hours. The last half hour I added potatoes and a small whole onion.
Sunday dinner was pretty good, and leftovers even better today for lunch.
Last week, I watched several tennis matches via the TennisChannel and my Android. I have also been watching the Showtime series "Billions, so last night, I watched the fourth episode. The television in my bedroom is not HD so often when the show is after hours-- I watch via my Andriod which provides HD quality. Following graphic shows what I have been watching via my Android.
Several weeks ago- I ordered new sunglasses and they arrived in short order. I am pleased with the glasses even though they are not Ray Bans. I have been sporting them around town... [bank, photos for a business project, minor errands..].
Nothing else going on right now. As always, updating my Amazon Stores and other minor research projects.
It's snowing again today-- so I am hoping the two-three inches on the ground will melt with tomorrow's predicted 51° temperatures.
Temperatures--over the weekend mostly in the teens. Nice to stay in and keep warm.

Monday, February 08, 2016
Though I seldom work in the basement these days, I do have an office down there, too.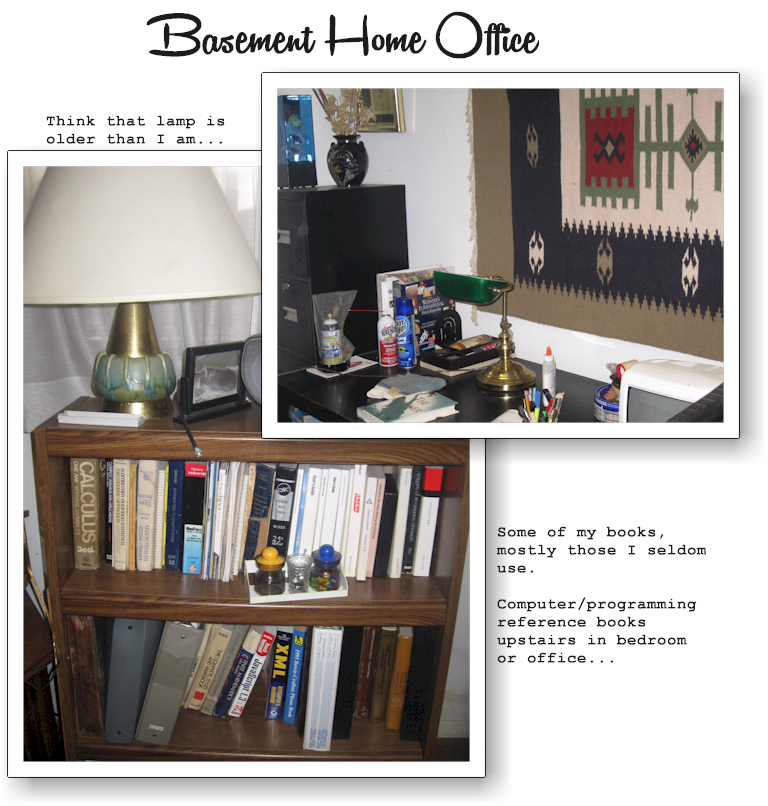 The Gateway Desktop, now in my bedroom used to be down there, along with my exercise equipment.
Mobile computing gives me the flexibility to work from anywhere in the house. The Verizon FiOS router located in my upstairs office provides coverage all over the house, yard and halfway down the block. This the reason I seldom work in the basement.
That said, before coming here-- the home office I set up in my Bowie place was in the spare bedroom. I had the huge black desk shown in the photo above. I purchased the place new and as it was my first real estate purchase, I was into decorative details.
I still have the computer chair I used in my Bowie Home Office. The other [left in photo below], is the chair I purchased when I moved here. I used to keep the larger chair in the basement-- however have since, moved it to the upstairs office.
I also kept the love seat from the first set of living room furniture I purchased when I moved away from home after college. I covered the love seat with a black cover I purchased from Ikea for the new home office in Bowie. The office was mostly black with dusty rose accents-- to match the carpet. Some of the art work that used to hang in my Bowie home office.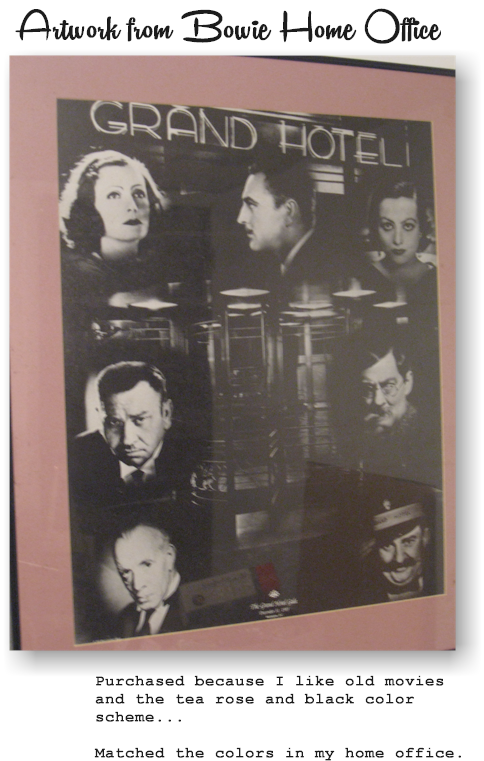 This artwork now hangs in the bedroom in the basement. Nothing here tea rose. Not sure why I keep things like this. Maybe to remind me of life before I came here.
Notable this past week? Caught two movies I thought very interesting.
Movie: Weight of Water w/Sean Penn, Elizabeth Hurley
Movie: The House of Flying Daggers [romance story like Crouching Tiger Hidden Dragon].
Updated the Amazon Widget in the upper sidebar of this blog.
Two or three weeks ago, I started watching Showtime's new series, Billions. Are you watching this series? The US Attorneys portrayed in the series had me a little worried... however, I am still watching.

Thursday, February 04, 2016
I mentioned in this post, the long leather coat I wore in high school. Believe it or not, I still have the coat.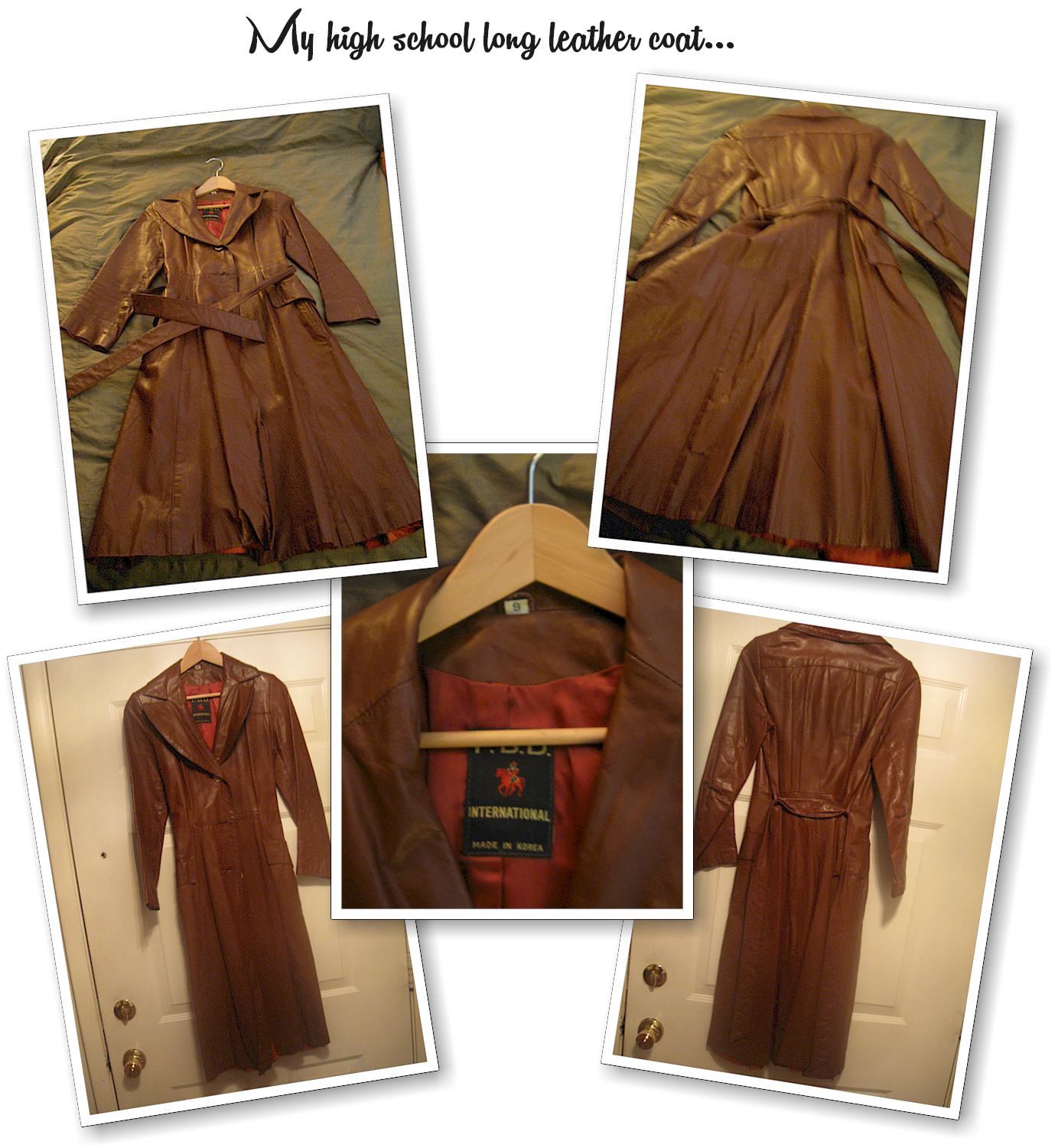 How is it, I still have the leather coat I wore in high school and early college? It is a size 9 junior and I never took it with me when I left home after college. Little tight with suits and I preferred long cloth coats when I left home.
My mother liked keeping my nicer things and I was very surprised [and happy] when she handed it to me when I came back to stay.
The house I live in has four bedrooms upstairs, and one in the finished basement. My mother and I fill all of the closets with the things we never throw out.
Moving on... We have had plumbing problems for about two or three weeks now. The kitchen sinks and garbage disposal are affected-- so tomorrow the plumber will be in bright and early. This is his second visit, in as many weeks.
Today I was out and about. I went to the bank after having lunch. Do you shop at Costco? I love Costco.
Other than updating my Amazon Stores, I really have not been doing much.

Monday, February 01, 2016
The other day, I was watching television and a commercial featuring Wallapop, caught my attention, so I decided to look into how this service worked.
After a bit of research, I found there are several services [new to me] that allow users to buy and sell in their local communities or regions. Some of these include:
So after downloading one of the apps I took a look around. Then I decided to go through my closet and look around. I found these shoes:
and this outfit I wore to a Washington, DC- Al Jarreau Concert in 1987 or so.
Styles always come back-- and although this outfit is old-- it is actually very becoming on. The dark velour/velvet like skirt comes about 8" inches from the ankle and looks very elegant with heels and long rhinestone earrings. The top is again in style with the peplum [bottom edge] detail.
I love clothes and keep most of the things I purchase, except when given no choice. I am an organizer's nightmare, however since I tend to buy more in the way of classic styles- I would probably pass on their advice anyway, in that I tend to think they are more likely to be trend setters and would want to keep nothing unless "current".
The outfit for the Al Jarreau concert does have details that tend to be more trendy [especially the top], so it is not exactly a classic-- however I could use the skirt in different ways. It is a junior 9/10, meaning it is not cut for a fuller figure and vanity sizing today would probably make it a 7/8 without the popular stretch element many of today's garments feature.
The shoes? I walked around in them for a couple of hours today, and decided they were so comfortable I would keep them. The shoe upper, mostly "just" leather with nothing to make the shoe stiff. I consider these classics, so I can pair them with many of my spring/summer dresses. Yes, I buy a lot of black for summer too.
So, I decided not to try to sell my old things. I do have one or two miscues, purchased online- that still have the tags, that are really nice-- but just do not work for me. I think I will try selling those items with one of the services.
Have you tried selling, using one of these services?