Monday, July 27, 2015
The Washington Citi Open Tennis Tournament will start Monday, August 3rd, 2015. I have attended and thoroughly enjoyed this tournament in the past, and wish I could be there [in person]- this year.
That said, The TennisChannel is covering a lot of the action, so I will catch many of the matches on live television.
Both, Men [ATP] and Women [WTP] will be in action, starting Monday. It should be interesting. Shown, Prize Money highlight.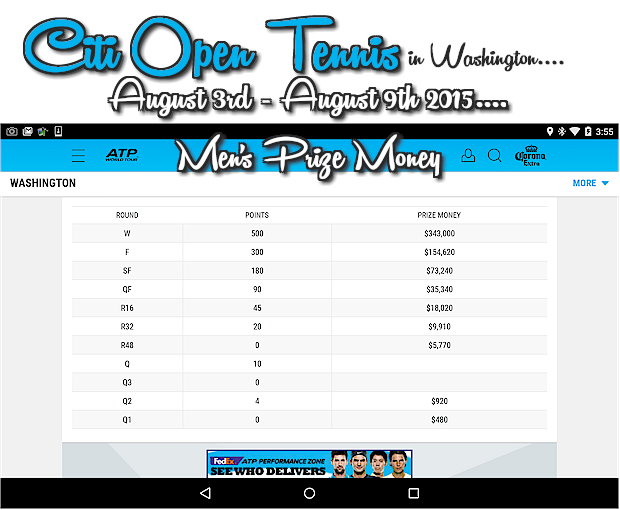 Other things I have been up too?
Keeping up with STARZ's Power and HBO's True Detective.
Online shopping [I will show you later].
Updating my Amazon Stores.
This morning, I made the Fruit Tart shown.
Last week I could not decide if I wanted cupcakes or a fruit tart for my birthday. I had cupcakes. This week, I will have the tart. I have made this [tart] before and shown the results. This year I did not allow the blueberry sauce to thicken as much, nevertheless it was pretty good. See video from Great Chefs- Fruit Tarte.
News from Washington? Always, just nothing I wish to report.

Wednesday, July 22, 2015
For over a year, I have been using a commercial grade font that I really like. I failed to read the license properly and thought I could use the "personal use" version anywhere I wanted as long as the work in question, belonged to me or was for my personal use, i.e., I was not selling the work. This was a silly error on my part-- in that I often use the font in images I use on this blog, and this site is considered commercial in nature. [wish I had read the license].
There were two reasons I began researching purchase options for the font:
Recently, I modified the QiSoftware Remix Blog Template and incorporated the font in some of the new images. Before then, I had not used the font on that blog. Really silly part [my assumption]-- "It's Personal" is not a part of my commercial site. I also used the font on my Tumblr Blog, however my read of the license, indicated that was okay.
The free "personal use" version that I obtained awhile back, did not have the full character set.
The other day, I searched Amazon but could not find what I wanted. So today, I searched other offerings and that is when I checked the license for the version I have and found my error.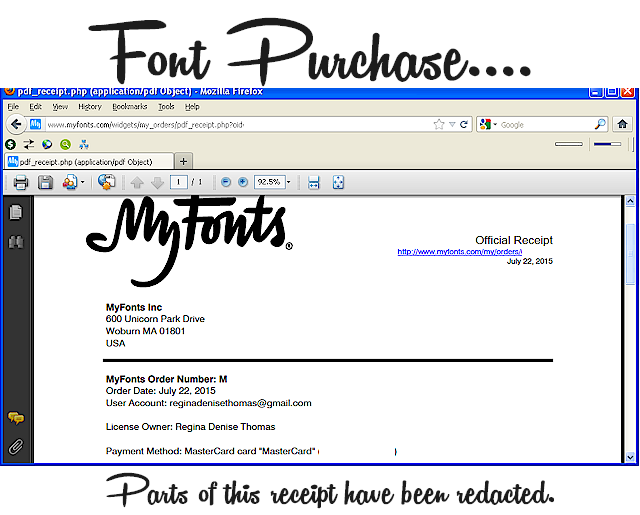 Happy to report, today I did obtain a fully licensed version of the entire character set for the font.
News? Always. Even some related to the acquisition I describe in this entry. One of my big complaints over the years-- others have broken laws that have hurt me and my ability to conduct business. Me, today I found out someone could have sued me for copyright infringement [because I failed to read the license for the "personal use" version of the font]. Needless to say, I am reading everything from now on. The rest of the news? Nothing I am going to report.

Tuesday, July 21, 2015
Yesterday was my Birthday and I spent a mostly quiet day watching tennis and a movie, The Equalizer. Late in the afternoon, my sister dropped by with her gift.
Here are scenes from my day [yesterday].
Recently...
Earlier today, I went to the bank to deposit my Birthday Gifts.
Many are interested in how my hair has grown out. Here are photos taken; Friday and Sunday nights just before I began my evening set processes. Most of the curl has come out, the reason you maybe able to see the length a little better. Someone suggested, it is too long...
I need to have it shaped, however it is getting longer. To keep it manageable and ready to go [if I need to go out], I set it at night with my Conair 1" curling iron and pink sponge rollers [16 large]. This takes just under 30 minutes every night-- but well worth the time-- based on what I would have to do the next morning to achieve the same lasting results.
I also have to keep the moisture in my hair. Have you tried this? I use something different but I am thinking of trying this product. I have porous, rather thin hair [believe it or not], so a liquid moisturizer works for me.

Friday, July 17, 2015
After the last two weeks of almost non-stop Wimbledon Tennis, I thought I would be bored starting the new week. I wasn't. I found a number of things to catch my attention and happy the weekend is almost here.
Scenes around here...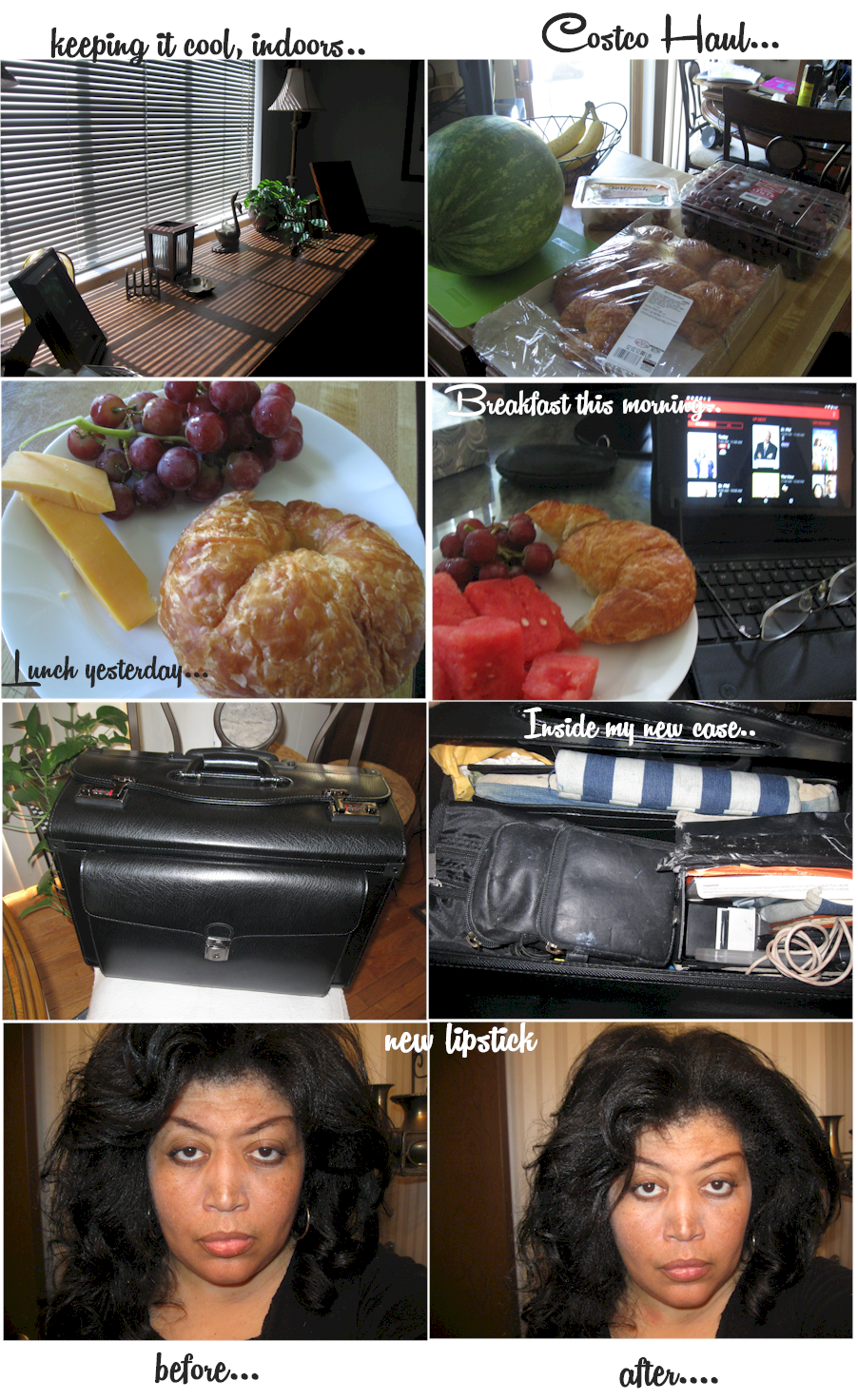 Things I have been doing:
Minor updates to the Remix Business Blog template and the associated Amazon Store.
As noted in the latest entry to the Business Blog- looking into some code issues as related to an API.
Updated the template on my WordPress hosted blog.
Watching the Tennis Channel.
Got a refund on an item I ordered because a different item was sent. The item sent will work out-- so I am pleased.
Minor updates to my Amazon Stores. Added my new case [discussed here] to the "Items I Have" store.
Things I will be doing over the weekend:
Making almond buttercream cupcakes.
Watching Davis Cup and other Tennis Tournament Finals
Watching latest Power episode on STARZ Saturday evening.
Watching latest True Detective episode on HBO Sunday evening.
Hope you have a nice weekend..

Saturday, July 11, 2015
The Wimbledon Ladies Singles Final will start in 15 minutes, so I will be quick.
Earlier in the week, I found a case I wanted for my Birthday [July 20th], and my Mother agreed to give it to me. It arrived yesterday.
I am so pleased that most of my notebook computers, drives and discs fit. It's big, however I needed the space.
Other things:
Movie: The Manchurian Candidate w/Denzel Washington, Meryl Streep
Movie: Miami Vice w/Colin Farrell, Jamie Fox
Trimming the bushes.
Always more news. Nothing I am going to report.

Tuesday, July 07, 2015
Wimbledon has been on since the week before last Monday [yesterday], and I have done little else. Local family members made the annual trek to Wilmington, NC for the 4th of July and I stayed home.
The Women's Quarterfinals are on today-- so most of my morning/early afternoon has been/will be spent watching those matches.
That said, today I did take time to have a great lunch-- shown in one of the photos below. Also shown, I have taken time out for many great meals.
Other things I have been up to:
My Conair Curling Iron [page 2- lower left], stopped working [had it for over 10 years, and now used daily since Feb. 2015]- so I ordered 2 more, along with a new watch. Next, I am going to get an assortment of watch batteries and a device to remove watch cases so I can put in new batteries. I used to have the watch repair shop in the Crystal City Underground do all of this. Now I just buy new watches.
Another of my great lunches...
All sorts of news, though nothing to report here..