Wednesday, September 30, 2015
Staying busy with various tasks. Think I need to get outside and do something about the gardens.
Specifically:
Updating Amazon Stores--- thinking Fall and Technology.
Researching technical issues as related to the latest software innovations.
Movie: Tart
Myriad of cosmetic changes to sites and online profiles.

Sunday, September 27, 2015
This week, installed Windows10 on my Mother's HP Notebook. Insured Java Applet Tools like the Blogger Calendar on this blog-- run on her system. Updated the Internet Options Advanced Settings which were reset when the new Windows version was installed.
I have noticed that some of the latest releases of browsers [e.g. Chrome] for the Windows platforms are moving away from support of Java Applets. Oracle/Java addresses this issue here and here.
Macbooks, Mac Minis and other Apple Products [desktops and Macbooks] are not having the same issues with Applets and browser support. The Apple Safari Browser continues to support Java Applets.
Unfortunately, I need my tools and widgets to work with all platforms, so in the future I will be rewriting a lot of the tools using only Java Servlet Technology and not the combination of Java Applets and server-side Servlets.
That said, when I start updating my sites again, I will also need to branch around any Java Applets still in use [not sure what I will do about the Blogger Calendar], to support mobile devices like iPads, Androids and other mobile devices, e.g. cell phones. Some of you may have noticed when on your mobile devices, and visiting some of my site areas-- there are missing plugins. These are the Java Applets that tablets, iPads and phones do not support.
Another issue with my Mother's updated system? She seems particularly put out, one of her games, Hearts is no longer available with Windows10. I am still looking for an alternative she likes.
Other things I have been doing [or will be doing]:
Tennis: Wuhan and China Open [Major]. WatchESPN covering a lot of the action, though most of it early morning. TennisChannel picking up rebroadcasts.
Continuing minor cosmetic updates to site elements- mainly on the blogs.
Upcoming: The Affair on Showtime resumes Sunday, Oct. 4th, 2015. Check your local listings.
Verizon FiOS carried live coverage of the Pontiff's visit, so I caught a bit of that. I have never noticed FiOS dedicating several channels to an event of this type and it was kind of neat. Rebroadcasts are scheduled for at least the next couple of days..
A number of business related tasks. Check out the Remix blog.
Researching for the Amazon Stores.

Tuesday, September 22, 2015
Over the weekend, because I was happy with the minor changes to the look of the Business Blog Remix, I decided to also update similiar areas of this blog, namely:
Blog's title logo
Color of the social media icons in the sidebar
Removed some of the photos in the header banner. I use ImageComposer for most of my graphics work and yes, I keep copies of my work in case I want to make changes later.
This update also affected the logo on the Amazon Stores associated with this blog.

Tuesday, September 15, 2015
Recently, I discussed new technology I want to purchase.
Technology, especially in the areas of mobility and access- have changed quite a bit since I purchased my 13" Macbook and Acer Netbook in 2008 and 2010 respectively.
As noted in the earlier post, I hope to replace my 13" Macbook with the Mac Mini and the new lighter 12" Macbook.
The Mac Mini is a desktop, and powerful enough to handle most of my business and programming needs, however will allow me to "unplug" and secure easily.
The new 12" Macbook will be for "on the go" use. Because fewer ports ship with the new Macbook, I plan to use more external devices and adaptors to allow for easy data transfer. Including:
When I first got my Android Tablet, I noticed something called Portable WiFi Hotspots [sometimes called Software or Mobile Hotspots] amongst the "Settings" options. Initially, unsure how to use this feature I now understand I can connect tools like the HooToo Wireless Travel Router listed above, to provide support for USB hubs and charging.
The new 12" Macbook can also use this tool to allow connection to a USB hub or as a charger. See this article on How to turn your Mac into a Wi-Fi Hotspot.
Of course, you can also purchase the Apple USB-C Digital AV Multiport Adapter to power up or stay fully charged while also connecting to USB devices. I think I will need both.
I have done a lot of research as related to business tools I would like to own and think I have found many of the tools I will need to get the things done I need to get done-- plus more.
I also maintain a list of new technology and computing tools I am interested in owning at this Amazon Store.

Tuesday, September 08, 2015
I am a little worried about my weight. I have been trying on different things for the upcoming change of seasons-- however not really happy with the results. I am not sure what I am going to do about this problem.
That said, here are recent photos: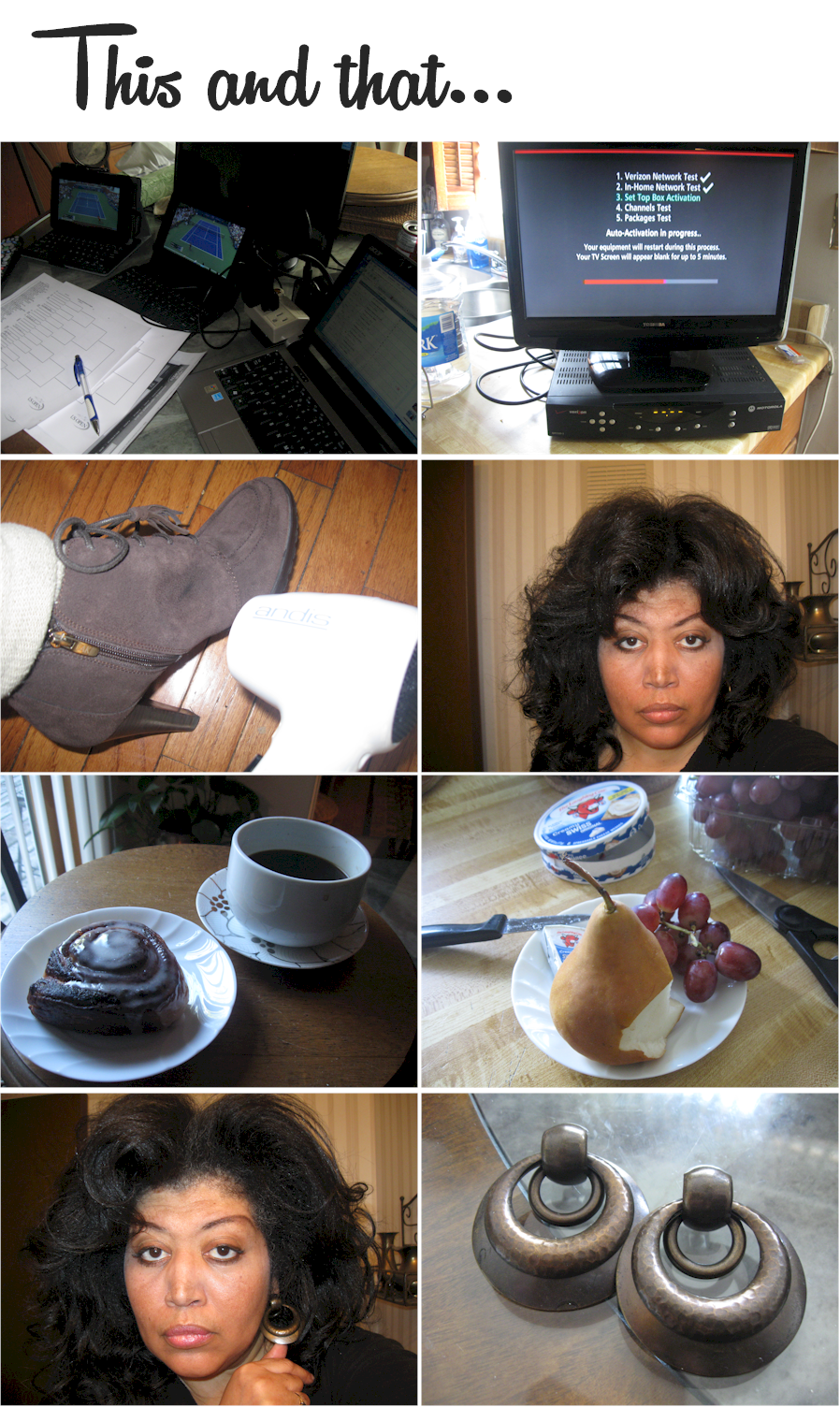 Check list of things I have been up to, some related to the photos above.
Watching the US Open, ends Sunday. Are you watching the Quarterfinal between Serena and Venus this evening at 7:00 ET?
Found a pair of brass earrings in a craft box in the basement. Mother said, "finders keepers"-- so I am happy.
Repaired one of the servlets which allows me to track [via Excel spreadsheets] pro tennis players' earnings.
Replaced the Verizon FiOS Set Top Box in the kitchen [again]. Started rebooting on its own [abstract noise indicating something else].. and finally died.
Stretched my Anne Klein Brown Suede Booties [see here]. They did not have the nines [purchased a couple of years ago], so I got the 8.5's, which are a little snug. Blow dryer and socks- works.
I am getting little things done-- so I am in good spirits [always feels good when I can check something off my "to do" list], however becoming more preoccupied with my weight. I wanted to hold off on a major purchase until... but feel I really need to get a new treadmill, ASAP.