Sunday, December 28, 2014
Christmas day was good. My sister arrived around 9:00 am to open gifts. Everyone seemed pleased with their gifts.
The Samsung BD-F5700 Wi-Fi Blu-Ray Player
[shown below] was one of my Mother's gifts. It has built-in wifi and a Ethernet port which allowed for easy connectivity to the Verizon FiOS internet service. My mother's room has an Ethernet option, but not the guest bedroom and formal dining room shown in the photos below. Once I get all of the options set up [just need to test the AllShare features]-- it will go into her room so she can watch movies from my sister's extensive DVD library.
What I like about the unit, other than the high quality output via the HDMI port for both the Blu Ray Player and Internet TV streams, is the fact we do not need another Set Top Box. It connects easily to the WiFi router, much like our notebook computers. [There is only one Ethernet cable to my Mother's room and it is being used by her desktop computer-- so the player's built in WiFi option will be used to provide her with the additional entertainment options of the new player alongside her normal FiOS TV options via her Set Top Box.]
That said, if the unit were staying in the guest bedroom where there is no FiOS Set Top box-- we would probably opt for the Samsung BD-F5900 which is a bit more. The slightly more expensive unit [BD-F5900] is compatible with the Verizon FiOS App.
Links to compare both units: (1) Samsung BD-F5700 Wi-Fi Blu-Ray Player
(2) Samsung BD-F5900 3D Wi-Fi Blu-ray Disc Player (2013 Model)
.
Another of her gifts, a keyboard w/case for her Verizon Ellipsis Tablet.

I think this tablet accessory is easier to use than the popup keyboard that most tablet owners/users are familiar with.
Another gift I really like-- this Toledo Clock by IMAX. We are still deciding where it should go. We needed a clock in the den near the flatscreen because the set top box in that room does not have a front panel [therefore no clock]. The new clock is so nice-- we can't decide if it should go there or any number of other locations that will work.

I have been setting up new equipment, throwing out old things and enjoying holiday foods. Also caught the following movies and programming.
Movie: Indochine with Catherine Deneuve
Watched: Pride and Prejudice w/Colin Firth [spent yesterday afternoon watching the whole series on Ovation TV]. I love both versions of Pride and Prejudice [the other with Keira Knightley].
Movie: The Rum Diary
Movie: The Thomas Crown Affair with Steve McQueen and Faye Dunaway [book marked for this Friday]. Also like the Rene Russo, Pierce Brosnan version.
Plan to start eating less and throwing out or donating to charity, things I no longer use.
Washingon news? Little abstract, so I am staying busy doing other things.

Thursday, December 18, 2014
Finished my Christmas shopping Tuesday evening. Packages have been arriving for the last 3 weeks and I am happy I am no longer waiting on anything.
I also purchased two gifts for me. Well one is really a business purchase. My old Sharp 9600 monochrome laser printer was having problems and rather than purchase replacement drums and toner cartridges-- I got the Minolta Magicolor 1600W laser printer for a great price from Amazon. The Sharp was connected to my Windows 98 SE platform via a parallel port and I had an Epson Inkjet on a printer usb hub connected to both my Windows 98 system and an older Mac Desktop.
I gave my mother the same Minolta color laser printer last year for Christmas, and networked both her HP Laptop and her Dell Desktop to a USB printer hub. I knew my Acer Netbook would work with the Minolta color laser printer because I have printed from the system to my mother's printer over the last year, but was a little surprised I had to find a solution for my Macbook [which I did]-- not to be confused with my older Mac Desktop system.
I love my new printer-- but I knew I would, because it is just like my mother's. I no longer have to worry about dried up ink. I can print in color when I need too. Keep in mind my new Brother Fax which is also a monochrome laser is on the first floor so I use that for most of my print jobs. My business letterhead is in color so I am happy I now have my own color laser printer for things like official business letters.
That said, I have spent most of the last two days trying to get the new Magicolor Laser printer to work with my older systems. I did get it to work with Macbook which uses OX 10.4 and my Acer netbook which is running XP. The Macbook was a little tricky in that I had to use the Magicolor 1680 MF driver which I downloaded from the Minolta site.
Here are photos of what I have been up to over the last week, including transplanting my banana plant.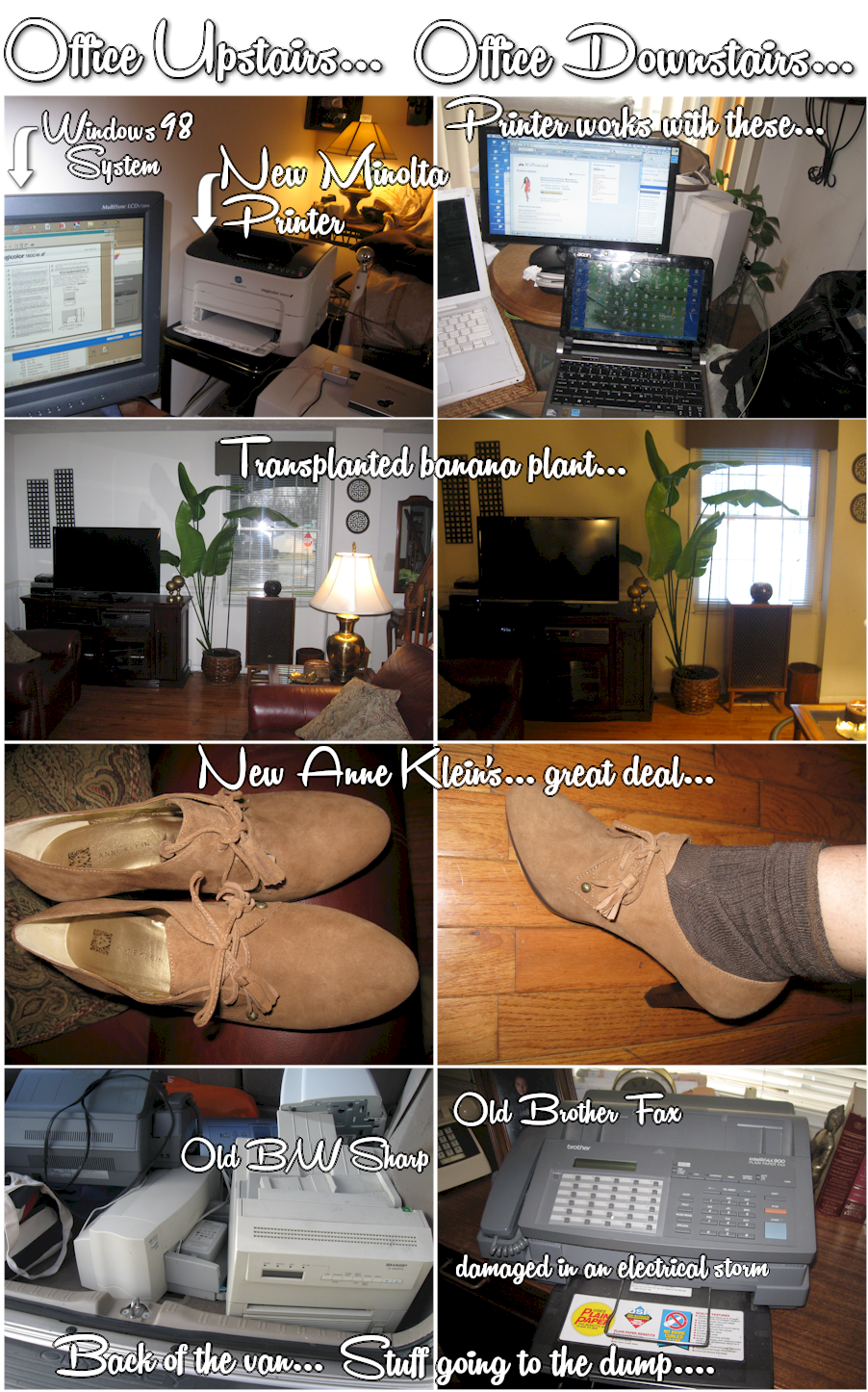 Putting old ink jet printers in the dump.
Changing the System Admin Password on my Macbook because I forgot what it was. Could not install the new Minolta Print Driver without providing the admin password. This was relatively easy, too.
Movie: Limbo [odd little movie].
Updating Amazon Stores; Let Me Know, Brass, Gift Ideas, Kitchen & Home. I have been finding some really neat things... and great sales..
On Friday [last week], I received a package I was not really happy about, so I returned it. I was very happy with how easy it was to return the package. I printed UPS mailing labels. There is a UPS store in Hanover, however I thought the package was small enough to get into a UPS drop box. It wasn't, so I waited on the UPS driver. The drop box showed the time the driver was expected and I waited. I was surprised at how well this went. Was I worried about being out in a low traffic area [industrial center in Hanover with drop boxes all over the place] after dark? No-- but I did all of this "spur of the moment". I did see the police helicopter flying overhead.
Also happy to note, the return has already been credited to my credit card.
Christmas shopping relatively easy this year. I wish other issues were. Still getting noise from Washington.. Ear and balance no longer a problem-- but still have too many other problems. People having a hard time with no-- yet continue to say it will be over soon. Not sure where the process is. Will say that it appears many in Washington want to draw libel law suits. This suggests that my deals are still in the works. The people involved in this crap too high insofar as Washington types. That said, other than the constant irritations and vibrations while I am trying to work through everyday issues, I am mostly okay. I sleep later these days, mainly because too many are bored and the ACLU and FBI have not picked up the government equipment that allows many [with no lives], access to me at all hours of the night. Said no, Washington. Please move on.
Update 12/19/14: Still working issues with new printer and old systems. The following illustration shows the available printers with my Macbook [ox 10.4] after I added driver updates for the new printer.

The file I used to install the driver on my Macbook for the Minolta Magicolor Printer: .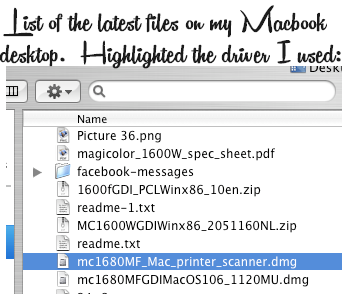 Note: printer driver highlighed [in above illustration] is not the Magicolor 1600w but the 1680mf. This driver chosen based on research of other Macbook owners and how they were able to get it to work.
Last night, earpiece provided that my Windowse98 SE system needed the USB port upgraded to 2.0. I am still working the problem.

Wednesday, December 10, 2014
Putting up holiday decorations, shopping online, waiting on packages and wrapping gifts. Some scenes from around here...
Other things I have been doing?
Updating my Amazon Stores; Let Me Know, Home and Kitchen, Gift Ideas, Computers & Home Electronics.
Watching "The Affair" on Showtime
Movie: "Bullet to the Head"
Movie: "When the Party's Over" [1993 Movie] w/Rae Dawn Chong, Sandra Bullock
Replacing Verizon FiOS Set Top Box in the kitchen. See photo below.
Researching, I will have to wait until after Christmas to show you what I have been up too...
Yes, there has been news [out of Washington], however not sure what it means...
Verizon is great about sending out new Set Top Boxes when they go into disrepair. You can also use the same box to send the old one back...
Hope your holiday planning is coming along.