Tuesday, March 20, 2012
I signed up with my current hosting outfit for qisoftware.com on 07/26/07. Here is part of email I was sent when I signed showing IP numbers and other information:
On October 6th, 2009 I was sent another email informing that the server would be moving-- here is part of the email sent:
Here is a part of the email sent on October 9, 2009-- providing new IPs and nameservers after the move.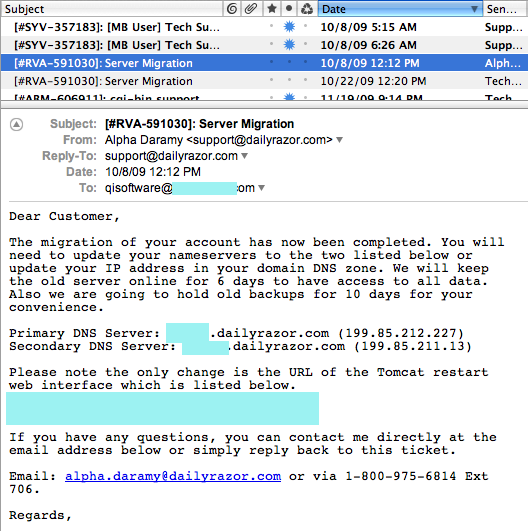 The reason I went in search of these emails was because I wanted to research whether or not the web host for qisoftware.com had moved the servers. This was based on the following whois information request from a tool I maintain in the QiSoftware Catalog here.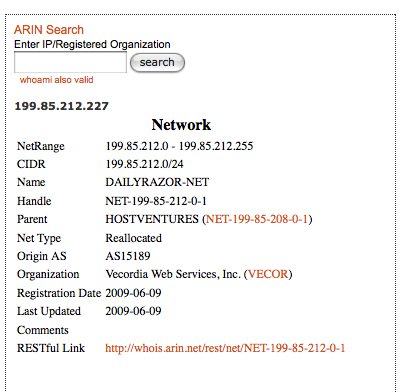 They had. You will note the 2009 date for the qisoftware.com IP and I knew that was after I originally signed with DailyRazor in July 2007. I did not request nor authorize server moves for either qisoftware.com nor hosting-q.com. You will recall, I discussed the move of hosting-q.com servers in early Jan. 2009-- in this post.
Abstract noise suggests these moves were a little more involved than I may have known about- however all whois requests I have made since-- appear to show the two original web hosting platforms I started with.
This a legal notice in case someone feels I authorized a move I did not authorize. My sites are hosted with Vecor DailyRazor [qisoftware.com] and LunarPages [hosting-q.com]. This is what should show up for the relevant whois request for each domain.
Regina Thomas
QiSoftware