Thursday, November 08, 2012
Sunday, I painted my nails for the first time in years. They were pretty much at a standard length and because I have not been coding nor working on projects-- the concern of scratching my Macbook's white keyboard, less so. I like this burgundy red [it looks more burgundy with the naked eye] for fall and winter months.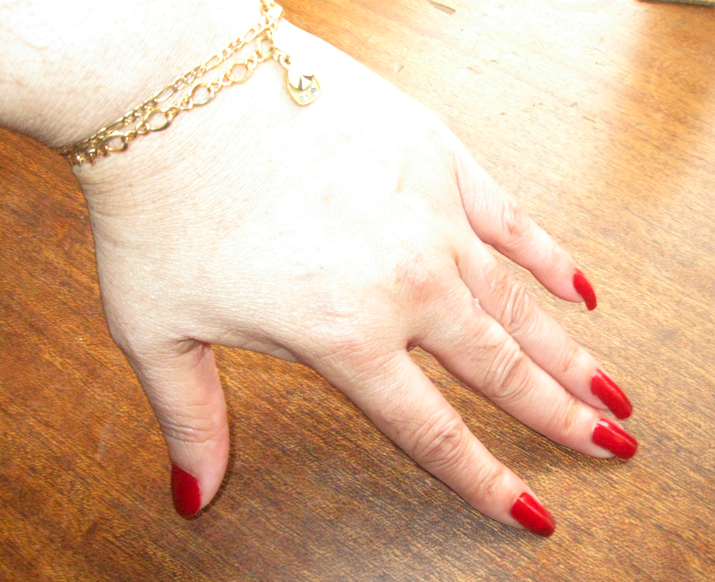 Last night, I was going through one of my jewelry boxes [the one Jan and Greg gave to me one Christmas], and found my 5 year Rockwell bracelet. I think the guys had a choice of a tie tack or cuff links while I was simply given my bracelet. If you view the photo in a separate window you can see a more enhanced view of the Rockwell trinket.
I am not a political junky, so got the return results for the national election, Wednesday while watching news programs. The only things I look at these days insofar as Washington-- DOJ and the FBI. I do not pay attention to who is in elected office.
What else have I been up too? Recently, watching a lot of HGTV and home redesign shows. This has resulted in my own interest in renovating my residence. Here is a screen-grab of my attempts to add space to the left side with software, ImageComposer.
Earpiece still going with settlement payments to start any day. For some reason-- the fact they do this daily bothers me more than the fact they have not started.
No, I do not want a CIA position nor will government types be helping to run my business. QiSoftware is a sole proprietorship and will always remain so. I wish this continual- going to do this today-- this problem came up-- sure you do not want to sign up with us-- did not like an attempt to demoralize. I am not demoralized-- is the FBI and DOJ? I said no.
That said--- there is the suggestion the investigation is still going strong-- however they [DOJ/FBI] are running into problems with [the washington criminal bunch and their lawyers]- in that they keep pointing at me-- and saying-- FBI/DOJ you have a lot of nerve. I concur. Hope resolution coming soon... Government [other than DOJ/FBI addressing the legal issues related to me] is not an option for me.
I repeat-- I said no... How is my house redecoration going? I have lots of ideas but no money-- but it gives me something to do.. Why not fix WiredPages? When not promising to start the settlement process-- they tell me they will try to pick me up while I am holiday shopping. Why? They want the bag. I am not fixing code so idiots can steal it. FBI-- What are you doing? Do you hear the threats?
The other thing bothering me lately? For some reason-- someone is deactivating the Blogger Calendar I maintain on qisoftware.com for this blog. I noticed a problem over the summer [which I corrected] and again the other day. Accessing my domain[s]-- qisoftware.com/hosting-q.com by anyone other than me-- is unauthorized and FBI I have too much surveillance. Get the clowns off my site[s].