Saturday, November 17, 2012
Today, is my mother's birthday. After working on some things earlier in the day [yesterday]-- I went out to pick up the cake.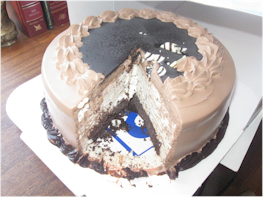 The cake is a Baskin Robbins-- Double Chocolate Chip ice cream cake. It has a mousse outer coating with a hard chocolate candy center on top, chocolate ganache around the base, layer of chocolate cake and a layer of chocolate chip ice cream. I have to say it it pretty good.
I had a headache for most of the afternoon [yesterday]-- so by the time I showered and did my hair the Advil I had taken-- kicked in and I felt a little better.
I seldom go out these days-- except to the bank once a week-- so I like noting when I do-- and how I looked. With the holidays approaching I will probably be out a bit more.
My mother liked her cake-- too.