Wednesday, May 15, 2013
I became an enom reseller for domains when I briefly hosted with HostGator awhile back. Hosting-Q.com, is the site for the web hosting service of QiSoftware, a domain that I originally registered through enom. My renewal rates are pretty good-- and yesterday I renewed hosting-q.com for another two years [since June 18, 2006] through my enom reseller account. Here is a screen grab of the email confirmation.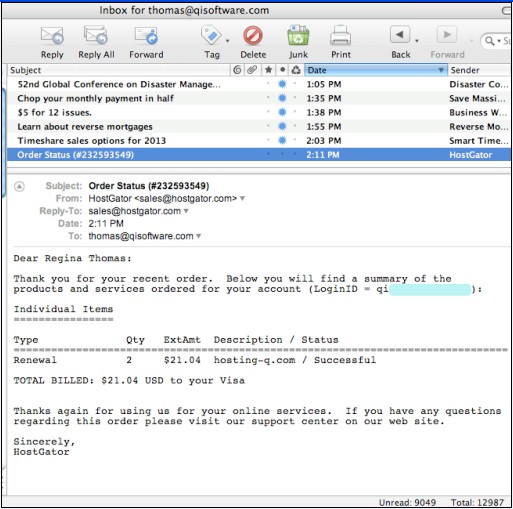 I am told via the earpiece, there is a bit of interest to own hosting-q.com and a few were aware of its June 2013 expiration under the current registration. I have no plans to relinquish the hosting-q.com domain. Sorry.
Been doing a little gardening. My mother got a Black & Decker battery operated weed whacker for Mother's day-- and it works great. I have also been watching my banana plant grow and have some time elapsed photos that I will provide later.
Still waiting to hear from Washington-- in a more official capacity. Told DOJ-- on a lot and working to get me out of here. I am hopeful.