Saturday, May 25, 2013
Several months ago-- I was watching CSPAN and I saw a guy in a session that reminded me of a reporter whose name I did not know. Earpiece said the guy was an important official with DOJ.
On Wednesday, the voice claiming he was Jason-- said he went to lunch. He said something about watch. Yesterday, I did a CSPAN search on Jason Weinstein-- because someone suggested I do something of that nature. I found this video.
While watching the video [in pieces several times]-- today, I noticed someone by the name of David Lieber. I said-- he reminds me of Guy Allen and Swati.
I did meet a baby in 1993 or so-- Robert Allen-- who was supposed to be their child. Swati-- brought him by the office. I was on my way out the door for some reason-- but i remember the incident-- because she tried to hand me the child. I am not a baby holder-- and indicated I was on my way out..
I ran a Google search on David Lieber to learn more about what the internet ahad on him-- and finally came across a photo of the reporter who reminded me of the DOJ official I saw in the CSPAN session. [Do you think it odd earpiece wanted me to note the official?] The reporter-- David Frum. Odder that a photo of him would show up in a Google search for David Lieber? See address bar in screengrab.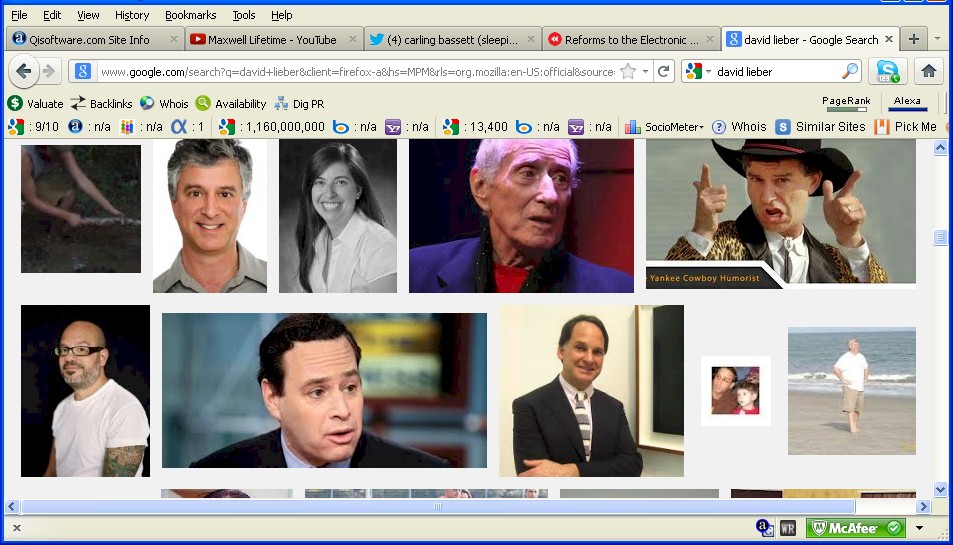 Here are images of David Frum.. when I first looked at these I said-- my god he reminds me of my Uncle Howard. So does Jim Web. Who do I think he might be? My aunt Judy's. He also reminds me of Natalie merchant. Earpiece confirming all are my Aunt Judy's kids.. Webb, Uncle Howard, merchant and Frum. Wiki says Frum born-- 1960. Also says born no aids. He looks older. Sam born 1956 or so. If frum is my aunt Judy's he was born before Sam.
Not sure why Frum is important to all of this-- but the DOJ official is referenced as Gotbaum wavy in earpiece discussions. Why did Jason want me to see this video.. not sure.. It is dated April 3, 2013-- but Jason says just made this week.
Not sure what this has to do with anything... Saying they just wanted me to know the players. Not sure why I keep hearing about Guy Allen and his people. Earpiece saying mattis his uncle.. but that does not keep Guy allen in my world. I said no. not interested..
Earpiece also confirmed-- David Lieber the son of Guy and Swati. Told they really never married-- however did have a child together.. I call this the cross breeding project-- and have found many do it in VIP Washington circles. Saying Frum--- might be Nixon's. Why the question... He seems too dark-- to be my Aunt Judy's and Richard Nixon's. My aunt Judy-- fair with blonde hair. I asked about Louis Farrakan. Not sure the answer...