Thursday, November 21, 2013
My mother has been collecting brass for as long as I can remember. I started my own collection when I moved away from home and when we combined our collections- then added to them [these last 17 years or so]-- it seems we have more than I realized.
For instance, my mother has several sets of brass wall plates like those shown in the following photo [taken in the den/family room]. I remember her having these plates when we lived in England-- however it may have been longer.
I have always loved the brass leaf ashtray set [one shown in the photo]-- the other sitting on a table in the formal living room. When I purchased my place in Bowie, I changed most of the light switch plates to brass or ceramic [bathrooms] and the one shown was in my formal living area. When I came here-- I swapped some of the standards she still had in place- with mine.
This photo shows a brass tray from my collection with more of my brass jewelry and the bud vases I think I picked up at Pier1.

Also shown, pieces we have added since I came here [sitting Asian Male statuette bookends a TJ Maxx find and the Gyroscope bookends, Target]. The swans were here when I arrived. I am still deciding if I want to use Brasso on some of the pieces. In my opinion, in some cases the tarnish adds more character.
She likes copper accents in the kitchen and has things like copper topped straw holders, strainers, scoops and salt & pepper shakers. I added to her copper kettle collection [not shown], and also tend to purchase copper or terracotta plant holders. I love plants. Here are a couple I have purchased for use in the informal dining area just off the kitchen.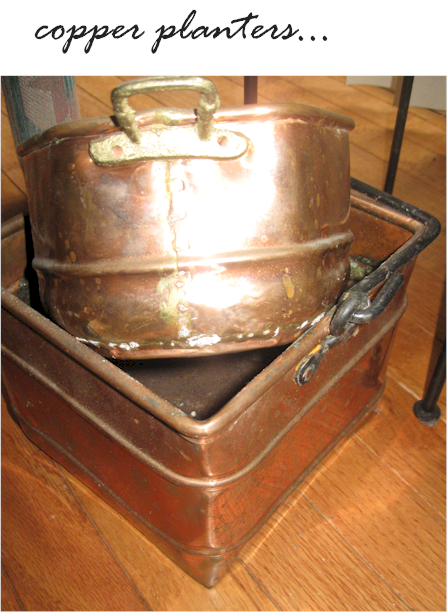 Sometimes too much is too much-- however since we both like brass, we agree that our accent pieces when used properly work in the mix of our environment.
I have been adding to the Brass, Home Furnishings and Gift Ideas categories of my Amazon store-- and thinking about the things we have and why I like them.
Some of the Brass pieces [under the Brass category] I have added are a combination of brass and copper.
How is your holiday shopping going? Today, I received one of the gifts I ordered and feel so ahead of schedule.