Sunday, January 19, 2014
Over the years, I was hesitant about entering the color laser printer market. Even though color laser printers have come down drastically, toner replacement seemed so expensive.
Before last Christmas, we had two monochrome laser printers and so many ink jet printers, I do not want to think about how to dispose of them. The problem- ink replacement also expensive and the ink tends to dry out.
So late last year, when my mother announced for the umpteenth time- her ink jet printer was not printing, I decided to look at color laser printing options again. I chose an inexpensive solution and so far, I am very pleased.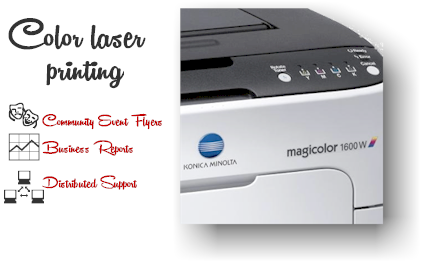 Because printer replacement supplies and a printer hub for multiple computer hookups were also purchased, I am not worried about her printing woes anytime soon.
The printer itself, prints in vibrant color and I am impressed. Photographs come out, about the same quality as with any color printer. This factor more dependent on the camera in use [my camera only 8 mega-pixels].
The illustration provided below, is a bit dark-- however in actuality, quite impressive.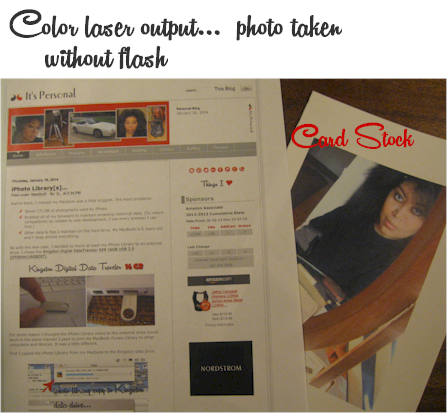 I created the photo card on the right, using iPhoto [Mac software], saved it to PDF, which allowed me to print the file using a connected computer [in this case, my mother's HP notebook] and Adobe Reader.
Though none of my computers are directly connected to the new printer, I have lots of software that will support its features. Highlights for someone in business include:
Works well with most of my software including: iPhoto [cards and calendars], MS Professional Office Suite [including PowerPoint & Publisher].
Business productivity: flyers, presentations, charts, business reports
1200x600 DPI printing also provides [nice-enough] photographic reproduction dependent on the camera in use.
Check around and read reviews for the Konica Minolta Magicolor 1600W Laser Printer
. I like this solution a lot for my mother's needs- and if I need color laser output, I no longer have to run to Staples.