Tuesday, April 28, 2015
When I first got my tablet [Feb. 2015], I was pleased that my GPS location would always broadcast. I use Skype, Twitter and any number of other apps which I allow to broadcast the location.
Initially, Google Earth [another tablet App] was dead-on when reporting my location, however began reporting my location slightly off within a week of the tablet's arrival. This kind of worried me. Initially, earpiece personnel [think it was the FBI], indicated that this location broadcast should prevent others from using my accounts. I even noted it in a blog post.
Since then I put off looking into why this might be happening. Then last Sunday, I noticed something and checked Google Earth and sure enough the location was being reported incorrectly. Here is a screen shot of a similar reporting by Google Earth. [You cannot see it in this image, however there is another house at that location.] I am given all shorts of reports about the house and who is there at any given time.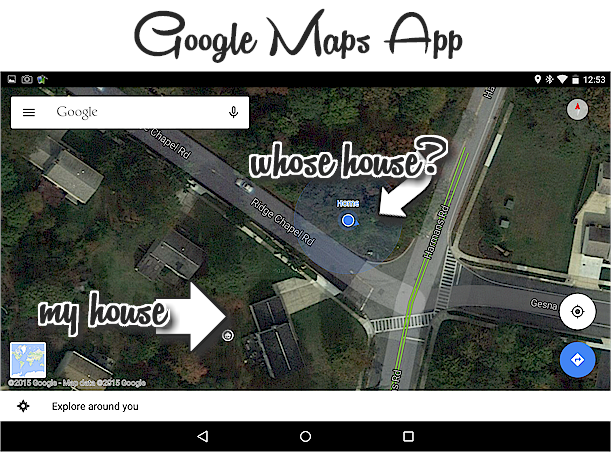 Based on this error, I decided to download another GPS tracking APP hoping to force Google Earth to report my true location. This app allows me the option for setting the time interval for satellite tracking.
Those assigned with the security of my mother and I, might offer the following as to why the GPS location is wrong:
They do not want my location known to help with our security?
They try to monitor all of our calls, both my business and residential and they need the location to show another location? This is interference with my business. My Skype never rings unless it is a family member. It is listed on www.qisoftware.com.
The use of our Verizon FiOS account by personnel with security duty. I am told they somehow amp up the signal. I did not know official FBI personnel were actually located at that site. Anyone else, should not be on security duty there. They are raiding themselves?
Other problems with this reasoning? Many of you are aware, I often show my actual address-- via correspondence I receive, that I want to share. There are a lot of security and government personnel in the area. I do not like them hi-jacking my GPS location.
That said, the activity in the house where sometimes my location is reported- is not good. The house, I am told was raided by law enforcement because the original owners should not have put up a custom built house so close to an elementary school. Now, CIA, family members of the people who used to live there [CIA ties], FBI and others from other places have been known to be there and asked to leave.
I take photos of me, showing who I am and also provide where I am going. I used to think I was a victim of mistaken identity. That said, many know who I am. I always say, "you do not live the life I lived, and have the problems I have". I am not trying to hide. I have too many problems. I really think that house is the wrong house for Google Earth and others to report as being my location.
Why do you think they are doing it?