Saturday, December 05, 2015
Have you started decorating for the holidays? I wish, I could say "I have". The other day, I rode past the house shown below, and thought I really should get started on our decorations. New piece of furniture in the living room since last December, causing a minor issue.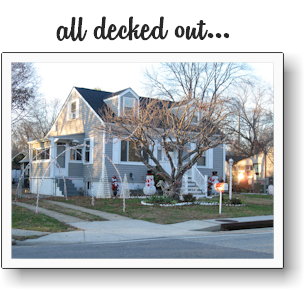 So today, I got started and quickly found something else to do...
That said, I have most of my gifts wrapped and ready to go under the tree when it finally goes up. Right now, the gifts are stored in the guest bedroom.
Earlier this evening, I went out to see what others were doing insofar as holiday decorations and happy to report I am not alone in this procrastination.
I also went by the outdoor garden center in Jessup, MD on RT 175, just past the BW Parkway Exits and found several shoppers getting their trees.
What else have I been up to?
Paying bills:

Quarterly bill for qisoftware.com web hosting.
Credit card bill for holiday gifts.
Cell phone bill.

Out and about, including Arundel Mills Mall Thursday afternoon. Went by I & N Jewelers to get a battery for one of my watches I could not get open. They did it without a problem...
In search of more gift ideas.
Still looking for last minute gifts like me? See some of my ideas:
Next week I will tackle the decorations... and holiday meal planning. I think I am going to try this cake.