Friday, December 11, 2015
I love fur collars on sweaters and coats, however it was not until I was leaving my position as a defense contractor with a Fortune 100 corporation that I started to collect the items I have now.
Before that, I always went for more conservative items with less in the way of extra details [e.g. fur collars]. A trench coat [olive/khaki color with a faux suede feel and look], a black cape, a long black leather- and each worked with most of my many suits.
Then I tried the fur "look". For instance, this wool coat [dark rust/with black fur collar] was purchased in March 1995 [left corporate world in April 1995] from the Burlington Coat Factory at Pentagon City in Arlington, VA.

It was a clearance item and I was able to get it for a ridiculously low price. Does it work with most of my suits? Not really. That's why, the other day when I was looking through the coat closet and noticed it- I thought, I really wish that coat was charcoal gray with the black collar.
Then about 10 years ago, after Arundel Mills and TJ Maxx arrived in Hanover, MD, I purchased the two sweaters with fur collars shown below.
The one on the left is charcoal gray with a detachable [snaps] brown collar which I wear mostly without the collar and the other [right] is all black and the inset shows the collar is not detachable.
Then two years ago-- I ordered this Romeo and Juliet Couture item with a detachable collar [inset shows the buttons for the collar]. I love this sweater as well. Everyone who tries it on-- looks really expensive.
And then [late last month], I found a sweater in my mother's "other" closet and had a brainstorm. It was a long lambswool sweater that hung heavy. It had belt loops for a belt and buttons for a collar. Neither the collar nor the belt was available. My mother was away at time time, so explaining I was in her closet in the guest room and looking for a pair of black boots she had given me, I found the sweater.
I sent a text and an email, asking if she ever wore it? I also sent a photo so she wold know what I was talking about. She said, "no, she never wore it and yes I could have it". She may have felt guilty she took back the boots she had given me.
That's when I got busy realigning the existing positions of the buttons for the collar- to fit the elastic stirrups on the brown fur collar that goes with the Romeo and Juliet Couture Sweater.
Here is my new sweater with the collar attached. I absolutely love it and have a lot of outfits I can pair with it.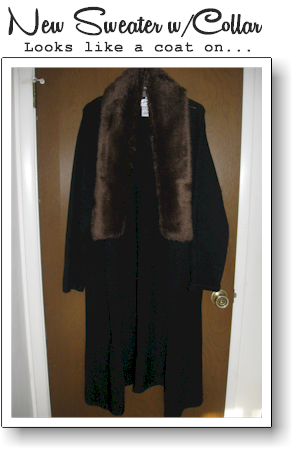 I also had to remove the belt loops and use my Fuzz Buster to make the sweater look brand new.. Do you need a Fuzz Buster?
I did not find the one I have, however did find something similar here. It's a great gift idea. I also looked for a coat similar to the look of my new sweater. Did not find much, think it would be expensive.
History of the black lambswool sweater? My sister gave it to my mother, because the label provided an incorrect size. My mother never wore it. Wrong size give away-- that works well for me as a coat. No, I don't get the boots back.