Saturday, January 16, 2016
Out of bed at 12:20 pm today. Asleep by 10:45 pm last night, up again at 4:07 am this morning [not on purpose, however watched part of the ATP Sydney Final]. Then up and about after twelve noon. This is very unusual for me. I feel rested now, but it was a hard morning.
Anyway, tomorrow evening I plan on watching several of the early round matches from the Australian Open via ESPN.
Of course, since the Australian Open is one of four Grand Slams, prize money is higher than that for most of the other types of professional tennis tournaments. Australian Open prize money [AUD currency] break-down and points for the 2016 tournament: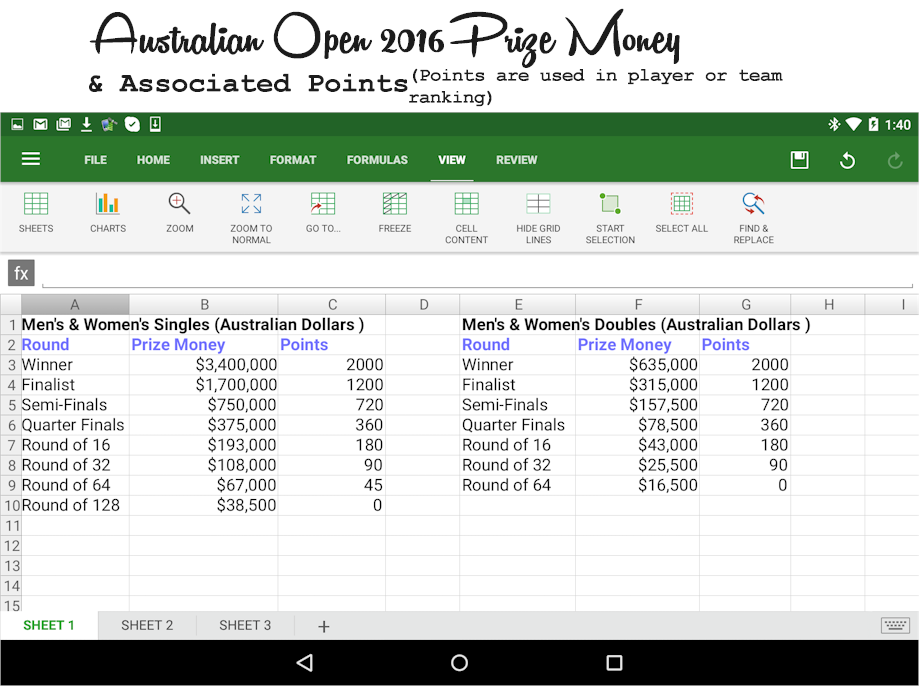 Shown, screen-grabs of the 2016 Men's Singles Draw.
Use the links below to print or save to file- this year's draws you wish to track.
The prize-money spreadsheet shown above was created using the OfficeSuite Pro App on my Android.
You can find the specific OfficeSuite Pro App for your device using one of these links: Apple App Store, Google Android App Store
Initially, I installed the non-Pro version of OfficeSuite, however found I could do more insofar as staying compatible with Microsoft Office Suite Tools and their file formats by upgrading to the OfficeSuite Pro version.
Here are the links for the non-pro version of OfficeSuite: Apple App Store, Google Android App Store