Tuesday, April 12, 2016
Within the last 21 days I have remitted payment for several business expenses including:
Skype Quarterly Payment for Business Number [443-393-6650]
Skype Annual Subscription Unlimited Calling U.S. & Canada
Domain Renewal qisoftware.com
Verizon Wireless Cell Phone [301-xxx-xxxx]
For legal reasons, ever so often- I remind the public, DOJ and the FBI that I do make these payments.
Skype receipts [business line]: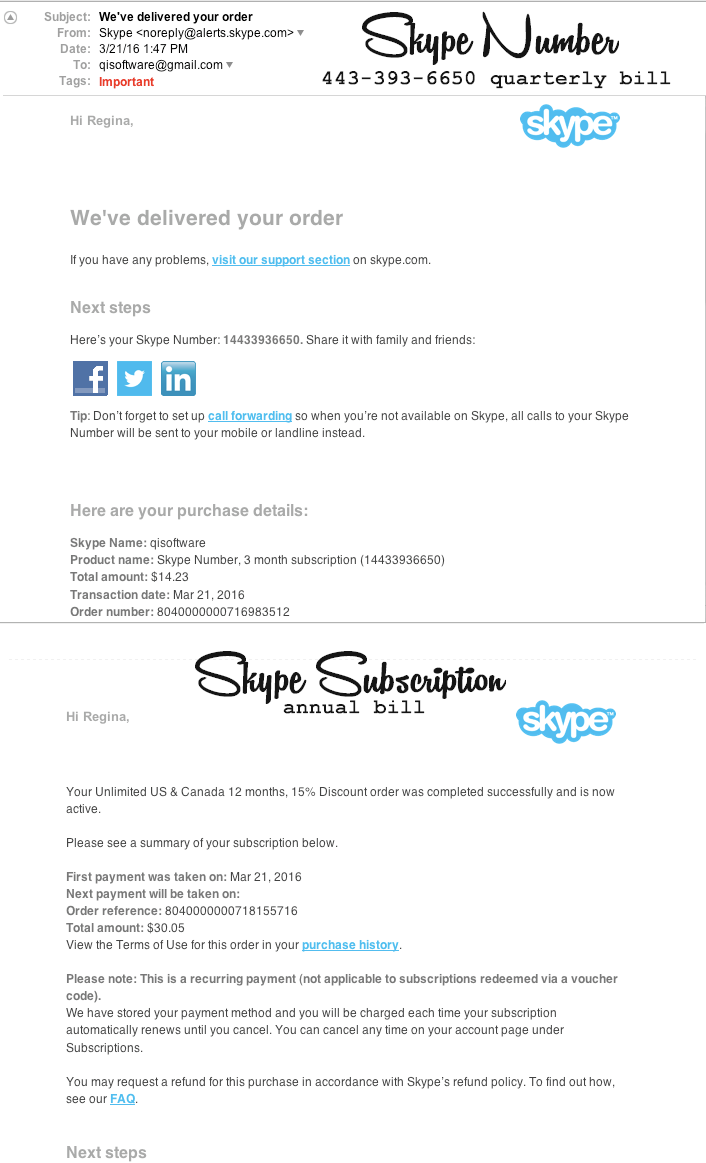 NetworkSolutions receipt [qisoftware.com domain renewal]:
Filed under legal notices. I seldom receive business calls. Abstract noise provides; some delete qisoftware.com domain log files and others answer telephone lines. FBI indicated there is a problem with interference with my business line. My telephone log files show the few calls I receive. Abstract noise provides the FBI thinks the router maybe redirecting the calls. Not sure what is true. I have repeatedly asked that since I do not receive my own calls, no one else should either.
Note the NetworkSolutions receipt shown above. Do you see the little Skype icon with the check mark in the upper left corner?

I use my Android night and day. Because Skype can wake my Android, I keep the device nearby at all times. The calls I do receive tend to be from overseas companies who wish to partner with me, i.e., QiSoftware outsource its business overseas. I get about one call every quarter. I decline these offers.