Friday, April 22, 2016
I worked a number of projects this week, starting with the creation of a new spreadsheet to help me track the Hanover, MD Businesses I list on a community page I maintain.
Background: My parents purchased property in Hanover, Maryland in the mid 80s [back then, mostly a small residential community just outside of Fort Meade]- which has since become a major commerce and residential area in the state. Primary reasons:
Arundel Mills Mall [opened 2000]
Maryland Live Casino [opened 2012]
Proximity of Fort Meade and the National Security Agency
I maintain the Facebook Business Community Page because I do know how much the area has grown, and though my own business has a Columbia, Maryland business address, I reside in Hanover and maintain a home office.
I enjoy maintaining this local business community page and my new spreadsheet helps me to track the businesses I have already listed since I tend to schedule the posts weeks in advance.
Another major project this week?
Extensive research into the use of the HTML5 video tag and running tests ensuring most platforms and browsers support the feature. To that end, I have installed several updates on systems including [make sure you check the system requirements, some of these updates require more memory than earlier versions]: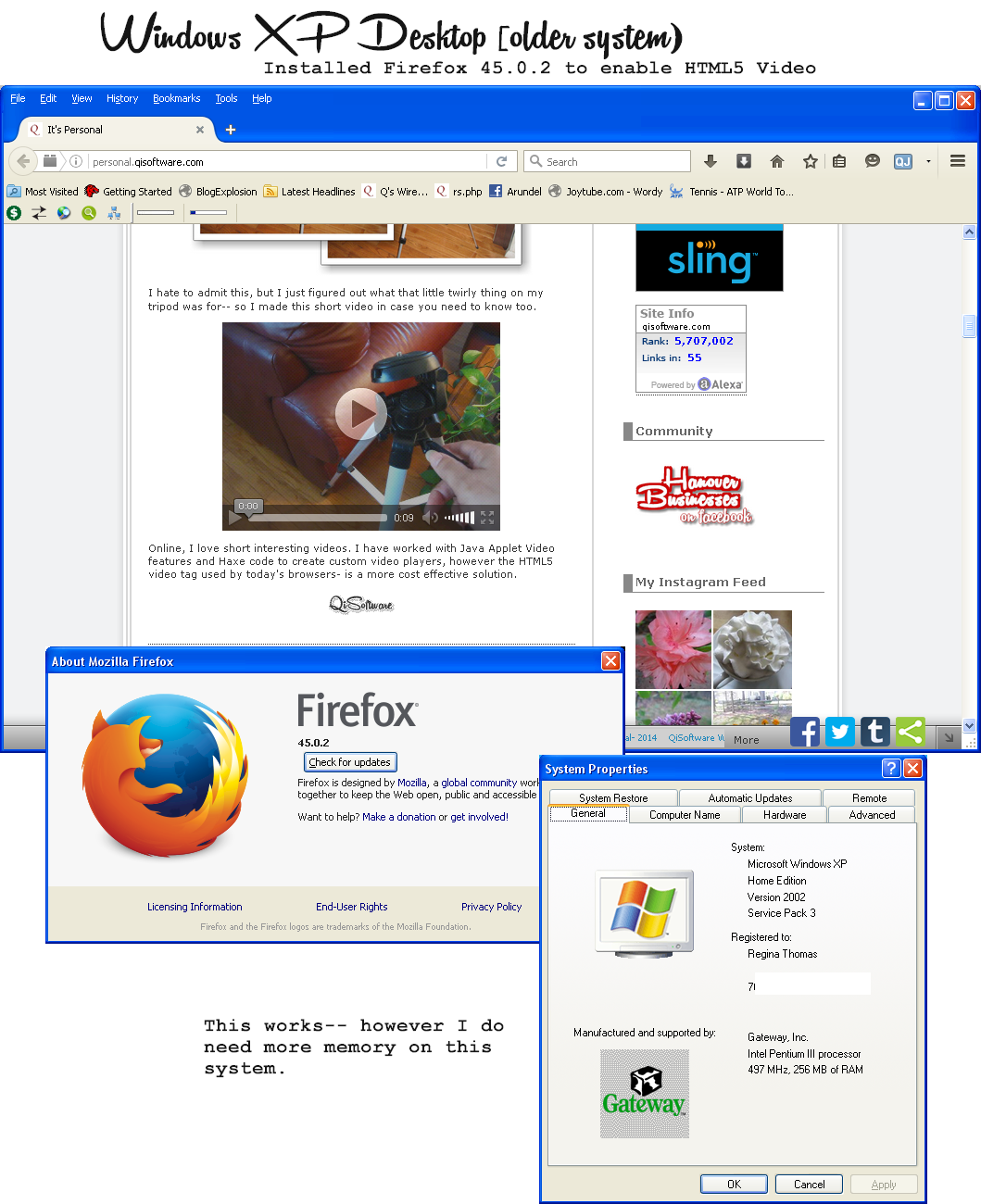 I have found a good reference insofar as browser support for the HTML5 Video tag that you may want to check out.
Another tool I use to check HTML5 browser support? Youtube's HTML5 browser checker.
One of the options the HTML5 Video Tag offers is the "Poster" option. This option defines the image the video player will load if the player is not running. Most browsers do not need the image defined-- in that the first frame of the video is displayed automatically if the player is not running.
One big exception to the automatic loading of the video's first frame? Browsers I maintain on my Android, which include Chrome and Firefox. So this week, I created a banner image that makes the white space less noticeable if the player is not running. I load the image if the userAgent is "Android".
I have to say, I am very pleased my old Windows XP Desktop can now run HTML5 Videos.