Saturday, October 29, 2016
I have had a number of issues with my hardware this week, including:
My Android would not auto-rotate.
An issue with new USB Mouse used with my RCA Windows10 PC/Tablet.
Camera Date/Time Settings.
Starting with the camera. I purchased my Canon PowerShot A590 in 2008 and use it almost daily with very few issues. That said, about once a week, I replace the two AA batteries that power the camera.
This morning when I turned the camera on, the Date/Time Set Menu appeared automatically. I thought it somehow reset itself to the factory setting. Resetting the date and time did not correct the problem.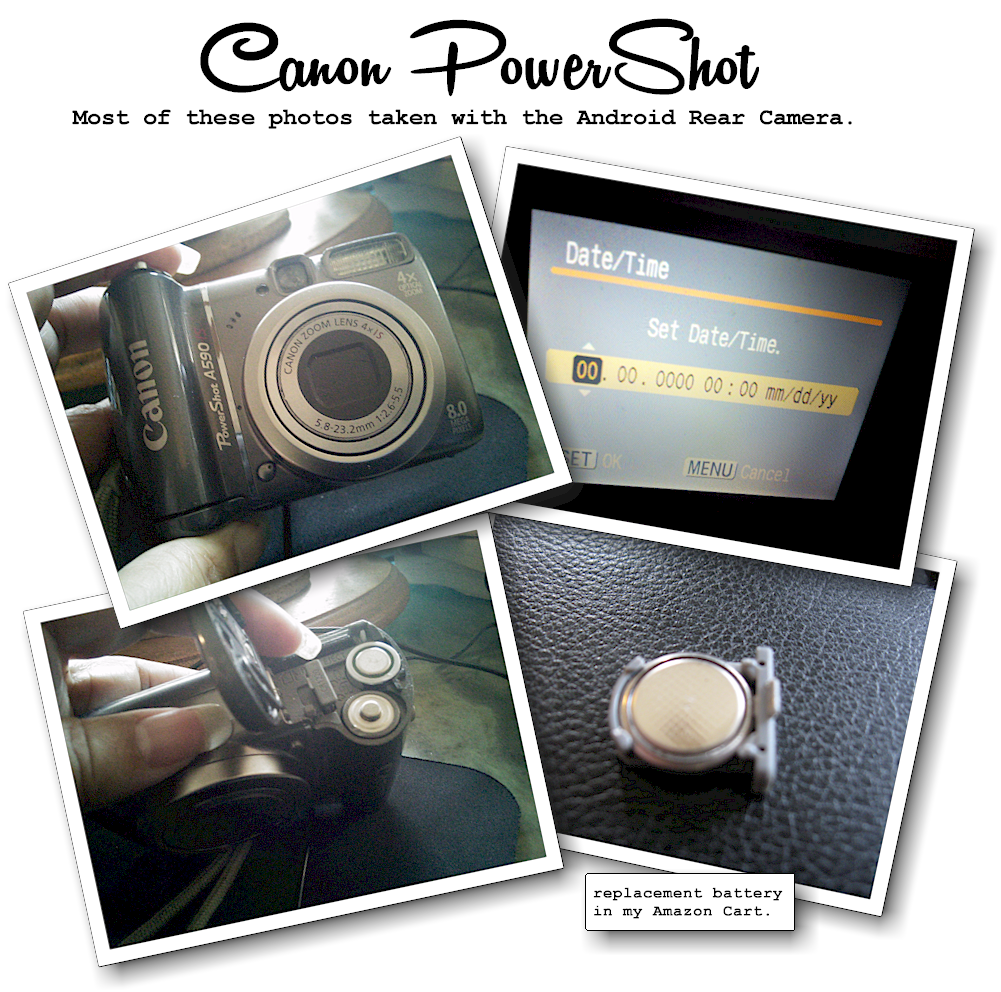 Awhile back, I took out the disc battery and discovered I reset the date/time for the camera-- so I decided it is time to replace that battery after almost 8 years. Easily found the battery on Amazon and since I am in "Holiday Shopping Mode"-- just added it to my cart.
The Android Tablet auto-rotate issue? I researched any number of fixes, including:
Using the Google Now Launcher
Clearing the Cache Partition at the Android System Prompt
I actually installed the Google Now Launcher App, however this option did not work. What did work? I started the Verizon FiOS Mobile App and selected a program to watch in full-screen mode. This worked.
I have had my Android Tablet since Feb. 2015 [2 years in February 2017] and have had very few problems-- even though I "rooted" it. I use a bluetooth keyboard and do a lot of site maintenance, shopping, bill paying and social media tasks with my Android-- so I use it like a mini pc rather than a tablet in that I normally have it in landscape mode. This means I need that auto-rotate mode to work.
Because I "rooted" the Android-- I am hesitant about trying things at the system prompt, the reason I did not try the "clear cache partition" option. If you are having a similar issue [auto rotate not working]-- you may want to look at this option.
And lastly, for some reason there is a conflict with the new USB Mouse and the RCA Windows10 PC/Tablet. I was using an older USB mouse and did not have an issue, however I want to continue using the new mouse so I had to find a workaround. The fix? Unplug the mouse until the system is started and then plug the mouse in.
I have also been researching external power banks for mobile devices. A relative recently purchased a BlackWeb 5200mAh for a trip, however never used the device. I decided to test it.
I plugged it in to my Android about 3:15 pm yesterday. I turned off my Android about 7:00 pm last night, however plugged it back in about 12:30 am this morning. I have been using my Android for most of the day-- including the early morning hours. I update my Amazon Stores in the early morning. About 10 minutes ago [2:30 pm, almost 24 hours later] the BlackWeb power-bank started flashing [indicating the power was low] so I plugged it in to the wall. I think the amount of time I used the external power bank over the last 24 hours is pretty good.
I have added a number of new items to the Computer and Home Electronics Store, including power banks that have been tried and tested. The power banks I have listed are slightly higher in power output than the BlackWeb Power Bank I tested. That said, I think these are great devices.
I am always concerned about the on-board battery life for my mobile devices and these power banks allow me to stay powered without electricity. My Android is always plugged in-- and when its not-- I have about 6-9 hours of battery life using the on-board battery. Even though my Android is almost 2 years old-- I have great battery life because I use electrical power most of the time. If I do not have electrical power-- these power banks will work too-- allowing me to use my on-board battery only when I absolutely have to.
To see all my stores- checkout the list in the upper right sidebar of this blog.