Friday, November 25, 2016
Yesterday morning [Thanksgiving], I was up and dressed by 7:00 am and the turkey was on by 7:30 am.
In years past, because my parents' home was the site of so many festive Thanksgiving gatherings, I try to provide photos of the events going on now. Does anyone remember my Mother's beautiful holiday trivets?
I like the quiet holiday we now enjoy. In the past, I always felt I simply stopped in to have dinner, greet visiting relatives and old friends, and then left. I may have returned over the holiday weekend for "extended family" shopping trips or leftover dinners, however really just a visitor.
Now, I am much more the event planner. Before, my career was very important to me-- and I went to an office everyday. I hosted very few parties in my own home. An office Thanksgiving party was also a big event, also planned by others [in this case, office staff].
This more to say, although Thanksgiving is now different-- it is not bad. I love working and now I combine work with holiday planning. In the past, holiday planning was done for me. Believe it or not-- I used to give my Mother money to purchase the holiday gifts I gave. Now I do all of that.
This morning, I had plans to be at Arundel Mills for the beginning of Black Friday shopping, for a Hanover MD, Businesses project. I cancelled when I realized the Mall opened yesterday at 6:00 pm and has been open ever since.
I am almost done with my holiday gift purchases. Later today, I will be wrapping more gifts. By the second week in December, I will finish all of my shopping and we will start putting up the decorations and tree.
This year, I want to get out and enjoy the season more, however have no definite plans. Are you still looking for gift ideas?
Today, I am working and having leftovers for lunch.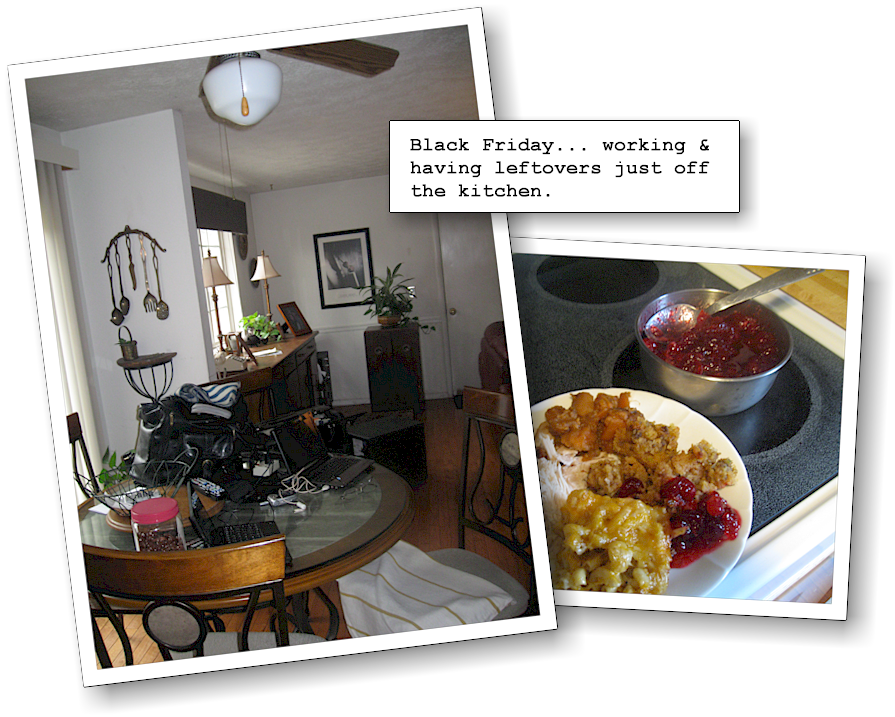 Sometimes, I simply cannot believe I make my own turkey and dressing with all of the trimmings...