Sunday, January 26, 2020
On Friday, January 17, 2020, I placed an order with Amazon comprised of the following items, which arrived, Thursday, January 23, 2020.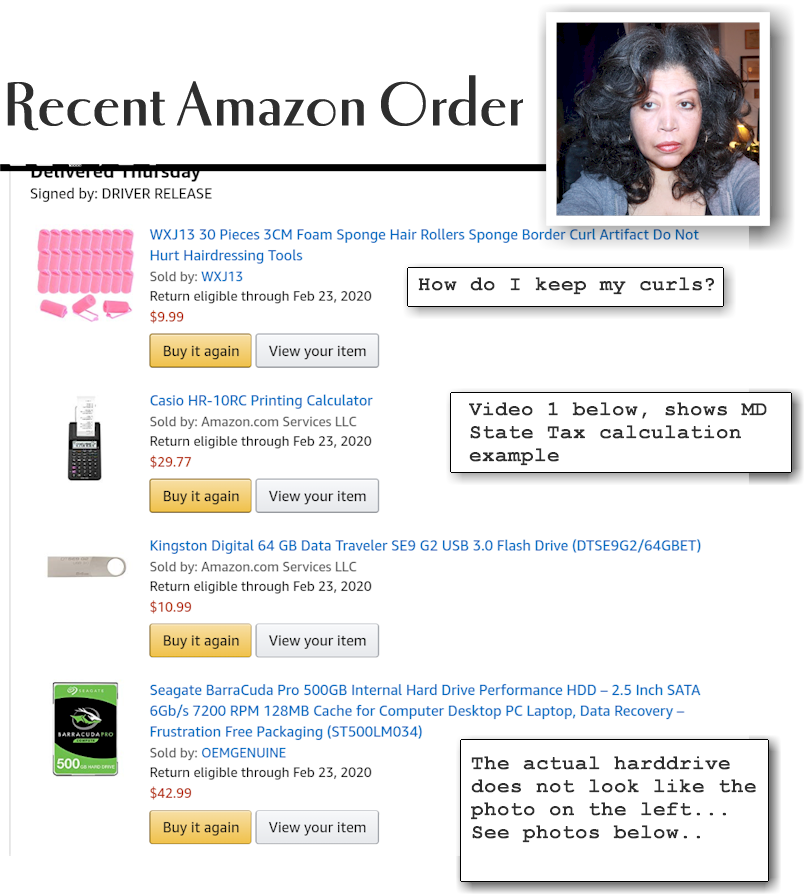 On Friday, January 18th, a huge spring on one of the garage doors broke and though a relative looked at the door and said it could be used without repair, I decided to research, and have the repair done. It turns out, if the spring is left unrepaired, the release latch that allows for manual operation, is useless because the door is to heavy to lift without the spring and both cables. One of the cables also snapped.
So, for the last week and a half- major projects included:
Research, purchase and installation of 500 GB Harddrive for mini computer
More software installed on new mini computer, i.e., Thingamablog, iTunes, etc.
Garage door repair research
2019 Tax Returns (Federal & Maryland) Filed
I needed a new desktop calculator with a small footprint and I am pretty happy with the Casio HR-10RC Printing Calculator I ordered. Below is a 9 second video demonstration of the calculator.
My mother has a slightly larger Casio Printing Calculator (Casio HR-100TM) which is also pretty good, so below, I am providing links to both calculators.
The installation of the Seagate 500GB harddrive was pretty easy, however it did not automatically show up as a new drive. I had to add the device under the Windows Control Panel Hardware tab (showed up as hardware that needed to be added).
These days, storage on harddrives is easy to purchase, and you may notice that I tend to purchase devices with lower storage amounts. This is on purpose. I try to purchase what I think I will need, not how much I can get.
P.S. I also use a Conair 1" Curling Iron which in combination with the items shown, help to keep my curls in place all day.