Wednesday, November 18, 2020
Yesterday was a celebration of sorts. Normally, the birthday celebrated, is with extended family members and dinner out. Yesterday, it was dinner in.
On the menu...
Thin Sliced T-Bone Steaks
Baked Potato w/Sour Cream
Broccoli
Garden Salad w/French Honey Dressing
Dinner Roll
Apple Pie
One of the gifts received, an inexpensive point and shoot camera that is very easy to use. I have to say, I am pretty impressed with this camera.
Side by side comparison of photos from the inexpensive Digital Camera 2.7K Ultra HD Mini Video Camera 44MP 2.8 Inch LCD Rechargeable and my Canon EOS 50 using a Canon EF-S 55-250mm F4-5.6 IS STM Lens (need an EF-M Adaptor for this lens and camera):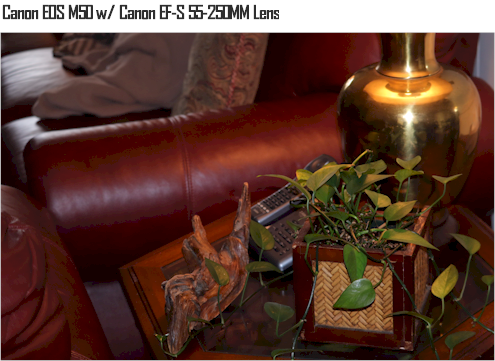 The camera has plenty of features and a very useful user's manual.

Sunday, November 15, 2020
This time of year, I am normally out taking photos of beautiful autumn colors. This year is different. I find, I am spending more time ensuring the shopping, and other choirs outside of the house, are getting done.
That said, I have pulled out my camera- to take photos of the spectacular color just outside the door.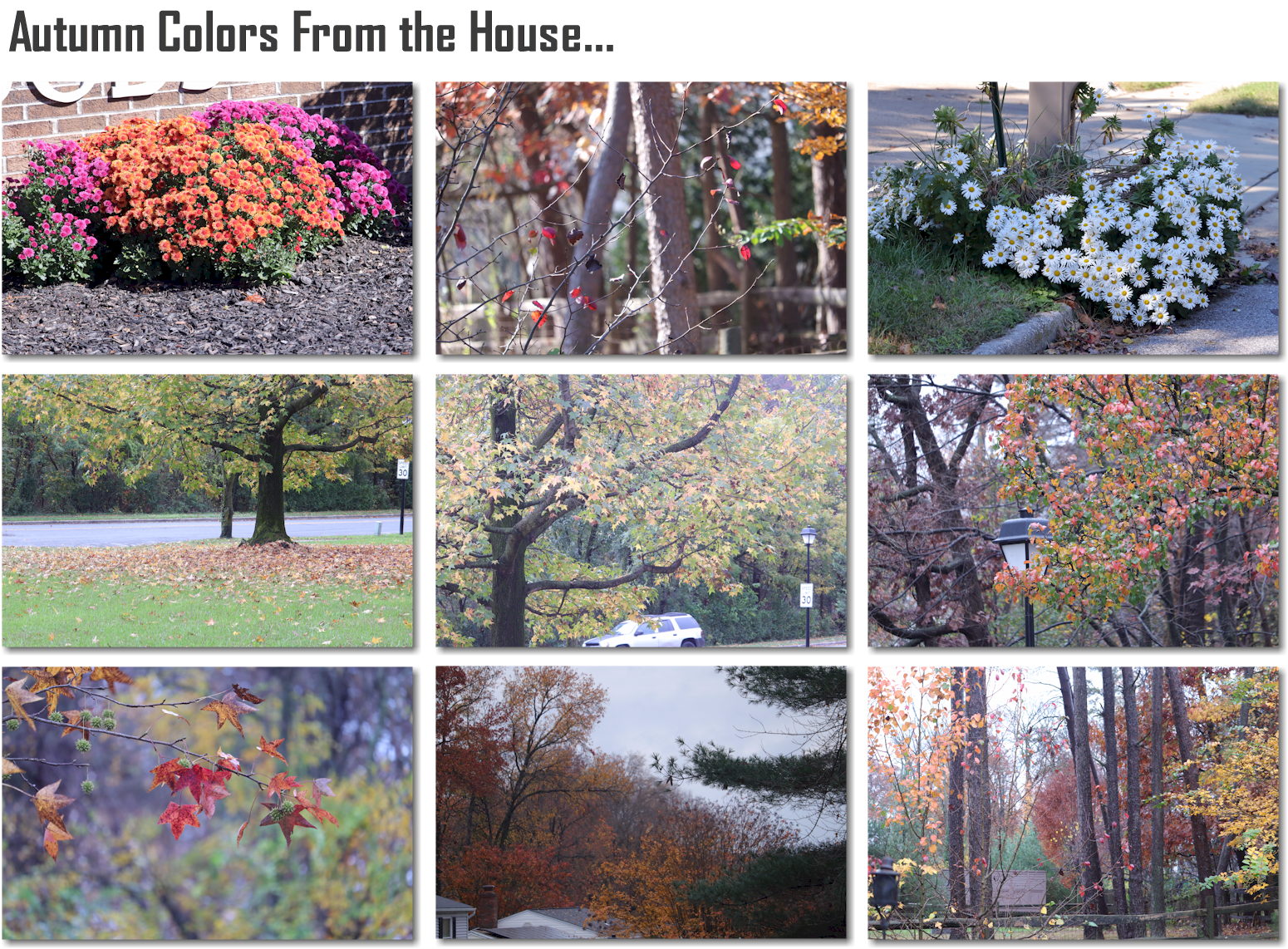 Another Fall 2020 project- "Shop My Sale" is an online marketing experiment I am undertaking, after noticing a new feature being offered by PayPal-"Sell on Social".
I have been going through rooms and taking photos of items never used- now. Things I thought about, but decided I really did not want to sell- are shown below.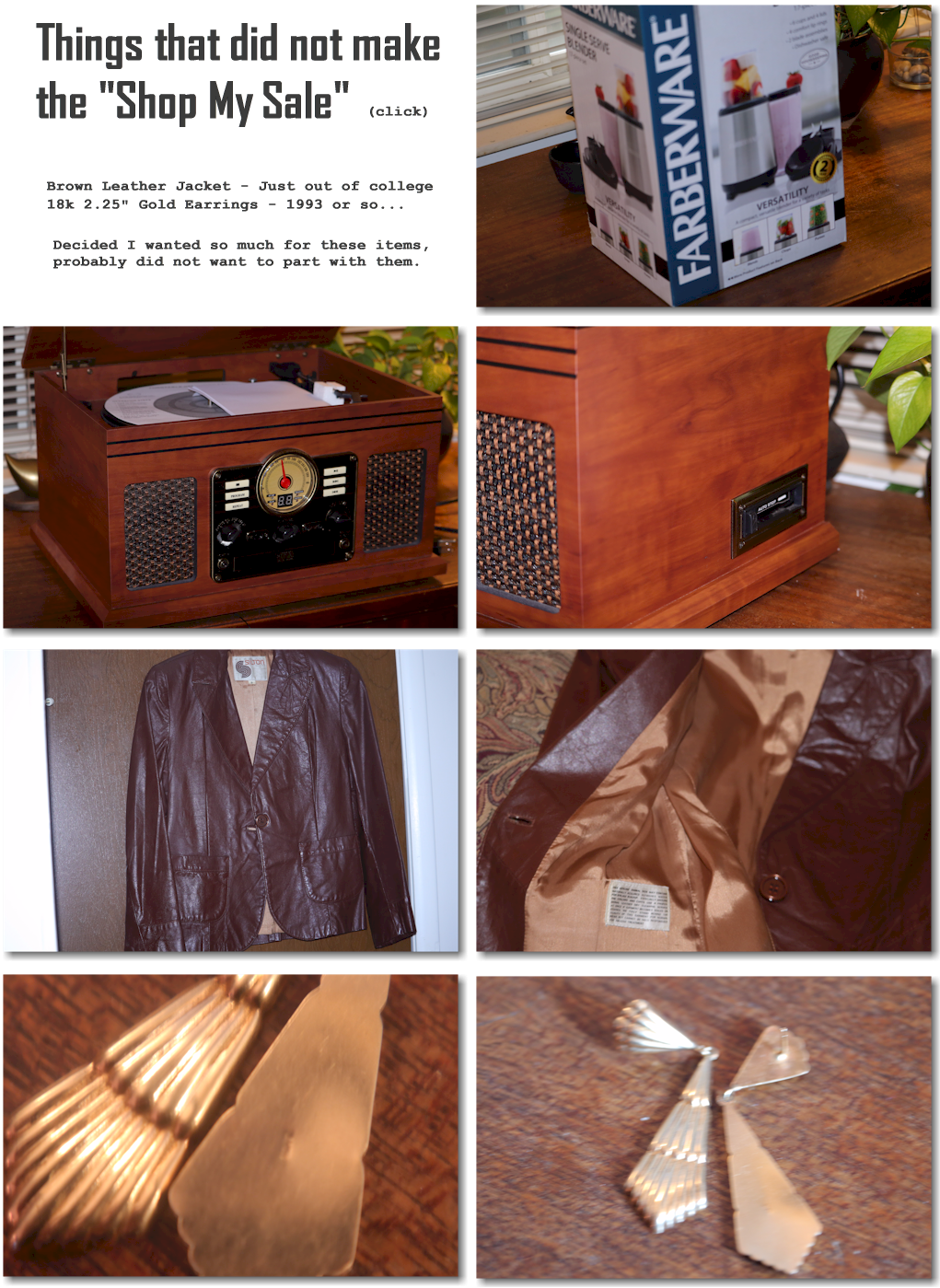 Why show them here? Just to show, what I have been up to. I really did not want to sell my earrings so when I came up with a $2000.00 price tag (I paid under a $1000.00 for them in 1993 or so), I decided, I really should not add them to my sale.
Other things I have been up to?
Yesterday, received a Cash Rewards check from one of my credit card companies, so that made me happy.
Trying to resolve a new problem with Facebook Page Plugins. I use this resource in various places on WiredPages and this blog. For some reason, the plugin will not show the fb page content unless the visitor clicks on the Like link. The thing is, you do not even have to like the page (happens if you are not logged into Facebook), for the content to then render correctly. This is a new problem, and I am still looking for a work-around. Visitors to my pages should not need to login to obtain the public content I am trying to provide. I have been using Facebook Page Plugins for over 2 years and loved the way this worked.
Online shopping for birthday and holiday gifts. This year, mostly, needed items and no- would love to have items.
Attempting minor repairs to my car.
Perusing market sales flyers (I am surprised by how much time I spend doing this, is it paying off? Yes.).
Hope your holiday planning is going well.

Saturday, October 24, 2020
I use the Microsoft Office Professional Suite (Microsoft Office Professional 2019
link is for the latest version) for most of my business productivity needs.
Examples of how I use the Microsoft Office Professional Suite of products include:
Business Letterhead MS Word
Fax Cover Sheets MS Word
Presentations MS Publisher or MS PowerPoint
Vector Graphics MS PowerPoint see note below
Affiliate Database MS Access
Contacts MS Access
Savings Daily Interest Tracking MS Excel
Note, I use Microsoft Image Composer for most of my graphics work, which is not part of the Microsoft Office Suite of products. I use PowerPoint to create and manipulate vector graphics.
Recently, I put together a presentation which required my business letterhead and a Publisher presentation. I designed the MS Word Letterhead template for business correspondence several years ago, and decided it was time for an update.
Searching online, I found several options for MS Word templates and chose the following set:
I customized the set for my requirements and very pleased with how this might work out for business productivity efforts. The original template set was designed for Microsoft Word 2007 or later. I use an earlier version of the productivity suite.

Saturday, October 17, 2020
The Canon EOS M50 Mirrorless Digital Camera I purchased last year, came with a number of accessories, including a cleaning kit.
Recently, I noticed imperfections with some of my photos and tried cleaning the camera lens to resolve the issues. I noticed the problem after a series of shots of a midday moon against a blue sky.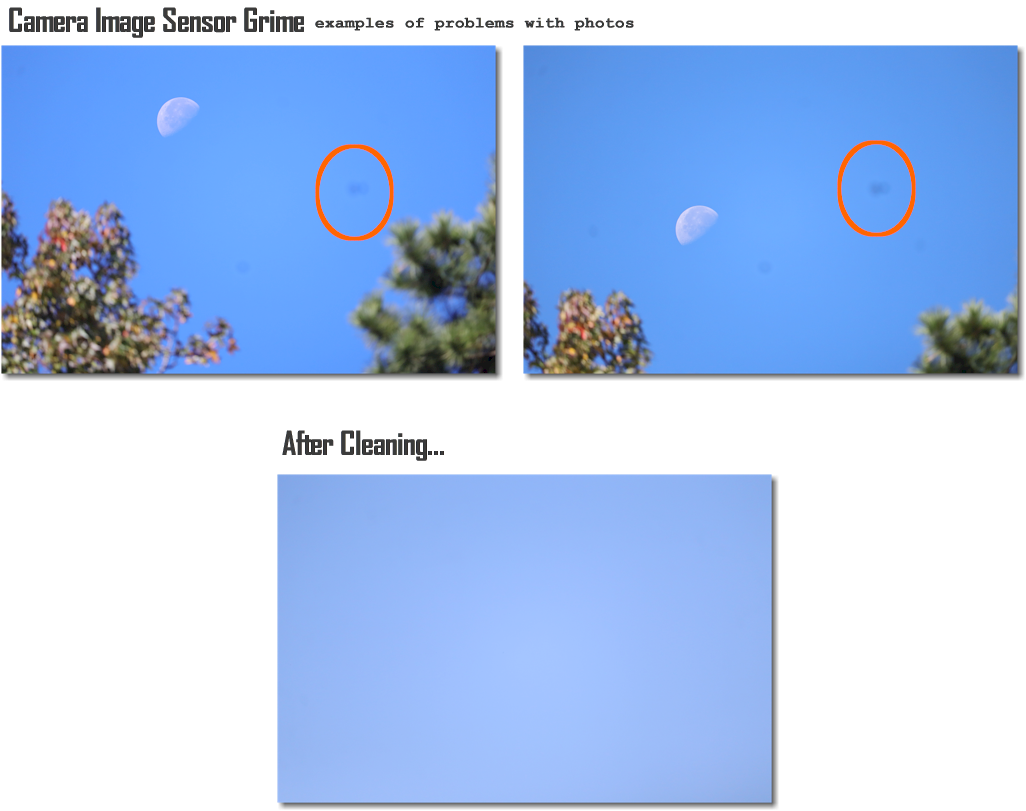 While researching this problem, I read- shooting a blank white wall can also highlight photo image errors.
Dirt on the lens was not the problem, so I then checked the Camera's Image Sensor. Yes, I noticed a smear and dust on the sensor, so I used the blower that came with my camera kit and also tried the camera's internal "Sensor cleaning" feature.
Neither of these solutions corrected the problem. What worked? A non-abrasive, ammonia free wipe that I had on hand which I normally use with glasses, mobile devices, and monitors.
My caution, most of the videos and articles I researched, as to what to use on a camera's image sensor- indicated a special kit should be used to insure no damage is done to the sensor. The concern, a wipe that is too dry or soaked in a cleaner to abrasive- may damage the sensor.
Below, I provide some of the more popular cleaning solutions I found for use with a camera's image sensor.

Thursday, October 08, 2020
Enchiladas are a favorite and I try to keep on hand, ingredients for this dish. My version of this entrée includes:
1 lb. Ground Beef
McCormick Enchilada Seasoning Mix
Old El Paso Hot Enchilada Sauce
Onion
Green Pepper
Mission Super Soft Corn Tortillas
Colby Jack or Mild Cheddar Cheese
Sometimes I add extra tomato sauce and water
Over the summer, I discovered local markets could not keep the McCormick Enchilada Seasoning Mix I normally use with this dish, in stock. With the many restaurant closings, perhaps many found themselves in the kitchen trying new recipes.
I researched several options and found I liked this homemade recipe for Enchilada Seasoning.
I like mild banana peppers and Tabasco sauce with this dish.

Friday, September 18, 2020
Yesterday, I noticed the WiredPages "What's New" interface located in the lower right corner of the home page- showed nothing. The tool was a Java Servlet powered by Facebook, which accessed the Facebook WiredPages Notes page and provided the 3 most recent posts.
After a moment of research, I found, a Facebook app permission that I had requested in December 2017, had been revoked because of new policy changes for app developments.
When I first requested the Facebook app permission (Page Public Content Access), I thought I would be using the access to power an events interface I wanted to use with the WiredPages Style & Events page. Initially, Facebook allowed programmatic access to events associated with a page, however changed the policy.
Long story short, I used the app permission to access the notes of the WiredPages Facebook page and not the events-- and believe this is why the app permission was revoked.
The initial app permission request- provided a video and details explaining the events tool I wanted to create, and not the What's New interface I eventually created using the app permission.
Yesterday, when I discovered the issue, I thought about my options for a moment and decided to create a new database which would power a new Java JDBC Servlet. Factors in this decision process:
The original servlet was a little slow, accessing the Facebook data pool the most likely cause.
I have several tools accessing the WiredPages Facebook page, and when I added a new note, I had to insure the real estate plugin also powered by the Facebook page, was not affected.
Honestly, tired of worrying about policy changes.
I developed the Java JDBC Servlet and database in local mode and then ported everything to hosting-q.com (around 7pm last night), where I maintain most of the tools associated with WiredPages.
A couple of minor glitches installing the new database and servlet on the live site, however happy to report everything is working again.

Wednesday, September 16, 2020
Folks in my area are allowing their hair, to take on beautiful shades of gray. I wish my coloring allowed me to consider this option.
Over the weekend I did my hair...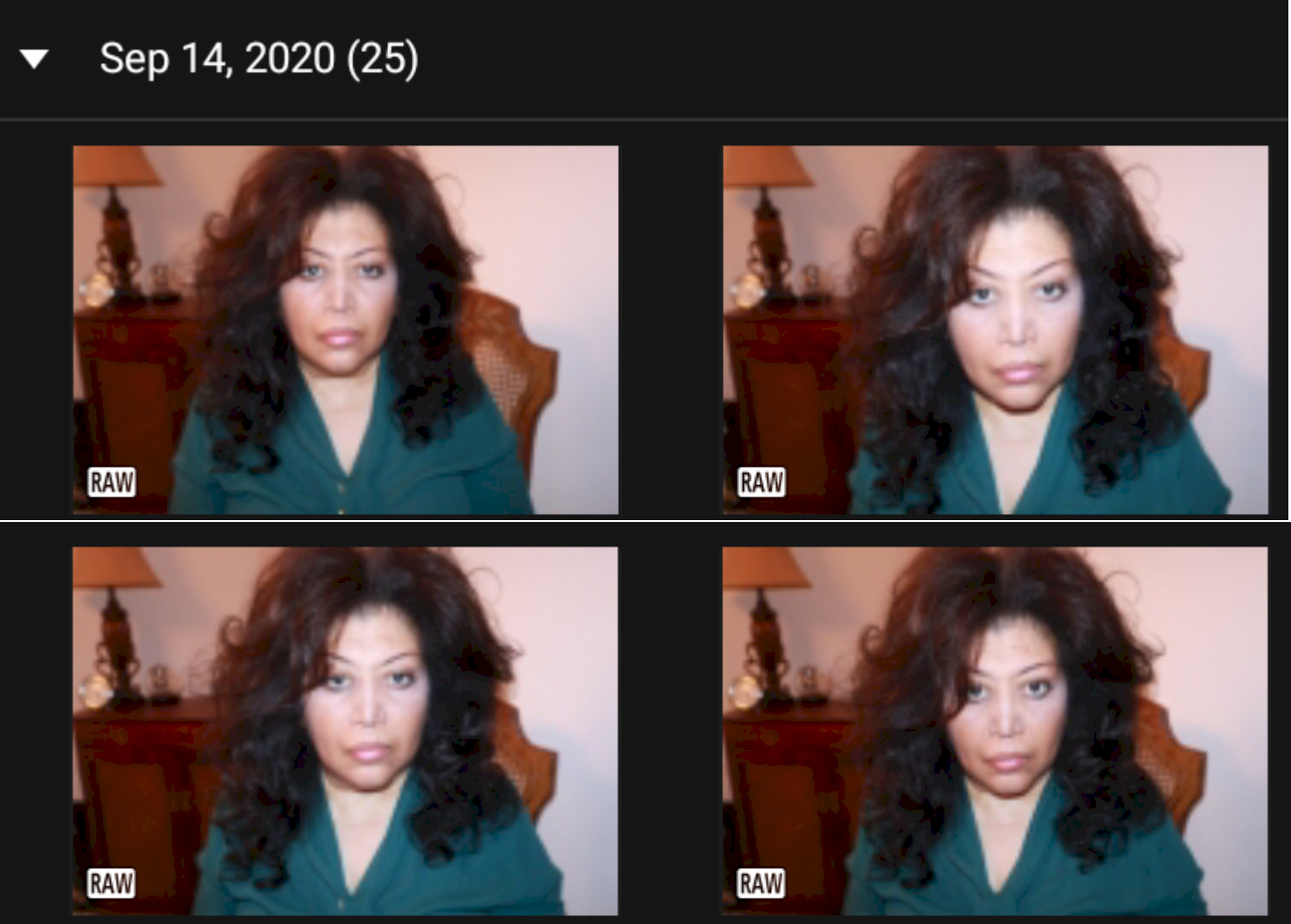 I was watching a review of the Dyson Airwrap Complete Styler for Multiple Hair Types and noted the total time- the young lady took to achieve her blowout.
I set my hair at night. It takes about 40 minutes. I use a very hot Conair 1" Curling Iron and then set each curl in a soft roller for overnight wear. I use an ISOPlus conditioner on the ends, just before winding each section of hair on the curling iron. My hair is deceptively full (lot thinner than it looks).
Why does it take so long? To achieve longer lasting curls-- each curl (16 total), has to stay wound on the curling iron for an 80 count. Eighty seconds? No, just an 80 count which is probably less than 80 seconds.
Do I take my hair out every day? No. Do I use weaves or other sources of hair? No. I keep my hair straighter, by using a blow dryer and curling iron to take out most of the natural wave.
I wanted to snap new photos for Linkedin and other business services I use, however I am not sure I want to use the photos shown here. They are screen grabs from my Android as taken by my Canon EOS M50 (see info in the blog header) using the portrait setting and the two second timer. The hair length for a business photo- the problem? No. My conservative earrings are overshadowed and I am not sure why.

Monday, September 07, 2020
In 2009, I switched from a shared to a private Tomcat jsp hosting plan for use with qisoftware.com.
What is Tomcat?
Apache Tomcat is a long-lived, open source Java servlet container that implements several core Java enterprise specs, namely the Java Servlet, JavaServer Pages (JSP), and WebSockets.
The switch [on qisoftware.com's servers] enabled me to restart my private Tomcat service whenever the need arose.
The switch for hosting-q.com, where I maintain most of my Java Servlets, occurred in October 2018.
When I started using private Tomcat services, I only needed to be able to restart Tomcat so updates to the web.xml file and new Java .class files were recognized.
This to say, that if I ever had a problem with either shared or private Tomcat services-- I simply decided my web hosting providers should research and fix the problem.
In October 2018, a newer Tomcat private service was established on hosting-q.com, for which (quite frankly), I had to do a bit of research- to have it work correctly. Last week, I forgot I had to do this. Yes (even then), I tried asking the web hosting provider to resolve some of the issues, however now I realize, they feel if you ask for a private Tomcat hosting plan, then you know how to run a private Tomcat service.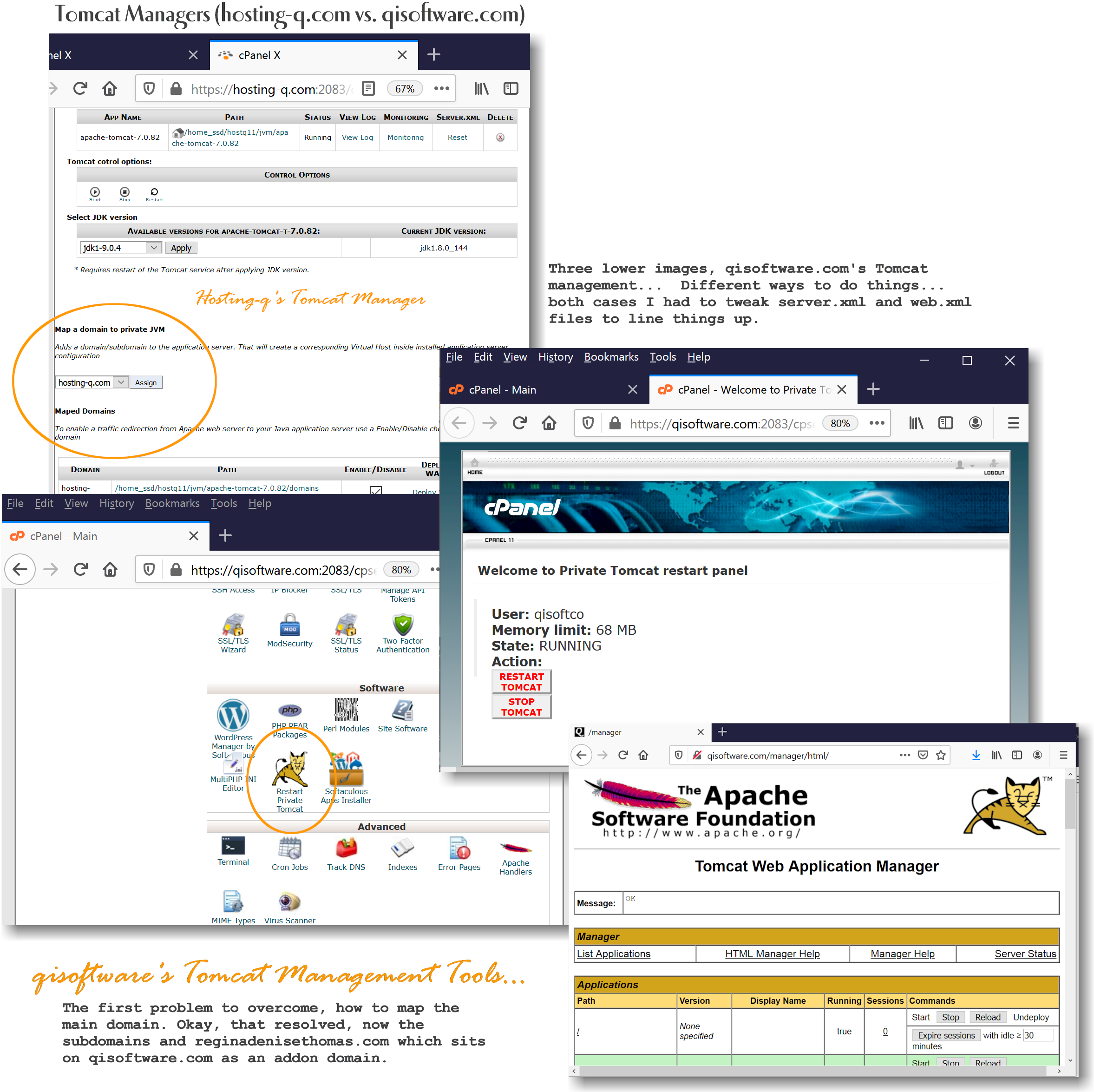 Last Wednesday (September 2, 2020), when I okayed the update for the current Java JDK version 1.6, the web hosts also indicated they would update both Tomcat to version- 8 (8.5) and the Java JDK to 1.8. When this happened, the site dropped almost immediately.
Java JDK 1.8 is considered a must have to handle today's SSL issues, and since I have been developing in that environment (JDK 1.8) since December 2019, I knew it was a must have for qisoftware.com servers.
Preliminary tests showed, I could not even install a simple Java JDK 1.8 test servlet on qisoftware.com servers without dropping the entire site (keep in mind when you use a private Tomcat service the Apache Tomcat server is used to run the entire site).
The other issue, for the last year or so, I have been migrating new tools, or updates of existing tools to hosting-q.com because qisoftware.com's versions of Java and Tomcat simply could not handle the new interfaces.
Two weeks ago, when hosting-q.com experienced an overload, I knew I had to do something about qisoftware.com- to assist in the efficient distribution and deployment of Java class files, between the two sites.
I had errands to run Wednesday (September 2, 2020) morning, and knew before I left- I had a lot of problems. When I returned, I was able to figure out how to map qisoftware.com and reginadenisethomas.com to the new Apache Tomcat Server.
By the end of Wednesday evening, I had the following sub-domains mapped.
forums.qisoftware.com
personal.qisoftware.com
remix.qisoftware.com
wiredpages.qisoftware.com
I probably should not admit to this, however here goes. While trying to get the sub-domains mapped, I inadvertently deleted all of the files in most of the sub-domains, reginadenisethomas.com and the rest of the lower directories under the main level.
No problem- remix.qisoftware.com and personal.qisoftware.com are Thingamablogs so I simply ran the local software and reinstalled each blog (personal.qisoftware.com took over nine hours to reinstall on a Verizon FiOS network-- think we are sharing some of our throughput with neighbors).
As requested two days before (August 31, 2020) by my web hosting providers, I made a backup of the entire site (oddly enough, Tomcat & WiredPages directories were missing), so it was easy to use a secure copy command to replace the deleted directory structures.
Other issues I had to resolve:
cgiemail-- though the cgi-bin directory appeared to be mapped, the MIT Form to Email application I have used since 2004 or so, simply would not work. Created a PHP Form-to-email Function to handle qisoftware.com/contact.html and wiredpages.qisoftware.com/busdir/SubmitListing.html.
index.php not recognized for forums.qisoftware.com. The following command set did work for 10 minutes and then suddenly dropped the Tomcat Server.


Had to come up with another way, which I am not happy about.

Continuing to look at this problem.
All of this to say, at this time, qblog.qisoftware.com (Q's Wire, MySQL Database uncorrupted) and blog.qisoftware.com (original Business Blog) are not installed. Very easy to use the secure copy command to load these sub-domains and the associated directory trees. I am simply weighing the options.
Did you want to ask if you should use Java Servlet Technology or use someone like me to develop custom tools? Yes. Most big sites use Java technology. It is more secure and executes faster than most scripting languages. Smaller sites can use a shared Tomcat environment. Developers like me-- need the Private Tomcat Server.

Wednesday, September 02, 2020
The upgrade to the Java JDK and Private Tomcat Instance used by qisoftware.com did not go as planned. You may notice issues with some of the tools and interfaces installed on WiredPages and the main site area of qisoftware.com.
Running several errands today, so my communications with my web host may be delayed. Hopefully, the problems will be ironed out by the end of the week at the latest.

Tuesday, September 01, 2020
Normally, I love this time of the year. Well, that's to say Autumn, but it will be here soon.
I used to look at my site stats and think, DOJ, affiliates, lawyers were good for their word. Their claim- "we are trying to clean up a lot".
Normally, around this time of the month, I hear about the number of people who did not get their first of the month check. Supposedly, because he or she interfered with me or my business. I do not want to explain the other reasons-- but have you noticed the difference in my recent photos versus from 5 years ago?
Nevertheless, I often hear- "yes we do owe and yes this will be cleared up". No, I did not hear of any recent firings. Yes, all the time I hear about how much my sites are making. Do you want to see my earnings from those sites?
DOJ-- did you want the screen-grabs? I am not demoralized. I want these issues resolved. I want to walk away. I said no.

Saturday, August 29, 2020
Recently, I acquired an EMV Chip & Swipe Card Reader for mobile business payment processing. Allow me to back up for just a moment, and explain, I have had a PayPal business account since 2005 or so, which enabled easy sign up with PayPal Here, the mobile payment processing service.
I use PayPal for most business payment processing tasks, however there are several other great options, including (list focused on mobile payment processing services):
Most major banks also offer merchant services for business banking customers, however I do not have enough in the way of monthly sales revenue to justify this more costly option. At this time, PayPal is a more cost effective solution for my business payment processing needs.
To be able to to accept credit cards at the Point of Sale (POS), you will need new equipment. I have compiled a list, I believe to be a good starting point for research into this area.

Partial List of Available POS Payment Processing Equipment

Interesting articles about card readers and related card processing services:
Before purchasing credit card processing equipment, research the payment processing service, i.e., PayPal, Clover, etc., you are planning to use to insure your payment processing requirements qualify for the type of service being offered. For example, PayPal requires applicants to either have a PayPal business or premium account to activate the PayPal Here mobile payment processing service.
Also, before signing up with a new payment processing service, understand the fee structures. While researching for this post, I found one of the biggest complaints from merchants with established Point of Sale (POS) payment processing solutions, was the hidden costs.
Printing customer receipts at the point of sale (mobile) is also something that should be researched thoroughly before purchasing equipment. The PayPal Here service offers either a text or email receipt, in the way of other options.
In the table above, I list a thermal printer for Android users of PayPal Here, however my own experience has been "enlightening" to say the least. No, I did not purchase the printer I listed. I will discuss this further in a later post.
I am a small business owner and have to justify my business expenditures. To date, my total cost to be able to accept most forms of payment while on the go, is under $100 USD. Research into the purchase of POS services and equipment is important.
Now, I am thinking about a yard sale. Even looked into tax related issues. What else? Photography, WiredPages Business Directory listings, on-site software consulting fees...
For legal reasons, I provide demonstration of my software tools (core business), on my sites, e.g. WiredPages, however I have to be more selective where direct client support is involved. Liability is to easy to assign in the online services game.
At this time, I rely more on the advertising associated with my sites. I need a more stable legal solution.
That said, I am coming up with other ways to use my new mobile payment processing capabilities. Can your business justify the cost? Here is another solution- PayPal.me.

Thursday, August 27, 2020
Earlier this month, I had an issue with the Instagram interface I developed for demonstration purposes. You may recall, in June [2020], I migrated the original interface from the Instagram API platform to the Facebook Instagram API environment.
The recent issue involved token authorization and expiration dates, which I incorrectly assumed worked in the same manner as the original Instagram API. I found the correct developer documentation article via a Facebook Developer Group and was able to correct the problem in short order.
After looking into this issue, I decided to create another FB Instagram API interface (Java Servlet) using another of my Instagram accounts, HanoverBusinesses.
I created the HanoverBusinesses Instagram account to use with the HanoverBusinesses Facebook page app.
The app shown on the FB page is offered by Woobox. At this time, I cannot afford to host a Java Servlet (app) that is accessed by a Facebook page, however I do offer demonstration tools that are accessed exclusively by pages on my sites.
Also note, the Instagram Widget in the sidebar of this blog is another external app created by LightWidget.
My Instagram interfaces (shown above and this link) are only meant for demonstration of the type of custom interfaces I develop. Do I offer more options? Yes, however Java Servlet hosting for use with a popular blog- might be costly.
Legal issues prevent offering, a similar interface using PHP or other open source development resources.

Saturday, August 22, 2020
Last Sunday, with the remaining Gala apples, I made an apple upside cake. The cake turned out well, so I thought I would share the recipe.
First allow me to explain, I found this recipe for Pineapple Upside Down Cake on Food.com in December 2015.
The thing I noticed about the recipe, the way it incorporated the flour mixture in three parts with the milk in two parts, starting with the flour. From past experience, I have had a lot of success with cakes when I combine the milk and flour ingredients in this manner.
After I made the Pineapple Upside Down Cake, using slightly different ingredients (I like unsalted butter for baking- I keep this item on-hand frozen, until I need to use it), I decided I liked the way the cake turned out and the amount of batter was perfect for the smaller two layer cakes I prefer to make today.
Over the years, I have tweaked the base cake batter recipe until I am pretty pleased with the results. Below, the changes I made to the original recipe to get the basic cake batter recipe I use today.
My Basic Cake Batter Ingredients For Two 7" Layers
2 tablespoons margarine Pineapple Upside Down Cake Ingredient
9 pineapple rings Pineapple Upside Down Cake Ingredient
9 maraschino cherries Pineapple Upside Down Cake Ingredient
3/4 cup brown sugar Pineapple Upside Down Cake Ingredient
1/2 cup soft margarine unsalted butter
3/4 cup white sugar (added 2 tablespoons of sugar to the 3/4 cup)
2 1.5 eggs, beaten (see note 4 below)
1 teaspoon pure vanilla extract
1 1/2 cups flour
2 1¼ teaspoons baking powder
1/4 teaspoon baking soda (new ingredient)
1/2 1/4 teaspoon salt
2/3 cup milk 3/4 cup buttermilk
2 teaspoons of club soda (some like adding this to help the cake rise, mix in the buttermilk)
Follow the instructions for the original recipe to mix the ingredients for the batter. One note, the first step, when mixing the butter and sugar- I cream the unsalted butter for about two minutes then slowly add the sugar. I then let the mixer cream the two ingredients (butter & sugar) together for at least 3 minutes.
The other note, I bake the two 7" round cake layers (shown above) in a 350 degree oven for about 26 minutes.
For the Apple Upside Down Cake I made last Sunday, I only used about 2/3 of the batter in one 7" cake pan. I sautéed the Gala apples for a couple of minutes adding sugar, cinnamon, nutmeg, butter and cornstarch then drained almost all of the juice off before layering the apples in the bottom of the sprayed cake pan. I then spooned the cake batter over the apples and baked for about 28 minutes.
Note 3, I like Baker's Joy baking spray to insure my cakes do not stick to the pans.
Note 4, the cake is much better if allowed to sit for at least 4 hours before cutting. Cutting the cake before that, in my opinion, leaves a more eggy aftertaste, the reason- I reduced the amount of beaten eggs in the recipe.

Wednesday, August 12, 2020
Yesterday, I made an apple pie with Gala apples.
The secret to great apple pie using fresh apples? Allow thick apple slices to sauté in sugar, cinnamon, nutmeg, butter and cornstarch to release most of the juices from the apples. You only want to release the apple juices so do not sauté on the stove top for too long. Use any highly rated apple pie recipe as a guide for the ingredient amounts and then add to suit your own taste buds. I like cinnamon and sugar.
Spoon only the apple slices into the crust lined baking dish. Bring the remaining apple juice concoction to a boil. Let it thicken, and then pour over the apples in the baking dish. Top with the upper crust and bake.

I love Apple Pie Alà Mode.

Monday, August 10, 2020
Recently, I have been working on a post about my research into EMV Card Readers. Hopefully, I will have the post up shortly, however due to shipping issues-- and perhaps the current health crisis the post is late because equipment I ordered is late.
Sometimes, I notice the interference with my business and other issues, and feel at this point, these issues should have ended long ago.
The FBI has the specifics of my case, and I am told working the issues. In the mean time, I have been putting feelers out for a project I am working Hanover-Magazine.com.
I have also been getting messages from DOD contracting types who are interested in working with me. FBI-- these contracting agencies and direct employers are interested and I am not getting more feedback from you? Contracting folks need clearances... and they want to use me again? FBI, what are you looking for... I want to understand why I am in the same situation... yet contracting people want to hear from me? (I can prove this with screengrabs.)
I said no, and the Department of Justice and FBI owe me... not DOD contractors.... Been there, done that.
I know you have some idea of the problems I am facing, interference with my business, etc. I want it over. I said no.
Frustration after frustration... when all I do is work. I said no.
Have you heard of my case? Most local folks know of me. Why do you suppose these local contractors have no idea about my case?
In May 2012, I was told the US government owed me between 1.5 and 2 billion dollars. I negotiated the settlement for a lot less. Now government contractors want to hire me? When do I get to retire?

Sunday, August 02, 2020
I made my favorite buttermilk pancakes for breakfast this morning. The recipe, one I mentioned here. Note, rather than cooking spray, I use vegetable oil in the pan.
Actually, this is the third or fourth time I have made these pancakes since mid July. Did not want to waste the buttermilk and this "from scratch" recipe, is very easy. Briefly, the recipe calls for:
Cup of all purpose flour
2 tablespoons of sugar
Teaspoon of baking powder
Half teaspoon of baking soda
Quarter teaspoon of salt
Cup of buttermilk
Lightly stirred egg
Teaspoon of vegetable oil
Mix in a bowl with at least a 2 cup capacity, the first 5 ingredients. In a separate bowl (I use liquid measuring cups), mix the buttermilk, oil and egg. Add the wet ingredients to the dry and stir well. Pour on a hot pan with oil and wait until you see the bubbles. If you like buttermilk pancakes you will love these.
Did you know you can make buttermilk with plain milk and vinegar? See this post.

Thursday, July 02, 2020
I am always looking for affordable business styles, and Ann Taylor has always been a favorite- reference post.
Two weeks ago, an Ann Taylor blouse I bookmarked over a year ago, went on sale. Shown in the images below, the Lush Lagoon Tie Neck blouse.
The other two tops were also on sale. Though out of season now, in the coming months, I will be able to pair various pieces I already own- with the new tops.
I tend to know what works for me, however sometimes, I miss on prints. I was pleasantly surprised, the tie neck geometric print blouse, works with black- in suits, skirts and high waisted slacks.
As things slowly begin to reopen in my area, I am doing more in the local business community with a project I have been thinking about for awhile (did you know I registered hanover-magazine.com and hanovermaryland.org a couple of years ago?).
I want my style to suggest, I really mean business....

Thursday, June 25, 2020
Late Friday, June 19, 2020, I noticed a couple of issues with several of the news headline feeds maintained on WiredPages.
Over the weekend, I had most of the issues worked out, however decided not to install all of the updates, because I wanted to thoroughly checkout the new resources.
Below, illustrative examples of the feeds that were not installed, however ready for live production.
Currently, the following WiredPages are using live versions of new headline feeds:
In total, there were 8 pages affected by the Friday night outage, so I was happy to find solutions as quickly as I did.
Another major issue, I had to switch the (site) server for the new Java Servlets used to provide the news headlines. qisoftware.com is my main site, however when I have SSL protocol issues, I have to move programs and applications to my hosting site-- hosting-q.com.
This the other reason, I am holding off on installing all of the new programs at the same time. I am always concerned about server overload, so I am installing one or two updates at a time and checking. I am not sure why I have site load issues. According to most statistics related to my sites, I should not have any. Why the conflict (FBI)?

Sunday, June 14, 2020
In July 2018 (blog post), I developed an Instagram API Demonstration Interface to showcase how social media API resources can be customized for individual sites and blogs.
Last fall, I noticed Facebook had taken over management of the Instagram API, however I thought- because my interface only accessed QiSoftware's Instagram data, there would be no need to migrate the tool to the Facebook platform.
I noticed something in a forum post last week, so I checked again and decided- to be on the safe side, I would migrate the interface to the Facebook platform. Spent most of the day (today) on this project.
This was a little more effort than I thought it would be, however when I realized my mistake, the task became relatively easy.
Another easy thing today- lunch.
Yesterday, I made enchiladas and tacos with enough in the way of leftovers for lunch today. So in between debugging and playing with Postman, in an attempt to figure out why I could not set up the correct access tokens for the Facebook/Instagram Graph API platform, I did not starve because I forgot to eat. I could not wait for lunch...

Thursday, June 11, 2020
For business, I tend to purchase suits, dresses and heels in the same muted solid colors; blacks, browns, caramels and olives. Since I am more conservative than not, this has worked to my advantage in that most of my business wear has lasted through the years.
My business heel? Since high school a 2-3" skinny heel, that suits my rather small ankles. Toe coverage is minimal, meaning just enough leather to hide them.
That said, these days, I prefer a wider, more sturdy heel, to my old standbys. The Amazon orders shown on the right, illustrate how I acquired the recent additions to my wardrobe. I love the new heels because they are so comfortable.
The illustration below, top row: shows the older version of heels I wear with business suits and dresses, and the lower row: the new heels I began purchasing last fall to accommodate new style, as well as a physique that is no longer between 120-130 pounds.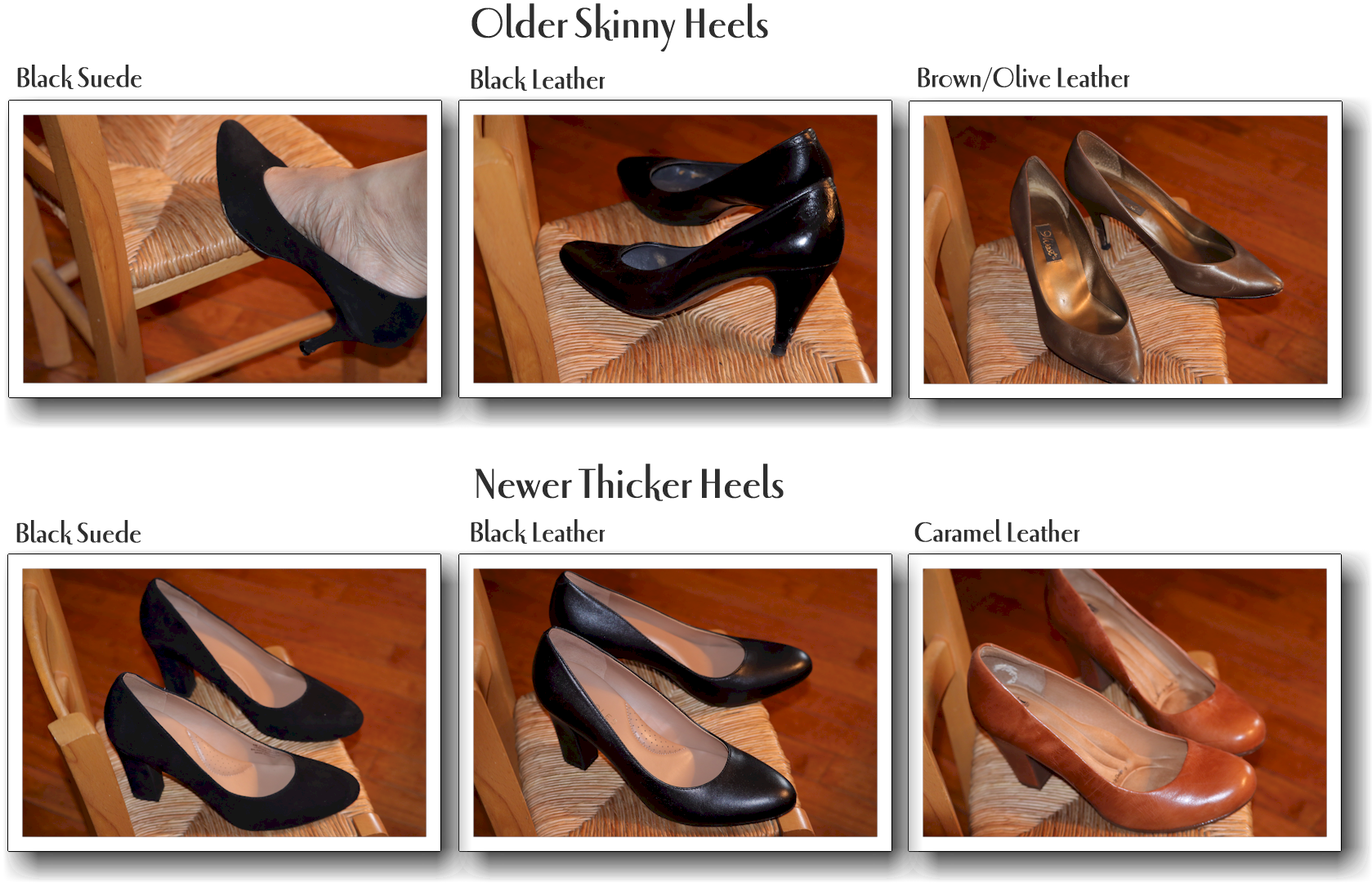 So how is it that I can wear all of my old fours, sixes and eights if I am no longer between 120 and 130 pounds? Okay, I cannot, however (1) I plan on reaching that size again, and (2) I have newer (with vanity sizing and stretchable rayon) items, in my color palette- that will work for the time being.
Either way, my new business heels should work.

Saturday, June 06, 2020
I mentioned in the last post, there are several new tools ready for installation on WiredPages.
The following summarizes each tool, and provides illustration as to how the new tool will appear on each page.
The WiredPages Home page will get a Market Indices bug, which will provide timely information about stock markets.

The WiredPages Real Estate page will get a Mortgage Calculator.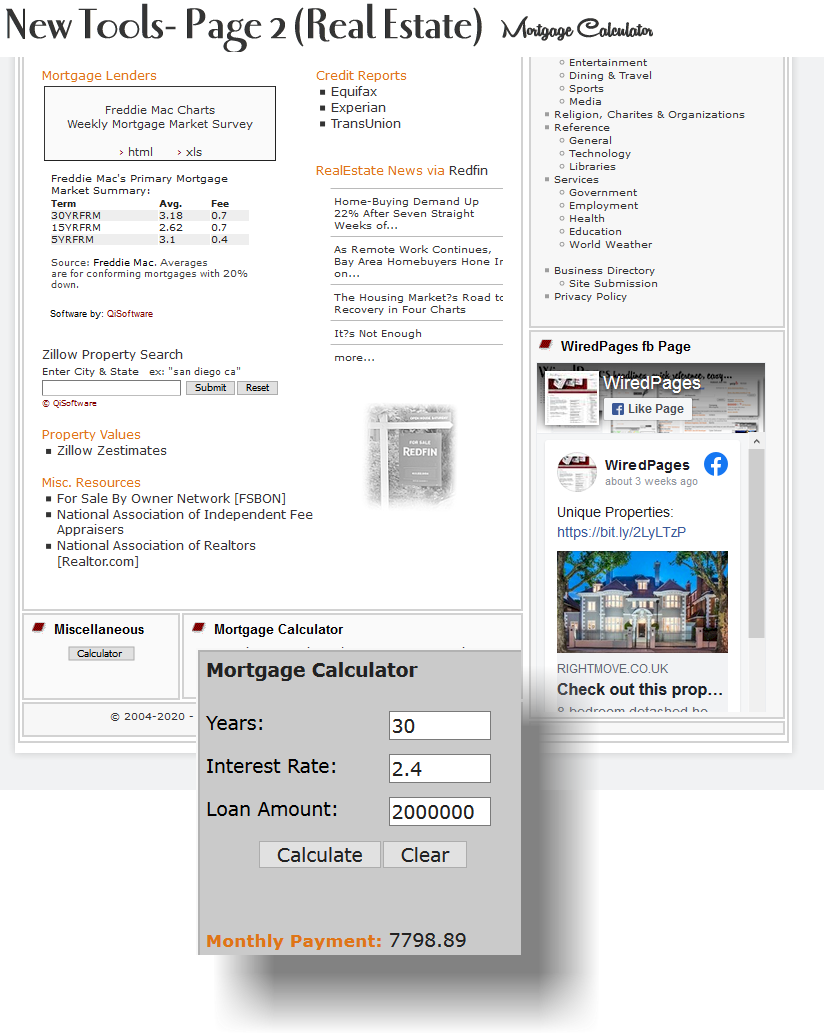 The WiredPages Business & Markets page will get the Market Indices bug along with a Biz Zip Search tool.

The WiredPages Style & Events page will get the "This Day In History Calendar". Click on any day and the tool provides important events in history for that day.

The WiredPages Media page gets the NPR One StationFinder interface.

The WiredPages Health & Wellness page will get the FatSecret Nutrition Information Search tool.

The WiredPages Arts & Entertainment page gets the Youtube Music Video Search & Playback tool.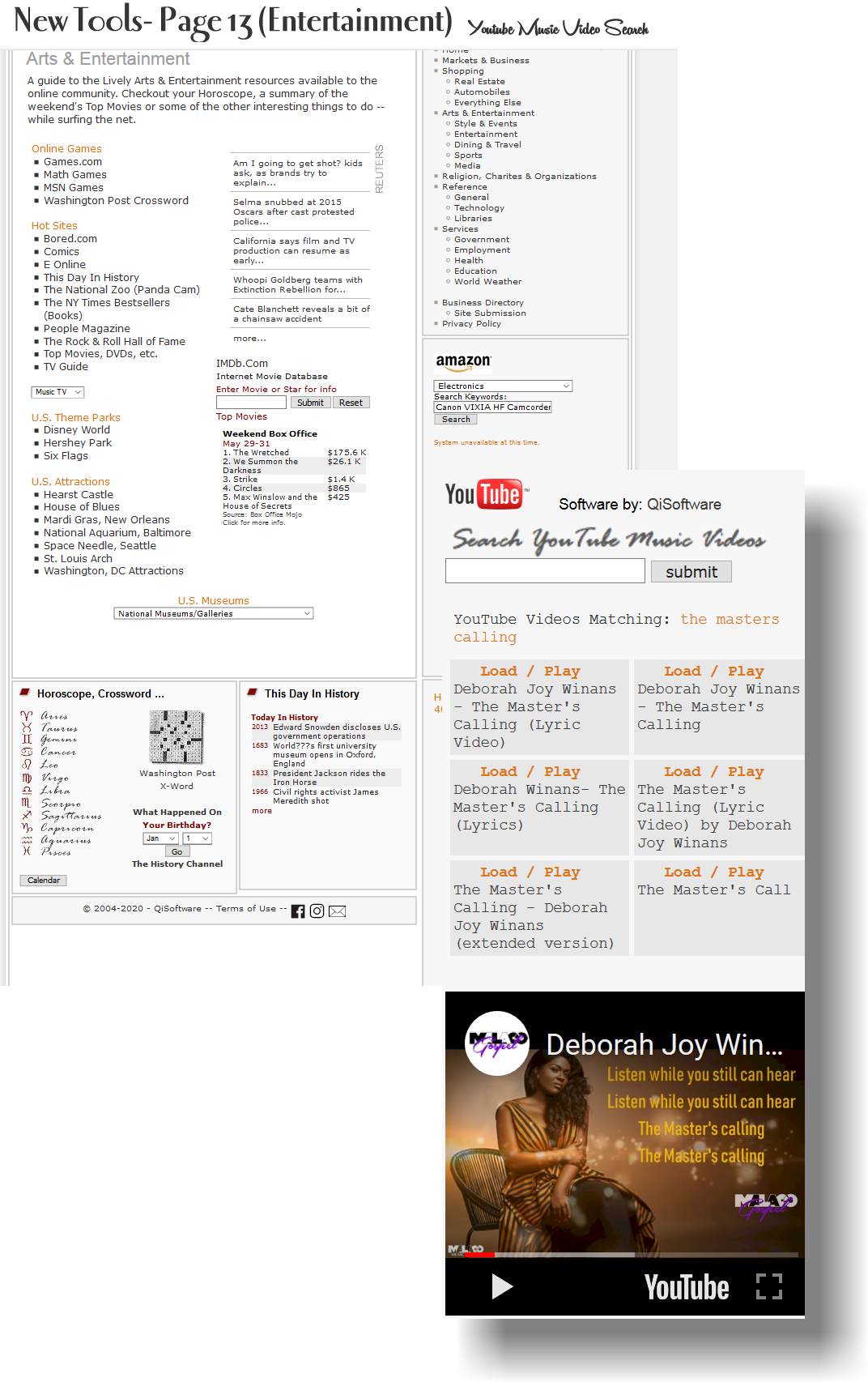 The WiredPages Reference page gets the World Factbook interface.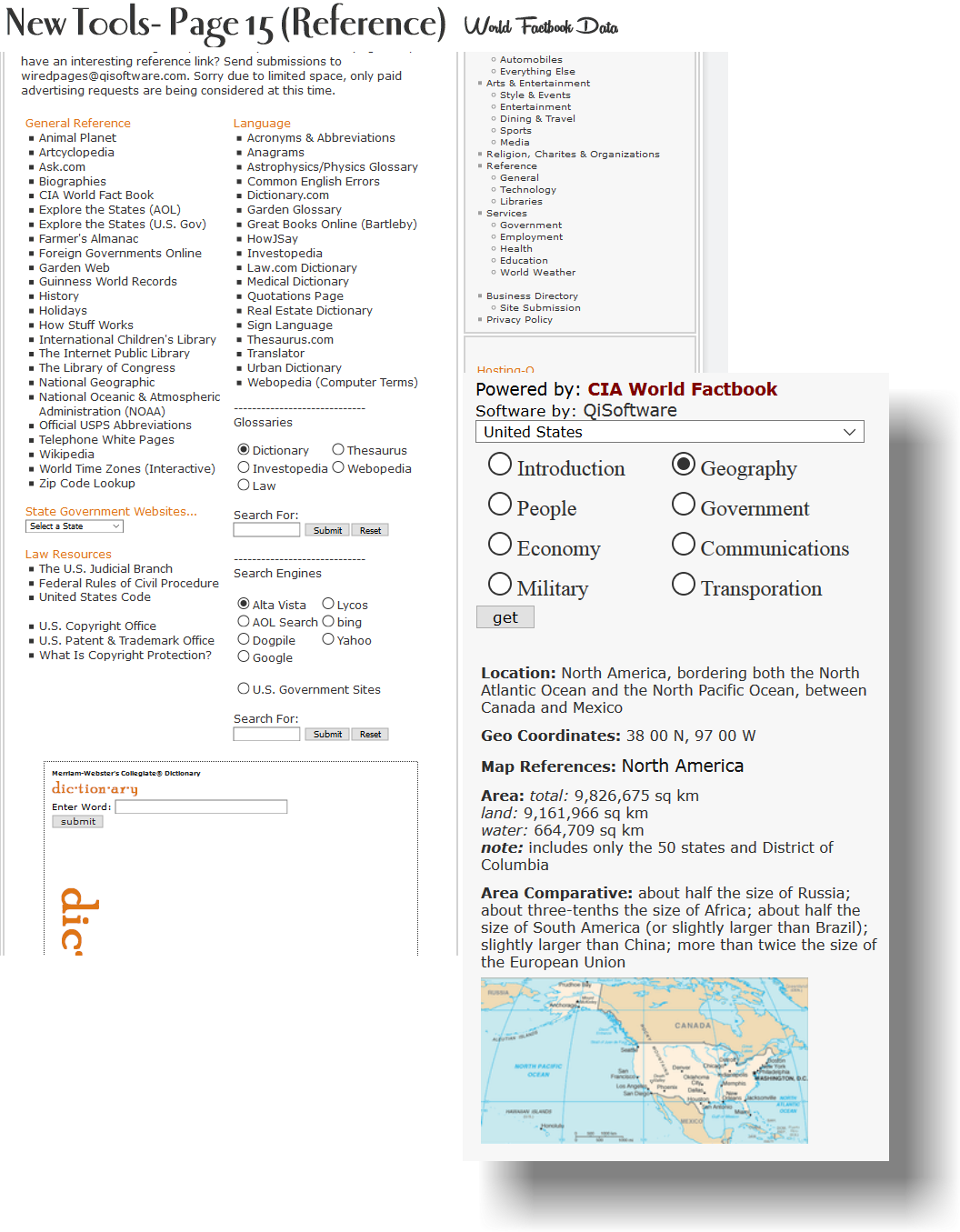 The WiredPages Technology page will get the Alexa Site Rank tool.

There are several other tools in the works, however the tools listed here are ready for installation. Why not install now? Security and potential server load issues. Why continue to develop new interfaces? I hope my issues will be resolved and quite frankly, I love developing new software tools for WiredPages.
Note, the overlay for each tool is larger for illustration purposes.

Sunday, May 31, 2020
Some of you may remember, the WiredPages Reference page maintained a mini version of CIA's popular World Factbook.
The original interface, parsed the actual World Factbook site files to provide abbreviated data for WiredPages' visitors. As soon as they redesigned the site, my interface was dead. However, I have the original code for proof.
Several years ago, I found online, a 2013 SQL database of the World Factbook. Periodically, I work on the new interface, a Java Servlet that incorporates JDBC to access the underlying SQL data tables.
I am in no hurry to install the interface because my online server is too open and not secure enough. I have no desire to provide the data nor my interface to anyone who wants the data. Some justify, access to my servers by claiming an ongoing investigation. I have reminded the FBI and other legal authorities, they claimed in 2012 a huge mistake was made and they were looking at cleanup efforts. What are they investigating where I am concerned? I said no, I do not authorize illegal access to my sites. I repeat, FBI what questions do you have for me?
I am told that Q's Wire has been tampered with so much, those hoping to claim a libel suit, cannot, because the FBI knows about the tampering. My Thingamablogs [this blog, Remix] are maintained off-line so I do not have the same concerns.
That said, I keep all of the original text files for all posts to any blog on qisoftware.com. So, I can prove what I wrote and what I did not write. The other problem? Timeliness. There is a statute of limitations on a libel suit. I am also not malicious. I wanted others to notice the odd things about my case.
In any case, I stopped posting to Q's Wire long ago, however will add a post every now and again. This post is typical of the type of post I used to post to Q's Wire.
That said, as I have done with many of the interfaces ready to install however sitting safely in my briefcase or a hard drive that goes where I go, I provide a preview of what I am doing and how it will work.
This morning, I did a little more work on the World Factbook interface.
I did not anticipate any problems with development of the new World Factbook interface, just how to get it done in my local environment. You might be surprised by how hard it is to work in a secure area even in my local development environment.
I am pretty pleased with the number of interfaces I have ready to install on WiredPages. Part of the problem, malicious users might take my server down just playing around with the many tools. The other problem-- just too many have too much access to my online sites, and I said no... FBI this is repeated here.

Thursday, May 28, 2020
I have to be honest and explain I have been eating in- for awhile now, even before most U.S. and world communities began observing stay at home guidelines. The main difference in my situation- given the global health concerns, I rarely went to the market to shop before the guidelines were in place. Now, I do almost all of the shopping.
This to explain, why many of my old favorites from restaurants and Mom's kitchen have been part of my meal planning for years.
For example, I loved Duck Chang's (in Annandale, VA) and their Kung Pao Chicken and Sweet & Sour Pork entrées. So about once a week I make Kung Pao Chicken (once a year Sweet and Sour Pork). Photo below from Tuesday's lunch.
Another example, I loved the Western Omelets the JW Marriott (in Washington, DC) offered as part of their brunch service on Sundays. So, Wednesday for breakfast, I decided to make my own version.

Favorites from my Mother's Kitchen, included:
Enchiladas
Fried Chicken
Roast Beef
Chili
Though Spaghetti w/Meat Sauce has never been a favorite of mine it was one of my sister's, so growing up it was always on the menu. Sometimes, after I moved away from home-- coming home for dinner was just the best, even Spaghetti w/Meat Sauce. I rarely cooked when I moved away from home. Young, single, career minded. Actually, did not know how to cook.
Anyway, recently I purchased a four pound pack of lean ground beef that was on sale for $12, normally $20. I love catching deals like this. Before putting the meat into the freezer, I divided it into four, 1 pound portions and one quarter pound portion. I vacuum sealed each portion, and began planning what I would do with the meat.
This week I decided to try my Mother's Spaghetti w/Meat Sauce.
Earlier this month, I tried my version of her chili and enchilada recipes using ground beef I purchased in early March 2020. Did not take photos of the enchiladas.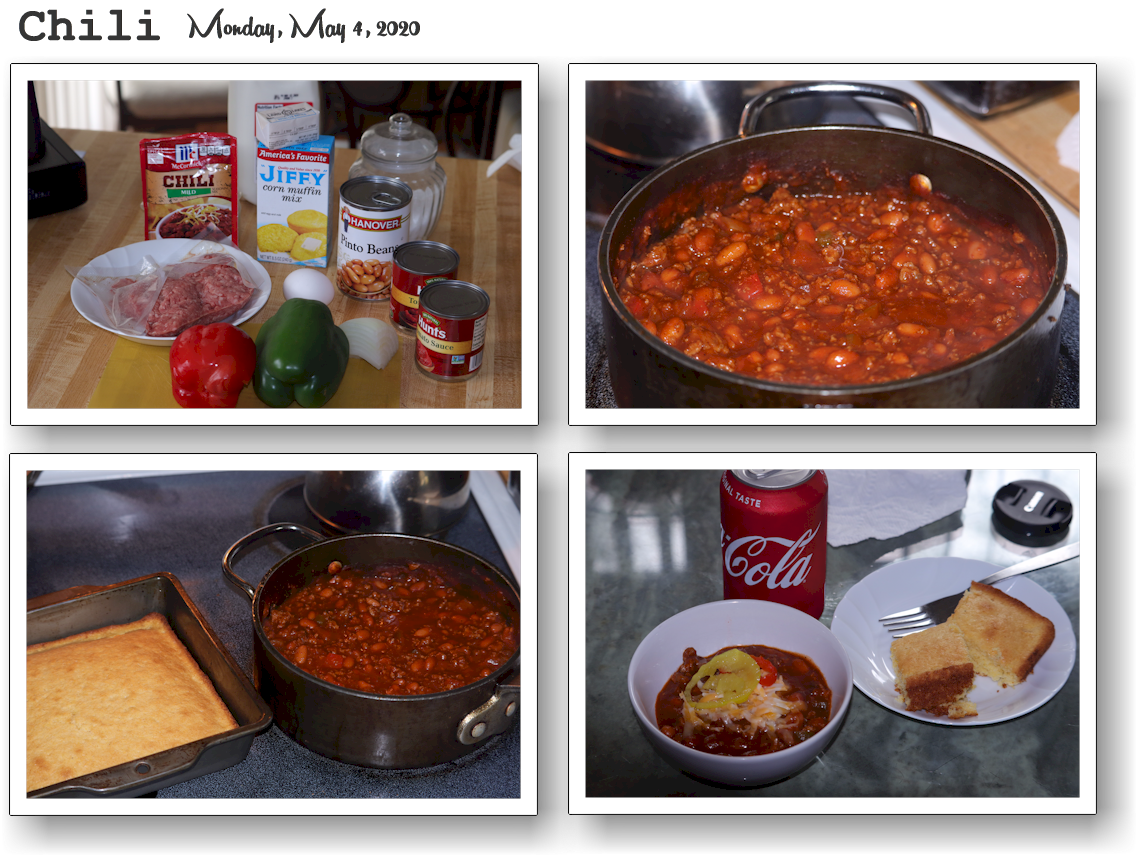 Somethings you may want to consider for your own menu planning:
Okay, with all of this shopping and cooking, do I find time for other things? Yes, the shopping takes up a lot of my time, however I am getting other things done. Many of my new tools and interfaces are ready to be installed on my sites, just looking at the same security issues and eating a lot...

Monday, May 25, 2020
We decided not to venture far from home for the Memorial Day weekend, so we stocked up on a lot of favorites to insure we had plenty to eat.
These days, I do most of the shopping and though I try to include a wide variety for meal planning, I think I am purchasing more sweets than were purchased in the past.
We are now purchasing meats in bulk and using a vacuum sealer to repackage smaller portions for daily meals. I like the choices this affords when planning meals.
For example, the meal today consisted of two ½ inch pork loin chops, purchased from Costco in bulk a little over two months ago.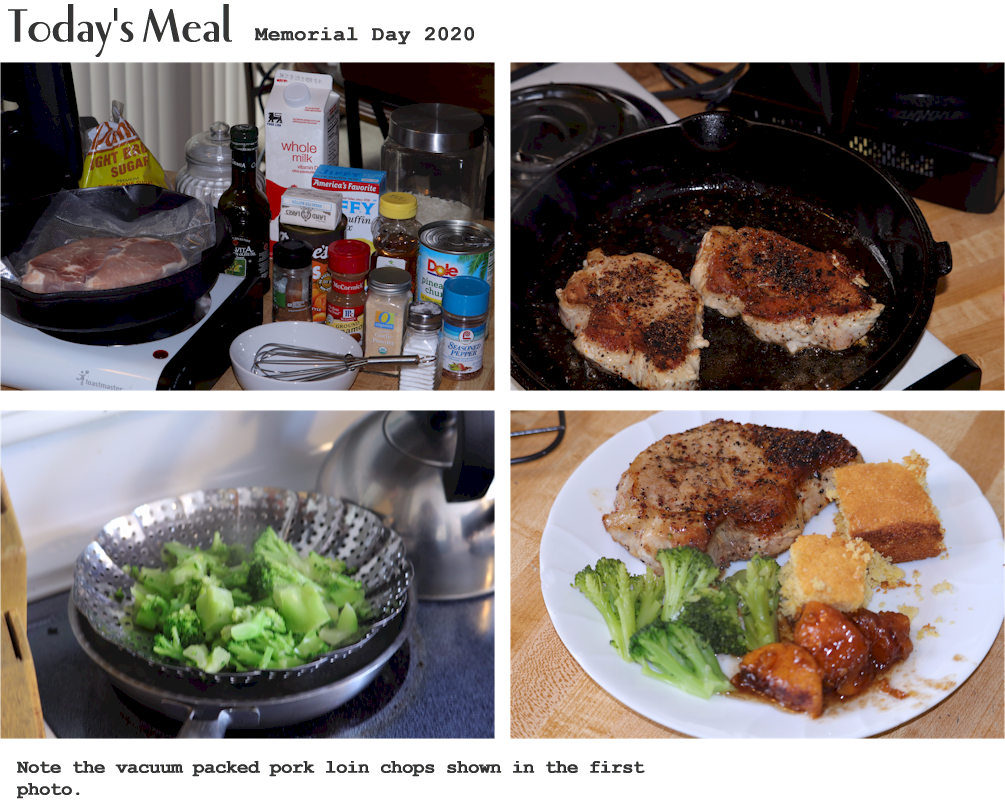 I like the vacuum sealer I purchased as a holiday gift for the house several years ago, however only recently started using it on a regular basis. Shown below, the sealer I have (no longer available) and a very popular unit- slightly more expensive.
I consider a vacuum sealer a great investment, and as I have already mentioned, love the fact I now have options in the freezer for meals.
Hope you are having a wonderful Memorial Day. Weather here- beautiful and I am finding lots to do around the house.

Friday, April 10, 2020
As I have already mentioned, I have been working several projects including a new tool for the WiredPages Media page, the NPR Station Finder.
Work on the new interface, a Java Servlet is mostly complete and ready for installation however, a slight delay because I am still checking for any issues that might be problematic.
The following graphic, illustrates how the tool will render search requests based on location.
The video, demonstrates the tool running in local mode from the Netbeans Integrated Development Environment (IDE).
The video suggests a demonstration of the portable features of my development platform is in the offing however, is provided through the following photos.