Sunday, February 03, 2019
Are you having friends over for the game? Are you looking for another snack idea?
Thursday, I stopped by the local market and picked up Old El Paso Soft Taco Shells. I wanted to make one of my all time favorite "diet" entrées, Chicken Fajitas. Weight Watchers used to offer a similar frozen entrée that I liked taking to the office.

Monday, January 28, 2019
I maintain my resume (résumé) as a Microsoft Word document. In February 2018, I decided to post an online copy of my resume to my personal domain (reginadenisethomas.com).
After converting the Word document to an html file, there were a number of updates made before posting the online version of the resume.
Over the weekend, I decided, rather than maintaining my personal site as autonomous html files (including the resume), I would use the content management platform, Thingamablog, used for two of my blogs, this one and Remix. It's Personal, this blog, is maintained on a Windows XP netbook and Remix, the business blog, is maintained on a Macbook.
The illustration below, shows the additional site/weblog added to the Thingamablog installation on the Windows XP platform.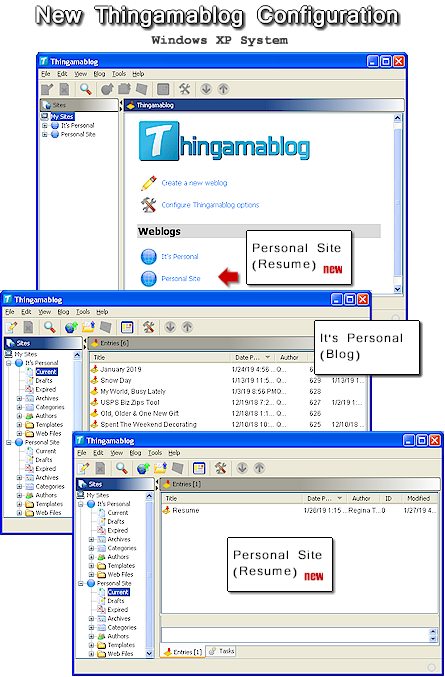 For more information about Thingamablog visit these pages:
The template for the new site is a work in progress.
The template was adapted from the one I use with most of the site areas on qisoftware.com and hosting-q.com.

Thursday, January 24, 2019
I have been working a number of projects, illustrated in the diagram below.
Several license/registration related renewals this year, including MVA.
Gathering tax related documents and starting my TurboTax process.
Finance moves, hoping to get the best returns on my meager savings. Switched funds in a recently matured CD, to a CD with higher interest rates. Went from 1.75% to 2.85%. Happy with the timing on all of that.
Last but not least, preparing (setting up development environments on my MacBook and WindowsXP systems) for more efforts using the c++ programing language.
Lately, I have spent a lot of time on software efforts. Several problems with API resources that have me searching for workarounds. You may have noticed issues with WiredPages.
To a lesser degree; efforts with taxes, finance and state renewals-- nevertheless important projects that I need to get out of the way. Simply a matter of gathering paperwork and submitting requests.
Maryland's Motor Vehicle Administration- in keeping with Federal law, now requiring new procedures for renewals. Happy to report, this seems like an easy adjustment to my plans and moving along.
Several in my family are affected by the Federal Government's partial shutdown so things are a bit low key. I am self employed. I have been working late hours and hoping things work out.

Sunday, January 13, 2019
It started snowing yesterday evening around six, and has continued throughout the morning.
I am working an OAuth issue with an API service, (the WiredPages WeatherTool is unavailable at this time), so I had no plans to venture out.
The new year brought any number of issues, I was not expecting. That said, pretty pleased I think I have found solutions for most of the problems.

Thursday, January 03, 2019
I have been working several projects including updating my sites for the new year. This mostly involves updating the copyright year, i.e., 2002-2019 for site pages that provide the data.
I have also been playing around with a new audio resource. I am pleased with how this worked out. The video does not provide the actual robust audio quality, however you may get a sense of how well this works.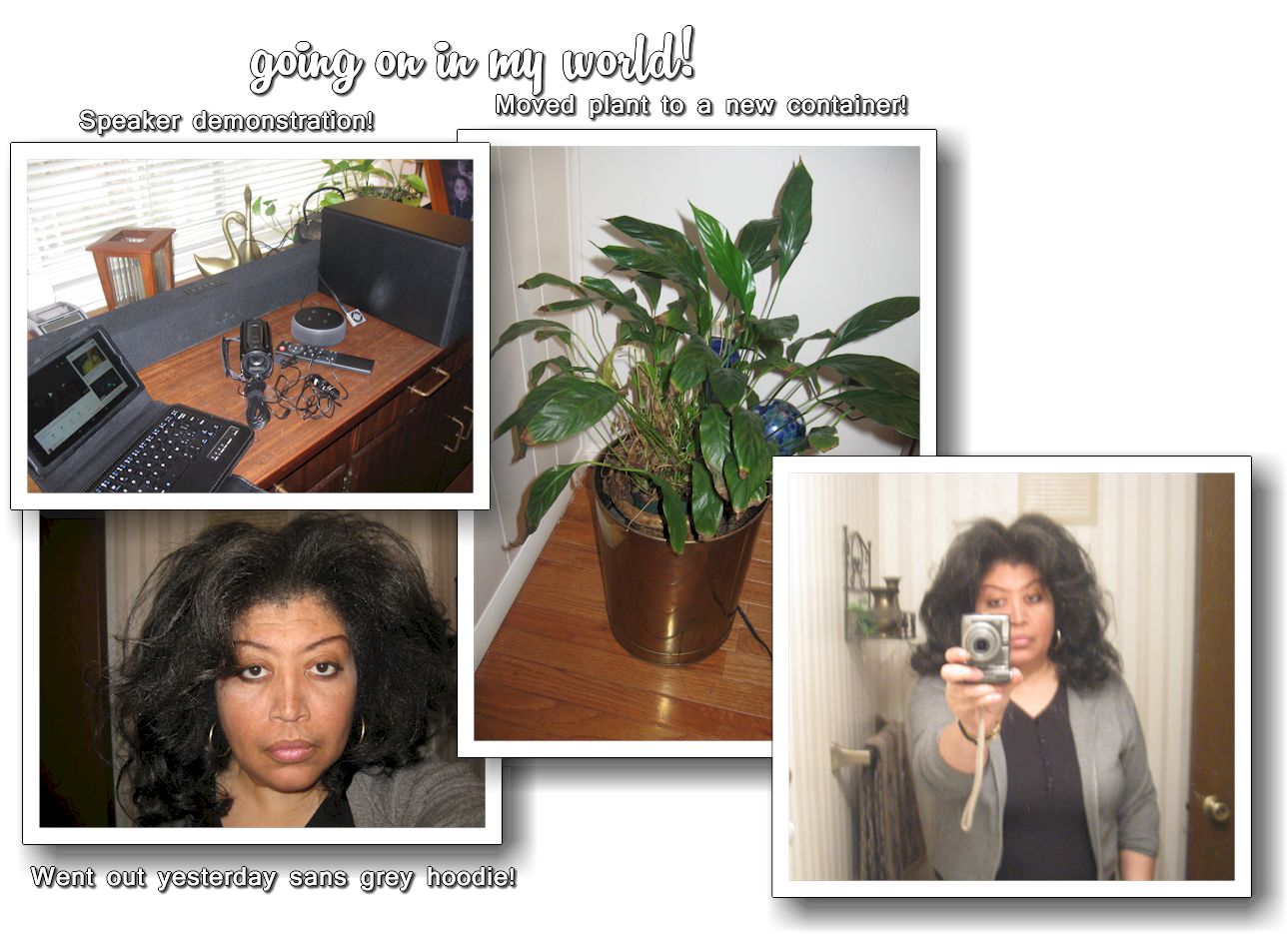 The video provides demonstration of Alexa Echo Dot, Apple iPod Mini and Youtube video via my Android as sample input audio to the 100 Watt per Channel speaker set. Keep in mind, I am still not expert in video production.
Other projects?
What's new in my hometown? My outing yesterday.
Updated the stores, including "Items I Have".
Fixing software bugs.
I missed the first season of "Counterpart" on Starz, so just before Christmas, caught up via Verizon FiOS' OnDemand feature.
Business housekeeping chores that I put off. Happy to get some of these chores out of the way.
This year, I spent a lot of time planning for the holidays. I am kind of happy now, to only have business issues to worry about.

Wednesday, December 19, 2018
I started work on the USPS Business Zip Tool. The tool (Java Servlet), is powered by the USPS Webtools APIs and will be installed on the Wiredpages Business & Markets page. Work is almost complete.
The following video provides a simulated look at how the tool will function. This is a simulated demonstration because I used the HTML results file provided by the program and not real time program execution results. The screen recorder(great resolution) I use is installed on my Android.
Screen grabs of the new tool.
I have minor changes I want to make, however in no hurry to install the new tool. I probably will have it up before the end of the year, however I may wait until the new year. Security and server loads always an issue.

Tuesday, December 18, 2018
I am always looking for new ideas to add to my stores. That is why recently, while taking stock of items in the guest bedroom/sewing room I found one or two items I decided to add to my Gift Ideas list.
What's in your guest bedroom?
I like the idea of the quilt rack, and quite pleased when I received a similar item in the late eighties as a holiday gift. Unfortunately, my rack was damaged in a move, so the one shown is the one in my parents home.
The valet stand was a gift for my father. Though I think a nice gift, now rarely used.
The other gifts continue to be used. One of my favorites, the convection oven. I use the oven quite a bit and now cannot imagine- not having this appliance in the kitchen.
The fur trimmed cape? I love this gift for its simple elegance. It works with both evening as well as more causal daytime attire. Swank enough to look stylishly expensive while walking the dog in the city? Yes, you will need the right pencil skirt, however the one shown was less than $100. The lace-up heels match the charcoal grey cape perfectly.
This post really is not about last minute gift ideas. It's really about the old gifts I found in the guest room-- and holidays remembered.

Monday, December 10, 2018
Holiday decorations a little less than normal, however happy they are in place.
My holiday shopping is almost complete. Spent more than I planned, however happy with all of my purchases. Are you still looking?
It was an easy weekend filled with holiday good cheer, music, and foods I love. Hope your plans are going well.

Monday, December 03, 2018
In September (2018), I noticed savings rates offered by several of the major banks were starting to rise. In October, one of the online banks was offering a 2.65% APY CD, so I scraped together just over the minimum required deposit amount to open the account.
Since then, I have watched savings rates offered by CIT and Synchrony Bank (two of the more popular, highly rated online banks), rise and just recently, start a slight decline.
Since starting my research, I have noticed banks tend to offer higher rates on savings accounts going into the Fall/Winter holiday seasons and then taper off after the new year.
Would you like to do the research?
I know, it is hard saving this time of the year. Last night, I added more holiday gift purchases to my credit card and though not dreading the bill (which will be paid off entirely when it comes due), know that I do not have extra funds right now for another high interest savings account, though I will continue to track the rates.

Saturday, November 24, 2018
Holiday photos from last Saturday through today (Saturday, November 24, 2018).
Recent movies:
The Post
Red Sparrow
Collateral
American Made
Plans? Several software development projects, WiredPages updates, and holiday shopping.

Monday, November 19, 2018
Busy week. My Mother's birthday was Saturday, so preparations for Thanksgiving and her birthday kept me busy. In addition, I continued working the many software projects I have on my to-do list.
A recent software addition, or I should explain- replacement interface is illustrated below.
The tool replaces the Amazon Gift Ideas interface that was in place on the WiredPages Shopping page. I chose to replace the interface because (1) it mirrored the items found here, and (2) the Amazon Product Advertising API had to be called individually for each item listed. Server and timing issues were not as efficient as I would have liked.
The new interface only calls the API once per search, however offers several different products as part of the results. Of course, users may want to search again and again, so that might generate multiple calls to the API.
The new Amazon interface, like the Best Buy Tool, is quick. This was an important reason in the decision to replace the original interface used on the Shopping page.
Though the new interface is already installed on WiredPages, I am still taking it through its paces [debug checkout], however I think there are very few issues, if any. If you want to drop me a line-- you may use the email address provided by the WiredPages news service.

Friday, November 09, 2018
This morning, I added two new photos as part of a story to my Instagram feed. When I checked the QiSoftware Instagram API Demonstration Tool, I noticed the error illustrated below, in the image on the left.
I am happy to report, the correction involved a simplification that is going to make my server happier. I was parsing the data, based on the type of post, i.e., single image, story carousal or video, and not the top level container for the post. Less "if" branching. Pleased with how this worked out.
Other projects?
Minor adjustment to the Movies tab on the fb HanoverMDBusinesses page.
New updates to these WiredPages:
Mid Autumn Photos, I love this time of year...


Planning for the Holidays? Lots of things going on in my hometown. How about yours?

Tuesday, October 23, 2018
Little under the weather lately [ear infection], so getting a lot of rest.
Things in the works...
Several tools (9 or so) ready for installation on WiredPages however holding off for various reasons. New tools under development or consideration should be exciting additions for the service.

Wednesday, October 10, 2018
This is a brand new interface that uses the Best Buy Developer API to search for products from their catalog. My predefined search criteria [UHD 65" TV] was selected based on Fall television viewing habits, however you may try anything.
The interface is in checkout mode, so feel free to let me know about any problems you find.

Monday, October 08, 2018
In recent years, I have started my holiday shopping in early Autumn and usually finish by the end of November. I think this trend began because I start researching for "the stores" around that time.
The Stores...
This year, I found a great deal on an item [Yunmai Digital Scale], I listed last year as a gift idea. I wanted to give it as a November birthday gift, however decided to give it early. My mother loves it, and so do I.
Other items in the same order...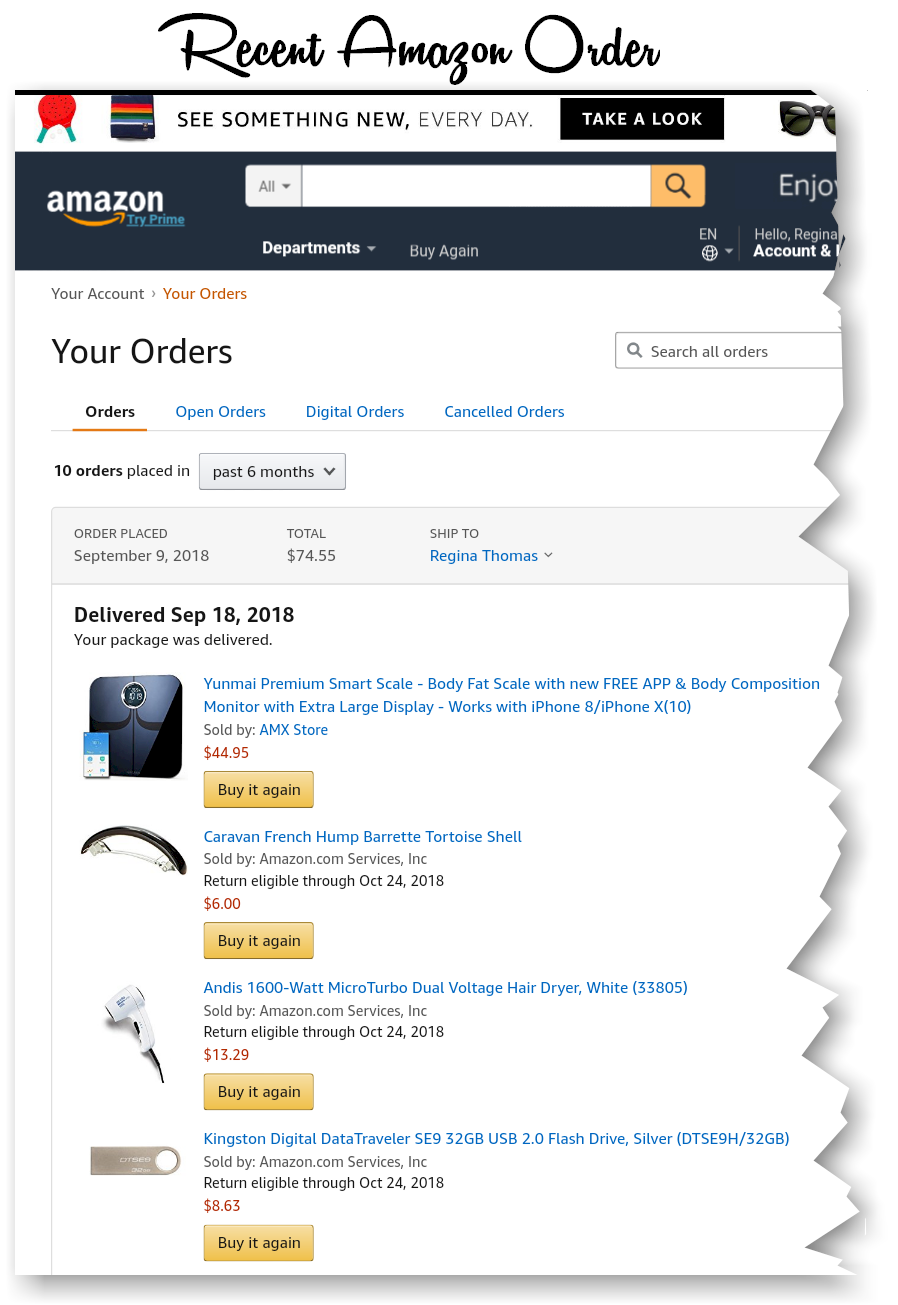 I have been rather busy lately, with web site moves and software development projects (see WiredPages), so I have not done as much research for the stores as I normally do, however stay posted if you are looking for holiday gift ideas.

Thursday, September 13, 2018
Started work on the new WiredPages Weather Tool.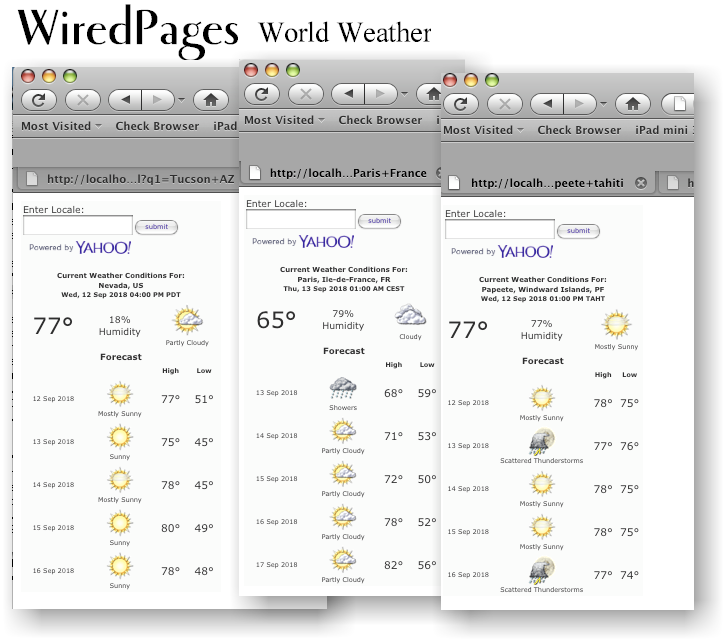 The old interface, illustrated in the QiSoftware Product Catalog is a Java Applet/Servlet combination.
The new weather interface, is a server side Java web application [Servlet]. The new tool will allow access via web browsers installed on most platforms including iPads, Androids, wireless devices, desktops, smartphones, etc.
Not sure when the new interface will be installed. Still working design issues and checking security risks. The new tool will be accessible through the WiredPages home page.

Monday, September 03, 2018
Labor Day, the unofficial end to summer. It has been a busy summer for me.
Some of the things I have been up to:
As noted in blog posts, lots of work developing new interfaces for WiredPages.
An event in our lives made a local news story. Only noted in case needed for future reference.
Watching Power (Starz series), The Affair (Showtime series), The Sense of an Ending (movie)
Updating the stores:
Friday (08/31/18), I started work on a new interface to replace a Java Applet that provided a snapshot of the market indices. The old applet was located on the home page and the Market & Business page.
This 30 second video, shows where I am in the development process for the new Java Servlet.
Also on tap this summer, like every summer- my age climbs higher. Recent photos...
Why not dye my hair? Believe it or not, some are not sure if it is my hair. Four years ago when I dyed it a darker brown than my actual color-- it looked more like a messy wig.
Today, I really do not get out a lot, however when I do-- you might be surprised by what tends to be a curiosity. Why is that hair so big and messy? I have a lot of hair that is very porous [like a sponge it absorbs steam and humidity]. People have done odd things. I do not want to be tested.

Tuesday, August 21, 2018
Big event over the weekend, however about all I want to say at this time. Everything on track. Waiting on repair people.
In other news, working on a new tool for the WiredPages Employment page.
Short video to demonstrate how the interface will work.
You may have noticed one of the tools on the Employment page was removed, so this interface will be integrated sooner rather than later. I am still tweaking the appearance and testing different results [debugging] from the API. Should be installed within the week.

Friday, August 17, 2018
On November 29, 2011, I wrote about an incident involving my Celebrity Birthdays Database. The article is rather lengthy, however discusses in some detail how and why I created the database and related Java Applet & Servlet that were used to both update and display the database information.
The article, provides an illustration of the number of records I had in my local [offline] database at the time of the article [Nov. 29, 2011]. The following diagram shows the same illustration side by side with today's record count in my local database.
The data is credible because it was extracted from the Biography.com site. Initially, the data was gathered using a custom program [Java JDBC/servlet] I developed which parsed the biography.com html file relating to current birthday information and added the entries to the online database.
When I first developed the servlet which extracted data and updated the database, I was unaware my server and database were so accessible by anyone who wanted the data. I also discovered the data was being tampered with. That is why on April 29th, 2011 I accidentally, deleted all of the records. I used the "<>" the wrong way. So it really was an accident. I was trying to make the data less attractive.
Biography.com provides an HTML page showing all of the birthdays for the current day. The page also lists separate article links about each celebrity with a birthday on that day.
The custom program extracted each day; the individual celebrity article link, celebrity name, and the month and date mm/dd".
I could have left the program in place, however did not want others to use it so I deleted it. That program only needed to run for a full year. When I manually updated my local database, I did not do it with the program. I would have had to run the tool every day in local mode-- so I manually extracted the data from biography.com using cut and paste. Keep in mind, only the offline database is complete. I purposely left the online version corrupted.
The following illustration shows data in the online version of the database that I recently deleted. The records were deleted because someone inserted records with links to the biography.com html page of birthdays for the day and not the individual biography.com articles about the celebrity. I did not do this nor did my program.
In my current effort to remove all of the applets used on WiredPages, thereby using only servlets, I recently replaced the Celebrity Birthday interface used on the WiredPages Style & Events page to the new program which only uses the Java servlet.
If you do not see the interface that means the online version of the database does not have birthday records for the current day. My offline version does, and periodically I will export the records from the offline version and import them to the online database, as was the case for today, August 17, 2018.
I will install the entire Celebrity Birthday Database to hosting-q.com, when I am able to control who has access to the server. In the meantime, this provides explanation of why the interface is sometimes unavailable.
QiSoftware is a legal business entity and registered in the State of Maryland. When you tamper with my online assets you are interfering with my business ventures. Please cease and desist at once.
As of the entry time of this post-- hosting-q.com is having a problem with the with JSP, i.e., Java Servlet support. This means there are many "Service Temporarily Unavailable" messages throughout the pages of WiredPages, even though the main site, hosting-q.com is available. I host a lot of my programs on the hosting-q.com site.

Thursday, August 16, 2018
In May 2012, after I negotiated a settlement with several parties including the US Government, I was told this horrific situation would end any day. That is still being suggested.
What happened? The explanation given to me-- a far reaching investigation. I am told a lot of government people have lost their jobs. Many lawyers who were not really lawyers-- lost jobs. I am told this investigation has been wide spread.
Still any day, my part in all of this would be over and I could leave. Are there other things going on? Yes. That said, I have stopped posting about the horrific nature of all of this because I do not believe it helps to end my part in all of this. So I continue to wait for the FBI and DOJ.
What may be a mistake on my part? In late December 2017 I started doing a lot of software development work for WiredPages.
I have a lot of new tools I have not installed, however have discussed the development of the tools in blog posts and demonstrations. Seems to be a lot of the wrong interest in my work.
I said no...
Yesterday, we awoke to find one of the cars vandalized. A police report was filed. It looks like two BB gun pellets were shot into the rear window of the Honda.
Abstract noise identified the culprit as the "meth head" daughter of one of my sister's x-coworkers. My sister worked as first a secretary for DOJ, then as an immigration officer and now she is with Homeland Security. I believe she met the girl's mother when she worked at BWI. I provide this data to show why this individual may have access to equipment in this house.
The Federal government updated a lot of their security surveillance equipment with flat screen terminals [similar to those seen in today's crime shows or cia movies] and ordered a lot of older consoles destroyed. Many were stolen. For those of us who have earpieces this can be dangerous. Even considered torture. I did not know I had an earpiece until February 2012.
Have you compared my recent photos with those from 3 years ago?
Bottom line--- too many in Washington are not understanding no. I said no. DOJ and FBI owe. I explain this a lot to those who can hear. Now, I feel I must write it down, again. I said no.
Why would this daughter be allowed anywhere near our home? A lot of folks with Federal law enforcement have consoles with access to our home. Their claim-- because of our ties to a US President and European royalty, this gives them the right to put anyone on a console with access to our home and the surveillance equipment. Can I prove this? No. Am I sure it was her? No. Me nor my mother are a national security issue. The bigger problem-- the number of civil rights issues the government allowed me to be subjected to. Most agree they owe. For some reason they think I want a job. I do not. I want the FBI and DOJ to get these people off me.
This sounds far fetched? Why would I start writing about this again if I am hoping to leave? Because someone does not understand no-- and I said no. The car is going to be repaired-- but things like this should not be happening and they are. I said no.
I would like for the FBI to review the tapes for the access of this family and have them removed-- immediately. I am told that people simply want to steal my software. I am told I am owed a lot.
This is becoming too dangerous and I feel too many with surveillance equipment are the wrong element for these posts. FBI, how do I know she is a "meth-head"? Please get the tapes and get these people off me.
Extortion? Do the big boys understand the laws here? I said I am not interested in a job and to please leave me alone. I am sorry you forced this.
By the way-- a good way to understand someone who has had a lobotomy? They do not drive, or if they do- have too many accidents. You may be surprised by the number who have undergone this procedure.
Why is this important? Underage kids and those who have had this procedure are used a lot to man some of the consoles in this area. They are unlikely to be charged with a crime. Have you ever thought someone sounds a little whack? Do they drive? I said no-- FBI. Not kidding.
Again, I am sorry you forced this. Please get the illegal equipment out of the area and these people away from our property. They do not live here and this is becoming too crime ridden. School is starting again soon--and most of the prostitutes and meth heads were ordered out a year ago.. Why were they allowed back in?
The next post will show how US government employees are interfering with my online sites and business. I said no. You should have understood that. The tapes will also provide details about threats and why my software is desired. I said no.

Tuesday, August 14, 2018
I have started work on the new World Factbook Tool for WiredPages. The interface will be located on the Reference page, same as in the past, however now- powered by a SQL/MySQL database.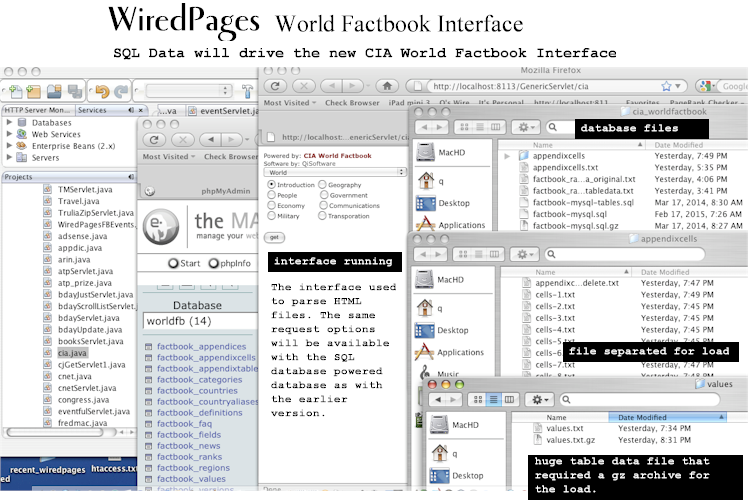 I spent most of the afternoon [yesterday], loading the data to a local MySQL database on my Macbook, in preparation for the software development phase.
Some of the datasets [tables] were so large, I initially divided the data into separate files for the import. Initially, I did not use gzip files to import data, however if this had been the case I could have saved an hour or so during this phase of the project. The largest table (factbook_values.sql 5.5MB), was imported using a gzip file. I consider this an important lesson. That said, I did have to override some of the php.ini settings for phpmyadmin.
This new effort will incorporate parts of the software from the old interface [Java Servlet], including:
Data requests [user interface] are the same as shown in the illustration above.
Text output formats the same.
Rendering of graphics [World Flags]-- very similar.
The CIA World Factbook SQL gzip file I found in 2014, uses 2013 Factbook data. This data is relatively new [in terms of what the CIA releases to the public in this format (SQL)] and should be fine for this project.
I plan to submit a FOIA request for the latest available data, however since security issues prevent loading data to an online database, I am only concerned with development and testing of the new Java JDBC/Servlet in my local environment. If and when my security concerns are allayed- the installation of the new software and latest available database should be a breeze.
This post- provides notes on the development progress for this project.

Tuesday, July 31, 2018
Continuing to update WiredPages tools. The latest, the Youtube player found on the Arts & Entertainment page. Installation of the new player is pending however the images grabbed today [shown below], illustrate how the player will work.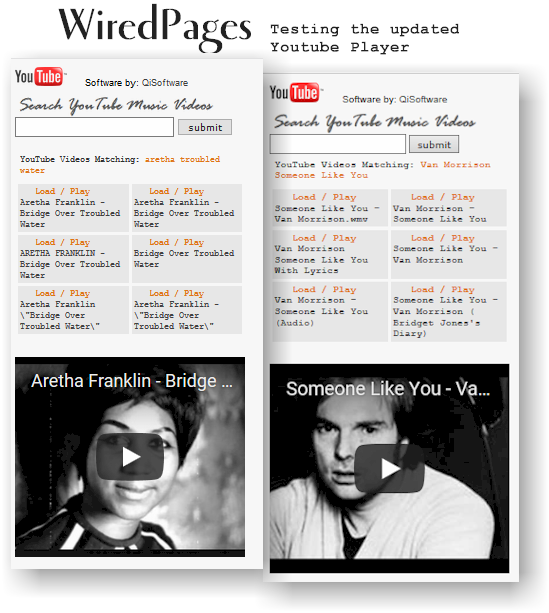 The tool had very few cosmetic updates from the original, however changes to the API required updates to the underlying software.

Sunday, July 22, 2018
Working several projects, including:
Updated the LocationFinder Tool [found on the WiredPages Reference page-- current version showing tool unavailable because of security flag] incorporating new API data sources. New tool will be released at a later date. Tool illustrated below, running in local mode on my Macbook.
Updated widgets using the NewYork Times API to reflect changes made to the underlying data structure and security elements. WiredPages Libraries page.
Developing an Instagram demonstration widget for the QiSoftware Catalog.
Other things I have been up to?
Movie: Justice League
Movie: The Snowman
Movie: Big Game
Another birthday, Friday, July 20th.
Store Updates.. see upper sidebar.
Social media posts-- WiredPages Events & HanoverMaryland events.
Integrating new features to the Facebook WiredPages page-- and adding icons and links to Facebook from WiredPages.
I am excited about some of the new elements I am creating for WiredPages, however still unsure when I will install all of the new tools.

Thursday, July 12, 2018
My car [shown in one of the blog header photos], is registered with Historical tags. In Maryland, this allows for limited use of the car. Since I work from home, it is no great hardship however I am thinking about a new car. This, one of reasons I am saving money.
I started this process a year ago in September and have managed to save one or two dollars. Okay. it is a little more than that. I am happy with my progress.
This post discusses how I have been able to achieve some of my success with this project.
The following is an updated image providing current rates banks are offering on savings accounts.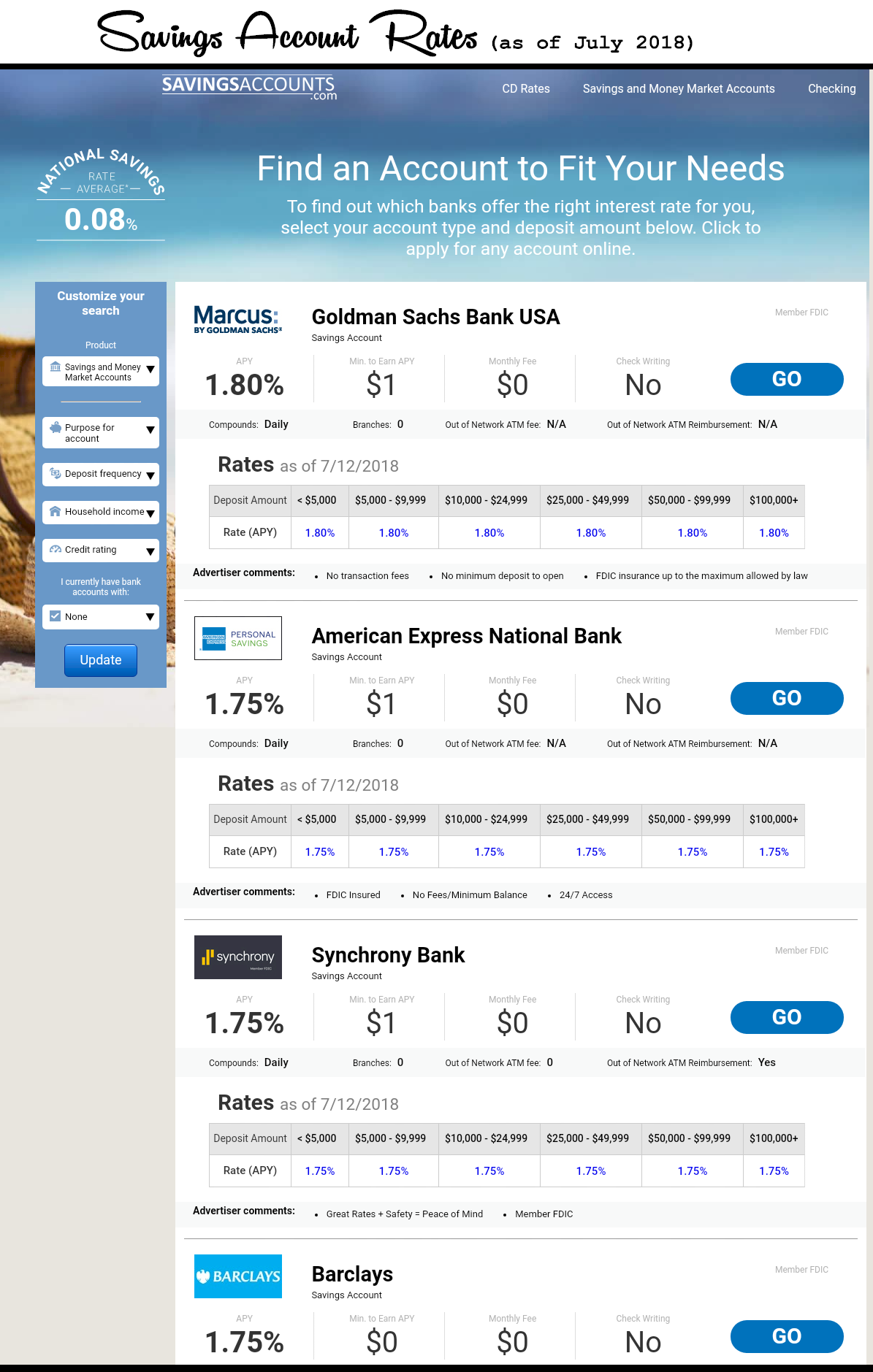 I like my banking choices, however listed below are more resources if you want to do your own research.

Monday, June 25, 2018
Many are aware, I was a defense contractor in the Washington metropolitan area for a number of years. I enjoyed living and working in the area and especially the many activities the region offers its residents and visitors alike.
One of the newsstand issues I looked forward to getting, the Washington Post's Weekender. In the same vein as the Post's resource, the WiredPages Style & Events page offers a list of entertainment guides for some of the major cities in the U.S. I am always looking for new resources to add to this page.
My own hometown [HanoverMaryland], also offers quite a few distractions.
Social media has become an important factor in our daily lives. Hope you find something exciting to do in your off time.