Saturday, September 02, 2017
Many are aware- I use Thingamablog as the content management platform for both my business and personal blogs. I started using Thingamablog in 2010 when Blogger decided to discontinue FTP support for users who hosted their blogs on private domains.
Thingamablog runs standalone on desktop computers and requires Java installation, if not already installed on the system.
In my opinion, the Thingamablog platform offers more security in that the entire application and post database are maintained off line. What this means? The master copies of my blogs are maintained off line and are tamper proof.
This also allows for easy backup to external storage devices of the off-line applications and databases, as opposed to online site backups.
That said, in my case I also backup my entire website so snap-shots of both the remix.qisoftware.com and personal.qisoftware.com sub-domains where I maintain the blogs, are also backed-up when I perform full-site backups.
Useful links:
In 2010, I also established the Facebook group [referenced above], for Thingamablog users. We are always looking for new members, so if you are interested in this blogging/content management tool, please join us.

Friday, August 25, 2017
So what are your plans for the weekend? Me? With the new school year and holidays right around the corner, I am planning updates to the stores.
I meant to post new photos around the time of my birthday [July], however never did. Below, recent photos.
In recent weeks, I have been out a bit researching local business activities however, have mostly stayed close to home. It has been wet and humid here.
Other things I have been up to?
Watching professional tennis. BTW: US Open starts Monday, August 28, 2017.
Paid bills including, qisoftware.com web hosting, phones, etc.
Monetized another sub-domain on my site [qisoftware.com] and integrated the related Google Analytics code.
Watched Bei Bei [National Zoo's Panda Cub], celebrate his second birthday.
Went by my business bank.
Sharing social media posts.
Hope you have a nice weekend.

Friday, August 11, 2017
Earlier in the week, I had problems with the MySQL databases associated with the NS&J Forums and Q's Wire Blog. The forums use PHPBB and Q's Wire is a WordPress blog that is hosted on qisoftware.com. If you tried to access either the forums or blog, error messages indicated there were "database connection errors".
Recently, my web hosting provider upgraded a number of system software services on my server- including PHP. Initially, I thought this may have been the problem, however now I am not so sure.
Somehow the database passwords became misaligned. I am the only authorized user with access to cPanel- [hosting domain management interface] for both domains [qisoftware.com & hosting-q.com]. So, it appears these errors were caused by someone's deliberate actions and no, I do not think it was the web hosting provider.
After realigning the passwords, I requested full- backups of both sites.
I also fixed the Blogger Calendar's servlet for Q's Wire. The screen-grab captured using a WindowsXP system running Firefox browser version 43.0.1 (the reason the applet works without any special security updates to the system's Java control panel).

I installed the Blogger Calendar in the current version of Q's Wire's template for this demonstration only, however if you view the source for any page of Q's Wire, you will notice the "commented out" script for the Blogger Calendar.
What else have I been up to?
Shopping online for a birthday present for my sister. I am pretty happy with my selection and picked two from my Gift Ideas store.
Updated Business Tools I Heart post, on the Remix Blog.
Other minor domain issues with qisoftware.com. Email spam options also affected by someone's deliberate actions. Also, changed the domain hosting password.
Rogers Cup Tennis
STARZ's "Power" series.
Arundel Mills Cobbler to have a pair of heels repaired. Liked this experience, 20 minutes my shoes are ready.
Social media tasks for the Hanover Maryland Businesses, Facebook page.
It was not all bad this week, in that the problems were resolved quickly. I was also happy to boot-up my Macbook and work on software code issues. I miss working software development issues...

Wednesday, August 02, 2017
Hot and thunderstorms, the last couple of weeks, however everything looks beautiful.
As you may recall, I take weekly photos of the progress at the construction site for the Live Hotel [being erected next to the Maryland Live Casino in Hanover, Maryland]. These photos taken over the last 3 weeks.

Other recent activities:
Social media efforts for the Hanover Maryland Businesses FB page and my high school alumni group.
Movie: "Passengers" w/ Jennifer Lawrence
Watching STARZ's "Power" series.
Tracking professional tennis.
Minor cosmetic changes to my blogs i.e., Remix & this one.
Added more tracking scripts to ecommerce areas of my site [qisoftware.com], i.e., Forums, Remix & this blog. [legal notice] Mirrors maybe negating commerce data-- and hopefully this will help to correct some of the problems.
Looking into DNS error issues on qisoftware.com.
Setup a paypal.me account.
Potting a plant clipping [made a video clip].

Continuing work on my stores...
I went out this morning. Had to deposit more of my birthday money in the bank and rode around Hanover to see what's new.
They finished work on "The Arundel" [luxury apartments], that lobby looks beautiful [did not go inside, however did get photos of the exterior]. If you only know the mall [Arundel Mills] and casino and have the opportunity, checkout some of the new construction going on in our area. It is pretty impressive.

Tuesday, July 25, 2017
I did not go away to college. I lived at home the entire 4 years, while studying for my undergrad degree. Going away to college is one of the things I always felt I should have experienced.
I am always interested to learn what new students leaving home for the first time are hoping the experience will provide them.
That said, school shopping was always one of my favorite things to do and I did more than my share- even though I lived at home. I needed supplies, fashions, books, etc., just like students living on campus. I had a part time job [one summer an internship at NASA] for most of the four years I was in college- to offset expenses and college loans.
Today, if I had to worry about living on campus what would I purchase?
I have also updated some of the other stores.
Also researching for several of my social media projects including the HanoverMaryland Businesses page on Facebook.
Since my last post, I celebrated another birthday. It was a nice birthday and I am always happy to receive the money gifts my family bestows upon me.
I did not like any of my birthday photos, so I will post a new photo later to show how gracefully I am not aging. Did you get that word play? Just kidding.

Sunday, July 16, 2017
I was up bright and early this morning, so I decided to get dressed and go for a drive.
As many of you know I am the admin for my high school alumni group on Facebook-- and recently I came up with the idea to ask the school administration about video tours of the school. I want to upload a video tour to the group page so those who have left the area can see what's new. Our high school was once the largest in the state and our Facebook group has over 3100 members-- who are still very interested in things happening there.
I have yet to make the call, however did drive by the school this morning to see what's new from the exterior. I also had my dash-cam running. The dash-cam video is not good enough to upload, however I did not feel it was a wasted trip.
As you can see in the above illustration, before driving by the school-- I stopped at the Hanover construction site of the Live! Hotel-- to snap the weekly progress photo. I use photos like these on the HanoverMDBusinesses page on Facebook.
The next stop on my drive this morning? Annapolis. It was beautiful. I have not been to Annapolis since November 2014 and had no special plans other than I have always loved the area and thought it would be a nice morning to visit. It was.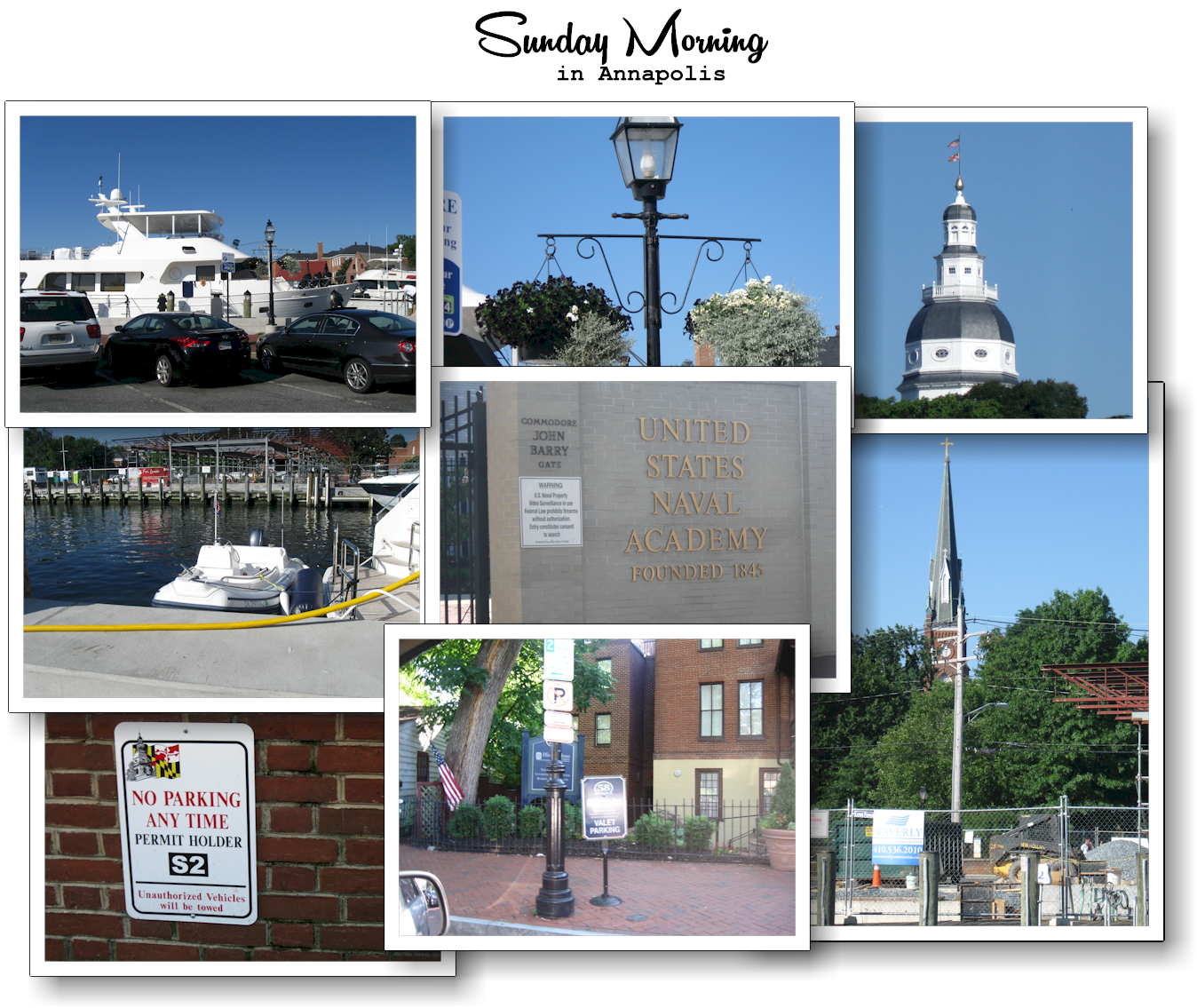 I also had the dash-cam running in Annapolis. There is a short clip on my Instagram feed showing the approach to the State Capitol Building-- as recorded by the dash-cam.
I started my drive around 7:40 AM this morning and arrived home about 9:45 AM or so. I rarely "just drive" these days. Normally, I have an errand or a project.
I started making dinner just after noon-- [we always have dinner early on Sundays].
It was a beautiful morning to take a drive and I had a nice dinner.

Wednesday, July 12, 2017
As mentioned in previous posts, there are several major construction sites in the Hanover [MD] area, including the Live! Hotel and The Arundel luxury apartments.
Weekly photos show the progress at the Live! Hotel construction site.
More photos to come as they become available.
What else have I been up to?
A little yard work.
A little baking.
Research for an area magazine.
Waiting on a package.
Wimbledon action.
Movie: "When the Bough Breaks"
Movie: French movie [English subtitles]- "Elle" airing this evening on STARZ.
"Power" series on STARZ.
Continuing work on the Amazon Stores...
Recent photos from my gardens.
I have been working several projects while trying to stay cool. Had a quiet 4th and now that everyone is back in town, getting back to a normal routine.

Saturday, July 08, 2017
My home office is comprised of several areas on all three levels of my residence. I am lucky in that I have space to spread out.
Why do I need so much space? I am a business owner/software consultant and own a lot of office equipment. I started purchasing items for my home office long before starting my own business, in fact, while still working as a defense contractor for a major corporation.
Note the fax machine shown in the above illustration. This is the second fax machine I have owned. I purchased my first in 1995. I like owning a fax machine for both legal issues and the convenience -even in today's more digital age.
Yes, today one can sign an email digitally and it is a legal and binding communique, however I prefer the fax machine.
So why am I discussing my home office? Well recently, I have been taking inventory for another project. What do I really use? Believe it or not, a lot of the equipment I own.
The project? I recently moved my Amazon Stores so I had the opportunity to review and update products previously listed in all the stores, including the Computer Electronics/Home Office store.
The updates? I added more of what I own, however did not list in the earlier version including:
File Cabinets
Manilla Folders
Staplers & Dispensers
Things I own, however no longer use and did not list? Rolodexes.
When I first started my home office, I made regular visits to Office Depot and Staples. Though I like walking the aisles of these stores-- I find when I need to replenish or research what others are saying-- online research and purchases are too convenient for me to pass on.

Wednesday, June 28, 2017
For the last week I have been integrating affiliate stores and links that were hosted on affiliate sites, to my business site and blogs. Affiliate program changes the reason for these updates.
Both the Business Blog Remix and this one [personal blog], maintained off-site stores. Now the stores are accessed via the blogs.
In addition to creating the new stores for each of the blogs, I also updated the banner graphic used on the Remix Blog. There were also several minor cosmetic issues associated with the blog, that were also corrected.
When I first received notice one of my affiliate programs would be undergoing significant changes, I was a bit worried. A week and a half later, I am happy most of my work in anticipation of the affiliate program changes has been completed.
Links for the blog stores are located in the upper right sidebar of each blog and listed below for your convenience.

Saturday, June 24, 2017
A death in the family took most of the family out of the area in early June. I did not attend the funeral. I have not been out much, instead working, catching a movie here or there and watching live tennis action.
Recent activities and plans:
Movie: The Accountant
Movie: Legend [2015]
Movie: Inferno
Movie: The Wizard of Lies
Upcoming: Starz "Power" Series [new season starts Sunday, June 25th @9:00 pm ET]
Upcoming: Wimbledon starts July 3rd.
Grass court [professional tennis] action from Europe.
Social Media Posts [including]: Hanover Maryland Businesses, Instagram [QiSoftware & HanoverBusinesses], Tumblr.
Revising Amazon Stores in anticipation of upcoming changes Amazon plans to make to the program. Updates to the new store formats are ongoing and several shopping categories were removed. The new shopping categories:
I have a little more work to do on the stores-- and new additions and deletions are constant. I also have three new domain registrations I plan to start work on.
In the coming months, for a change of scenery and project research, I may check in at the air conditioned mall [ArundelMills] & Live! Casino.

Saturday, June 17, 2017
Over the coming months, Amazon plans to phase out the astore feature, so I am currently adding new pages to this blog that will incorporate most of the product links provided in the Amazon versions of the stores.
Currently the links for the Amazon versions of the stores are listed in the right upper sidebar. I will gradually replace the Amazon links with the page versions associated with this blog.
Listed below, demonstration links for the blog page versions of the stores [keep in mind I am currently working this project].
This project should keep me busy for a couple of days...

Tuesday, June 06, 2017
One of my banks offers rewards for using their credit card. I love this concept and pay for most purchases with the card.
This month, charges itemized on the bill included:
Eye Glasses & Contact Lens Prescriptions
Contact Lenses [2 boxes]
Three new domain registrations totaling about $35
Web Hosting qisoftware.com
Cell Phone
Mother's Day Gift for my Mother
Total charges last month; about $397. This added about $4.00 to my rewards account balance bringing it to $44.82. The credit card issuer will send a check when the balance reaches $50.
Noted in the illustration above, this morning I paid the entire card balance. This ensures I do not incur interest charges on any carryover balance, making the cash rewards the card offers even more attractive.
Last month, I noticed Amazon also offers a similar cash rewards [Visa] card. I have a great card, however this appears to be something worth looking into-- Amazon Rewards Visa by Chase.

Sunday, May 28, 2017
It is a beautiful quiet holiday weekend here and I do not have much on tap.
Things I have been up to?
Those in the area may have noticed, I have been out a bit more researching and photographing ongoing projects.
Also still thinking about new websites [discussed in the last post] and all that entails.

Saturday, May 20, 2017
Recently, I have been working several projects mostly associated with the HanoverMDBusinesses Page maintained on Facebook.
Preliminary tasks [for one of the projects] included, registering two new domains:
hanovermaryland.org [future full blown website similar to ococean.com]
reginadenisethomas.com [software and other support tools for my projects that I do not want hosted on my business sites, i.e., qisoftware.com and hosting-q.com]
I also created a new Instagram account that will be used exclusively with the HanoverMaryland Businesses page and site.
Currently, the Facebook page uses the QiSoftware Instagram account w/hashtag "hanovermdbiz". In the future, the new HanoverBusinesses Instagram account will be integrated on both the page and site.
To provide a more professional appearance to the photos published via Instagram, I have been playing around with the Photo Apps that were pre-installed on my Android and Windows10 platform.
Both apps, quite frankly are pretty sophisticated and allow for incremental angular rotation and image cropping- both of which I find quite useful. I use these apps because I post Instagram photos from my Android to the QiSoftware account and now from the Windows10 platform to the new HanoverBusinesses Instagram account.
The HanoverMDBusinesses page is sort of a hobby that I started in 2010 and work when time permits. I hope the new [future] website and other online resources will engage visitors and promote the business/entertainment/shopping/dining community that exists just outside my back door [figuratively speaking].

Friday, May 12, 2017
In March, when I ordered my new camcorder, I did not order a backup battery nor a condenser microphone. A week ago, I ordered those accessories and yesterday the purchases arrived.
Check below for links to the specific camcorder accessories I ordered:
Amazon order: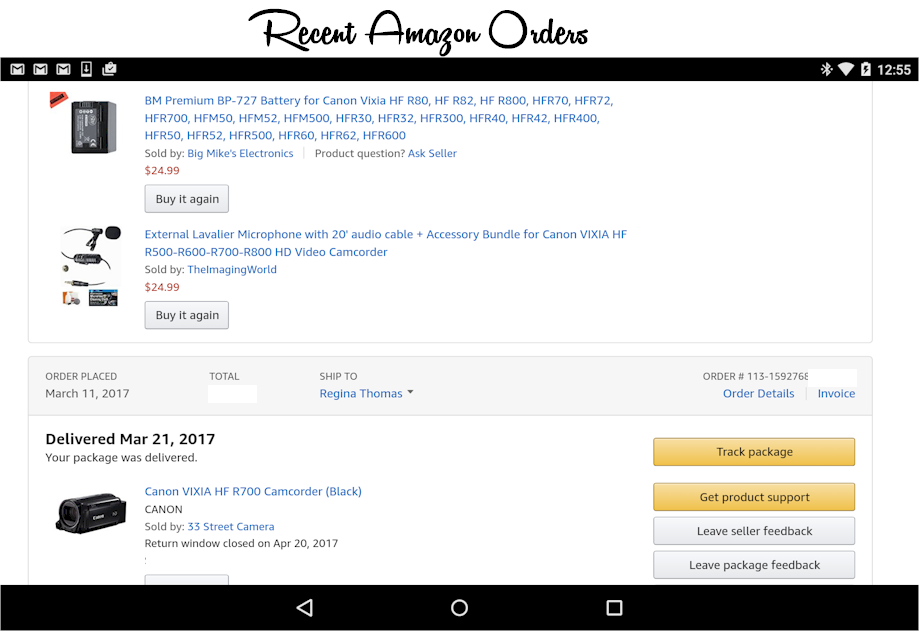 Short video demonstrating the difference between using the camcorder with and without the condenser microphone.
What else have I been up to? Actually several projects, however I will have to update this later.

Monday, May 08, 2017
Last month I scheduled an eye appointment [for today], with the Arundel Mills location of VisionWorks.
For awhile now, I have been trying to get over to the mall for new photos of all the new stores opening @Arundel Mills.
Most of the photos will be used for posts, Instagram feed photos, or events associated with the HanoverMDBusinesses page, I maintain on Facebook.
As most know, the Maryland Live! Casino is co-located with Arundel Mills Mall and the new seventeen story hotel [Live Hotel], under construction now [due to open late 2017 or early 2018], appears to be bringing in a lot of new stores.
Imagine, the casino, live entertainment @Center Stage, the new hotel, shopping, world class dining, and all of the other entertainment venues the mall has to offer- all in one place. It all looks very exciting.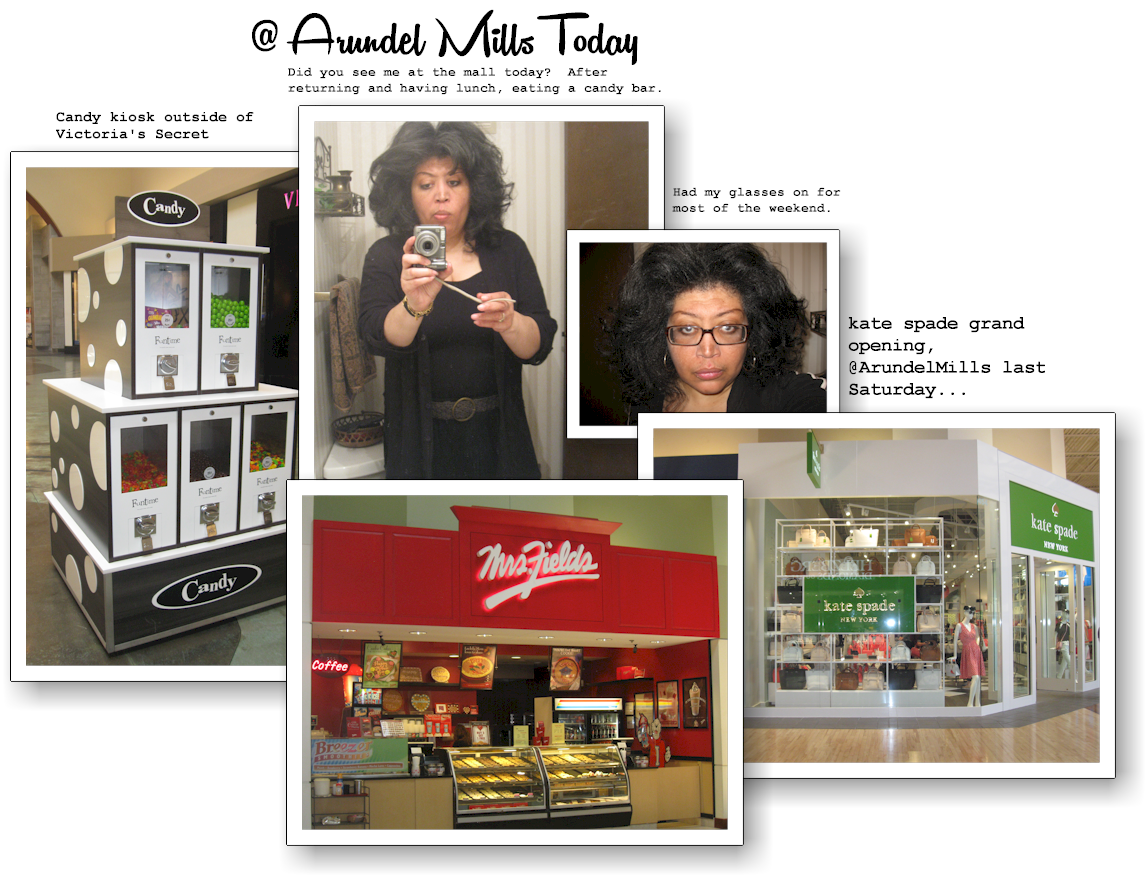 Today was the perfect opportunity to walk the 3/4 of a mile distance around the mall and shoot a lot of new photos.

Tuesday, May 02, 2017
About a week ago, most of my family went out of town. Before leaving, the fridge was stocked and I have been testing different recipes almost everyday.
One of my favorites- a roasted chicken breast with olive oil, cayenne pepper, salt, and the original chicken seasoning by McCormick. I roasted it in the convection oven-- according to the instructions in this recipe and added sides of fresh cranberry sauce and white rice.
Today, I grilled a steak on an indoor grill I purchased last year as a holiday gift that I decided to keep. The price on the grill was such a great deal, Amazon does not even list it with the order. Check here for more on the grill.
Short video capturing the grill in action today.
My new Canon camcorder produces MP4 and AVCHD [MTS] video files. Often I use the AVCHD setting for the higher resolutions. The camcorder has a built-in utility enabling quick conversion of AVCHD videos to MP4.
I also found a great video conversion utility which works with the MTS [AVCHD] video files, allowing for slightly higher file resolutions than the camcorder's built-in function.
Here is a screenshot of the AVC program.
This week, I also made a video showing how to make fresh cranberry sauce with frozen berries, however that video was 35 seconds and the steak video only 15, so I opted to use the shorter to discuss the AVC utility program.
By the way, I also love the grill.

Friday, April 28, 2017
I have been working on several enhancements to the Hanover Maryland Businesses Page on Facebook.
Several page tabs have been added, including:
Hanover Maryland Jobs [now working, also see the "Use App" Button installed sometime ago providing the same type of data...]
Hanover Maryland Real Estate
Instagram Feed using a specific #hashtag for the area
Pinerest [added a board w/pins, specific to Hanover Maryland]
Illustrated below, the updated page and tab flow as provided to the page administrator [in case you are wondering why the page in your browser is slightly different].
I would also like to include a page tab that provides economic and demographic profile data for the area, however have yet to find an up-to-date source for the specific area of Hanover Maryland.
In the meantime, if you would like more information about the area- contact the West Anne Arundel County Chamber of Commerce or the Anne Arundel Economic Development Corporation.

Sunday, April 23, 2017
Years ago [about 17 or so], my niece and I created the house plant arrangement discussed in this post. The arrangement has grown so much, this weekend I decided to transplant one of the plants to a separate planter.
My irises are a little late this year. I think it is because of the warm weather false start in our area earlier this year.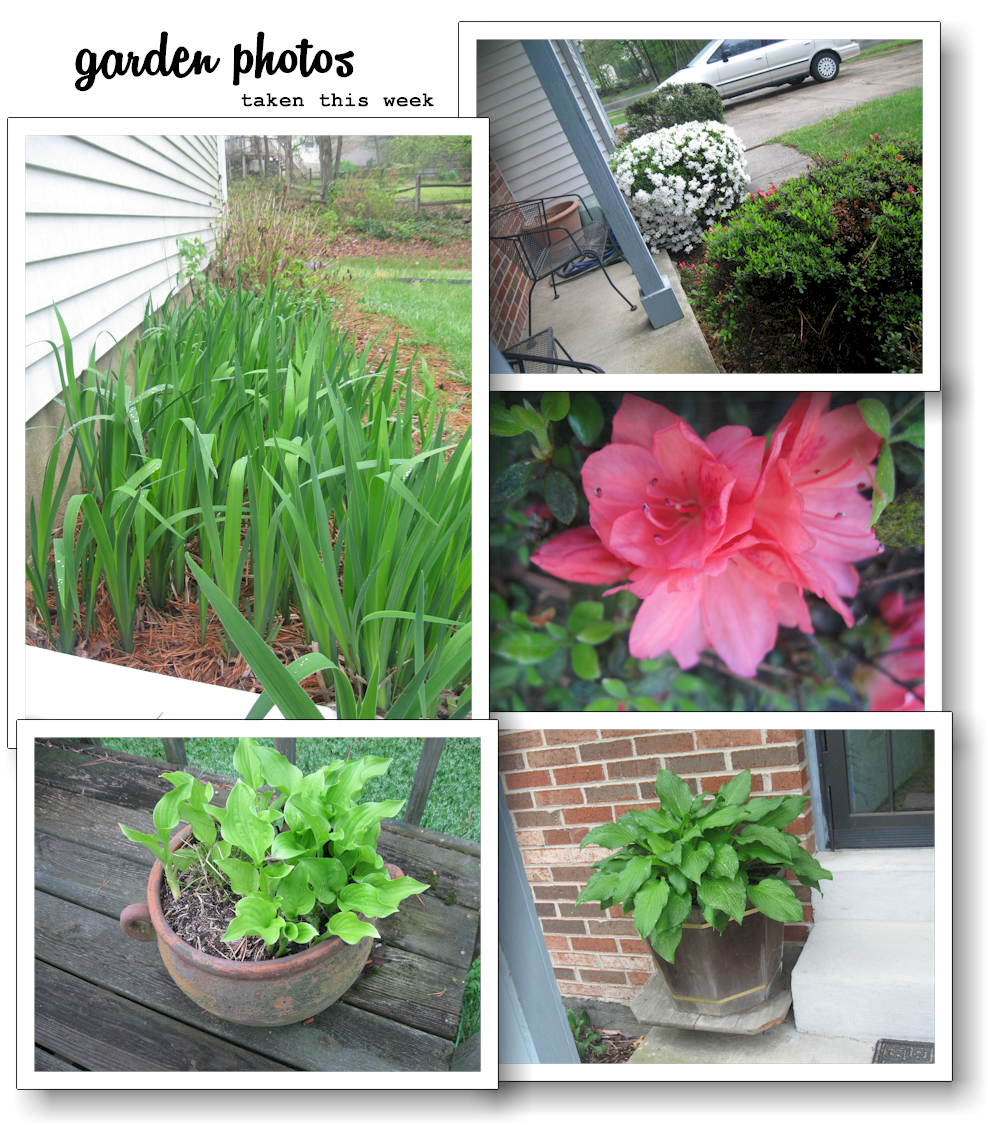 Other things I have been up to?
Hope my irises start blooming this week...

Saturday, April 15, 2017
Recently, I have been out and about shooting video with my new camcorder. Mainly, trying to become more expert at capturing the moments I want to record. Though the unit is very easy to use I am still having timing issues.
In case you thought it was me [with the camcorder]-- here are recent photos.
Though I have not sported the "updo" that often, I will in the future. My hair is like a sponge when it is humid and I am going to use the comb whenever needed.
I set my hair every night [takes about half an hour]-- just in case I need to dash out during the day. I will be out a bit more in the near future, however mainly because I have to take care of some appointments.
I was over at the Thomas A. Dixon Jr. Aircraft Observation Area last Sunday, and it was crowded. That said, I did not capture any video worth showing. I need a little more practice.
Other things I have been up to?
Added a Pinterest Widget to this blog's sidebar [lower-right].
Added new widgets to the Forums.
Researching Cloud Service Options [Google and Oracle JavaCloud. These offerings provide the SSL Certification [https] and I may use one to host Facebook applications for my pages and page tabs.
Researching MTS video file conversion software
Minor updates to the Amazon Stores...

Saturday, April 01, 2017
All day, I have been updating my iTunes Library with old CDs from my extensive collection.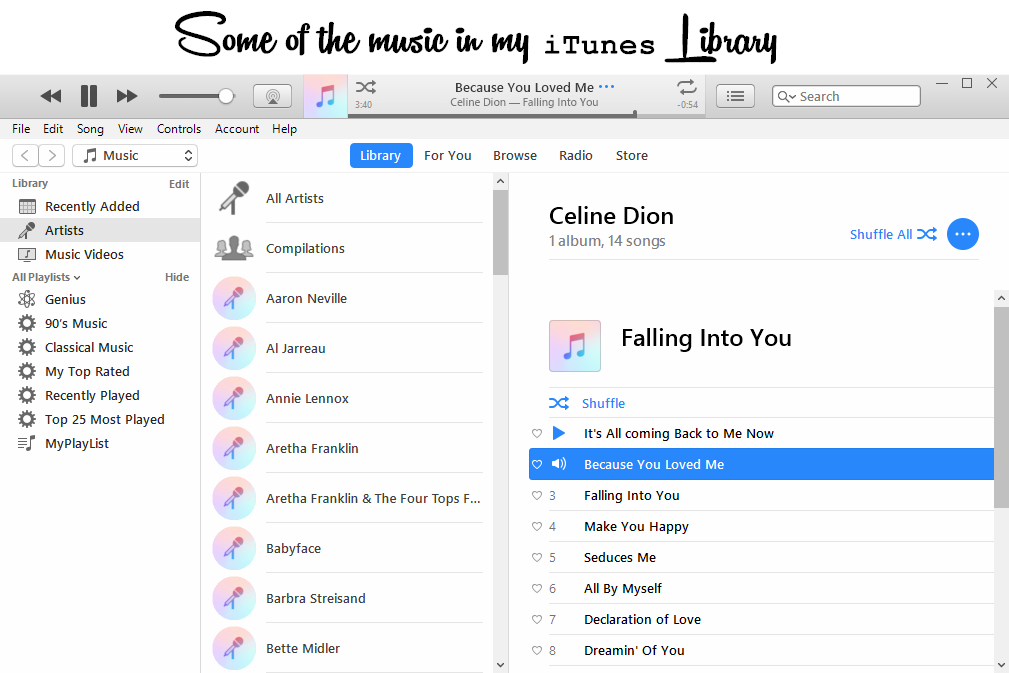 I had separate iTunes libraries on my Macbook and Netbook, so earlier this year I decided to put everything in one location and maintain the actual music library on a 32GB SD card shown as an inset in the illustration below.
Most days when I want to listen to my music, I use the RCA Cambio Windows10 platform with my TaoTronics Stereo Bluetooth Speaker.
Below, short video showing my work environment today, while porting more "old" music to my iTunes Library.
I love having all my old CDs digitized and available whenever I want to listen.

Friday, March 24, 2017
Finally ordered a camcorder. The final decision came down to these two:
Canon Vixia HF R700
Canon Vixia HF R800 [see this link]
I opted for the 2016 unit [R700] because it was $41.00 cheaper. The specs on both almost the same, however the R800 has one or two added features.
I am very pleased with my new hardware. Its light, easy to use and has the high definition and external microphone support I was looking for. Two items I will be ordering in the near future, an external microphone and one additional battery pack.
A short demo video to show the type of output you can expect from this camcorder.
Above, I am using the HTML5 Video Player to provide either a MP4, OGV or WEBM version of the video- depending on the browser requesting the playback.
I am using a commercial software app "TheFileConverter" to convert the MTS video file the camcorder created, into the MP4, OGV and WEBM formats for use with web browsers. Shown below- part of the underlying html for the HTML5 Video Player.
I do not need to provide different video formats for my social media accounts and am so pleased I can now upload Full HD Video to my Facebook, Flickr, Instagram, Tumblr, Twitter, and Youtube accounts.

Monday, March 20, 2017
Thursday, March 09, 2017
I have been researching digital video camera options, and recently added two new cameras to my resources.
Action Camera-- it is so small and light I actually carry it in my purse.
Dash-Cam for the car.
I like using resources in multiple environments and have found I can use each new camera as a webcam as well. Shown below, photos of the dash-cam as a webcam.
Another set of images showing screen-shots of the Camera application [app] I use with webcams. The screen-shots show me as depicted by the webcam and my environment when working just off the kitchen.
Late last year, I posted a video to one of my social media accounts that was so grainy, I decided I needed a new video camera. I like the action cam and dash cam, however there are limitations to the types of video I can shoot. Also the new cameras support resolutions a lot higher than that of my older digital camera, the Canon Powershot A590.
Currently, I use my digital camera for both video and still shots. What I love about my camera? Its many features and the low resolution options for videos and images. Like most who pay for web hosting for their domains, I have limits to the amount of storage I can use. Videos and photos can take up a lot of storage- quickly.
Important features I am looking for in a video camera:
Optical zoom at least 20x
External microphone support [already have a stereo microphone]
Macro lens support.
Full HD recording
My research has led me to some interesting finds-- and I have listed some of the results in my stores under the "Just Want" Category and the "Computer Electronics & Home Office" Category. [New finds added at the end.]
I think my finds can provide a good basis for your own research and help in determining what you need based on your requirements. For instance, you may not have my concerns about storing videos online. You may only need a great video camera for life's moments or a vacation. There are a lot of great options.

Saturday, March 04, 2017
A few years ago, I wondered what I would do with an iPad or Android. I need power for software development and at the time, could think of no reason I would need a tablet. These days, I wonder what I would do without such a device.
For instance, this morning I noticed that my credit card company had closed the monthly ending period, because Bank of America [one of the banks I use], provided the updated rewards data from the credit card company. I noted this because I quickly checked the balances via my tablet, before getting out of bed.
To be able to do this, I linked all of my accounts [business and personal] to the Bank of America account so that I could check things with one login.
Last month, amongst other things, I used my credit card to pay the annual rental fee for my business address, and the items shown below from a recent Amazon order.
This morning, I also paid off the credit card bill via my tablet [also while in bed] even before the statement was emailed later in the morning.
I do a lot of things with a tablet, especially while thinking about hopping out of bed.
In summary, things I use my tablet for:
Order items online
Pay bills
Review business and personal financial data
Review marketing reports
Update my stores.
Social Media [i.e., Facebook, Instagram, Twitter] account maintenance and posting
Needless to say, I no longer wonder what others are doing with their iPads and Androids.
That said, recent software development tasks were done using my Macbook, see here and here, so I still need a bit more power and a more robust operating system for the type of software development I provide.
Also because I use Thingamablog for two of my blogs, I use a Macbook and a Windows XP platform for posting to the blogs in question [Remix Business Blog and this one].
I cannot do everything, however I can do a lot with a tablet.