Friday, January 03, 2020
In 2019, I had any number of unexpected business related expenses, where I spent more than I originally budgeted, for the year.
Major 2019 Business Expenses
Replaced my Canon "Point & Shoot" camera with a Canon DSLR (EOS M50)
Replaced my Android
Updated a Windows 10 Tablet with a Windows 10 Pro Mini platform
Luckily, this year my family provided holiday gifts in the form of money so I was also able to afford a personal care unit I have always wanted to try.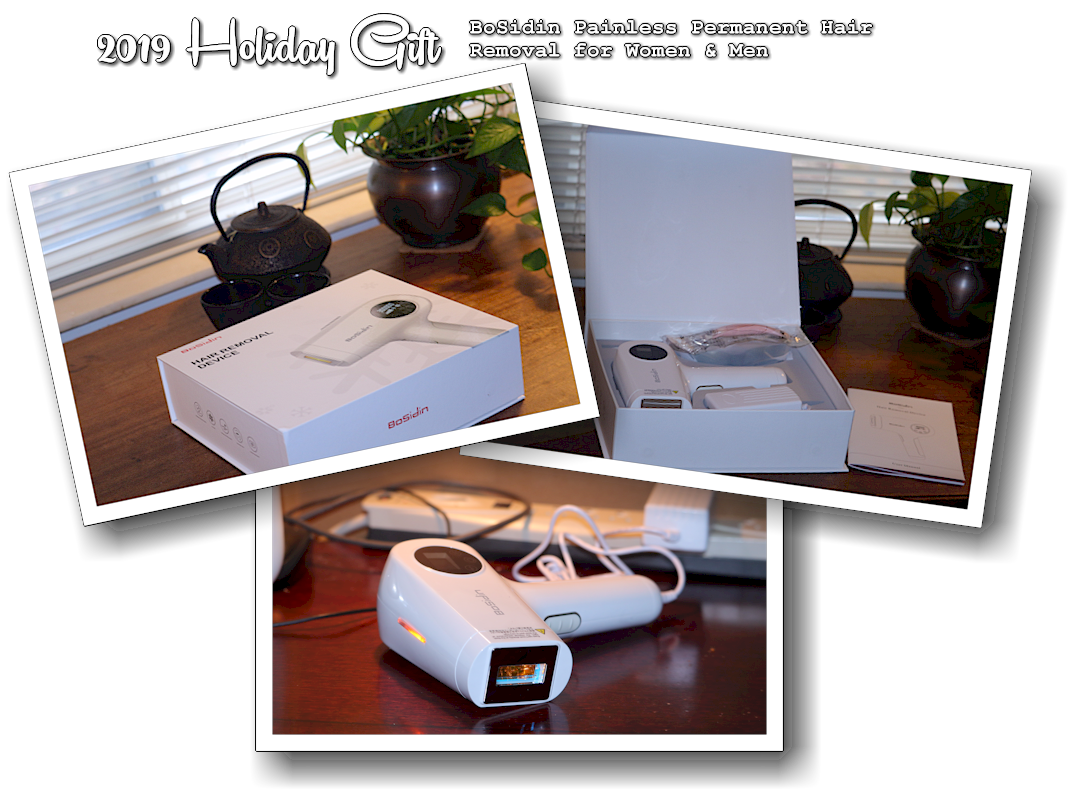 I did a bit of research before purchasing the BoSidin Permanent Hair Removal System and though quite happy to date, still in the early stages in the use of the unit.
Other considerations as related to the selection of the gift? (1) I am dangerous with a razor blade, though some of the newer technology is pretty good. (2) my cordless razor battery died. (3) I wanted a more permanent solution.
Hope your New Year is off to a great start...

Saturday, December 28, 2019
I have no plans New Year's Eve, however earlier this month I ordered two new lipsticks to test, and decided I could use the Blazing Lava L'Oreal Lipstick if I changed my mind.
The other lipstick, L'Oreal Peony Pink is not as festive and more an everyday look for me.
Through the weekend and up until the first, I will be preparing my sites for the new year, i.e., updating copyright information and ensuring any new year's regulations and policy requirements are current as related to my sites.
What are your plans for New Year's Eve?

Tuesday, December 24, 2019
I am baking today, however I wanted to take a moment and tell you about a recent acquisition that I am pretty pleased about.
I imported most of my CDs to iTunes, and have the app installed on several mobile devices. In March of this year, while using an unprotected charging device, I believe I damaged my first bluetooth speaker (no longer accepting a charge), so I caught a sale and picked up this DOSS SoundBox XL 32W Bluetooth Speaker.
In addition to iTunes, I have several Echo devices hooked up to stereo and/or amped standalone speakers, enabling Alexa music requests in most areas of the house. I tested the new speaker with all of these systems and found in most cases the audio was greatly enhanced, however not in the den.
Systems around the house using other Echo devices where the Doss speaker made a significant difference:
If you are looking for a new bluetooth speaker, I think you will find this speaker has surprising output.
P.S. Issue from the last post, cleared up. I am so pleased about this.

Friday, December 20, 2019
This wants to make me cry. Right now I need legal and DOJ authorities to track this problem. I did not ask for a refund. I asked them to give me a time schedule for the delivery that they have promised since Tuesday.
They agree I never received it however they want me to send it back. I placed a new order for the same thing. Law enforcement who have access to my dealings should have this problem. I do not like when things like this happen.
Too much of the wrong noise on this.
I have all of the correspondense on this. I never said refund. I said please tell me when I will receive this. Now they want me to send something back I never received.
I love Amazon and have never had a problem. Why now? I ordered the item again. FBI, would like this cleared up quickly.

Saturday, December 14, 2019
It was a busy week, highlights included:
Replaced a brake lamp bulb on one of the cars (The internet allows me to think I can repair anything).
Trip to the market.
Online shopping & waiting on the deliveries.
Wrapping presents.
First holiday gift: Handy Multi-Use Tool - Synchrony
Putting up the tree and the rest of the holiday decorations.
Correcting a problem with the Instagram API Demonstration application.
Fixed the submit button issue with the map tool on the WiredPages Dining & Travel page.
Beautiful moon in our area on December 11th, 2019. The following photos taken with my Canon EOS M50.
Hope your holiday preparations are going well.

Friday, November 29, 2019
I have had a busy week, running errands and preparing for Thanksgiving. Lots of shopping, cooking, and an appointment or two. Who sets an appointment Thanksgiving week?
The last three days in photos...
So much going on here and elsewhere this holiday season. Social media updates...
Found this holiday tune while listening to a station via an Echo device. An old song, however a new favorite for me.

My Echo devices (Note: 2 Echo Inputs):
Hope you are enjoying your Thanksgiving holiday.

Thursday, November 21, 2019
Last week, in the midst of my holiday shopping, my android's battery stopped accepting the charge. This was a holiday-time expense I had not anticipated, however unavoidable.
I have already started my holiday shopping, as illustrated in the photo below, taken November 15, 2019.
With the holidays in full swing, I decided I could spend no more than $150 for a replacement unit.
I purchased my first android in February 2015, and used it almost everyday, whenever possible keeping the unit plugged in next to my software development and blogging platforms, or just "on" for any research or social media tasks on my "todo" list. I have to say, I am surprised it lasted as long as it did. I used it quite a bit.
The new android arrived, Wednesday, November 20, 2019, and I am very pleased with the ease it took to setup the new unit.
When things like this happen, I am usually good about accepting the loss and moving on. Over the last 6 months I have spent over a thousand dollars replacing business tools (camera and android). Both 2019 business expenses I had not planned on, however critical to completing the tasks I need to get done.
How often do I do this? Old camera purchased in 2008, old android purchased February 2015 and only when I have absolutely no other options.

Monday, November 11, 2019
My mother's birthday is right around the corner. This year, I decided to get her something she said she needed, however was unable to find. I researched online, offerings of the lampshade replacements she wanted and asked her about certain styles before I ordered.
I am glad I did. The new lampshades arrived today, and though not her birthday, I decided to give them to her a bit early after first ensuring the shades were undamaged. Illustrated below, the etched-like ginger jar lamps and the old versus the new lampshades.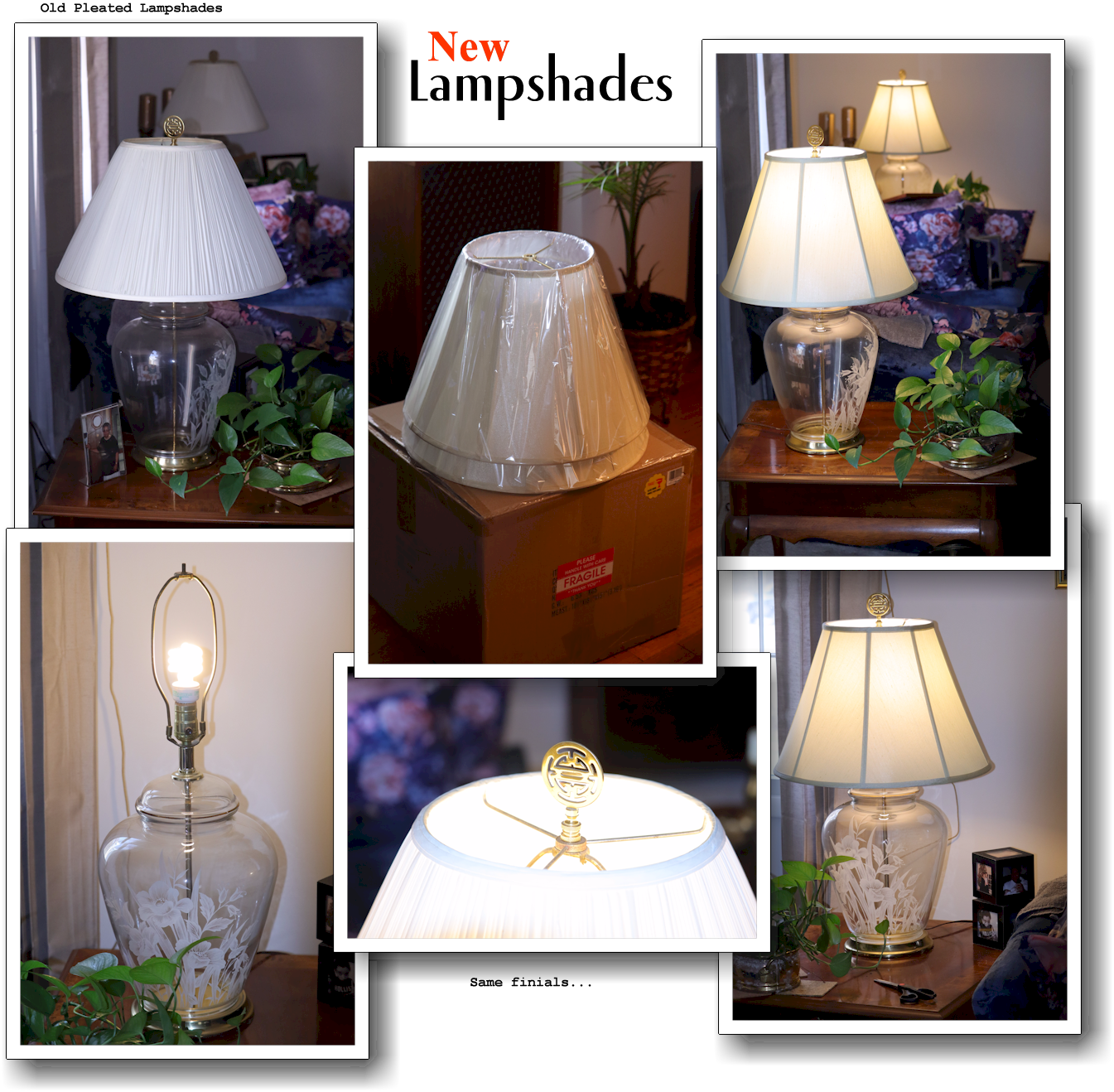 Though the older shades do not look that bad in the photos, some of the pleats had separated from the lower hem of the shade, giving a slightly frayed appearance. She did not see the final gift selection, so I am pleased she likes the new lampshades.
I used to know where lighting stores in my area were located. I love finials, lamps, lampshades. I am not sure now, why it is hard to find things like lampshades and even online- the research was a little more difficult than I anticipated.
Now, what to do about dinner and other birthday activities...

Saturday, November 09, 2019
Recently, I have been giving serious thought to the start of something new. Two years ago, I registered two new domains:
Hanover-Magazine.com
hanovermaryland.org
My thoughts at the time were to expand on my efforts related to the Hanover MD Businesses page, I maintain on Facebook.
The expansion would include an online magazine with hard-copy editions for the eleven or so area hotels, features related to the areas many social and media events, community events, the exponential growth in the real estate market as well as the business environment which has always had a strong presence in the community.
The related hanovermaryland.org site would be more of a directory, dynamic information site about the area and businesses. What's new, business listings, events calendar, etc.
Recently, I also started two new social media accounts (in addition to the older account, also listed):
HanoverMagazine on Instagram
HanoverMagazine on Twitter
HanoverBusinesses on Instagram (older account)
Shown below, existing pages associated with my Facebook account which may also- be of use with this project.
I love Autumn, so with the onset of the new season, I thought I would roam the area, researching and gathering ideas for this magazine project. Below a collection of some of the photos I have taken.
The area has all of the right elements to take seriously a project of this nature, including location, an international airport, one of the largest malls in Maryland, a major casino and easy access with plenty of parking.

Wednesday, October 30, 2019
Recently added to the collection of Alexa devices used in our home to include two new Echo Input units-- reference Instagram Post.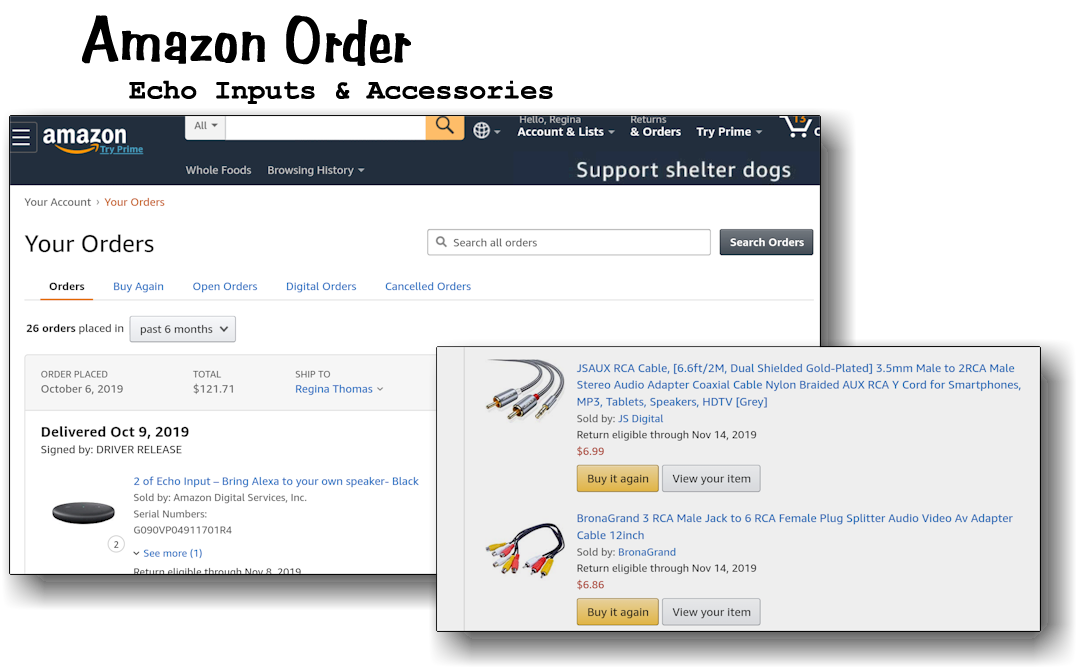 As noted in the above illustration, the order included RCA Splitter and RCA to 3.5mm adapters.
Pretty pleased with how this worked out, in that we already had the bookshelf stereo system and standalone amp speakers we wanted to use with the new devices. Note: I needed the RCA Splitter Adapter to allow both the Verizon Set-top box and Echo Input to output sound to the bookshelf stereo system.
Alexa devices currently used in our home, include:
One of the new Echo Input devices was setup in my office.

I love being able to put on a smooth jazz station while working. The bookshelf stereo system that was already in the office, offers a lot of sound, in that the on-board equalizer offers plenty of options.

Wednesday, October 16, 2019
Fall arrived and I have taken the opportunity to get out to take photos with my recently acquired Canon EOS M50 Camera and Canon EF-S 55-250mm F4-5.6 IS STM Lens .
I use photos quite a bit for graphics. In 2010, I started a Facebook alumni group for my high school and periodically visit the school to take photos. Recently, I updated the header graphic for the group using one of the photos I took on a recent visit.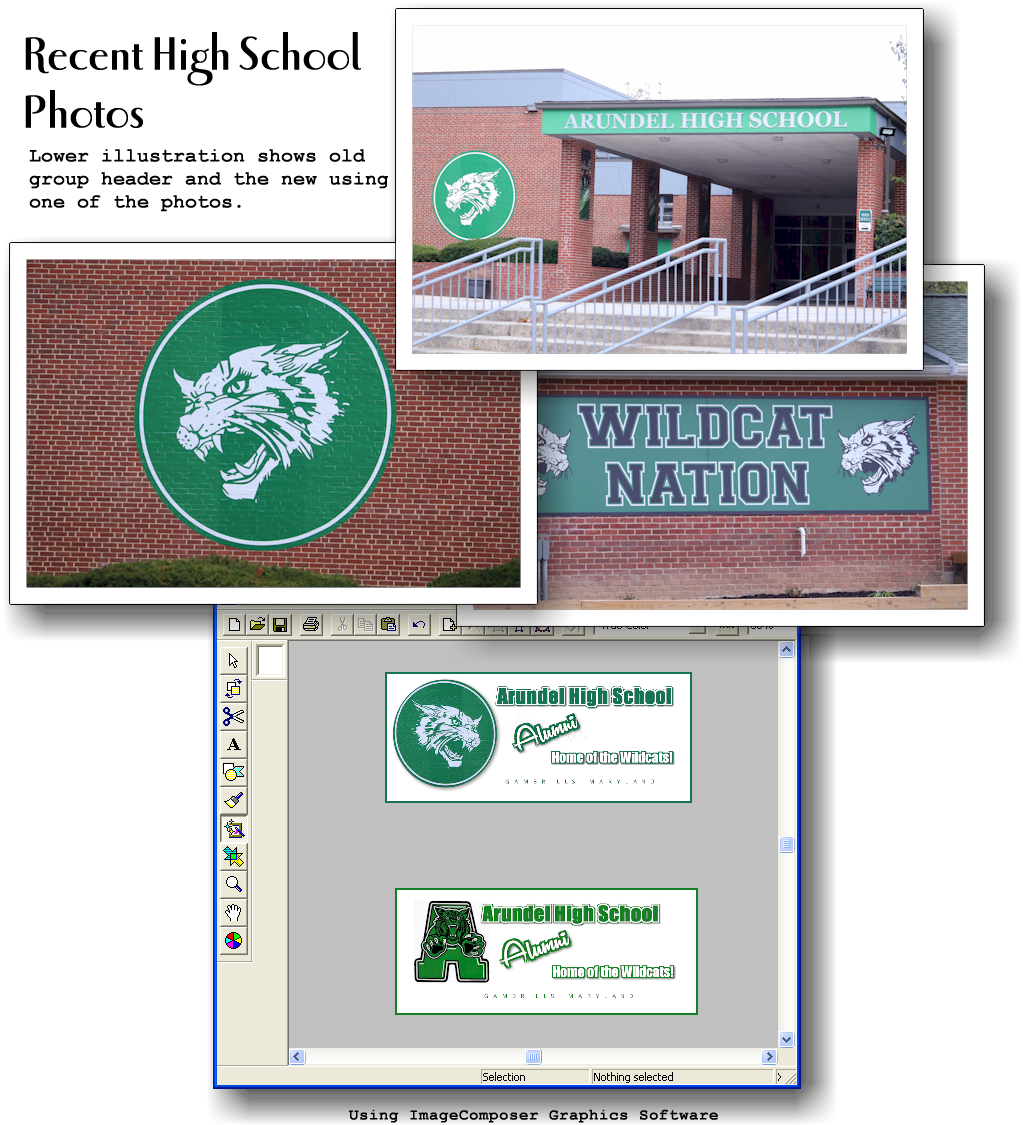 In addition, the following illustration shows another photo used as a new graphical element for the WiredPages Real Estate page.
And it goes without saying, I post regularly to my Instagram and other social media accounts.
In my area, autumn color is just around the corner, and I plan to get out and enjoy the season.

Tuesday, October 15, 2019
I provide a lot of information relating to my private, business and financial interests. I provide this type of transparency as related to my business and financial affairs because of ongoing investigations.
Quite frankly, I thought my legal issues would have been over a long time ago. That said, the promises from both Washington, and some of the corporations involved have not as of today, come to fruition.
Promises are still offered, however I am not sure of many of the issues still remaining.
The other problem? I have been out quite a bit working on community business projects rather than software development. Mostly taking photographs (next post).
That said, I have noticed odd things from some people who have gone out of their way to engage me. This should not begin again. I have had assurances from law enforcement that what I have noticed should not be happening and some of the people have been dealt with.
I have also noticed odd things with posts from Q's Wire. I continue to maintain the WordPress blog online, though law enforcement and judges have indicated the blog posts have been tampered with too much over the years.
I simply want to provide this disclaimer of sorts. That said-- because of the nature of my case and the amount of time involved most agree- the blog (Q's Wire) is only there to provide background to the horrific nature of all of this. Legally, experts agree I do have the master copy of all posts for that blog, and timely issues insofar as tampered posts should not be an issue.
This blog and my business blog are Thingamablogs and harder to tamper with.
Now back to a financial matter that I wish to provide transparency on. I use Synchrony to maintain two CDs and a Money Market Account. Recently, one of the CDs came to term. I decided to allow the CD to rollover, however knew because the interest rates were now lower, I would need to add more funds to maintain the same interest payment. The following illustrations provide the process I used to rollover the CD with more funds.
With my meager income, credit rating, business credit rating and a penchant to mind my own business, I should not have the problems I have. A hard look continues to suggest too much is wrong-- and I said no. I thought a lot of this was about "clean up".
Not sure why, some of the issues I have noticed recently are happening, however I am not one to be shy about why law enforcement owes a lot of these issues.

Monday, September 30, 2019
Yesterday, I received a new pair of Aerosoles Women's Octagon, Black Suede Pumps and a Urban CoCo Women's Long Sleeve Coffee Dress (inexpensive budget item).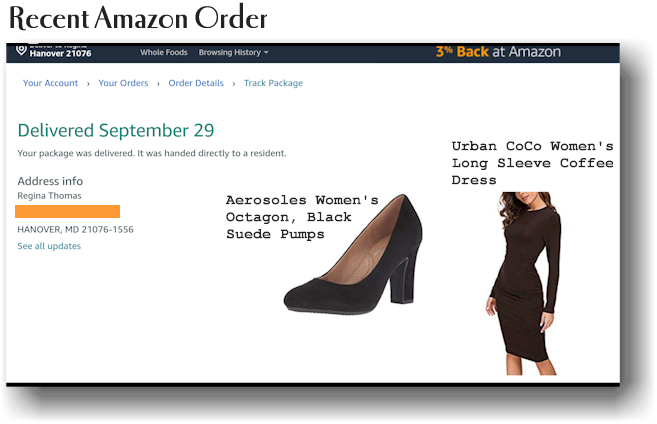 I was not sure whether the dress would work with some of my existing items, and quite pleased when most of the pieces I tried with the dress, worked.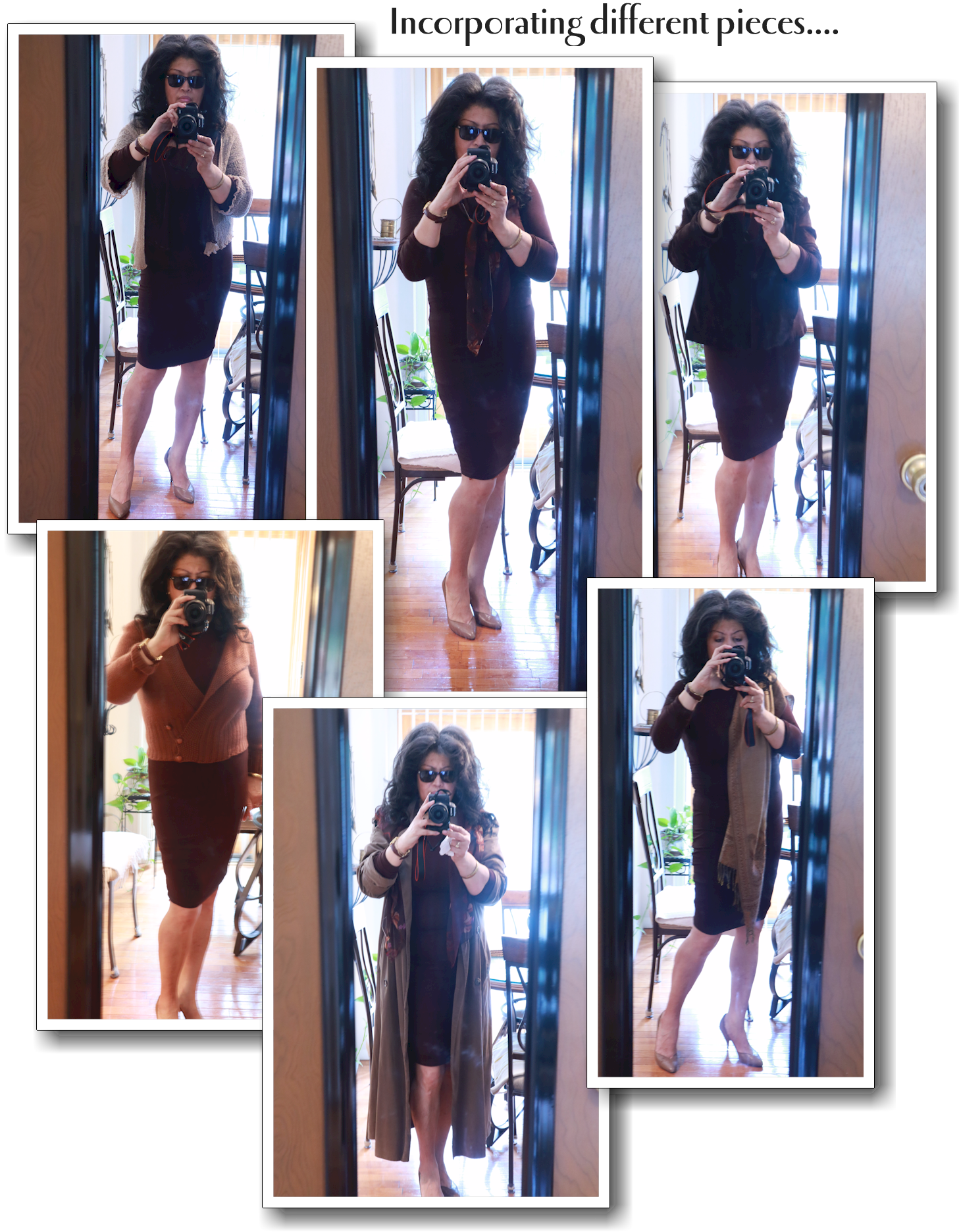 Here are similar items that worked with the dress:
I added a body shaper slip to the above list of items. The dress is rather transparent. I wore the following cami/slip set with the dress.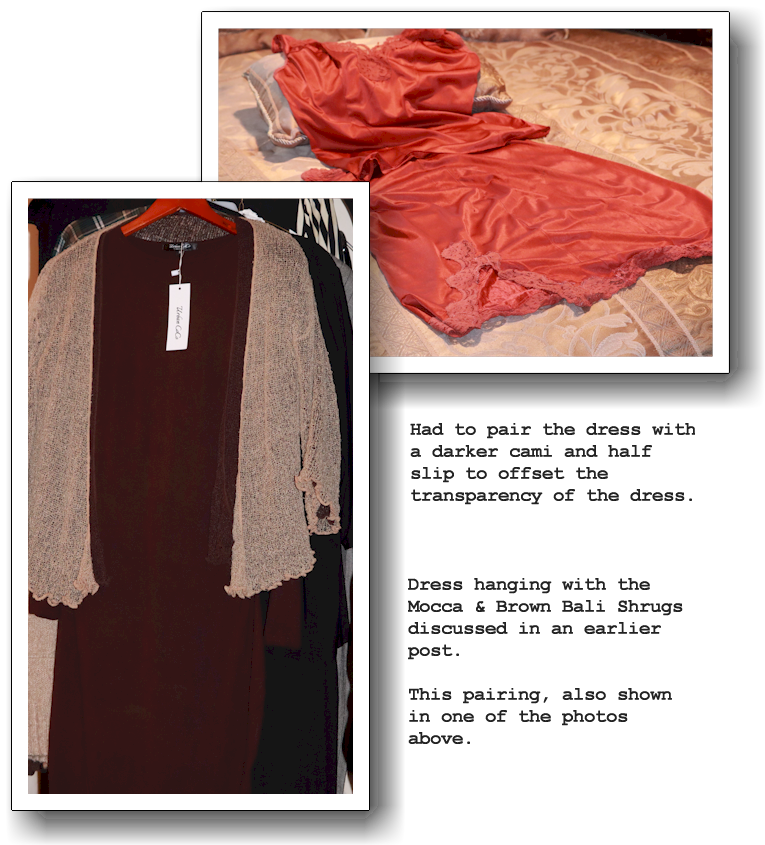 I am always looking for items like this. No worries about dry cleaning and I can easily add a blazer, scarf or coat to make it office/meeting friendly. Though I am dieting, I am still not in my older suits and right now, solutions like this work for me.

Monday, September 16, 2019
New additions to my wardrobe, suitable for light Summer/Fall evenings.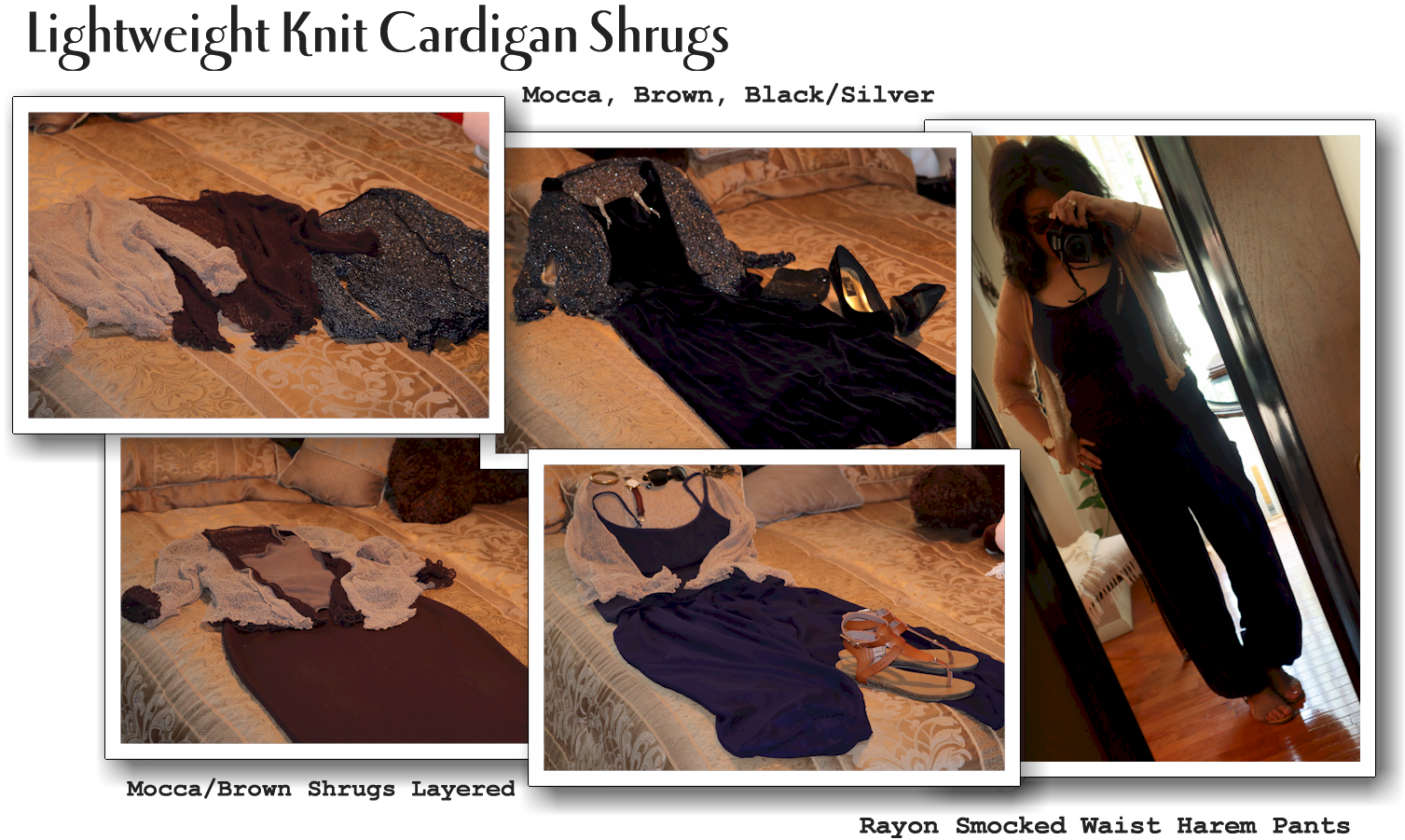 Below, I have provided the links for the items shown, however the Brown Lightweight Cardigan Shrug is no longer available.
I tried on all of the outfits shown in the photos above and happy with the look the shrugs add to each look. The layered look using the mocca & brown shrugs is surprisingly striking.
I ordered the rayon blue harem pants in an XL because I wanted a full effect. I am very pleased with this purchase, however think I will have the pants dry cleaned to maintain the vibrant blue coloring.

Friday, September 13, 2019
Starting to update the Gift Ideas post and ran across an idea I thought might be interesting for a kid's birthday, costume or Halloween party theme.
These NFL youth costume theme sets could be a hit with the kids and cost between $17 and $75 depending on size and team.
I am only showing four of the theme sets, however most of the NFL teams are available.

Are you ready for the holidays? I am trying to get into the swing of things, however I am a little late with some of things I want to do this year.

Monday, September 09, 2019
I am on a diet. You may recall, earlier this summer I decided to add to my wardrobe. Two of the dresses I ordered were a little tight so I decided to take seriously a diet.
The photos below, show the two dresses and my current weight. I lost several pounds in August, so can now wear the two dresses in question, however decided to continue with the diet.
Without my much loved treadmill, I have had to resort to habits used in the past to maintain my weight, i.e., simply not eating. My incentive? My old clothes. I have a lot of classic suits, so I am not worried about dated looks- and quite frankly, happy with my progress.
That said, things like the boots shown in the photos below are about 3 years old, however never worn. I am having fun thinking about the old things I can wear with these slouchy boots.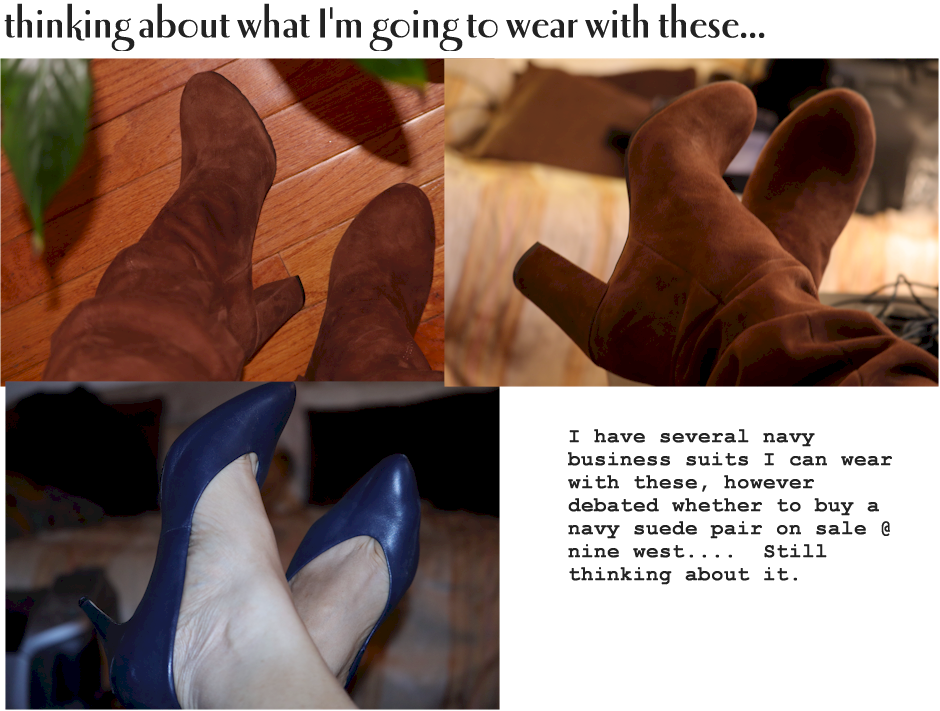 Slouchy boots are not in this upcoming season? Not sure, however I like long skirts (just below the calves) with this heeled boot so I am sure I can come up with a classic look.
As noted in the caption for the navy pumps, I wanted to purchase a suede pair of navy pumps. Instead I may purchase a navy dress I already have in aqua green (shown in the above photo). The style is flattering on me, however I will have to purchase the smaller size.
My diet? Eating a meal (daily) like the one shown in the following set of photos. I may have a mini bagel either mid-morning or late afternoon and that is about all.
I am ready for Fall 2019. Football, new business projects, my old clothes on a slimmer me.

Monday, August 12, 2019
Two items of note on the financial front:
My FICO Score rose slightly.
My cash rewards credit card finally reached the $50 threshold for payout.
The emergency purchase of my new Canon EOS M50 Camera last month, finally pushed my cash rewards on my credit card over the payout limit. Paid off the credit card last week, so I think I will put the check into my bank account and let it sit for awhile.

Friday, July 26, 2019
I intended to wear the new outfit shown in the following photos on my birthday (Saturday, July 20th), however I felt a little under the weather, so instead I wore it yesterday to run several errands.
I stopped by the bank (birthday gifts), Aldi's market, and shot video for the local business community page I maintain on Facebook.
The Canon EOS M50 shoots great 4k video, however I decided after returning home, the video was unusable because several traffic signs were in the foreground of each frame.

Sunday, July 21, 2019
I have been playing around with the Digital Slave Flash that came with the Canon EOS M50 bundle I recently purchased. What is a Digital Slave Flash? It is an external flash that can either be attached to your camera's hot shoe, or positioned away from your camera and used as an autonomous light source that is triggered by the camera's flash.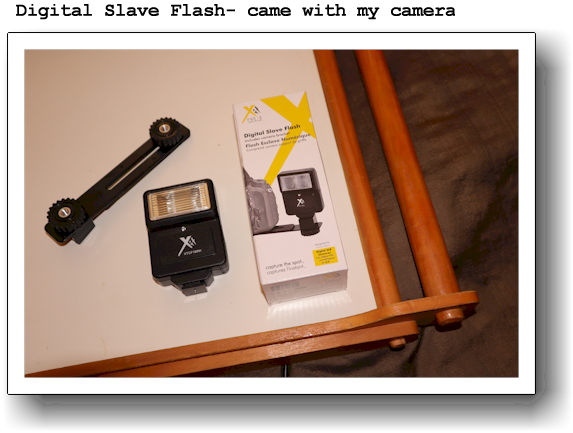 In the above photo, I am of course- not using the external flash and there is very little glare from the camera's flash. I had to slant the camera away from the items to avoid the glare.
The two photos that follow show (1) a photo taken without the digital slave flash and (2) a photo taken with the external flash. I was working on a post for one of my Facebook pages, in my dimly lit bedroom this morning when I decided to pull out the external flash.
Based on my experimentation, I noticed the two flashes working in unison and when positioned correctly, negated a lot of the flash glare.
I know how to set shutter speed and IOS (manual focus settings) without using a flash to allow enough light for a decent photo, however also like using a flash. I simply think I need to learn how to use a flash more effectively.
I am having a lot of fun playing with my new camera. Professionals who have used DSLR cameras are going to love this camera and newbies like me are going to be very pleased with how easy it is to learn what the professionals know.
Background Data (Photography):
This goes without saying, I am not a professional photographer, however I take all of the photos used by my Instagram accounts and blog posts.
In college, back before digital cameras, I took a black and white photography course as an elective- to learn the basics. I have been in a darkroom and learned to use developer, stabilizers, and enlargers. I remember often being a little panicked about opening the film canister (in the dark) and getting the film into the solution.
For digital photography, I have been using a great Canon (A590) Autofocus Point & Shoot and only now, just beginning to understand the complexities of digital photography (and manual focus), with my new DSLR camera.

Monday, July 15, 2019
On Sunday, July 6, 2019, I damaged my Canon PowerShot A590, beyond repair. I was so devastated by what happened (rushing to pack up, I dropped it on the hardwood floor), I cried. I seldom cry.
I purchased the camera in 2008 and loved the many features this point and shot offered. I seldom went anywhere without it.
That said, the camera could only produce 8MB photos. Though my web hosts should have loved the small footprint of the images I used with my posts, my social media account offerings- looked a little shabby in comparison to others.
For various reasons, all of the images and photos I use on my business site, are hosted on my domains, and not a cloud or image hosting service, like Flickr. Digital photo size is an important factor in my environment and provides part of the rational for why I held off replacing the camera. The other reason? I could not justify the business expense.
That said, I did have plans to purchase a new camera in December 2019 (Christmas), and researching the Canon EOS M50. Late in the evening on July 6, 2019, I ordered the following bundle.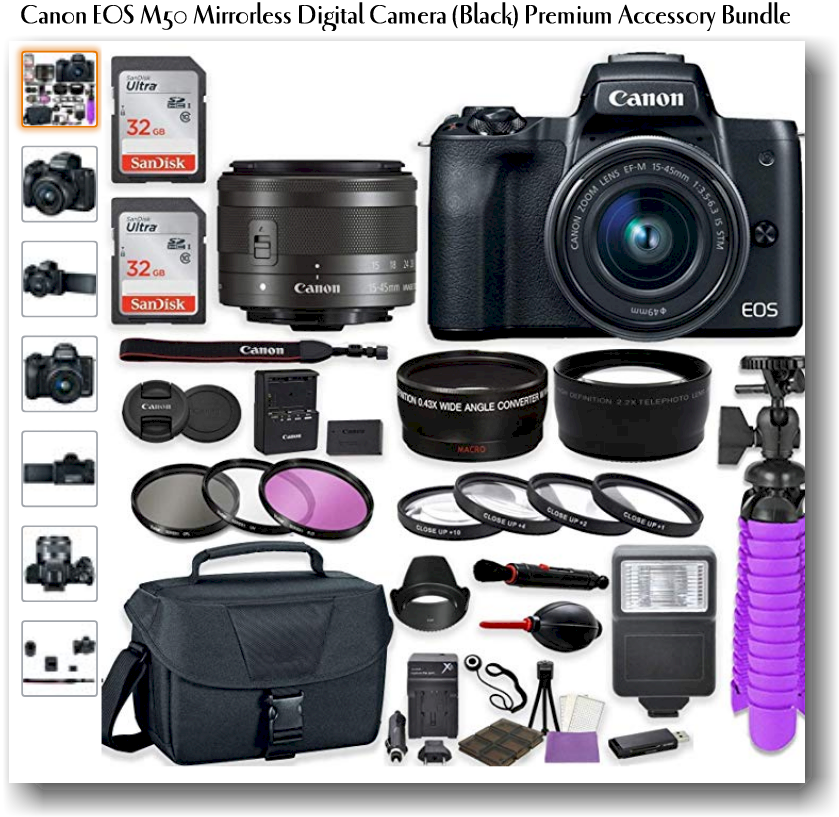 I have to say, I am very pleased with this new camera. Additional info about my purchase(s):
Love the TouchScreen Menu.
Love the Manual Focus and Portrait Features.
Also purchased BM Premium 2-Pack of LP-E12 Batteries for Canon etc..
Also purchased the Fotodiox Pro Lens Mount Auto Adapter.
Also purchased the telephoto Canon EF-S 55-250mm F4-5.6 IS STM Lens for Canon SLR Cameras- see more here.
Love the 4K Video option.
Love the Digital Slave Flash that came with the bundle.
Love the 9 different filters that also came in the bundle.
Love the many YouTube videos about the Canon EOS M50.
The following is an example using the Portrait option on the Canon EOS M50.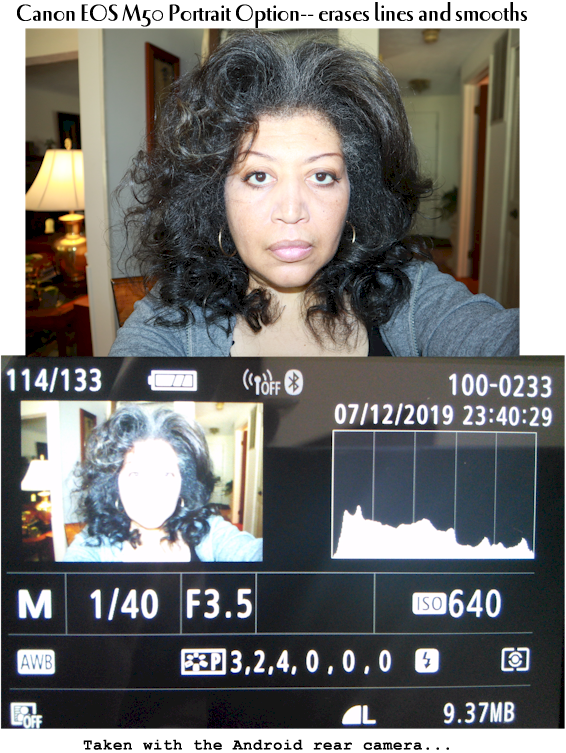 I am still playing around with the many features of the camera and other tools that came in the bundle. That said, I have found things pretty easy to understand and have come up-to-speed quickly (yes, I know the above photo, is a little overexposed). This is my first DSLR camera, and though I wanted to wait for Christmas, I am pleased with my selection.

Saturday, July 06, 2019
Yesterday, my new Blowfish Malibu Sandals arrived. I have to say, I just love this pair of sandals.
I am about done with this rather fun task and pretty pleased with most of the items I purchased. Maybe I just needed an excuse to spend money on new clothes.
That said, while shopping for my new casual summer wardrobe, I also searched for new items to add to my Back To School shop. I am pretty pleased with many of these finds. Almost wish I were off to school next month.

Monday, July 01, 2019
For the last month, I have been trying to update my casual summer wardrobe.
Over the month of June, I have purchased several new summer dresses, sandals, and acquired two new shrugs. I have only spent about $400, so my investment has not been huge, however notable because I seldom spend money on casual wear.
Some new items acquired over the month of June:
What started this buying spree?
Damaged several of my old sandals trying them on.
Complaint from my Mother, my casual wear seems a bit tattered.
Celebration of sorts over having my renewals in place (see last post).
Birthday in July, and I always try to ensure I spend gift money on things I need.
Not working software projects, too much time on my hands.
Old shoes...
Unless going out, I keep my hair pinned up, however easy to comb out if I need to go out. That said, I decided to purchase hair combs to help me manage on hot humid days. In the first set of photos for this post (above), (yesterday) I had my hair out, because I was trying on new items and took photos.
Not everything has arrived, actually most of the items are still not here, however I am excited about the new additions to my wardrobe.

Tuesday, June 18, 2019
Yesterday, the QiSoftware business renewal notification was finally posted to the Maryland egov business website, completing all of the renewals I had for this year. This post discusses in some detail, the renewals scheduled for this year and why they were a concern for me.
I was a little concerned because I sent the check on April 25, 2019. I went by my business mailing address on the same day to pick up the renewal application. According to the Maryland business website, the application was sent 10 days earlier.
If you click on the link associated with the above illustration, use either of the following search criteria to access the QiSoftware business related information provided by the State of Maryland.
Business Name: QiSoftware
Department ID: T00212348
Five years ago it seemed the business renewal process took a lot less time, however happy its all done. On May 8th, 2019 I called the Maryland office which handles the renewals to find out if the check I sent had been received, explaining I seldom send checks through the mail and simply wanted to find out if they were in receipt of the payment. That night the check was sent to my bank for processing (note the above illustration). I did not call again.
P.S. This year, I also had to go through the Real ID (Federal Law) process to renew my Driver's Licence, so you may want to see this post for what to expect if you have to do the same.

Saturday, June 01, 2019
One of the ingredients I use in my Cheesecake recipe, is heavy whipping cream. Normally, with the leftover cream, I use a Braun Immersion Mixer to make whipped cream.
The whipped cream though good, tends to lose its body after a day, so I found a Stabilized Whipped Cream recipe that I decided to test.
Short video- making the Stabilized Whipped Cream version...
Both versions of the whipped cream are good, however the version using the Braun Immersion mixer should be used immediately (it will destabilize over time). I think the stabilized version is worth the effort.
Things you may need for these recipes:

Friday, May 24, 2019
Currently, I set up an office in any room in the house because I am mostly mobile. Even my bedroom has a desk (of sorts) and an old computer. I rarely use the desk and old computer, instead a breakfast tray and wifi wireless devices.
Also in my bedroom, I have a four poster bed, highboy chest, dresser, and two nightstands. The set is all wood (cannot get all wood now for the price I paid then), in a Queen Ann style with a cherry finish, purchased over twenty years ago. I also maintain an office upstairs where I have two of my desktop computers. The photos below, show elements from both rooms.
I would like to update the bedroom set, however it is not a priority at this time. What can I do? Update the desk in the bedroom. I have looked around and found things I would like to add.
The leather wingback chair, is really not an option at this time, however I love this idea (used to have a pink wingback chair in my bedroom-- see link below). Not only is it a little too expensive (for my budget), I really do not have the room. The guest bedroom is larger, however for some reason I did not want to take that room.
The finial is to replace the one on the lamp in the upstairs office. I was moving the stereo equipment and cables around and dropped the lamp. I am happy only the finial was damaged (superglued it). I purchased the lamp years ago from the Tyson's Corner Woodward and Lothrop and would have been very upset if more damage had been done.
Underneath the desk, I have a cardboard box holding paper stock that I want to replace with the rolling wicker file cabinet.
More photos of my office areas...
These updates would cost around $700.00, and within budget, however it would mean going into my savings. I will let you know what I decide. The problem, I want an iPad, iPhone, and iMac Pro.