Monday, September 12, 2022
It has been a busy start to September 2022. Some of the things I have been doing, include:
Corrected an issue with the Zillow Zestimate API demo.
Filmed cooking videos for my Youtube channel. I have a lot of editing to do on the videos.
Began working on a new tool using the Youtube API that provides earnings for specified Youtube channels.
Researched Youtube Vloggers.
Completed 1.5 hours of real estate continuing education (Fair Housing) for my license renewal in April 2024.
Researching ways to make money online. Wanted to understand whether surveys were a viable source of income. Made about $20.00 in a little over a week, however given my other time constraints, feel it is more of a burden than I can handle. That said, one can earn money online, doing surveys.
Went to the markets (Costco, Safeway, Food Lion) on separate days.
Finished a book I borrowed from the library, "Cry of the Halidon" by Robert Ludlum. Thought I had read everything he had ever written.
The $10,000 five year CD with my business bank matured, so closed it out and opened a new CD with another of my banks. The rate of 3.50% APY on a five year term CD was too hard to pass up at the other bank. My business and personal banks are large institutions with many branches. For most things like opening or closing accounts I have to make an appointment at one of the branches. My online banks do not have branches, however I love the fact I can open a new account without leaving home.
Noticed tributes for Serena.
Watching some of the many tributes for the Queen of England.

Monday, September 05, 2022
Let me say first of all, I owe a post about why my Instagram demos are no longer working (non-operational as of 11:00pm August 31, 2022 or when I noticed), however I am not happy about this situation, so I am going to put it off for now. A recent Youtube video demonstrates the demos were operational and I hope to correct the issue in the near future.
So, this post is about something that made me very happy, and how I justified everything.
What did I get?
-->".replace(/\r\n/g,"").substring(0,10)); if(nstr)document.getElementById("b788").innerHTML='Read More';
Friday, August 26, 2022
The general idea of my financial planning is to save every penny possible, only allowing for business and limited social expenses, i.e., birthdays, holidays, and every now and again a treat.
For legal reasons, which I am not going to reiterate in this post, I also like my financial picture to be totally transparent.
This- the reason I provide the illustration below of the "overview" of my Mint account, showing a redacted accounting of all of my active financial accounts.
If this is meant to be a transparent overview, why is the illustration redacted? Legal authorities, businesses, agencies (e.g. Maryland Real Estate Commission) and higher education institutions can all easily verify the information I am providing, so I mean transparent in that regard.
Recently, I have had a series of appointments with one or two of my banks for a couple of reasons. One, I needed a notary and two, I have a 5 year CD that is about to mature.
You will note from the above illustration, most of the financial institutions I deal with are primarily online service providers. Wells Fargo and Bank of America have local branches that I visit on occasion and represent the institutions I use for both business and personal checking and savings accounts respectively.
Interest yield rates are going up, and my business bank no longer charges as much for the monthly service fee and has also lowered the amount I need to maintain to avoid the fee altogether. So I no longer need to maintain a $10,000 CD with the bank to avoid the monthly service fee and I wanted to ensure the CD would not automatically rollover when it matures next month.
I also needed a notary for some legal documents. I made three appointments and attempted one walk-in (UPS Store in Hanover), before I finally had my document notarized. I was surprised by how hard this was, especially, in that I made appointments. The last bank appointment worked.
I have no choice at this time but to save money and try to find the best rates possible. I really cannot afford a financial planner (for market investments) so as with everything else, I learn what I need to learn and do it myself which means in my case, no risky investments.
Some of my recent issues rather surprised me, so I thought I would note it for the record. I mainly do things like this for legal authorities.

Saturday, August 06, 2022
Awhile back, I began to familiarize myself with the offerings of Node.js. What is Node.js?
Node.js is an open-source, cross-platform, back-end JavaScript runtime environment that runs on the V8 engine and executes JavaScript code outside a web browser, which was designed to build scalable network applications. Wiki Link for full description.
Access to online databases is an essential web service and one of the main offerings of Node.js. The Node.js server-side Javascript provides access to popular online databases like MySQL and MongoDB.
That said, for security reasons, I prefer Java JDBC servlets to access online databases which is not as open as the Node.js offering. The popularity of Node.js prompted my research into this area.
Insofar as online demonstrations of what I can do with node.js, there are issues for me because both of my web hosts use the Apache Tomcat server- which I need to run server side Java programs. This causes a special setup requirement for Node.js support. Because I only need the support to demonstrate Node.js knowledge, I opted to provide the demonstrations in my local experimental software development environment via video.
The following video demonstrates tools I am using and software I have created in my two software development environments: production and experimental including a Node.js demo.
I again used Active Presenter to create the video presentation provided in this post. I continue to learn new features available within Active Presenter however feel I should spend a lot more time editing. I have time issues.
PS. Sorry about the decibel level on the NPR Station Selection demo segment of the video. I wanted to show the control features of the application and may have left too much of the original video in tack.
Also, why am I not looking into the camera?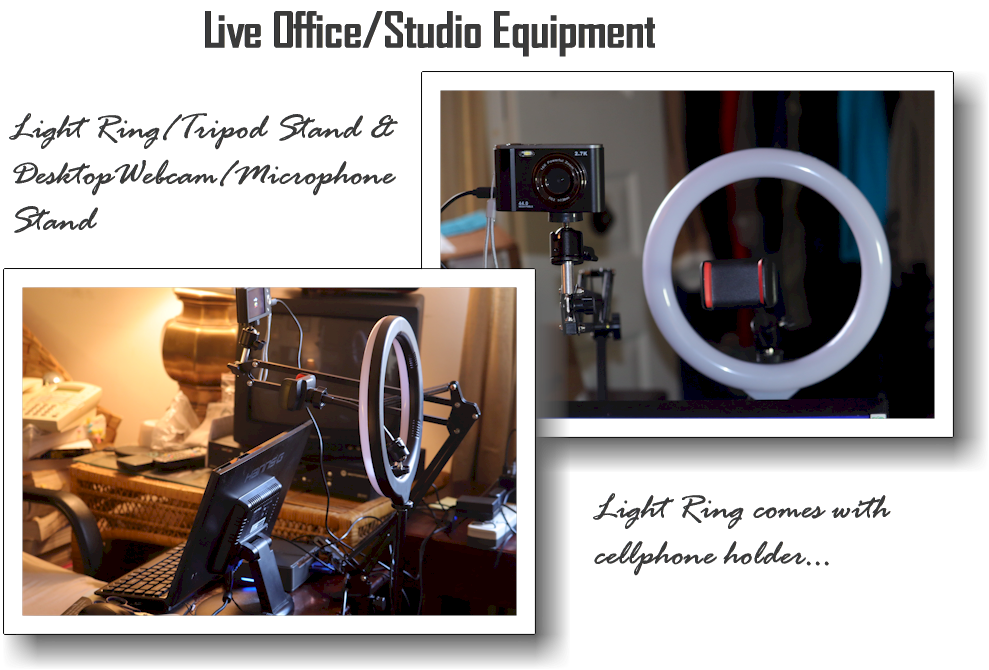 I use a high resolution monitor for Zoom meetings and a separate camera (monitor does not have a camera). Configuration shown above. When I recorded this video, I continued to look at the monitor and not the camera located slightly higher and to the left of the monitor. Trying to learn from my mistakes.

Saturday, July 09, 2022
Do you ignore promotional emails? I get probably- as many as anyone else, and I must admit my cursor stays on the delete button when checking the mail.
That said, on June 13, 2022 I noticed the subject line for the email highlighted in the graphic below and decided to have a look.

When I opened the email to investigate, I found the following offer.
So the next day, I decided to use my personal checking account (Bank of America) app rather than my business checking account (Wells Fargo) app to deposit the rewards check from the credit card company. I made a video of the mobile deposit.


The last time I received a credit card rewards check was 3 years ago after I purchased my new camera. I normally deposit these infrequent cash rewards checks to my business checking account, however, because of the rewards offer from my other bank, decided to change my routine and use the other bank.
The bank stated the $10 rewards deposit would be within sixty days, and showed up this morning as a deposit made yesterday.

Needless to say, I am not going to be so quick to delete promotional emails in the future.

Monday, July 04, 2022
A major software issue I wanted to look into- involved my Instagram API Demonstrations, as provided: here and here.
The problem involved thumbnail requests of the photos and videos, which initially were being returned from the API as same size photos no matter what size originally uploaded to Instagram. See this link for illustration, the thumbnail requests initially worked.
Recently, when I uploaded a new photo to Instagram via my new iPad mini, the problem became more evident because the app on the iPad did not crop the photo in the same manner as the Android version. That is what prompted my decision to fix the problem now, rather than later.
The following video, discusses and demonstrates updates to several QiSoftware developed software tools including the Instagram demonstrations.
I am playing around with Microsoft's Power Point 365 and Active Presenter for online videos and presentations which is how I created the video in this blog post. I consider this effort in the early stages and will continue to try to perfect my efforts in this area.
Hope you are having a nice holiday...