Wednesday, June 16, 2021
Recently, I added comments and the option to shorten initial posts with a "read more" teaser to this blog and my business blog. I discuss this project in this post on my business blog.
To minimize legal issues, I use the Thingamablog content management system (CMS) to publish my off-line blog posts to my sites. This insures that I maintain the master copies of my blogs off-line on computers and as backups on external storage devices.
One of the problems with using a CMS hosted locally, and not popular online services like Blogger and WordPress, are issues with comments. Most users who go this route, use services like DISQUS to host the comments associated with their blogs.
The illustration below, shows the script added to the Thingamablog entry.template file for each blog (this and Remix), to handle comments and the read more teaser.
To date, though I have added the feature to this blog, I have not used the "read more" teaser, so I used an illustration from Remix, where I have used the new feature.
I also want to note, if you are a Thingamablog user, and want to try the "read more" teaser solution I discuss in the Remix post, you have to insure the HTML inserted into the Extra 1 field is clean. No double quotes, carriage returns, line feeds, etc. Why? My implementation uses Javascript which has an issue while reading the remaining post text- stored in the Extra 1 field. I only needed to check if the field was not null and believe it or not, that check was not easy.
Initially, I installed DISQUS on each blog, however, by late last week interesting ads began to appear on this blog, so I decided to install a self-hosted comment script. After a bit of research, I decided to use Commentics.
Several issues installing the new script. The first, I use Apache Tomcat so any time I add a PHP driven feature I have issues. One of the workarounds I have found, install the new feature on a sub-domain and make sure to update the underlying Tomcat XML files to handle the new sub-domain.
The second, I did not realize Commentics was a cPanel offering through Softaculous. I downloaded the script and prepared to SSH the files to my server when I found I could no longer use the SCP command I illustrated in this post. In 2017, when I first setup ssh access on qisoftware.com it took me a morning or so to get it setup correctly. I love being able to copy directory trees with a single line of code. Not sure why this is blocked, however I used FileZilla to copy the files. Then I discovered Commentics is a script offered by my web host.
To enable Commentics on this blog, I added the lines of code indicated, to the header and lower areas of the entry.template file of this blog's template.
The following illustration shows the last blog post entry with the Commentics script for comments in the lower area.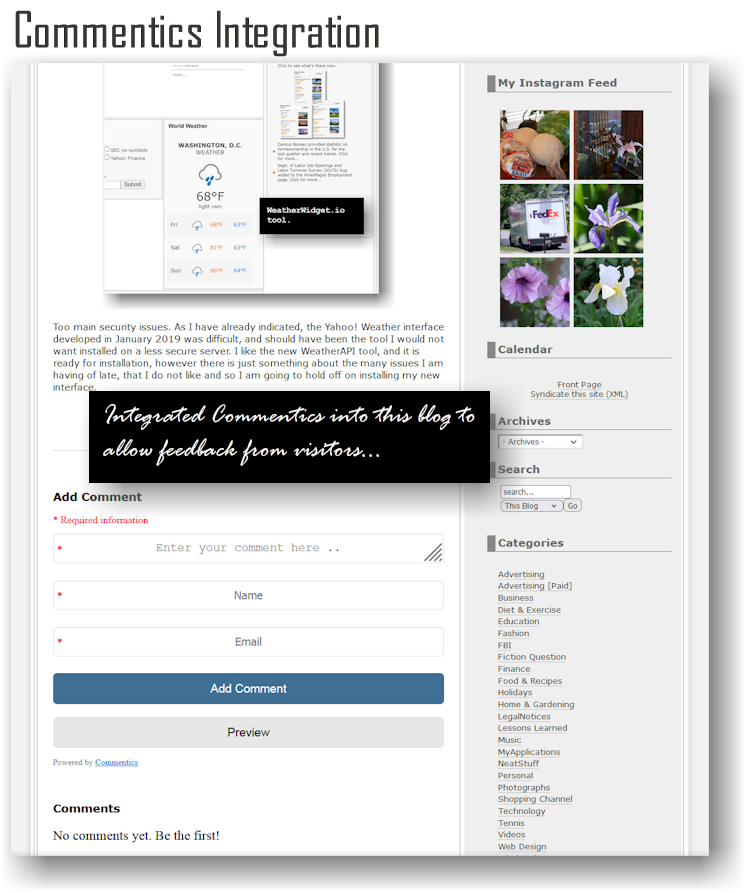 I continue to tweak the Commentics template for this blog. I really like this service because it offers a lot of features. Because I am concerned with load issues, DISQUS continues to be the service used on Remix. That said, other than my test comments, I have no comments so I am not sure why I am concerned with this issue.

Friday, June 11, 2021
In September 2018, I developed a new world weather interface for WiredPages. I discuss the new tool (September 2018) in this blog post.
The following illustration is the same graphic used in the post referenced above, to show in September 2018 I was still doing most of my software development work using my MacBook. You can tell by the standalone application shots running in the Mac version of Firefox.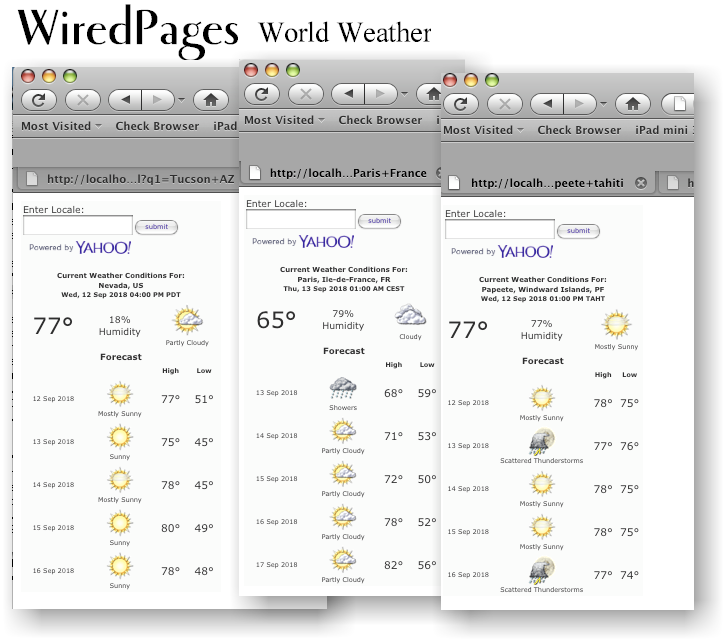 In January 2019, the original Yahoo! API was retired so I had to come up with another source of real time weather data.
Luckily, Yahoo! had another offering, although more complicated to integrate than the original, I worked out the issues and reinstalled a revised WeatherTool in late January 2019.
In late April 2021, I was notified that the Yahoo! Weather API was being retired and thanked for my interest in the resource. I wanted to believe the notification referred to the resource retired in January 2019 and not the feed I was currently using for the weather interface used on WiredPages.
That said, just in case my Yahoo! powered tool would become inoperable on June 1, 2021, as the email indicated, I developed another interface using a new data source. I wrote about the new interface on Mother's Day of this year, in this post.
The illustration below is from the May 9, 2021 (Mother's Day) post. It shows the then current Yahoo! WeatherTool side by side with the new interface using WeatherAPI data, running in my standalone development environment.
So why are you seeing a Weather Widget from WeatherWidget.io on the main page of WiredPages, as illustrated in the screen grab below and not the new WeatherAPI powered interface?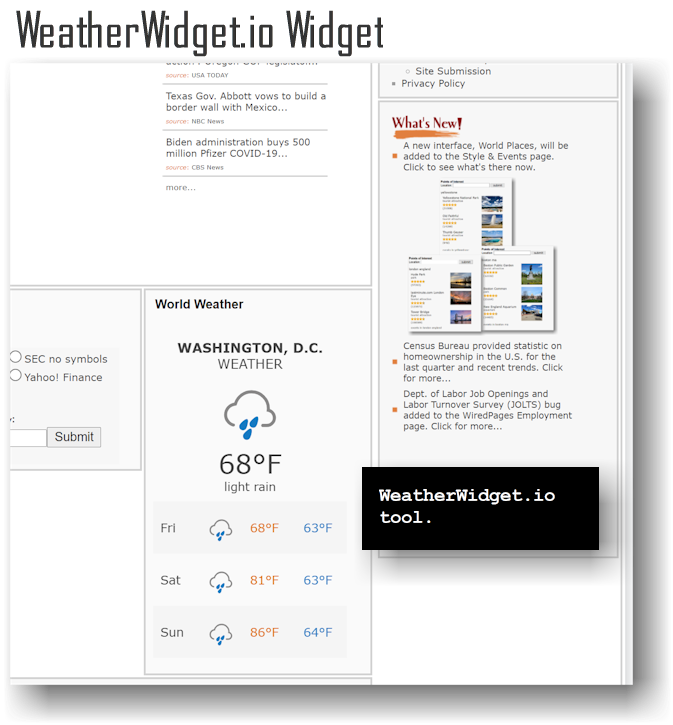 Too many security issues. As I have already indicated, the Yahoo! Weather interface developed in January 2019 was difficult, and should have been the tool I would not want installed on a less secure server. I like the new WeatherAPI tool, and it is ready for installation, however there is just something about the many issues I am having of late, that I do not like and so I am going to hold off on installing my new interface.

Monday, May 31, 2021
It has been a busy week, and I am almost happy the national holiday is about to come to a close.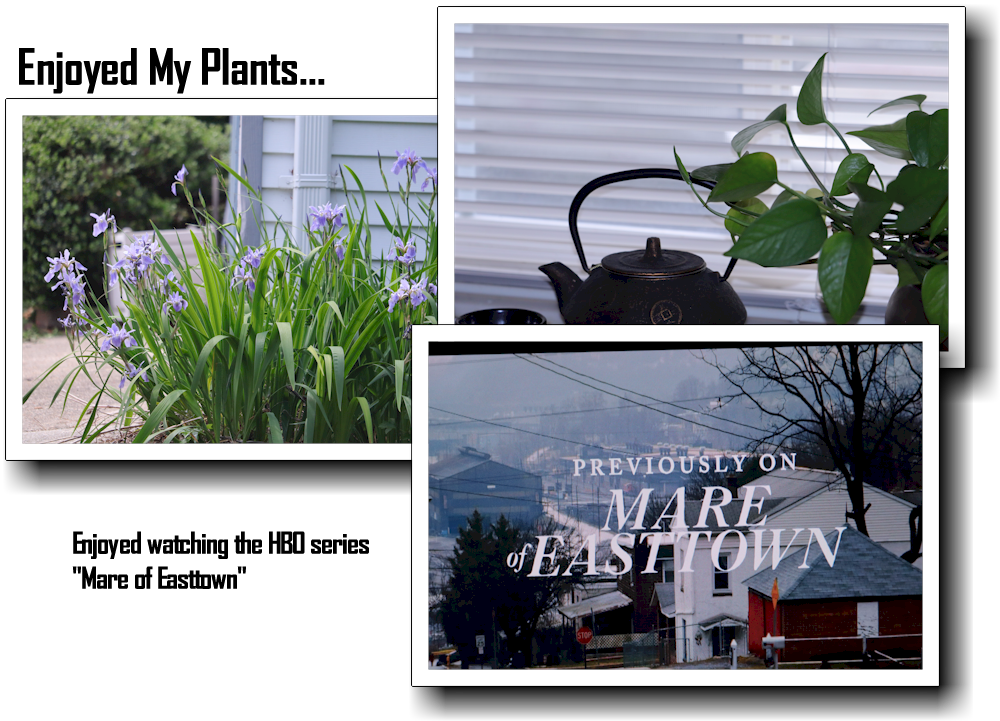 My activities included:
An assortment of visitors including relatives from out of town.
Meal preparations
Eating
Shopping (new espresso machine, groceries, household staples), stores included: Costco, Safeway, Food Lion and Walmart online
Gathered items for the dump, brother helped with delivery
Plants, housekeeping chores...
Article on patch.com about my high school alumni group
Header bidding updates and maintenance, Google AdManager and Unified Ad Marketplace
Website updates
Season finale of "Mare of Easttown"
Other photos taken over the last week, first set (below) - meal preparation.
Some of the meals prepared...
Last week, my espresso machine decided to call it quits, so I ordered a new one. In addition, I hit almost every market in the area in preparation for the week's meals.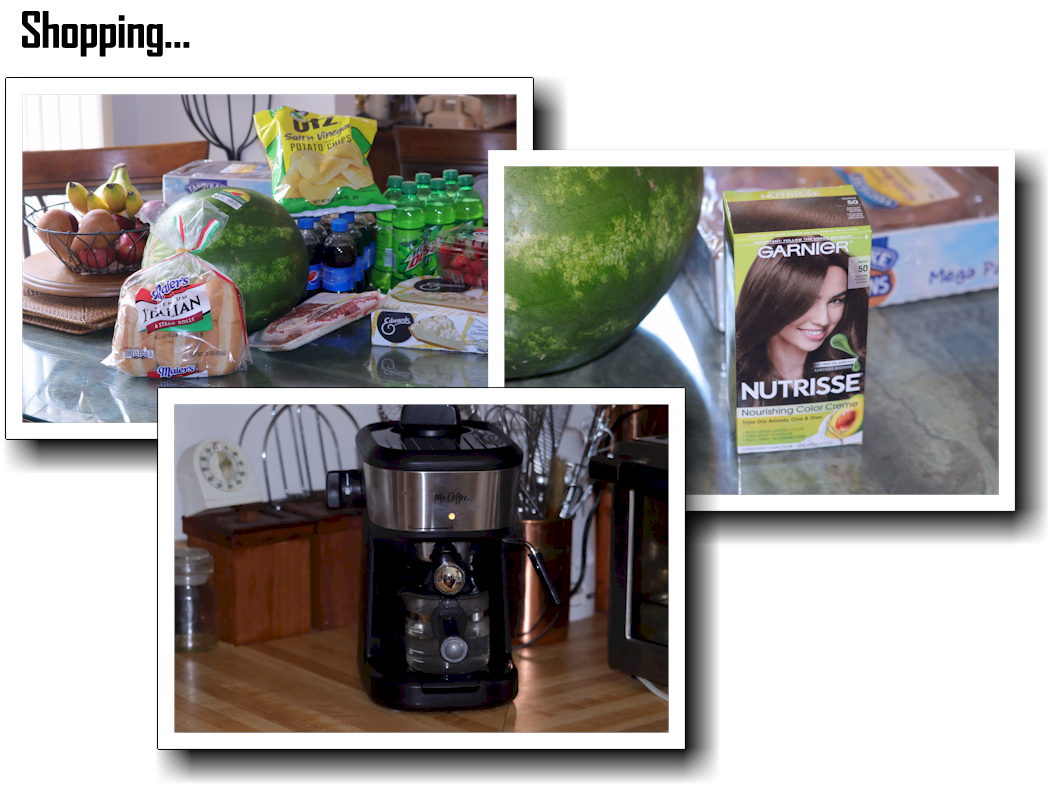 One relative stopped by on Thursday. Photos of me taken after the visit.
I have been meaning to get to my hair, simply cannot find the time. Hope you are having a nice holiday. Are you planning to catch the concert on PBS?

Tuesday, May 25, 2021
While researching data tables (FRED, Federal Reserve Bank of St. Louis), I thought would be useful for different areas of WiredPages, I noticed an interesting statistic about nationwide personal income and savings over the period March 2020 through March 2021.
This period of course, encompasses the upheaval to business, employment, and life in general across the U.S., and the world, due to the COVID-19 crisis.
What is interesting? According to the numbers, U.S. personal income rose and so did the percentage of disposable income that was held in savings.
The graphs shown above were charted using data from the partial spreadsheet shown below (click on the illustration for the entire data set):
My personal financial situation over the same time period? My personal income was slightly higher along with the amount I held in savings.

Tuesday, May 18, 2021
In late 2004, I converted my local news service, MarylandWired to WiredPages which offered more in the way of national/international news and services.
I wanted to showcase my custom software solutions and felt a news service would be the perfect vehicle to highlight what could be done with software to enhance any online presence.
Recently, because of security and cost issues related to the online installation of new tools and interfaces for WiredPages, I have sought less costly development avenues using economic data provided through the Federal Reserve FRED resource.
Two of the latest FRED interfaces will be showcased on the WiredPages Business & Markets page and are illustrated below.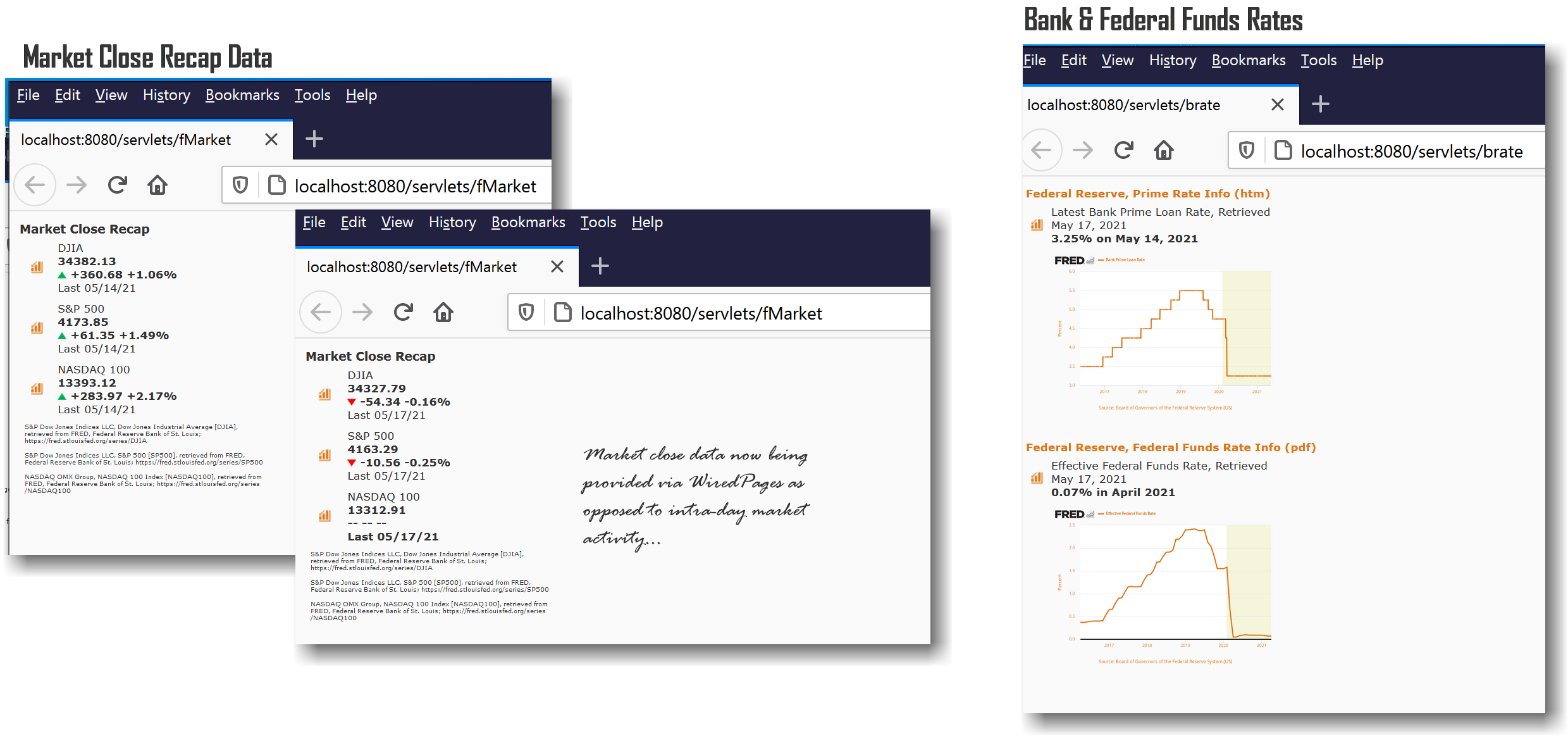 A potential client of QiSoftware may inquire- if you cannot afford to install your software online, why can I? Reference the following link while going through the list below.
I host my software on two sites, qisoftware.com and hosting-q.com. There is already a lot of software running, more than a normal personal or small business site, simply because my business is software.
Software security, I noticed long ago my custom databases were being hacked. The celebrity birthday database is one example. I keep a master copy of the MySQL database offline for development purposes. I also have the CIA World Factbook database. Both databases are very popular. My servers at this time, are not as secure as I would like and I cannot afford to install software that others can access and decompile. Why is DOJ/FBI not on this? I am not sure of the answer to this.
Cost to run tools like Alexa Site Rank, Google Places (replaces the eventful tool on the WiredPages Style & Events page), real time market data, etc., cost.
Tools like the Youtube Music Video Search and FatSecret were installed a long time ago, however although the software is ready for installation, are not installed. This is because, even though I believe I grandfathered in with Youtube API services, once installed online, this status may change. The old Youtube interface was rewritten to handle updates to the API service.
The NPR offering, was complicated to implement. I want a secure server.
Someone once advised, look into hosting your own sites and perhaps think about employing your own expensive security team. Did I think they were kidding? No. I can afford to do neither of these things.
He felt my two biggest expenses should have been, hosting my sites and a personal security team. T1 lines are very expensive. In any case, why on earth would I need personal security? What I can say, I have seen some pretty amazing things since the mid 90s. I used to ask why me. At the time, I had not developed the custom solutions, I have today. Part of the legal case, provides that my business is being interfered with. I did not start my business until 2004.
What happened to me-- insofar as a legal case, could be worth a lot. As a matter of fact, I am told my legal "worth" is considerable. My actual worth? One other factor. When I am out, people do suggest they understand that part of the equation. What do you think?
I get a lot of offshore partnership requests. In response to these requests, I provide, because of ongoing legal issues I cannot afford to partner with anyone. I have to be able to account for anything I do as related to business or my personal activities. Sometimes other business organizations do not see the problems that might happen. I can assure you, problems exist.
FBI/DOJ, problems you see and hear. I said no. I cannot afford my own security. The front door was smashed in, August 2018. I said no. Hard heads are not listening.

Sunday, May 09, 2021
Happy Mother's Day. I have been working different projects over the last week, in preparation for Mother's Day. I ordered online, however did stop by a garden center on Friday, for a hosta plant and marigolds for the planters on the deck.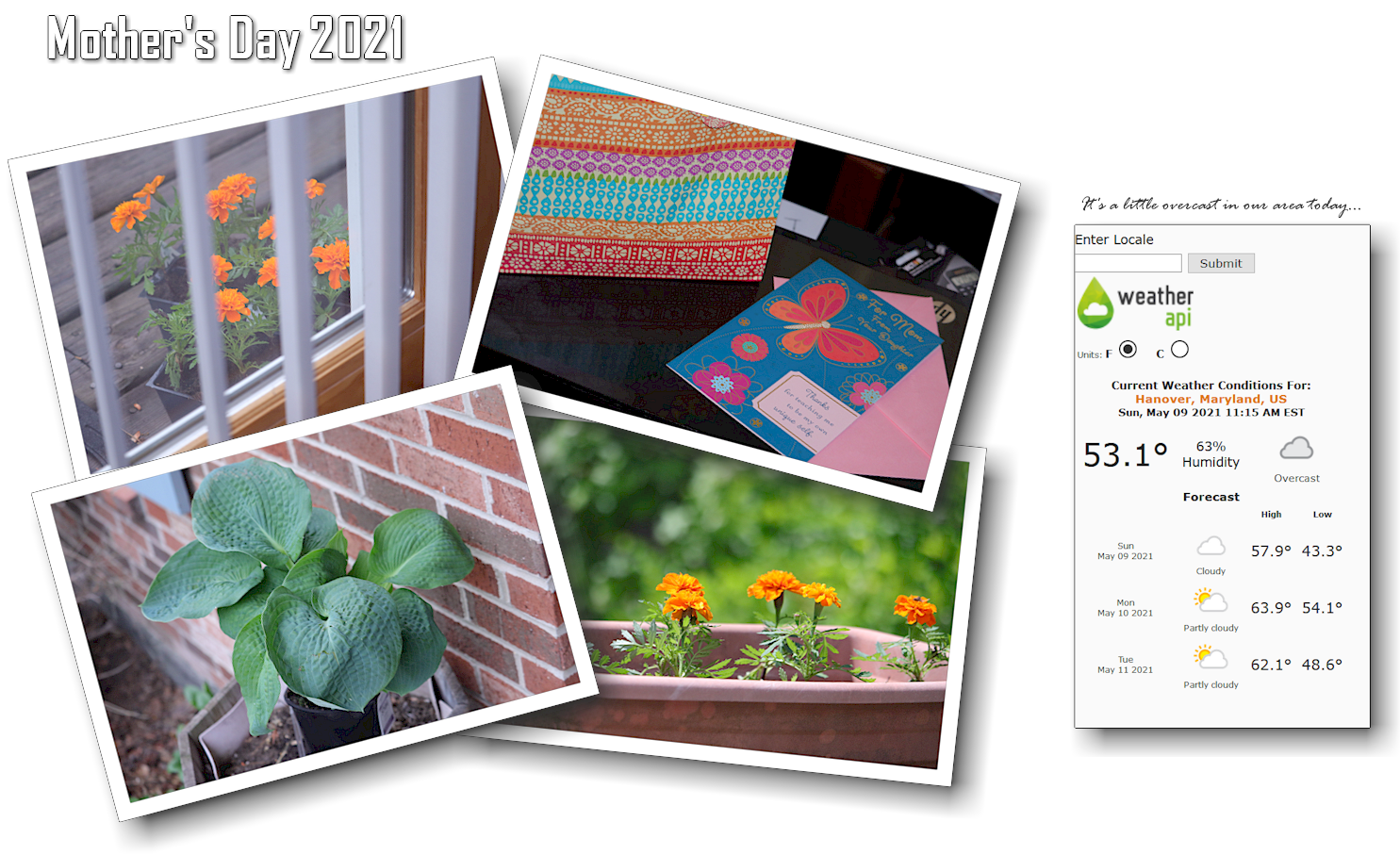 In our area it has been a bit overcast over the last 3 or 4 days, including today. The weather? That is another project I have been working. A new interface (Java Servlet) using the WeatherAPI resource.
The illustration below shows a side by side comparison of the Yahoo Weather interface used on WiredPages and the new WeatherAPI interface.
Most of the work for the new weather interface is complete. There are minor cosmetic changes I may implement, however, since I have no plans to install the new interface online, will probably hold off.