Sunday, April 18, 2021
Online registration and renewal services for small business owners are more prevalent than in years past.
For example, in 2004 when I first registered my sole proprietorship (QiSoftware) with the state of Maryland, everything was done- mostly via US mail with limited services for facsimiles (faxes). You can search for my Maryland business entity here use "qisoftware" for the search name.
In 2019 or so, when I registered online with the newly created Maryland Business Express site (came online March 26, 2018), I could not link my existing business records (since September 2004) with my new Maryland Business Express registration.
This meant, in 2019 when I had to renew (every 5 years) my business registration, it was all done via US mail.
Earlier this year, I found I could link the existing business records with my Business Express registration, so now, I can renew and update business registration information online.
Are you doing business in Maryland? No, is your state online insofar as business filings, renewals, etc.? I am so pleased Maryland is coming online with all of these new features.

Wednesday, March 10, 2021
Last evening, I took the midterm for the real estate course. In preparation, Friday, March 5, 2021, I opened my books (something I have been doing since the course started <February 2, 2021>) and began studying.
I stayed in the entire weekend (+Monday and Tuesday), re-reading and taking practice exams.1 The midterm grade...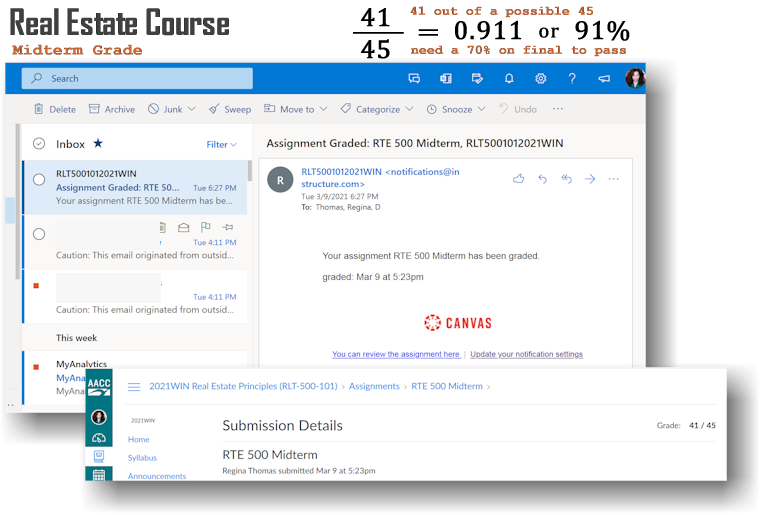 On Sunday, I began taking the sample exams in the back of the book. I started with the Math quiz. There were not as many math questions on the midterm as I thought there might have been. That said, I felt fully prepared for those types of questions.
I feel all of the study time paid off, and I know a lot more about real estate, associated laws, the process of buying, selling, conveying, and leasing real property than I did before.
Below some of the exam questions...
Any surprises? The amount of legal knowledge required to become a real estate professional.
1Over the weekend, I also added one or two new graphs to the WiredPages Employment page in case you happened to notice.

Wednesday, February 10, 2021
I have been busy, but feel I am keeping up with my coursework. Mainly, because I stay ahead with the reading.
Other things going on...
Filed my taxes.
Preparing paperwork for course completion related efforts
Renewed several of my domains (yes, tend to do this yearly rather than longer periods of time)
Site issues, sports scores (WiredPages), etc.
Researching problems with header bidding ads used on several areas of my sites
Updating online résumés to reflect current coursework for real estate license
Paying business bills... addresses, hosting, etc.
Just really, busy...

Thursday, January 28, 2021
My real estate course starts next week, and I have been busy with continuing preparation efforts.
Recent preparations:
Joined the Microsoft Teams for the class
Setup student calendars
Digitizing Maryland laws and regulations as related to real estate for easy search.
Coming up to speed with a newer version of Microsoft Office (365)
Zoom (online) classroom attendance- continuing preparations
Research as related to the real estate market, jobs, and online forums
Studying
Researching Microsoft offerings as related to real estate.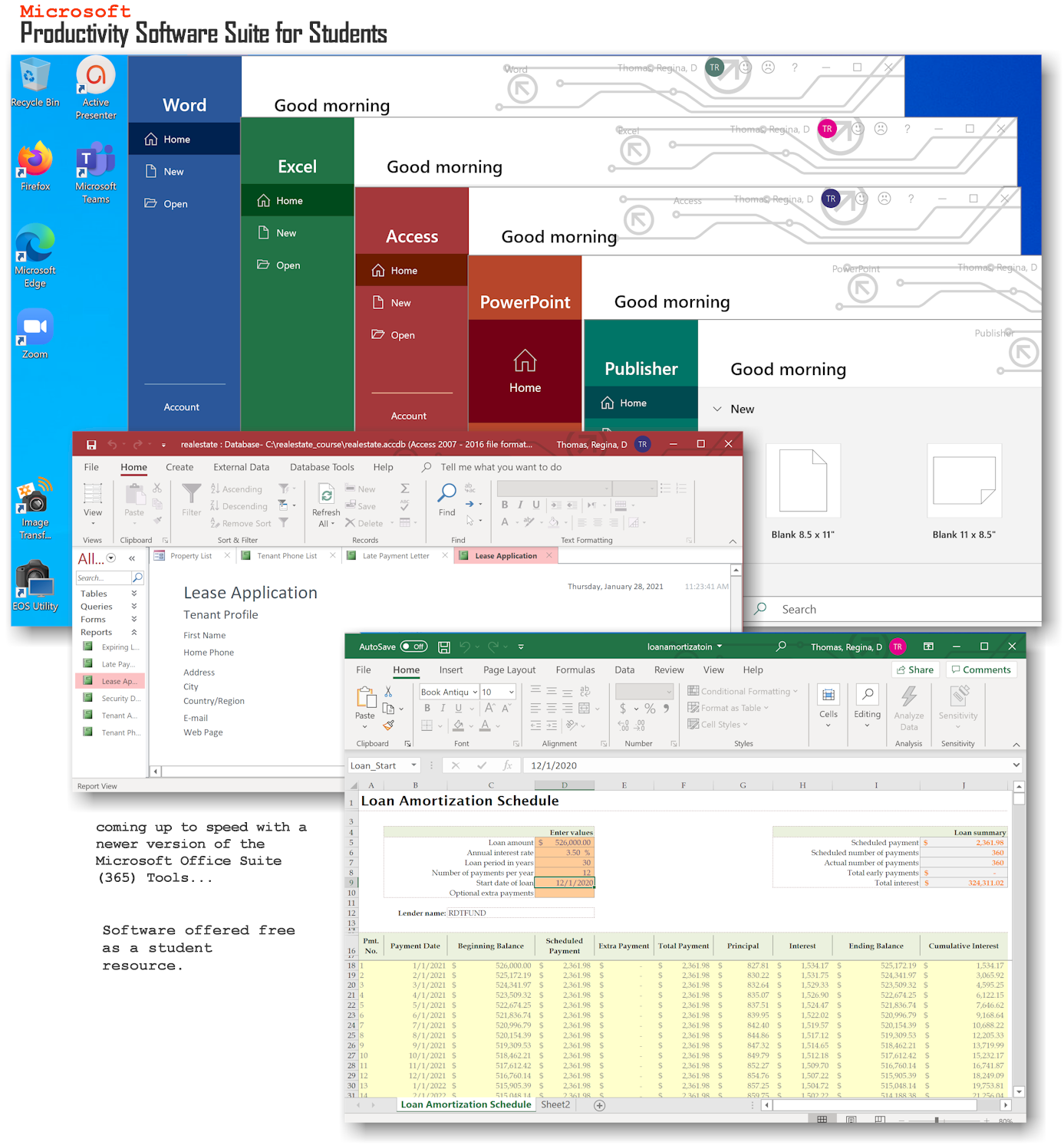 I have also been trying to plan my days for the next two months, in that I will continue to do most of the shopping. In addition, I have several business related tasks coming up, so I am hoping I can accomplish everything as efficiently as possible.

Thursday, January 21, 2021
Over the years, I have avoided using facetime and capturing videos of myself. I am not photogenic. This was never really a problem until now.
I worked in a male dominated field and found I liked conservative suits for daily office wear. Though I wear little in the way of jewelry, hair and makeup always important.
Today, when out, I tend to choose the same types of styles. With online video conferencing about to become more important in my life, I am researching options. I am concerned about mistaken identity issues, so want the same look for all public appearances, even video conferencing (sans the mask).
The real problem? I wear black- a lot. I am going through my closets for more colorful options that will project a better contrast for video conferencing, however I am not coming up with a wide selection.
So why all of the previews? Still thinking about all of this. Happy the online course is business related.

Friday, January 08, 2021
I received notification on January 6th, 2021, the real estate class start date has been postponed until February.
Several plans based on the original class start date- have also been postponed. Still very excited about this project.

Wednesday, January 06, 2021
For years, I have thought about obtaining a real estate license and in November (2020), I finally decided to sign up for an online course with the local community college.
Yesterday, the textbooks for the course arrived via UPS.
In a post from late November, I discussed an upcoming project which required acquisition of a new pc to allow access to the Zoom service. This online Real Estate Course is the reason for my new mini pc.
Since November, I have been preparing for the course. This included:
Understanding Maryland Real Estate Law and the requirements for a real estate license
Researching Real Estate Terms
Understanding the Zoom classroom environment, video, audio, settings, etc.
Installation of all sorts of student resources, including Microsoft 365 Professional.
Creating student profiles... (which really look like my business profiles)
Experimenting with lighting, camera resolution, makeup and style options for the online class.
Below, screen shots of the Zoom camera using a monitor with 2560x1600 resolution.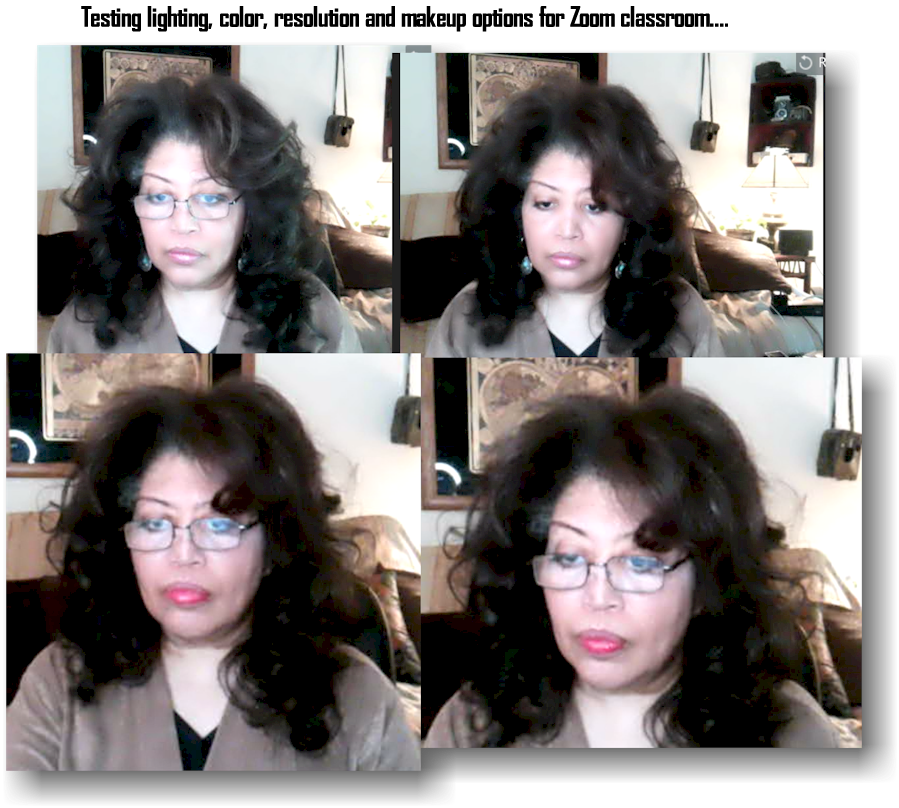 I am making adjustments based on these tests, including the elimination of gray from my hair. I wear contacts, so there is not much I can do about the glare of my inexpensive reading glasses. My prescription glasses only correct for nearsightedness, and I prefer contacts and readers while working on a computer.

The course starts next week and goes through the first week in March. I am not sure if I will sit for the license exam right after the completion of the course. I am excited about learning more about this area of commerce.

Sunday, November 29, 2020
I have a new project in the works that requires live video/chat interaction. Popular online resources which provide this type of support, include:
After taking inventory of my hardware resources, I found that only two of my online access devices could handle today's live video/chat applications:
Android
Windows 10 Pro Mini PC
For various reasons, I decided I would need a dedicated platform to handle all aspects of the new project including interactive video/chat and collaborative/file sharing.
The problem with the Android, I felt it would be easier to share files and collaborate using software on a desktop or laptop system.
The Windows 10 Pro Mini- I purchased last December (2019), is dedicated to software development. Online sharing in a group environment using this dedicated platform would allow security issues I would rather not deal with.
So, I researched the purchase of a new laptop or desktop and decided again on the least expensive option, a new Windows 10 Pro Mini PC. Shown below, side by side the two Windows 10 Pro Mini PCs.
My other concerns: lighting and backdrop for these live sessions so in addition to the new Windows 10 Pro Mini PC, I also purchased a light ring/tripod stand and desktop stand to mount a standalone webcam or microphone.
Pictured below, these new additions to my live office/studio.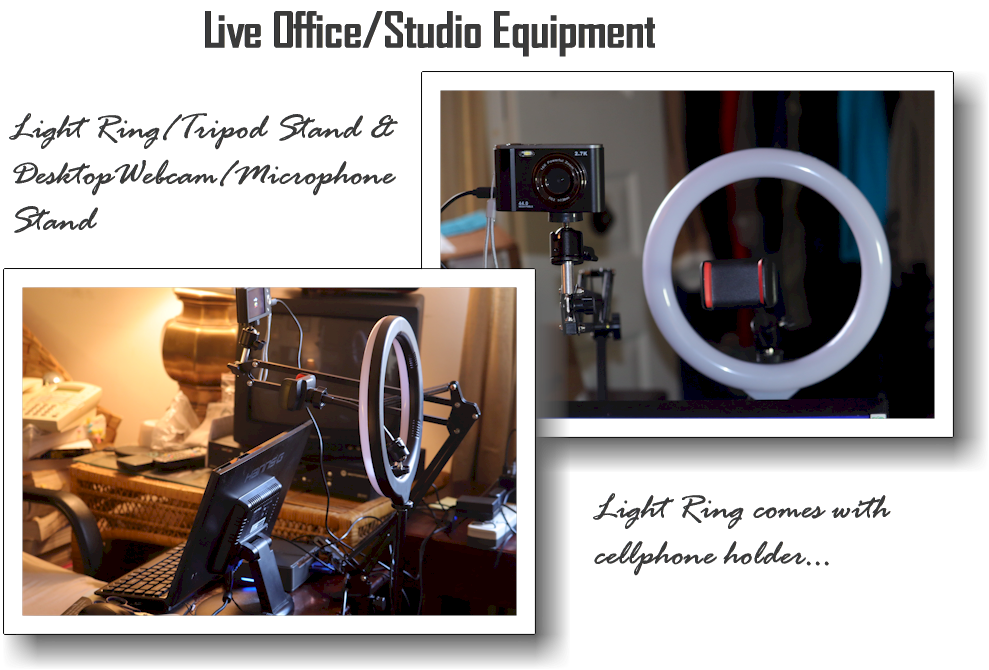 As I have already indicated, my new project will be part of a group setting and therefore certain aspects or requirements of the project, were preset. Though I have been a long time user of Skype (business line, etc.), I needed to setup an account with Zoom to be inline with other members of the group.
In terms of costs for the hardware for my new project, I have spent under $230.00. Yes, I did find some items on sale.
I feel this new project is a good investment and will provide more details over the coming months.


Saturday, October 24, 2020
I use the Microsoft Office Professional Suite (Microsoft Office Professional 2019
link is for the latest version) for most of my business productivity needs.
Examples of how I use the Microsoft Office Professional Suite of products include:
Business Letterhead MS Word
Fax Cover Sheets MS Word
Presentations MS Publisher or MS PowerPoint
Vector Graphics MS PowerPoint see note below
Affiliate Database MS Access
Contacts MS Access
Savings Daily Interest Tracking MS Excel
Note, I use Microsoft Image Composer for most of my graphics work, which is not part of the Microsoft Office Suite of products. I use PowerPoint to create and manipulate vector graphics.
Recently, I put together a presentation which required my business letterhead and a Publisher presentation. I designed the MS Word Letterhead template for business correspondence several years ago, and decided it was time for an update.
Searching online, I found several options for MS Word templates and chose the following set:
I customized the set for my requirements and very pleased with how this might work out for business productivity efforts. The original template set was designed for Microsoft Word 2007 or later. I use an earlier version of the productivity suite.

Saturday, August 29, 2020
Recently, I acquired an EMV Chip & Swipe Card Reader for mobile business payment processing. Allow me to back up for just a moment, and explain, I have had a PayPal business account since 2005 or so, which enabled easy sign up with PayPal Here, the mobile payment processing service.
I use PayPal for most business payment processing tasks, however there are several other great options, including (list focused on mobile payment processing services):
Most major banks also offer merchant services for business banking customers, however I do not have enough in the way of monthly sales revenue to justify this more costly option. At this time, PayPal is a more cost effective solution for my business payment processing needs.
To be able to to accept credit cards at the Point of Sale (POS), you will need new equipment. I have compiled a list, I believe to be a good starting point for research into this area.

Partial List of Available POS Payment Processing Equipment

Interesting articles about card readers and related card processing services:
Before purchasing credit card processing equipment, research the payment processing service, i.e., PayPal, Clover, etc., you are planning to use to insure your payment processing requirements qualify for the type of service being offered. For example, PayPal requires applicants to either have a PayPal business or premium account to activate the PayPal Here mobile payment processing service.
Also, before signing up with a new payment processing service, understand the fee structures. While researching for this post, I found one of the biggest complaints from merchants with established Point of Sale (POS) payment processing solutions, was the hidden costs.
Printing customer receipts at the point of sale (mobile) is also something that should be researched thoroughly before purchasing equipment. The PayPal Here service offers either a text or email receipt, in the way of other options.
In the table above, I list a thermal printer for Android users of PayPal Here, however my own experience has been "enlightening" to say the least. No, I did not purchase the printer I listed. I will discuss this further in a later post.
I am a small business owner and have to justify my business expenditures. To date, my total cost to be able to accept most forms of payment while on the go, is under $100 USD. Research into the purchase of POS services and equipment is important.
Now, I am thinking about a yard sale. Even looked into tax related issues. What else? Photography, WiredPages Business Directory listings, on-site software consulting fees...
For legal reasons, I provide demonstration of my software tools (core business), on my sites, e.g. WiredPages, however I have to be more selective where direct client support is involved. Liability is to easy to assign in the online services game.
At this time, I rely more on the advertising associated with my sites. I need a more stable legal solution.
That said, I am coming up with other ways to use my new mobile payment processing capabilities. Can your business justify the cost? Here is another solution- PayPal.me.

Thursday, July 02, 2020
I am always looking for affordable business styles, and Ann Taylor has always been a favorite- reference post.
Two weeks ago, an Ann Taylor blouse I bookmarked over a year ago, went on sale. Shown in the images below, the Lush Lagoon Tie Neck blouse.
The other two tops were also on sale. Though out of season now, in the coming months, I will be able to pair various pieces I already own- with the new tops.
I tend to know what works for me, however sometimes, I miss on prints. I was pleasantly surprised, the tie neck geometric print blouse, works with black- in suits, skirts and high waisted slacks.
As things slowly begin to reopen in my area, I am doing more in the local business community with a project I have been thinking about for awhile (did you know I registered hanover-magazine.com and hanovermaryland.org a couple of years ago?).
I want my style to suggest, I really mean business....

Thursday, June 11, 2020
For business, I tend to purchase suits, dresses and heels in the same muted solid colors; blacks, browns, caramels and olives. Since I am more conservative than not, this has worked to my advantage in that most of my business wear has lasted through the years.
My business heel? Since high school a 2-3" skinny heel, that suits my rather small ankles. Toe coverage is minimal, meaning just enough leather to hide them.
That said, these days, I prefer a wider, more sturdy heel, to my old standbys. The Amazon orders shown on the right, illustrate how I acquired the recent additions to my wardrobe. I love the new heels because they are so comfortable.
The illustration below, top row: shows the older version of heels I wear with business suits and dresses, and the lower row: the new heels I began purchasing last fall to accommodate new style, as well as a physique that is no longer between 120-130 pounds.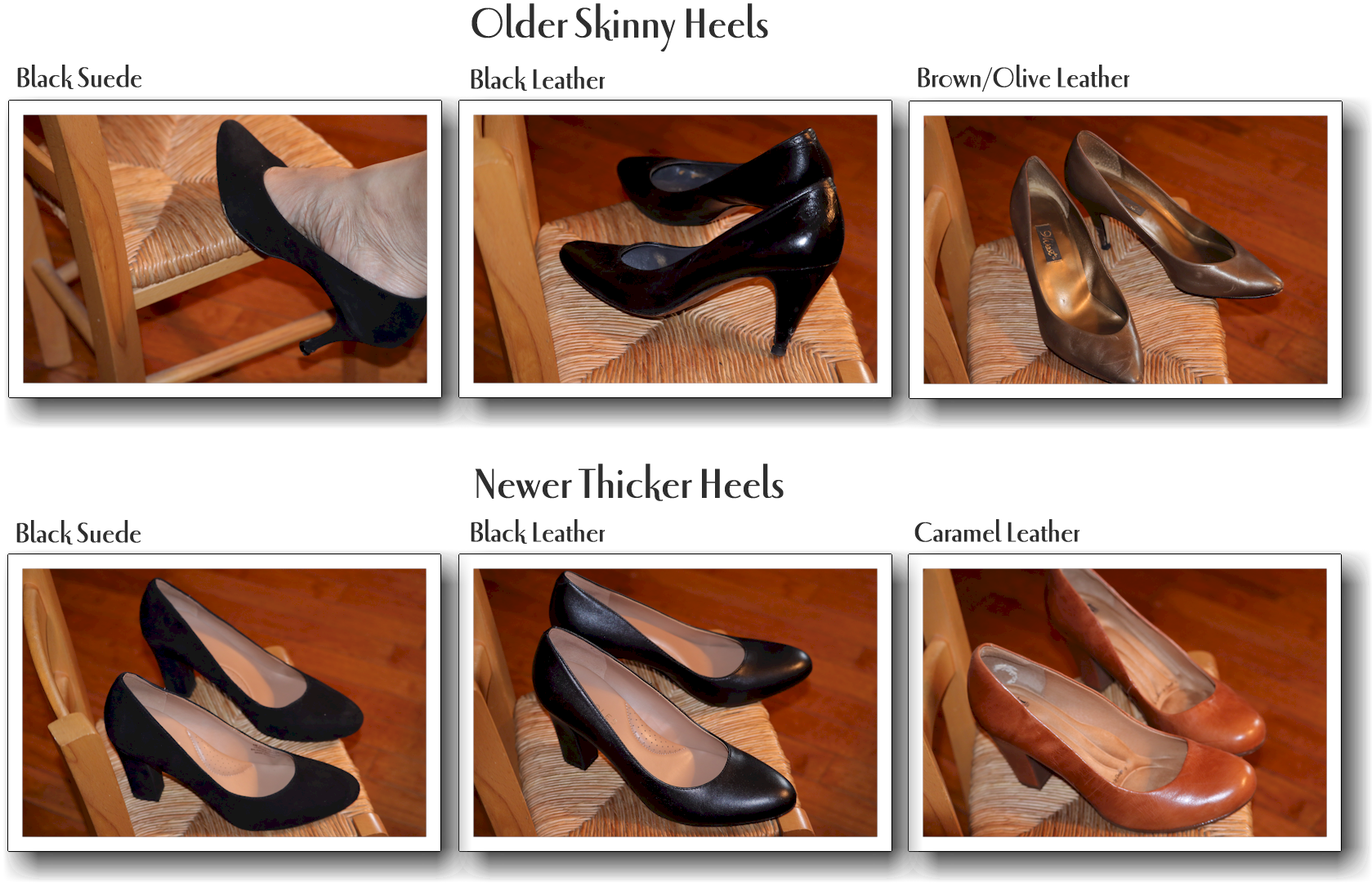 So how is it that I can wear all of my old fours, sixes and eights if I am no longer between 120 and 130 pounds? Okay, I cannot, however (1) I plan on reaching that size again, and (2) I have newer (with vanity sizing and stretchable rayon) items, in my color palette- that will work for the time being.
Either way, my new business heels should work.

Saturday, February 15, 2020
Yesterday, I completed most of the work on a new tool that will provide Alexa Rank information for a specified website.
Plans are to install the tool on the WiredPages Technology page, however not sure when this opportunity will present itself. Related issues include; (1) Access to Amazon Web Services (AWS) data is billed based on usage, (2) the popularity of a tool like this could affect my web hosting plan and (3) security is always an issue for me. At this time, too many have access to areas of my site, which I cannot prevent.
Keep in mind, I am a sole proprietor and have no business partners as related to software development (see Business Partnerships for more details). I do maintain several advertising affiliate relationships as outlined in my disclosure policy.
Also note, the tool is still in checkout mode so I may change elements of the user interface, i.e., graphics, font sizes, etc., before the actual installation.

Thursday, November 21, 2019
Last week, in the midst of my holiday shopping, my android's battery stopped accepting the charge. This was a holiday-time expense I had not anticipated, however unavoidable.
I have already started my holiday shopping, as illustrated in the photo below, taken November 15, 2019.
With the holidays in full swing, I decided I could spend no more than $150 for a replacement unit.
I purchased my first android in February 2015, and used it almost everyday, whenever possible keeping the unit plugged in next to my software development and blogging platforms, or just "on" for any research or social media tasks on my "todo" list. I have to say, I am surprised it lasted as long as it did. I used it quite a bit.
The new android arrived, Wednesday, November 20, 2019, and I am very pleased with the ease it took to setup the new unit.
When things like this happen, I am usually good about accepting the loss and moving on. Over the last 6 months I have spent over a thousand dollars replacing business tools (camera and android). Both 2019 business expenses I had not planned on, however critical to completing the tasks I need to get done.
How often do I do this? Old camera purchased in 2008, old android purchased February 2015 and only when I have absolutely no other options.

Saturday, November 09, 2019
Recently, I have been giving serious thought to the start of something new. Two years ago, I registered two new domains:
Hanover-Magazine.com
hanovermaryland.org
My thoughts at the time were to expand on my efforts related to the Hanover MD Businesses page, I maintain on Facebook.
The expansion would include an online magazine with hard-copy editions for the eleven or so area hotels, features related to the areas many social and media events, community events, the exponential growth in the real estate market as well as the business environment which has always had a strong presence in the community.
The related hanovermaryland.org site would be more of a directory, dynamic information site about the area and businesses. What's new, business listings, events calendar, etc.
Recently, I also started two new social media accounts (in addition to the older account, also listed):
HanoverMagazine on Instagram
HanoverMagazine on Twitter
HanoverBusinesses on Instagram (older account)
Shown below, existing pages associated with my Facebook account which may also- be of use with this project.
I love Autumn, so with the onset of the new season, I thought I would roam the area, researching and gathering ideas for this magazine project. Below a collection of some of the photos I have taken.
The area has all of the right elements to take seriously a project of this nature, including location, an international airport, one of the largest malls in Maryland, a major casino and easy access with plenty of parking.

Monday, July 15, 2019
On Sunday, July 6, 2019, I damaged my Canon PowerShot A590, beyond repair. I was so devastated by what happened (rushing to pack up, I dropped it on the hardwood floor), I cried. I seldom cry.
I purchased the camera in 2008 and loved the many features this point and shot offered. I seldom went anywhere without it.
That said, the camera could only produce 8MB photos. Though my web hosts should have loved the small footprint of the images I used with my posts, my social media account offerings- looked a little shabby in comparison to others.
For various reasons, all of the images and photos I use on my business site, are hosted on my domains, and not a cloud or image hosting service, like Flickr. Digital photo size is an important factor in my environment and provides part of the rational for why I held off replacing the camera. The other reason? I could not justify the business expense.
That said, I did have plans to purchase a new camera in December 2019 (Christmas), and researching the Canon EOS M50. Late in the evening on July 6, 2019, I ordered the following bundle.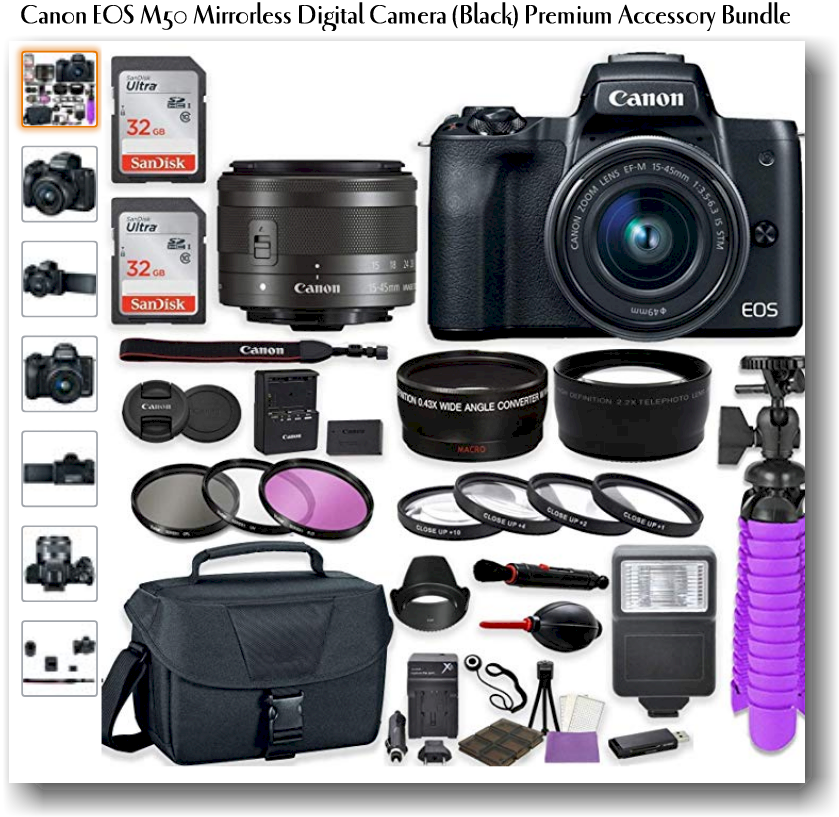 I have to say, I am very pleased with this new camera. Additional info about my purchase(s):
Love the TouchScreen Menu.
Love the Manual Focus and Portrait Features.
Also purchased BM Premium 2-Pack of LP-E12 Batteries for Canon etc..
Also purchased the Fotodiox Pro Lens Mount Auto Adapter.
Also purchased the telephoto Canon EF-S 55-250mm F4-5.6 IS STM Lens for Canon SLR Cameras- see more here.
Love the 4K Video option.
Love the Digital Slave Flash that came with the bundle.
Love the 9 different filters that also came in the bundle.
Love the many YouTube videos about the Canon EOS M50.
The following is an example using the Portrait option on the Canon EOS M50.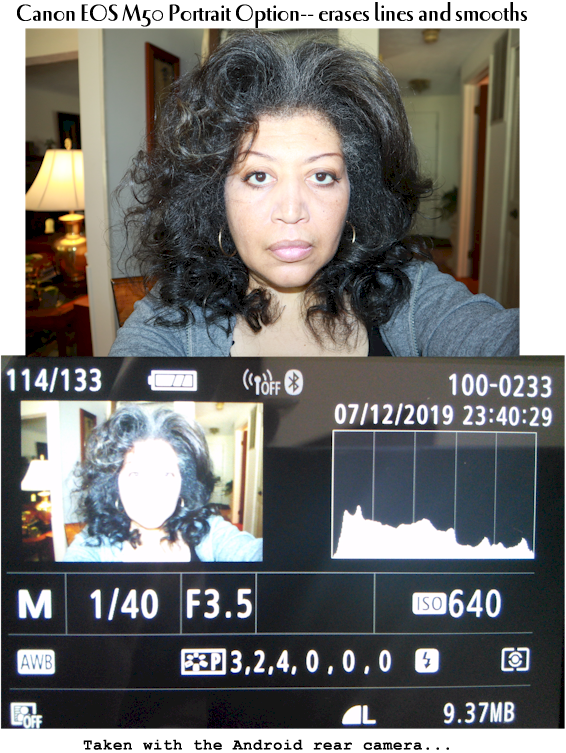 I am still playing around with the many features of the camera and other tools that came in the bundle. That said, I have found things pretty easy to understand and have come up-to-speed quickly (yes, I know the above photo, is a little overexposed). This is my first DSLR camera, and though I wanted to wait for Christmas, I am pleased with my selection.

Tuesday, June 18, 2019
Yesterday, the QiSoftware business renewal notification was finally posted to the Maryland egov business website, completing all of the renewals I had for this year. This post discusses in some detail, the renewals scheduled for this year and why they were a concern for me.
I was a little concerned because I sent the check on April 25, 2019. I went by my business mailing address on the same day to pick up the renewal application. According to the Maryland business website, the application was sent 10 days earlier.
If you click on the link associated with the above illustration, use either of the following search criteria to access the QiSoftware business related information provided by the State of Maryland.
Business Name: QiSoftware
Department ID: T00212348
Five years ago it seemed the business renewal process took a lot less time, however happy its all done. On May 8th, 2019 I called the Maryland office which handles the renewals to find out if the check I sent had been received, explaining I seldom send checks through the mail and simply wanted to find out if they were in receipt of the payment. That night the check was sent to my bank for processing (note the above illustration). I did not call again.
P.S. This year, I also had to go through the Real ID (Federal Law) process to renew my Driver's Licence, so you may want to see this post for what to expect if you have to do the same.

Monday, May 13, 2019
I am always trying to cut my business expenses. Several years ago (December 15, 2014), I purchased a Konica Minolta Color Laser Printer (see Items I Have) at a great price because I wanted to cut costs on inkjet printing.
Realized savings: I am still using the original toner cartridges that came with the color laser printer. Because I seldom need to use a printer, I no longer worry about dried out ink cartridges when I do need to print. Laser toner cartridges do not dry out.
I purchased the same printer for my Mother a year earlier because she constantly complained she needed to replace the ink for her inkjet printer. Her toner cartridges have never been replaced.
I use Microsoft Publisher for most of my production printing needs. I have been using Microsoft Productivity Suite Software since 1991 or so, therefore I have little or no overhead costs insofar as "howto". You may want to consider this when deciding to do your own printing.
The illustration below, shows the Publisher windows for the check I recently sent to the State of Maryland for my business renewal and this year's Mother's Day card for my Mother.
Illustrated below, photos of some of the paper stock I keep on hand for printing and (on the right) the unfolded and folded printed Mother's Day card and a photocopy of the printed check. If you look closely at the photocopy of the check, you will see the hidden "void" stamps, a feature of the check paper I use.
I use Microsoft Money for all of my financial record keeping, and though I could print checks with that software, prefer to use Microsoft Publisher for that particular task (both personal and business checks). Here again, I can do this because I seldom write checks, preferring instead to use a credit or debit card when making purchases.
Another cost saving? I order inexpensive secure blank check paper which I can use for either account type (business or personal).

Sunday, April 28, 2019
Coming into the new year (2019), I had several business registration and motor vehicle renewals, including:
QiSoftware's Business Renewal (every 5 years)
Domain Registration Renewals for hosting-q.com and reginadenisethomas.com (résumé site)
Driver's License Renewal (every 8 years)
Automobile Registration Renewal (every 2 years)
For some reason this bothered me. This may have been because the business and driver's license renewals both came due this year.
Happy the last of the renewals (QiSoftware's Business Registration) was mailed off last week (paperwork shown in the illustration below).
My new driver's license arrived in March (birthday in July) and the car registration and stickers earlier this month (April).
Other business related renewals: This year, I actually had four domain renewals however only hosting-q.com and reginadenisethomas.com (résumé site) are active sites. QiSoftware.com expires in June 2020, however will be renewed long before the current expiration date.
Also shown in the above illustration, new plants purchased last week and the apple pie I had for dessert today. I have already started trimming the palm and the little pineapple plant will get more leaf shine.
Other things I have been up to?
Movie: "The Curious Case of Benjamin Button"
Movie: "Misconduct"
Movie: "Crazy Rich Asians"
Showtime Series: "Billions"
Looking forward to the Showtime Series: "City on a Hill" premiering Sunday, June 16 at 9 p.m.
Looking forward to the final season of Showtime's "The Affair"
and the new season of StarZ's "Power"
It was a nice day here, and I decided to prepare a somewhat large dinner. On the menu: pork chops, steamed cabbage, mac & cheese, candied yams and cornbread. Did I mention apple pie for dessert? Happy, the kitchen is tidy and the dishwasher is ending its drying cycle.

Tuesday, October 23, 2018
Little under the weather lately [ear infection], so getting a lot of rest.
Things in the works...
Several tools (9 or so) ready for installation on WiredPages however holding off for various reasons. New tools under development or consideration should be exciting additions for the service.

Tuesday, June 12, 2018
Big things are happening in my hometown, and especially the business community. The latest, the opening of the Live! Hotel complex adjacent to the Live! Casino and Arundel Mills.
Briefly, construction milestones for the hotel: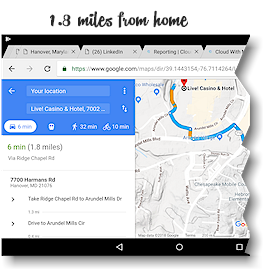 Groundbreaking Celebration, September 13th, 2016
Official Opening, June 6th, 2018
Grand Opening Celebration, Wednesday, July 11, 2018
In that I live within 2 miles of the new hotel, over the last year I tried to stop by at least once a week (starting in June 2017 and ending in June 2018) to capture construction progress photos.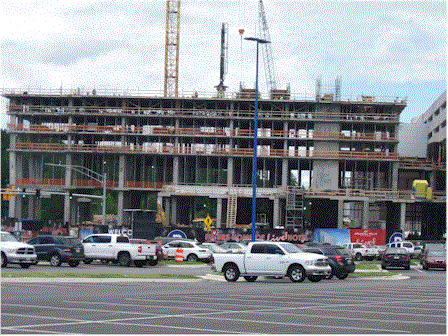 Hanover Maryland has grown into an attractive place to live and play. The thriving local business community that was in place before the mall, casino, and hotel openings- has only benefited from the extensive growth in the area since 2001.

Wednesday, June 06, 2018
Ran several errands this morning, including:
Stopped by my business bank.
Stopped by Live! Casino & Hotel on the double anniversary of their respective openings. Took photos. The casino opened six years ago today, and the hotel opens today.
Went by Costco to purchase items for lunch.
It was a gorgeous morning. Saw one or two of the local news stations shooting footage for Live! Hotel's opening. Saw a flock of geese in the mall's [Arundel Mills] parking lot. Came home and had some of the rotisserie chicken and a croissant.
Though I visit my business bank regularly, I rarely get to the shops, so when I do happen out, as was the case with my visit to Costco today, I tend to note the occasion. I would really like to get out more, however one family member or another stops by weekly, so a lot of our shopping is done in this manner. Today was a nice treat for me.
For more information about my residential hometown and the thriving business community, see here.

Thursday, March 15, 2018
In an earlier post, I discussed integrating elements of the Google Tag Manager resource throughout areas and subdomains of my different sites.
My online sites include:
Sometime ago, I setup Google Analytics defining different properties of my sites for reporting purposes. I use only one Google Analytics account for all of my sites, as shown in the following illustration.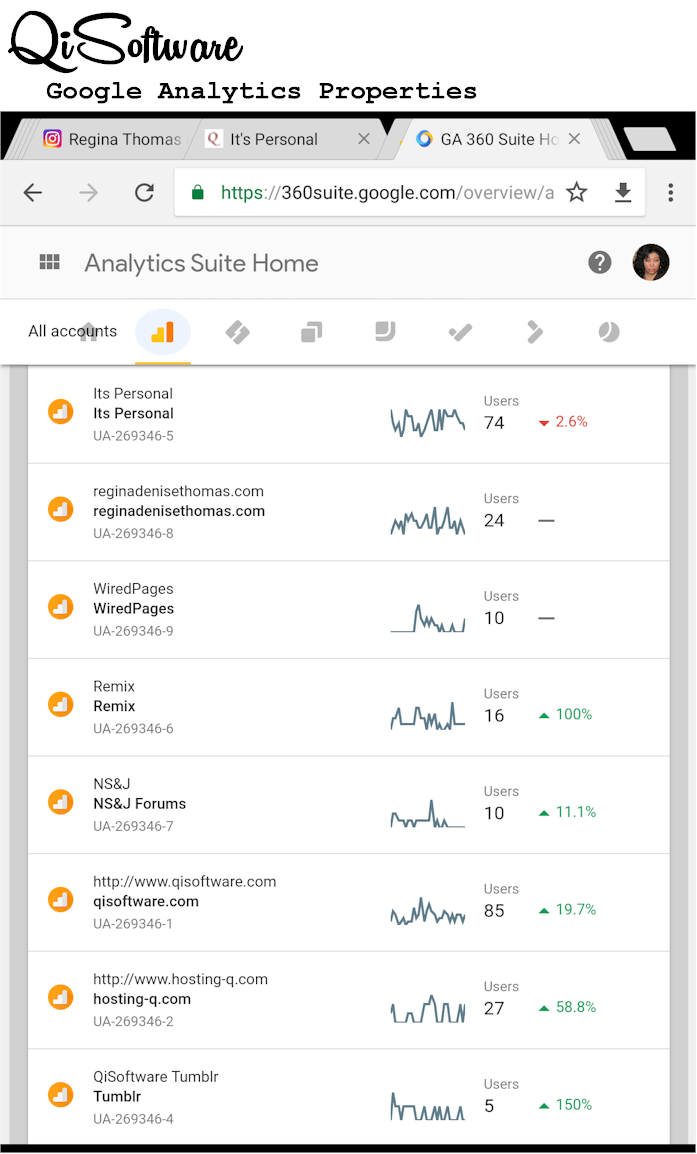 Over the last two weeks or so, I have spent a little time researching and testing basic Analytics Tag implementation concepts across different areas of my sites with emphasis on this blog and my Personal Résumé Site.
For those of you who have not researched and tested Google Analytics Tag implementation, the following video may have little meaning. Those who have, may find the video interesting. Keep in mind, I tend to capture everything and do not spend a lot of time editing nor recapturing videos I create.
Google Analytics and the associated Tag Management resource are powerful reporting tools, and in my case well worth the time and effort to come up to speed with ways to use and integrate these resources.

Friday, March 09, 2018
Every now and then, I publish details about my business related expenses.
March is normally more expensive as related to business than other months because my annual business address fee is due in March.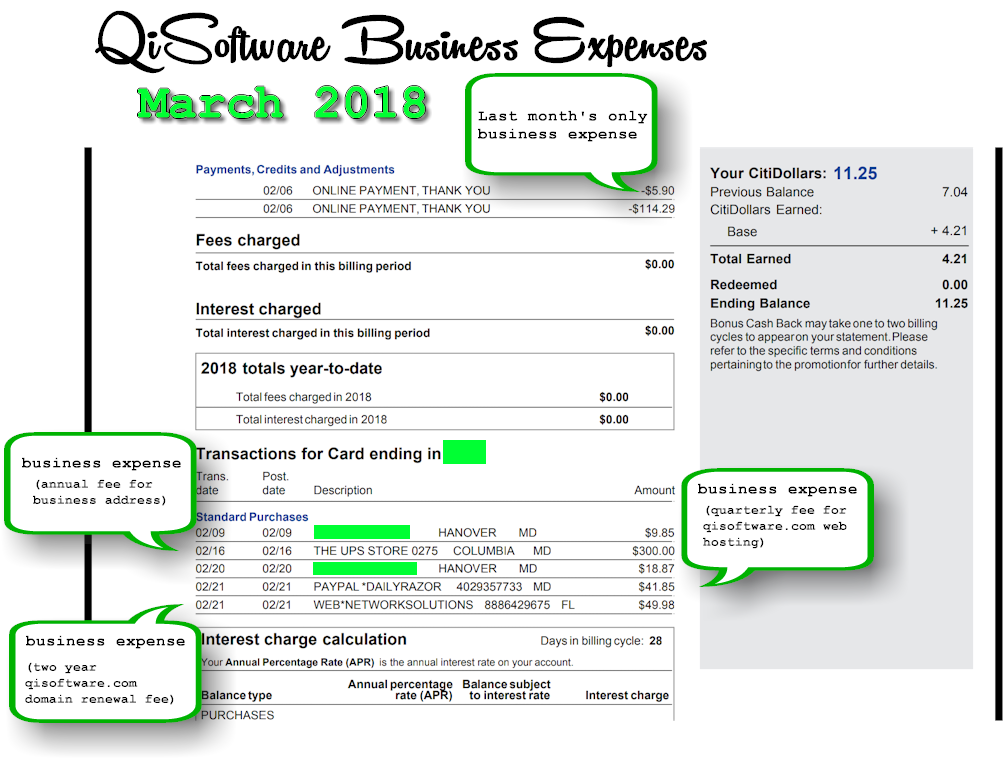 That said, because I opted to pay the qisoftware.com domain renewal fee early (actually due June 2018), my business related expenses for this March were made more so.
Note my business is registered with the State of Maryland as a Trade Name entity, i.e., Sole Proprietorship, so though I use a personal credit card for some of my business related expenses, I actually separate the expenses as either business or personal and pay the card issuer with either my business or personal bank account depending on the expense.
I track business and personal expenses separately using Microsoft Money for Business & Personal use [Quicken for Business & Personal Use another great choice], however at this time- I do not deduct business expenses.
The type of business I own allows for the use of my social security as the tax identification number associated with the business. Perhaps once a year, I review the request form for a Federal Employer Identification Number [EIN], however to date, can think of no reason I would want to do this.
I simply like the one tax identification number associated with both my personal and business affairs and because I do not outsource nor hire contractors, this works for me.
Products discussed in this post (latest version of Quicken):

Saturday, March 03, 2018
Just over a year ago, I activated an early retirement account and decided to put most of the funds into savings.
Because I am a business owner, I have both a business bank and a personal bank. Both large institutions in the U.S. I have had my business bank since 2004 and up until June 2017, paid a monthly service fee to maintain the account.
In June 2017, I was able to reach and maintain a minimum balance across all of the business related accounts, which allowed me to avoid the service fee. Most of the funds were in the business savings account which comparatively speaking, were not as good as business CD rates my bank was offering. Therefore, in September 2017, I moved most of the business savings account to an associated business CD [Time Account].
Please note, I was able to save a lot of the early retirement account funds to be able to do this.
Late in 2017, I began researching online banking institutions for higher savings interest rates than those offered by my traditional banks.
I use the Bankrate.com site on WiredPages, so have known about this site's offerings for a while, however also used other online resources for research associated with this project.
In early December 2017, I opened a small CD account with a well known "online savings" institution which at the time was offering the best rates on CDs for a 12/13 month period. I am very pleased with how this worked out. The CD monthly interest payments are higher with my "online bank", even though I have less money in the certificate of deposit than that associated with my business account.
So why not move the business CD [time account] funds to an online savings/deposit bank? I need my business bank and the maintenance fee is high for the type of business account I have. In my case, it is worth it to keep the business CD with my business account, avoid the maintenance fee and earn less in interest.
Earlier this year, I opened a Money Market Account (MMA) associated with the same online savings bank. The MMA account allows me to earn interest on money that I can also use with a debit card. I am in save mode, so this is very important to me.
A Money Market Account (MMA), typically does not offer the same high interest rates as a High Yield Savings Account (HYSA). That said the HYSA, in most cases, does not provide an associated debit card. It is meant to be a straight savings account.
In January 2018, I also opened a small HYSA with another online banking/savings account. Last month, I set up a small recurring monthly deposit of $150 as a external funds transfer from my personal bank checking account to the HYSA online savings account. Works great, however there maybe a small wait period depending on your bank's policies.
As I indicated, I am in "save" mode and have limited funds to work with. Taking advantage of online savings banks is a "smart" thing for me to do at this time, however these banks are not the same as my traditional banks.
In September, when I opened my business Time Account [CD], one of the bank representatives walked me through the entire process while sitting at his work station.
With my online savings banks, I must read everything and decide how to set up my accounts. It is relatively easy, however may not be for everyone. Another thing I love about my online savings accounts? No maintenance fees. That said, check the fine print of those banks you decide to bank with.