Wednesday, November 18, 2020
Yesterday was a celebration of sorts. Normally, the birthday celebrated, is with extended family members and dinner out. Yesterday, it was dinner in.
On the menu...
Thin Sliced T-Bone Steaks
Baked Potato w/Sour Cream
Broccoli
Garden Salad w/French Honey Dressing
Dinner Roll
Apple Pie
One of the gifts received, an inexpensive point and shoot camera that is very easy to use. I have to say, I am pretty impressed with this camera.
Side by side comparison of photos from the inexpensive Digital Camera 2.7K Ultra HD Mini Video Camera 44MP 2.8 Inch LCD Rechargeable and my Canon EOS 50 using a Canon EF-S 55-250mm F4-5.6 IS STM Lens (need an EF-M Adaptor for this lens and camera):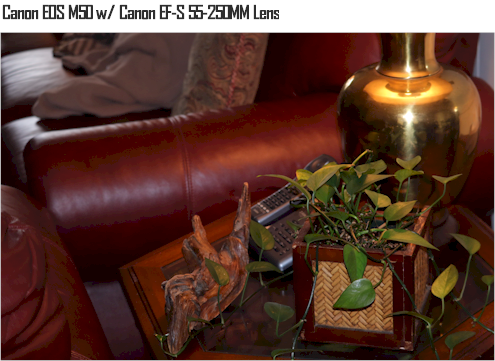 The camera has plenty of features and a very useful user's manual.

Sunday, November 15, 2020
This time of year, I am normally out taking photos of beautiful autumn colors. This year is different. I find, I am spending more time ensuring the shopping, and other choirs outside of the house, are getting done.
That said, I have pulled out my camera- to take photos of the spectacular color just outside the door.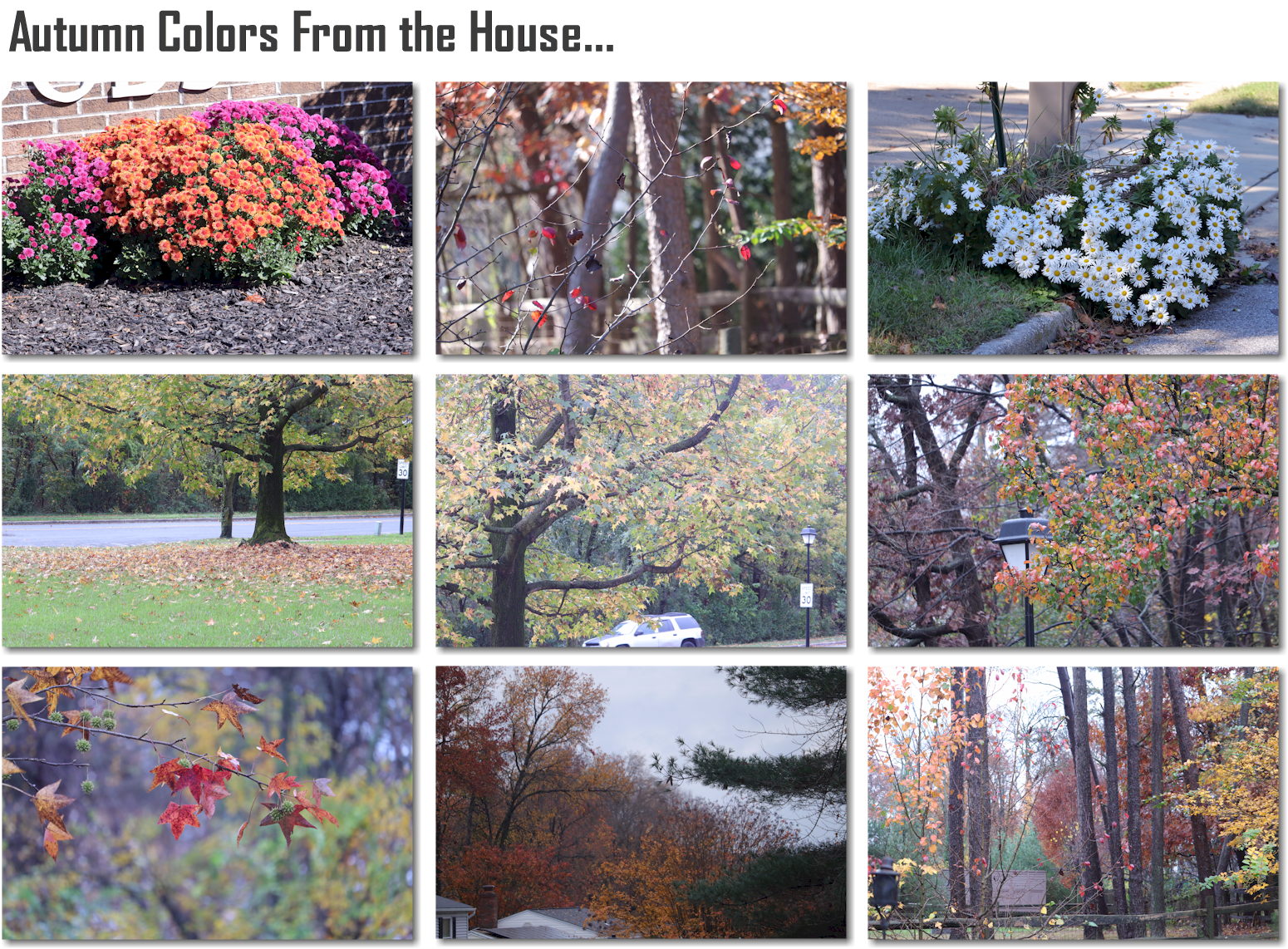 Another Fall 2020 project- "Shop My Sale" is an online marketing experiment I am undertaking, after noticing a new feature being offered by PayPal-"Sell on Social".
I have been going through rooms and taking photos of items never used- now. Things I thought about, but decided I really did not want to sell- are shown below.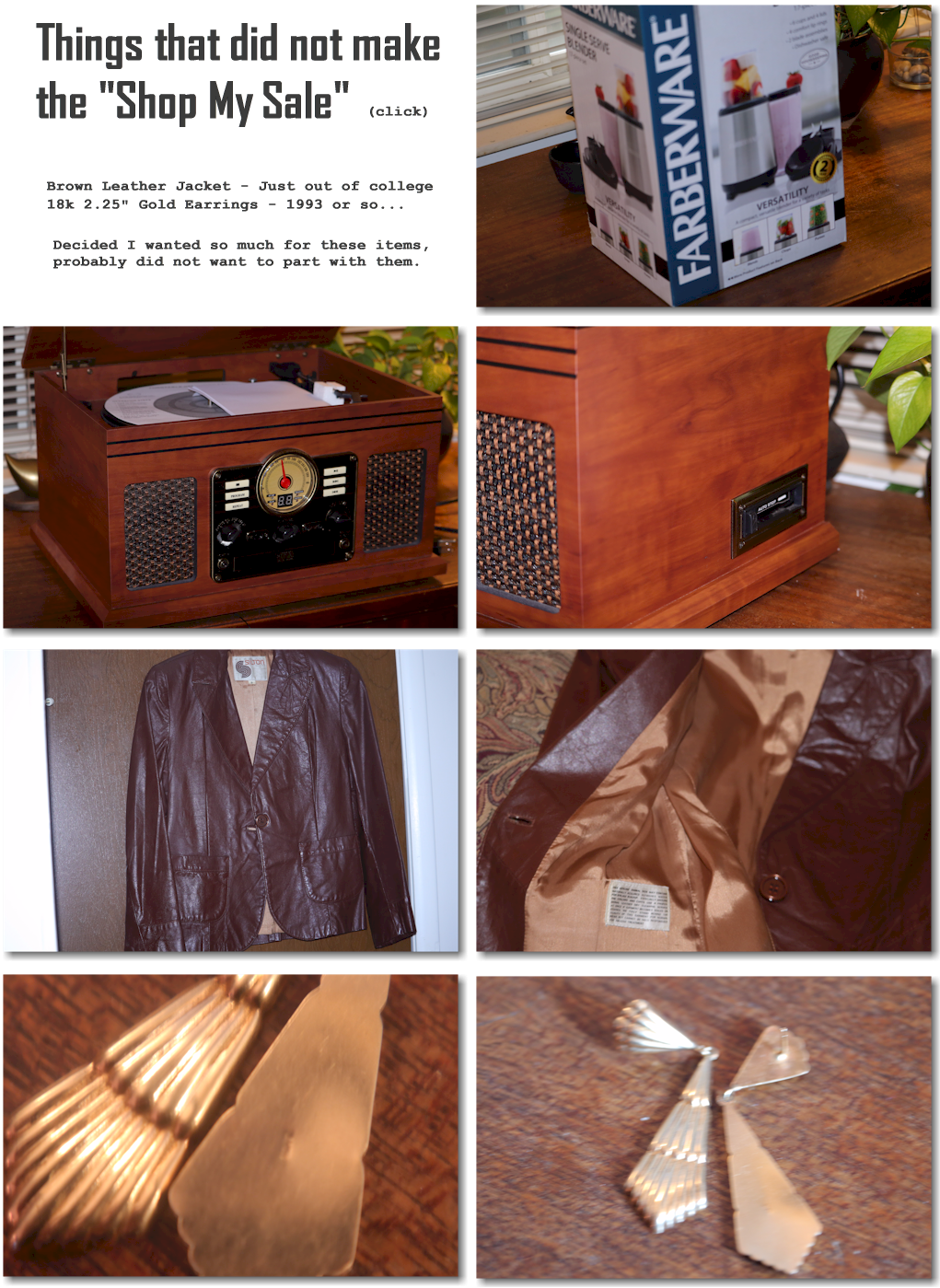 Why show them here? Just to show, what I have been up to. I really did not want to sell my earrings so when I came up with a $2000.00 price tag (I paid under a $1000.00 for them in 1993 or so), I decided, I really should not add them to my sale.
Other things I have been up to?
Yesterday, received a Cash Rewards check from one of my credit card companies, so that made me happy.
Trying to resolve a new problem with Facebook Page Plugins. I use this resource in various places on WiredPages and this blog. For some reason, the plugin will not show the fb page content unless the visitor clicks on the Like link. The thing is, you do not even have to like the page (happens if you are not logged into Facebook), for the content to then render correctly. This is a new problem, and I am still looking for a work-around. Visitors to my pages should not need to login to obtain the public content I am trying to provide. I have been using Facebook Page Plugins for over 2 years and loved the way this worked.
Online shopping for birthday and holiday gifts. This year, mostly, needed items and no- would love to have items.
Attempting minor repairs to my car.
Perusing market sales flyers (I am surprised by how much time I spend doing this, is it paying off? Yes.).
Hope your holiday planning is going well.

Wednesday, September 16, 2020
Folks in my area are allowing their hair, to take on beautiful shades of gray. I wish my coloring allowed me to consider this option.
Over the weekend I did my hair...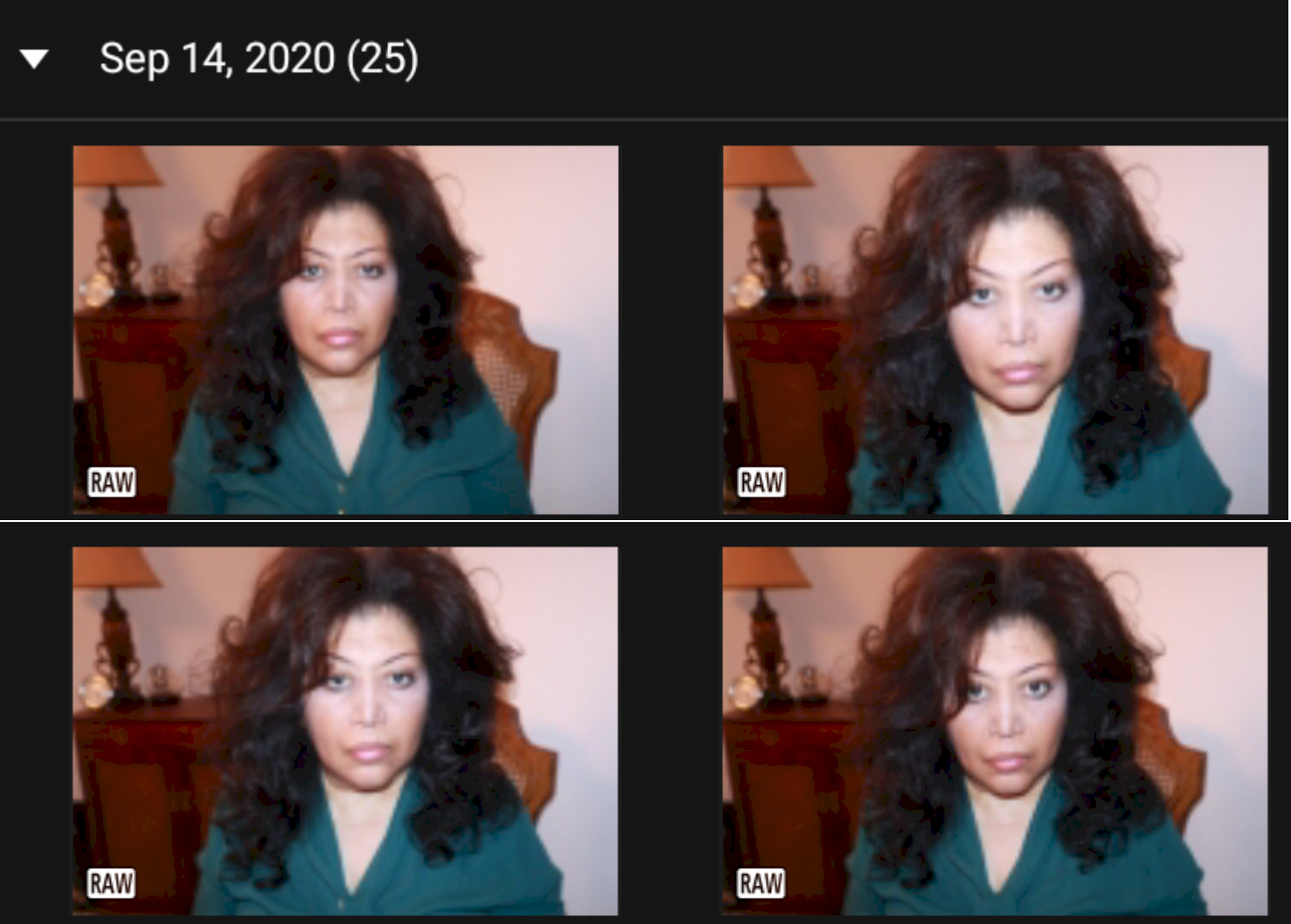 I was watching a review of the Dyson Airwrap Complete Styler for Multiple Hair Types and noted the total time- the young lady took to achieve her blowout.
I set my hair at night. It takes about 40 minutes. I use a very hot Conair 1" Curling Iron and then set each curl in a soft roller for overnight wear. I use an ISOPlus conditioner on the ends, just before winding each section of hair on the curling iron. My hair is deceptively full (lot thinner than it looks).
Why does it take so long? To achieve longer lasting curls-- each curl (16 total), has to stay wound on the curling iron for an 80 count. Eighty seconds? No, just an 80 count which is probably less than 80 seconds.
Do I take my hair out every day? No. Do I use weaves or other sources of hair? No. I keep my hair straighter, by using a blow dryer and curling iron to take out most of the natural wave.
I wanted to snap new photos for Linkedin and other business services I use, however I am not sure I want to use the photos shown here. They are screen grabs from my Android as taken by my Canon EOS M50 (see info in the blog header) using the portrait setting and the two second timer. The hair length for a business photo- the problem? No. My conservative earrings are overshadowed and I am not sure why.

Wednesday, February 05, 2020
I use the OverDrive App to borrow books from the Maryland Digital Library. Just finished the latest Grisham release "The Guardians". Now reading "The Silent Wife".
Also happy to report, I am done with my 2019 taxes. Any refunds due, already deposited to my personal checking account.
Here are recent photos from other things going on around here. Lunch today, cookies I made Monday, watching the banana plant I moved to the guest bedroom flourish.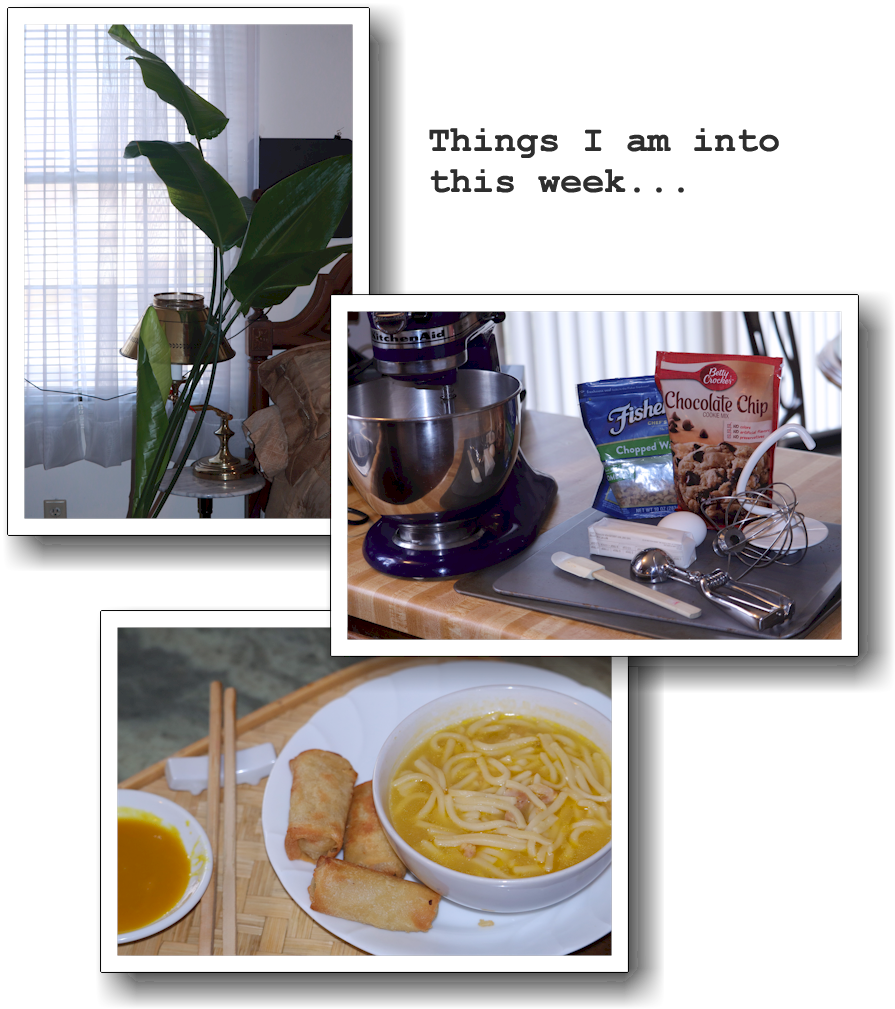 Other things I am watching? Recent news reports indicate FICO score computations are changing. One of my credit cards provides free access to my personal FICO score and my business bank provides reports about my business scores (in my case these scores should be the same because I am a sole proprietor and use the same tax information for both personal and business accounts).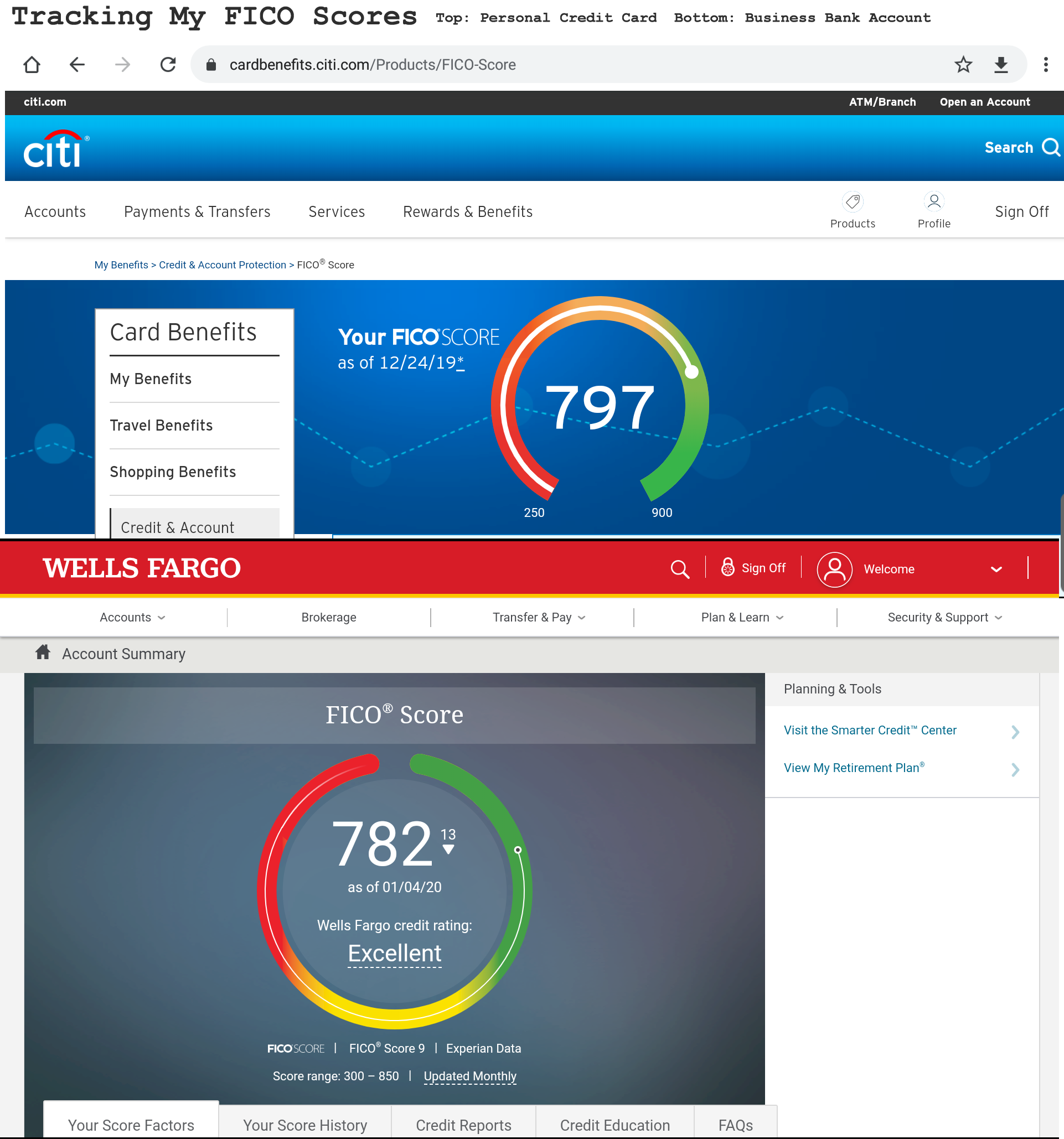 That said, I noticed a 13 point drop in the FICO score being reported by my business bank in early January 2020 and think this may explain the change. The fluctuations seem to be more reflective of spending. Holiday spending using credit cards may have been used in the business FICO score, however I always pay the entire balance on my credit cards so I think the new computations maybe a little trigger happy.
Are you noticing changes with your FICO scores?

Wednesday, January 29, 2020
For various reasons, when I make or notice changes to my appearance, I publicize the differences. For instance, I always like to provide recent photos, to insure the effects of aging are noted and current.
Over the last two or three years I have allowed my hair to grow out. At the same time, I have not dyed my hair so the advancing gray I wanted to be more a striking accent to my appearance- turned out to be, anything but. Did you see Poltergeist? By the end of the movie, JoBeth Williams' character had striking gray effects in her hair. I think, the natural state of my hair should look more like hers at the end of that movie.
The photos below were taken January 26, 2020 and show the enormous amount of gray in my hair:
Yesterday, I went to the market for my mother and also picked up a box of dye. I have to admit, I purchase things because they are on sale, so the box of Garnier Nutrisse Nourishing Hair Color Creme, 50 Medium Natural Brown (Truffle) I purchased was more because it was on sale and not because I did any research.
That said, I love this brand. I loved how easy it was to apply, I loved the smell, I loved the way my hair felt after blowing it dry, and this morning after I took out the rollers.
The photos below taken this morning after I combed it out (camera flash highlighting the conditioner in my hair, most of the gray covered):
My natural hair color tends to have lighter brown/blonde highlights mixed in with the darker brown. The new color is a bit more auburn (especially where the gray was covered), however I like it.

Sunday, January 26, 2020
On Friday, January 17, 2020, I placed an order with Amazon comprised of the following items, which arrived, Thursday, January 23, 2020.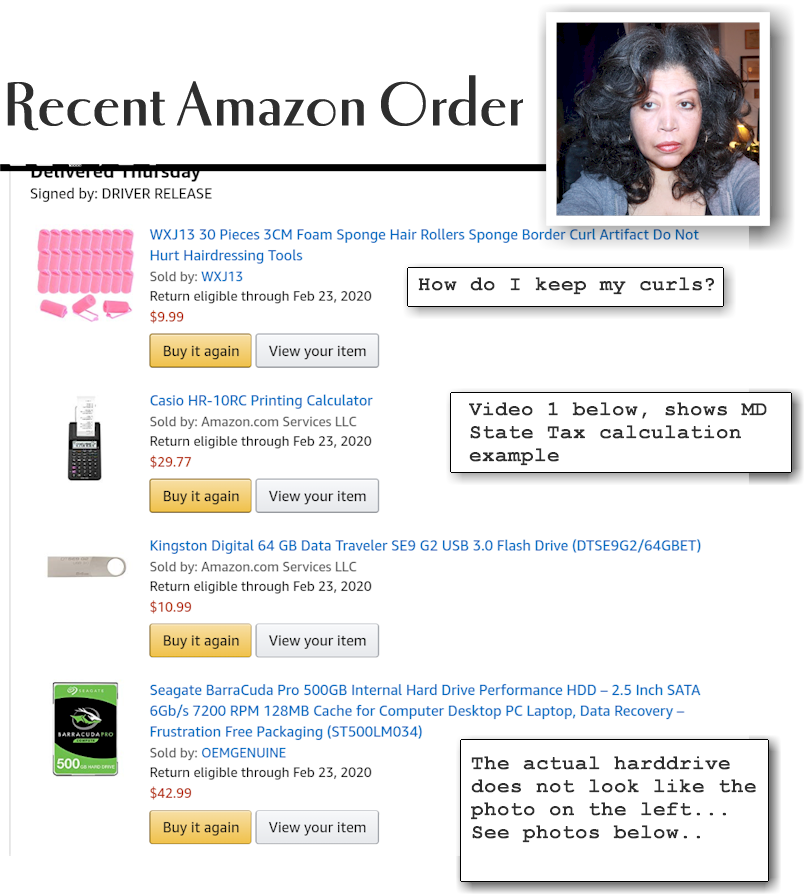 On Friday, January 18th, a huge spring on one of the garage doors broke and though a relative looked at the door and said it could be used without repair, I decided to research, and have the repair done. It turns out, if the spring is left unrepaired, the release latch that allows for manual operation, is useless because the door is to heavy to lift without the spring and both cables. One of the cables also snapped.
So, for the last week and a half- major projects included:
Research, purchase and installation of 500 GB Harddrive for mini computer
More software installed on new mini computer, i.e., Thingamablog, iTunes, etc.
Garage door repair research
2019 Tax Returns (Federal & Maryland) Filed
I needed a new desktop calculator with a small footprint and I am pretty happy with the Casio HR-10RC Printing Calculator I ordered. Below is a 9 second video demonstration of the calculator.
My mother has a slightly larger Casio Printing Calculator (Casio HR-100TM) which is also pretty good, so below, I am providing links to both calculators.
The installation of the Seagate 500GB harddrive was pretty easy, however it did not automatically show up as a new drive. I had to add the device under the Windows Control Panel Hardware tab (showed up as hardware that needed to be added).
These days, storage on harddrives is easy to purchase, and you may notice that I tend to purchase devices with lower storage amounts. This is on purpose. I try to purchase what I think I will need, not how much I can get.
P.S. I also use a Conair 1" Curling Iron which in combination with the items shown, help to keep my curls in place all day.

Friday, January 03, 2020
In 2019, I had any number of unexpected business related expenses, where I spent more than I originally budgeted, for the year.
Major 2019 Business Expenses
Replaced my Canon "Point & Shoot" camera with a Canon DSLR (EOS M50)
Replaced my Android
Updated a Windows 10 Tablet with a Windows 10 Pro Mini platform
Luckily, this year my family provided holiday gifts in the form of money so I was also able to afford a personal care unit I have always wanted to try.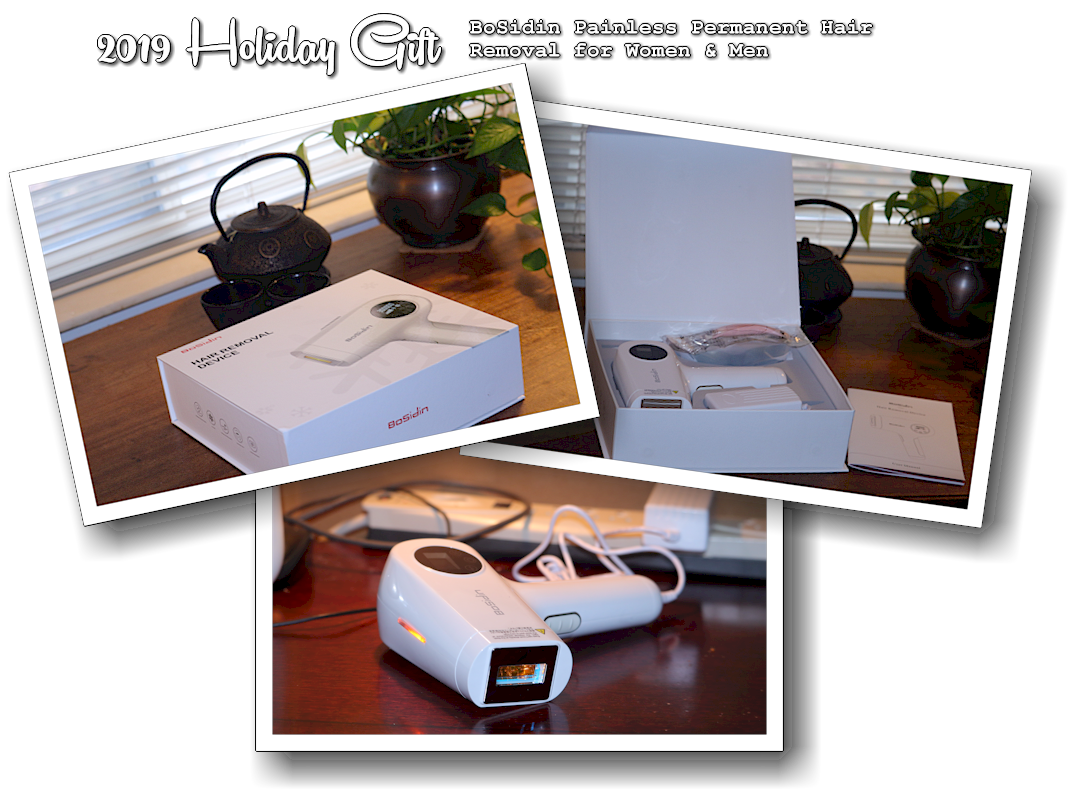 I did a bit of research before purchasing the BoSidin Permanent Hair Removal System and though quite happy to date, still in the early stages in the use of the unit.
Other considerations as related to the selection of the gift? (1) I am dangerous with a razor blade, though some of the newer technology is pretty good. (2) my cordless razor battery died. (3) I wanted a more permanent solution.
Hope your New Year is off to a great start...

Saturday, December 28, 2019
I have no plans New Year's Eve, however earlier this month I ordered two new lipsticks to test, and decided I could use the Blazing Lava L'Oreal Lipstick if I changed my mind.
The other lipstick, L'Oreal Peony Pink is not as festive and more an everyday look for me.
Through the weekend and up until the first, I will be preparing my sites for the new year, i.e., updating copyright information and ensuring any new year's regulations and policy requirements are current as related to my sites.
What are your plans for New Year's Eve?

Monday, November 11, 2019
My mother's birthday is right around the corner. This year, I decided to get her something she said she needed, however was unable to find. I researched online, offerings of the lampshade replacements she wanted and asked her about certain styles before I ordered.
I am glad I did. The new lampshades arrived today, and though not her birthday, I decided to give them to her a bit early after first ensuring the shades were undamaged. Illustrated below, the etched-like ginger jar lamps and the old versus the new lampshades.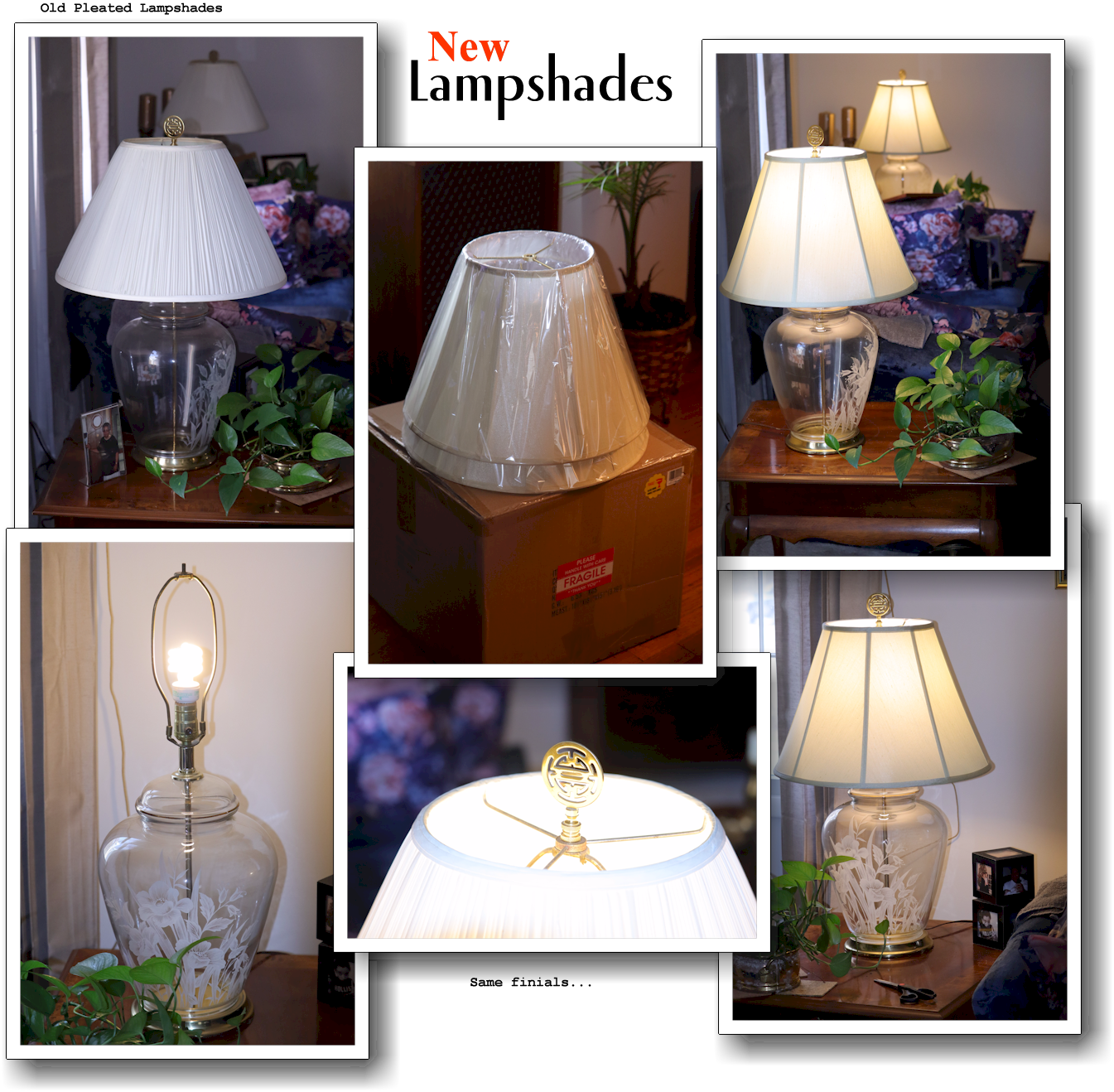 Though the older shades do not look that bad in the photos, some of the pleats had separated from the lower hem of the shade, giving a slightly frayed appearance. She did not see the final gift selection, so I am pleased she likes the new lampshades.
I used to know where lighting stores in my area were located. I love finials, lamps, lampshades. I am not sure now, why it is hard to find things like lampshades and even online- the research was a little more difficult than I anticipated.
Now, what to do about dinner and other birthday activities...

Tuesday, October 22, 2019

Monday, July 01, 2019
For the last month, I have been trying to update my casual summer wardrobe.
Over the month of June, I have purchased several new summer dresses, sandals, and acquired two new shrugs. I have only spent about $400, so my investment has not been huge, however notable because I seldom spend money on casual wear.
Some new items acquired over the month of June:
What started this buying spree?
Damaged several of my old sandals trying them on.
Complaint from my Mother, my casual wear seems a bit tattered.
Celebration of sorts over having my renewals in place (see last post).
Birthday in July, and I always try to ensure I spend gift money on things I need.
Not working software projects, too much time on my hands.
Old shoes...
Unless going out, I keep my hair pinned up, however easy to comb out if I need to go out. That said, I decided to purchase hair combs to help me manage on hot humid days. In the first set of photos for this post (above), (yesterday) I had my hair out, because I was trying on new items and took photos.
Not everything has arrived, actually most of the items are still not here, however I am excited about the new additions to my wardrobe.

Monday, May 20, 2019
Yesterday morning, Sunday, I got up early, took a shower and made dessert (fruit tart discussed here).
Then I dressed (hair & makeup), and decided to enjoy Sunday morning driving around town. Some things I noticed...

Last week, because I am always researching new ways to generate revenue from my sites, I signed up for a new affiliate marketing program. Often, I try to develop new programs for use on WiredPages and this blog using affiliate API network resources. For example, see this link.
So yesterday, after returning from my drive, I sat around reviewing some of the affiliate merchant programs offered by ShareASale.com.
I also made a pizza and watched a movie, "Jennifer 8" on television. The illustration below shows the other side (see last post) of the main entry. Behind me on the right, is the closet and on the left, the hallway leading to the informal dining room off the kitchen (working on the smile, issue).
Then I went out to my gardens and took photos...
Came in, updated some of my stores, had dessert and went to bed around 9:00 pm.
Thought the new episode of Showtime's "Billions" was coming on last night, however research provided the new segment is scheduled for next Sunday. Think it is the season finale.
Did you have a nice weekend?

Sunday, April 28, 2019
Coming into the new year (2019), I had several business registration and motor vehicle renewals, including:
QiSoftware's Business Renewal (every 5 years)
Domain Registration Renewals for hosting-q.com and reginadenisethomas.com (résumé site)
Driver's License Renewal (every 8 years)
Automobile Registration Renewal (every 2 years)
For some reason this bothered me. This may have been because the business and driver's license renewals both came due this year.
Happy the last of the renewals (QiSoftware's Business Registration) was mailed off last week (paperwork shown in the illustration below).
My new driver's license arrived in March (birthday in July) and the car registration and stickers earlier this month (April).
Other business related renewals: This year, I actually had four domain renewals however only hosting-q.com and reginadenisethomas.com (résumé site) are active sites. QiSoftware.com expires in June 2020, however will be renewed long before the current expiration date.
Also shown in the above illustration, new plants purchased last week and the apple pie I had for dessert today. I have already started trimming the palm and the little pineapple plant will get more leaf shine.
Other things I have been up to?
Movie: "The Curious Case of Benjamin Button"
Movie: "Misconduct"
Movie: "Crazy Rich Asians"
Showtime Series: "Billions"
Looking forward to the Showtime Series: "City on a Hill" premiering Sunday, June 16 at 9 p.m.
Looking forward to the final season of Showtime's "The Affair"
and the new season of StarZ's "Power"
It was a nice day here, and I decided to prepare a somewhat large dinner. On the menu: pork chops, steamed cabbage, mac & cheese, candied yams and cornbread. Did I mention apple pie for dessert? Happy, the kitchen is tidy and the dishwasher is ending its drying cycle.

Wednesday, March 20, 2019
Spent most of the day, yesterday at the Motor Vehicle Administration (MVA) Express Services facility in Columbia, MD renewing my driver's license.
Why? Although, I set an appointment for Friday, March 29th, 2019, I decided I wanted to get this process out of the way as soon as possible. My first mistake. I should have stayed with the original appointment.
Key to my driver's license renewal process was having my prescription for glasses updated and certified by a doctor. Saturday, I picked up the glasses and Sunday, the MVA paperwork signed by my doctor detailing my corrected vision with the prescription.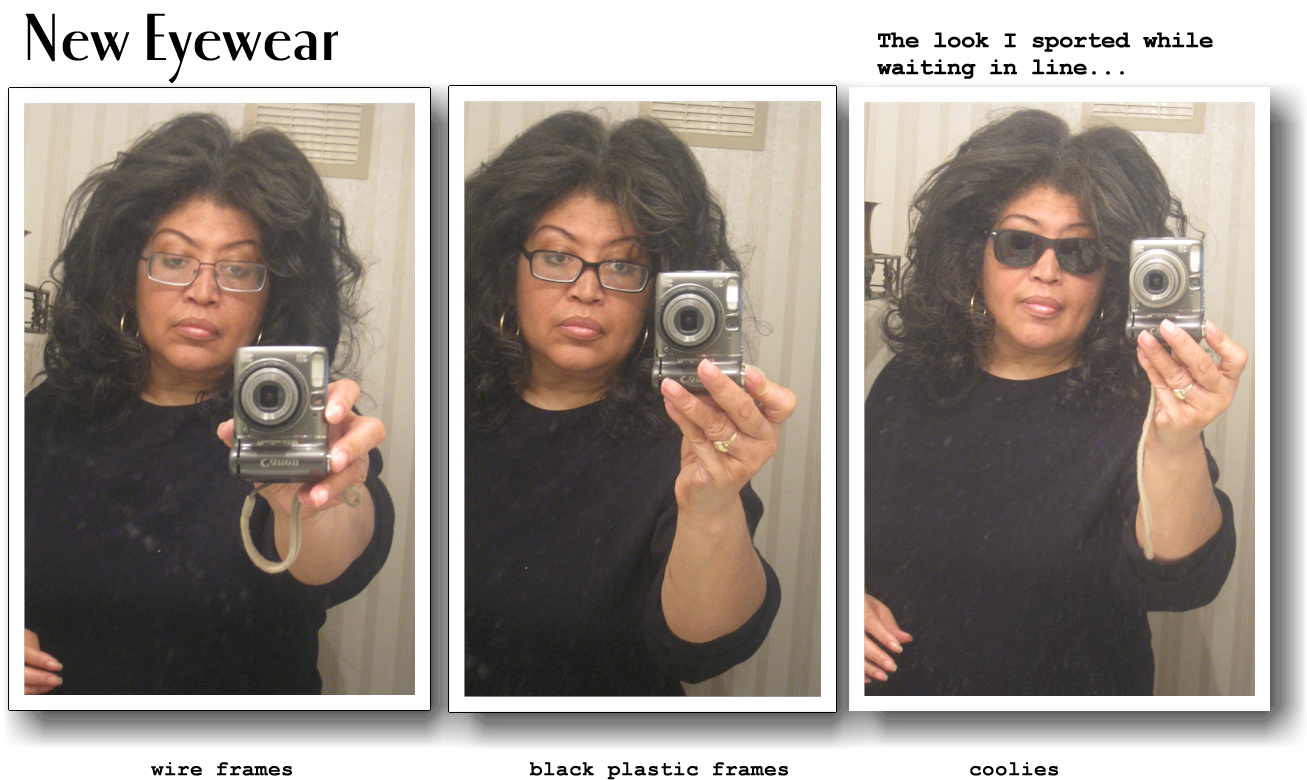 So this prompted the desire to have the license renewed sooner rather than later.
The second mistake- I photo copied my birth certificate and did not take the original with me to the MVA facility. I returned home to get the original. Although, I returned to the facility by 11:00 AM, I did not leave the center until after 3:00 PM.
Based on my experience, I thought I would post things you might do to avoid problems:
Your State will probably provide the exact details as to the documents required for the renewal process, however the list above provides a good starting point.
My birthday, is not until July, so I had a little time to complete the process, however I wanted to make sure I had my eyes certified by a doctor before I went in to renew my license.
Maryland notified me in February that I could start my renewal process at anytime. The notification and collection of documents made me a little apprehensive at first, however I had more than enough in the large folder I used to collect the copies, including copies of diplomas, social security card, birth certificate, a motor vehicle registration, bank card statements, recent tax returns and official correspondence from state agencies.
Be sure to read carefully your State's requirements for the renewal process.

Saturday, March 16, 2019
Went by Visionworks @ArundelMills this morning to pick up my new glasses.
Pretty pleased with how this turned out. Took advantage of a "Buy One, Get One Free" offer.

Wednesday, March 13, 2019
Spring is right around the corner, along with the rainy season. In anticipation, I have been thinking about things I would like to own.
I added the above items to the "Just Want" store...
The socks are a little late in the season, however when I find this type of sock, I always want to stock up.

Tuesday, March 05, 2019
Last week, I had an eye appointment for new glasses. I ordered two pairs. Normally, I wear contacts during the day and glasses at night, however I have not purchased new prescription glasses in over 10 years so I thought it was time.
The new glasses are on the way. With all of the advancements in eye care treatment, I am rather old school as to how I handle my eye care needs:
Very near-sighted
Astigmatic
Aging eyes (need reading glasses)
Use computers a lot
I prefer to handle each of these issues separately rather than a single correction (contacts or glasses). The reason? The astigmatic issue, in my case- eyes are slightly off center, and at times causes dizziness and headaches depending on the type of vision wear.
I prefer contacts and over the counter reading glasses most of the time and prescription glasses without the bifocal for night time wear.
PS- Why do I have on PJs and makeup? I work from a home-office and often leave my hair pinned up, unless going out. When I have to take it out (should be every other day), sometimes I want to see if I still know how to apply makeup. I took photos because I thought my hair looked nice. Photo on the right shows the squinting issue without my reading glasses.

Monday, January 28, 2019
I maintain my resume (résumé) as a Microsoft Word document. In February 2018, I decided to post an online copy of my resume to my personal domain (reginadenisethomas.com).
After converting the Word document to an html file, there were a number of updates made before posting the online version of the resume.
Over the weekend, I decided, rather than maintaining my personal site as autonomous html files (including the resume), I would use the content management platform, Thingamablog, used for two of my blogs, this one and Remix. It's Personal, this blog, is maintained on a Windows XP netbook and Remix, the business blog, is maintained on a Macbook.
The illustration below, shows the additional site/weblog added to the Thingamablog installation on the Windows XP platform.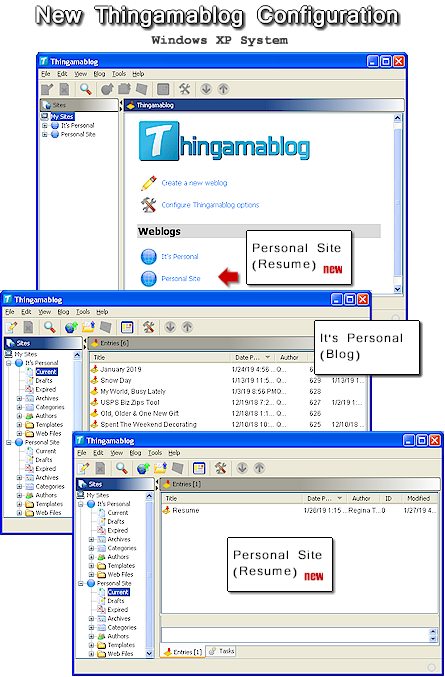 For more information about Thingamablog visit these pages:
The template for the new site is a work in progress.
The template was adapted from the one I use with most of the site areas on qisoftware.com and hosting-q.com.

Tuesday, October 23, 2018
Little under the weather lately [ear infection], so getting a lot of rest.
Things in the works...
Several tools (9 or so) ready for installation on WiredPages however holding off for various reasons. New tools under development or consideration should be exciting additions for the service.

Monday, October 08, 2018
In recent years, I have started my holiday shopping in early Autumn and usually finish by the end of November. I think this trend began because I start researching for "the stores" around that time.
The Stores...
This year, I found a great deal on an item [Yunmai Digital Scale], I listed last year as a gift idea. I wanted to give it as a November birthday gift, however decided to give it early. My mother loves it, and so do I.
Other items in the same order...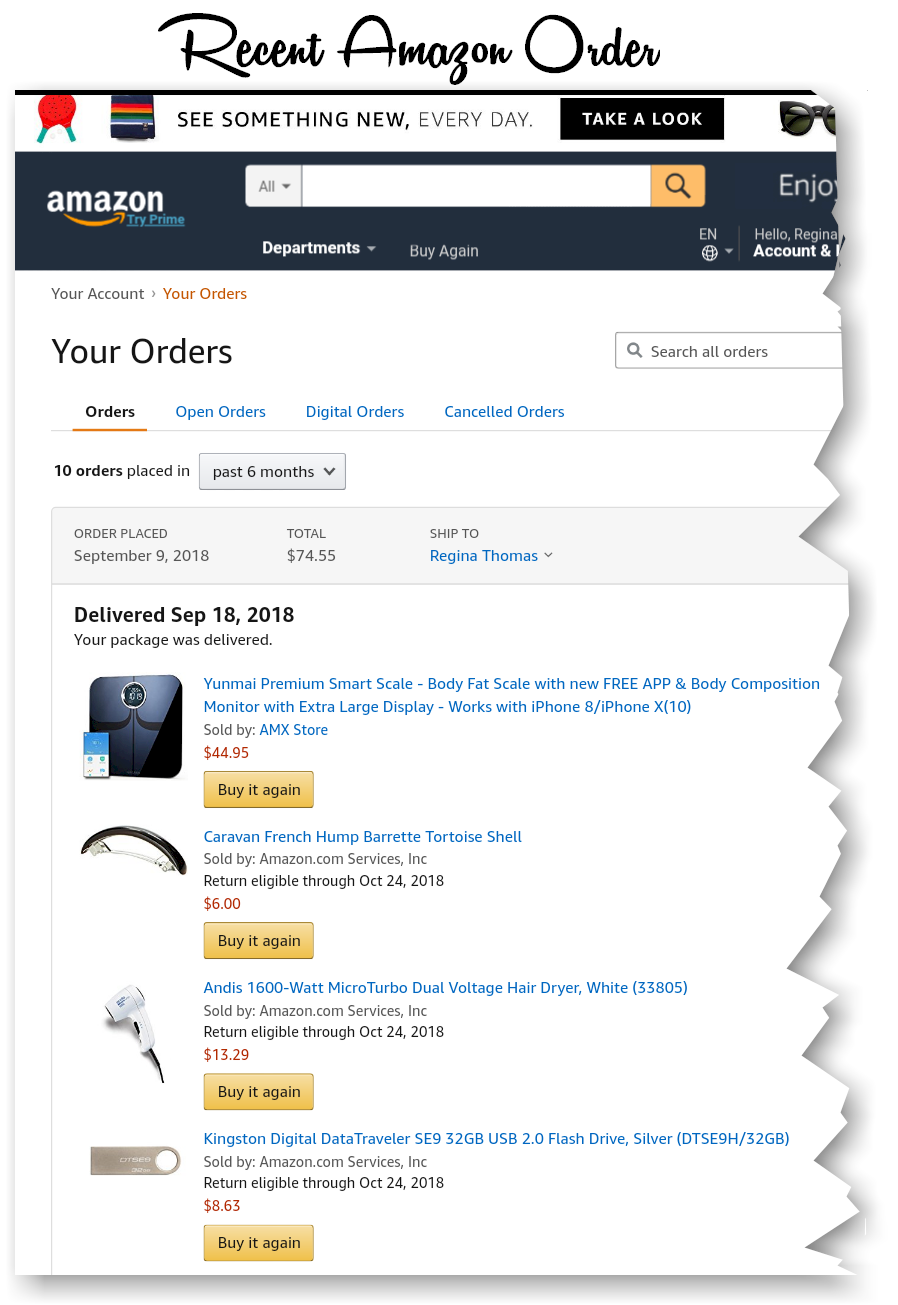 I have been rather busy lately, with web site moves and software development projects (see WiredPages), so I have not done as much research for the stores as I normally do, however stay posted if you are looking for holiday gift ideas.

Thursday, June 07, 2018
For various reasons, yesterday was the first time I have been to Costco in a number of years. Not because I do not love shopping at Costco and not because I do not have a household membership card in good standing. I do.
That said, somethings have changed since my last visit to Costco.
My bank cards now use chip technology.
Visa can be used as a credit card at checkout (in the past you had to use a bank debit card with the pin-- still the case with MasterCard).
The card reader shown in the illustration on the right is similar to the card readers the cashiers use at Costco, in that they have both a card swiper on the right side and a card reader at the bottom for cards using the newer chip technology. Both my business and personal check cards use the chip technology.
By the way, did I mention that because I do almost all of my shopping online with a rewards credit card not associated with a bank account, I had never used the bank issued card associated with my personal checking account before yesterday? I opened my business checking account in 2004, however the new business card issued about 4 years ago with the new chip technology has also never been used.
Anyway, yesterday as I am checking out-- the cashier asked me to swipe my 3 year old never used [personal bank checking] card. I try several times to use the right-side card swiper and fail. Then she suggests I use the chip reader at the bottom. No, I did not have my readers on. Again it fails. The reason (this time)? I did not leave the card in long enough.
I like thinking I am well versed in computers and new technologies. That said, for some reason yesterday, all of this simply mystified me. The cashier finally asked for my card, and made easy work of it all.

Wednesday, June 06, 2018
Ran several errands this morning, including:
Stopped by my business bank.
Stopped by Live! Casino & Hotel on the double anniversary of their respective openings. Took photos. The casino opened six years ago today, and the hotel opens today.
Went by Costco to purchase items for lunch.
It was a gorgeous morning. Saw one or two of the local news stations shooting footage for Live! Hotel's opening. Saw a flock of geese in the mall's [Arundel Mills] parking lot. Came home and had some of the rotisserie chicken and a croissant.
Though I visit my business bank regularly, I rarely get to the shops, so when I do happen out, as was the case with my visit to Costco today, I tend to note the occasion. I would really like to get out more, however one family member or another stops by weekly, so a lot of our shopping is done in this manner. Today was a nice treat for me.
For more information about my residential hometown and the thriving business community, see here.

Saturday, February 03, 2018
I filed my 2017 Federal & State Taxes- Monday, January 29, 2018. I actually prepared them a week earlier using TurboTax, however because the IRS did not start accepting electronic filings until January 29th, I had to wait.
Important sites I find useful when filing taxes:
In other news, was in a bit of a panic after realizing a setting solution for my hair is no longer available. When setting my hair, I have been using a Palmer's product on the ends to help seal in moisture. I have used this product for over 15 years and was a little panicked to learn it was no longer readily available.
A small online beauty supplier claimed they had 15 jars, however after waiting for a week to get my order--- the charge was suddenly refunded with the explanation the product had been discontinued. I only use a little on the ends each set (I never go to bed without setting my hair, however sometimes leave it up for two days)-- so the jar I had was over 10 years old. Probably the reason I did not know it was no longer easy to purchase.
I did find a solution I like, however this was a major distraction over the last two weeks.

Thursday, January 11, 2018
It has been very cold here. So cold, that I did not go out until yesterday after about a week inside. I went by my bank on Wednesday, Jan. 3rd 2018. Yesterday, it finally turned warm enough to venture out.
So what have I been up to? Working, sleeping and enjoying entertainment on television and radio.
What else?
Upcoming: "The Girl on the Train" Showtime Saturday, January 13, 2018
Upcoming: Australian Open January 15-29 2018
Setting up a Samsung BlueRay player to access the wifi (we use Verizon FiOS) without WPS support. I am not sure why it stopped working-- WPS shows disabled when I connect to the router setup interface. WPS allows the press of a button on the router to connect to any device within range trying to access the service. Without WPS support, this took some time to figure out.
Last year I used TurboTax to file my taxes. This year I will do the same, however last night I used efile.com to get a general idea of what to expect.
Updating or creating graphics for projects I am working on. See the sidebar for the Remix blog or this blog, for the new WiredPages Events Graphic & Link. I also had to update the header graphics for one of my Facebook groups and a Facebook page.
Finding the artists behind some of my new favorite tunes (listed below).
Some of my favorite tunes these days.
It took me awhile to find the artists behind some of these songs. I tend to listen to "old school" or light jazz so I am not as well versed in what's popular. That said, I know KEM.

Friday, August 25, 2017
So what are your plans for the weekend? Me? With the new school year and holidays right around the corner, I am planning updates to the stores.
I meant to post new photos around the time of my birthday [July], however never did. Below, recent photos.
In recent weeks, I have been out a bit researching local business activities however, have mostly stayed close to home. It has been wet and humid here.
Other things I have been up to?
Watching professional tennis. BTW: US Open starts Monday, August 28, 2017.
Paid bills including, qisoftware.com web hosting, phones, etc.
Monetized another sub-domain on my site [qisoftware.com] and integrated the related Google Analytics code.
Watched Bei Bei [National Zoo's Panda Cub], celebrate his second birthday.
Went by my business bank.
Sharing social media posts.
Hope you have a nice weekend.