Tuesday, July 13, 2021
Ever since receiving my Guzila Windows 10 Pro Mini PC, I have wanted to install a second hard drive. You may recall, I purchased the unit in November 2020 for an online Real Estate course, and found I could also use it as a business asset for Zoom meetings.
I was so pleased with the performance of the MinisForum Windows 10 Pro PC (dedicated to software development projects), after installing an additional internal hard drive, I knew it would be worth the effort to do the same for the newer Guzila.
Last week, I ordered several items to upgrade the Guzila PC, including a wireless keyboard and mouse combo, and a Seagate 500GB internal hard drive.
This morning, just after nine, the postman delivered my new internal hard drive and I completed the installation shortly after. Because the PC was already sitting on the breakfast tray in my bedroom, the installation photos were taken from the same location.
The keyboard and mouse arrived Saturday, so I had a chance to test these new devices. I am pretty impressed with the functions and feel of each. So far the new hard drive is performing as expected, however I have done very little with the PC other than to upload photos from my Canon M50 to the new drive for this blog post.
Yesterday morning, I received a new Point Of Sale (POS) reader for use with my PayPal business account for merchant services.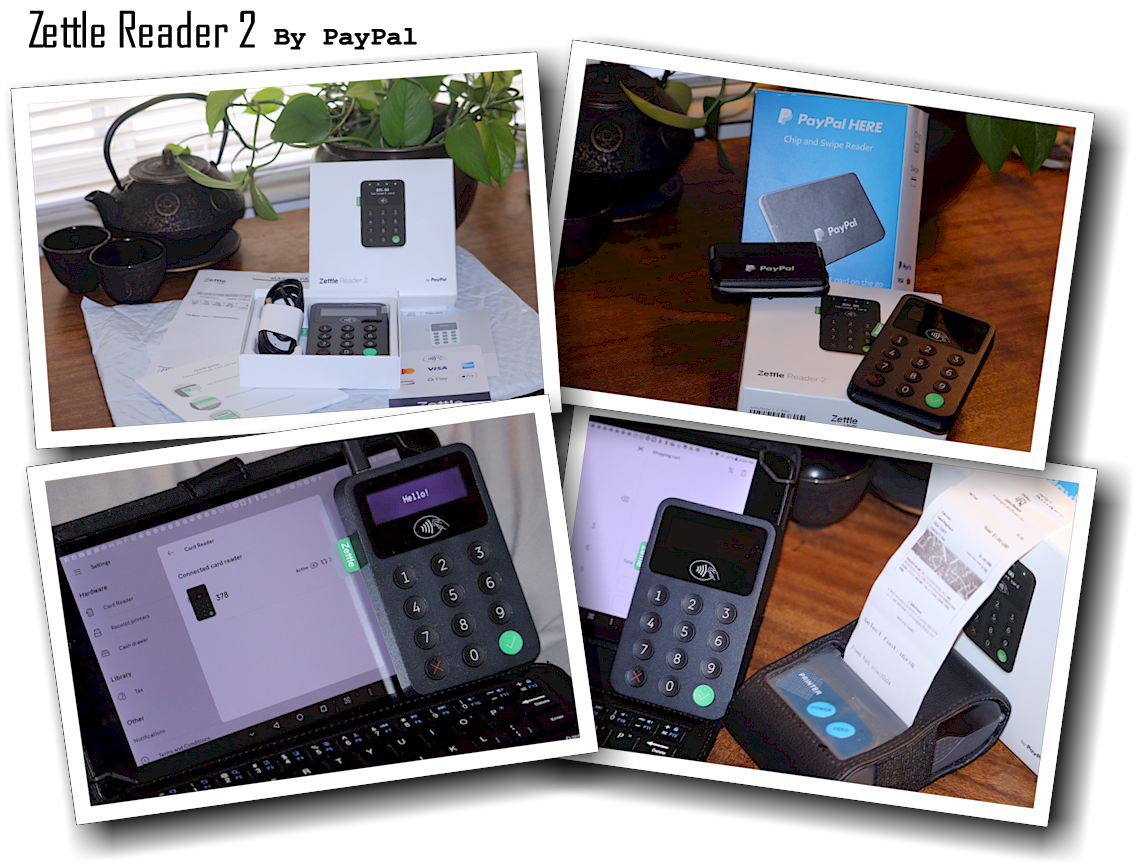 The differences between my old PayPal Here Chip & Swipe and the new PayPal Zettle Reader 2, include:
Zettle Reader 2 features the contactless Tap function.
Card pins can be entered via the Zettle reader's keypad.
Zettle reader displays prompt and status messages.
Yesterday, while testing the new card reader, I found a program called BlueStacks which allows a Windows 7, 8, or 10 system to emulate an Android device.
I installed the program on the Guzila PC and logged into the Google Play Store to install the PayPal Zettle app under the BlueStacks program. I did not know a program like BlueStacks existed and wanted to mention the interesting prospects a program like this offers. Installed several of my Google Store Play apps for testing on the Guzila system.

Monday, July 05, 2021
Several weeks ago, I completed work on a process that pulls comment counts for this blog from the QiSoftware.com installation of Commentics.
The first step in this project was to replicate the qisoftware.com Commentics database in my local development environment.
I then developed the inner join SQL call I needed for efficient retrieval of the counters. Initially, I developed a php program using the SQL call, however later decided I wanted a less open program for the online version, so opted to use Java Servlet/JDBC technology. I also believe, Java JDBC/Servlet technology is more efficient than php.
The following diagram, illustrates the AJAX/JavaScript used to call the Java JDBC/Servlet and the XML data response returned from the AJAX call.
This project is notable, because it utilizes AJAX which I have not wanted to incorporate into my programs.
Why? AJAX data prep is open source for one, but the other big problem- older browsers did not support AJAX. Though, I have done very little with AJAX in the past, I found this to be one of the easiest parts of this project and I am glad I had the opportunity to work with this very powerful resource.
So you want to know why I have not installed the counters on this blog? Initially, I felt I was providing a lot of open source technology using AJAX, however after I setup everything, decided that because only one blog post had comments (my test comments), the earlier work to install comments on this blog was enough for now.
If I leave everything as is and fail to get more feedback in the way of comments, most of the main pages will appear as they do now, a comment png image with the word Comments, with a link to the entry post. I only update the Comments link text if there is a comment count greater than zero. If there is only one comment, the update also changes the word from Comments to Comment.
I only wanted to make one call to the database (per page visit) even though there are several entries on each page. The counts are on the pages with category, archive or main page entries. Any page with multiple entries. Individual entry post pages have the comment area rather than the link.
Setting up HTML <div>s and syncing innerHTML updates were the main efforts for this project. I am happy with how this project turned out and will probably install the program online if I begin to get more comments.
Most of my projects use Java Servlets to do the "heavy lifting". In this case, JavaScript is doing a lot of the work. The inner join SQL call is hidden along with the generation of the XML data response within the servlet.
I feel as if I am entering a new phase and have to get used to providing so much in the open area. AJAX and JQuery are too powerful for me to ignore and these days- most browsers support these two powerful resources.

Thursday, July 01, 2021
Earlier this year, I went back to the classroom for my real estate course via a virtual link-up. Since I had the opportunity to experience first hand, classroom interaction via the internet, most of the updates made to the "Back to School" products category, reflect my experiences.
My exact "Zoom" hardware configuration is provided below.
I liked the camera selection with this configuration because of the "beautiful face" setting option. I included a more standard video camera in the "Back To School" products listing.
Below, photos of part of the setup as discussed in this post.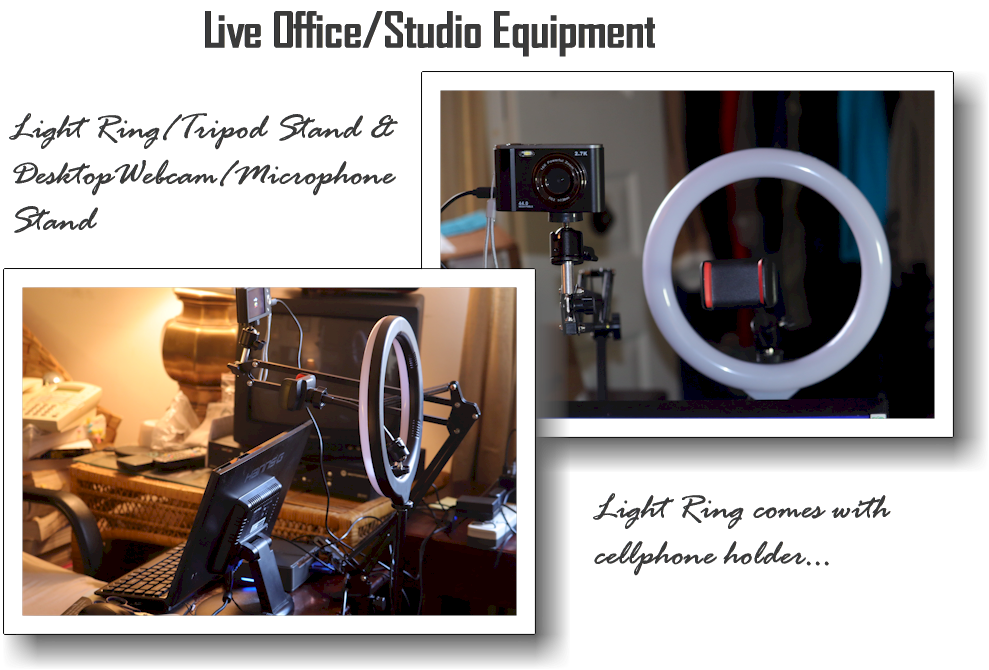 I also felt, the bluetooth audio speaker used with this configuration enhanced the experience and was worth the expense.
Are you going back to school? Do you use Zoom or Microsoft Teams for online meetings? I like the lighting, sound, voice output, and high resolution display this configuration offered and very pleased with how my online classroom and business meetings are experienced.

Thursday, January 28, 2021
My real estate course starts next week, and I have been busy with continuing preparation efforts.
Recent preparations:
Joined the Microsoft Teams for the class
Setup student calendars
Digitizing Maryland laws and regulations as related to real estate for easy search.
Coming up to speed with a newer version of Microsoft Office (365)
Zoom (online) classroom attendance- continuing preparations
Research as related to the real estate market, jobs, and online forums
Studying
Researching Microsoft offerings as related to real estate.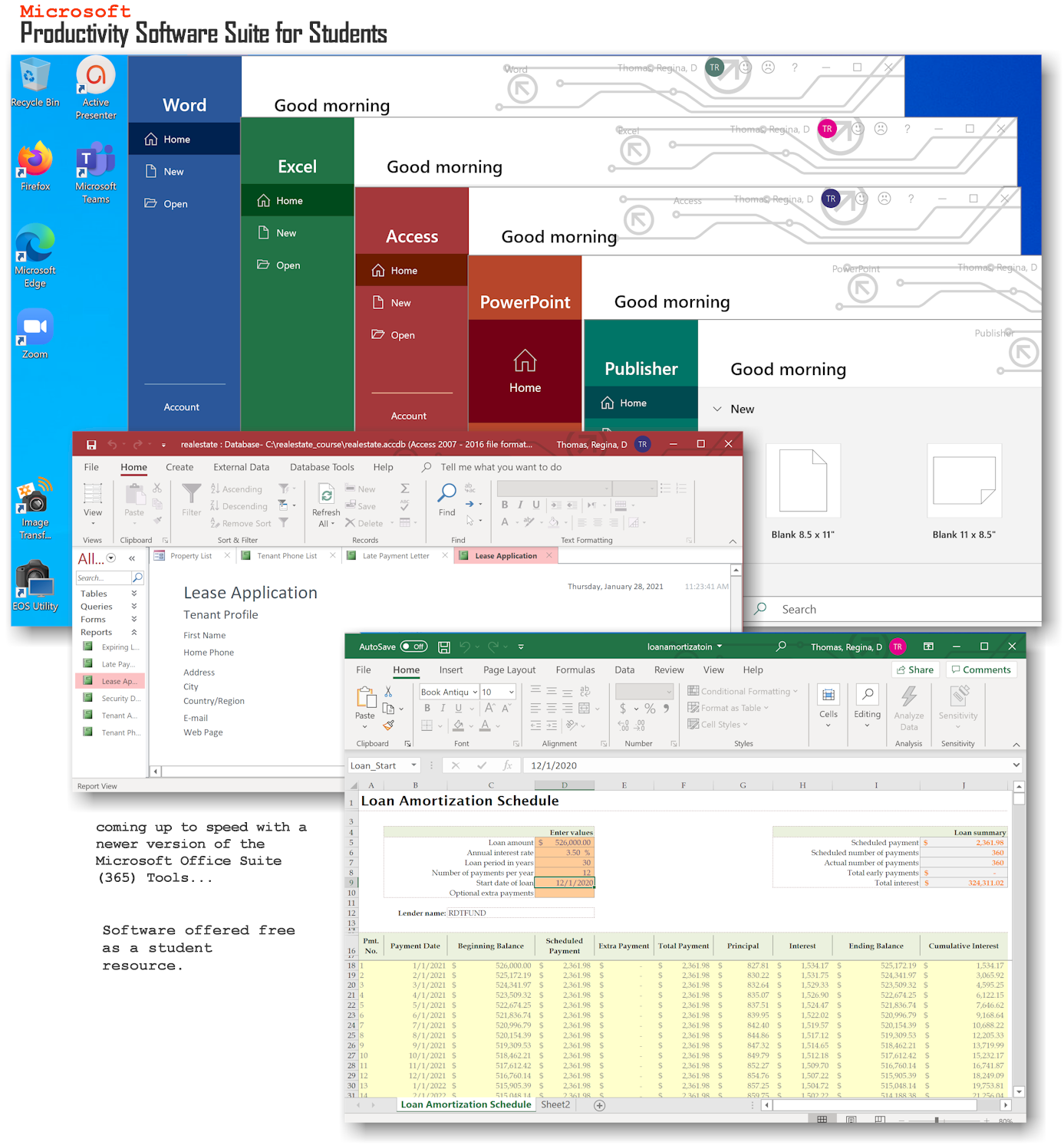 I have also been trying to plan my days for the next two months, in that I will continue to do most of the shopping. In addition, I have several business related tasks coming up, so I am hoping I can accomplish everything as efficiently as possible.

Tuesday, January 26, 2021
On two occasions over the last week, I had the opportunity to witness the use of a Verizon MiFi 6620L Jetpack 4G LTE Mobile Hotspot unit used with an HP laptop. Thought this was pretty impressive.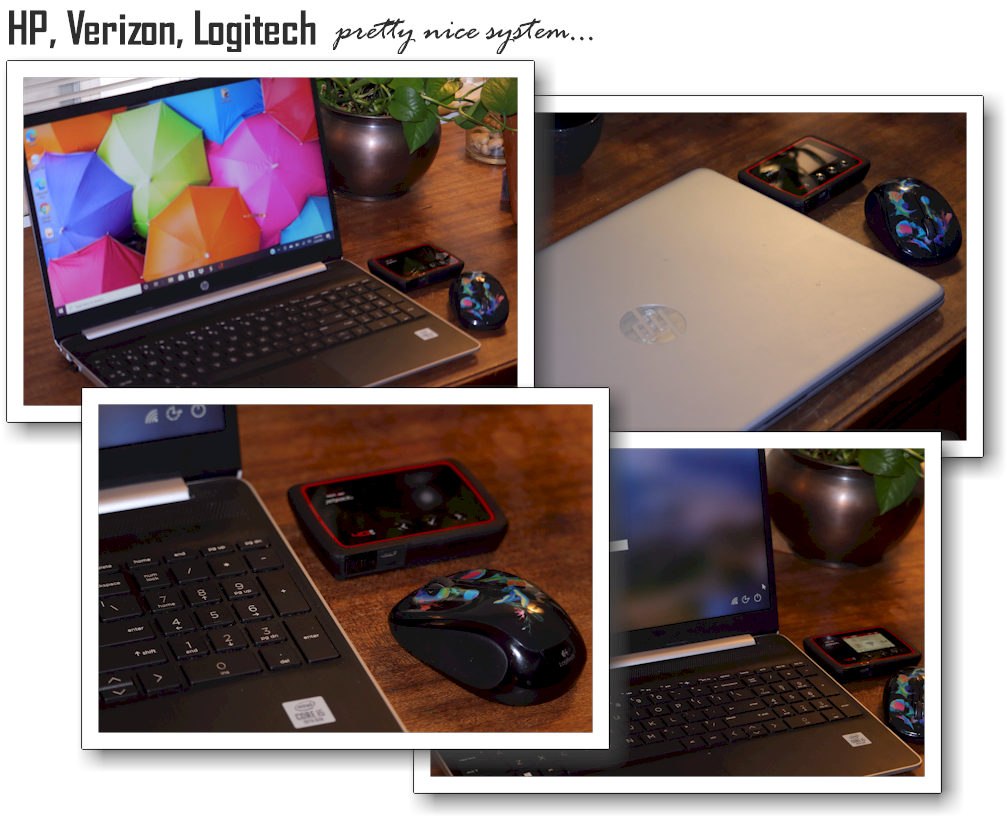 I own several computing platforms, however most are not true mobile systems, in that I am tethered to both my dedicated wifi service and electrical current. These days, I prefer working in this more secure environment, however if I needed to be truly mobile- would definitely look into the acquisition of similar hardware. My choices shown below:
I also checked into current pricing options for mobile hotspot plans and found an interesting article on the Android Authority.

Sunday, November 29, 2020
I have a new project in the works that requires live video/chat interaction. Popular online resources which provide this type of support, include:
After taking inventory of my hardware resources, I found that only two of my online access devices could handle today's live video/chat applications:
Android
Windows 10 Pro Mini PC
For various reasons, I decided I would need a dedicated platform to handle all aspects of the new project including interactive video/chat and collaborative/file sharing.
The problem with the Android, I felt it would be easier to share files and collaborate using software on a desktop or laptop system.
The Windows 10 Pro Mini- I purchased last December (2019), is dedicated to software development. Online sharing in a group environment using this dedicated platform would allow security issues I would rather not deal with.
So, I researched the purchase of a new laptop or desktop and decided again on the least expensive option, a new Windows 10 Pro Mini PC. Shown below, side by side the two Windows 10 Pro Mini PCs.
My other concerns: lighting and backdrop for these live sessions so in addition to the new Windows 10 Pro Mini PC, I also purchased a light ring/tripod stand and desktop stand to mount a standalone webcam or microphone.
Pictured below, these new additions to my live office/studio.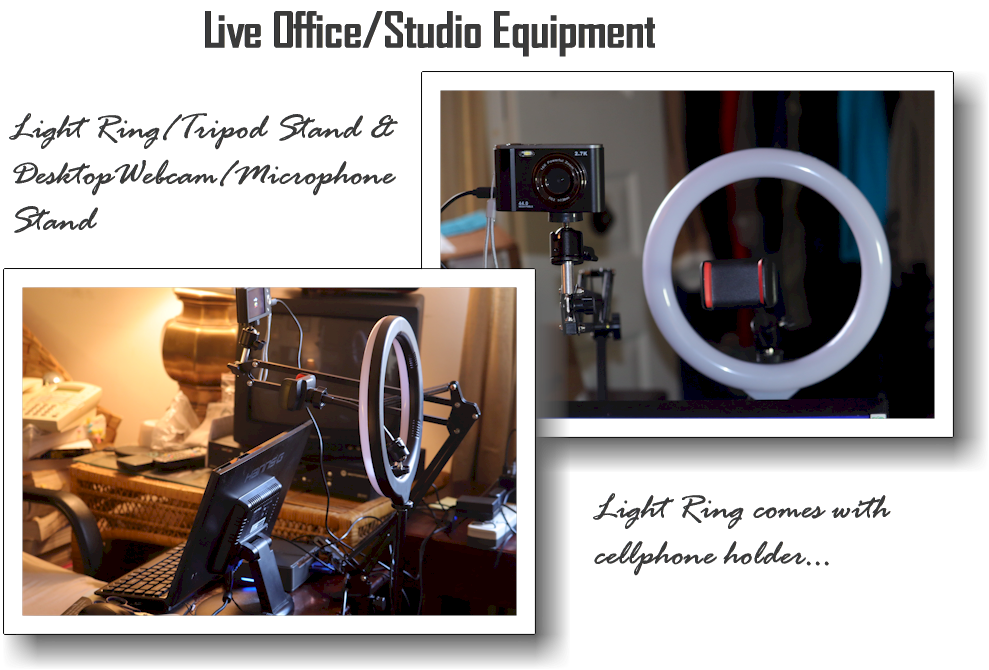 As I have already indicated, my new project will be part of a group setting and therefore certain aspects or requirements of the project, were preset. Though I have been a long time user of Skype (business line, etc.), I needed to setup an account with Zoom to be inline with other members of the group.
In terms of costs for the hardware for my new project, I have spent under $230.00. Yes, I did find some items on sale.
I feel this new project is a good investment and will provide more details over the coming months.


Friday, September 18, 2020
Yesterday, I noticed the WiredPages "What's New" interface located in the lower right corner of the home page- showed nothing. The tool was a Java Servlet powered by Facebook, which accessed the Facebook WiredPages Notes page and provided the 3 most recent posts.
After a moment of research, I found, a Facebook app permission that I had requested in December 2017, had been revoked because of new policy changes for app developments.
When I first requested the Facebook app permission (Page Public Content Access), I thought I would be using the access to power an events interface I wanted to use with the WiredPages Style & Events page. Initially, Facebook allowed programmatic access to events associated with a page, however changed the policy.
Long story short, I used the app permission to access the notes of the WiredPages Facebook page and not the events-- and believe this is why the app permission was revoked.
The initial app permission request- provided a video and details explaining the events tool I wanted to create, and not the What's New interface I eventually created using the app permission.
Yesterday, when I discovered the issue, I thought about my options for a moment and decided to create a new database which would power a new Java JDBC Servlet. Factors in this decision process:
The original servlet was a little slow, accessing the Facebook data pool the most likely cause.
I have several tools accessing the WiredPages Facebook page, and when I added a new note, I had to insure the real estate plugin also powered by the Facebook page, was not affected.
Honestly, tired of worrying about policy changes.
I developed the Java JDBC Servlet and database in local mode and then ported everything to hosting-q.com (around 7pm last night), where I maintain most of the tools associated with WiredPages.
A couple of minor glitches installing the new database and servlet on the live site, however happy to report everything is working again.

Friday, April 10, 2020
As I have already mentioned, I have been working several projects including a new tool for the WiredPages Media page, the NPR Station Finder.
Work on the new interface, a Java Servlet is mostly complete and ready for installation however, a slight delay because I am still checking for any issues that might be problematic.
The following graphic, illustrates how the tool will render search requests based on location.
The video, demonstrates the tool running in local mode from the Netbeans Integrated Development Environment (IDE).
The video suggests a demonstration of the portable features of my development platform is in the offing however, is provided through the following photos.

Monday, March 30, 2020
Recently, when I finished work on the new Amazon Product Advertising API interfaces for WiredPages, I decided to continue with other software projects, specifically an effort I put aside sometime ago.
The NPR One API resource is an interesting project, and quite frankly when I signed up over a year ago, I thought I would get back to the project a lot sooner. Part of the problem, it took longer than usual to set up the correct authorization procedures. When I finally "correctly" initialized all of the codes, I felt most of the hard work was done and it was only a matter of writing the interface.
Below, illustration of work completed on the project, with still lots more to do...
One of the biggest obstacles, I thought I could use HTML5 audio features to enable live streaming of radio programs. I could not. So I spent most of the weekend coming up to speed on a popular jQuery Player.
Over the years, I have decided against using cutting edge technologies like JQuery and AJAX because a lot of my development hardware is older and cannot support those newer technologies. However, what this has enabled me to do, is insure my sites work with both new and old technologies. My old desktop Mac can still run most of the tools on my sites without issues. Today, there are very few sites my old desktop Mac computer can visit.
Now, I do have access to newer hardware, however up until recently, my newer hardware was for testing and not development work. These days, I am using a Windows 10 Pro mini for a lot of development efforts. Updates to SSL protocols left me with little choice but to afford a newer development platform-- see the Items I Have link for more information.
So, back to my efforts this weekend... I am pretty happy with the jQuery Player I will be using for the NPR One API project, and will have to get over the fact that some of my hardware platforms will not be able to provide the live radio streams from NPR's network of stations.
The new tool is a Java Servlet and will be installed on the WiredPages Media page.

Tuesday, January 14, 2020
I have been researching portable monitors for awhile and finally decided to purchase the Elecrow 10.1" 2K IPS Touchscreen Monitor.
Initially, the touchscreen capability was not a high priority, however overtime decided I would prefer a portable monitor with this option. When I found the Elecrow, several of the features I wanted with a monitor of this type were met, including:
Touchscreen
Monitor Size: 10.1 inches
Screen Resolution: 2560x1600 (2K)
Cost
The following is a short video demonstrating the Elecrow touchscreen feature.
Video Quality: I shot the videos for this post using my Canon VIXIA HF R700 Camcorder then merged the video files using a 640x480 lower resolution file size. This done mainly to accommodate my web hosting server. The original MP4 file was over 25MB and the converted file less than 10MB.

Monday, January 13, 2020
Recently, I upgraded my Windows 10 work environment from a tablet to a mini Pro environment.
Components of the new system include:
Currently, I develop software using a Macbook and Netbeans. Just for your information, however not related to my software development issues, my Thingamablog blogs are hosted on the Macbook (Remix) and a Windows XP (It's Personal [this blog], Résum&eacute) platform. Thingamablog runs on a local system, i.e., PC or Mac and is written in Java.
The reasons I needed to upgrade this work environment? New security protocols (SSL) my older systems could not handle because newer releases of Java were not supported on the older systems.
The other problem? My Windows 10 tablet did not have enough, in the way of resources, to handle the installation of more recent software development tools.
I chose a Windows 10 Pro Mini, because it offered a quick, less expensive solution.
I installed recent releases of the Java SDK and Netbeans on the new Windows 10 Pro system. This enabled my development environment to handle the newer security protocols being used by today's websites and producers of API and XML data.
Happy to report this upgrade went well, and looking forward to adding a newer Mac Mini to my development environment in the coming year.

Wednesday, October 30, 2019
Recently added to the collection of Alexa devices used in our home to include two new Echo Input units-- reference Instagram Post.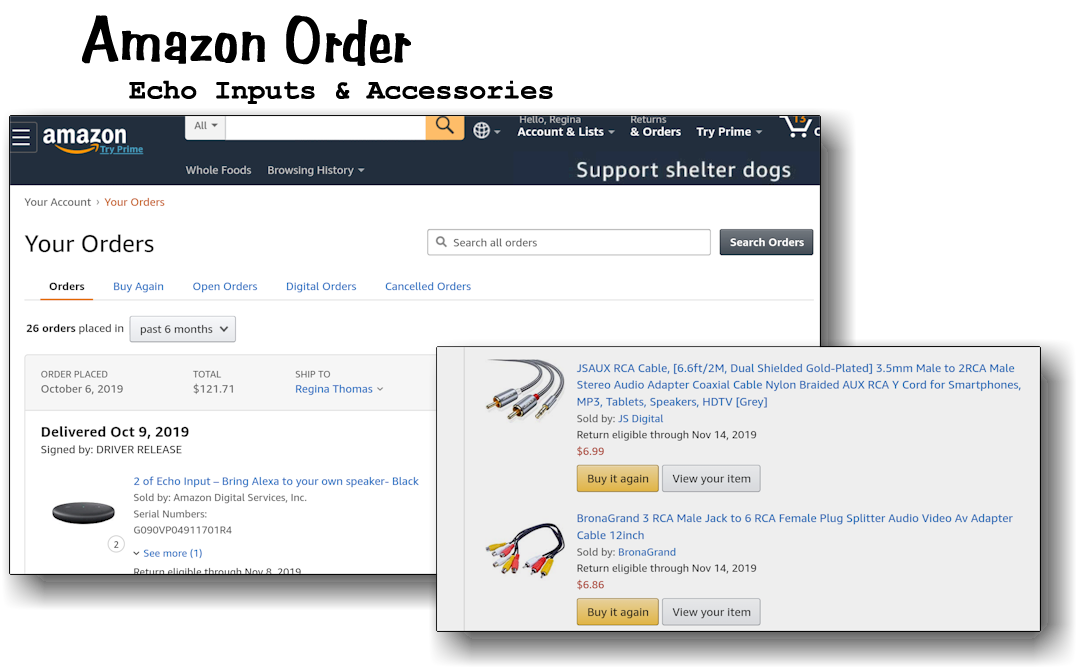 As noted in the above illustration, the order included RCA Splitter and RCA to 3.5mm adapters.
Pretty pleased with how this worked out, in that we already had the bookshelf stereo system and standalone amp speakers we wanted to use with the new devices. Note: I needed the RCA Splitter Adapter to allow both the Verizon Set-top box and Echo Input to output sound to the bookshelf stereo system.
Alexa devices currently used in our home, include:
One of the new Echo Input devices was setup in my office.

I love being able to put on a smooth jazz station while working. The bookshelf stereo system that was already in the office, offers a lot of sound, in that the on-board equalizer offers plenty of options.

Monday, July 15, 2019
On Sunday, July 6, 2019, I damaged my Canon PowerShot A590, beyond repair. I was so devastated by what happened (rushing to pack up, I dropped it on the hardwood floor), I cried. I seldom cry.
I purchased the camera in 2008 and loved the many features this point and shot offered. I seldom went anywhere without it.
That said, the camera could only produce 8MB photos. Though my web hosts should have loved the small footprint of the images I used with my posts, my social media account offerings- looked a little shabby in comparison to others.
For various reasons, all of the images and photos I use on my business site, are hosted on my domains, and not a cloud or image hosting service, like Flickr. Digital photo size is an important factor in my environment and provides part of the rational for why I held off replacing the camera. The other reason? I could not justify the business expense.
That said, I did have plans to purchase a new camera in December 2019 (Christmas), and researching the Canon EOS M50. Late in the evening on July 6, 2019, I ordered the following bundle.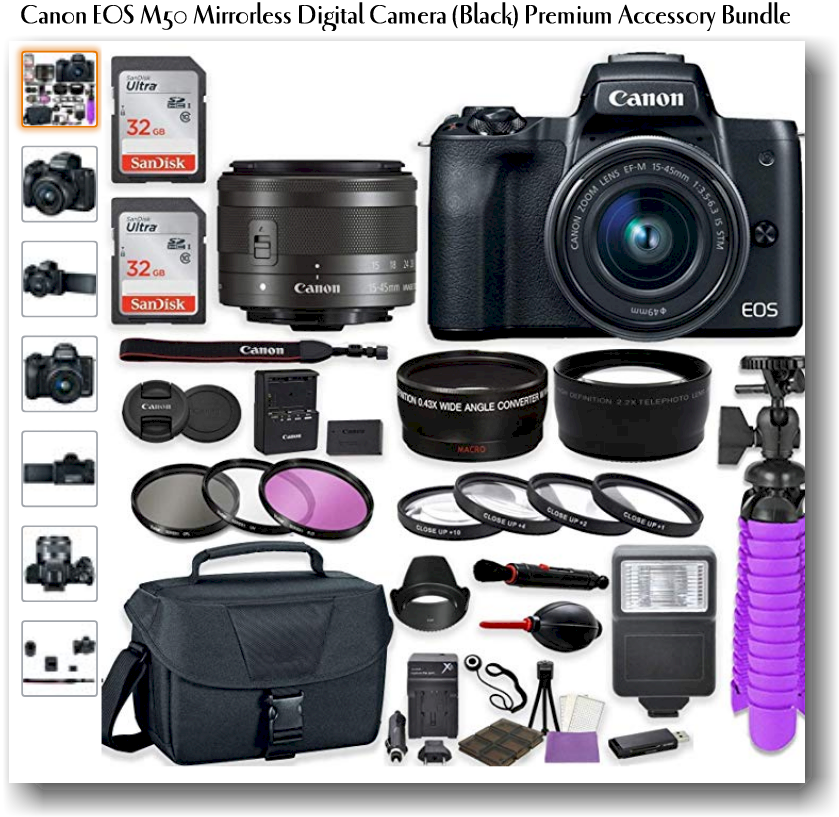 I have to say, I am very pleased with this new camera. Additional info about my purchase(s):
Love the TouchScreen Menu.
Love the Manual Focus and Portrait Features.
Also purchased BM Premium 2-Pack of LP-E12 Batteries for Canon etc..
Also purchased the Fotodiox Pro Lens Mount Auto Adapter.
Also purchased the telephoto Canon EF-S 55-250mm F4-5.6 IS STM Lens for Canon SLR Cameras- see more here.
Love the 4K Video option.
Love the Digital Slave Flash that came with the bundle.
Love the 9 different filters that also came in the bundle.
Love the many YouTube videos about the Canon EOS M50.
The following is an example using the Portrait option on the Canon EOS M50.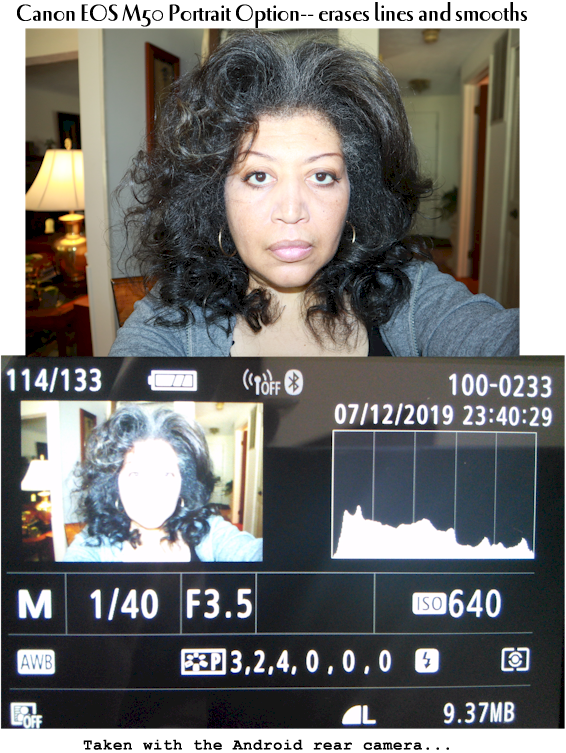 I am still playing around with the many features of the camera and other tools that came in the bundle. That said, I have found things pretty easy to understand and have come up-to-speed quickly (yes, I know the above photo, is a little overexposed). This is my first DSLR camera, and though I wanted to wait for Christmas, I am pleased with my selection.

Thursday, January 24, 2019
I have been working a number of projects, illustrated in the diagram below.
Several license/registration related renewals this year, including MVA.
Gathering tax related documents and starting my TurboTax process.
Finance moves, hoping to get the best returns on my meager savings. Switched funds in a recently matured CD, to a CD with higher interest rates. Went from 1.75% to 2.85%. Happy with the timing on all of that.
Last but not least, preparing (setting up development environments on my MacBook and WindowsXP systems) for more efforts using the c++ programing language.
Lately, I have spent a lot of time on software efforts. Several problems with API resources that have me searching for workarounds. You may have noticed issues with WiredPages.
To a lesser degree; efforts with taxes, finance and state renewals-- nevertheless important projects that I need to get out of the way. Simply a matter of gathering paperwork and submitting requests.
Maryland's Motor Vehicle Administration- in keeping with Federal law, now requiring new procedures for renewals. Happy to report, this seems like an easy adjustment to my plans and moving along.
Several in my family are affected by the Federal Government's partial shutdown so things are a bit low key. I am self employed. I have been working late hours and hoping things work out.

Thursday, January 03, 2019
I have been working several projects including updating my sites for the new year. This mostly involves updating the copyright year, i.e., 2002-2019 for site pages that provide the data.
I have also been playing around with a new audio resource. I am pleased with how this worked out. The video does not provide the actual robust audio quality, however you may get a sense of how well this works.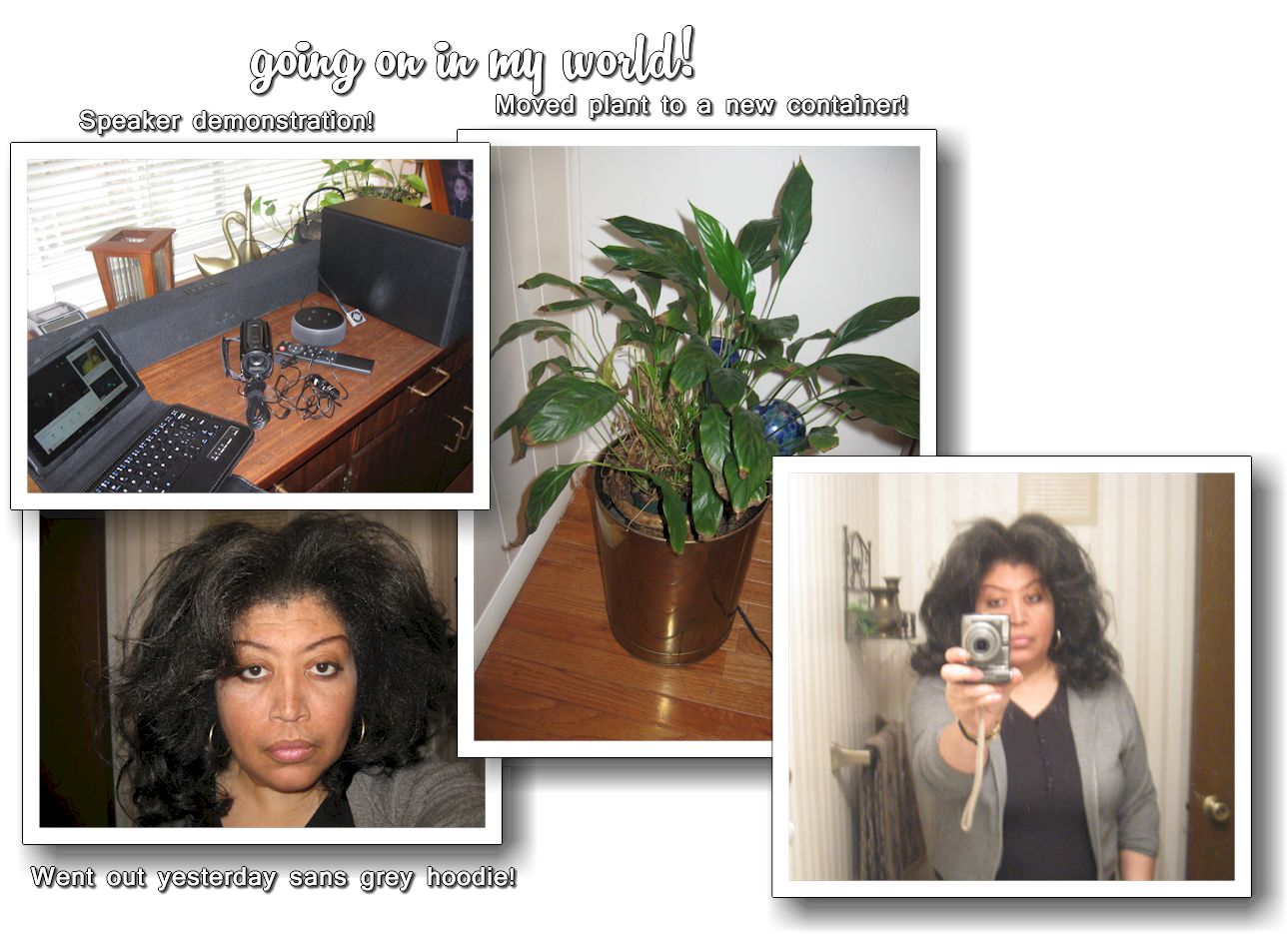 The video provides demonstration of Alexa Echo Dot, Apple iPod Mini and Youtube video via my Android as sample input audio to the 100 Watt per Channel speaker set. Keep in mind, I am still not expert in video production.
Other projects?
What's new in my hometown? My outing yesterday.
Updated the stores, including "Items I Have".
Fixing software bugs.
I missed the first season of "Counterpart" on Starz, so just before Christmas, caught up via Verizon FiOS' OnDemand feature.
Business housekeeping chores that I put off. Happy to get some of these chores out of the way.
This year, I spent a lot of time planning for the holidays. I am kind of happy now, to only have business issues to worry about.

Thursday, June 07, 2018
For various reasons, yesterday was the first time I have been to Costco in a number of years. Not because I do not love shopping at Costco and not because I do not have a household membership card in good standing. I do.
That said, somethings have changed since my last visit to Costco.
My bank cards now use chip technology.
Visa can be used as a credit card at checkout (in the past you had to use a bank debit card with the pin-- still the case with MasterCard).
The card reader shown in the illustration on the right is similar to the card readers the cashiers use at Costco, in that they have both a card swiper on the right side and a card reader at the bottom for cards using the newer chip technology. Both my business and personal check cards use the chip technology.
By the way, did I mention that because I do almost all of my shopping online with a rewards credit card not associated with a bank account, I had never used the bank issued card associated with my personal checking account before yesterday? I opened my business checking account in 2004, however the new business card issued about 4 years ago with the new chip technology has also never been used.
Anyway, yesterday as I am checking out-- the cashier asked me to swipe my 3 year old never used [personal bank checking] card. I try several times to use the right-side card swiper and fail. Then she suggests I use the chip reader at the bottom. No, I did not have my readers on. Again it fails. The reason (this time)? I did not leave the card in long enough.
I like thinking I am well versed in computers and new technologies. That said, for some reason yesterday, all of this simply mystified me. The cashier finally asked for my card, and made easy work of it all.

Friday, June 01, 2018
Some are aware, I use my news service, WiredPages to showcase my custom software tools and interfaces.
Its primary function has always been to provide "real" demonstration of my software widgets and tools, allowing visitors an idea of the type of customization I [QiSoftware] offer.
I have provided this information in the past, however feel new visitors may not understand the primary intent of the news service [WiredPages].
As indicated in an earlier post, over the last two or three months, I have been working to repair most of the tools.
Security issues caused by a server move [about 4 years ago] that I did not understand, prevented most of the tools from running. Appears to be mirrors and masking issues. You may have noticed, over the last 3 or 4 years though I mention the service, I rarely provide links. All of that is changing.
Visitors over the last 2 months may have noticed- things are beginning to work, however I am still holding off on the installation of some of the updates or new tools.
Today, I created a new interface [Java Servlet] for the Shopping page which showcases another use of the Amazon Product Advertising API.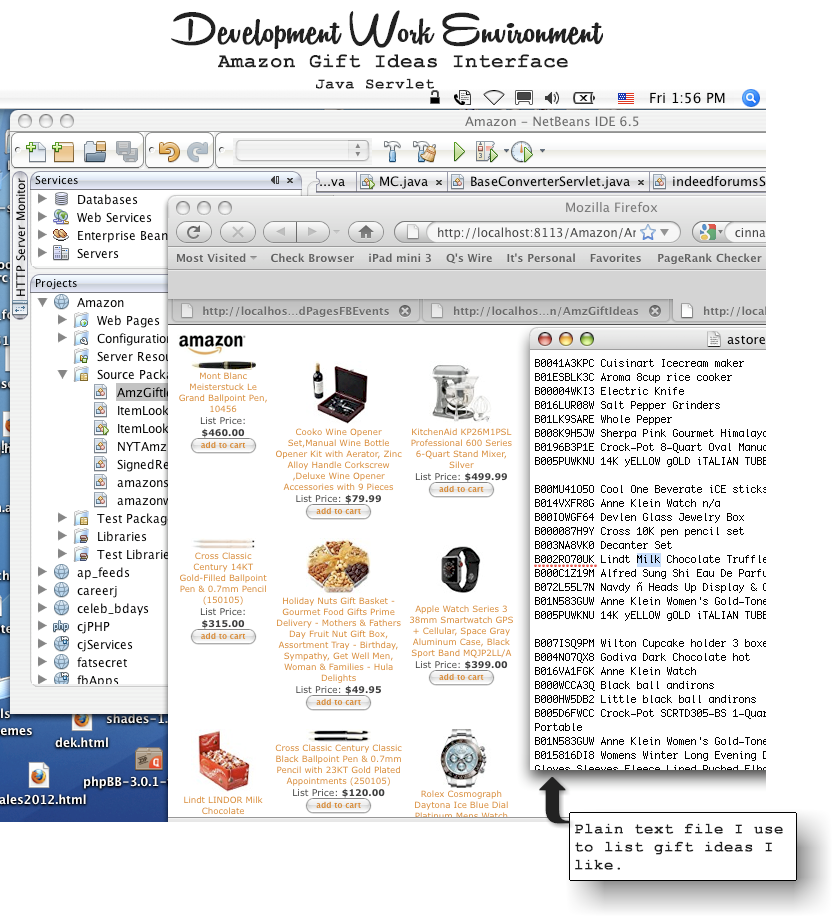 I have several tools that use the Amazon Product Advertising API, so this new tool only offers another idea on ways to integrate Amazon affiliate resources. I am not sure if I am going to install this new interface, another security issue, however I am almost finished with debug. I may also change one or two things with the appearance.

Tuesday, May 08, 2018
For reasons I am not going to go into here, though I have continued the tedious process of converting my old Java applets to servlets, I am no longer installing the updates to the server.
Work on the Quick Number Base Converter servlet was completed about 2.5 weeks ago.
Be back soon to provide details about some of my other projects and activities.

Friday, April 27, 2018
Among many recent updates to WiredPages (WP), the Basal Metabolic Rate (BMR)1 calculator maintained on the WP Health page was updated from a Java applet to a servlet.
The illustration above taken before work was complete, however I wanted to show the difference in the applet version versus the servlet. Updates like this conversion now allow visitors using mobile devices to interact with many of the WiredPages interfaces that were originally developed using Java applet technology. Typically, mobile devices, i.e., iPads, Androids, tablets [stand alone] and phones do not support Java applets.
Briefly, some of the other recent changes:
Added a new Dictionary interface to the Reference page.
Added Famous Birthdays to the Style & Events page. (Did not update the online birthday database with the master version I use off-line for software development and testing. Security issues, however the current online version is pretty robust.)
Updates to the interfaces on the Government page.
Slowly, updating links on most of the pages.
Yesterday I decided to take a break from software development. I went out to take photographs for business community projects. See my social media link icons, top right sidebar.
Today, again I did not pull out my Macbook [used for software development and illustrative documentation screen-grabs].
It has been a busy 3 or 4 weeks insofar as updates and rewrites to WiredPages interfaces and I still have lots of work to do.
1BMR is the amount of energy expended each day when the body is at rest.

Sunday, April 15, 2018
Over the last two weeks, there have been extensive updates to WiredPages and the associated Busines Directory.
Over the last 3 years because of server mirrors, redirections and moves, you may have noticed the "No Authorization" message on several of the pages where security triggers have stopped execution of many of the tools that were available with the service.
Sometime ago, I started updating the underlying software for some of the tools, however put off the actual installation of the new software. Documentation of this work, provided in Remix blog posts.
Over the last two weeks, because I decided to prepare to re-establish the news service [WiredPages], I found many of the tools broken because either the data source updated their offerings or unusable because the "Java Applet" is no longer supported by newer browsers or tablet devices, i.e., iPads, Androids
To be honest, I had no idea so many of the tools were in disrepair and I have been working 12 hour days to fix the problems. I still have a lot of work to do.
That said, I wanted to give you an idea of what I have been doing [and where I have been doing it] for most of the last two weeks.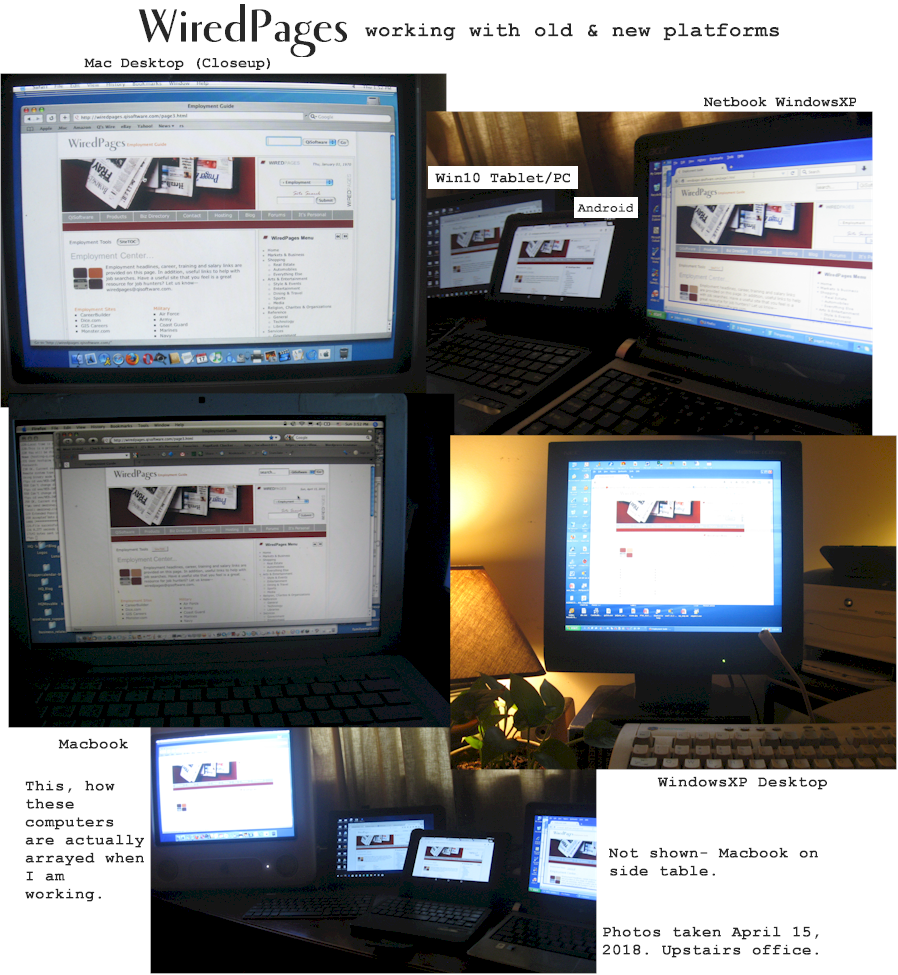 I use the Macbook for software development and the other platforms to ensure the new tools and site updates work on as many systems as possible. Some of my computers are very old and most of my pages and tools still work in those environments-- as well as new.
When will I finish? I used to work 12 hour days just to ensure the site and its tools were in working order. Yes, I also liked adding new tools. So the answer is- not sure. I am busy and actually miss working software issues-- so I am not unhappy about this-- just a little tired.
What's been updated? Will update this later, however here are a few examples....

Saturday, April 07, 2018
Normally, my software development efforts are discussed in the Remix blog, however because of the many projects ongoing, I have chosen to use this less formal setting for discussion of my latest interfaces.
First, recent visitors to WiredPages will notice I updated all of the AP News Headlines interfaces. The following illustrates both the new interfaces and how they used to look.
When I developed the original interfaces, I used a combination of Java applets & servlets. Now the interfaces are comprised of only servlets. The reason? Many desktop browsers no longer support Java applets and mobile devices, i.e., iPads, Androids, etc., never supported the Java applet.
The following pages [WiredPages] have new AP News interfaces:
You will notice, some of the pages [WiredPages] still use Java applets. Firefox and MSIE are able to run the applets, however you need to set the security settings to enable engagement.
The Java applet shown in the illustration above [lower image in the illustration], was taken from a recent screen-shot using my Windows10 PC/Tablet and the Firefox browser. This of course, before the interfaces were rewritten and online versions updated.
Some of the WiredPages tools that use Java applets have been rewritten using only Java servlet technology, however I will not update the online versions until I workout security issues.
The second interface just completed, is an interface that provides visitors with the latest New York Times Best Sellers [books] and the Amazon link for purchase.
The interface illustrated above uses the following resources:
Amazon Product Advertising API
New York Times API
Java Servlet Technology [Java Servlets run on servers and are typically faster than other server side programming/scripting technologies.]
The new interface is ready to install, however I am still deciding where to showcase the tool. Options include: the QiSoftware Products Catalog or the Libraries page of WiredPages. Yes, security issues also a factor in when the interface will be installed.

Tuesday, March 20, 2018
Over the weekend I received a package containing a new drive for my android and a case for my RCA Cambio Windows 10 Tablet/PC. I am so pleased with both items.
First the tablet case. About 3 weeks ago, a spilled coke splattered near my Windows 10 Tablet/PC causing the plug-in keyboard that came with the unit to malfunction. Luckily, I had an extra Anker Bluetooth Keyboard which works great.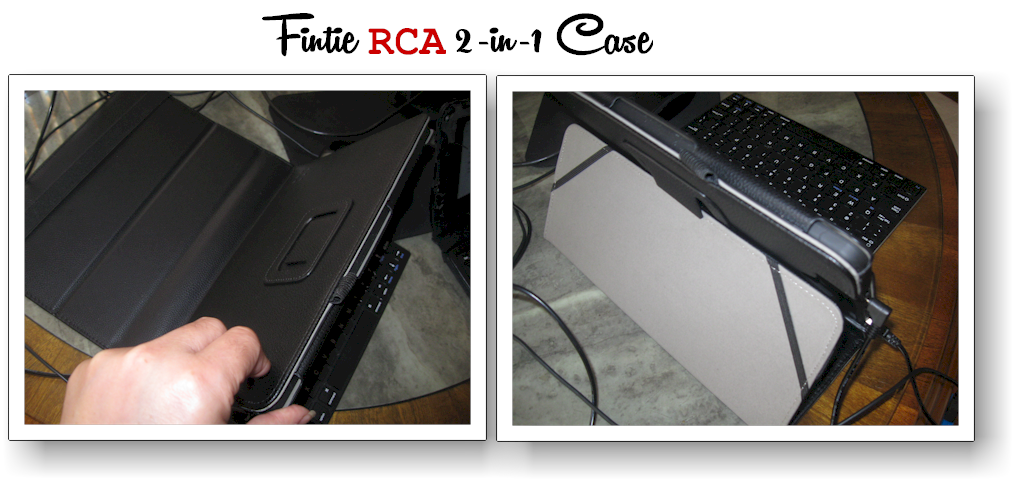 The old keyboard was part of the casing for the device, so the new case now holds both the tablet and bluetooth keyboard that I am using as a replacement. This also, worked out well.
Now the SanDisk Ultra Dual Drive. My Android operating system version is 5.1.1. Shortly after getting the device, I rooted it enabling print service to a USB printer via an OTG connector and USB cable. Initially the root process also allowed me to use USB flash-drives with OTG cables and hubs.
Recently, I somehow changed a setting that although continued to provide printer support via an OTG connection, disabled access to USB flash-drives. I tried any number of things to correct this problem, however was unsuccessful.
After reading reviews for the SanDisk Dual Drive m3.0, I was hopeful that I could once again port items from my Windows10, WindowsXP and Android using one drive and was pleasantly surprised when the SanDisk Dual Drive did the job.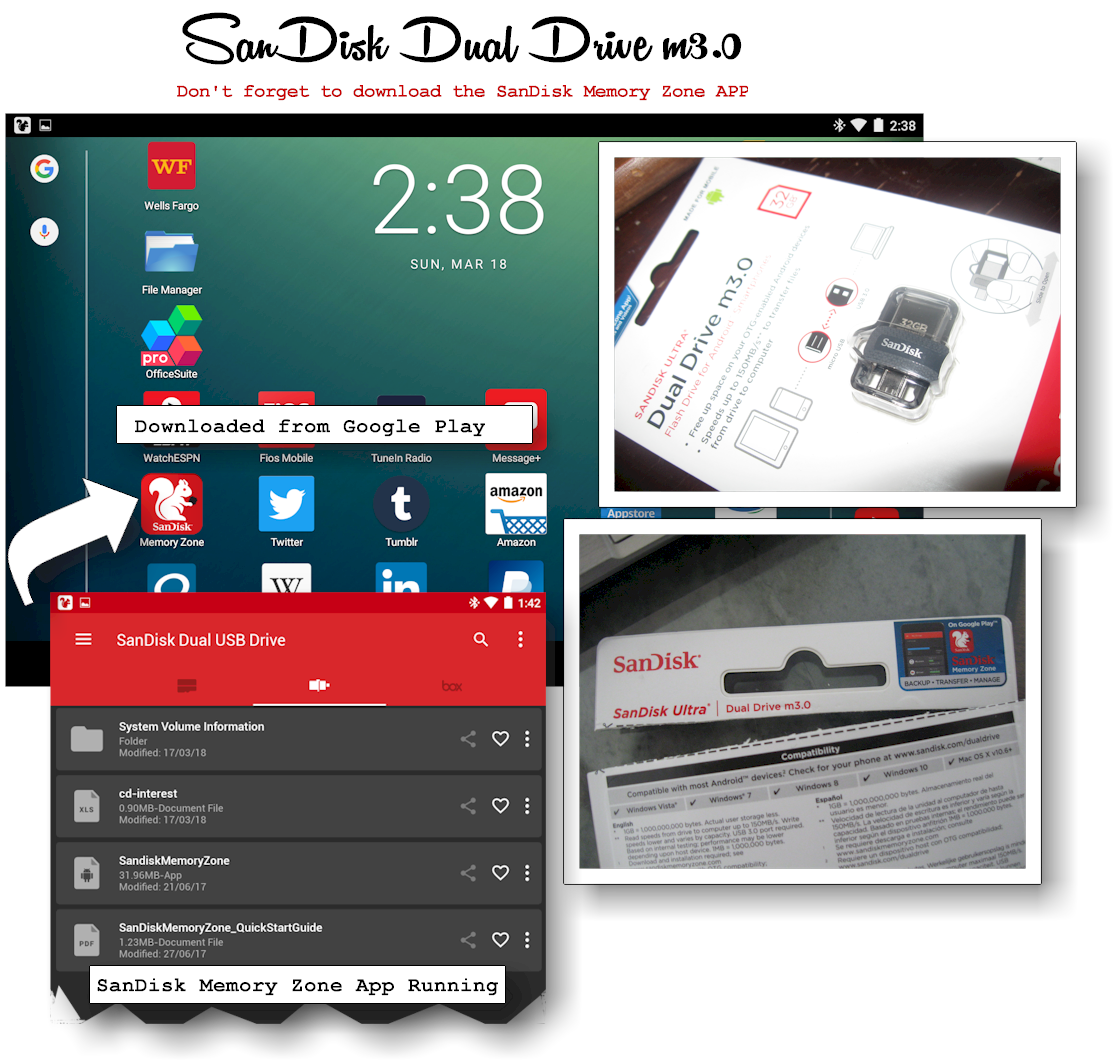 I added the SanDisk Ultra Dual Drive to these stores: Items I Have and Computer Electronics/Home Office.
What else have I been up to?
Also, you may have noticed I added a new category to this blog, Finance, so I have been thinking about relevant material as related to both business and personal finance that may be interesting.

Thursday, March 15, 2018
In an earlier post, I discussed integrating elements of the Google Tag Manager resource throughout areas and subdomains of my different sites.
My online sites include:
Sometime ago, I setup Google Analytics defining different properties of my sites for reporting purposes. I use only one Google Analytics account for all of my sites, as shown in the following illustration.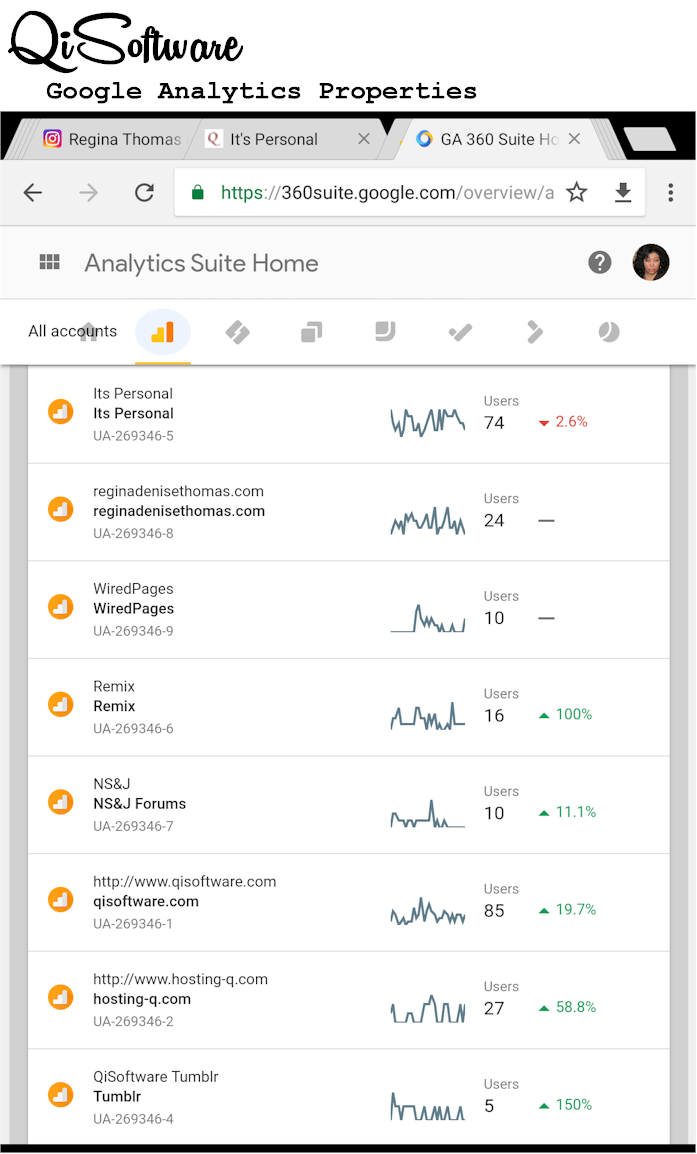 Over the last two weeks or so, I have spent a little time researching and testing basic Analytics Tag implementation concepts across different areas of my sites with emphasis on this blog and my Personal Résumé Site.
For those of you who have not researched and tested Google Analytics Tag implementation, the following video may have little meaning. Those who have, may find the video interesting. Keep in mind, I tend to capture everything and do not spend a lot of time editing nor recapturing videos I create.
Google Analytics and the associated Tag Management resource are powerful reporting tools, and in my case well worth the time and effort to come up to speed with ways to use and integrate these resources.

Tuesday, February 27, 2018
For the past week or so, I have been integrating the Google Tag Manager resource throughout areas/subdomains of the QiSoftware Site.
This process involved updates to several areas, including:
The process was especially tedious for the main site [www.qisoftware.com] area pages and WiredPages [wiredpages.qisoftware.com]. The reason? The 20 and 24 pages associated with qisoftware.com and WiredPages respectively, are not maintained using a traditional content management system, e.g., WordPress or Drupal. In other words, I manually edit each page using the VI Editor in a Terminal Window on my Macbook.
The reason for this self inflicted tedium? Initially, it had a lot to do with the template I configured to use with older browsers. I found the Macbook VI Editor inserted the least amount of ambient control tags when writing the files which tended to help older browsers render the pages correctly.
Today, because of security issues I have with the site, if there are non-linked mirrors, it is harder for someone to pretend the pages of the mirrors are official versions, if changed. In other words, it makes it harder for others to change my pages.
Remix and this blog are Thingamablogs and the Forums- phpBB, so the task was easier with these content managed site areas.
In addition, to the myriad of code tags pasted into the headers of pages and variable fields, minor cosmetic updates were incorporated into the pages of the main site [qisoftware.com] area.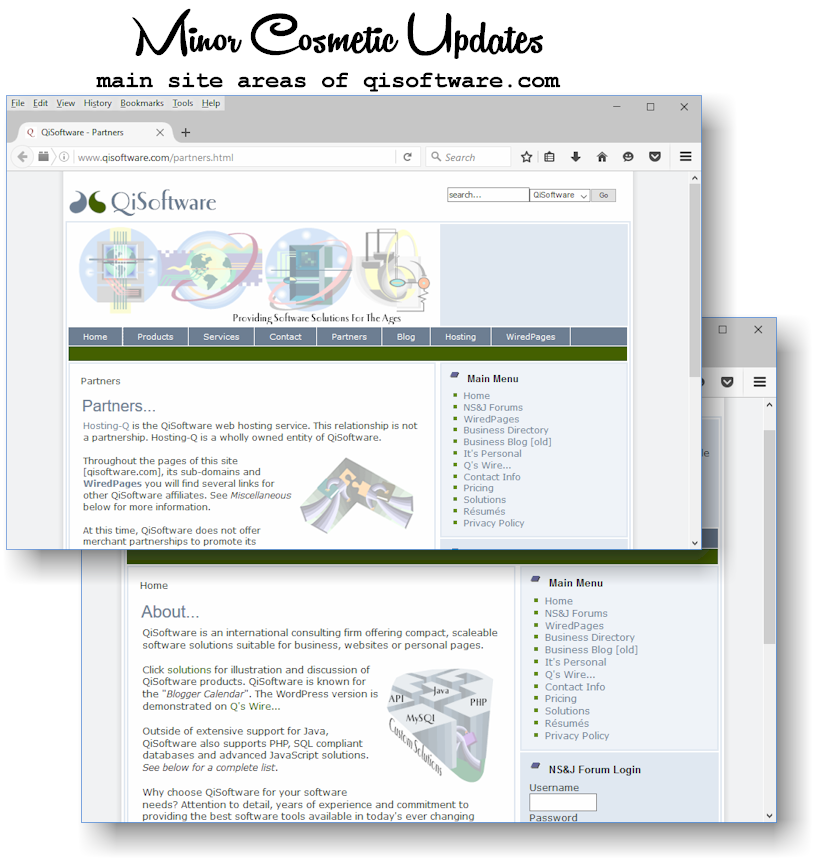 WiredPages updates? Although, I have rewritten some of the applications I maintain on WiredPages, I did not include the new versions on this series of updates. The updates recently integrated only dealt with integrating Google Analytics reporting code tags to the underlying elements of the pages.
I hope to republish the fully working version of WiredPages in the near future, however because of security issues will not attempt this task until I am assured my code is being used in the manner I intended.

Sunday, February 18, 2018
In late 2016, we ordered new handles for the refrigerator in the kitchen. The handles had turned slightly orange with age. Thursday, I finally decided I would attempt to install the new handles.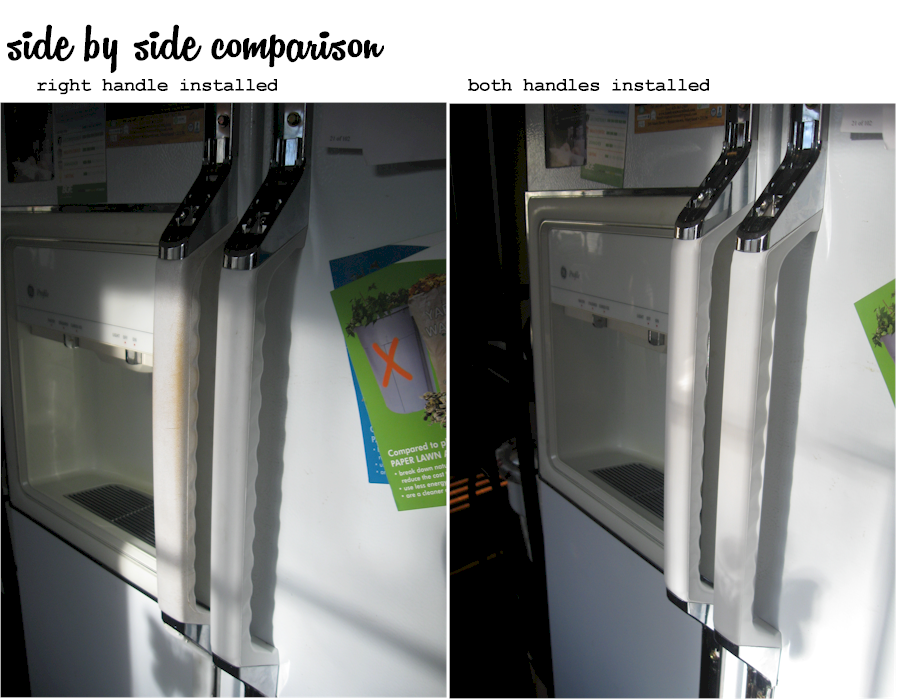 What took so long? Even though I found any number of DIY forums that explained how to install the handles, when I first tried to wedge a knife between the trim and the frame I could not get it to budge.
Thursday, I used a flathead screwdriver I found in the kitchen utility drawer which did the trick.
FYI: You are also going to need a special screwdriver that has a tip with six points as shown in the illustration below: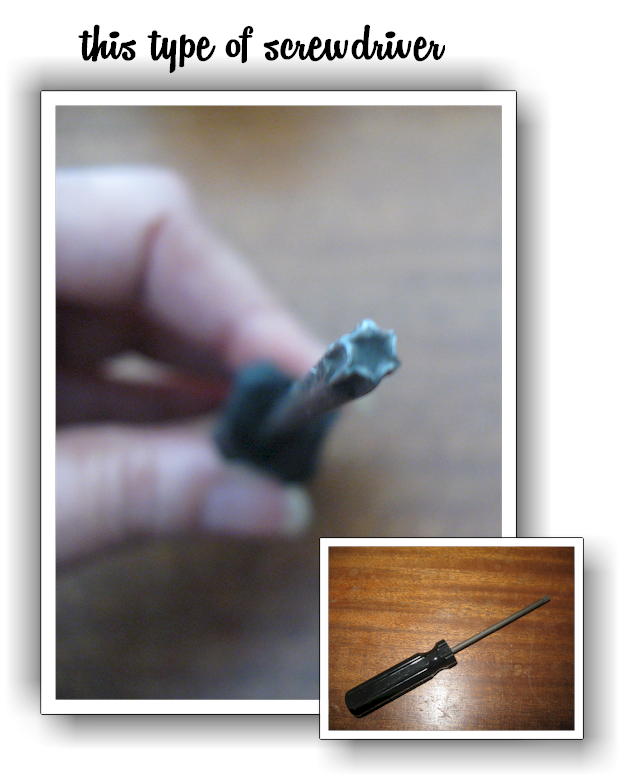 Products discussed in this post:
Are you in the mood for your own DIY projects? Since getting our Alexa Echo [Christmas 2017], I have been researching the many appliances coming out that are "Alexa" enabled and added a few of the more noteworthy items to my store.