Friday, March 03, 2023
Yesterday, I was working on a project which required the installation of a licensed copy of Microsoft Office 365, on the new HP Windows 11 laptop acquired over the holidays.
One of the subtasks involved creating an Excel spreadsheet, which once completed, I wanted to print to an older Brother Monochrome Fax/Laser printer.
I plugged in the USB cable from the printer to the new Windows 11 system and noticed it recognized the printer, however the print driver was unavailable.
Plug & Play was not available for either of my older printers while connected to the new Windows 11 system. My older printers include a Brother 2820 Monochrome Fax/Laser Printer and one of two- Konica Minolta Magicolor 1600W Laser Printers.
How did I resolve this dilemma?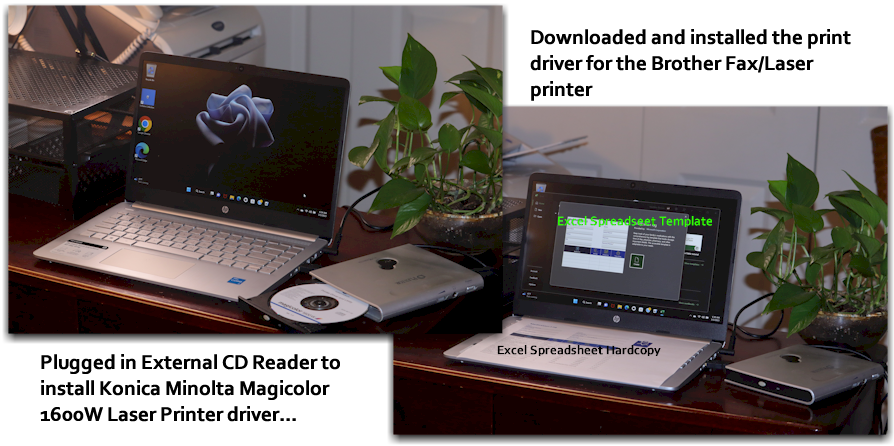 I used the CD disc that came with the Konica Minolta Magicolor 1600W Laser Printer to install the driver and for the Brother 2820 Monochrome Fax/Laser Printer, I downloaded the driver for the Windows 7 platform.
The manufacturer, Brother claimed the Windows 10 operating system came with a built in driver for the fax/laser printer, the reason I had no option but to download the Windows 7 version. Windows 11 is so new (and probably the printer is so old), Brother did not offer a Windows 11 download version for the printer.
Both drivers installed correctly on the Windows 11 laptop.
Why not purchase a color wireless laser printer? Do not use hardcopy print enough to warrant a new printer, however did consider this printer.

Friday, February 24, 2023
Yesterday, I installed a more robust version of the new site, MarylandBloggers.com.
This evening as I was finishing up, I decided to make a short video of the major update (first element listed below), I added today.
Added a JQuery Hamburger Menu to the top left area of the site.
Several minor issues with design and spacing.
Researching promotion avenues.
Created one or two new graphics.
Why is the Jquery Hamburger element a big deal? Well it took most of the day for me to customize it, and have it work with my custom site design.
You may have noticed my real estate site, uses a hamburger menu and yes, I installed the site.
That said, the menu for that site came with the template I decided to incorporate, and though I did not have to rework the hamburger menu, I did have to rework several other areas on the real estate template I found.
Initially, I planned to develop a new online MySQL database for marylandbloggers.com, however decided some of the feedback suggested I needed a more secure way of storing data for the site.
Thingamablog has a robust database that for the time being- will suit my security issues. I like Thingamablog because the entire master copy of the database sits on my hard drive along with external backup drives.

Tuesday, February 14, 2023
In an earlier post I discuss issues related to producing videos for online consumption. I wanted to provide more details specific to my production efforts.
First, allow me to discuss the equipment I use for video production.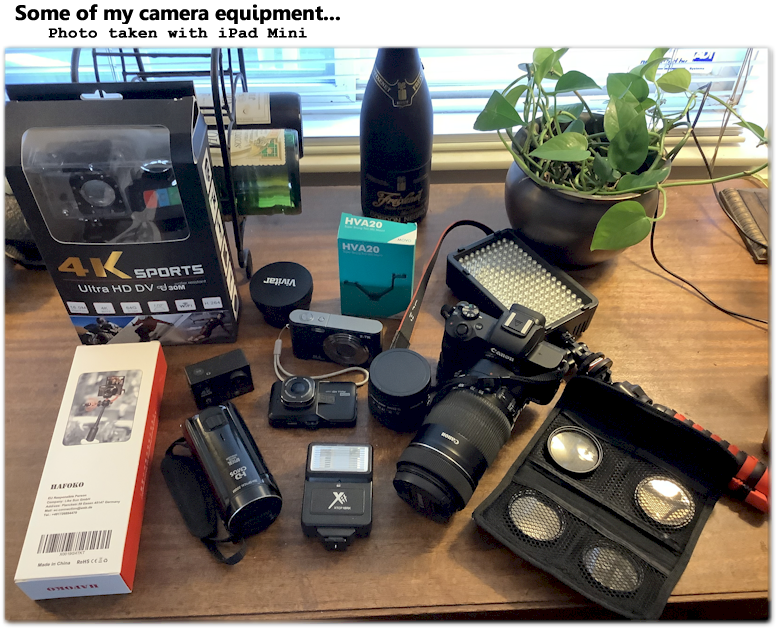 Starting in the back on the left:
Accessories for my action/sports cam
Vivitar magnification lens for my Canon M50 (one of several that came with my camera)
Dual Shoe Bracket for lights, microphones, etc.
Ultra High Dimmable 168 LED Video/Photo Light
Hafoko MT16 Mini Camera Tripod
Action/Sports Cam
2.7K Ultra HD mini Video Camera. Used for Zoom meetings.
Canon EF-M 15-45mm STM lens came with Canon EOS M50 Bundle
Canon EOS M50 Camera with Fotodiox Pro Lens Mount Auto Adapter, Canon EF-S 55-250mm
HD Dash Cam
Canon VIXIA HF R700 Camcorder
Digital Slave Flash
Not shown the Lavalier Microphone and 53 inch Camera Tripod
Some of my camera equipment is no longer available- the reason the link is not provided above.
Software I use includes Microsoft PowerPoint 365, Active Presenter, and Any Video Converter.
On Thursday, February 9, 2023 after finishing my weekly shopping, I took out one of the cars that I rarely use. I also decided to mount the dash cam I never use and ride around Hanover, MD where I reside.
The following Youtube video, shows part of my drive around Hanover and then the Chili I made for Super Bowl Sunday. As I have already explained, I used the dash cam for the tour footage and the Canon VIXIA HF R700 Camcorder for the Chili cooking footage. P.S. I should have removed the time stamp if I was not going to set the date on the dash cam, however I forgot. The stamp shows 01/01/2015 however the footage was shot around noon on February 9, 2023. Landmarks can be used as a guide.
Based on review of the video, do you wish to discuss the hair cut I need, which I mentioned in this post?
On Saturday, I received the mini tripod shown in several photos below, and I used for the cooking portion of the above video. I am pretty impressed with the mini tripod in that it actually supports my Canon EOS M50 with the telephoto lens and adaptor.
Video editing is very time consuming and I am not sure how others find the time for these endeavors. Maybe only those who can afford to produce these videos are seeing the profitability in this type of work.
So why am I continuing to purchase equipment for this type of work? I purchased the new mini tripod using a gift card I recently received through one of my banks. I have other interests like my ecommerce shop and real estate. I can justify the purchase of this type of equipment for other projects.
Video production errors with these experiments that I believe I have learned from include:
Hanover Tour video- should have removed the audio track.
If not removing the audio track, do not try to move the camera while filming.
Though I may find a use for dash cam footage in video production, I think it will be rare.
Clean the windshield.
Ensure cameras in storage for any length of time have the correct date set before filming or set the time stamp feature off.
No, cannot add video producer to my resume.
Background noise in the cooking segment is the television. Happy I did not have to add any voice overs for that segment, however I probably should have recorded without the television.
I think Active Presenter is a powerful video editing tool and I would recommend this software. I simply cannot figure where I can find the time to perfect my skills in this area. That said, I do feel I am well versed in the use of Active Presenter if you have any questions.

Friday, February 10, 2023
Recently, when the admin for the Facebook group, MarylandBloggers polled members about blogging and other content creation activities, I noted of the 15 or so respondents- only 23% were still blogging.
That said, most indicated they were using Instagram more (29%), while a smaller percentage were creating content for TikTok and Youtube.
I have been researching Youtube bloggers, which are also known as vloggers. I have to say, that my research provides if you do not have a paid sponsor for each video, the Adsense revenue alone is probably not going to offset the cost of the equipment, software used for editing, and time required for this content creation activity.
So why did I register a new domain, marylandbloggers.com? Mainly because it was only $10.74 a year and I wanted to see if I could come up with a business plan.
I am actually looking to promote both bloggers and vloggers from Maryland. I feel effective use of promotional tools can help with other business areas, and I would like to assist other small business owners in this area.
The morning (February 8, 2023), I registered the new domain (actually renewing my real estate site when I checked to see if "marylandbloggers.com" was available), and roughed out the database schema, using MS Excel. The final version will be used for the online database which will provide a directory of Maryland content creators.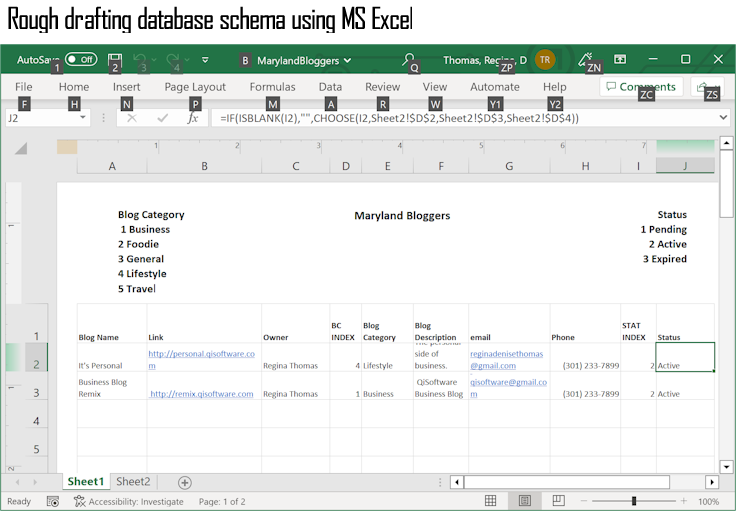 Also playing around with graphics and slogans for the new site.
This project is not a high priority for me, however I do feel that with the current state of employment issues, anything anyone can do to help the communities they are a part of, might be useful.

Tuesday, February 07, 2023
Yesterday, Maryland updated their records reflecting the change of address for my business (QiSoftware). See this Business Blog Remix post for how to search Maryland's records for current business related information.
The comptroller's office updated the records in November 2022, however, the Trade Name Program with the Maryland State Department of Assessments & Taxation took a little longer.
Though the old address will be available for a limited time, on Monday, January 30, 2023 I stopped by the post office to submit the permanent forwarding address.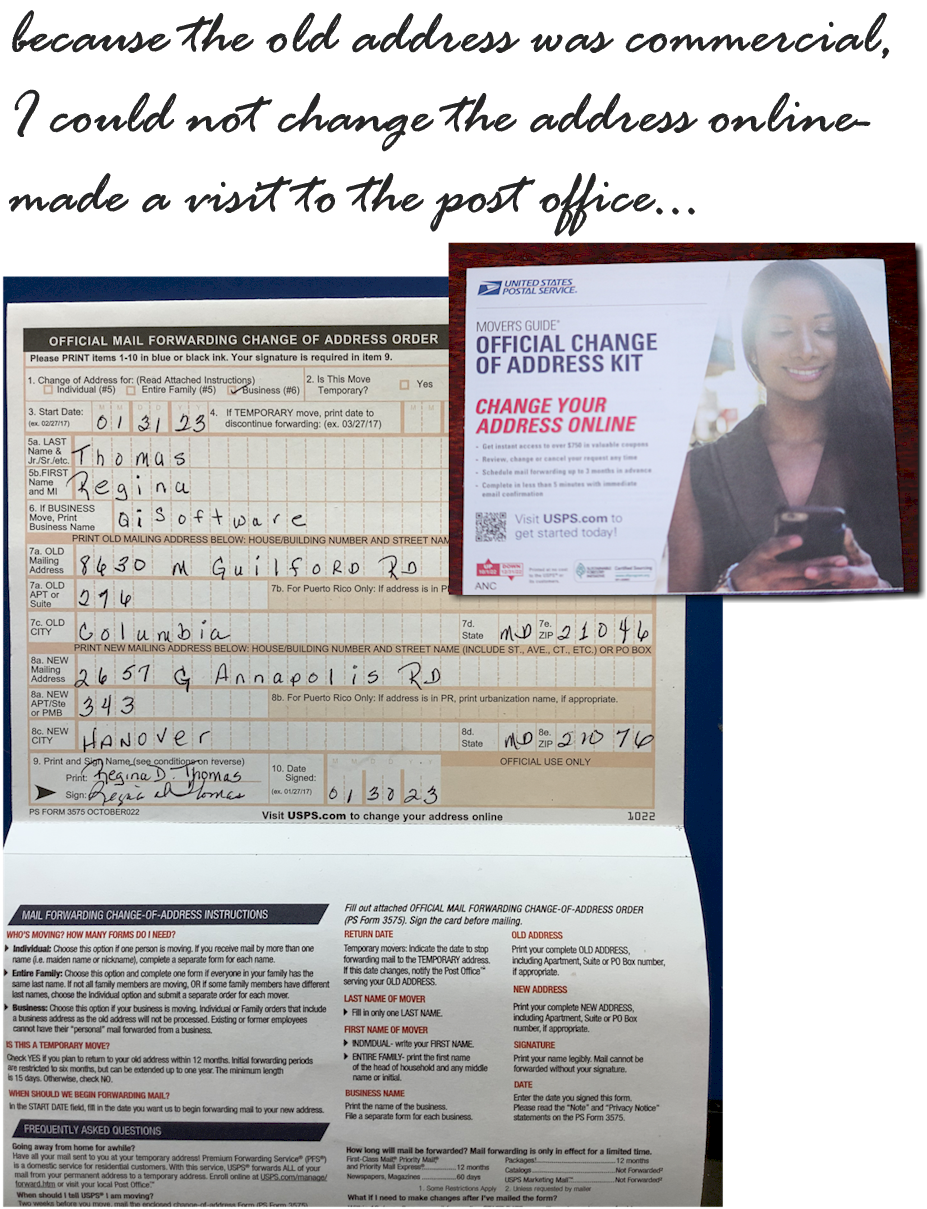 I have held the same business address since 2004 when I setup shop. The many updates I have to make reflecting the new address is staggering. Shown below, just some of the updates I have started to make.

I started the update process in November 2022, and continue to find services affiliated with my business that I need to update.
That said, I am happy the Maryland update is now official, in that my business bank required the state to update their records before they (the bank) would update theirs. I will set up an in person appointment for the bank update.

Tuesday, January 31, 2023
Every morning, I check my sites, various site analytics, and my current financial picture.
As I have discussed in recent posts; CD Shopping Update and mid December 2022 post, I have been tracking annual percentage yields (APYs) for 5 year CDs offered by two of my banks hoping to take advantage of rates in the 4.2-4.5% range.
Tomorrow, February 1, 2023- no matter where the rates, I planned to open the new CD. This morning I was a little more than surprised to learn that APY rates were down with American Express, the bank I wanted to use. I am not sure exactly when the rate dropped, but it went from 4.25% to 3.75%.

I was so busy Monday (January 30, 2023) morning, three trips to different area markets, Columbia, MD to my business address, and then the post office to submit a permanent forwarding address for my business- that I may have missed an update on APY rates later in the day.
In addition, in the afternoon (Monday), I had several calls to Maryland taxing agencies concerning business mail I picked up earlier in the day.
On Friday (January 27, 2023), the van I use to do most of the chores would not start. Yes, I do have other vehicles available, however I allowed the van that would not start to annoy me.
Lucky for me, I noticed a charger my brother used once and I purchased something similar not long after. I used the charger to start the van, and then reconditioned the battery (button on the charger), however did not do any of the shopping I planned for Friday. I waited until Monday. I was so happy I could get to all of my shopping and Columbia that I was not going to do anything but handle issues that came up.
Translated, the (AMEX) bank CD rates going down did not jump up and scream like all of the mail from my business address.
This morning, wide awake and happy most of my business issues were resolved, I got back on track and discovered I missed the CD American Express bank rate change that was lower.
Before eight this morning, I opened the new CD with Synchrony for 5 years at 4.30% and directly set up an external transfer from the American Express savings account to the new Synchrony CD account.
I decided not to bore you with some of the details, however to change a business address in Maryland seems so hard I believe they want me to ask an attorney to do it. I set up the business, I am not sure why I need an attorney to change the address. That said the Comptroller of Maryland (taxing authority) had no problem updating the address when I sent Form 109-B MARYLAND CHANGE OF ADDRESS FOR BUSINESSES in October 2022. One of my calls on today- spoke with Brittany. I also registered with bFile the interactive business tax filing service even though I have had no sales since setting up my ecommerce shop. I file something known as a ZERO Return each quarter.
When I check the APY rates tomorrow morning, I am not going to scream if Synchrony's rates are higher.
By the way, I think all girls with vehicles should have automotive accessories in their garage similar to these in my garage.