Thursday, May 28, 2020
I have to be honest and explain I have been eating in- for awhile now, even before most U.S. and world communities began observing stay at home guidelines. The main difference in my situation- given the global health concerns, I rarely went to the market to shop before the guidelines were in place. Now, I do almost all of the shopping.
This to explain, why many of my old favorites from restaurants and Mom's kitchen have been part of my meal planning for years.
For example, I loved Duck Chang's (in Annandale, VA) and their Kung Pao Chicken and Sweet & Sour Pork entrées. So about once a week I make Kung Pao Chicken (once a year Sweet and Sour Pork). Photo below from Tuesday's lunch.
Another example, I loved the Western Omelets the JW Marriott (in Washington, DC) offered as part of their brunch service on Sundays. So, Wednesday for breakfast, I decided to make my own version.

Favorites from my Mother's Kitchen, included:
Enchiladas
Fried Chicken
Roast Beef
Chili
Though Spaghetti w/Meat Sauce has never been a favorite of mine it was one of my sister's, so growing up it was always on the menu. Sometimes, after I moved away from home-- coming home for dinner was just the best, even Spaghetti w/Meat Sauce. I rarely cooked when I moved away from home. Young, single, career minded. Actually, did not know how to cook.
Anyway, recently I purchased a four pound pack of lean ground beef that was on sale for $12, normally $20. I love catching deals like this. Before putting the meat into the freezer, I divided it into four, 1 pound portions and one quarter pound portion. I vacuum sealed each portion, and began planning what I would do with the meat.
This week I decided to try my Mother's Spaghetti w/Meat Sauce.
Earlier this month, I tried my version of her chili and enchilada recipes using ground beef I purchased in early March 2020. Did not take photos of the enchiladas.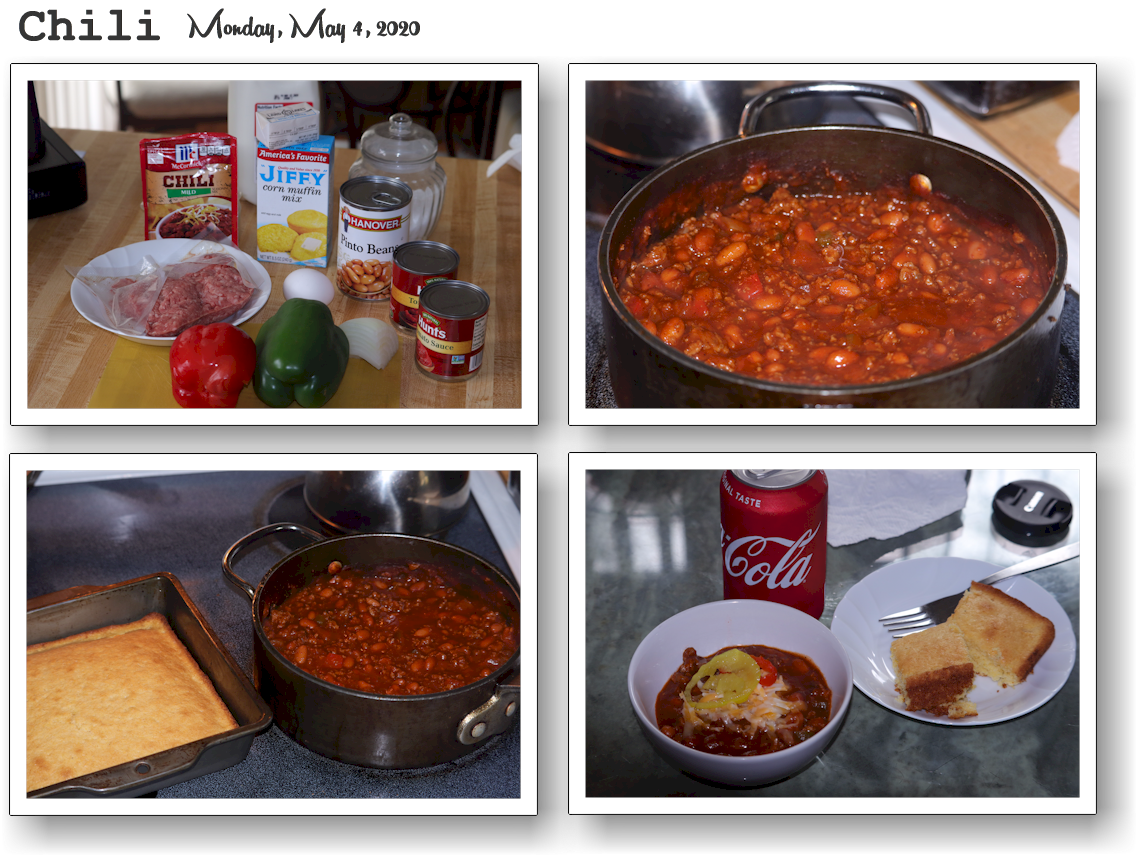 Somethings you may want to consider for your own menu planning:
Okay, with all of this shopping and cooking, do I find time for other things? Yes, the shopping takes up a lot of my time, however I am getting other things done. Many of my new tools and interfaces are ready to be installed on my sites, just looking at the same security issues and eating a lot...

Monday, May 25, 2020
We decided not to venture far from home for the Memorial Day weekend, so we stocked up on a lot of favorites to insure we had plenty to eat.
These days, I do most of the shopping and though I try to include a wide variety for meal planning, I think I am purchasing more sweets than were purchased in the past.
We are now purchasing meats in bulk and using a vacuum sealer to repackage smaller portions for daily meals. I like the choices this affords when planning meals.
For example, the meal today consisted of two ½ inch pork loin chops, purchased from Costco in bulk a little over two months ago.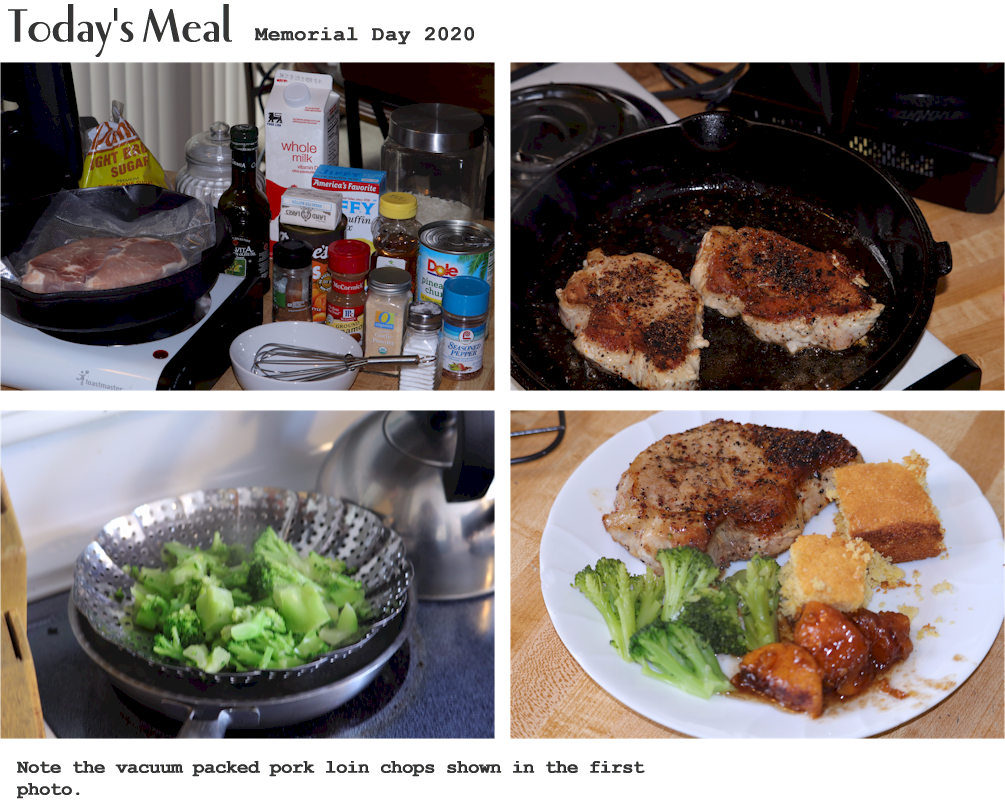 I like the vacuum sealer I purchased as a holiday gift for the house several years ago, however only recently started using it on a regular basis. Shown below, the sealer I have (no longer available) and a very popular unit- slightly more expensive.
I consider a vacuum sealer a great investment, and as I have already mentioned, love the fact I now have options in the freezer for meals.
Hope you are having a wonderful Memorial Day. Weather here- beautiful and I am finding lots to do around the house.

Friday, April 10, 2020
As I have already mentioned, I have been working several projects including a new tool for the WiredPages Media page, the NPR Station Finder.
Work on the new interface, a Java Servlet is mostly complete and ready for installation however, a slight delay because I am still checking for any issues that might be problematic.
The following graphic, illustrates how the tool will render search requests based on location.
The video, demonstrates the tool running in local mode from the Netbeans Integrated Development Environment (IDE).
The video suggests a demonstration of the portable features of my development platform is in the offing however, is provided through the following photos.

Friday, April 03, 2020
In early March [2020], I discovered because of corrosion, the faucet in the main upstairs bathroom would have to be replaced. We ordered a new faucet (PARLOS Brushed Nickel) and also decided to use Amazon's Home Services to have the work done.
The plumber who performed the initial work, although installing the new faucet, also explained the corrosion was more extensive than we thought. We would need a new sink as well. So I took measurements and went over to Lowes to get a new sink.
While at Lowes, I also found a Dracaena Trifasciata (mother-in-law's tongue or snake plant, similar Amazon offering) that I decided I had to have. When I left home right after college, my mother gave me one she had had for years, so I was happy to find another at a very reasonable price (under fourteen dollars).
This post was going to be about all of the projects I have been working lately, however the bathroom project was a big one and took a lot of time to complete. The repairs were completed by 11:00 am Wednesday, however the sink was not usable until the following morning to give the epoxy a chance to set up.
Of course, the current situation with COVID-19 a factor in scheduling of repair services--- even with our hustle to purchase the hardware that was needed for the repairs. Just happy to have that sink working again.

Monday, March 30, 2020
Recently, when I finished work on the new Amazon Product Advertising API interfaces for WiredPages, I decided to continue with other software projects, specifically an effort I put aside sometime ago.
The NPR One API resource is an interesting project, and quite frankly when I signed up over a year ago, I thought I would get back to the project a lot sooner. Part of the problem, it took longer than usual to set up the correct authorization procedures. When I finally "correctly" initialized all of the codes, I felt most of the hard work was done and it was only a matter of writing the interface.
Below, illustration of work completed on the project, with still lots more to do...
One of the biggest obstacles, I thought I could use HTML5 audio features to enable live streaming of radio programs. I could not. So I spent most of the weekend coming up to speed on a popular jQuery Player.
Over the years, I have decided against using cutting edge technologies like JQuery and AJAX because a lot of my development hardware is older and cannot support those newer technologies. However, what this has enabled me to do, is insure my sites work with both new and old technologies. My old desktop Mac can still run most of the tools on my sites without issues. Today, there are very few sites my old desktop Mac computer can visit.
Now, I do have access to newer hardware, however up until recently, my newer hardware was for testing and not development work. These days, I am using a Windows 10 Pro mini for a lot of development efforts. Updates to SSL protocols left me with little choice but to afford a newer development platform-- see the Items I Have link for more information.
So, back to my efforts this weekend... I am pretty happy with the jQuery Player I will be using for the NPR One API project, and will have to get over the fact that some of my hardware platforms will not be able to provide the live radio streams from NPR's network of stations.
The new tool is a Java Servlet and will be installed on the WiredPages Media page.

Saturday, March 21, 2020
Earlier this week, I noticed I had access to the Amazon PA API, so I decided to take the opportunity to convert my old PA API 4 tools, to the latest release (PA API 5). Efficiency guidelines, periodically disabling the resource, so this was my first opportunity to work with the new API.
I am not sure why, I thought the new release of the API would be easier to use, as related to development efforts for Amazon Product Search tools. In my opinion, the earlier release, PA API 4 was easier, especially the signing process.
That said, after some research and testing, I was able to get three program versions working using different frameworks:
Java Servlet not using the Amazon supplied SDK
Java Servlet using the SDK
PHP Version
When I install the new tools on WiredPages, I will be using the Java Servlet version which does not incorporate the Amazon supplied SDK. The following graphics illustrate how the new tools will look on the site, however [shown below] running in local mode from my IDE (NetBeans).
If you are familiar with my earlier Amazon Product Search tools, you will note the new tools are similar to the old. Updates also included new search categories. I will probably release the new tools sooner rather than later, however I am still researching security issues. Think I have found most of the program bugs.