Monday, February 08, 2016
Though I seldom work in the basement these days, I do have an office down there, too.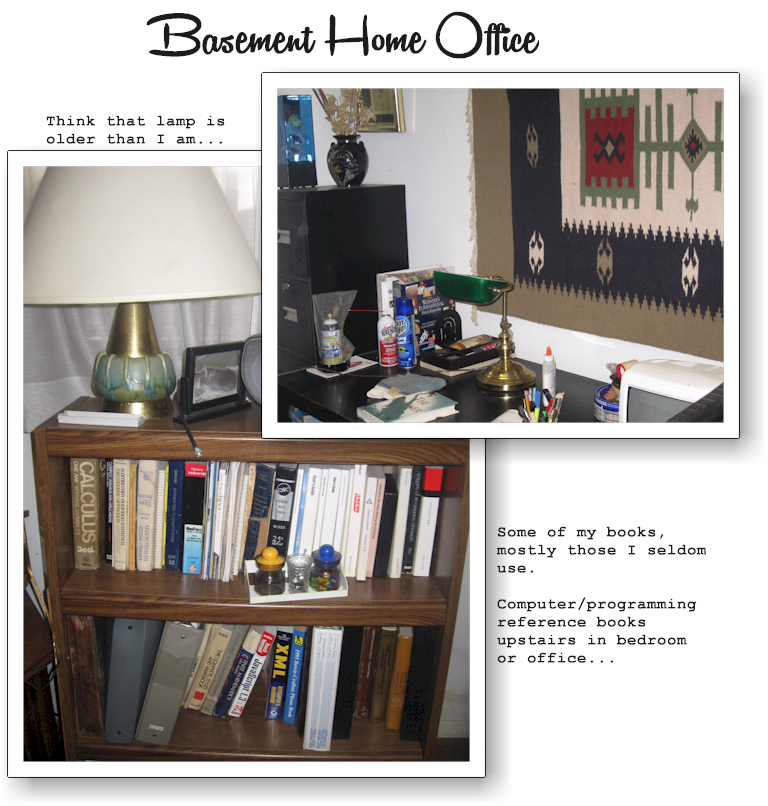 The Gateway Desktop, now in my bedroom used to be down there, along with my exercise equipment.
Mobile computing gives me the flexibility to work from anywhere in the house. The Verizon FiOS router located in my upstairs office provides coverage all over the house, yard and halfway down the block. This the reason I seldom work in the basement.
That said, before coming here-- the home office I set up in my Bowie place was in the spare bedroom. I had the huge black desk shown in the photo above. I purchased the place new and as it was my first real estate purchase, I was into decorative details.
I still have the computer chair I used in my Bowie Home Office. The other [left in photo below], is the chair I purchased when I moved here. I used to keep the larger chair in the basement-- however have since, moved it to the upstairs office.
I also kept the love seat from the first set of living room furniture I purchased when I moved away from home after college. I covered the love seat with a black cover I purchased from Ikea for the new home office in Bowie. The office was mostly black with dusty rose accents-- to match the carpet. Some of the art work that used to hang in my Bowie home office.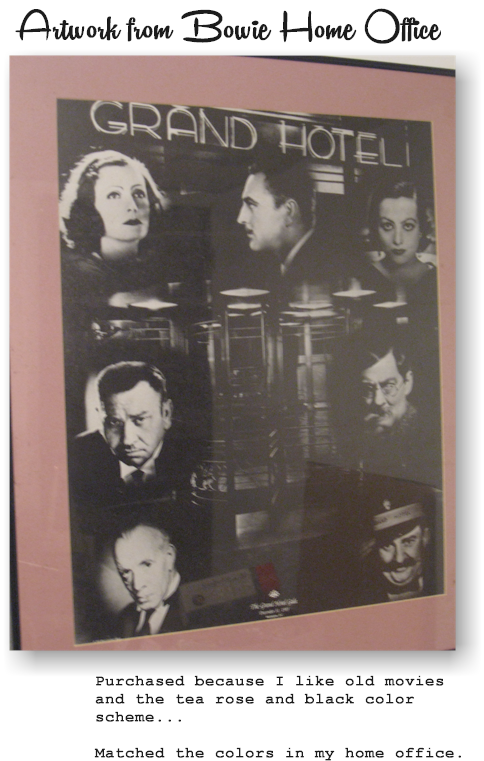 This artwork now hangs in the bedroom in the basement. Nothing here tea rose. Not sure why I keep things like this. Maybe to remind me of life before I came here.
Notable this past week? Caught two movies I thought very interesting.
Movie: Weight of Water w/Sean Penn, Elizabeth Hurley
Movie: The House of Flying Daggers [romance story like Crouching Tiger Hidden Dragon].
Updated the Amazon Widget in the upper sidebar of this blog.
Two or three weeks ago, I started watching Showtime's new series, Billions. Are you watching this series? The US Attorneys portrayed in the series had me a little worried... however, I am still watching.

Thursday, February 04, 2016
I mentioned in this post, the long leather coat I wore in high school. Believe it or not, I still have the coat.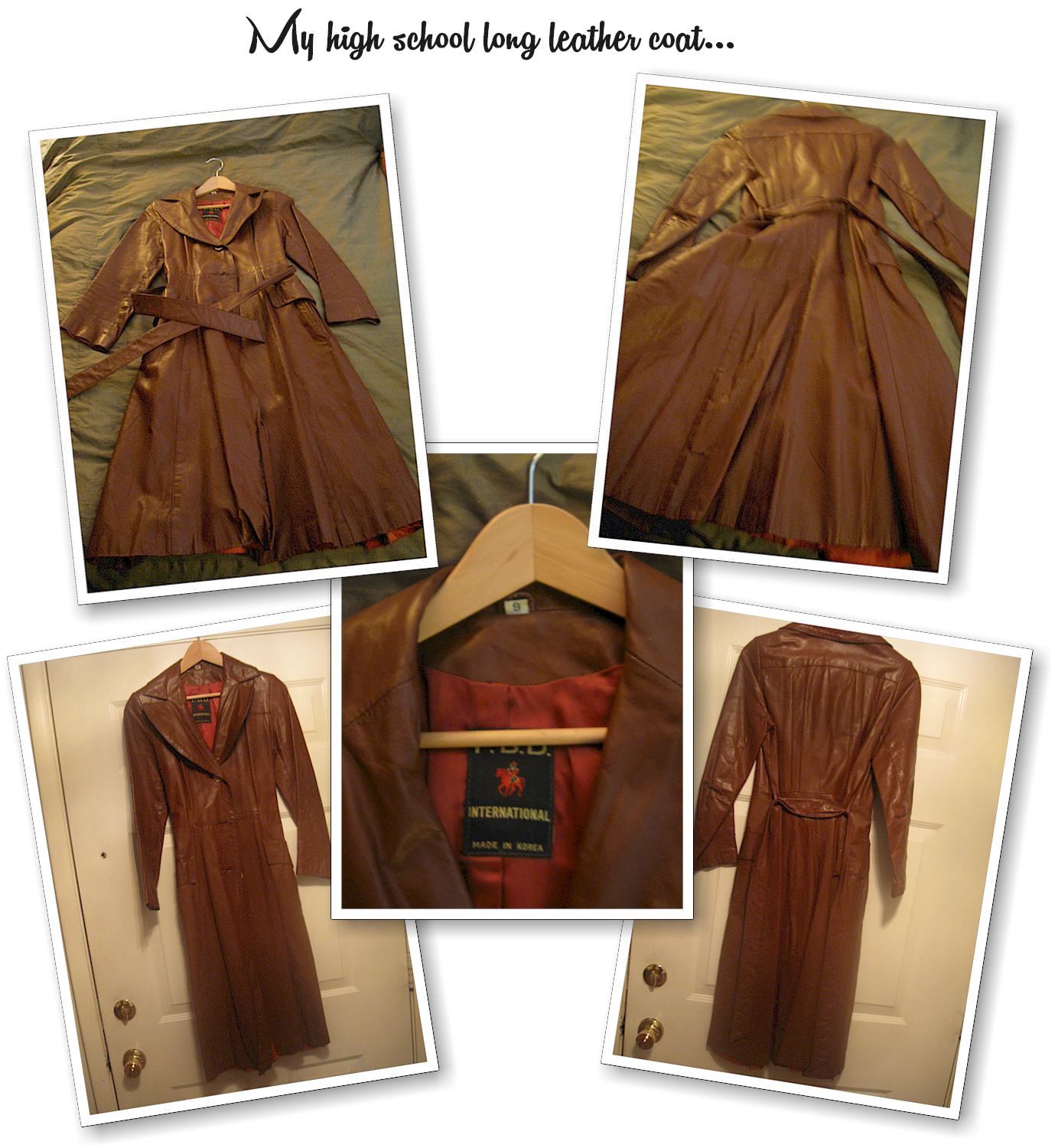 How is it, I still have the leather coat I wore in high school and early college? It is a size 9 junior and I never took it with me when I left home after college. Little tight with suits and I preferred long cloth coats when I left home.
My mother liked keeping my nicer things and I was very surprised [and happy] when she handed it to me when I came back to stay.
The house I live in has four bedrooms upstairs, and one in the finished basement. My mother and I fill all of the closets with the things we never throw out.
Moving on... We have had plumbing problems for about two or three weeks now. The kitchen sinks and garbage disposal are affected-- so tomorrow the plumber will be in bright and early. This is his second visit, in as many weeks.
Today I was out and about. I went to the bank after having lunch. Do you shop at Costco? I love Costco.
Other than updating my Amazon Stores, I really have not been doing much.

Monday, February 01, 2016
The other day, I was watching television and a commercial featuring Wallapop, caught my attention, so I decided to look into how this service worked.
After a bit of research, I found there are several services [new to me] that allow users to buy and sell in their local communities or regions. Some of these include:
So after downloading one of the apps I took a look around. Then I decided to go through my closet and look around. I found these shoes:
and this outfit I wore to a Washington, DC- Al Jarreau Concert in 1987 or so.
Styles always come back-- and although this outfit is old-- it is actually very becoming on. The dark velour/velvet like skirt comes about 8" inches from the ankle and looks very elegant with heels and long rhinestone earrings. The top is again in style with the peplum [bottom edge] detail.
I love clothes and keep most of the things I purchase, except when given no choice. I am an organizer's nightmare, however since I tend to buy more in the way of classic styles- I would probably pass on their advice anyway, in that I tend to think they are more likely to be trend setters and would want to keep nothing unless "current".
The outfit for the Al Jarreau concert does have details that tend to be more trendy [especially the top], so it is not exactly a classic-- however I could use the skirt in different ways. It is a junior 9/10, meaning it is not cut for a fuller figure and vanity sizing today would probably make it a 7/8 without the popular stretch element many of today's garments feature.
The shoes? I walked around in them for a couple of hours today, and decided they were so comfortable I would keep them. The shoe upper, mostly "just" leather with nothing to make the shoe stiff. I consider these classics, so I can pair them with many of my spring/summer dresses. Yes, I buy a lot of black for summer too.
So, I decided not to try to sell my old things. I do have one or two miscues, purchased online- that still have the tags, that are really nice-- but just do not work for me. I think I will try selling those items with one of the services.
Have you tried selling, using one of these services?

Sunday, January 24, 2016
A week ago, the National Weather Service predicted the Washington, D.C. area, along with most of the East Coast of the United States-- would be under a Blizzard Storm Watch by Friday, January 22, 2016. They were right.
It is beautiful, however I am glad I do not have to be anywhere- anytime soon.
It is also very cold, so I am not sure how long it is going to take to melt.
We installed an Indoor/Outdoor Thermometer several years ago. The outdoor sensor is under the porch overhang and the companion device that measures indoor temps and reports both readings, sits on the wall adjacent to the front door and hall closet.
Pay no attention to the time reading, I reset the device last week and forgot to set the time.
In preparation for the blizzard, we stocked the fridge, freezer and pantry with an assortment of my favorites.
So what have I been doing for most of the weekend?
Movie: The Imitation Game
Tennis: The Australian Open
Fashion research. I have new sites I am following on my Tumblr blog.
Eating...
Research for my Amazon Stores:
By the way, did I tell you that last week, when I updated the Verizon FiOS Mobile app on my Android, the problem I was having viewing television programs disappeared? I watched "The Imitation Game" using my Android. I am happy this feature is working again.

Friday, January 22, 2016
When I was in high school, leather coats and boots were in style. I wore a lot of winter white back then- that I paired with my long caramel leather coat and boots or my shorter suede jacket in a more rust/caramel color.
Gauchos, knickers, high waisted baggy pants with pleats and pockets, vests, blazers, etc. I also worked in business offices part time in high school, so this is when I also started buying the little business suits, I prefer today.
I reference Knickers in the last paragraph. What are knickers? Wool short pants that fit close to the leg but taper at the knee. Like some golfers wear. My brown tweed pair actually buttoned at the knee. Sometimes I put long baggy pants in my boots [also popular back then], so that it appeared as if they were knickers.
I had a winter white pair of straight leg gauchos that were not wide but hung nicely over my boots. I do not define these as knickers because they did not taper at the knee.
I also had a long oversized brown/tan tweed cloth coat with "Sherlock Holmes" like details [not the full cape, just the pleated overhang detail in the back, with collar and cuff epaulettes] that also went well with my style back then.
Yes, I was a little conservative.. jeans? Not really, I had high waisted Painter's Pants in white that I paired with platform sandals and socks, or my earth shoes- that went well with the many little tube tops and matching gauzy blouses I tied at the waist. Tube tops underneath my tied blouses, the extent of my risqué style.
I also liked some of the styles the women wore in old shows like "The Big Valley" and "High Chaparral". Gauchos, boots and vests. Do you remember Linda Evans in "The Big Valley"?
So anyway, this to explain why- in high school I decided to make a wide leg gaucho outfit for one of my Home Economics Sewing classes.
Photos of the vest.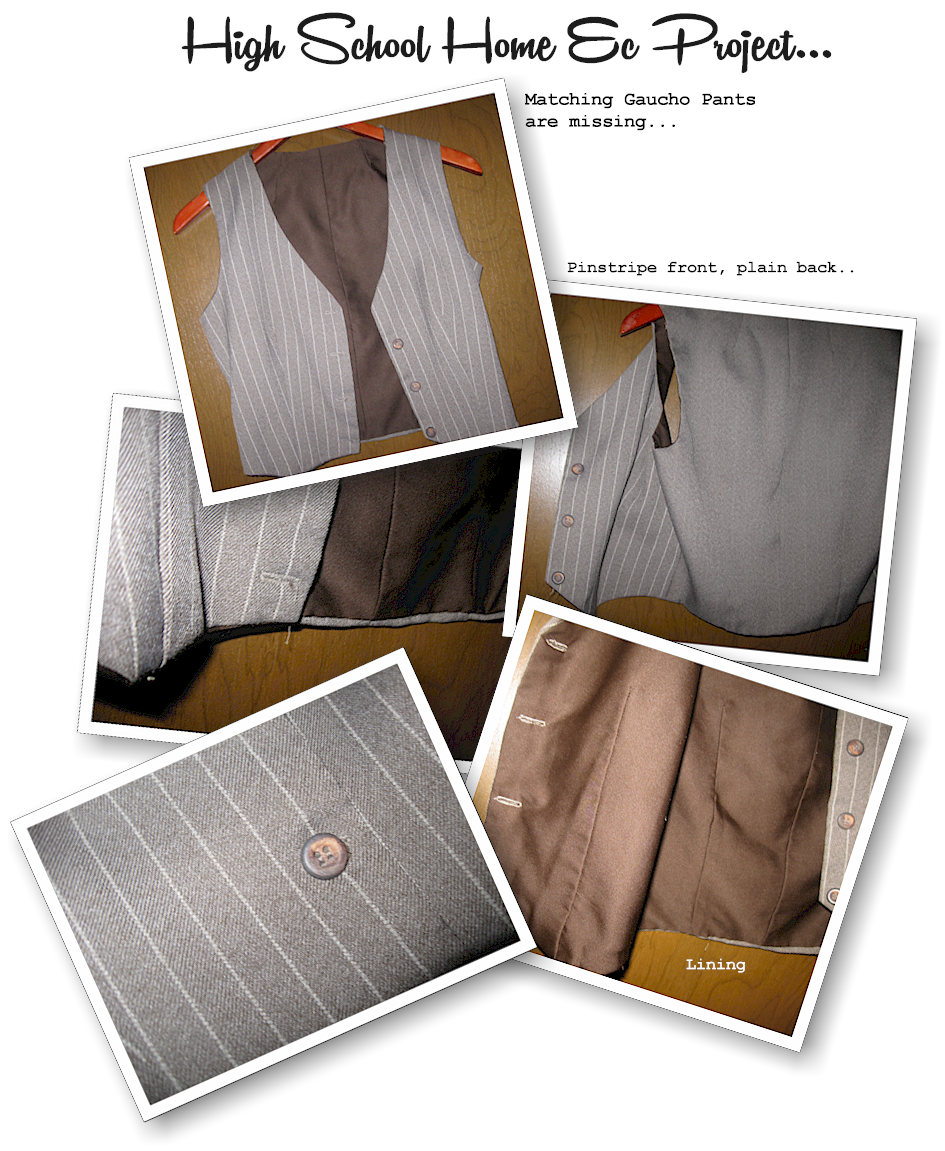 I no longer have the gaucho pants to the set. They were the long wide leg type [wide aline] that went well with boots. The material for the pants matched the back of the vest in that I opted to forgo the pinstripe detail used in the front of the vest.
Note: Everything I owned used to go to the dry cleaners, including non-lined Painter's Pants. I have had this vest for a lot of years-- and it still looks as if- I made it yesterday. The material and lining would not have held up well in the wash.
I keep thinking about how much my life has changed. I cannot remember the last time I went to the dry cleaners and in high school-- all I owned was dry cleaned. The flannel pajama bottoms and tees I now wear to the office-- hold up well in the wash.
That said, this does not stop me from researching the more classic conservative styles I love, which I cannot now afford. I am no longer a size six nor can I justify the cost of a new outfit I do not need for non-existent business meetings and lunches. I am still thinking about where to place the camera I am going to use for Skype calls.
Note, most of the Tumblr blogs I follow via my own Tumblr account, are promotional tools for well known fashion houses.
Someone once noted, I have my own style. I agree.... and I have had strong thoughts and ideas about my style since early high school. Do you watch old Gene Tierney movies?

Monday, January 18, 2016
For reasons I am not going into just yet, I did not get around to making enchiladas until today. Reminder, in an earlier post I indicated I would be making them last week. And then it was almost a disaster, anyway.
However, it worked out and they were pretty good.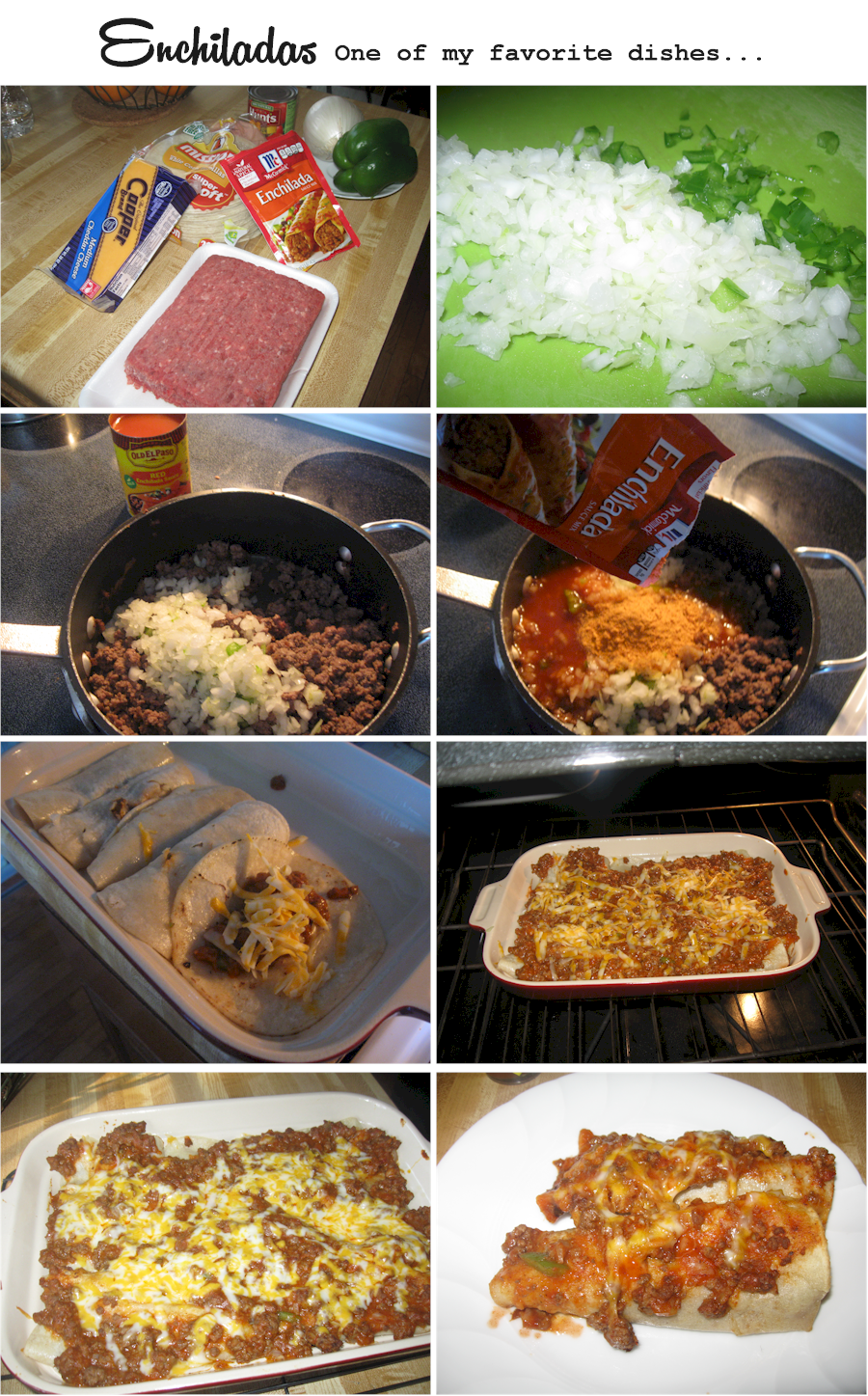 It's about 6:40 here in the evening and in about 20 minutes I am going to continue watching live first round action from the Australian Open via watchESPN.
Saturday night, I checked [via OverDrive] the status of the books I have on hold at Maryland's Digital eLibrary-- thinking if I found nothing to do during the day these next two weeks [plan on watching a lot of the tennis in the evening], I could catch up on my reading.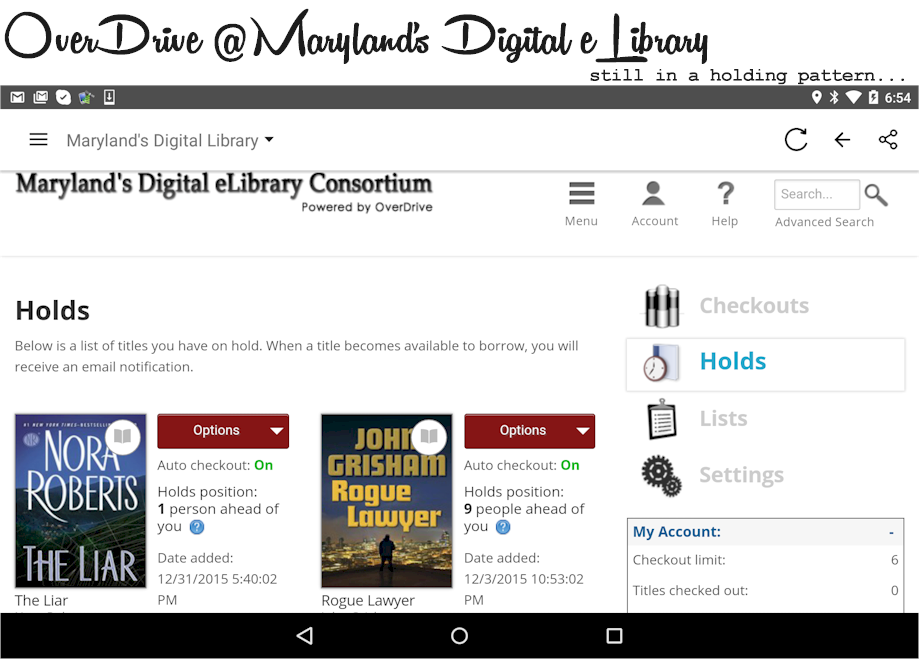 Since I am still in a holding pattern insofar as the books, things I will probably do instead:
Update my Amazon Stores, have a small issue with the Amazon widget in the upper area of this blog's sidebar that I want to research.
Continue to research Hanover Businesses.
Have fun with my Instagram account.
Fill in my Australian Open draw sheets. I hate wasting toner for updated PDF draws, so I normally fill them in to get a better idea of what's next.
Believe it or not, I just received notification that one of the ebooks is now available.
Should be a good week.