Friday, August 11, 2017
Earlier in the week, I had problems with the MySQL databases associated with the NS&J Forums and Q's Wire Blog. The forums use PHPBB and Q's Wire is a WordPress blog that is hosted on qisoftware.com. If you tried to access either the forums or blog, error messages indicated there were "database connection errors".
Recently, my web hosting provider upgraded a number of system software services on my server- including PHP. Initially, I thought this may have been the problem, however now I am not so sure.
Somehow the database passwords became misaligned. I am the only authorized user with access to cPanel- [hosting domain management interface] for both domains [qisoftware.com & hosting-q.com]. So, it appears these errors were caused by someone's deliberate actions and no, I do not think it was the web hosting provider.
After realigning the passwords, I requested full- backups of both sites.
I also fixed the Blogger Calendar's servlet for Q's Wire. The screen-grab captured using a WindowsXP system running Firefox browser version 43.0.1 (the reason the applet works without any special security updates to the system's Java control panel).

I installed the Blogger Calendar in the current version of Q's Wire's template for this demonstration only, however if you view the source for any page of Q's Wire, you will notice the "commented out" script for the Blogger Calendar.
What else have I been up to?
Shopping online for a birthday present for my sister. I am pretty happy with my selection and picked two from my Gift Ideas store.
Updated Business Tools I Heart post, on the Remix Blog.
Other minor domain issues with qisoftware.com. Email spam options also affected by someone's deliberate actions. Also, changed the domain hosting password.
Rogers Cup Tennis
STARZ's "Power" series.
Arundel Mills Cobbler to have a pair of heels repaired. Liked this experience, 20 minutes my shoes are ready.
Social media tasks for the Hanover Maryland Businesses, Facebook page.
It was not all bad this week, in that the problems were resolved quickly. I was also happy to boot-up my Macbook and work on software code issues. I miss working software development issues...

Wednesday, August 02, 2017
Hot and thunderstorms, the last couple of weeks, however everything looks beautiful.
As you may recall, I take weekly photos of the progress at the construction site for the Live Hotel [being erected next to the Maryland Live Casino in Hanover, Maryland]. These photos taken over the last 3 weeks.

Other recent activities:
Social media efforts for the Hanover Maryland Businesses FB page and my high school alumni group.
Movie: "Passengers" w/ Jennifer Lawrence
Watching STARZ's "Power" series.
Tracking professional tennis.
Minor cosmetic changes to my blogs i.e., Remix & this one.
Added more tracking scripts to ecommerce areas of my site [qisoftware.com], i.e., Forums, Remix & this blog. [legal notice] Mirrors maybe negating commerce data-- and hopefully this will help to correct some of the problems.
Looking into DNS error issues on qisoftware.com.
Setup a paypal.me account.
Potting a plant clipping [made a video clip].

Continuing work on my stores...
I went out this morning. Had to deposit more of my birthday money in the bank and rode around Hanover to see what's new.
They finished work on "The Arundel" [luxury apartments], that lobby looks beautiful [did not go inside, however did get photos of the exterior]. If you only know the mall [Arundel Mills] and casino and have the opportunity, checkout some of the new construction going on in our area. It is pretty impressive.

Tuesday, July 25, 2017
I did not go away to college. I lived at home the entire 4 years, while studying for my undergrad degree. Going away to college is one of the things I always felt I should have experienced.
I am always interested to learn what new students leaving home for the first time are hoping the experience will provide them.
That said, school shopping was always one of my favorite things to do and I did more than my share- even though I lived at home. I needed supplies, fashions, books, etc., just like students living on campus. I had a part time job [one summer an internship at NASA] for most of the four years I was in college- to offset expenses and college loans.
Today, if I had to worry about living on campus what would I purchase?
I have also updated some of the other stores.
Also researching for several of my social media projects including the HanoverMaryland Businesses page on Facebook.
Since my last post, I celebrated another birthday. It was a nice birthday and I am always happy to receive the money gifts my family bestows upon me.
I did not like any of my birthday photos, so I will post a new photo later to show how gracefully I am not aging. Did you get that word play? Just kidding.

Sunday, July 16, 2017
I was up bright and early this morning, so I decided to get dressed and go for a drive.
As many of you know I am the admin for my high school alumni group on Facebook-- and recently I came up with the idea to ask the school administration about video tours of the school. I want to upload a video tour to the group page so those who have left the area can see what's new. Our high school was once the largest in the state and our Facebook group has over 3100 members-- who are still very interested in things happening there.
I have yet to make the call, however did drive by the school this morning to see what's new from the exterior. I also had my dash-cam running. The dash-cam video is not good enough to upload, however I did not feel it was a wasted trip.
As you can see in the above illustration, before driving by the school-- I stopped at the Hanover construction site of the Live! Hotel-- to snap the weekly progress photo. I use photos like these on the HanoverMDBusinesses page on Facebook.
The next stop on my drive this morning? Annapolis. It was beautiful. I have not been to Annapolis since November 2014 and had no special plans other than I have always loved the area and thought it would be a nice morning to visit. It was.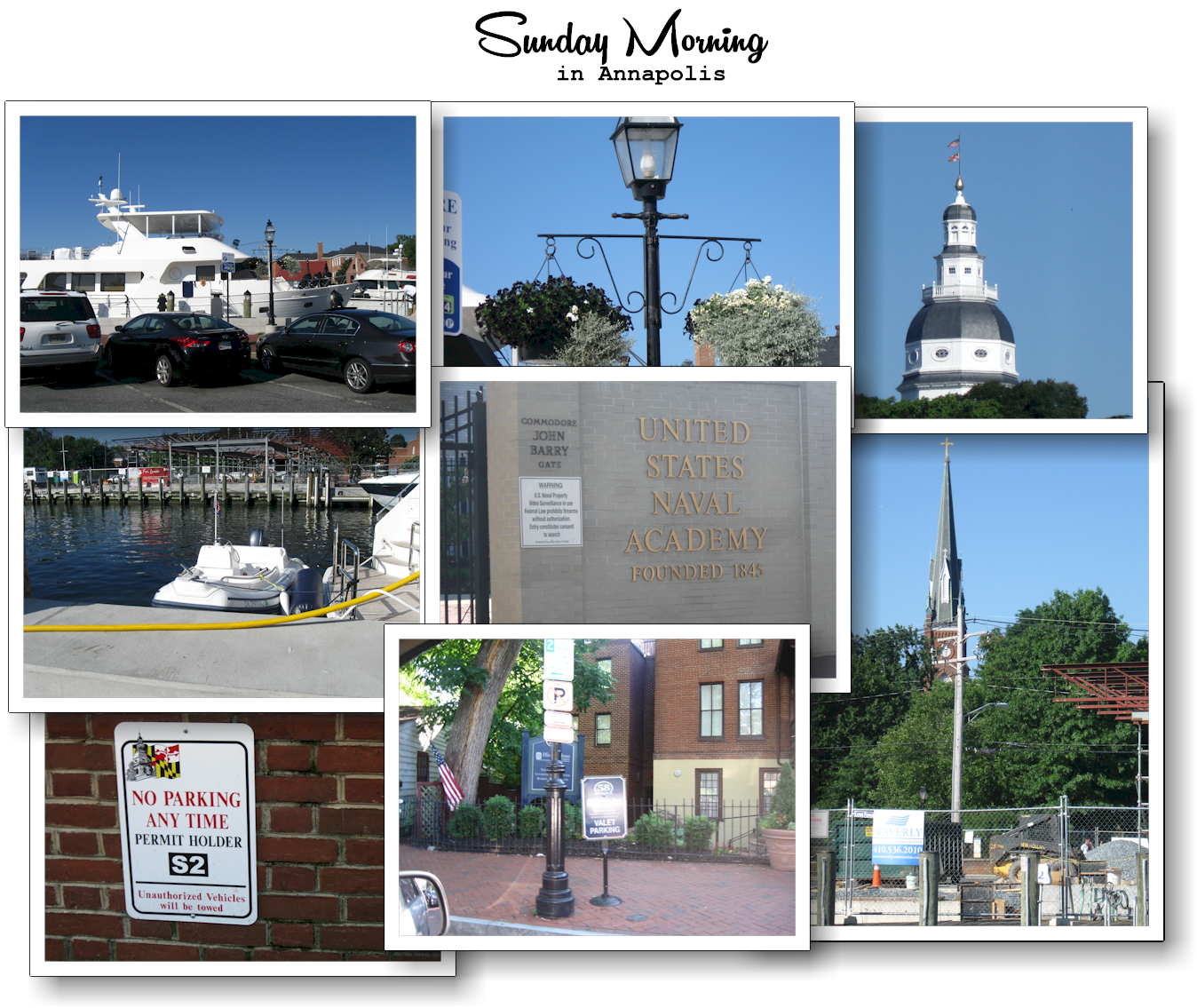 I also had the dash-cam running in Annapolis. There is a short clip on my Instagram feed showing the approach to the State Capitol Building-- as recorded by the dash-cam.
I started my drive around 7:40 AM this morning and arrived home about 9:45 AM or so. I rarely "just drive" these days. Normally, I have an errand or a project.
I started making dinner just after noon-- [we always have dinner early on Sundays].
It was a beautiful morning to take a drive and I had a nice dinner.

Wednesday, July 12, 2017
As mentioned in previous posts, there are several major construction sites in the Hanover [MD] area, including the Live! Hotel and The Arundel luxury apartments.
Weekly photos show the progress at the Live! Hotel construction site.
More photos to come as they become available.
What else have I been up to?
A little yard work.
A little baking.
Research for an area magazine.
Waiting on a package.
Wimbledon action.
Movie: "When the Bough Breaks"
Movie: French movie [English subtitles]- "Elle" airing this evening on STARZ.
"Power" series on STARZ.
Continuing work on the Amazon Stores...
Recent photos from my gardens.
I have been working several projects while trying to stay cool. Had a quiet 4th and now that everyone is back in town, getting back to a normal routine.

Saturday, July 08, 2017
My home office is comprised of several areas on all three levels of my residence. I am lucky in that I have space to spread out.
Why do I need so much space? I am a business owner/software consultant and own a lot of office equipment. I started purchasing items for my home office long before starting my own business, in fact, while still working as a defense contractor for a major corporation.
Note the fax machine shown in the above illustration. This is the second fax machine I have owned. I purchased my first in 1995. I like owning a fax machine for both legal issues and the convenience -even in today's more digital age.
Yes, today one can sign an email digitally and it is a legal and binding communique, however I prefer the fax machine.
So why am I discussing my home office? Well recently, I have been taking inventory for another project. What do I really use? Believe it or not, a lot of the equipment I own.
The project? I recently moved my Amazon Stores so I had the opportunity to review and update products previously listed in all the stores, including the Computer Electronics/Home Office store.
The updates? I added more of what I own, however did not list in the earlier version including:
File Cabinets
Manilla Folders
Staplers & Dispensers
Things I own, however no longer use and did not list? Rolodexes.
When I first started my home office, I made regular visits to Office Depot and Staples. Though I like walking the aisles of these stores-- I find when I need to replenish or research what others are saying-- online research and purchases are too convenient for me to pass on.