Sunday, May 09, 2021
Happy Mother's Day. I have been working different projects over the last week, in preparation for Mother's Day. I ordered online, however did stop by a garden center on Friday, for a hosta plant and marigolds for the planters on the deck.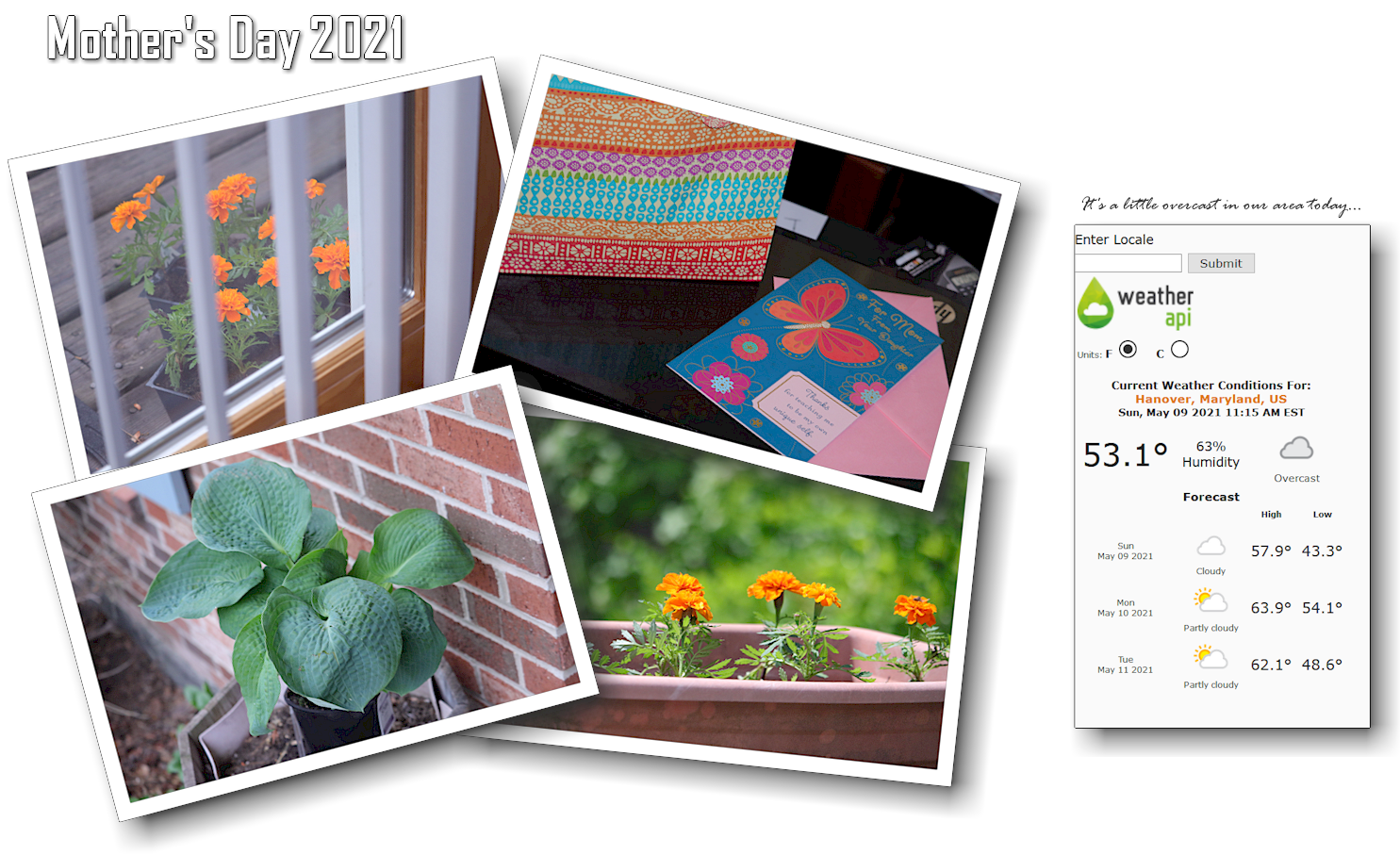 In our area it has been a bit overcast over the last 3 or 4 days, including today. The weather? That is another project I have been working. A new interface (Java Servlet) using the WeatherAPI resource.
The illustration below shows a side by side comparison of the Yahoo Weather interface used on WiredPages and the new WeatherAPI interface.
Most of the work for the new weather interface is complete. There are minor cosmetic changes I may implement, however, since I have no plans to install the new interface online, will probably hold off.

Sunday, May 02, 2021
In early April 2020, repairs to the main bathroom on the upper level were an important preoccupation along with the many concerns relating to COVID-19.
A trip to Lowes for fixtures and tools needed for the repair- provided the opportunity to purchase a new plant, the snake plant shown below.
The two illustrations below, show a photo of the plant, taken yesterday and the set of photos taken when I first replanted the Mother-in-Law's Tongue (Snake Plant) in April 2020.
When I left home after college, my parents gave me a snake plant for my first place. I never had a problem. I hate to admit, I almost killed the new plant, over-watering.
With all of the other plants I maintain around the house, I thought I could water as often as I did the others. Big mistake. I am pleased I realized my mistake before it was too late.
Other recent photos...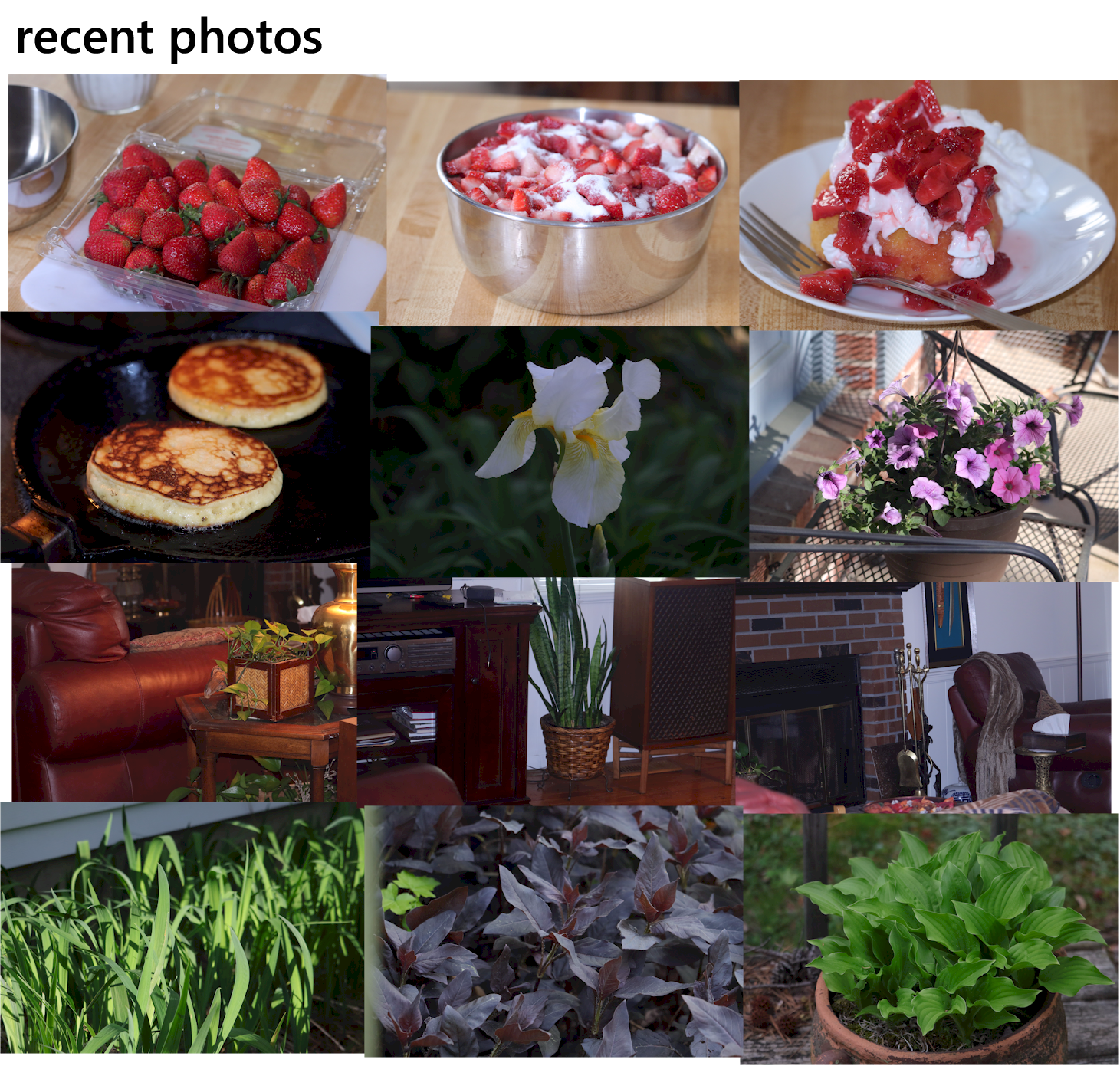 Photo Summary
Strawberry season, so I buy strawberries... I love strawberry shortcake.
Love buttermilk pancakes --recipe
Yellow irises in the backyard are in bloom
Cascading petunias for the front porch
Scenes from the den, including the same snake plant photo
Purple irises on the side of the house not yet in bloom
Alternanthera Purple Prince - a perennial ground cover
Hosta plant on the back deck
There were many changes over the past year, however we made it. So did the Dracaena Trifasciata (mother-in-law's tongue).

Tuesday, April 27, 2021
In the summer of 1995, I decided to take the LSAT. The LSAT is like the SAT test given to high school students who wish to go on to college, however it is for people who already have at least a four year degree- and wish to go to law school. Both tests evaluate a student's potential for success, given their higher education goals.
At the time, I lived in Bowie, Maryland and I chose the US Naval Academy (Annapolis) as my testing site.
So why then? Beginning in 1994, I asked the US Government to investigate an employment issue. I thought the investigation went well, however was surprised when my employer of ten years, rather than correcting the problems, asked me to leave.
When I explained this to the government investigation service, the case supervisor said- "go shopping". I went shopping for lawyers. Should I have had a lawyer when I first asked the US Government to investigate? In hindsight, I believe the answer is yes.
That said, with 10 years, an engineering excellence award, and what appeared to be retaliation for an earlier internal complaint I filed with our corporation's office in Anaheim, the US Government found merit for my 1994 complaint.
In 1995+ (1996 1997) or so, I think, I had a meeting with every single major law firm in Washington. All interested on some level in my case. One of the smaller employment law firms recommended a large law firm which took the case, however handed it off almost immediately, to another large DC law firm. This should have raised flags immediately, however I signed a check anyway.
The US Government had run a 9+ month investigation into my allegations and found my case had merit.
My tenure (10 years) with the Fortune 100 defense contractor and an internal complaint filed about 5 years prior to my leaving the company, complicated things. Most of the small employment law firms in Washington, DC and Northern Virginia felt the defense contractor was too large for them to handle.
One or two of the large law firms in Washington- ran conflict checks, and found issues. A conflict check usually determines whether the law firm has any dealings with an entity- a potential client wants to file against.
I thought, what happened next was because the defense contractor was so large. That is when I decided I wanted to go to law school (Where Was I?).
In earlier years, I had filed suits on my own or handled most legal issues on my own. I had the car plates for a hit and run driver, a traffic ticket I felt was unfair, issues with two landlords, etc.
I mostly handled my own legal issues, and was pretty happy with the results. I fired the law firm in Washington that took my case, because the lawyers would not stop asking me to make it a contingency case. They returned my check upon request. I felt I had no choice. The last straw? I asked to see the Government case file that the law firm had pulled, and my lawyers (a partner and jr associate with a large DC firm) asked, "Why kill a tree?". Newspaper print? Not sure.
Earlier this year, I took a real estate course online with Anne Arundel Community College. I was very pleased with how much I was able to learn in this environment, especially as related to legal matters. This mostly through my own independent study, so I decided to look into other courses that would be useful in running my business.
Business law and contracts are areas I felt would be of great use. When I looked into what AACC offered, I found to take a credited course like Business Law 101, I had to have several prerequisites, i.e., math and english 101, which I have. So I had Bowie send over my transcripts.
The real estate course was a non-credited course and required no advance studies. The business course I wanted to take was part of a specific curriculum offered by the community college- Law and Jurisprudence. This curriculum is specifically setup for students who may wish to transfer credits, if they later decide to look into a JD program with a law school.
The following illustration, shows the 29 undergrad credits accepted by the AACC Law and Jurisprudence program I have selected.
Why would I provide this information? So many these days, falsify school records. I did not go to an Ivy league school, however a Maryland State Police Officer once thought I had lied to him about my work and educational background. I knew the officer socially. I did not know issues like this were still on the table.
Late last year, when I signed up for the real estate course, I was surprised by some of the noise associated with my decision to take the course. I was so hyped by being back in the school environment, I decided to take a business law course.
In addition, at the beginning of the year I began research to help with preparation of legal documents which required notary seals. I was pretty happy with the results of this effort, however I did quite a bit of research and crossed checked everything again. I think if I could have afforded a lawyer, the work may have cost well into the thousands.
Apparently, the transfer of my school transcripts, had some in the legal community asking more questions. I recently took part in a Zoom forum that involved 5 Judges and a law professor. It was promoted as a Judicial Forum based on my curriculum selection, and I was notified after my undergrad transcripts were transfered. Why were some surprised? I am not sure. I have found many have falsified their school credentials. Was it assumed mine were false? Why would I falsify something like that? I can find professors and classmates from my undergrad days. As I have indicated, I am still trying to correct my situation.
Have you checked my finances and asked why? Here are my latest FICO scores for both personal and business related activities.
I said no to everything except DOJ. I want them to come in with the explanations and resolutions. Why would a community college and a request that my undergrad transcripts be sent to another school, cause any noise whatsoever? What am I missing?
I have not had the opportunity to post as much lately. I added statistical graphs to WiredPages, and have been researching a lot of legal issues. I was going to research the legal issues anyway. Something I have known I had to do for some time. I was surprised by the noise that resulted from some of this. I should be easy to check and verify. In the past, I have claimed I have many well known relatives. I do. This is not important to my rights and the rest of my life. I believe many are aware of this. Too many I have known over the years were asked to provide any negatives, in hopes of justifying what was done. I work hard. There was no justification. No one officially said I did anything illegal. I told every employer since high school about limited marijuana use in high school. That is the only illegal substance I have ever tried. I thought I suffered with migraines most of my life. The actual problem, my eyes are offset. This caused dizziness which made it unlikly I would want to use anything that would affect my head. I do not even drink.
The relatives? Should not have been a problem. I did not know most of my life.
I now believe HIV is a factor. Not because my status has changed, but more because I did not know it was an issue for some of the people I have known. I am HIV negative. This should not have caused the issues I have had. When I showed my tests results in a blog post in 2004 or so, I thought I put to rest any questions on this issue. I thought, I was simply answering any questions that may have been on the table. I did not understand everything I should have understood.
That said, where are my hospital bills. I was a heavy smoker (as I hit 30 more for weight control) starting my junior year in college until December 1998. HIV patients cannot smoke the way I smoked and not have medical issues. Where are my medical and prescription bills. I take nothing but Advil. I wear contacts.
Fraud? Does anyone think, I would put all of these ads on my sites and risk a fraud charge because I claimed education I did not have? Do you know what fraud is? If you put up an ad, then claim a law degree you do not have, it is fraud. Those in the know, would suggest- if there was a legitimate charge that could be brought, it would have been done. There should be no question about my undergraduate degree, employment history, or conservative background. DOJ/FBI, I repeat- I said no.
I am not going to go into a lot of detail as to why, I seem a bit upset of late. I am in the public. I zoom, school, business forums. I have to do the shopping because of the health crisis. People are ill and I am worried. Maybe this is why I am feeling a little pressed at this time.

Sunday, April 18, 2021
Online registration and renewal services for small business owners are more prevalent than in years past.
For example, in 2004 when I first registered my sole proprietorship (QiSoftware) with the state of Maryland, everything was done- mostly via US mail with limited services for facsimiles (faxes). You can search for my Maryland business entity here use "qisoftware" for the search name.
In 2019 or so, when I registered online with the newly created Maryland Business Express site (came online March 26, 2018), I could not link my existing business records (since September 2004) with my new Maryland Business Express registration.
This meant, in 2019 when I had to renew (every 5 years) my business registration, it was all done via US mail.
Earlier this year, I found I could link the existing business records with my Business Express registration, so now, I can renew and update business registration information online.
Are you doing business in Maryland? No, is your state online insofar as business filings, renewals, etc.? I am so pleased Maryland is coming online with all of these new features.

Friday, April 02, 2021
The final for the real estate course was Tuesday, March 30, 2021.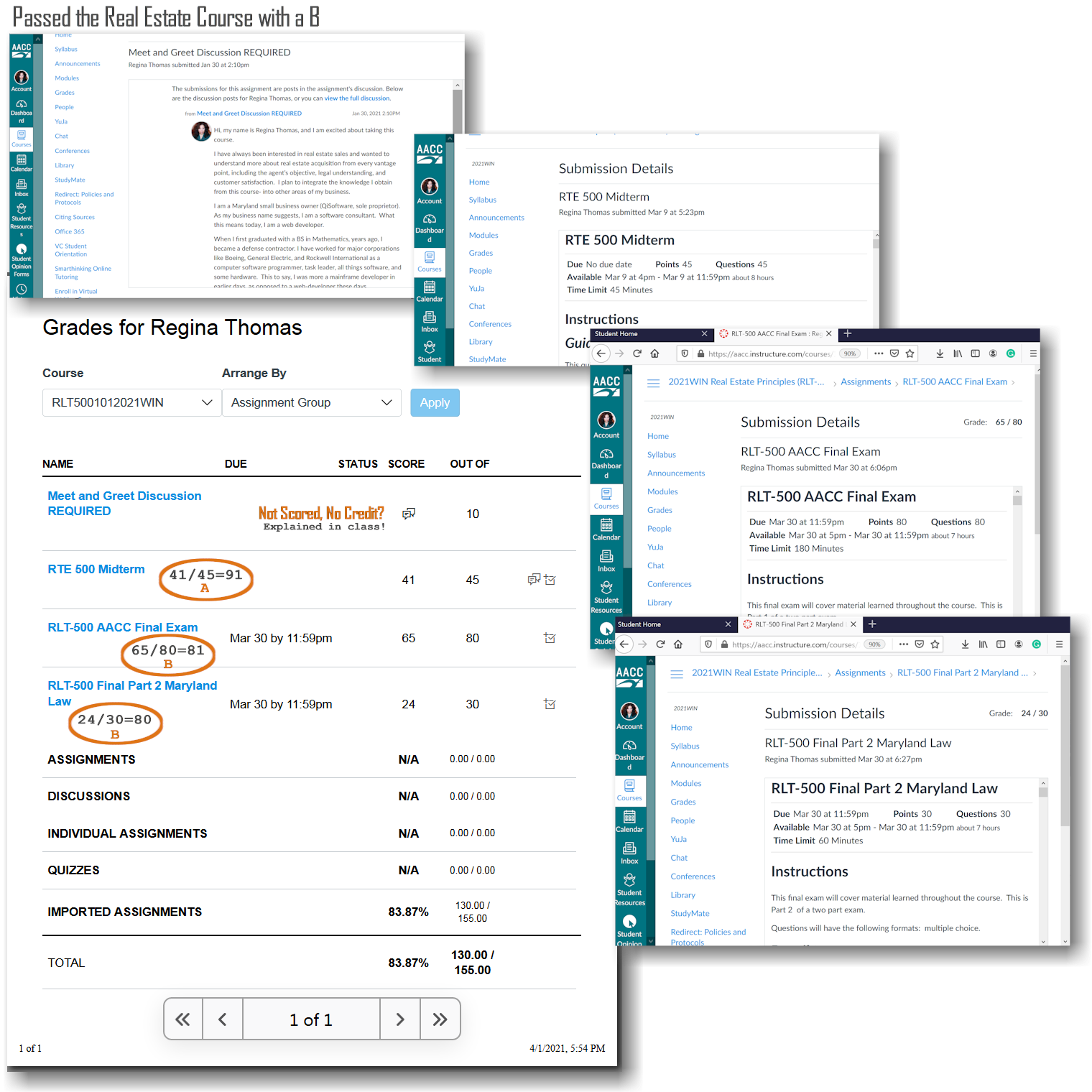 I misread one or two questions and totally missed an easy math problem associated with straight-lined depreciation and appraisals. Why? Because, I assumed the structure, when built ten years earlier- was a lot cheaper.
Really wanted an "A" (90% or better) for this course, however happy I passed (B 83.87%). Needed a C (70%-79%) to pass.

Sunday, March 21, 2021
The final for the real estate course is Tuesday, March 30, 2021. I will be studying for most of the week, however feel ready to take the exam.
Was this an easy course? In my opinion, if you do not have time to study, you will probably find it is not as easy as you may think. That said, I have learned a lot and happy I had the opportunity to do this.
Financial terms I may have looked up in the past, simply because they were mentioned in a news story, now have new meaning as applied to real estate finance. Some of these terms include:
Capitalization Rate (also known as Cap Rate). Example: a property in Maryland has a ground rent of $2160 annually. If a buyer is looking to obtain both land improvements and the land, the ground rent in this example would be capitalized by dividing $2160 ÷ 6% = $36,000 (the price the buyer would pay for the land). Six percent is the rate the State of Maryland sets for most redemption cases of this type.
Consumer Price Index (CPI), the State of Maryland uses this factor to determine the filing, delivery, etc. fees for some of the services it provides.
Loan To Value ratio (LTV). Principle Loan Amount ÷ Sales Price (or Appraised Value). A conforming mortgage loan normally requires an 80% LTV. A mortgage lender considers a lower LTV more attractive, i.e., 80% is better than 90% to a loan officer.
I purchased real estate years ago. At the time, some of these terms may have been mentioned in the loan and settlement processes, however probably forgotten. I appreciated this refresher course, in that the definitions now have broader meaning across a wide spectrum of uses.
New features, recently added to WiredPages, provide a myriad of statistics for everyday use. Below, illustration of new resources added to the WiredPages Real Estate page.

I consider myself well versed in consumer news, however if I never looked up uses for the CPI, I was not overly concerned. I thought, if needed, I could easily look up anything. I say this to say, some of the new features may seem a little intimidating, however in real life (& business), these numbers may be useful and easy to lookup.