Sunday, April 18, 2021
Online registration and renewal services for small business owners are more prevalent than in years past.
For example, in 2004 when I first registered my sole proprietorship (QiSoftware) with the state of Maryland, everything was done- mostly via US mail with limited services for facsimiles (faxes). You can search for my Maryland business entity here use "qisoftware" for the search name.
In 2019 or so, when I registered online with the newly created Maryland Business Express site (came online March 26, 2018), I could not link my existing business records (since September 2004) with my new Maryland Business Express registration.
This meant, in 2019 when I had to renew (every 5 years) my business registration, it was all done via US mail.
Earlier this year, I found I could link the existing business records with my Business Express registration, so now, I can renew and update business registration information online.
Are you doing business in Maryland? No, is your state online insofar as business filings, renewals, etc.? I am so pleased Maryland is coming online with all of these new features.

Friday, April 02, 2021
The final for the real estate course was Tuesday, March 30, 2021.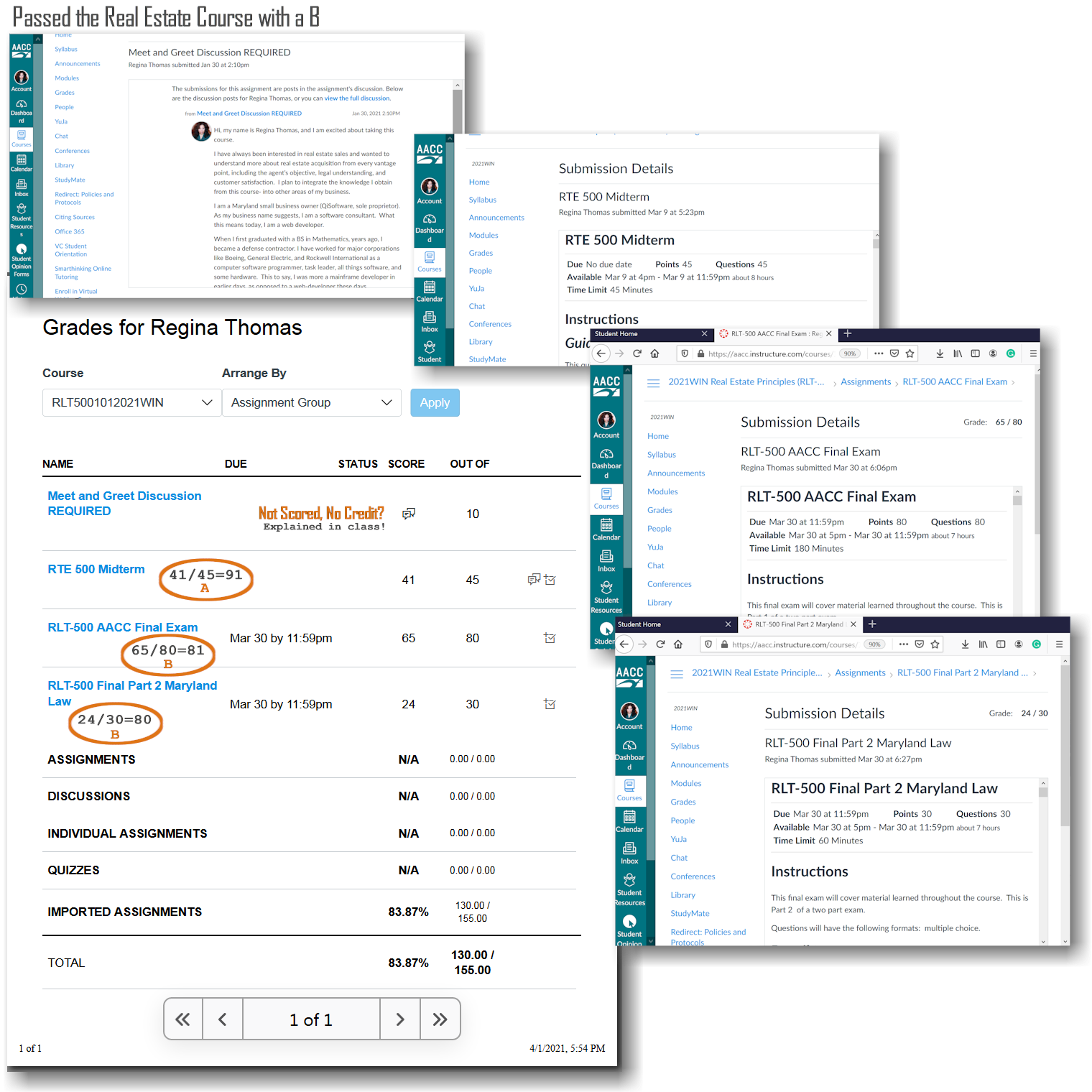 I misread one or two questions and totally missed an easy math problem associated with straight-lined depreciation and appraisals. Why? Because, I assumed the structure, when built ten years earlier- was a lot cheaper.
Really wanted an "A" (90% or better) for this course, however happy I passed (B 83.87%). Needed a C (70%-79%) to pass.

Sunday, March 21, 2021
The final for the real estate course is Tuesday, March 30, 2021. I will be studying for most of the week, however feel ready to take the exam.
Was this an easy course? In my opinion, if you do not have time to study, you will probably find it is not as easy as you may think. That said, I have learned a lot and happy I had the opportunity to do this.
Financial terms I may have looked up in the past, simply because they were mentioned in a news story, now have new meaning as applied to real estate finance. Some of these terms include:
Capitalization Rate (also known as Cap Rate). Example: a property in Maryland has a ground rent of $2160 annually. If a buyer is looking to obtain both land improvements and the land, the ground rent in this example would be capitalized by dividing $2160 ÷ 6% = $36,000 (the price the buyer would pay for the land). Six percent is the rate the State of Maryland sets for most redemption cases of this type.
Consumer Price Index (CPI), the State of Maryland uses this factor to determine the filing, delivery, etc. fees for some of the services it provides.
Loan To Value ratio (LTV). Principle Loan Amount ÷ Sales Price (or Appraised Value). A conforming mortgage loan normally requires an 80% LTV. A mortgage lender considers a lower LTV more attractive, i.e., 80% is better than 90% to a loan officer.
I purchased real estate years ago. At the time, some of these terms may have been mentioned in the loan and settlement processes, however probably forgotten. I appreciated this refresher course, in that the definitions now have broader meaning across a wide spectrum of uses.
New features, recently added to WiredPages, provide a myriad of statistics for everyday use. Below, illustration of new resources added to the WiredPages Real Estate page.

I consider myself well versed in consumer news, however if I never looked up uses for the CPI, I was not overly concerned. I thought, if needed, I could easily look up anything. I say this to say, some of the new features may seem a little intimidating, however in real life (& business), these numbers may be useful and easy to lookup.

Wednesday, March 10, 2021
Last evening, I took the midterm for the real estate course. In preparation, Friday, March 5, 2021, I opened my books (something I have been doing since the course started <February 2, 2021>) and began studying.
I stayed in the entire weekend (+Monday and Tuesday), re-reading and taking practice exams.1 The midterm grade...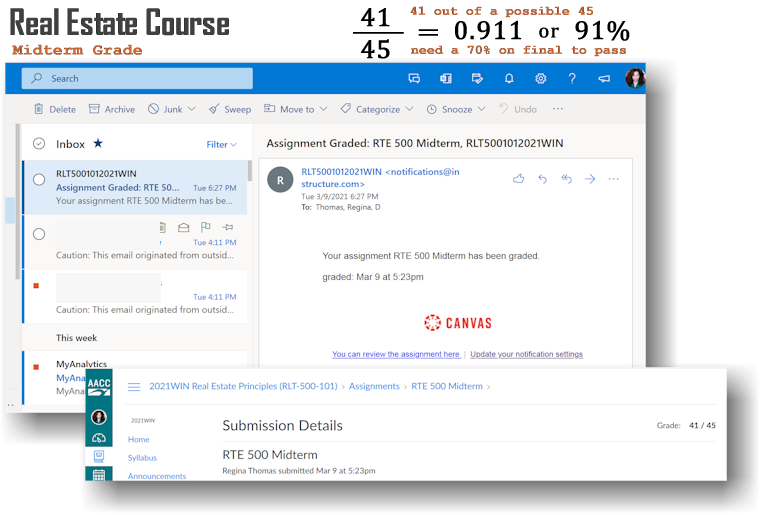 On Sunday, I began taking the sample exams in the back of the book. I started with the Math quiz. There were not as many math questions on the midterm as I thought there might have been. That said, I felt fully prepared for those types of questions.
I feel all of the study time paid off, and I know a lot more about real estate, associated laws, the process of buying, selling, conveying, and leasing real property than I did before.
Below some of the exam questions...
Any surprises? The amount of legal knowledge required to become a real estate professional.
1Over the weekend, I also added one or two new graphs to the WiredPages Employment page in case you happened to notice.

Friday, February 19, 2021
The real estate industry is heavily regulated by both State and Federal (to a lesser degree) guidelines and laws.
To assist with understanding the procedures and processes used by real estate brokers (coursework), I began delving into the many forms, agreements, statements, and contracts used by these professionals. Shown below, a directory listing of some of the forms I have collected to date.
While researching for my (real estate) course, I found other legal forms and agreements I wanted to add to my Microsoft Word template sets. The lower image in the diagram above, shows some of the other forms.
For some reason, I feel smarter having done this research, and wanted to provide a great resource for DIY research and creation of legal forms.

Should you retain a lawyer if you have questions? Yes. That said, some agreements are pretty straightforward and most services like eForms.com probably use lawyers and/or legal staff to help with the creation of the documents and services they offer.
In my case, I always want a lawyer to fax a copy of an agreement so I can study and research (without interruption) the document before further discussion or signatures- are added.

Wednesday, February 17, 2021
Let me just say, "I love Red Baron Pepperoni Pizza with the Classic Crust". I am funny about frozen pizza, and will not try most. That said, last week I tried a DiGiorno Pepperoni Pizza with a Croissant Crust, and have decided I can do this one too.
Other things I have tried lately, include this LandOFrost Honey Ham lunch meat. It was on sale around the holidays and I am happy I decided to try it. I added diced slices of the ham to the Red Baron Pizza before baking and it turned out great.
We do not often have food delivered, however over the weekend relatives sent a "Well Wishes" gift...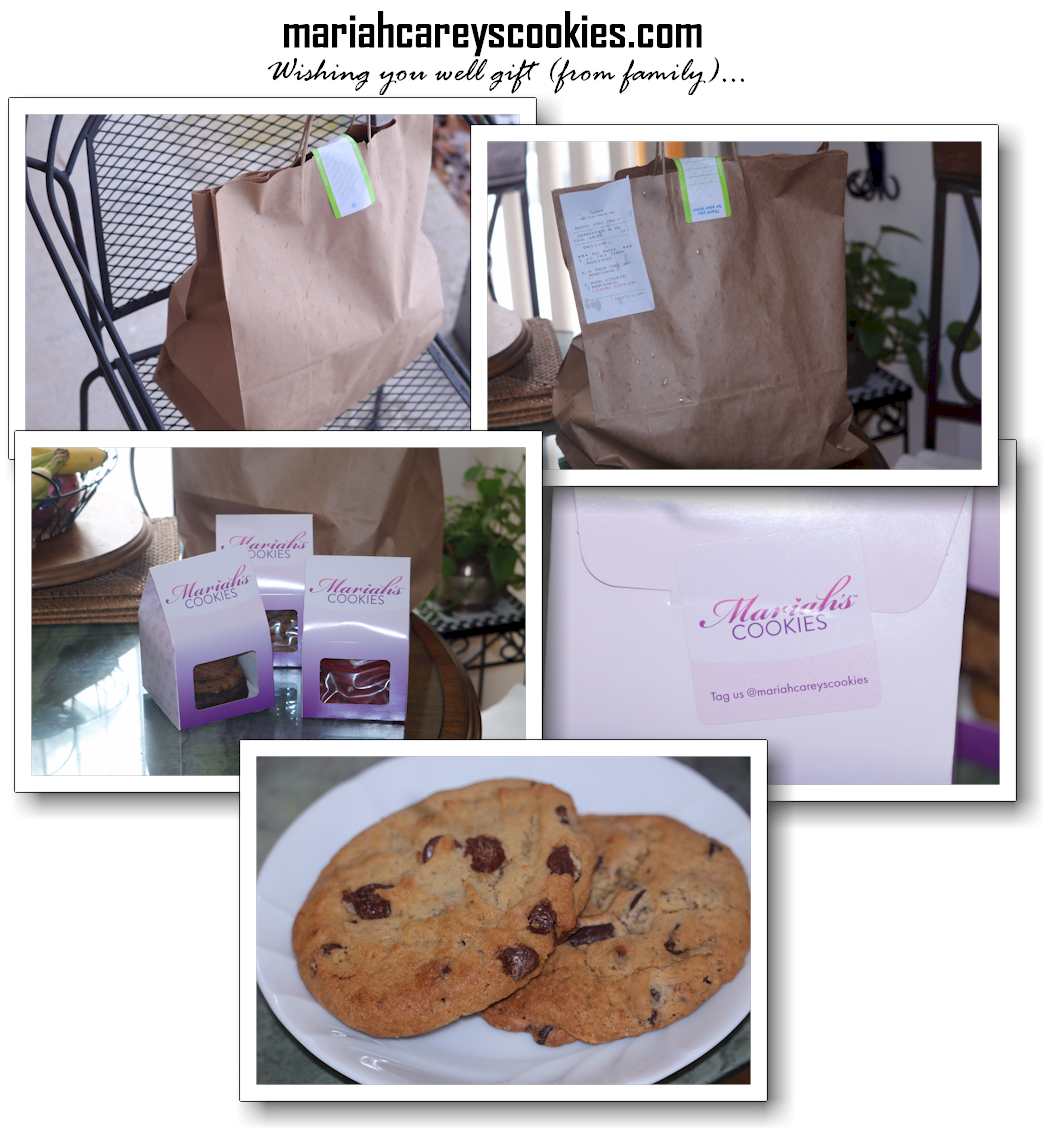 This is a great gift idea.