Thursday, July 02, 2020
I am always looking for affordable business styles, and Ann Taylor has always been a favorite- reference post.
Two weeks ago, an Ann Taylor blouse I bookmarked over a year ago, went on sale. Shown in the images below, the Lush Lagoon Tie Neck blouse.
The other two tops were also on sale. Though out of season now, in the coming months, I will be able to pair various pieces I already own- with the new tops.
I tend to know what works for me, however sometimes, I miss on prints. I was pleasantly surprised, the tie neck geometric print blouse, works with black- in suits, skirts and high waisted slacks.
As things slowly begin to reopen in my area, I am doing more in the local business community with a project I have been thinking about for awhile (did you know I registered hanover-magazine.com and hanovermaryland.org a couple of years ago?).
I want my style to suggest, I really mean business....

Thursday, June 25, 2020
Late Friday, June 19, 2020, I noticed a couple of issues with several of the news headline feeds maintained on WiredPages.
Over the weekend, I had most of the issues worked out, however decided not to install all of the updates, because I wanted to thoroughly checkout the new resources.
Below, illustrative examples of the feeds that were not installed, however ready for live production.
Currently, the following WiredPages are using live versions of new headline feeds:
In total, there were 8 pages affected by the Friday night outage, so I was happy to find solutions as quickly as I did.
Another major issue, I had to switch the (site) server for the new Java Servlets used to provide the news headlines. qisoftware.com is my main site, however when I have SSL protocol issues, I have to move programs and applications to my hosting site-- hosting-q.com.
This the other reason, I am holding off on installing all of the new programs at the same time. I am always concerned about server overload, so I am installing one or two updates at a time and checking. I am not sure why I have site load issues. According to most statistics related to my sites, I should not have any. Why the conflict (FBI)?

Sunday, June 14, 2020
In July 2018 (blog post), I developed an Instagram API Demonstration Interface to showcase how social media API resources can be customized for individual sites and blogs.
Last fall, I noticed Facebook had taken over management of the Instagram API, however I thought- because my interface only accessed QiSoftware's Instagram data, there would be no need to migrate the tool to the Facebook platform.
I noticed something in a forum post last week, so I checked again and decided- to be on the safe side, I would migrate the interface to the Facebook platform. Spent most of the day (today) on this project.
This was a little more effort than I thought it would be, however when I realized my mistake, the task became relatively easy.
Another easy thing today- lunch.
Yesterday, I made enchiladas and tacos with enough in the way of leftovers for lunch today. So in between debugging and playing with Postman, in an attempt to figure out why I could not set up the correct access tokens for the Facebook/Instagram Graph API platform, I did not starve because I forgot to eat. I could not wait for lunch...

Thursday, June 11, 2020
For business, I tend to purchase suits, dresses and heels in the same muted solid colors; blacks, browns, caramels and olives. Since I am more conservative than not, this has worked to my advantage in that most of my business wear has lasted through the years.
My business heel? Since high school a 2-3" skinny heel, that suits my rather small ankles. Toe coverage is minimal, meaning just enough leather to hide them.
That said, these days, I prefer a wider, more sturdy heel, to my old standbys. The Amazon orders shown on the right, illustrate how I acquired the recent additions to my wardrobe. I love the new heels because they are so comfortable.
The illustration below, top row: shows the older version of heels I wear with business suits and dresses, and the lower row: the new heels I began purchasing last fall to accommodate new style, as well as a physique that is no longer between 120-130 pounds.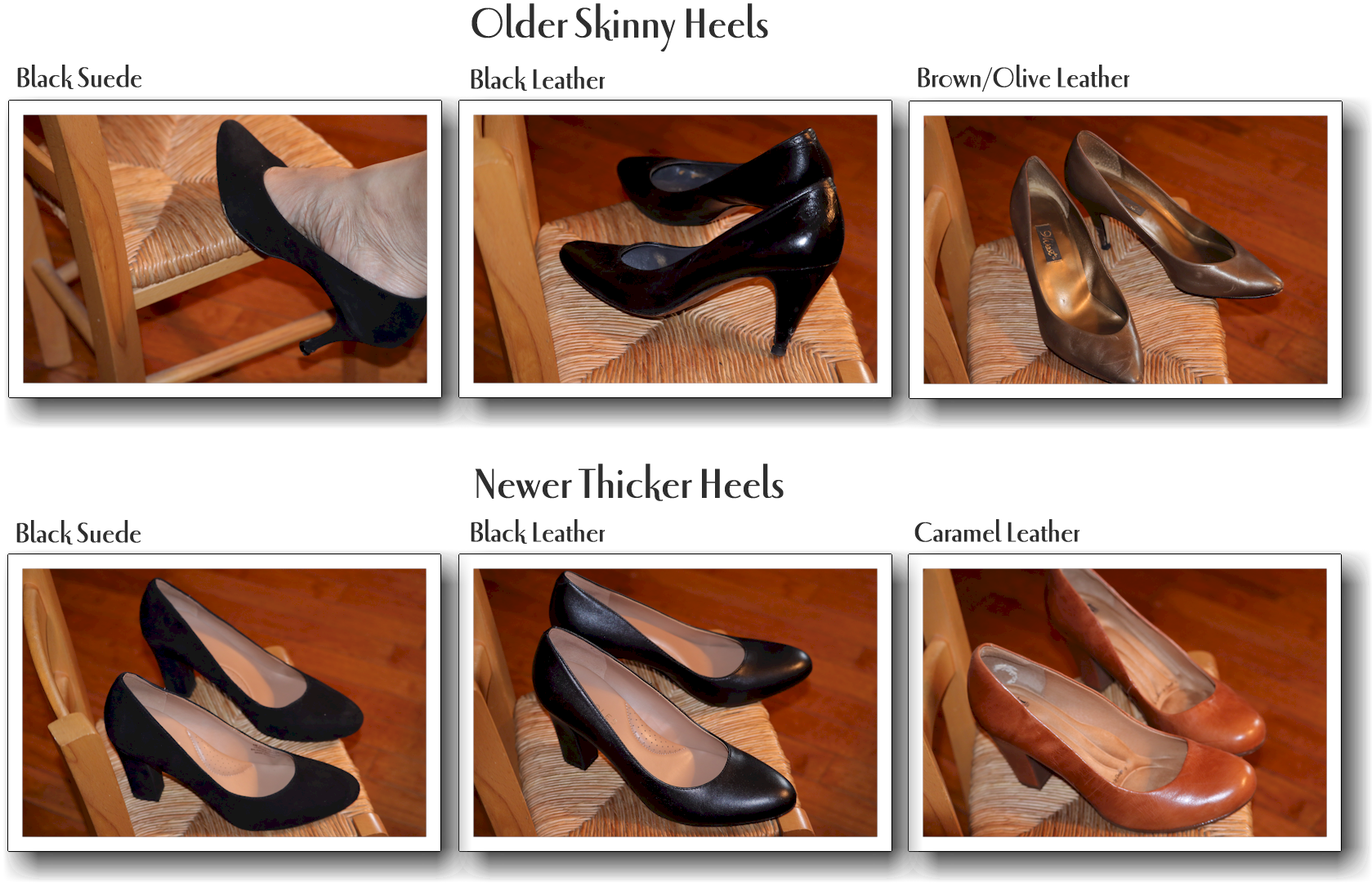 So how is it that I can wear all of my old fours, sixes and eights if I am no longer between 120 and 130 pounds? Okay, I cannot, however (1) I plan on reaching that size again, and (2) I have newer (with vanity sizing and stretchable rayon) items, in my color palette- that will work for the time being.
Either way, my new business heels should work.

Saturday, June 06, 2020
I mentioned in the last post, there are several new tools ready for installation on WiredPages.
The following summarizes each tool, and provides illustration as to how the new tool will appear on each page.
The WiredPages Home page will get a Market Indices bug, which will provide timely information about stock markets.

The WiredPages Real Estate page will get a Mortgage Calculator.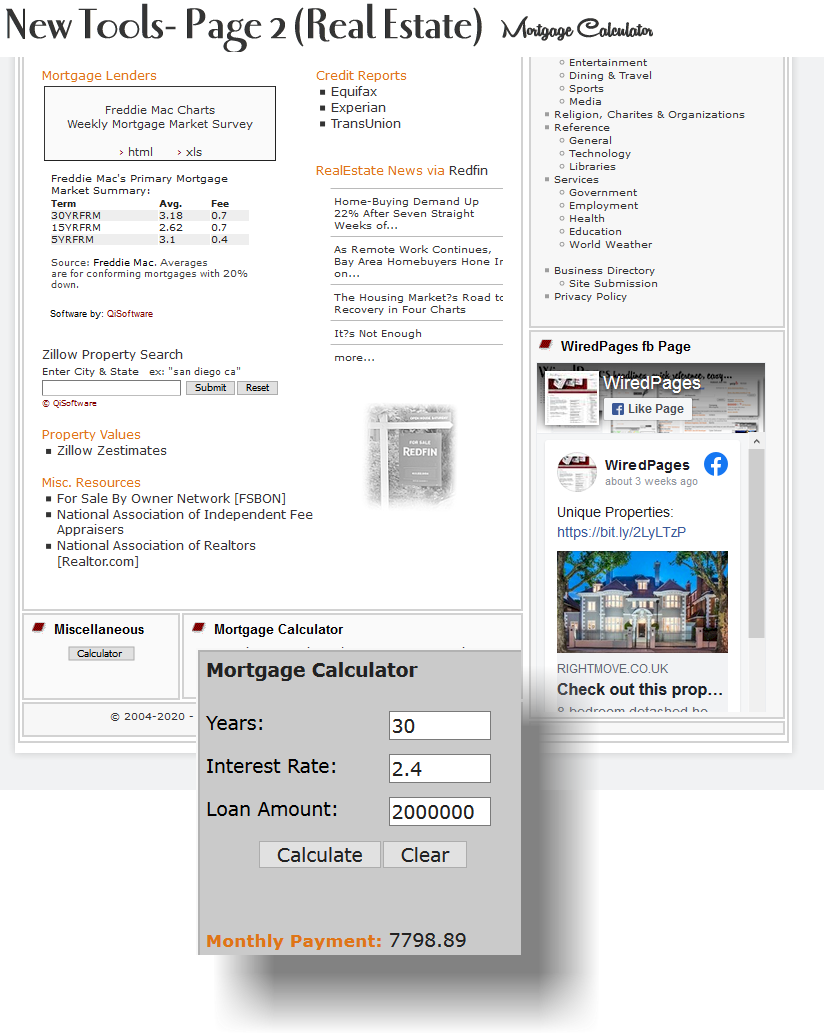 The WiredPages Business & Markets page will get the Market Indices bug along with a Biz Zip Search tool.

The WiredPages Style & Events page will get the "This Day In History Calendar". Click on any day and the tool provides important events in history for that day.

The WiredPages Media page gets the NPR One StationFinder interface.

The WiredPages Health & Wellness page will get the FatSecret Nutrition Information Search tool.

The WiredPages Arts & Entertainment page gets the Youtube Music Video Search & Playback tool.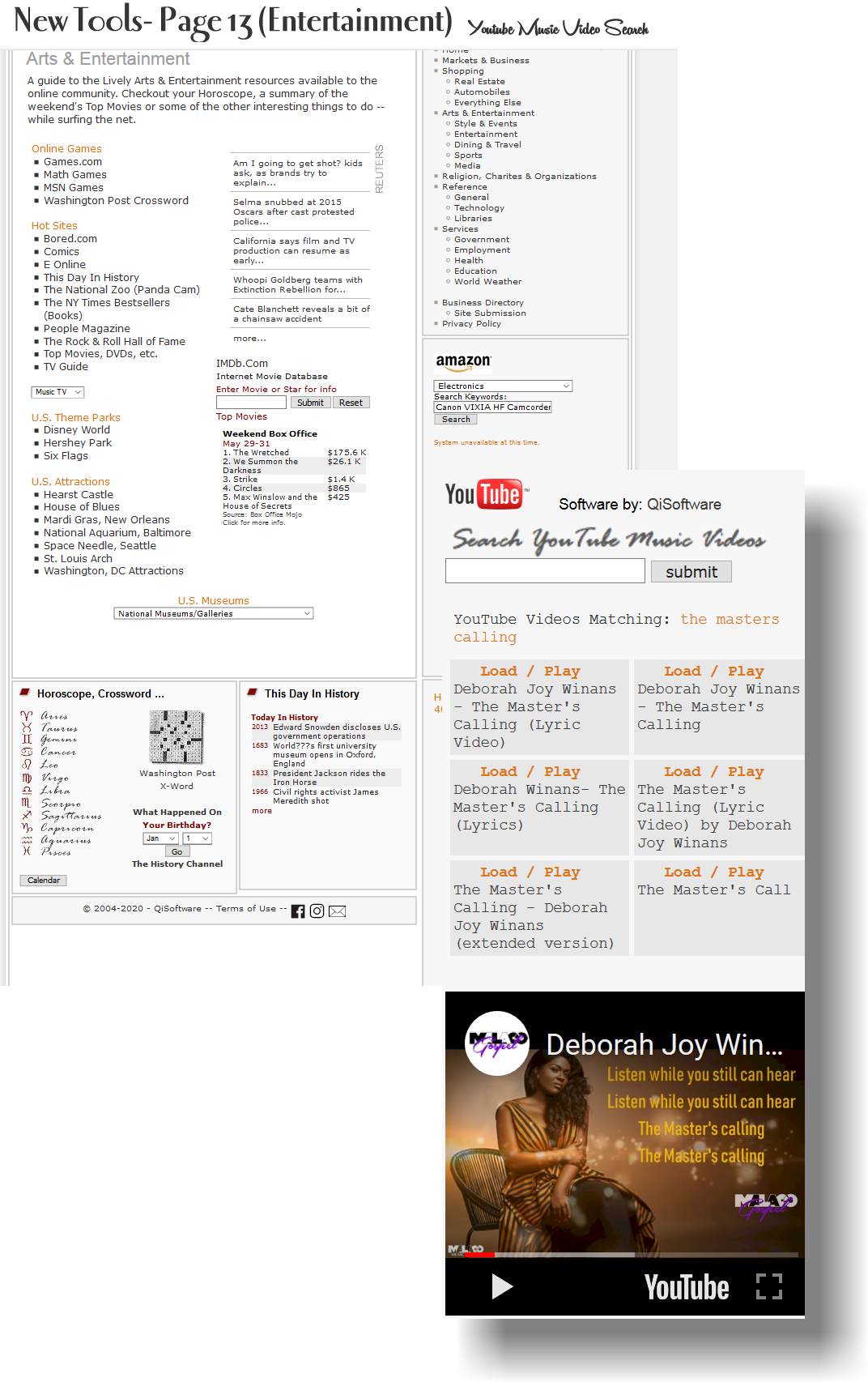 The WiredPages Reference page gets the World Factbook interface.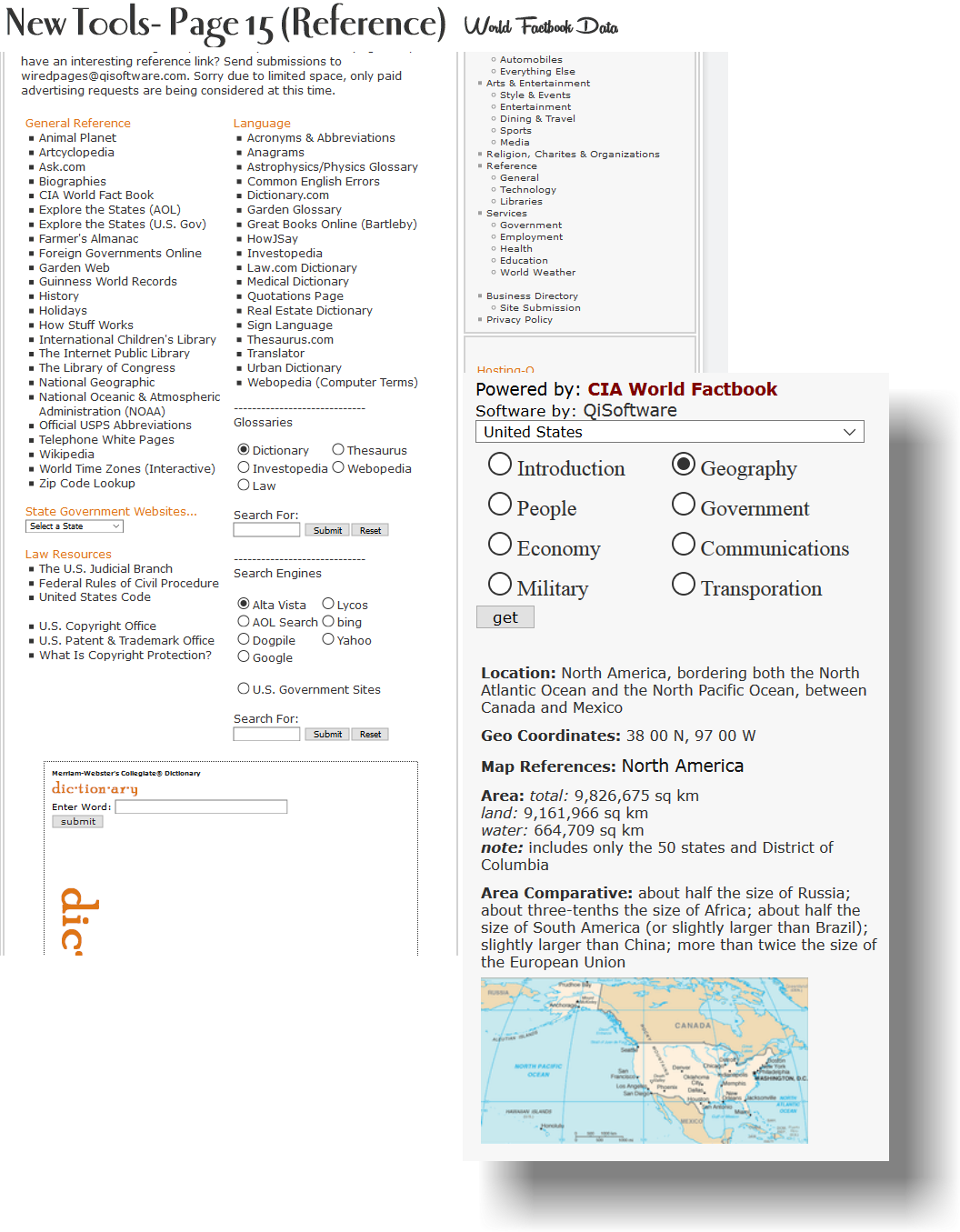 The WiredPages Technology page will get the Alexa Site Rank tool.

There are several other tools in the works, however the tools listed here are ready for installation. Why not install now? Security and potential server load issues. Why continue to develop new interfaces? I hope my issues will be resolved and quite frankly, I love developing new software tools for WiredPages.
Note, the overlay for each tool is larger for illustration purposes.

Sunday, May 31, 2020
Some of you may remember, the WiredPages Reference page maintained a mini version of CIA's popular World Factbook.
The original interface, parsed the actual World Factbook site files to provide abbreviated data for WiredPages' visitors. As soon as they redesigned the site, my interface was dead. However, I have the original code for proof.
Several years ago, I found online, a 2013 SQL database of the World Factbook. Periodically, I work on the new interface, a Java Servlet that incorporates JDBC to access the underlying SQL data tables.
I am in no hurry to install the interface because my online server is too open and not secure enough. I have no desire to provide the data nor my interface to anyone who wants the data. Some justify, access to my servers by claiming an ongoing investigation. I have reminded the FBI and other legal authorities, they claimed in 2012 a huge mistake was made and they were looking at cleanup efforts. What are they investigating where I am concerned? I said no, I do not authorize illegal access to my sites. I repeat, FBI what questions do you have for me?
I am told that Q's Wire has been tampered with so much, those hoping to claim a libel suit, cannot, because the FBI knows about the tampering. My Thingamablogs [this blog, Remix] are maintained off-line so I do not have the same concerns.
That said, I keep all of the original text files for all posts to any blog on qisoftware.com. So, I can prove what I wrote and what I did not write. The other problem? Timeliness. There is a statute of limitations on a libel suit. I am also not malicious. I wanted others to notice the odd things about my case.
In any case, I stopped posting to Q's Wire long ago, however will add a post every now and again. This post is typical of the type of post I used to post to Q's Wire.
That said, as I have done with many of the interfaces ready to install however sitting safely in my briefcase or a hard drive that goes where I go, I provide a preview of what I am doing and how it will work.
This morning, I did a little more work on the World Factbook interface.
I did not anticipate any problems with development of the new World Factbook interface, just how to get it done in my local environment. You might be surprised by how hard it is to work in a secure area even in my local development environment.
I am pretty pleased with the number of interfaces I have ready to install on WiredPages. Part of the problem, malicious users might take my server down just playing around with the many tools. The other problem-- just too many have too much access to my online sites, and I said no... FBI this is repeated here.