Thursday, December 18, 2014
Finished my Christmas shopping Tuesday evening. Packages have been arriving for the last 3 weeks and I am happy I am no longer waiting on anything.
I also purchased two gifts for me. Well one is really a business purchase. My old Sharp 9600 monochrome laser printer was having problems and rather than purchase replacement drums and toner cartridges-- I got the Minolta Magicolor 1600W laser printer for a great price from Amazon. The Sharp was connected to my Windows 98 SE platform via a parallel port and I had an Epson Inkjet on a printer usb hub connected to both my Windows 98 system and an older Mac Desktop.
I gave my mother the same Minolta color laser printer last year for Christmas, and networked both her HP Laptop and her Dell Desktop to a USB printer hub. I knew my Acer Netbook would work with the Minolta color laser printer because I have printed from the system to my mother's printer over the last year, but was a little surprised I had to find a solution for my Macbook [which I did]-- not to be confused with my older Mac Desktop system.
I love my new printer-- but I knew I would, because it is just like my mother's. I no longer have to worry about dried up ink. I can print in color when I need too. Keep in mind my new Brother Fax which is also a monochrome laser is on the first floor so I use that for most of my print jobs. My business letterhead is in color so I am happy I now have my own color laser printer for things like official business letters.
That said, I have spent most of the last two days trying to get the new Magicolor Laser printer to work with my older systems. I did get it to work with Macbook which uses OX 10.4 and my Acer netbook which is running XP. The Macbook was a little tricky in that I had to use the Magicolor 1680 MF driver which I downloaded from the Minolta site.
Here are photos of what I have been up to over the last week, including transplanting my banana plant.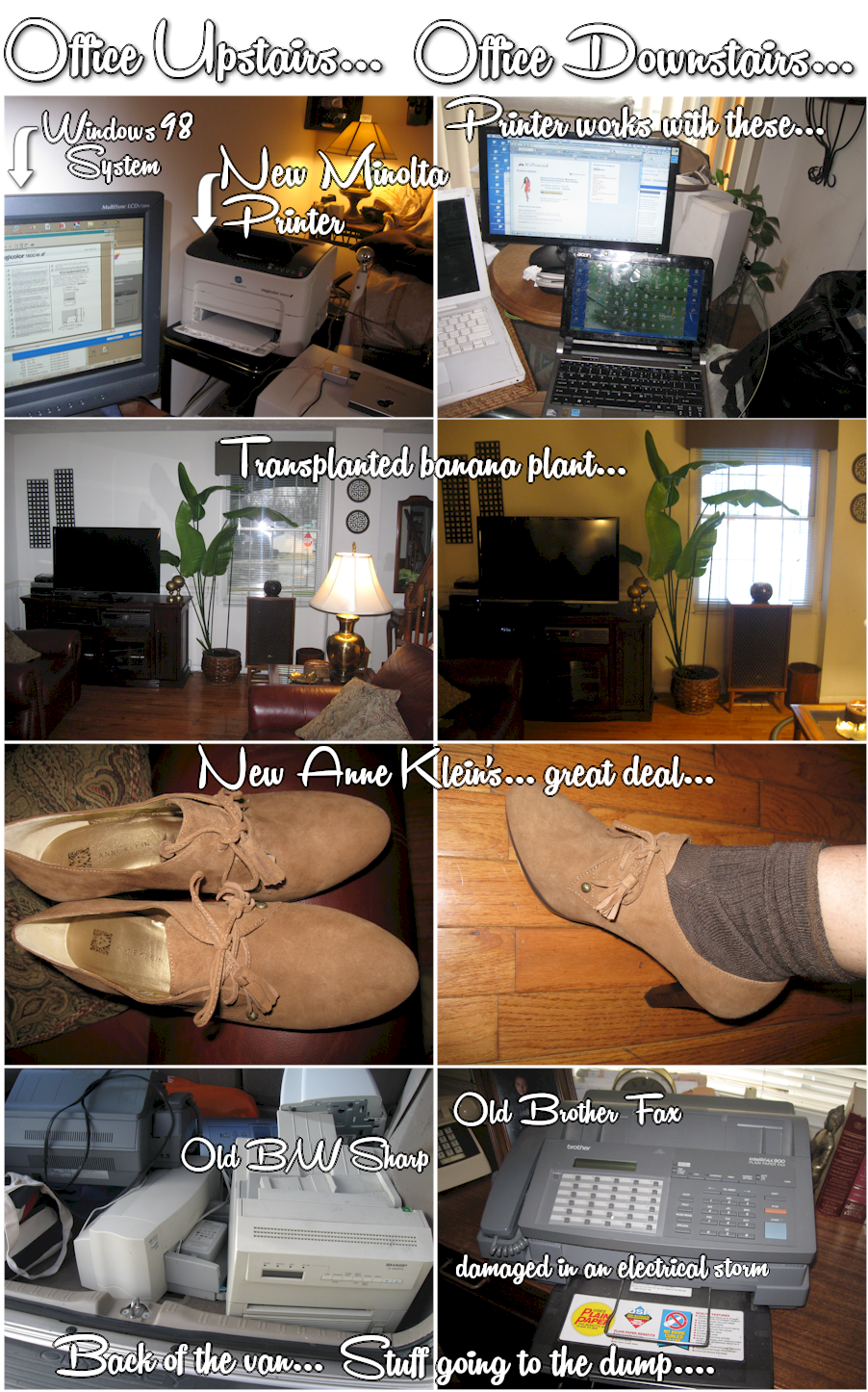 Putting old ink jet printers in the dump.
Changing the System Admin Password on my Macbook because I forgot what it was. Could not install the new Minolta Print Driver without providing the admin password. This was relatively easy, too.
Movie: Limbo [odd little movie].
Updating Amazon Stores; Let Me Know, Brass, Gift Ideas, Kitchen & Home. I have been finding some really neat things... and great sales..
On Friday [last week], I received a package I was not really happy about, so I returned it. I was very happy with how easy it was to return the package. I printed UPS mailing labels. There is a UPS store in Hanover, however I thought the package was small enough to get into a UPS drop box. It wasn't, so I waited on the UPS driver. The drop box showed the time the driver was expected and I waited. I was surprised at how well this went. Was I worried about being out in a low traffic area [industrial center in Hanover with drop boxes all over the place] after dark? No-- but I did all of this "spur of the moment". I did see the police helicopter flying overhead.
Also happy to note, the return has already been credited to my credit card.
Christmas shopping relatively easy this year. I wish other issues were. Still getting noise from Washington.. Ear and balance no longer a problem-- but still have too many other problems. People having a hard time with no-- yet continue to say it will be over soon. Not sure where the process is. Will say that it appears many in Washington want to draw libel law suits. This suggests that my deals are still in the works. The people involved in this crap too high insofar as Washington types. That said, other than the constant irritations and vibrations while I am trying to work through everyday issues, I am mostly okay. I sleep later these days, mainly because too many are bored and the ACLU and FBI have not picked up the government equipment that allows many [with no lives], access to me at all hours of the night. Said no, Washington. Please move on.

Wednesday, December 10, 2014
Putting up holiday decorations, shopping online, waiting on packages and wrapping gifts. Some scenes from around here...
Other things I have been doing?
Updating my Amazon Stores; Let Me Know, Home and Kitchen, Gift Ideas, Computers & Home Electronics.
Watching "The Affair" on Showtime
Movie: "Bullet to the Head"
Movie: "When the Party's Over" [1993 Movie] w/Rae Dawn Chong, Sandra Bullock
Replacing Verizon FiOS Set Top Box in the kitchen. See photo below.
Researching, I will have to wait until after Christmas to show you what I have been up too...
Yes, there has been news [out of Washington], however not sure what it means...
Verizon is great about sending out new Set Top Boxes when they go into disrepair. You can also use the same box to send the old one back...
Hope your holiday planning is coming along.

Sunday, November 30, 2014
By Monday before Thanksgiving, I was mostly happy. Jury duty ended without too much fanfare and I could then look forward to Thanksgiving. I hurt my finger the Friday before I was due to start Jury duty-- so that was an issue, however Thanksgiving went off mostly without problems. I explain my finger below-- and why it is important. The finger is feeling a lot better-- however I get those that want to test the nerves with the consoles. They should not.
Anyway-- scenes from Thanksgiving 2014.
Started cooking Monday, for Thanksgiving... the cornbread for the stuffing.
Started my Christmas shopping Wednesday, November 26, 2014. One gift has already arrived.
My brother stopped by on short notice yesterday. I am not a fan of things like this. See tapes from the week of June 18th, 2012, July 24th 2012, etc. An incident I reported in March 2006. Said no thanks.. not kidding.
Movie: A Promise
Friday evening, November 14, 2014 I hurt the pinky finger on my right hand. The reason i mention this-- is because for most of the prior month I had tried to get out of jury duty. I did not do this on purpose-- however most with access to my house know the finger was maimed. They also know what happened. I note events like this for legal as well as timestamps. I am not a danger to myself nor others-- however this accident hurt me. It has been a long month and many who have seen the finger are upset-- as am I. I am really not in the mood for continuing issues with those on the consoles-- and I am told many have been picked up. Initially, because of swelling many have stated they did not know it was that bad. It is disfigured slightly. Yet, many continue to try to demoralize and anger. I have asked repeatedly requested that this cease.
How this happened... the lights in my mother's bedroom went out when she plugged in her ceramic heater. She ran to the basement to the power box to flip the switch and requested I look upstairs to see if the lights were on. She left a flashlight on and not a lamp or ceiling light-- so I had to run up stairs to check. In doing so, I grabbed for the door jamb and bent my finger. I was a little irritated she had not left a light on that I could see from the bottom of the stairs-- as i had requested her to do. This was not my mother's fault-- nevertheless, i do not think she understood initially understand how bad I hurt the finger. In my haste to get up stairs because she was screaming from the basement for me to check-- I grabbed the door jamb at the top of the stairs the wrong way.. it hurt. many on the consoles initially thought it funny. There are a lot of VIP kids with access. Also many, just curious. This was not done to get out of jury duty-- and keep in mind i do not have medical insurance. The fact these mostly young females continue to think this is a game amazes me. Judges-- I am not sure why I am continuing to ask that they get off me-- but I am..
Please check the surveillance tapes and get these clowns off me. If I did not know better-- the jury duty, and events like my brother showing up yesterday-- feel like attempts to bug me at the holidays. Attempts to demoralize. He was concerned about my finger? No. My mother seems more concerned that I want to blame her. I do not. I simply want all of this over. I jambed the finger. I wish she had left the light on in her bedroom so I did not have to run upstairs to check if she had flipped the right switch. My finger is hurt-- it was my fault. I simply want them to give me a break. I am working on different projects-- and for the past month-- mainly concerned with getting out of jury duty.. It did not work-- however, as i provided earlier-- went off without a hitch so I am just happy it is over. It was a hard month... I am happy to get my Christmas shopping underway.

Friday, November 21, 2014
Monday night my mother went out and upon returning came in with an armful of Birthday Gifts including this Edible Arrangement.

I have been snacking on this all week. I love toasting up a Hawaiian Sweet Roll, cutting off a hunk of cheese and dishing up a bowl of fruit for a great mid-afternoon snack.
Another idea... Grand Marnier, Whipping Cream and Powered Sugar. Found this recipe when I was looking for a fresh fruit sauce that was not chocolate. Sounds good to me-- however I love Grand Marnier. Let me know if you have tried this.
Speaking of gifts... Wednesday, before I found out I had to report for jury duty on Thursday [November 20th, 2014], I thought more about neat gift ideas for the Holidays.
One year for Christmas, a friend gave me this beautiful [glass] perfume atomizer.
I later found out the friend was actually an acquaintance of one my cousins. The things I have learned over the years, has often surprised me.
In any case, I have always loved the gift so I added a couple of choices to my Amazon Gift Ideas Store.
Other things I have been up to:
One of the things I wish I had done? Taken photographs while I was in Annapolis yesterday. I was so tired-- I could only notice how beautiful everything looked first thing in the morning.

Monday, November 17, 2014
Today, is my Mother's Birthday. I think she was happy with her gifts. Later today, She has plans with the rest of the family.
This year, I decided to make her a card using Microsoft Publisher and the color printer she got for Christmas last year. Keep in mind, if you have a Macbook, you can use iPhoto [software that comes with Mac computers] to make cards and calendars, however I went this route because my Netbook is lighter and easier to hookup to the color laser printer located in her bedroom. Microsoft Publisher is a separate software purchase.
Also been tending to a new plant:
It's rainy here today. Normally, the weather never bothers me. Today, I am in a bad mood, but really don't think the weather is the issue. More, upcoming jury duty [which I have yet to see a just kidding notice for], jammed my finger Friday night-- and it is still black and blue, lot of abstract noise.
That said, happy my Mother liked her card and gifts. My Mother makes me laugh. She has all of the latest innovations, i.e., iPhone, desktop and notebook computers, two tablets-- yet when I gave her, her new flashdrive [one of her gifts] she asked what she should do with it. I am not sure if the Ellipsis Tablet can read it-- but everything else can. Me or someone else in the family, insures she is up to date-- insofar as digital technology and computers.
Did you know Amazon allows you to subscribe to books and videos for mobile devices? I wanted to give her a year of free reading for her new Ellipsis tablet. What I did not know was you cannot give the subscription as a gift unless you do it with a gift card. That said, I have been updating my Amazon Stores. Check out the Brass Section and Gift Ideas.

Friday, November 14, 2014
Last week when I ordered my Mother's Birthday Gift, I also ordered a new Kingston 16GB Flash drive for a new iPhoto Library. The following shows the old drive which I used to duplicate what I had on my MacBook's harddrive, and the new one I received earlier this week.
Also this week, I have been catching up on the Showtime mini series "The Affair". I started watching in the middle of the fourth episode and so after I watched the fifth episode last Sunday evening 10:00 pm EST, I watched via Verizon OnDemand- the ones I missed including the entire fourth episode. I think it is an interesting series.
Also this week, I did my hair to get into practice for the upcoming jury duty. I am not happy about this. Those witnessing the events on my frequencies should probably understand why.
Other things I have watched this week:
Tennis: ATP Men's Finals London
Movie: "Kill Your Darlings"
Movie: "Casting: A Chorus Line: Every Little Step"
Football: Giants v. Seattle NFL
Trying to determine if I should use my electric Conair Curling Wand. The curls did not stay long enough. Will have to pull out the big guns...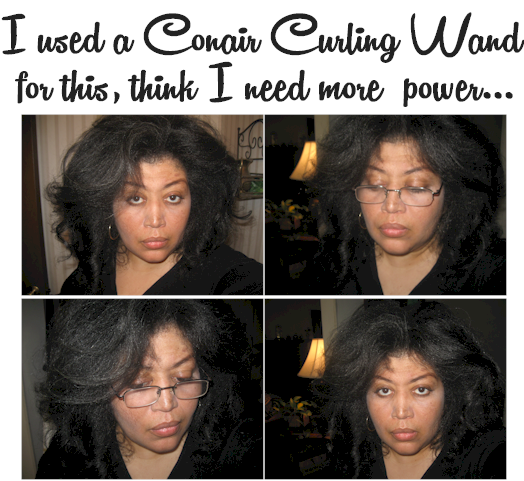 Last Friday, I spoke with the Anne Arundel County Sheriff's Office [Sgt. Waters] concerning my upcoming jury duty. He indicated I should leave as much as possible at home but thought there would be no problem, when I explained I could not.
Those on the consoles have had a field day with this [jury duty summons]. I am not sure why they are allowed to harass me.
Other interesting things? There have been two crossing guards on the corner every morning and night since Monday. Training does not take that long. Usually a day. No information offered by the earpiece as to the reason for this.
How many promises broken this week? Too many.