Friday, September 18, 2020
Yesterday, I noticed the WiredPages "What's New" interface located in the lower right corner of the home page- showed nothing. The tool was a Java Servlet powered by Facebook, which accessed the Facebook WiredPages Notes page and provided the 3 most recent posts.
After a moment of research, I found, a Facebook app permission that I had requested in December 2017, had been revoked because of new policy changes for app developments.
When I first requested the Facebook app permission (Page Public Content Access), I thought I would be using the access to power an events interface I wanted to use with the WiredPages Style & Events page. Initially, Facebook allowed programmatic access to events associated with a page, however changed the policy.
Long story short, I used the app permission to access the notes of the WiredPages Facebook page and not the events-- and believe this is why the app permission was revoked.
The initial app permission request- provided a video and details explaining the events tool I wanted to create, and not the What's New interface I eventually created using the app permission.
Yesterday, when I discovered the issue, I thought about my options for a moment and decided to create a new database which would power a new Java JDBC Servlet. Factors in this decision process:
The original servlet was a little slow, accessing the Facebook data pool the most likely cause.
I have several tools accessing the WiredPages Facebook page, and when I added a new note, I had to insure the real estate plugin also powered by the Facebook page, was not affected.
Honestly, tired of worrying about policy changes.
I developed the Java JDBC Servlet and database in local mode and then ported everything to hosting-q.com (around 7pm last night), where I maintain most of the tools associated with WiredPages.
A couple of minor glitches installing the new database and servlet on the live site, however happy to report everything is working again.

Wednesday, September 16, 2020
Folks in my area are allowing their hair, to take on beautiful shades of gray. I wish my coloring allowed me to consider this option.
Over the weekend I did my hair...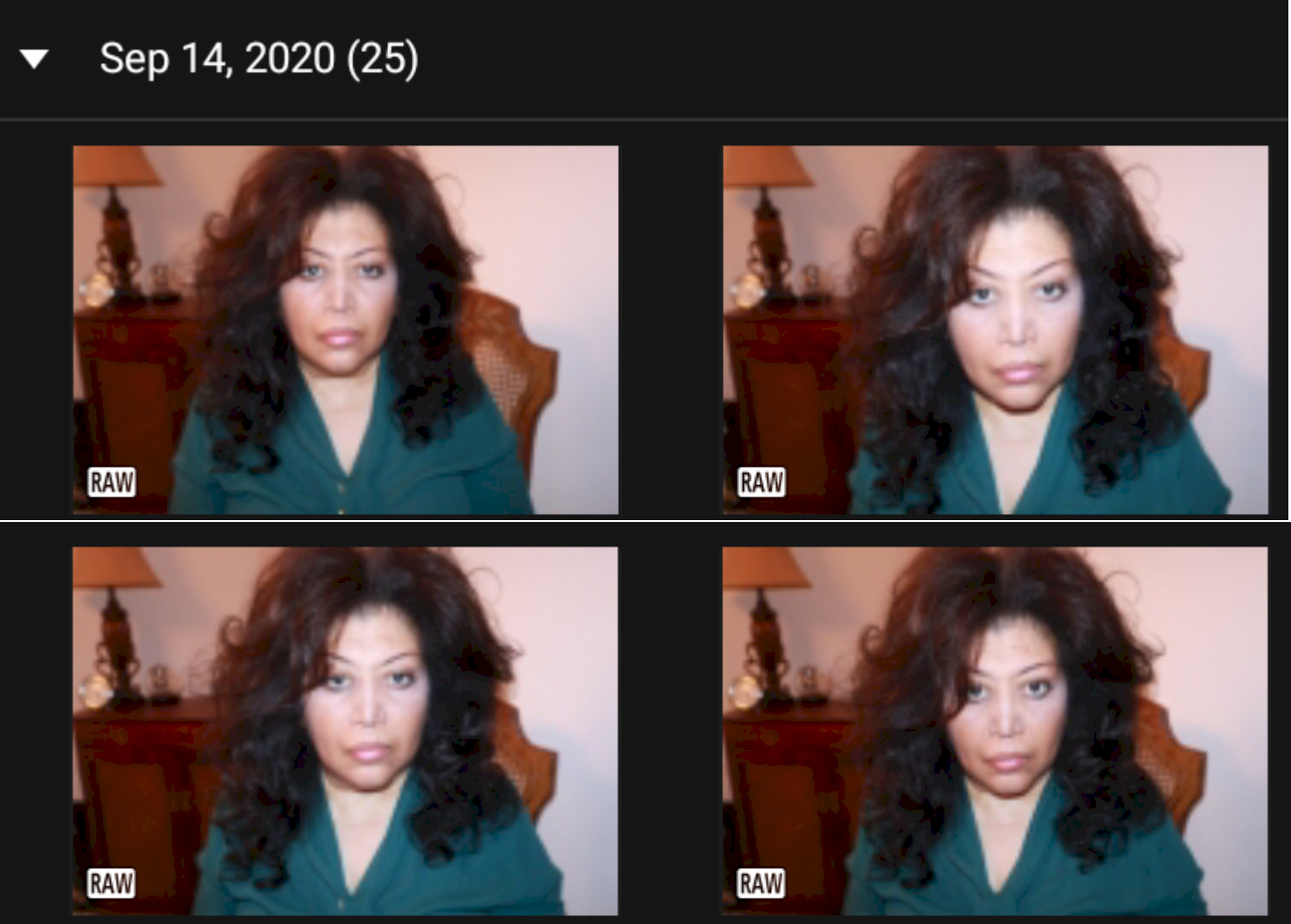 I was watching a review of the Dyson Airwrap Complete Styler for Multiple Hair Types and noted the total time- the young lady took to achieve her blowout.
I set my hair at night. It takes about 40 minutes. I use a very hot Conair 1" Curling Iron and then set each curl in a soft roller for overnight wear. I use an ISOPlus conditioner on the ends, just before winding each section of hair on the curling iron. My hair is deceptively full (lot thinner than it looks).
Why does it take so long? To achieve longer lasting curls-- each curl (16 total), has to stay wound on the curling iron for an 80 count. Eighty seconds? No, just an 80 count which is probably less than 80 seconds.
Do I take my hair out every day? No. Do I use weaves or other sources of hair? No. I keep my hair straighter, by using a blow dryer and curling iron to take out most of the natural wave.
I wanted to snap new photos for Linkedin and other business services I use, however I am not sure I want to use the photos shown here. They are screen grabs from my Android as taken by my Canon EOS M50 (see info in the blog header) using the portrait setting and the two second timer. The hair length for a business photo- the problem? No. My conservative earrings are overshadowed and I am not sure why.

Monday, September 07, 2020
In 2009, I switched from a shared to a private Tomcat jsp hosting plan for use with qisoftware.com.
What is Tomcat?
Apache Tomcat is a long-lived, open source Java servlet container that implements several core Java enterprise specs, namely the Java Servlet, JavaServer Pages (JSP), and WebSockets.
The switch [on qisoftware.com's servers] enabled me to restart my private Tomcat service whenever the need arose.
The switch for hosting-q.com, where I maintain most of my Java Servlets, occurred in October 2018.
When I started using private Tomcat services, I only needed to be able to restart Tomcat so updates to the web.xml file and new Java .class files were recognized.
This to say, that if I ever had a problem with either shared or private Tomcat services-- I simply decided my web hosting providers should research and fix the problem.
In October 2018, a newer Tomcat private service was established on hosting-q.com, for which (quite frankly), I had to do a bit of research- to have it work correctly. Last week, I forgot I had to do this. Yes (even then), I tried asking the web hosting provider to resolve some of the issues, however now I realize, they feel if you ask for a private Tomcat hosting plan, then you know how to run a private Tomcat service.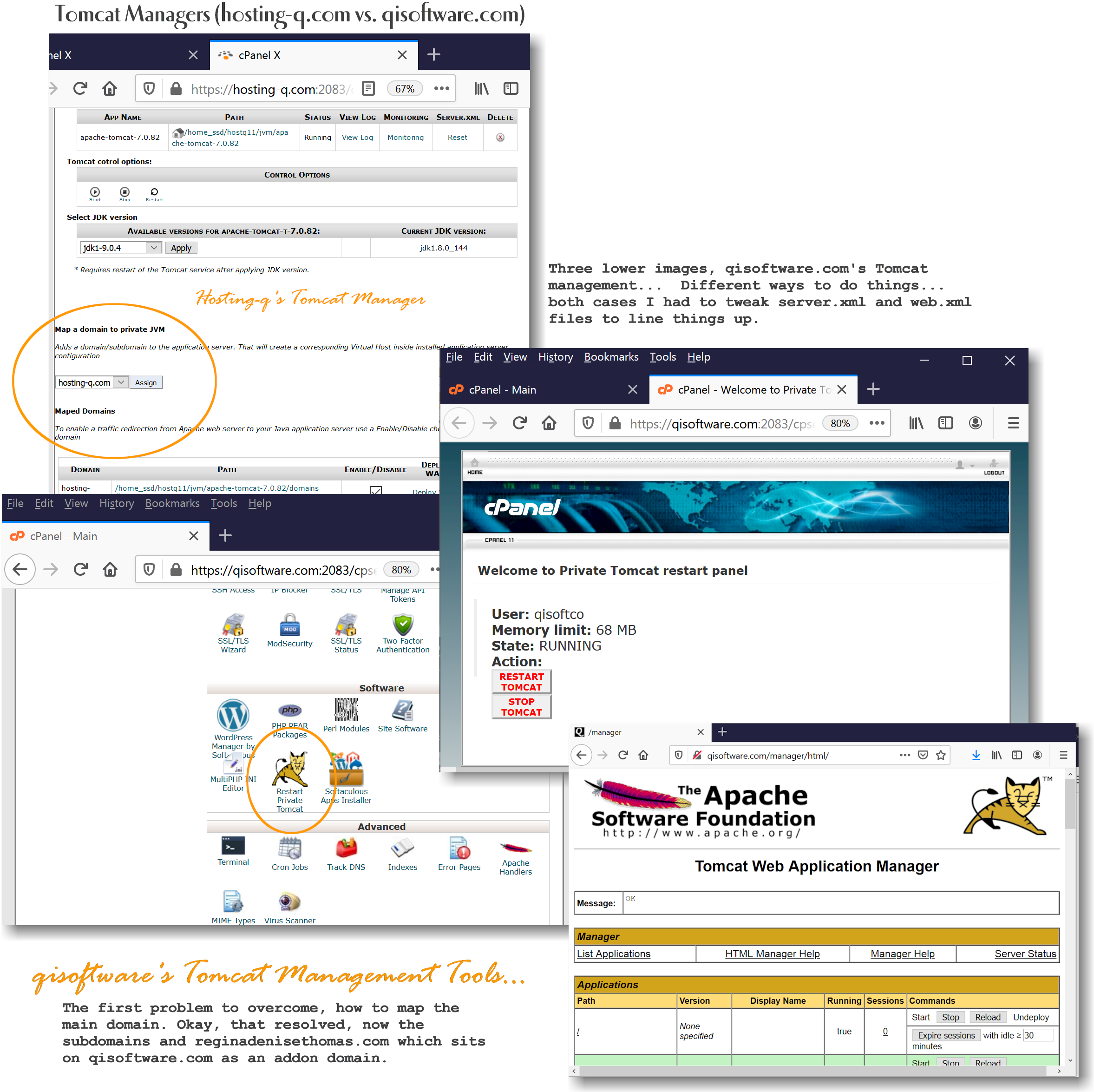 Last Wednesday (September 2, 2020), when I okayed the update for the current Java JDK version 1.6, the web hosts also indicated they would update both Tomcat to version- 8 (8.5) and the Java JDK to 1.8. When this happened, the site dropped almost immediately.
Java JDK 1.8 is considered a must have to handle today's SSL issues, and since I have been developing in that environment (JDK 1.8) since December 2019, I knew it was a must have for qisoftware.com servers.
Preliminary tests showed, I could not even install a simple Java JDK 1.8 test servlet on qisoftware.com servers without dropping the entire site (keep in mind when you use a private Tomcat service the Apache Tomcat server is used to run the entire site).
The other issue, for the last year or so, I have been migrating new tools, or updates of existing tools to hosting-q.com because qisoftware.com's versions of Java and Tomcat simply could not handle the new interfaces.
Two weeks ago, when hosting-q.com experienced an overload, I knew I had to do something about qisoftware.com- to assist in the efficient distribution and deployment of Java class files, between the two sites.
I had errands to run Wednesday (September 2, 2020) morning, and knew before I left- I had a lot of problems. When I returned, I was able to figure out how to map qisoftware.com and reginadenisethomas.com to the new Apache Tomcat Server.
By the end of Wednesday evening, I had the following sub-domains mapped.
forums.qisoftware.com
personal.qisoftware.com
remix.qisoftware.com
wiredpages.qisoftware.com
I probably should not admit to this, however here goes. While trying to get the sub-domains mapped, I inadvertently deleted all of the files in most of the sub-domains, reginadenisethomas.com and the rest of the lower directories under the main level.
No problem- remix.qisoftware.com and personal.qisoftware.com are Thingamablogs so I simply ran the local software and reinstalled each blog (personal.qisoftware.com took over nine hours to reinstall on a Verizon FiOS network-- think we are sharing some of our throughput with neighbors).
As requested two days before (August 31, 2020) by my web hosting providers, I made a backup of the entire site (oddly enough, Tomcat & WiredPages directories were missing), so it was easy to use a secure copy command to replace the deleted directory structures.
Other issues I had to resolve:
cgiemail-- though the cgi-bin directory appeared to be mapped, the MIT Form to Email application I have used since 2004 or so, simply would not work. Created a PHP Form-to-email Function to handle qisoftware.com/contact.html and wiredpages.qisoftware.com/busdir/SubmitListing.html.
index.php not recognized for forums.qisoftware.com. The following command set did work for 10 minutes and then suddenly dropped the Tomcat Server.


Had to come up with another way, which I am not happy about.

Continuing to look at this problem.
All of this to say, at this time, qblog.qisoftware.com (Q's Wire, MySQL Database uncorrupted) and blog.qisoftware.com (original Business Blog) are not installed. Very easy to use the secure copy command to load these sub-domains and the associated directory trees. I am simply weighing the options.
Did you want to ask if you should use Java Servlet Technology or use someone like me to develop custom tools? Yes. Most big sites use Java technology. It is more secure and executes faster than most scripting languages. Smaller sites can use a shared Tomcat environment. Developers like me-- need the Private Tomcat Server.

Wednesday, September 02, 2020
The upgrade to the Java JDK and Private Tomcat Instance used by qisoftware.com did not go as planned. You may notice issues with some of the tools and interfaces installed on WiredPages and the main site area of qisoftware.com.
Running several errands today, so my communications with my web host may be delayed. Hopefully, the problems will be ironed out by the end of the week at the latest.

Tuesday, September 01, 2020
Normally, I love this time of the year. Well, that's to say Autumn, but it will be here soon.
I used to look at my site stats and think, DOJ, affiliates, lawyers were good for their word. Their claim- "we are trying to clean up a lot".
Normally, around this time of the month, I hear about the number of people who did not get their first of the month check. Supposedly, because he or she interfered with me or my business. I do not want to explain the other reasons-- but have you noticed the difference in my recent photos versus from 5 years ago?
Nevertheless, I often hear- "yes we do owe and yes this will be cleared up". No, I did not hear of any recent firings. Yes, all the time I hear about how much my sites are making. Do you want to see my earnings from those sites?
DOJ-- did you want the screen-grabs? I am not demoralized. I want these issues resolved. I want to walk away. I said no.

Saturday, August 29, 2020
Recently, I acquired an EMV Chip & Swipe Card Reader for mobile business payment processing. Allow me to back up for just a moment, and explain, I have had a PayPal business account since 2005 or so, which enabled easy sign up with PayPal Here, the mobile payment processing service.
I use PayPal for most business payment processing tasks, however there are several other great options, including (list focused on mobile payment processing services):
Most major banks also offer merchant services for business banking customers, however I do not have enough in the way of monthly sales revenue to justify this more costly option. At this time, PayPal is a more cost effective solution for my business payment processing needs.
To be able to to accept credit cards at the Point of Sale (POS), you will need new equipment. I have compiled a list, I believe to be a good starting point for research into this area.

Partial List of Available POS Payment Processing Equipment

Interesting articles about card readers and related card processing services:
Before purchasing credit card processing equipment, research the payment processing service, i.e., PayPal, Clover, etc., you are planning to use to insure your payment processing requirements qualify for the type of service being offered. For example, PayPal requires applicants to either have a PayPal business or premium account to activate the PayPal Here mobile payment processing service.
Also, before signing up with a new payment processing service, understand the fee structures. While researching for this post, I found one of the biggest complaints from merchants with established Point of Sale (POS) payment processing solutions, was the hidden costs.
Printing customer receipts at the point of sale (mobile) is also something that should be researched thoroughly before purchasing equipment. The PayPal Here service offers either a text or email receipt, in the way of other options.
In the table above, I list a thermal printer for Android users of PayPal Here, however my own experience has been "enlightening" to say the least. No, I did not purchase the printer I listed. I will discuss this further in a later post.
I am a small business owner and have to justify my business expenditures. To date, my total cost to be able to accept most forms of payment while on the go, is under $100 USD. Research into the purchase of POS services and equipment is important.
Now, I am thinking about a yard sale. Even looked into tax related issues. What else? Photography, WiredPages Business Directory listings, on-site software consulting fees...
For legal reasons, I provide demonstration of my software tools (core business), on my sites, e.g. WiredPages, however I have to be more selective where direct client support is involved. Liability is to easy to assign in the online services game.
At this time, I rely more on the advertising associated with my sites. I need a more stable legal solution.
That said, I am coming up with other ways to use my new mobile payment processing capabilities. Can your business justify the cost? Here is another solution- PayPal.me.