Wednesday, December 11, 2013
Are you wondering why there is a can of chalkboard paint under the Home Furnishings & Kitchen Category [lower page 2]?
Several years ago-- when Naomi [blogger I read], moved to DC she had areas of her kitchen done using the paint. I liked the idea.

Also- the other night I watched part of the movie "The Words". Dennis Quad's character- had in his apartment, an extra large mirror leaning in the entryway which was the inspiration for this Home Furnishings find.

Sometimes, I pretend I am furnishing a large home with all of the things I love. My Home Furnishings & [Kitchen] Category reflects some of the finds I would like to have.
I have not included this item yet, however I decided this Enclume MPB-06 RACK IT UP Bookshelf Pot Rack
would be perfect if we had higher ceilings with wall space in the right location to hang my mother's beautiful set of MPS pots & pans.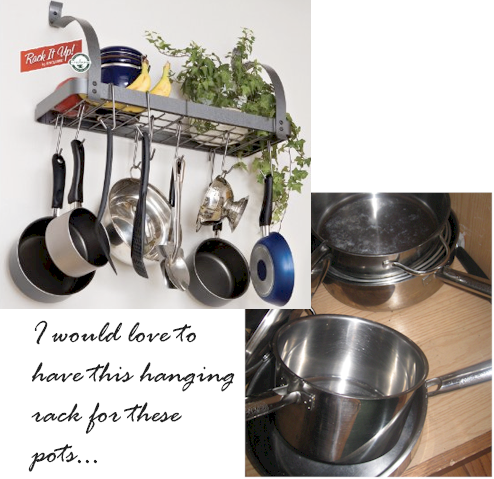 I have finished wrapping all of the presents I am giving and have started planning the menu for Christmas day. Have not started updating WiredPages-- but hope to get to it later this week.
News from Washington? Not good.

Saturday, December 07, 2013
Happy to report most of the gifts I ordered for Christmas arrived yesterday. We put up the tree Thursday evening and Friday I waited on gifts and wrapped them. I had one or two-- so I finally wrapped those and put them under the tree too.
This has gone so smoothly I am pleased.
I need to update WiredPages-- [not the widgets/software], mainly revisions for links and ready the sites for the new year, so in addition- I will be backing up a lot of things from the bag to the new hard drives I purchased earlier this year.
This should keep me busy for the next week. I also want to plan a nice dinner for Christmas day- so I have several projects on tap, including updates to my Amazon aStores.
Hope your holiday plans are going well. News from Washington? Mixed.

Thursday, December 05, 2013
Yesterday, I had a fuss fest on Q's Wire. Today, its back to business. I ordered my last gift this morning and I am pretty pleased with myself.
The other day [Tuesday, December 3, 2013], my mother gave me an early gift. A Mandolin Slicer. I have wanted one since arriving here- and at last I have one. I am always slicing up potatoes, onions and green peppers, or grating cheese- so she decided I needed one, too.

This model works pretty good, however if you think you are a gourmet chef, check out some of the more pricier models available. This is all I need for right now.
I love gourmet hot chocolate [Godiva, Ghirardelli-- check out my "Gift Ideas"], however SwissMiss is pretty good too. The other night I made a hot chocolate with some of the whipping cream I had leftover from Thanksgiving.
Yesterday, my mother went to lunch and one of her girlfriends gave her a new plant.
I am a little concerned she does not want to put water in it. As I write this, she is on her way to find a water mister. It is an "Air Plant" and does not need soil. The instructions indicate one should soak in water for 30 minutes once weekly-- however she has decided that is not what it needs. Sometimes I feel tested [glad I did not put water in it last night when she left it right there for me to worry about]-- and in this case, I am going to let her worry about the upkeep of it. What does this say about me? Newcomb [old observation], I am rarely that fast. Never was.
News from Washington? Odd.

Monday, December 02, 2013
We have leftovers. Was the food pretty good? Yes. Still, we have leftovers.
We have also started putting out our Christmas decorations. Last year, I thought they were up too early-- so this year we are starting a little later and doing it in a more gradual manner.
Thus far, we have only one real Poinsettia [sitting on the table in the entryway] and existing items decorated with some of our many "forever" poinsettias.

I am not a big fan of "forever" flowers unless of the dried variety, however I do love the brass bucket that holds our red berries arrangement [year round] and the "forever" Poinsettias [at Christmas] that used to sit on the fireplace.
Earlier this year, I moved the bucket to the dining room [quite frankly it looks nice in both locations] when I wanted to place a new plant on the fireplace, so I have no one to blame but myself. Once the stockings are hung, perhaps I won't miss it so much.
Did you start your Christmas shopping? I am a little bummed out that this morning I noticed an item I wanted- went up in price because it was no longer being sold by the same retailer. Snoozed, I lost. Other than that, I am in pretty good spirits. News from Washington? Odd.

Thursday, November 28, 2013
Happy Thanksgiving.
I finished cooking around 1:00 p.m., dressed for dinner [combed out my hair-- curls fell out, applied makeup] and we ate shortly after. It was an easy morning. Got up at 6:00 a.m., showered, dressed and started cooking around 8:00 a.m.
There was a slight problem with the turkey, however everything else was great. An unknown couple to me stopped by after we ate. For some reason, I wanted the photos to line up-- in case the couple keeps up with this blog. I have not had this much makeup on- in awhile. The last photo I took of me [and posted], showed a very tired "me" so I wanted to show- it was simply exhaustion and the time of evening.
Dessert... This cheesecake is great. It is similar to a Southern Living recipe I have. I only make a quarter of the original recipe.
I had extra crumbs but did not use them to sprinkle the top of the cake [on purpose]. When trying to release the spring-form pan some of the crust sprinkled the top.
Hope you had an easy day too. Turkey and hair my only problems today. Hoping the rest of the evening is event free.

Wednesday, November 27, 2013
I did not cook today.
Yesterday after I posted, I continued with my Thanksgiving preparations and made two desserts. A Cheesecake and a Butter Sour Cream Cake with Chocolate Icing.
The Cheesecake called for an hour cooling before glazing the sour cream topping in the oven for 10 minutes, so I baked the butter sour cream cakes while I waited.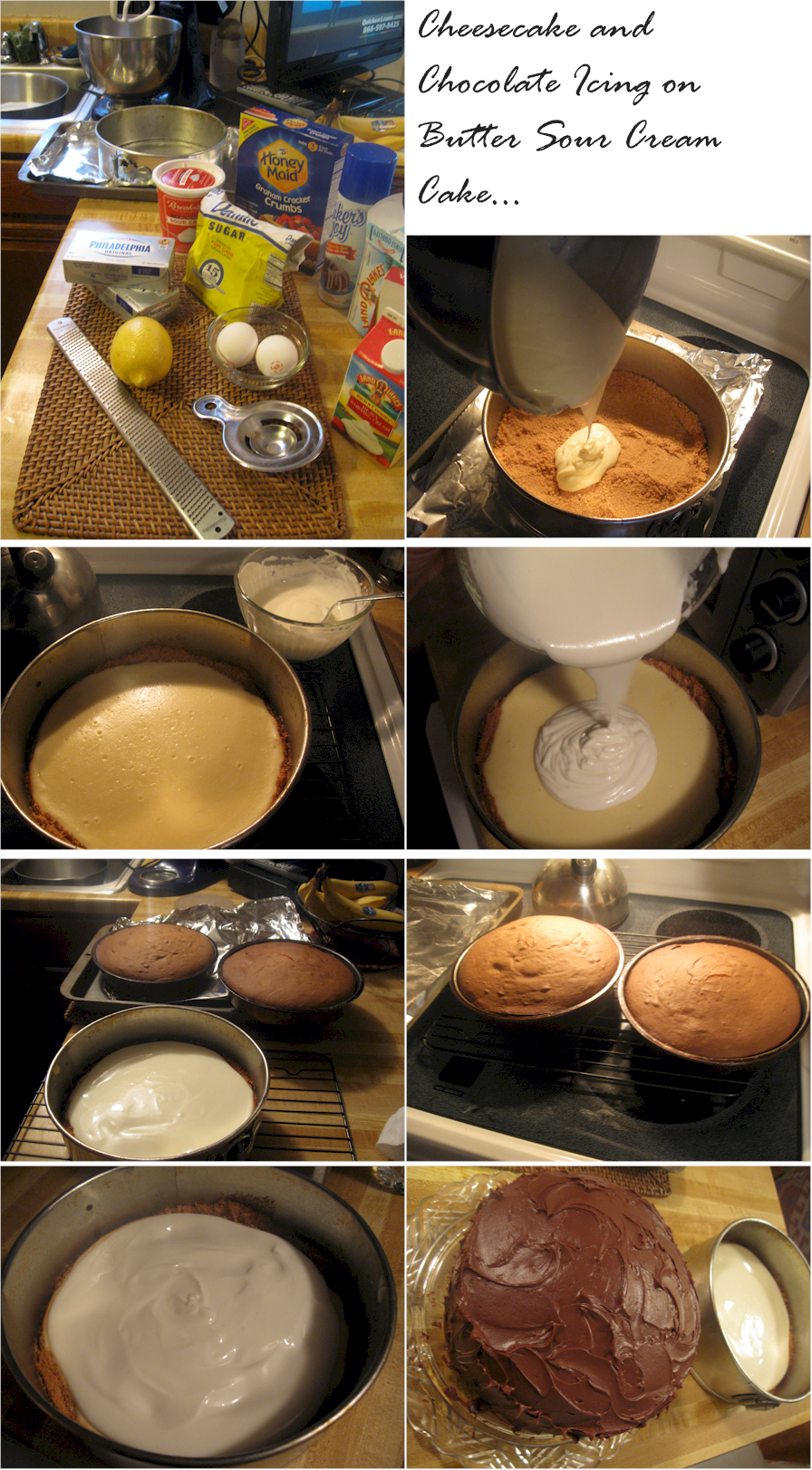 I was irritable by the time I finished last night and then discovered the cake was too high for any of my cake savers. I used a large silver mixing bowl to cover the cake. This the reason I did not post the photos yesterday.
Yes, we cut the cake this morning and it was great. We normally have so much food-- we have to start early to eat it all.
The other desserts, we have the ingredients for Toll House Chocolate Chip Cookies and a Mrs. Smith's Apple Pie along with Vanilla Ice Cream. The sweet potato casserole my mother makes as an entrée for dinner, is sort of like a pie so we should have plenty in the way of sweets- if we decide to save the apple pie, ice cream and Toll House Cookies for another time.
I think tomorrow will be easy..
On The Menu...
Turkey
Dressing
Sweet Potato Casserole
Macaroni & Cheese [Cooper's Monterey Jack Colby Blend] this is so cheesy.
Collard Greens
Potato Salad w/Egg [we prefer this to mashed potatoes, however my mother may have plans to include them.]
Cranberry Sauce
Dinner Rolls with Butter..
Our Thanksgiving meal is one of my favorites.