Thursday, September 13, 2018
Started work on the new WiredPages Weather Tool.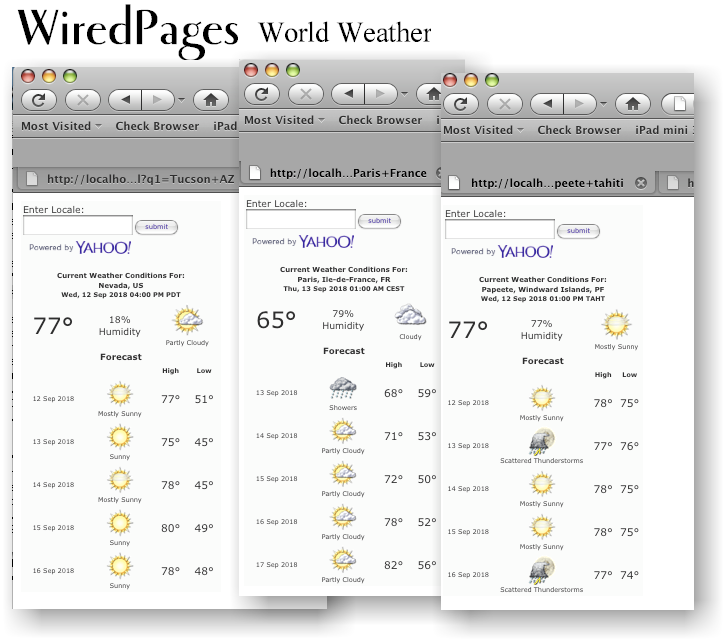 The old interface, illustrated in the QiSoftware Product Catalog is a Java Applet/Servlet combination.
The new weather interface, is a server side Java web application [Servlet]. The new tool will allow access via web browsers installed on most platforms including iPads, Androids, wireless devices, desktops, smartphones, etc.
Not sure when the new interface will be installed. Still working design issues and checking security risks. The new tool will be accessible through the WiredPages home page.

Monday, September 03, 2018
Labor Day, the unofficial end to summer. It has been a busy summer for me.
Some of the things I have been up to:
As noted in blog posts, lots of work developing new interfaces for WiredPages.
An event in our lives made a local news story. Only noted in case needed for future reference.
Watching Power (Starz series), The Affair (Showtime series), The Sense of an Ending (movie)
Updating the stores:
Friday (08/31/18), I started work on a new interface to replace a Java Applet that provided a snapshot of the market indices. The old applet was located on the home page and the Market & Business page.
This 30 second video, shows where I am in the development process for the new Java Servlet.
Also on tap this summer, like every summer- my age climbs higher. Recent photos...
Why not dye my hair? Believe it or not, some are not sure if it is my hair. Four years ago when I dyed it a darker brown than my actual color-- it looked more like a messy wig.
Today, I really do not get out a lot, however when I do-- you might be surprised by what tends to be a curiosity. Why is that hair so big and messy? I have a lot of hair that is very porous [like a sponge it absorbs steam and humidity]. People have done odd things. I do not want to be tested.

Tuesday, August 21, 2018
Big event over the weekend, however about all I want to say at this time. Everything on track. Waiting on repair people.
In other news, working on a new tool for the WiredPages Employment page.
Short video to demonstrate how the interface will work.
You may have noticed one of the tools on the Employment page was removed, so this interface will be integrated sooner rather than later. I am still tweaking the appearance and testing different results [debugging] from the API. Should be installed within the week.

Friday, August 17, 2018
On November 29, 2011, I wrote about an incident involving my Celebrity Birthdays Database. The article is rather lengthy, however discusses in some detail how and why I created the database and related Java Applet & Servlet that were used to both update and display the database information.
The article, provides an illustration of the number of records I had in my local [offline] database at the time of the article [Nov. 29, 2011]. The following diagram shows the same illustration side by side with today's record count in my local database.
The data is credible because it was extracted from the Biography.com site. Initially, the data was gathered using a custom program [Java JDBC/servlet] I developed which parsed the biography.com html file relating to current birthday information and added the entries to the online database.
When I first developed the servlet which extracted data and updated the database, I was unaware my server and database were so accessible by anyone who wanted the data. I also discovered the data was being tampered with. That is why on April 29th, 2011 I accidentally, deleted all of the records. I used the "<>" the wrong way. So it really was an accident. I was trying to make the data less attractive.
Biography.com provides an HTML page showing all of the birthdays for the current day. The page also lists separate article links about each celebrity with a birthday on that day.
The custom program extracted each day; the individual celebrity article link, celebrity name, and the month and date mm/dd".
I could have left the program in place, however did not want others to use it so I deleted it. That program only needed to run for a full year. When I manually updated my local database, I did not do it with the program. I would have had to run the tool every day in local mode-- so I manually extracted the data from biography.com using cut and paste. Keep in mind, only the offline database is complete. I purposely left the online version corrupted.
The following illustration shows data in the online version of the database that I recently deleted. The records were deleted because someone inserted records with links to the biography.com html page of birthdays for the day and not the individual biography.com articles about the celebrity. I did not do this nor did my program.
In my current effort to remove all of the applets used on WiredPages, thereby using only servlets, I recently replaced the Celebrity Birthday interface used on the WiredPages Style & Events page to the new program which only uses the Java servlet.
If you do not see the interface that means the online version of the database does not have birthday records for the current day. My offline version does, and periodically I will export the records from the offline version and import them to the online database, as was the case for today, August 17, 2018.
I will install the entire Celebrity Birthday Database to hosting-q.com, when I am able to control who has access to the server. In the meantime, this provides explanation of why the interface is sometimes unavailable.
QiSoftware is a legal business entity and registered in the State of Maryland. When you tamper with my online assets you are interfering with my business ventures. Please cease and desist at once.
As of the entry time of this post-- hosting-q.com is having a problem with the with JSP, i.e., Java Servlet support. This means there are many "Service Temporarily Unavailable" messages throughout the pages of WiredPages, even though the main site, hosting-q.com is available. I host a lot of my programs on the hosting-q.com site.

Thursday, August 16, 2018
In May 2012, after I negotiated a settlement with several parties including the US Government, I was told this horrific situation would end any day. That is still being suggested.
What happened? The explanation given to me-- a far reaching investigation. I am told a lot of government people have lost their jobs. Many lawyers who were not really lawyers-- lost jobs. I am told this investigation has been wide spread.
Still any day, my part in all of this would be over and I could leave. Are there other things going on? Yes. That said, I have stopped posting about the horrific nature of all of this because I do not believe it helps to end my part in all of this. So I continue to wait for the FBI and DOJ.
What may be a mistake on my part? In late December 2017 I started doing a lot of software development work for WiredPages.
I have a lot of new tools I have not installed, however have discussed the development of the tools in blog posts and demonstrations. Seems to be a lot of the wrong interest in my work.
I said no...
Yesterday, we awoke to find one of the cars vandalized. A police report was filed. It looks like two BB gun pellets were shot into the rear window of the Honda.
Abstract noise identified the culprit as the "meth head" daughter of one of my sister's x-coworkers. My sister worked as first a secretary for DOJ, then as an immigration officer and now she is with Homeland Security. I believe she met the girl's mother when she worked at BWI. I provide this data to show why this individual may have access to equipment in this house.
The Federal government updated a lot of their security surveillance equipment with flat screen terminals [similar to those seen in today's crime shows or cia movies] and ordered a lot of older consoles destroyed. Many were stolen. For those of us who have earpieces this can be dangerous. Even considered torture. I did not know I had an earpiece until February 2012.
Have you compared my recent photos with those from 3 years ago?
Bottom line--- too many in Washington are not understanding no. I said no. DOJ and FBI owe. I explain this a lot to those who can hear. Now, I feel I must write it down, again. I said no.
Why would this daughter be allowed anywhere near our home? A lot of folks with Federal law enforcement have consoles with access to our home. Their claim-- because of our ties to a US President and European royalty, this gives them the right to put anyone on a console with access to our home and the surveillance equipment. Can I prove this? No. Am I sure it was her? No. Me nor my mother are a national security issue. The bigger problem-- the number of civil rights issues the government allowed me to be subjected to. Most agree they owe. For some reason they think I want a job. I do not. I want the FBI and DOJ to get these people off me.
This sounds far fetched? Why would I start writing about this again if I am hoping to leave? Because someone does not understand no-- and I said no. The car is going to be repaired-- but things like this should not be happening and they are. I said no.
I would like for the FBI to review the tapes for the access of this family and have them removed-- immediately. I am told that people simply want to steal my software. I am told I am owed a lot.
This is becoming too dangerous and I feel too many with surveillance equipment are the wrong element for these posts. FBI, how do I know she is a "meth-head"? Please get the tapes and get these people off me.
Extortion? Do the big boys understand the laws here? I said I am not interested in a job and to please leave me alone. I am sorry you forced this.
By the way-- a good way to understand someone who has had a lobotomy? They do not drive, or if they do- have too many accidents. You may be surprised by the number who have undergone this procedure.
Why is this important? Underage kids and those who have had this procedure are used a lot to man some of the consoles in this area. They are unlikely to be charged with a crime. Have you ever thought someone sounds a little whack? Do they drive? I said no-- FBI. Not kidding.
Again, I am sorry you forced this. Please get the illegal equipment out of the area and these people away from our property. They do not live here and this is becoming too crime ridden. School is starting again soon--and most of the prostitutes and meth heads were ordered out a year ago.. Why were they allowed back in?
The next post will show how US government employees are interfering with my online sites and business. I said no. You should have understood that. The tapes will also provide details about threats and why my software is desired. I said no.

Tuesday, August 14, 2018
I have started work on the new World Factbook Tool for WiredPages. The interface will be located on the Reference page, same as in the past, however now- powered by a SQL/MySQL database.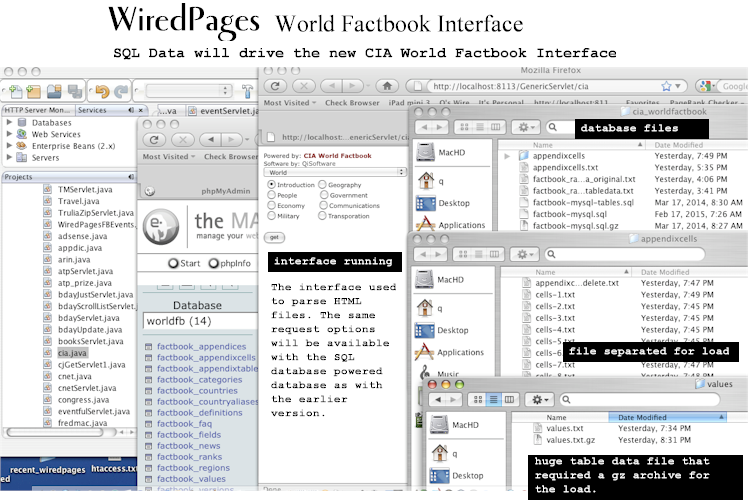 I spent most of the afternoon [yesterday], loading the data to a local MySQL database on my Macbook, in preparation for the software development phase.
Some of the datasets [tables] were so large, I initially divided the data into separate files for the import. Initially, I did not use gzip files to import data, however if this had been the case I could have saved an hour or so during this phase of the project. The largest table (factbook_values.sql 5.5MB), was imported using a gzip file. I consider this an important lesson. That said, I did have to override some of the php.ini settings for phpmyadmin.
This new effort will incorporate parts of the software from the old interface [Java Servlet], including:
Data requests [user interface] are the same as shown in the illustration above.
Text output formats the same.
Rendering of graphics [World Flags]-- very similar.
The CIA World Factbook SQL gzip file I found in 2014, uses 2013 Factbook data. This data is relatively new [in terms of what the CIA releases to the public in this format (SQL)] and should be fine for this project.
I plan to submit a FOIA request for the latest available data, however since security issues prevent loading data to an online database, I am only concerned with development and testing of the new Java JDBC/Servlet in my local environment. If and when my security concerns are allayed- the installation of the new software and latest available database should be a breeze.
This post- provides notes on the development progress for this project.