Monday, March 20, 2017
Thursday, March 09, 2017
I have been researching digital video camera options, and recently added two new cameras to my resources.
Action Camera-- it is so small and light I actually carry it in my purse.
Dash-Cam for the car.
I like using resources in multiple environments and have found I can use each new camera as a webcam as well. Shown below, photos of the dash-cam as a webcam.
Another set of images showing screen-shots of the Camera application [app] I use with webcams. The screen-shots show me as depicted by the webcam and my environment when working just off the kitchen.
Late last year, I posted a video to one of my social media accounts that was so grainy, I decided I needed a new video camera. I like the action cam and dash cam, however there are limitations to the types of video I can shoot. Also the new cameras support resolutions a lot higher than that of my older digital camera, the Canon Powershot A590.
Currently, I use my digital camera for both video and still shots. What I love about my camera? Its many features and the low resolution options for videos and images. Like most who pay for web hosting for their domains, I have limits to the amount of storage I can use. Videos and photos can take up a lot of storage- quickly.
Important features I am looking for in a video camera:
Optical zoom at least 20x
External microphone support [already have a stereo microphone]
Macro lens support.
Full HD recording
My research has led me to some interesting finds-- and I have listed some of the results in my stores under the "Just Want" Category and the "Computer Electronics & Home Office" Category. [New finds added at the end.]
I think my finds can provide a good basis for your own research and help in determining what you need based on your requirements. For instance, you may not have my concerns about storing videos online. You may only need a great video camera for life's moments or a vacation. There are a lot of great options.

Saturday, March 04, 2017
A few years ago, I wondered what I would do with an iPad or Android. I need power for software development and at the time, could think of no reason I would need a tablet. These days, I wonder what I would do without such a device.
For instance, this morning I noticed that my credit card company had closed the monthly ending period, because Bank of America [one of the banks I use], provided the updated rewards data from the credit card company. I noted this because I quickly checked the balances via my tablet, before getting out of bed.
To be able to do this, I linked all of my accounts [business and personal] to the Bank of America account so that I could check things with one login.
Last month, amongst other things, I used my credit card to pay the annual rental fee for my business address, and the items shown below from a recent Amazon order.
This morning, I also paid off the credit card bill via my tablet [also while in bed] even before the statement was emailed later in the morning.
I do a lot of things with a tablet, especially while thinking about hopping out of bed.
In summary, things I use my tablet for:
Order items online
Pay bills
Review business and personal financial data
Review marketing reports
Update my stores.
Social Media [i.e., Facebook, Instagram, Twitter] account maintenance and posting
Needless to say, I no longer wonder what others are doing with their iPads and Androids.
That said, recent software development tasks were done using my Macbook, see here and here, so I still need a bit more power and a more robust operating system for the type of software development I provide.
Also because I use Thingamablog for two of my blogs, I use a Macbook and a Windows XP platform for posting to the blogs in question [Remix Business Blog and this one].
I cannot do everything, however I can do a lot with a tablet.

Wednesday, March 01, 2017
Last Friday, I finally had news about my state taxes, that I am not sure about nor pleased with. My request for a hearing was ignored without explanation.
This post, simply to publicly note my objection.

Wednesday, February 22, 2017
Sunday, my Mother had to get a new cell phone. What did she get? Apple's iPhone 7.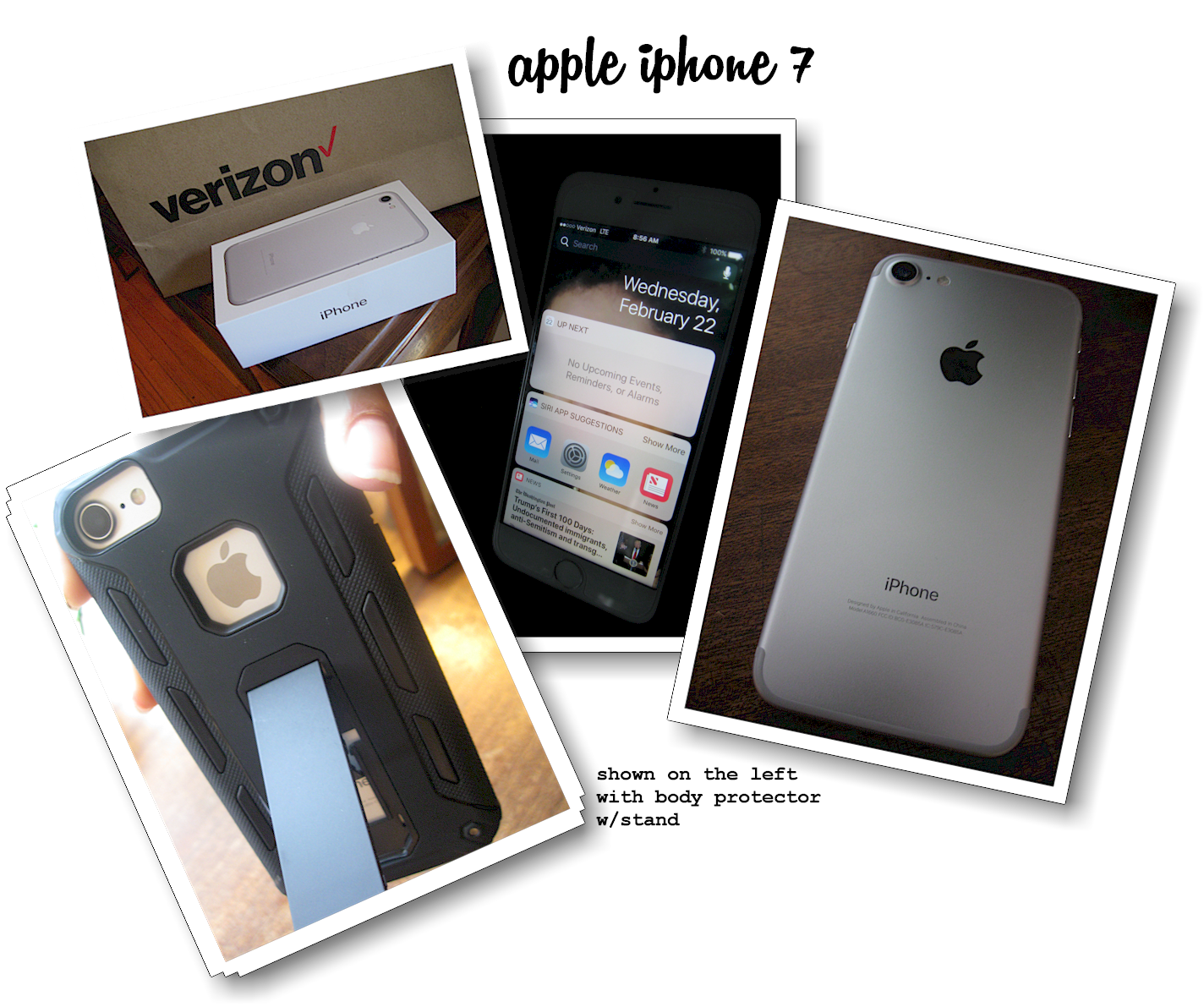 I have to say, this phone is pretty impressive. Features include...
Full HD Video
Display 1920 x 1080 pixel-resolution.
12MP Camera-- wow is that camera nice.
2x optical zoom and up to 10x digital zoom.
See the specs for yourself here, she opted for the 5.5" with 32GB of storage.
She is still playing around with the many features and is extremely pleased with her new hardware. Yes, I think this should be my next phone too.

Tuesday, February 07, 2017
Lately, I have been getting out a bit more.
I rarely go by BWI Airport [even though the terminal is within 5 miles of my residence], so in 2015 or 16 when I first noticed the airport had undergone significant renovations, I wanted to somehow capture the new look.
Last week, I decided to drive around the airport loop with the Dash-Cam recording. Later, I used mobile apps to convert and edit the clips I merged to create the video I uploaded to my Tumblr blog- here.
Yesterday, I went by my business bank to transfer funds and today, I went by my business address in Columbia to pay the rent and pick up the mail. One of the photos below-- one of three trips to the recycle bin after shredding most of the shopping bag full of mail I picked up today.
Other things I have been up to?
Movie: "The Queen"
Movie: "The Nice Guys"
NFL: Superbowl
Giant Panda Live Cams: The 5 month old cubs in Atlanta & Bei Bei in Washington
Professional Tennis on WatchESPN & TennisChannel
Since posting my indeed.com résumé, I have received 4 responses and replied to 3 of the 4 hits. I no longer accept government contracting positions and most of the hits were of that type. [Yes, unofficially- I am being told DOJ and others are working the other resolutions to my situation-- however this has been the case for awhile].
Minor updates to the stores...
Received my Federal Tax Refund... Glad I used TurboTax Online.