Monday, March 10, 2014
This post will become irrelevant if I ever take my other personal blog Q's Wire, offline. See the post on Q's Wire with the same date as this post's for relevancy.
Washed my hair Saturday. This was an all afternoon process. My blow dryer overheated once or twice so I had to wait for it to cool off and then it just seemed to take forever to dry. Then I had to put a curl in it.
These photos taken this morning. On the left the loose ponytail I put my hair in when I combed it out this morning and on the right the tighter [appears to be longer] ponytail I put it in to demonstrate issues for someone claiming to be a DOJ Attorney.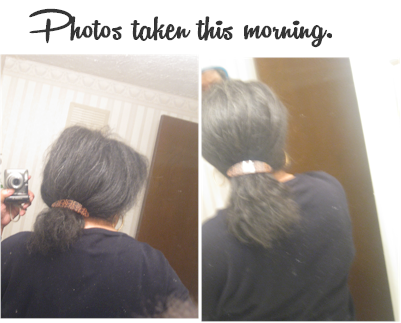 These photos taken around 8:00 pm Saturday evening. Most of the curl had relaxed by the time I took the photos.
News from Washington? You were paid-- and don't forget about your hair.

Wednesday, March 05, 2014
Went to the bank this morning, came home and made lunch.
This was really good. You can get Yakisoba [6 to a carton] from Costco.

Tuesday, March 04, 2014
It has been a quiet day. Got up around 7:30 a.m., had breakfast around 9:30 a.m. and researched most of the day.
Around 2:00 p.m. or so, I decided I wanted this [made them yesterday evening and thought they were pretty good]:
Researching food ideas for a project I am interested in. Queueing blog posts on my Tumblr blog. Washington news? Things happening.

Monday, March 03, 2014
Another day of snow. This time about six inches. The other photo [on the left] was taken Saturday, March 1st around 6:09 pm. I love it when the sky does that.
Do you watch True Detective on HBO? I missed this week's episode so I have a reminder set for 9:00 pm tonight for the re-airing.
I have new stakes for my banana plant which has a new leaf coming in. I re-staked the plant last night using a stake I already had in the plant. I like the way it looks now.
When the new leaf comes in- it should look even better. This is the plant I saved last year from a case of spider mites.
I am also doing some research for one or two projects.

Friday, February 28, 2014
Vanity Fair made available, a ballot sheet for the 68th 86th [2014] Academy Awards. Note there was a typo on the ballot offered via their Tumblr Blog.
Print A Copy
- [PDF].
Are you planning to watch? Sunday, March 2nd, 2014 [ABC].

Friday, February 28, 2014
In pretty good spirits, slept well last night. No, I should not have this for breakfast, but it was worth the calories.
I do not know about you guys, but I am tired of the snow.
Can't wait for Spring. News, Washington? Odd. Not sure what's going on, however happy its a bit more quiet. I am told there are things happening-- but no direct promises to me at this time.