Monday, September 16, 2019
New additions to my wardrobe, suitable for light Summer/Fall evenings.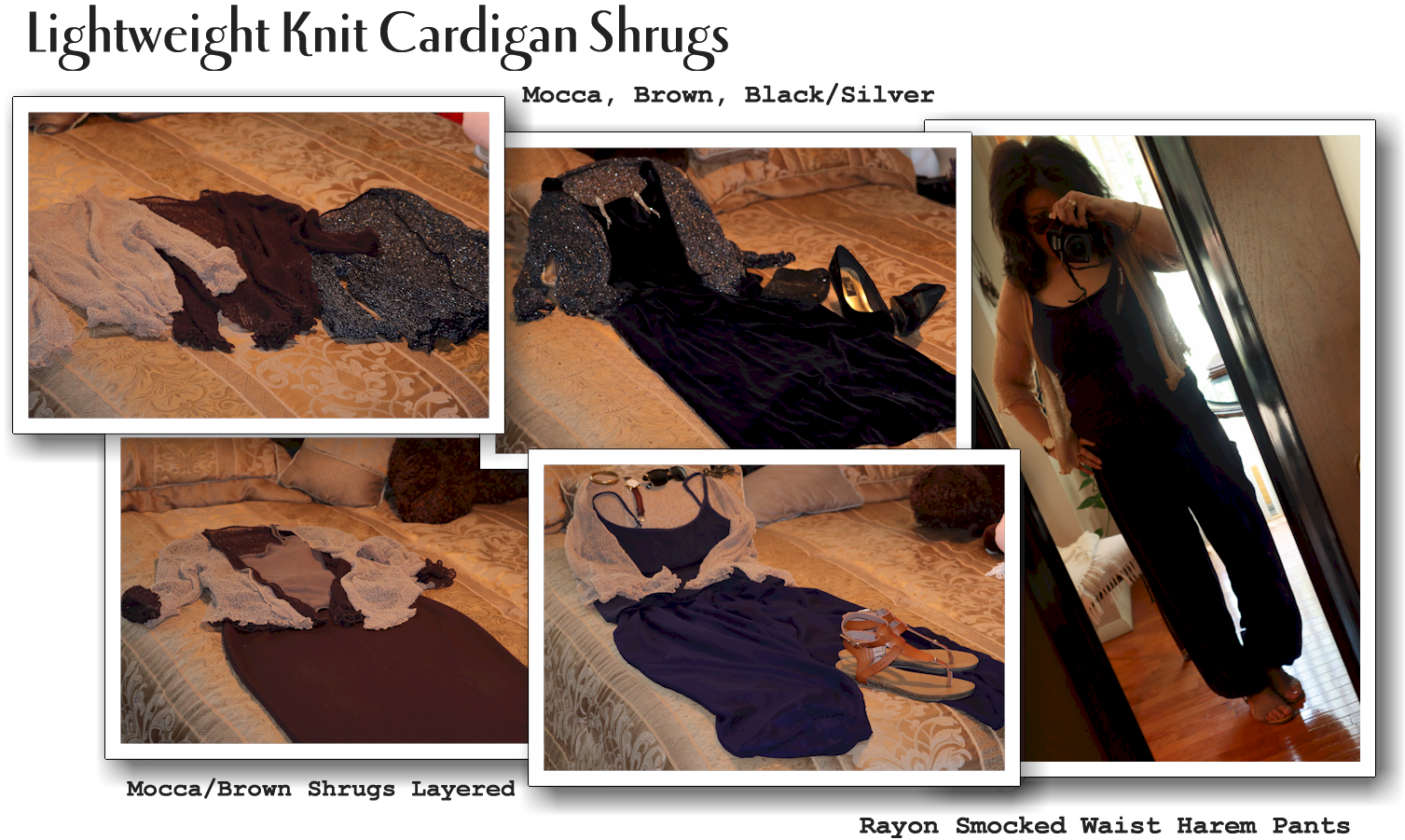 Below, I have provided the links for the items shown, however the Brown Lightweight Cardigan Shrug is no longer available.
I tried on all of the outfits shown in the photos above and happy with the look the shrugs add to each look. The layered look using the mocca & brown shrugs is surprisingly striking.
I ordered the rayon blue harem pants in an XL because I wanted a full effect. I am very pleased with this purchase, however I think I will have the pants dry cleaned to maintain the vibrant blue coloring.

Friday, September 13, 2019
Starting to update the Gift Ideas post and ran across an idea I thought might be interesting for a kid's birthday, costume or Halloween party theme.
These NFL youth costume theme sets could be a hit with the kids and cost between $17 and $75 depending on size and team.
I am only showing four of the theme sets, however most of the NFL teams are available.
Are you ready for the holidays? I am trying to get into the swing of things, however I am a little late with some of things I want to do this year.

Monday, September 09, 2019
I am on a diet. You may recall, earlier this summer I decided to add to my wardrobe. Two of the dresses I ordered were a little tight so I decided to take seriously a diet.
The photos below, show the two dresses and my current weight. I lost several pounds in August, so can now wear the two dresses in question, however decided to continue with the diet.
Without my much loved treadmill, I have had to resort to habits used in the past to maintain my weight, i.e., simply not eating. My incentive? My old clothes. I have a lot of classic suits, so I am not worried about dated looks- and quite frankly, happy with my progress.
That said, things like the boots shown in the photos below are about 3 years old, however never worn. I am having fun thinking about the old things I can wear with these slouchy boots.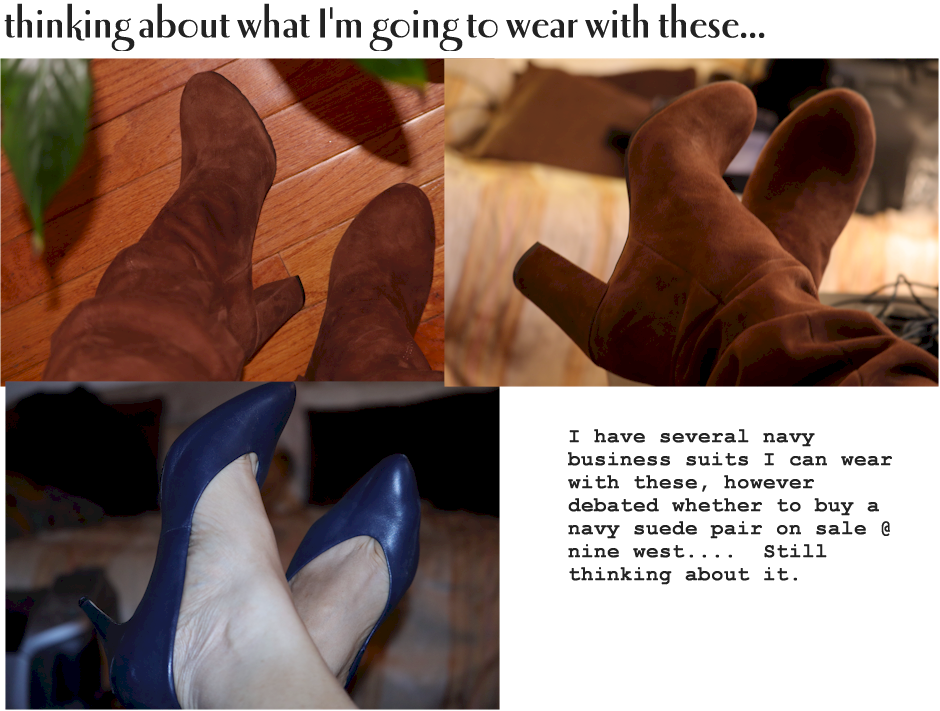 Slouchy boots are not in this upcoming season? Not sure, however I like long skirts (just below the calves) with this heeled boot so I am sure I can come up with a classic look.
As noted in the caption for the navy pumps, I wanted to purchase a suede pair of navy pumps. Instead I may purchase a navy dress I already have in aqua green (shown in the above photo). The style is flattering on me, however I will have to purchase the smaller size.
My diet? Eating a meal (daily) like the one shown in the following set of photos. I may have a mini bagel either mid-morning or late afternoon and that is about all.
I am ready for Fall 2019. Football, new business projects, my old clothes on a slimmer me.

Monday, August 12, 2019
Two items of note on the financial front:
My FICO Score rose slightly.
My cash rewards credit card finally reached the $50 threshold for payout.
The emergency purchase of my new Canon EOS M50 Camera last month, finally pushed my cash rewards on my credit card over the payout limit. Paid off the credit card last week, so I think I will put the check into my bank account and let it sit for awhile.

Friday, July 26, 2019
I intended to wear the new outfit shown in the following photos on my birthday (Saturday, July 20th), however I felt a little under the weather, so instead I wore it yesterday to run several errands.
I stopped by the bank (birthday gifts), Aldi's market, and shot video for the local business community page I maintain on Facebook.
The Canon EOS M50 shoots great 4k video, however I decided after returning home, the video was unusable because several traffic signs were in the foreground of each frame.

Sunday, July 21, 2019
I have been playing around with the Digital Slave Flash that came with the Canon EOS M50 bundle I recently purchased. What is a Digital Slave Flash? It is an external flash that can either be attached to your camera's hot shoe, or positioned away from your camera and used as an autonomous light source that is triggered by the camera's flash.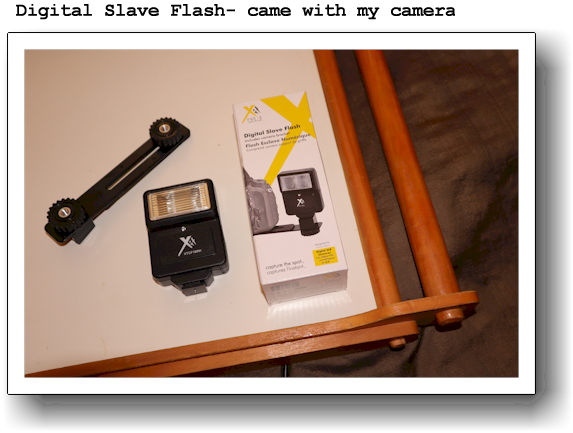 In the above photo, I am of course- not using the external flash and there is very little glare from the camera's flash. I had to slant the camera away from the items to avoid the glare.
The two photos that follow show (1) a photo taken without the digital slave flash and (2) a photo taken with the external flash. I was working on a post for one of my Facebook pages, in my dimly lit bedroom this morning when I decided to pull out the external flash.
Based on my experimentation, I noticed the two flashes working in unison and when positioned correctly, negated a lot of the flash glare.
I know how to set shutter speed and IOS (manual focus settings) without using a flash to allow enough light for a decent photo, however also like using a flash. I simply think I need to learn how to use a flash more effectively.
I am having a lot of fun playing with my new camera. Professionals who have used DSLR cameras are going to love this camera and newbies like me are going to be very pleased with how easy it is to learn what the professionals know.
Background Data (Photography):
This goes without saying, I am not a professional photographer, however I take all of the photos used by my Instagram accounts and blog posts.
In college, back before digital cameras, I took a black and white photography course as an elective- to learn the basics. I have been in a darkroom and learned to use developer, stabilizers, and enlargers. I remember often being a little panicked about opening the film canister (in the dark) and getting the film into the solution.
For digital photography, I have been using a great Canon (A590) Autofocus Point & Shoot and only now, just beginning to understand the complexities of digital photography (and manual focus), with my new DSLR camera.