Monday, July 15, 2019
On Sunday, July 6, 2019, I damaged my Canon PowerShot A590, beyond repair. I was so devastated by what happened (rushing to pack up, I dropped it on the hardwood floor), I cried. I seldom cry.
I purchased the camera in 2008 and loved the many features this point and shot offered. I seldom went anywhere without it.
That said, the camera could only produce 8MB photos. Though my web hosts should have loved the small footprint of the images I used with my posts, my social media account offerings- looked a little shabby in comparison to others.
For various reasons, all of the images and photos I use on my business site, are hosted on my domains, and not a cloud or image hosting service, like Flickr. Digital photo size is an important factor in my environment and provides part of the rational for why I held off replacing the camera. The other reason? I could not justify the business expense.
That said, I did have plans to purchase a new camera in December 2019 (Christmas), and researching the Canon EOS M50. Late in the evening on July 6, 2019, I ordered the following bundle.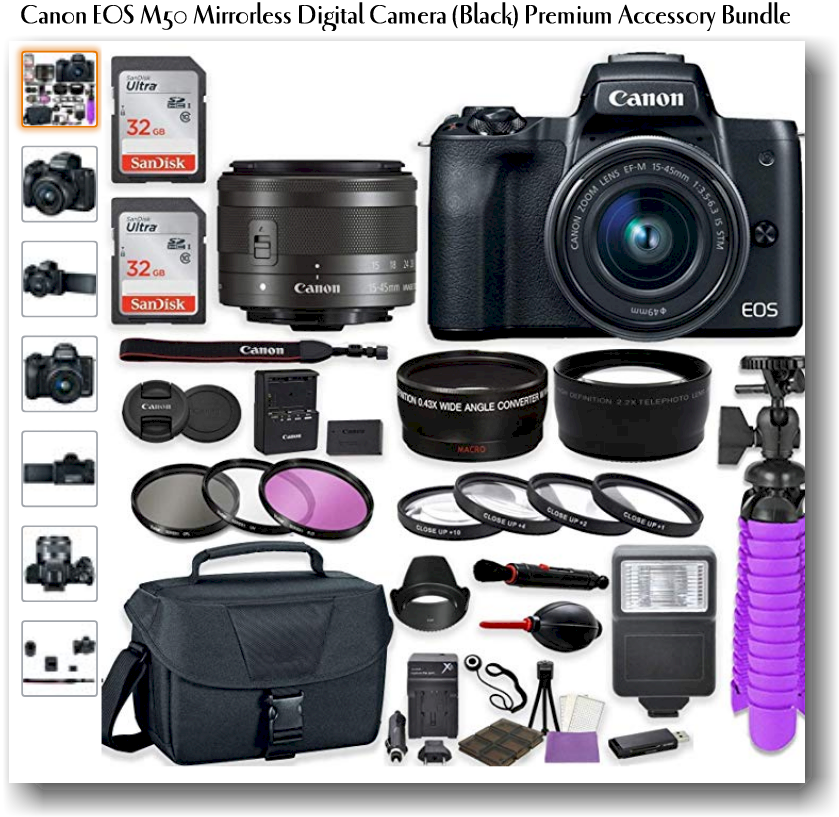 I have to say, I am very pleased with this new camera. Additional info about my purchase(s):
Love the TouchScreen Menu.
Love the Manual Focus and Portrait Features.
Also purchased BM Premium 2-Pack of LP-E12 Batteries for Canon etc..
Also purchased the Fotodiox Pro Lens Mount Auto Adapter.
Also purchased the telephoto Canon EF-S 55-250mm F4-5.6 IS STM Lens for Canon SLR Cameras- see more here.
Love the 4K Video option.
Love the Digital Slave Flash that came with the bundle.
Love the 9 different filters that also came in the bundle.
Love the many YouTube videos about the Canon EOS M50.
The following is an example using the Portrait option on the Canon EOS M50.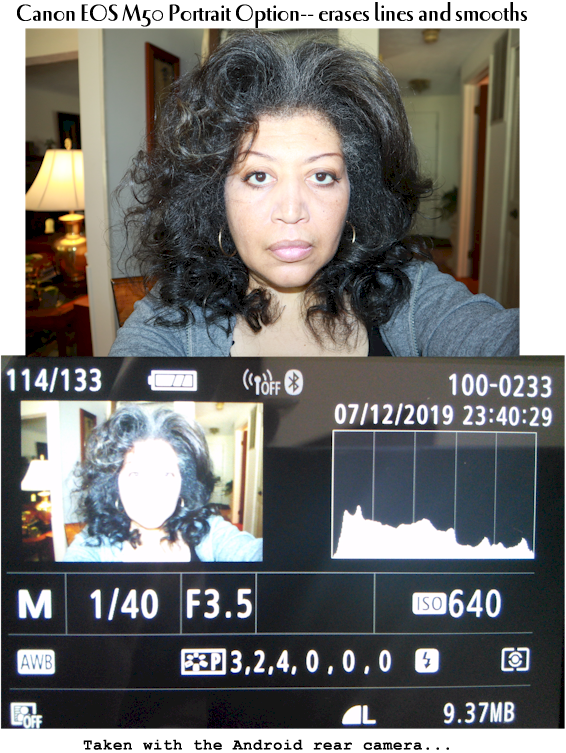 I am still playing around with the many features of the camera and other tools that came in the bundle. That said, I have found things pretty easy to understand and have come up-to-speed quickly (yes, I know the above photo, is a little overexposed). This is my first DSLR camera, and though I wanted to wait for Christmas, pleased with my selection.

Saturday, July 06, 2019
Yesterday, my new Blowfish Malibu Sandals arrived. I have to say, I just love this pair of sandals.
I am about done with this rather fun task and pretty pleased with most of the items I purchased. Maybe I just needed an excuse to spend money on new clothes.
That said, while shopping for my new casual summer wardrobe, I also searched for new items to add to my Back To School shop. I am pretty pleased with many of these finds. Almost wish I were off to school next month.

Monday, July 01, 2019
For the last month, I have been trying to update my casual summer wardrobe.
Over the month of June, I have purchased several new summer dresses, sandals, and acquired two new shrugs. I have only spent about $400, so my investment has not been huge, however notable because I seldom spend money on casual wear.
Some new items acquired over the month of June:
What started this buying spree?
Damaged several of my old sandals trying them on.
Complaint from my Mother, my casual wear seems a bit tattered.
Celebration of sorts over having my renewals in place (see last post).
Birthday in July, and I always try to ensure I spend gift money on things I need.
Not working software projects, too much time on my hands.
Old shoes...
Unless going out, I keep my hair pinned up, however easy to comb out if I need to go out. That said, I decided to purchase hair combs to help me manage on hot humid days. In the first set of photos for this post (above), (yesterday) I had my hair out, because I was trying on new items and took photos.
Not everything has arrived, actually most of the items are still not here, however I am excited about the new additions to my wardrobe.

Tuesday, June 18, 2019
Yesterday, the QiSoftware business renewal notification was finally posted to the Maryland egov business website, completing all of the renewals I had for this year. This post discusses in some detail, the renewals scheduled for this year and why they were a concern for me.
I was a little concerned because I sent the check on April 25, 2019. I went by my business mailing address on the same day to pick up the renewal application. According to the Maryland business website, the application was sent 10 days earlier.
If you click on the link associated with the above illustration, use either of the following search criteria to access the QiSoftware business related information provided by the State of Maryland.
Business Name: QiSoftware
Department ID: T00212348
Five years ago it seemed the business renewal process took a lot less time, however happy its all done. On May 8th, 2019 I called the Maryland office which handles the renewals to find out if the check I sent had been received, explaining I seldom send checks through the mail and simply wanted to find out if they were in receipt of the payment. That night the check was sent to my bank for processing (note the above illustration). I did not call again.
P.S. This year, I also had to go through the Real ID (Federal Law) process to renew my Driver's Licence, so you may want to see this post for what to expect if you have to do the same.

Saturday, June 01, 2019
One of the ingredients I use in my Cheesecake recipe, is heavy whipping cream. Normally, with the leftover cream, I use a Braun Immersion Mixer to make whipped cream.
The whipped cream though good, tends to lose its body after a day, so I found a Stabilized Whipped Cream recipe that I decided to test.
Short video- making the Stabilized Whipped Cream version...
Both versions of the whipped cream are good, however the version using the Braun Immersion mixer should be used immediately (it will destabilize over time). I think the stabilized version is worth the effort.
Things you may need for these recipes:

Friday, May 24, 2019
Currently, I set up an office in any room in the house because I am mostly mobile. Even my bedroom has a desk (of sorts) and an old computer. I rarely use the desk and old computer, instead a breakfast tray and wifi wireless devices.
Also in my bedroom, I have a four poster bed, highboy chest, dresser, and two nightstands. The set is all wood (cannot get all wood now for the price I paid then), in a Queen Ann style with a cherry finish, purchased over twenty years ago. I also maintain an office upstairs where I have two of my desktop computers. The photos below, show elements from both rooms.
I would like to update the bedroom set, however it is not a priority at this time. What can I do? Update the desk in the bedroom. I have looked around and found things I would like to add.
The leather wingback chair, is really not an option at this time, however I love this idea (used to have a pink wingback chair in my bedroom-- see link below). Not only is it a little too expensive (for my budget), I really do not have the room. The guest bedroom is larger, however for some reason I did not want to take that room.
The finial is to replace the one on the lamp in the upstairs office. I was moving the stereo equipment and cables around and dropped the lamp. I am happy only the finial was damaged (superglued it). I purchased the lamp years ago from the Tyson's Corner Woodward and Lothrop and would have been very upset if more damage had been done.
Underneath the desk, I have a cardboard box holding paper stock that I want to replace with the rolling wicker file cabinet.
More photos of my office areas...
These updates would cost around $700.00, and within budget, however it would mean going into my savings. I will let you know what I decide. The problem, I want an iPad, iPhone, and iMac Pro.