Tuesday, July 31, 2018
Continuing to update WiredPages tools. The latest, the Youtube player found on the Arts & Entertainment page. Installation of the new player is pending however the images grabbed today [shown below], illustrate how the player will work.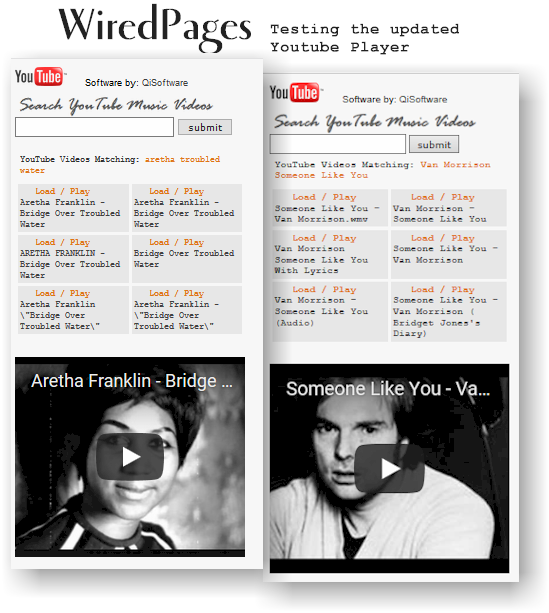 The tool had very few cosmetic updates from the original, however changes to the API required updates to the underlying software.

Sunday, July 22, 2018
Working several projects, including:
Updated the LocationFinder Tool [found on the WiredPages Reference page-- current version showing tool unavailable because of security flag] incorporating new API data sources. New tool will be released at a later date. Tool illustrated below, running in local mode on my Macbook.
Updated widgets using the NewYork Times API to reflect changes made to the underlying data structure and security elements. WiredPages Libraries page.
Developing an Instagram demonstration widget for the QiSoftware Catalog.
Other things I have been up to?
Movie: Justice League
Movie: The Snowman
Movie: Big Game
Another birthday, Friday, July 20th.
Store Updates.. see upper sidebar.
Social media posts-- WiredPages Events & HanoverMaryland events.
Integrating new features to the Facebook WiredPages page-- and adding icons and links to Facebook from WiredPages.
I am excited about some of the new elements I am creating for WiredPages, however still unsure when I will install all of the new tools.

Thursday, July 12, 2018
My car [shown in one of the blog header photos], is registered with Historical tags. In Maryland, this allows for limited use of the car. Since I work from home, it is no great hardship however I am thinking about a new car. This, one of reasons I am saving money.
I started this process a year ago in September and have managed to save one or two dollars. Okay. it is a little more than that. I am happy with my progress.
This post discusses how I have been able to achieve some of my success with this project.
The following is an updated image providing current rates banks are offering on savings accounts.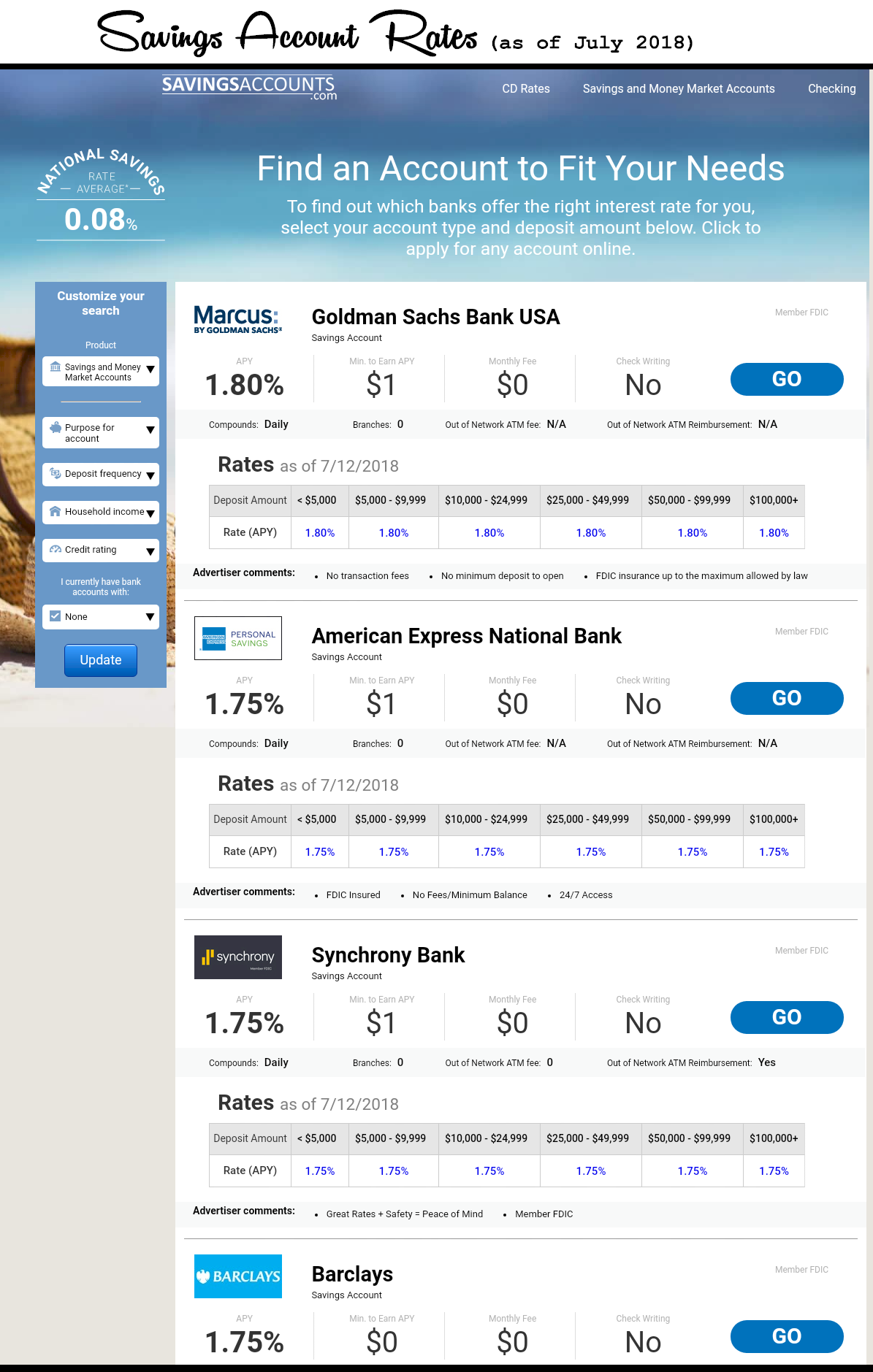 I like my banking choices, however listed below are more resources if you want to do your own research.

Monday, June 25, 2018
Many are aware, I was a defense contractor in the Washington metropolitan area for a number of years. I enjoyed living and working in the area and especially the many activities the region offers its residents and visitors alike.
One of the newsstand issues I looked forward to getting, the Washington Post's Weekender. In the same vein as the Post's resource, the WiredPages Style & Events page offers a list of entertainment guides for some of the major cities in the U.S. I am always looking for new resources to include on this page.
My own hometown [HanoverMaryland], also offers quite a few distractions.
Social media has become an important factor in our daily lives. Hope you find something exciting to do in your off time.

Tuesday, June 19, 2018
In the past, WiredPages provided many tools powered by popular APIs, enabling visitors quick access to data and information.
Some of the tools/interfaces included [there were many more]:
World Weather -- Tool is being rewritten eliminating the Java Applet interface.
YouTube Search & Video Playback- interface is being rewritten to handle updates to the underlying API.
Indeed Job Search-- rewritten [changes to underlying API] and installed on the Employment page.
Political Representatives-- installed on the Government page.
CIA World Factbook Quick Reference-- researching new ways to provide the data on the Reference page.
Zillow Real Estate Values-- referenced on the Real Estate page-- installed.
Food Nutrition Data-- working and ready to install on the Health page. Security issue a concern.
Four tools that are working and ready for installation are shown in the illustration below. The illustration was screen-grabbed today after I retested each interface. Three of the tools are new; [1] Amazon links to the NY Times Best Sellers, [2] Gift Ideas, and [3] Today in History.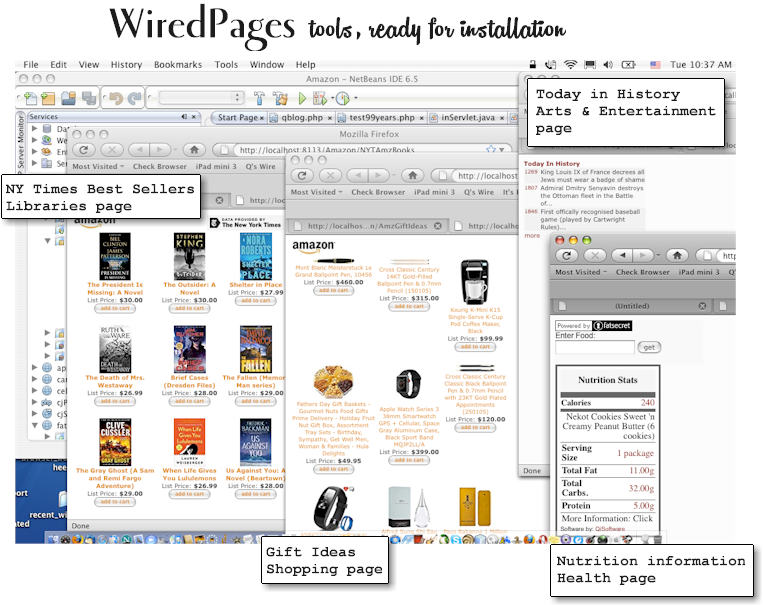 The Fat Secret interface [shown lower right corner] is the same tool that was installed on the Health page in prior years, however due to security concerns I am holding off on updating access to the tool.
Tools like the Mortgage Calculator [almost] and Base Converter are ready, however I am holding off on installation.
I am working to get all of the tools working [many had to be rewritten to remove the Java Applet interface which today's newer browsers are not supporting], however probably will not install many more of the tools until I resolve the security issues.
This post, in case you were wondering...

Sunday, June 17, 2018
Over the last few months I have been trying to create a new banner for my business blog. Each iteration, leaving me acutely aware of the time I might save using a "real" graphic artist.
Then finally, yesterday I came up with something I might be able to live with for more than a week.
Other activities:
Movie: "The Mountain Between Us" last night HBO
Showtime Series: Billions (season ended last Sunday)
Continuing with software development for new tools and updates to WiredPages
Business Directory updates
Cloud hosting research. Are you considering this option? More later.
Store updates:
Hope you are having a nice Father's Day.