Wednesday, May 31, 2023
I have not posted as much as I thought I would this spring. I have been distracted with a medical emergency and a number of projects I have been trying to complete.
It appears everything is better than expected and I am trying to complete some of my spring time projects.
Hope to get back on schedule within the month.

Tuesday, May 16, 2023
Yesterday, I installed new scones on the garage. Originally, I was a little concerned because I was unsure whether I would get on a ladder to do this.
In late April when I installed the new sconce on the front porch to house the security camera, I was not concerned because I only needed a stepladder. I have a slight fear of heights.
My brother offered to install the new garage door sconces, however, recently while watching a Youtube video- I noticed the guy (Ox in the Shop) taking his father-in-law's advice on how to handle construction on a high ceiling and thought it might work for me.
I placed a painter's ladder behind me so that I could stay on the first rung, use my back to lean on one side of the "V" of the ladder, and reach what I needed to reach. It worked.
If I only needed the first rung, why was it so scary?
Several years ago, I tried to replace the LED bulb in one of the old garage scones. The lantern had to be unscrewed from the top- which was quite high. I had problems getting one of the screws out so I tried to get off the ladder, which was on the incline of the driveway. I lost my balance and hyper extended my knee. It unnerved me so I never changed the bulb.
The following photos show my handy work from yesterday's efforts.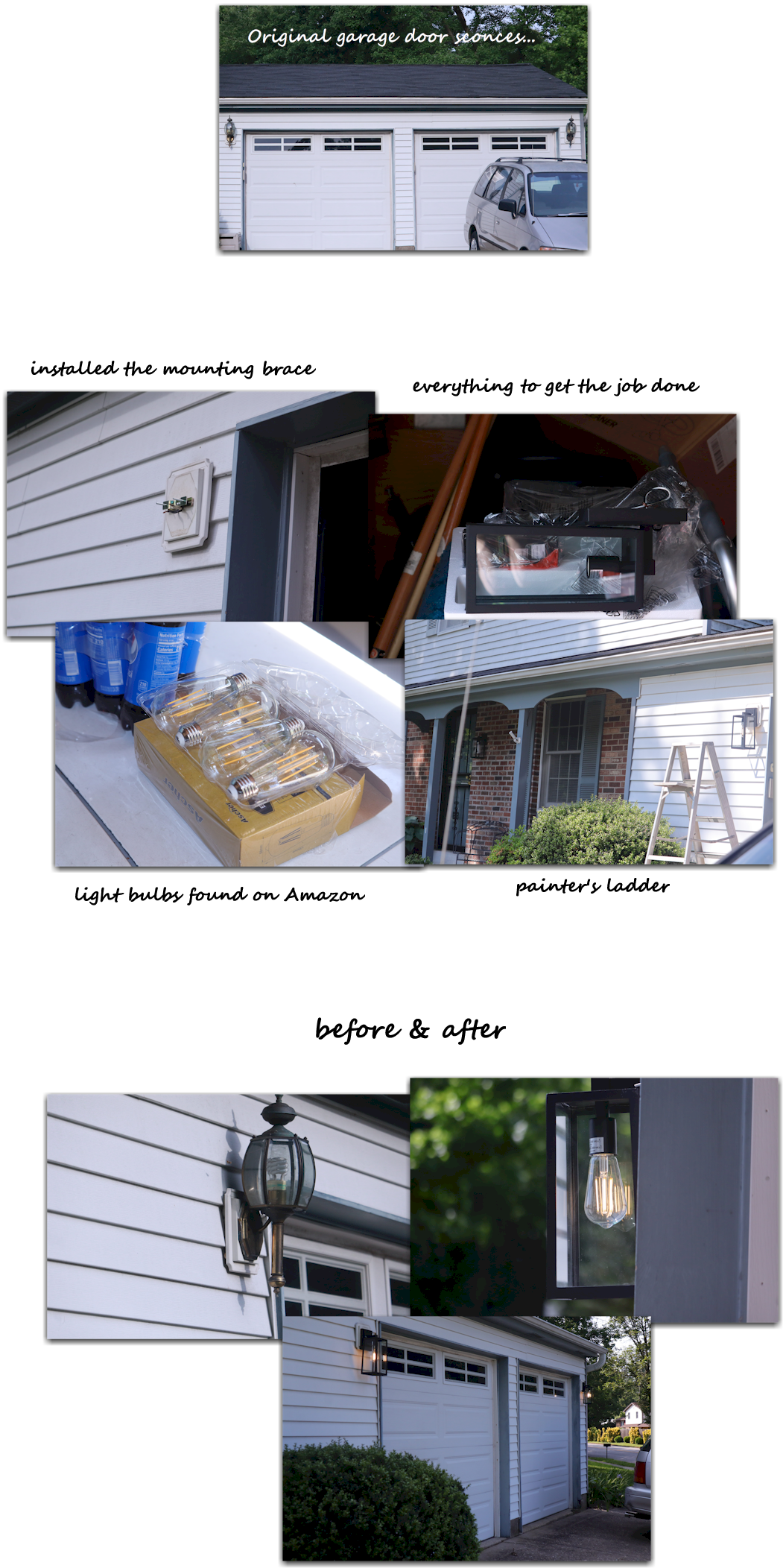 I had several problems, however pretty happy that project is complete. How do I know how to install electrical things like this? Years ago when I bought my first place, my father showed me how to ground a wire and put black with black wires using a twisty and then the white wires. I wanted a dimmer switch in my dining area.
I was so pleased with how all of this turned out that I decided to trim back the boxwoods and azalea bushes in the front of the house. While doing this, I tripped on the arched bricks that edge the garden and skinned up my legs and hit my head. I am okay.
Items discussed in this post...


Saturday, May 13, 2023
I am looking into a new business venture, so I have continued research into the online world of content creation.
I have to say, it is not that I think others have not thought of these ideas- they have, its more that sometimes content is hard to find or lost and I am researching in an attempt to find a unique solution.
For instance- I often search Youtube for terms like:

Day in the life of a...
and mostly surprised by the results of my search.
The following table shows Youtube sites I visit on a regular basis. The data includes the number of subscribers, and the estimated yearly revenue of the channel according to noxinfluencer.com or Starstat.yt.
Youtube Channels I Visit
Channel
Description
Subs
Annual
Revenue
Amber Baldwin
YouTuber & Entrepreneur
73.2K
$21,6352
Athan Wright
Living life at Duke University
1.68K
$2622
Cherissa Lindsay
Lifestyle / College / Fashion / Travel
2.04K
$3392
DominiqueSachse
YouTuber / Author
1.84M
$248,7812
Erin Byrd
Real Estate / Lifestyle / Education
287
$ 25.551
Hannah Elise
24 Y/O College Grad Living in NYC
758K
$99,9542
Leah Megan
Video Diary / Final Year at University
36.1K
$4,339.851
LetsTurnItUpWorld
Tanya and Dave from 'Turn It Up World'
62.7K
$61,2632
Life Uncontained
Texas Dream Build Debt-Free Off Grid Shipping Container Home
1.37M
$407,4792
LivinFearless
Fashion / Lifestyle / Travel
111K
$6,522.551
Marcos Rico Peng
Cal Men's Swimming Team. Recent Grad. Now Software Engineer in NYC
61.2K
$12,541.41
Ox In The Shop
Drew & Woodworking
16.5K
$1,9772
ROSA GOLD
Mobile Home / Tiny Home Renovation / Online Shop 📍Germany
30.3K
$18,874.151
Scout The City
Fashion Content Creator
51.9K
$14,2282
Shealyn Ari'el
Home / Lifestyle / Self Care
1.1K
$94.91
Simply Nikki
Lifestyle / Beauty / Decor / Mum Life
529K
$30,3972
Tech Mentor Maria
Tech, Career, Personal Finance, Healthy Habits, Travel 📍NYC
6.85K
$1,887.051
Young Lady Business
Lifestyle Vlogs / Decorating
155K
$56,4602
1noxinfluencer.com
2StarStat.yt
Of the Youtube sites I visit on a regular basis, you may notice- I tend to love watching creators who film the process of building on or updating their living conditions. I also like college students discussing their studies and small business owners discussing all things related to running their businesses.
The other area I am concerned about- the amount of effort to create content for online consumption and the relatively low ROI- both in terms of time and the cost to own the equipment for these efforts.

Monday, May 08, 2023
In a recent post, I discuss my old leather day planner.
On Friday, May 5, 2023 I decided to research day planner applications for my iPad Mini and downloaded the program shown in the following illustrations.
Yesterday (Sunday), rather than scream about the latest issues with my web hosts, I decided to wash (laundry), cook, work a little on a new database/Java JDBC servlet, and customize one of the templates that came with the AJournal program.
The reasons I chose the AJournal app for my iPad Mini include:
User ratings
Icons available within the program
Multiple templates to edit and add too
Writable
I am pretty happy with this free offering, though I did find one or two glitches.

Thursday, May 04, 2023
Since the beginning of the year (2023), I have had a number of problems with my new real estate site.
I installed the core site area on a subdomain (realty.reginathomas.studio), because I decided to use the WordPress CMS.
I used Wordpress quite a bit in the past, however in 2011 decided the program's programmers changed too many core features for new releases.
In addition, my web hosting services regularly requested I allow the updates for outdated Wordpress installations. This meant I had to stop what I was doing and "fix" any problems that arose because of a new Wordpress update.
This was very time consuming, so I moved on to Thingamablog.
The main site (reginathomas.studio) area is a Thingamablog. I use the main site area as a blog and the subdomain (realty.reginathomas.studio) to maintain property listings.
When (March 2022), I initially installed Wordpress for my new real estate site- the Wordpress version was 5.9.2.
In March 2023, when I began having issues with the automatic updates installed on my site, I changed the wp-config.php to disable the automatic Wordpress updates. See the following illustration.
My current Wordpress version is 6.1.1 and no longer works. The latest release of Wordpress is 6.2.
I spent most of yesterday researching this problem with no luck. It was almost as if someone else was online at the same time changing my .htaccess file as I was trying different options. The error is a 403 code which is normally very easy to correct.
Long story short, I have updated most of the links to the Wordpress site to the blog on the main area. When I stop screaming (get off my site), I will look at this issue again.

Monday, April 24, 2023
During the summer months, Washington and the surrounding areas can get pretty hot and sticky. When I do need to go out- I like being cool & stylish.
When I was younger, I found that classic styles suited me, even if it seemed they would also suit an older woman.
Today, though I still have many of my classic suits and dresses, they are now- more than a little tight and not made of today's popular stretchy fabrics.
The good news, I am losing weight. That said, I prefer the stretchier fabrics I have grown used to, and though I do no get out as much now- have been looking for a summer style I can dress up or down if the need arises.
I wanted to go with what works for me- and the style shown in the following images- is similar in style to some of my older summer dresses.
The first set of images are my color choices.
The remaining color options...
Though a little short (my older dresses were short too), I think I can get away with the length, and need only worry about my arms.