Saturday, February 15, 2020
Yesterday, I completed most of the work on a new tool that will provide Alexa Rank information for a specified website.
Plans are to install the tool on the WiredPages Technology page, however not sure when this opportunity will present itself. Related issues include; (1) Access to Amazon Web Services (AWS) data is billed based on usage, (2) the popularity of a tool like this could affect my web hosting plan and (3) security is always an issue for me. At this time, too many have access to areas of my site, which I cannot prevent.
Keep in mind, I am a sole proprietor and have no business partners as related to software development (see Business Partnerships for more details). I do maintain several advertising affiliate relationships as outlined in my disclosure policy.
Also note, the tool is still in checkout mode so I may change elements of the user interface, i.e., graphics, font sizes, etc., before the actual installation.

Thursday, February 13, 2020
Yesterday, I stopped by Costco and Safeway. I thought I would be doing all of this shopping on Friday, however weather forecasts though calling for rain, seemed to indicate the precipitation would begin late in the day, so I thought I could get most of this done by noon. Actually, arrived home after two, so it took longer than I expected.
For some reason, I have been craving a ham and cheese sandwich on a croissant along with a strawberry milkshake. So along with necessary staples, i.e., bottled water, paper products, coffee, etc., I thought I would get the ingredients to satisfy my cravings.
Strawberries were a little more expensive than I thought they would be, so I did not get the ingredients for a shake but did get everything I needed for my sandwich.
The croissants and pepper jack cheese purchased from Costco, and the ham, lettuce and tomato picked up from Safeway.
Other things I have been working on?
Updating my local master copy of the Celebrity Birthday Database (security issues preventing the online installation of the master version of the database). The almost 4000 entries included in the offline version are being checked for dead biography.com links which are being replaced with Wiki links. Very tedious process, however the database should be pretty robust by the time the work is complete.
Researching a problem with the "Who Are My Legislators?" interface accessed from the WiredPages Government page.
Reading, "Secrets of a Charmed Life" by Susan Meissner
Things are working out with my new Windows10 Mini insofar as duplicating my software development environment. Working a number of issues and ensuring I can duplicate development efforts normally worked on my older Mac system.
The cost to provide this duplicate development environment, given I needed new hardware and operating system to work effectively with newer technologies, was something I could afford at this time.

Wednesday, February 05, 2020
I use the OverDrive App to borrow books from the Maryland Digital Library. Just finished the latest Grisham release "The Guardians". Now reading "The Silent Wife".
Also happy to report, I am done with my 2019 taxes. Any refunds due, already deposited to my personal checking account.
Here are recent photos from other things going on around here. Lunch today, cookies I made Monday, watching the banana plant I moved to the guest bedroom flourish.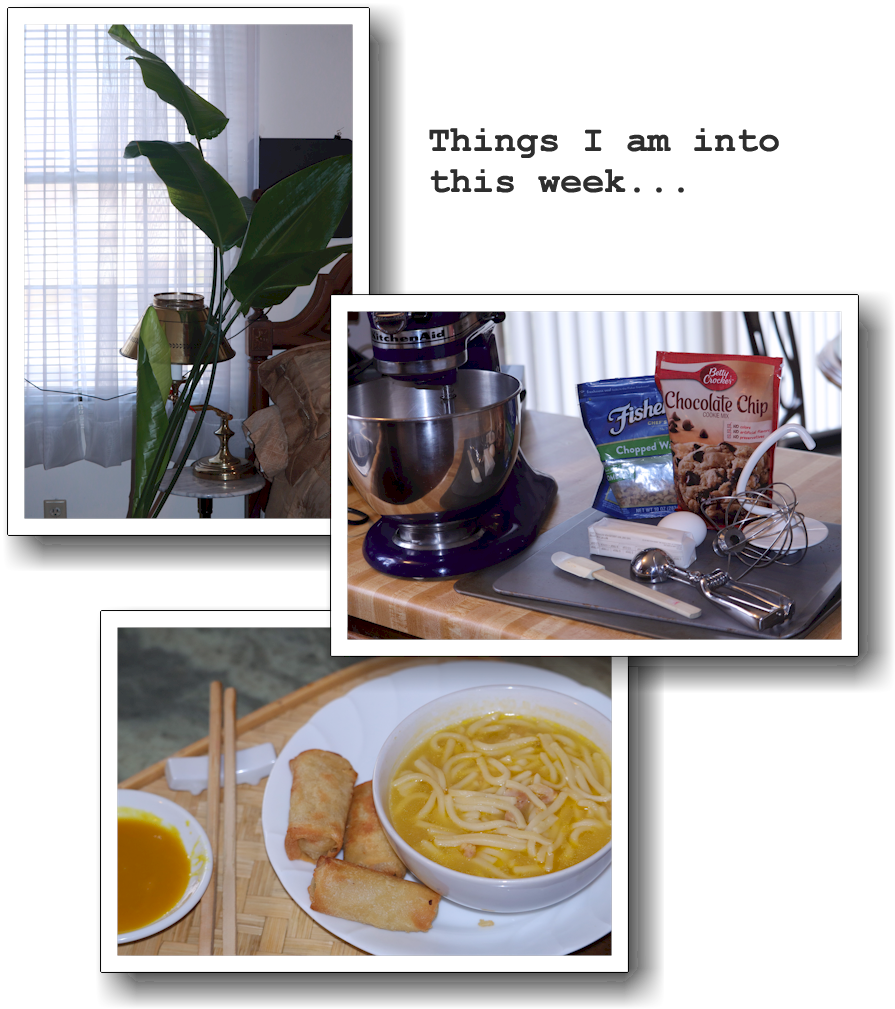 Other things I am watching? Recent news reports indicate FICO score computations are changing. One of my credit cards provides free access to my personal FICO score and my business bank provides reports about my business scores (in my case these scores should be the same because I am a sole proprietor and use the same tax information for both personal and business accounts).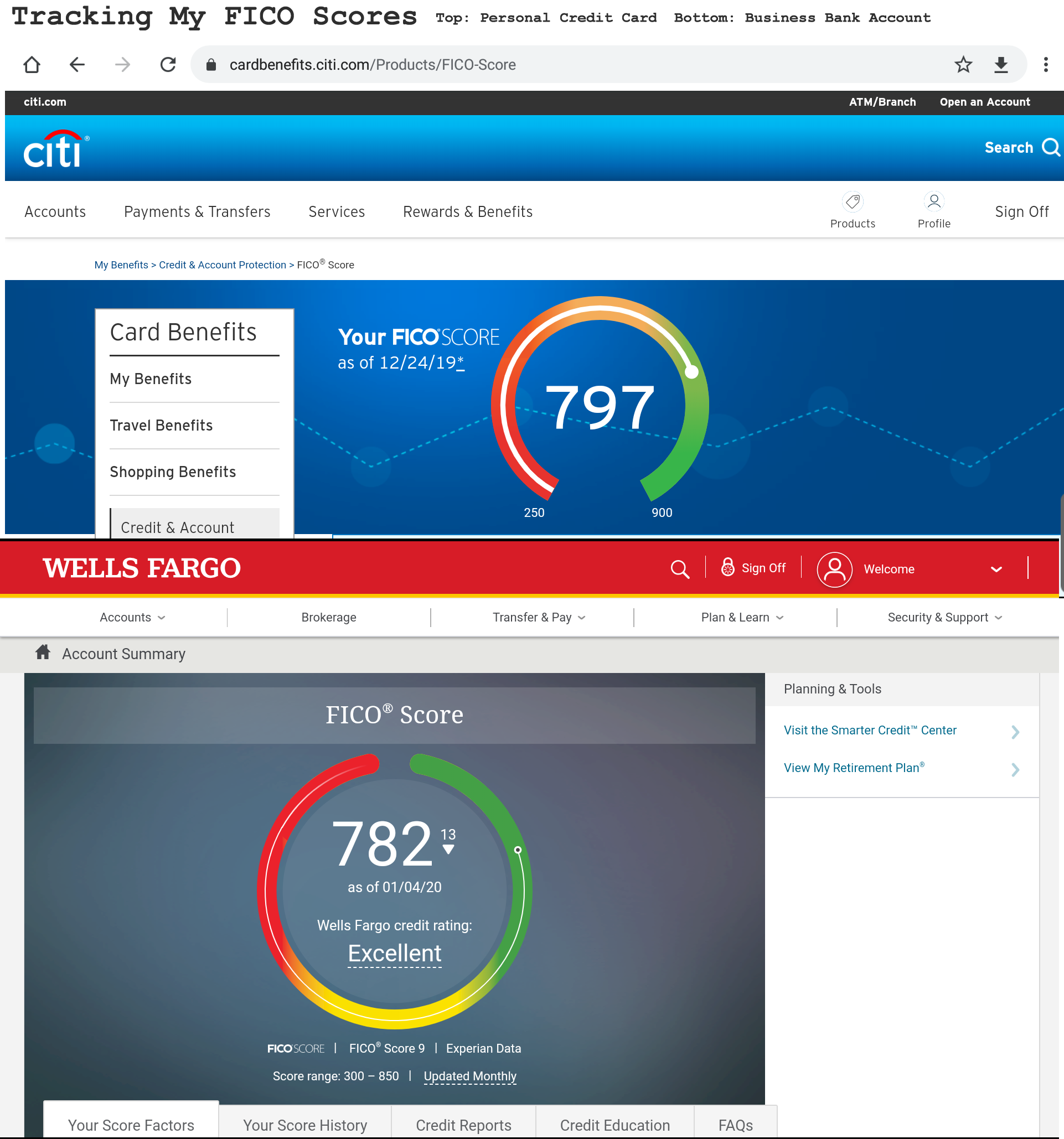 That said, I noticed a 13 point drop in the FICO score being reported by my business bank in early January 2020 and think this may explain the change. The fluctuations seem to be more reflective of spending. Holiday spending using credit cards may have been used in the business FICO score, however I always pay the entire balance on my credit cards so I think the new computations maybe a little trigger happy.
Are you noticing changes with your FICO scores?

Wednesday, January 29, 2020
For various reasons, when I make or notice changes to my appearance, I publicize the differences. For instance, I always like to provide recent photos, to insure the effects of aging are noted and current.
Over the last two or three years I have allowed my hair to grow out. At the same time, I have not dyed my hair so the advancing gray I wanted to be more a striking accent to my appearance- turned out to be, anything but. Did you see Poltergeist? By the end of the movie, JoBeth Williams' character had striking gray effects in her hair. I think, the natural state of my hair should look more like hers at the end of that movie.
The photos below were taken January 26, 2020 and show the enormous amount of gray in my hair:
Yesterday, I went to the market for my mother and also picked up a box of dye. I have to admit, I purchase things because they are on sale, so the box of Garnier Nutrisse Nourishing Hair Color Creme, 50 Medium Natural Brown (Truffle) I purchased was more because it was on sale and not because I did any research.
That said, I love this brand. I loved how easy it was to apply, I loved the smell, I loved the way my hair felt after blowing it dry, and this morning after I took out the rollers.
The photos below taken this morning after I combed it out (camera flash highlighting the conditioner in my hair, most of the gray covered):
My natural hair color tends to have lighter brown/blond highlights mixed in with the darker brown. The new color is a bit more auburn (especially where the gray was covered), however I like it.

Sunday, January 26, 2020
On Friday, January 17, 2020, I placed an order with Amazon comprised of the following items, which arrived, Thursday, January 23, 2020.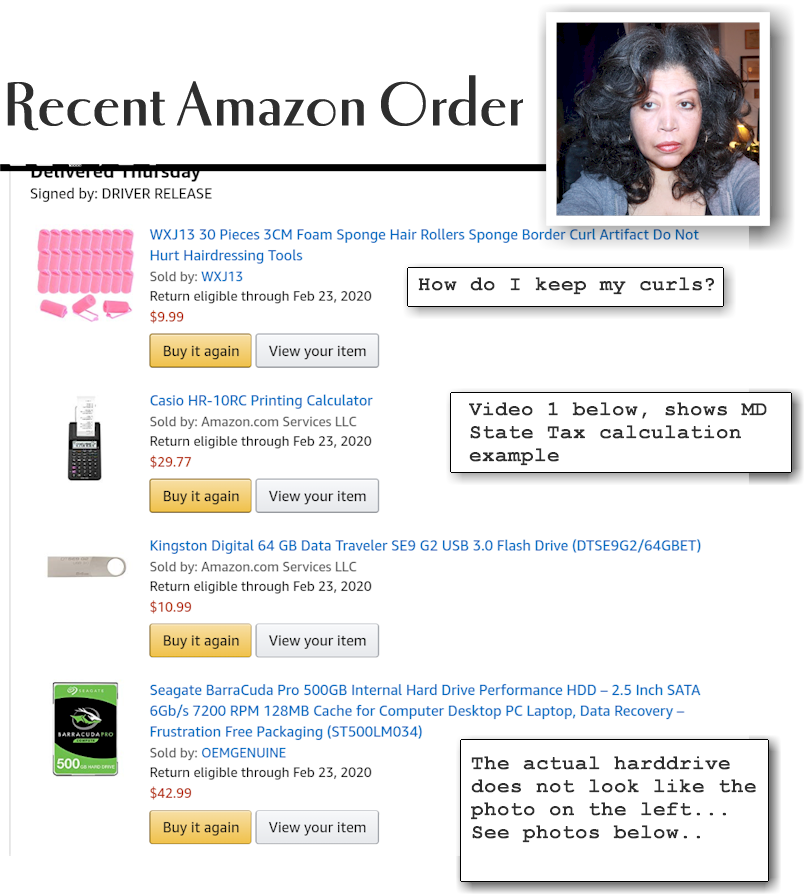 On Friday, January 18th, a huge spring on one of the garage doors broke and though a relative looked at the door and said it could be used without repair, I decided to research, and have the repair done. It turns out, if the spring is left unrepaired, the release latch that allows for manual operation, is useless because the door is to heavy to lift without the spring and both cables. One of the cables also snapped.
So, for the last week and a half- major projects included:
Research, purchase and installation of 500 GB Harddrive for mini computer
More software installed on new mini computer, i.e., Thingamablog, iTunes, etc.
Garage door repair research
2019 Tax Returns (Federal & Maryland) Filed
I needed a new desktop calculator with a small footprint and I am pretty happy with the Casio HR-10RC Printing Calculator I ordered. Below is a 9 second video demonstration of the calculator.
My mother has a slightly larger Casio Printing Calculator (Casio HR-100TM) which is also pretty good, so below, I am providing links to both calculators.
The installation of the Seagate 500GB harddrive was pretty easy, however it did not automatically show up as a new drive. I had to add the device under the Windows Control Panel Hardware tab (showed up as hardware that needed to be added).
These days, storage on harddrives is easy to purchase, and you may notice that I tend to purchase devices with lower storage amounts. This is on purpose. I try to purchase what I think I will need, not how much I can get.
P.S. I also use a Conair 1" Curling Iron which in combination with the items shown, help to keep my curls in place all day.

Tuesday, January 14, 2020
I have been researching portable monitors for awhile and finally decided to purchase the Elecrow 10.1" 2K IPS Touchscreen Monitor.
Initially, the touchscreen capability was not a high priority, however overtime decided I would prefer a portable monitor with this option. When I found the Elecrow, several of the features I wanted with a monitor of this type were met, including:
Touchscreen
Monitor Size: 10.1 inches
Screen Resolution: 2560x1600 (2K)
Cost
The following is a short video demonstrating the Elecrow touchscreen feature.
Video Quality: I shot the videos for this post using my Canon VIXIA HF R700 Camcorder then merged the video files using a 640x480 lower resolution file size. This done mainly to accommodate my web hosting server. The original MP4 file was over 25MB and the converted file less than 10MB.