Friday, March 03, 2023
Yesterday, I was working on a project which required the installation of a licensed copy of Microsoft Office 365, on the new HP Windows 11 laptop acquired over the holidays.
One of the subtasks involved creating an Excel spreadsheet, which once completed, I wanted to print to an older Brother Monochrome Fax/Laser printer.
I plugged in the USB cable from the printer to the new Windows 11 system and noticed it recognized the printer, however the print driver was unavailable.
Plug & Play was not available for either of my older printers while connected to the new Windows 11 system. My older printers include a Brother 2820 Monochrome Fax/Laser Printer and one of two- Konica Minolta Magicolor 1600W Laser Printers.
How did I resolve this dilemma?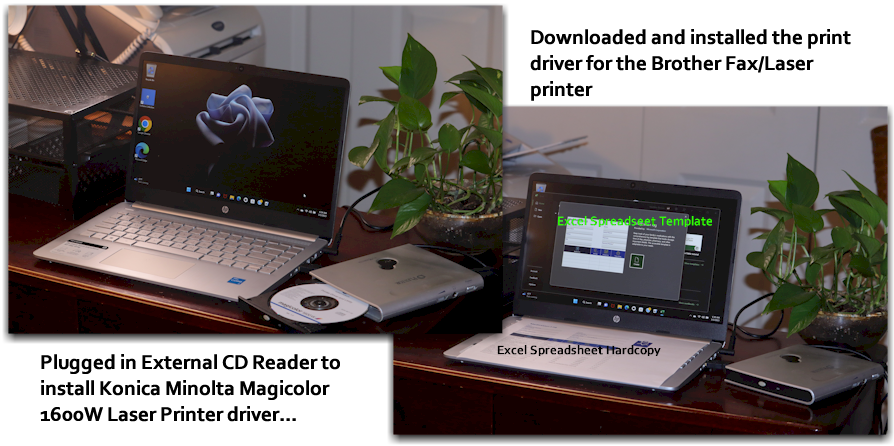 I used the CD disc that came with the Konica Minolta Magicolor 1600W Laser Printer to install the driver and for the Brother 2820 Monochrome Fax/Laser Printer, I downloaded the driver for the Windows 7 platform.
The manufacturer, Brother claimed the Windows 10 operating system came with a built in driver for the fax/laser printer, the reason I had no option but to download the Windows 7 version. Windows 11 is so new (and probably the printer is so old), Brother did not offer a Windows 11 download version for the printer.
Both drivers installed correctly on the Windows 11 laptop.
Why not purchase a color wireless laser printer? Do not use hardcopy print enough to warrant a new printer, however did consider this printer.

Saturday, November 26, 2022
Currently, I handle all of the advertising management efforts for QiSoftware sites:
qisoftware.com (main business site)
hosting-q.com (hosts many of my applications to alleviate resource burdens on qisoftware.com)
reginadenisethomas.com (resume site)
reginathomas.studio (real estate site)
wired-shops.com (e-commerce site)
A brief discussion about advertising resources I use with my sites is provided in this blog post - QiSoftware Advertising & Utilization of sellers.guide.
Allow me to step back for a moment and discuss an old advertising management resource aptly named BlogAds. Years ago, I used BlogAds to handle advertising for the blogs I maintained on qisoftware.com.
Today, I use any number of resources to handle advertising for all areas of my sites, not just the blogs. Is this complicated? In my opinion, yes and I understand why most businesses and bloggers use advertising management services to handle their advertising needs.
Did I say complicated? Some of the advertising resources I use:
Header bidding for all areas of qisoftware.com (the only, of my sites accepted by the service I use)
Google Adsense all sites and areas (reginathomas.studio was initially rejected earlier this year however has since been accepted)
Google Ad Manager (also a requirement of the header bidding service I use)
Various affiliate marketing partnerships (I develop applications for my affiliates using their API resources, e.g. Amazon's Product Adverting API, CJ's API using GraphQL, and Best Buy's API)
Google Analytics
Social Media
Let's start with a less complicated advertising management effort. For years I have been an Amazon Affiliate and I purchase a lot from Amazon. That said, only recently have I started providing feedback in the form of product reviews. So I decided to provide my Amazon customer profile link.
I research quite a bit, and try to provide feedback for the cost conscious consumer. I also purchase a lot as a small business owner. It might be worth your time to follow me as an Amazon customer. Does this assist with my advertising efforts? Yes.
Another less complicated advertising management effort involves Google Adsense and something called Brand Safety. I recently researched this area, made some changes, and have noticed a slight increase in my Adsense revenue.
Now let's discuss a more complicated advertising management effort. Header bidding. I started integrating header bidding into qisoftware.com site areas in October 2018.
I continue to learn new things about online advertising management, and new features are coming online daily. In 2018, when I first started using header bidding, sellers.json and Floors were terms not used. If you decide to manage advertising for your sites, you have to stay on top of the new technologies and features. Any number of variables can affect ad revenue.
This is not meant to be a tutorial. Recently, I have been tweaking a lot of variables in all areas of my advertising game with some positive results. I have to admit, it is rather complicated. That said, it may have been the route I chose to integrate the features I wanted to experiment with for publisher advertising.

Friday, February 19, 2021
The real estate industry is heavily regulated by both State and Federal (to a lesser degree) guidelines and laws.
To assist with understanding the procedures and processes used by real estate brokers (coursework), I began delving into the many forms, agreements, statements, and contracts used by these professionals. Shown below, a directory listing of some of the forms I have collected to date.
While researching for my (real estate) course, I found other legal forms and agreements I wanted to add to my Microsoft Word template sets. The lower image in the diagram above, shows some of the other forms.
For some reason, I feel smarter having done this research, and wanted to provide a great resource for DIY research and creation of legal forms.

Should you retain a lawyer if you have questions? Yes. That said, some agreements are pretty straightforward and most services like eForms.com probably use lawyers and/or legal staff to help with the creation of the documents and services they offer.
In my case, I always want a lawyer to fax a copy of an agreement so I can study and research (without interruption) the document before further discussion or signatures- are added.

Monday, May 20, 2019
Yesterday morning, Sunday, I got up early, took a shower and made dessert (fruit tart discussed here).
Then I dressed (hair & makeup), and decided to enjoy Sunday morning driving around town. Some things I noticed...

Last week, because I am always researching new ways to generate revenue from my sites, I signed up for a new affiliate marketing program. Often, I try to develop new programs for use on WiredPages and this blog using affiliate API network resources. For example, see this link.
So yesterday, after returning from my drive, I sat around reviewing some of the affiliate merchant programs offered by ShareASale.com.
I also made a pizza and watched a movie, "Jennifer 8" on television. The illustration below shows the other side (see last post) of the main entry. Behind me on the right, is the closet and on the left, the hallway leading to the informal dining room off the kitchen (working on the smile, issue).
Then I went out to my gardens and took photos...
Came in, updated some of my stores, had dessert and went to bed around 9:00 pm.
Thought the new episode of Showtime's "Billions" was coming on last night, however research provided the new segment is scheduled for next Sunday. Think it is the season finale.
Did you have a nice weekend?

Monday, October 08, 2018
In recent years, I have started my holiday shopping in early Autumn and usually finish by the end of November. I think this trend began because I start researching for "the stores" around that time.
The Stores...
This year, I found a great deal on an item [Yunmai Digital Scale], I listed last year as a gift idea. I wanted to give it as a November birthday gift, however decided to give it early. My mother loves it, and so do I.
Other items in the same order...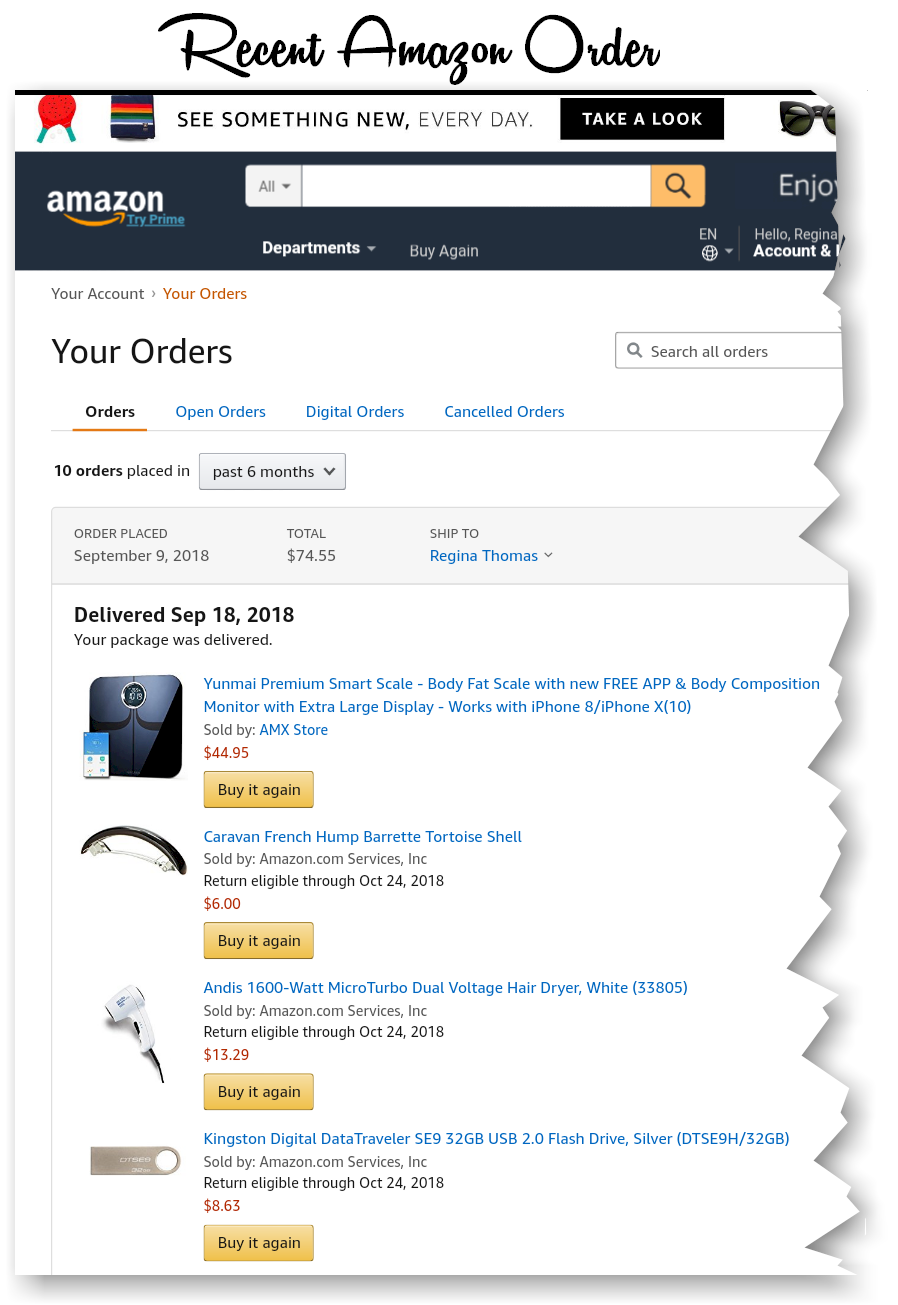 I have been rather busy lately, with web site moves and software development projects (see WiredPages), so I have not done as much research for the stores as I normally do, however stay posted if you are looking for holiday gift ideas.

Sunday, November 26, 2017
This year, my Mother's Birthday and Thanksgiving fell relatively close, so it seemed- if I was not planning for one celebration, I was planning for the other.
As usual, my brother-in-law provided the beautiful Poinsettias that will decorate the entry and fireplace this holiday season.
For her birthday, I gave my Mother a gift card and made her favorite brownies.
I seldom purchase gift cards, however this year she seemed interested in any number of items she found online at one of her favorite department stores, so I thought it a safe bet.
That said, I have been updating my stores with seasonal finds I want to add to my shopping cart instead of gift cards:
Also keeping me busy:
Social media posts, see here.
Switching protocols from FTP to SFTP for areas on qisoftware.com that require frequent updates, i.e., Remix and this blog.
Research related to local area businesses.
Hope you are enjoying the holidays.

Saturday, June 24, 2017
A death in the family took most of the family out of the area in early June. I did not attend the funeral. I have not been out much, instead working, catching a movie here or there and watching live tennis action.
Recent activities and plans:
Movie: The Accountant
Movie: Legend [2015]
Movie: Inferno
Movie: The Wizard of Lies
Upcoming: Starz "Power" Series [new season starts Sunday, June 25th @9:00 pm ET]
Upcoming: Wimbledon starts July 3rd.
Grass court [professional tennis] action from Europe.
Social Media Posts [including]: Hanover Maryland Businesses, Instagram [QiSoftware & HanoverBusinesses], Tumblr.
Revising Amazon Stores in anticipation of upcoming changes Amazon plans to make to the program. Updates to the new store formats are ongoing and several shopping categories were removed. The new shopping categories:
I have a little more work to do on the stores-- and new additions and deletions are constant. I also have three new domain registrations I plan to start work on.
In the coming months, for a change of scenery and project research, I may check in at the air conditioned mall [ArundelMills] & Live! Casino.

Saturday, June 17, 2017
Over the coming months, Amazon plans to phase out the astore feature, so I am currently adding new pages to this blog that will incorporate most of the product links provided in the Amazon versions of the stores.
Currently the links for the Amazon versions of the stores are listed in the right upper sidebar. I will gradually replace the Amazon links with the page versions associated with this blog.
Listed below, demonstration links for the blog page versions of the stores [keep in mind I am currently working this project].
This project should keep me busy for a couple of days...

Comments