Friday, September 15, 2023
Recently, I think because of an uptick in blog posts- I noticed the numbers from the header bidding resource I integrated on areas of qisoftware.com in October 2018 began to show an increase.
Based on the information in this IAB Tech Lab discussion Why the 'OWNERDOMAIN' & 'MANAGERDOMAIN' fields are important additions to ADS.TXT...

... I added (late September 13, 2023) the following lines to my ads.txt file as illustrated below.

My sellers.json file was left unchanged.

After updating the qisoftware.com ads.txt file the analysis resource offered by sellers.guide for my domain, qisoftware.com changed as noted below.
Just for information, how my Google Adsense and header bidding resource (UAM) accounts report my seller information...

On September 14, 2023, my header bidding numbers decreased to ZERO and today, though still early, the numbers appear to be headed in the same direction (ZERO).
My header bidding numbers are now zero after updating my ads.txt file. It also appears someone else is selling my ad space. Maybe I should not have done all of my site's ad integrations, however it seemed pretty straight forward after lots of research. What am I missing?
Reference discussions about QiSoftware advertising resources and integrations:

Monday, August 21, 2023
Part of the day Sunday, I spent tweaking my new Access database which stores the Amazon affiliate links for my stores. I ran into a problem with the Visual Basic for Applications (VBA) module that generates the HTML code for each Amazon store. I spent at least two hours resolving this issue.
Okay, I started this post with how I resolved an issue without explaining what led to the problem.
Below, an illustration of how the Gift Ideas products were rendered on the page before I decided to use a Microsoft Access database to maintain my Amazon affiliate links.
When I first started updating my stores to use product links rather than the Native Shopping Ads resource (feature retiring), I simply used Amazon's SiteStripe to copy the product affiliate link information for each product- for inclusion to my pages. For those unfamiliar with how the Amazon affiliate resource SiteStripe works- the graphic below provides illustration.
Because I wanted to add descriptive information about each product, I added a field to the database which I included in the HTML generated for each product. The problem, initially the descriptions were a bit lengthy and took up a lot of "real estate" without the corresponding link. Only the image had the link.
To overcome this, I decided to parse the AffiliateData field (example shown below) for each product, only retrieving the actual link, so I could include the link around the descriptive text without creating a new field for just the link.
This was not as straight forward as I thought it would be, however I did come up with a solution, and I am happy with how I have decided to maintain my Amazon affiliate links.
Below is an illustration of the new Gift Ideas page with the new links, images, and linked descriptions for each product- as provided by the Access database.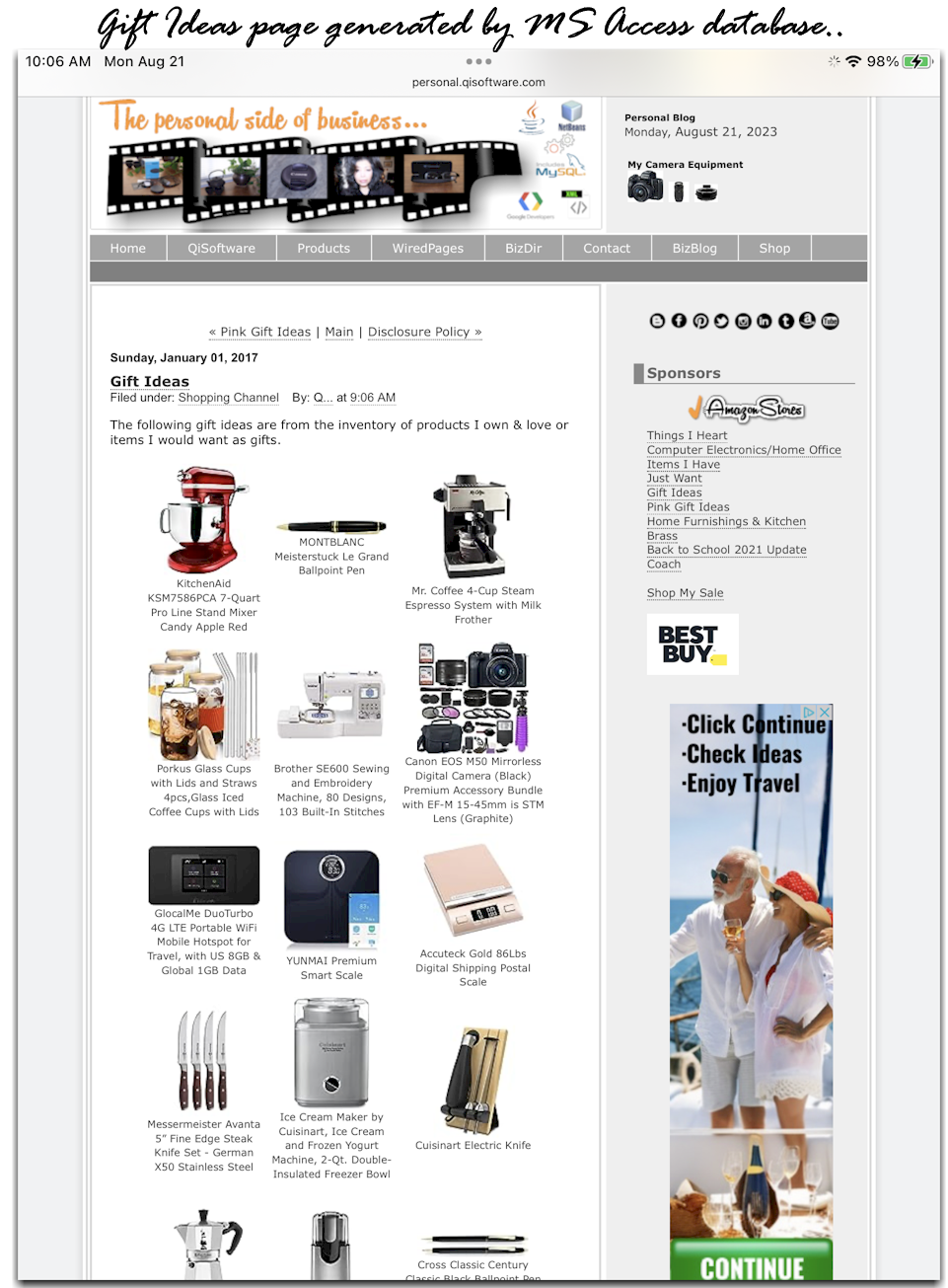 I liked this exercise because it allowed me to work with Visual Basic again, and I always want to stay up to date with the latest issues with software areas I support.

Wednesday, August 16, 2023
Yesterday, I developed a new Microsoft Access Database to handle Amazon affiliate links I use throughout my sites.
The rather involved illustration below shows what the new database accomplishes.
Do you want to ask, why not use Amazon's Product Advertising API to pull my affiliate links? Years go I created an application (quite frankly, several) to pull Amazon affiliate links for use on WiredPages.
The problem with using Amazon's Product Advertising API you must generate a number of orders to be able to use the resource. I never have any sells. If you think otherwise because you have clicked and purchased from my Amazon affiliate links (any link that points to Amazon.com on any part of the qisoftware.com and related domains) then contact IC3.
When my access to the API was suspended (no orders, several years ago), I integrated Amazon Native Shopping Ads into the programs. When the API was unavailable I provided the Native Shopping Ads.
Recently, it was announced Amazon's Native Shopping Ads resource is being retired so I am coming up with new ways to show data and ads I think are relevant to the areas on my sites where I place them.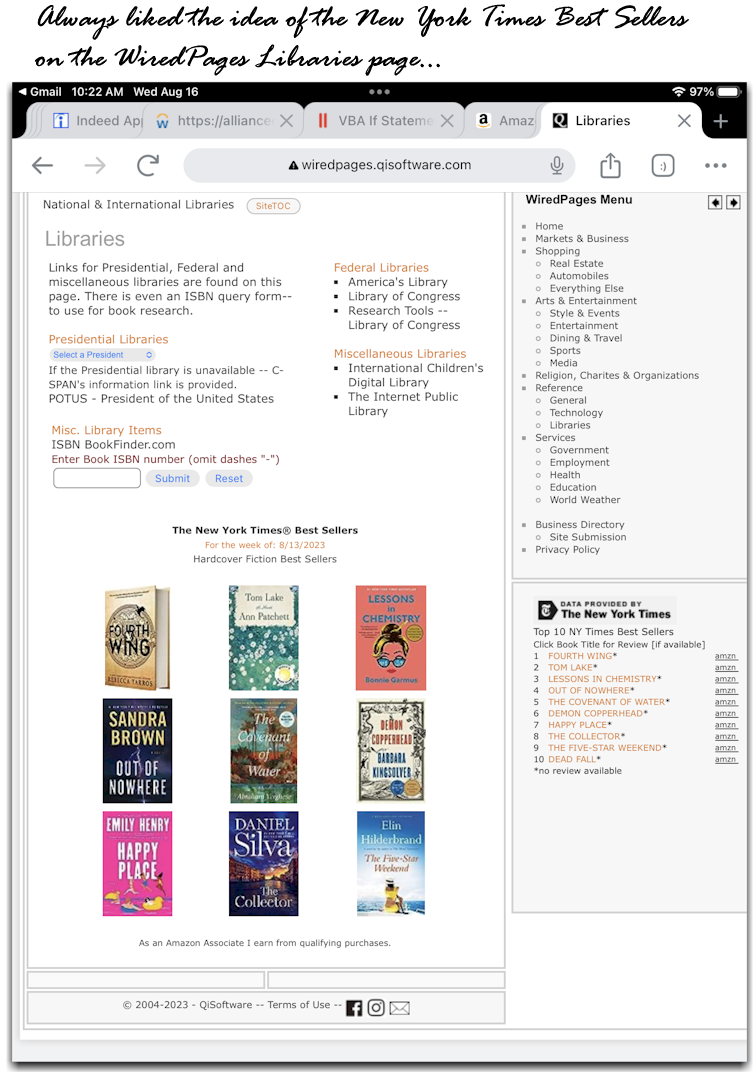 I am a software developer who likes demonstrating the type of custom applications I can provide using popular APIs like Amazon's Product Advertising API. Some of the APIs I have worked with are found on this page.

Monday, August 14, 2023
Over the past month, I have noticed shorter term CD APYs are on the rise. Over the last two or three years, 5 year CD APYs were higher, so I setup several CDs to take advantage of the rates banks were offering.
This week I will setup a new 12 month CD with an APY of 5.10%, and hope the accounts I am transferring the funds from will not be needed for an emergency in the next month or so.
Since I am discussing financial issues, I do have some good news- my FICO scores are on the rise again. After I applied for and obtained two new credit cards last year my credit scores went down. Reference this post or the finance category of this blog where I provide ongoing details about my credit scores.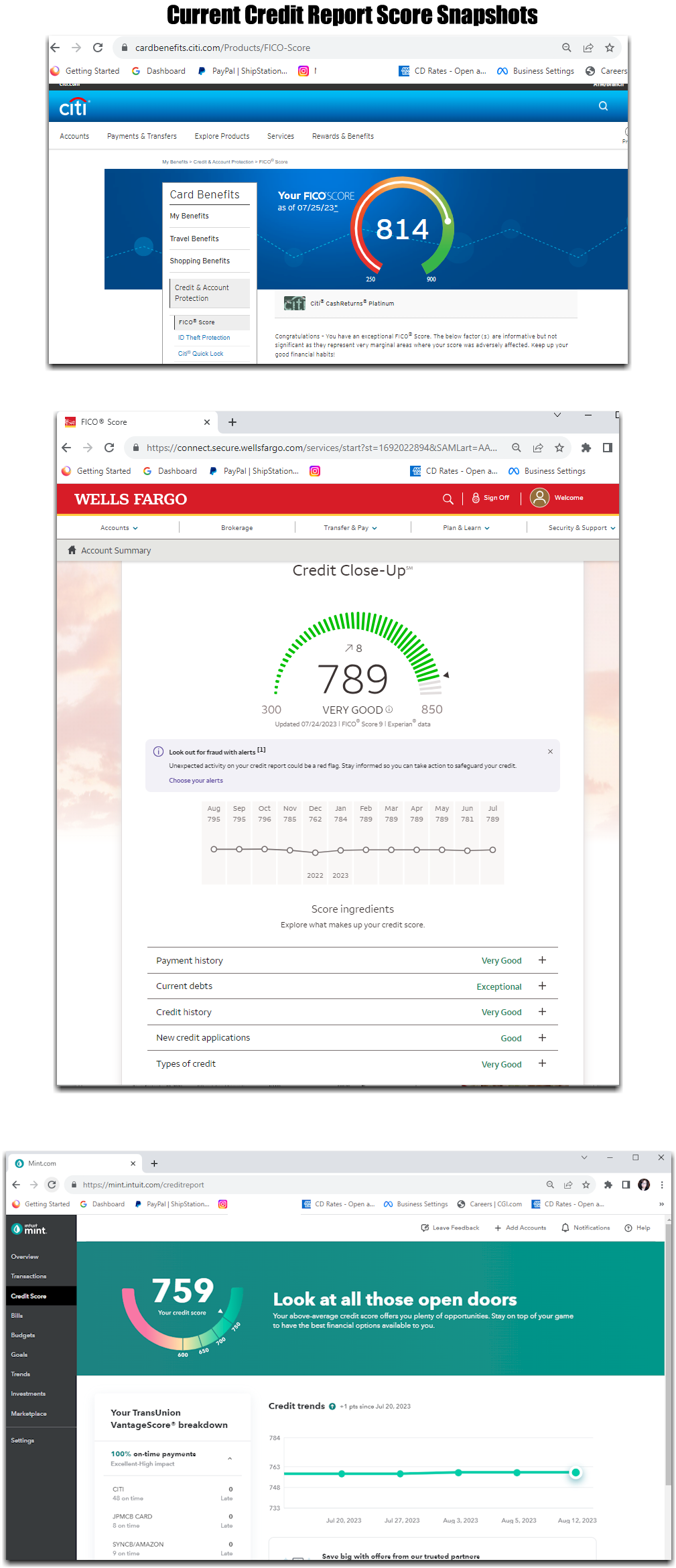 On my journey to monetize my Youtube Channel, there was also more good news, I now only need 500 subscribers rather than 1000. (This is rather a giggle at this point. Someone indicated my subscribe button does not work, however I tend to be rather sporadic with video uploads.)
I have also started planning and making healthier meal choices.
I am particularly happy about a green beans recipe (I use garlic powder rather than garlic cloves) I found, which I add to sauteed chicken breast.

Friday, June 16, 2023
My goose down comforter has been shedding for awhile, so I finally decided to order new bedding. Though I tend to keep a comforter on the bed year round, I actually only use it during the winter months.
I wanted to get another down comforter, however opted for a light weight, less costly- "Bedsure Comforter Duvet Insert - Quilted White All Season Down Alternative Queen Size Bedding Comforter with Corner Tabs".
I am pretty pleased with my selection. The photos below show the duvet insert after I let it spin in the dryer for about 20 minutes, along with the "Bedsure Brown Duvet Cover Queen Size - Soft Brushed Microfiber Duvet Cover with Zipper Closure".
Items discussed in this post include:

Wednesday, April 12, 2023
Recently, I had the opportunity to work with the Microsoft 365 brand via Amazon. I was provided a copy of Microsoft 365 Personal version, which I installed on a new HP laptop.
The Microsoft 365 Personal applications provided for this installation, included:
The video provided in this post discusses this installation, however also discusses the Microsoft 365 Professional suite of applications I owned prior to my work with the brand.
The suite of applications that make up the Microsoft 365 Professional version include:
Word
Excel
PowerPoint
Access
Publisher
Outlook
I began using Microsoft Office in 1992 or so, and continued to use the professional suite of applications for business, legal, and personal use over the years. I was impressed when I first began using these applications, and I continue to be impressed.

Tuesday, April 11, 2023
Lately, I have been preoccupied with personal and home security projects, so in addition to holiday meal preparation, my short term goals through last weekend included those efforts.
This morning, with most of my short term goals in place (have one or two remaining issues with the security projects) I refocused my attention on business efforts.
I have done a lot of research into online content creation resources, income potential, and those currently working in this area.
Though my research provides you probably should not give up your day job to become an online content creator- there is the potential for side income if you have the time.
That said, in my opinion part of the problem lies in how search engines find your content. Bloggers and other content creators used to use online forums and backlinks to create their web presence. Now it is more social media links and the number of likes.
The problem with someone like me? I do not chase social media likes nor posts.
I prefer backlinks and directories. For example, one of the Facebook groups to which I belong- provides membership for regional content creators. When I posted a question to the group searching for a post with a list of links for our members' content- the admin for the group responded that there was an old post somewhere. Upon further research, I discovered Facebook had deleted the post.
When I developed the Blogger Calendar Java application in 2004 for the blogger.com platform, I created a blog post titled, "Dating Your Blog" using "Blogger Calendar" as a keyword.
I then posted to a great many online forums about my new application. Web directories and the older forums services (e.g., BBS) do not delete old forum threads with links.
When using Google, Yahoo, etc. to search for the term "Blogger Calendar" there were many returned references all pointing to one of my forum posts or the blog post itself. And my results were always at the top.
Content creators do not have as many backlinks to their content, instead a person on Facebook or Youtube liked your post. This does not provide the same backlink coverage the old forum posts and directories used to provide.
Of course you can always purchase the top of the search results list. How is that done today? In the past it was the backlinks from forum posts and online directories. I am no sure how Google creates backlinks today or if they are even needed to reach the top of their search results lists.
Social media 'likes' do not create backlinks.
When the Facebook admin responded to my query, I started thinking about how creators might be found without sinking entire budgets into advertising to get top search engine results. That is why I registered MarylandBloggers.com in late February 2023.
SEO (Search Engine Optimization) used to mean- those offering those services went out and did what I did when I developed the Blogger Calendar app, post to a lot of different forums to get top ranking in search engines.
Forums have gone mostly by the wayside, so today I am unsure as to how those providing those services obtain top results in search engine rankings. Backlinks are important. Someone liked your page? Does that get you a backlink? That may get Instagram a backlink.
Because I have created my own online content, I know videos are especially time consuming and you need the right equipment. I use starstat.yt to provide income data for Youtube channels. Given the number of subscribers and the work effort to create some of those videos, I find it a little shocking as to the dollar amounts those creators are generating. Virtually nothing. Can you buy subscribers? It seems the subscribers are not returning.
Someone is making money. I am not sure if it is the creators. I get hits. I do not get credit. I have asked DOJ to investigate.
How do I know I get hits? One, I have to restart my private Tomcat servers on both my hosts too often which tends to show it is not only me visiting my sites. Two, there is other evidence, however a little harder for me to prove. Three, I am the sole admin for my high school alumni group of 6K members. I am sure they are curious about who I am. Why? I always get hits on an external alumni group I belong to. Though the Facebook group is active my business/personal site analytics do not reflect any traffic from this rather large group.
Last year, a large power admins group on Facebook invited me to join because of the high school alumni group. My group is considered clean and rates high on Facebook. Why are those members (Facebook high school alumni group) not curious about who I am- and those on the external alumni group seem to be? The external sites sends email messages about profile hits.
I do not think I am the only content provider not getting credit. What am I trying to do? Old School. Provide a way to have links found.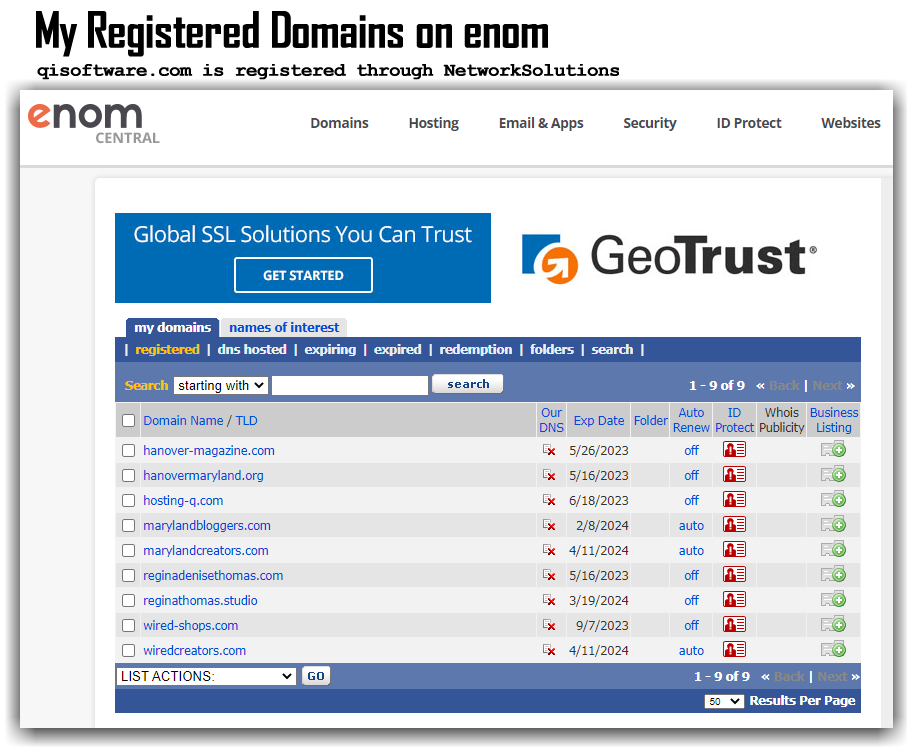 Sources suggest hits from this blog and other sites I offer do provide audience for links I include in my posts. I registered two new domains this morning- MarylandCreators.com and WiredCreators.com at $10.74 per year for each.
Can I get you hits? I think so.

Friday, March 03, 2023
Yesterday, I was working on a project which required the installation of a licensed copy of Microsoft Office 365, on the new HP Windows 11 laptop acquired over the holidays.
One of the subtasks involved creating an Excel spreadsheet, which once completed, I wanted to print to an older Brother Monochrome Fax/Laser printer.
I plugged in the USB cable from the printer to the new Windows 11 system and noticed it recognized the printer, however the print driver was unavailable.
Plug & Play was not available for either of my older printers while connected to the new Windows 11 system. My older printers include a Brother 2820 Monochrome Fax/Laser Printer and one of two- Konica Minolta Magicolor 1600W Laser Printers.
How did I resolve this dilemma?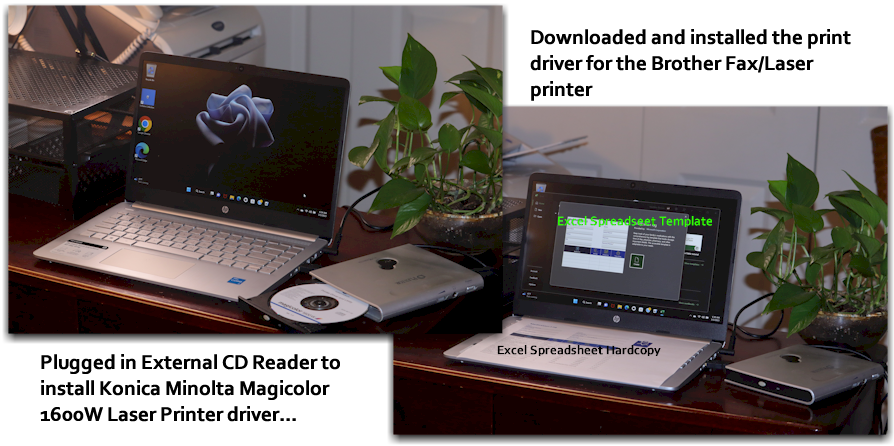 I used the CD disc that came with the Konica Minolta Magicolor 1600W Laser Printer to install the driver and for the Brother 2820 Monochrome Fax/Laser Printer, I downloaded the driver for the Windows 7 platform.
The manufacturer, Brother claimed the Windows 10 operating system came with a built in driver for the fax/laser printer, the reason I had no option but to download the Windows 7 version. Windows 11 is so new (and probably the printer is so old), Brother did not offer a Windows 11 download version for the printer.
Both drivers installed correctly on the Windows 11 laptop.
Why not purchase a color wireless laser printer? Do not use hardcopy print enough to warrant a new printer, however did consider this printer.

Saturday, November 26, 2022
Currently, I handle all of the advertising management efforts for QiSoftware sites:
qisoftware.com (main business site)
hosting-q.com (hosts many of my applications to alleviate resource burdens on qisoftware.com)
reginadenisethomas.com (resume site)
reginathomas.studio (real estate site)
wired-shops.com (e-commerce site)
A brief discussion about advertising resources I use with my sites is provided in this blog post - QiSoftware Advertising & Utilization of sellers.guide.
Allow me to step back for a moment and discuss an old advertising management resource aptly named BlogAds. Years ago, I used BlogAds to handle advertising for the blogs I maintained on qisoftware.com.
Today, I use any number of resources to handle advertising for all areas of my sites, not just the blogs. Is this complicated? In my opinion, yes and I understand why most businesses and bloggers use advertising management services to handle their advertising needs.
Did I say complicated? Some of the advertising resources I use:
Header bidding for all areas of qisoftware.com (the only, of my sites accepted by the service I use)
Google Adsense all sites and areas (reginathomas.studio was initially rejected earlier this year however has since been accepted)
Google Ad Manager (also a requirement of the header bidding service I use)
Various affiliate marketing partnerships (I develop applications for my affiliates using their API resources, e.g. Amazon's Product Adverting API, CJ's API using GraphQL, and Best Buy's API)
Google Analytics
Social Media
Let's start with a less complicated advertising management effort. For years I have been an Amazon Affiliate and I purchase a lot from Amazon. That said, only recently have I started providing feedback in the form of product reviews. So I decided to provide my Amazon customer profile link.
I research quite a bit, and try to provide feedback for the cost conscious consumer. I also purchase a lot as a small business owner. It might be worth your time to follow me as an Amazon customer. Does this assist with my advertising efforts? Yes.
Another less complicated advertising management effort involves Google Adsense and something called Brand Safety. I recently researched this area, made some changes, and have noticed a slight increase in my Adsense revenue.
Now let's discuss a more complicated advertising management effort. Header bidding. I started integrating header bidding into qisoftware.com site areas in October 2018.
I continue to learn new things about online advertising management, and new features are coming online daily. In 2018, when I first started using header bidding, sellers.json and Floors were terms not used. If you decide to manage advertising for your sites, you have to stay on top of the new technologies and features. Any number of variables can affect ad revenue.
This is not meant to be a tutorial. Recently, I have been tweaking a lot of variables in all areas of my advertising game with some positive results. I have to admit, it is rather complicated. That said, it may have been the route I chose to integrate the features I wanted to experiment with for publisher advertising.

Friday, February 19, 2021
The real estate industry is heavily regulated by both State and Federal (to a lesser degree) guidelines and laws.
To assist with understanding the procedures and processes used by real estate brokers (coursework), I began delving into the many forms, agreements, statements, and contracts used by these professionals. Shown below, a directory listing of some of the forms I have collected to date.
While researching for my (real estate) course, I found other legal forms and agreements I wanted to add to my Microsoft Word template sets. The lower image in the diagram above, shows some of the other forms.
For some reason, I feel smarter having done this research, and wanted to provide a great resource for DIY research and creation of legal forms.

Should you retain a lawyer if you have questions? Yes. That said, some agreements are pretty straightforward and most services like eForms.com probably use lawyers and/or legal staff to help with the creation of the documents and services they offer.
In my case, I always want a lawyer to fax a copy of an agreement so I can study and research (without interruption) the document before further discussion or signatures- are added.

Monday, May 20, 2019
Yesterday morning, Sunday, I got up early, took a shower and made dessert (fruit tart discussed here).
Then I dressed (hair & makeup), and decided to enjoy Sunday morning driving around town. Some things I noticed...

Last week, because I am always researching new ways to generate revenue from my sites, I signed up for a new affiliate marketing program. Often, I try to develop new programs for use on WiredPages and this blog using affiliate API network resources. For example, see this link.
So yesterday, after returning from my drive, I sat around reviewing some of the affiliate merchant programs offered by ShareASale.com.
I also made a pizza and watched a movie, "Jennifer 8" on television. The illustration below shows the other side (see last post) of the main entry. Behind me on the right, is the closet and on the left, the hallway leading to the informal dining room off the kitchen (working on the smile, issue).
Then I went out to my gardens and took photos...
Came in, updated some of my stores, had dessert and went to bed around 9:00 pm.
Thought the new episode of Showtime's "Billions" was coming on last night, however research provided the new segment is scheduled for next Sunday. Think it is the season finale.
Did you have a nice weekend?

Monday, October 08, 2018
In recent years, I have started my holiday shopping in early Autumn and usually finish by the end of November. I think this trend began because I start researching for "the stores" around that time.
The Stores...
This year, I found a great deal on an item [Yunmai Digital Scale], I listed last year as a gift idea. I wanted to give it as a November birthday gift, however decided to give it early. My mother loves it, and so do I.
Other items in the same order...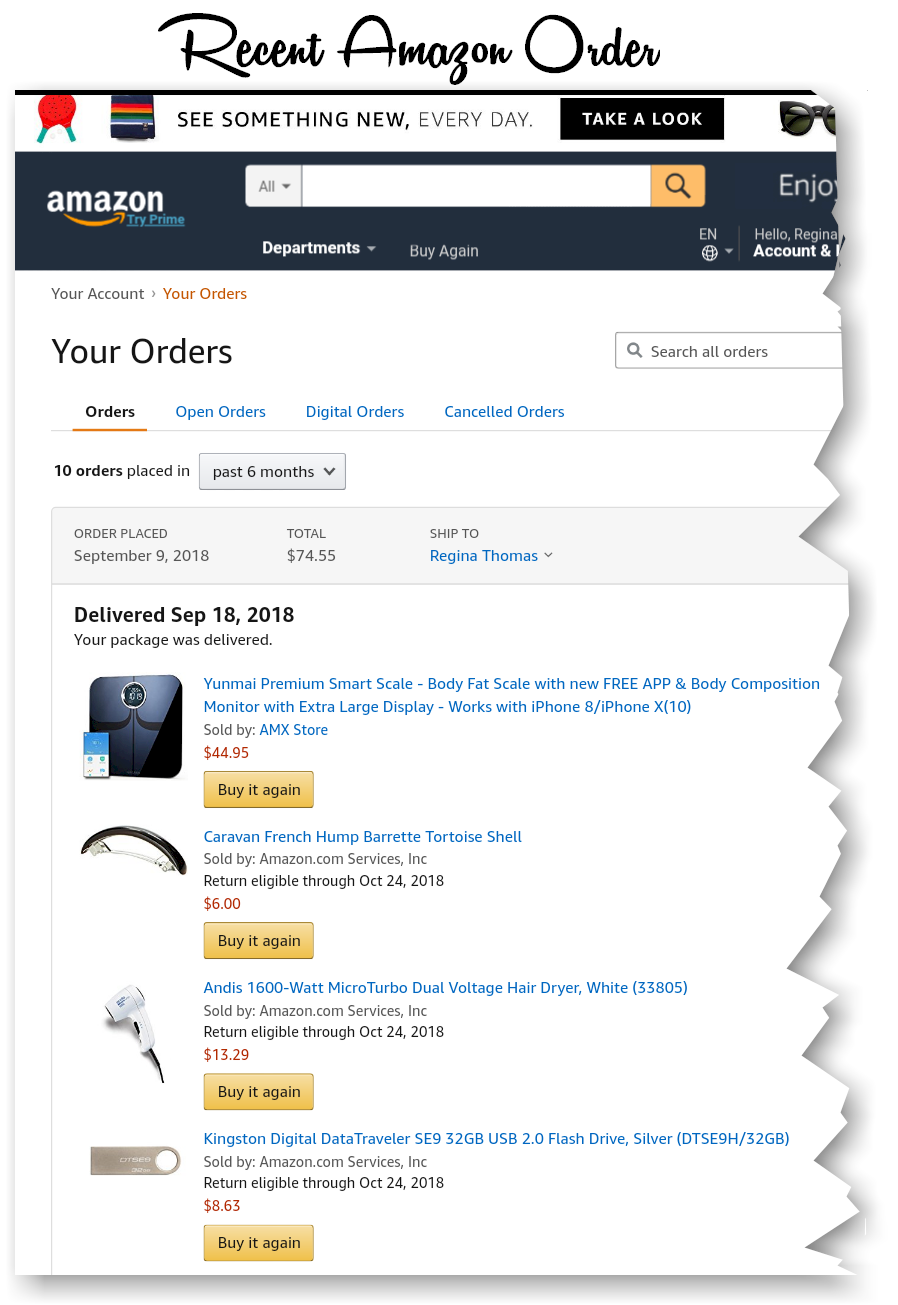 I have been rather busy lately, with web site moves and software development projects (see WiredPages), so I have not done as much research for the stores as I normally do, however stay posted if you are looking for holiday gift ideas.

Sunday, November 26, 2017
This year, my Mother's Birthday and Thanksgiving fell relatively close, so it seemed- if I was not planning for one celebration, I was planning for the other.
As usual, my brother-in-law provided the beautiful Poinsettias that will decorate the entry and fireplace this holiday season.
For her birthday, I gave my Mother a gift card and made her favorite brownies.
I seldom purchase gift cards, however this year she seemed interested in any number of items she found online at one of her favorite department stores, so I thought it a safe bet.
That said, I have been updating my stores with seasonal finds I want to add to my shopping cart instead of gift cards:
Also keeping me busy:
Social media posts, see here.
Switching protocols from FTP to SFTP for areas on qisoftware.com that require frequent updates, i.e., Remix and this blog.
Research related to local area businesses.
Hope you are enjoying the holidays.

Saturday, June 24, 2017
A death in the family took most of the family out of the area in early June. I did not attend the funeral. I have not been out much, instead working, catching a movie here or there and watching live tennis action.
Recent activities and plans:
Movie: The Accountant
Movie: Legend [2015]
Movie: Inferno
Movie: The Wizard of Lies
Upcoming: Starz "Power" Series [new season starts Sunday, June 25th @9:00 pm ET]
Upcoming: Wimbledon starts July 3rd.
Grass court [professional tennis] action from Europe.
Social Media Posts [including]: Hanover Maryland Businesses, Instagram [QiSoftware & HanoverBusinesses], Tumblr.
Revising Amazon Stores in anticipation of upcoming changes Amazon plans to make to the program. Updates to the new store formats are ongoing and several shopping categories were removed. The new shopping categories:
I have a little more work to do on the stores-- and new additions and deletions are constant. I also have three new domain registrations I plan to start work on.
In the coming months, for a change of scenery and project research, I may check in at the air conditioned mall [ArundelMills] & Live! Casino.

Saturday, June 17, 2017
Over the coming months, Amazon plans to phase out the astore feature, so I am currently adding new pages to this blog that will incorporate most of the product links provided in the Amazon versions of the stores.
Currently the links for the Amazon versions of the stores are listed in the right upper sidebar. I will gradually replace the Amazon links with the page versions associated with this blog.
Listed below, demonstration links for the blog page versions of the stores [keep in mind I am currently working this project].
This project should keep me busy for a couple of days...

Comments