Friday, February 19, 2021
The real estate industry is heavily regulated by both State and Federal (to a lesser degree) guidelines and laws.
To assist with understanding the procedures and processes used by real estate brokers (coursework), I began delving into the many forms, agreements, statements, and contracts used by these professionals. Shown below, a directory listing of some of the forms I have collected to date.
While researching for my (real estate) course, I found other legal forms and agreements I wanted to add to my Microsoft Word template sets. The lower image in the diagram above, shows some of the other forms.
For some reason, I feel smarter having done this research, and wanted to provide a great resource for DIY research and creation of legal forms.

Should you retain a lawyer if you have questions? Yes. That said, some agreements are pretty straightforward and most services like eForms.com probably use lawyers and/or legal staff to help with the creation of the documents and services they offer.
In my case, I always want a lawyer to fax a copy of an agreement so I can study and research (without interruption) the document before further discussion or signatures- are added.

Wednesday, February 10, 2021
I have been busy, but feel I am keeping up with my coursework. Mainly, because I stay ahead with the reading.
Other things going on...
Filed my taxes.
Preparing paperwork for course completion related efforts
Renewed several of my domains (yes, tend to do this yearly rather than longer periods of time)
Site issues, sports scores (WiredPages), etc.
Researching problems with header bidding ads used on several areas of my sites
Updating online résumés to reflect current coursework for real estate license
Paying business bills... addresses, hosting, etc.
Just really, busy...

Thursday, January 28, 2021
My real estate course starts next week, and I have been busy with continuing preparation efforts.
Recent preparations:
Joined the Microsoft Teams for the class
Setup student calendars
Digitizing Maryland laws and regulations as related to real estate for easy search.
Coming up to speed with a newer version of Microsoft Office (365)
Zoom (online) classroom attendance- continuing preparations
Research as related to the real estate market, jobs, and online forums
Studying
Researching Microsoft offerings as related to real estate.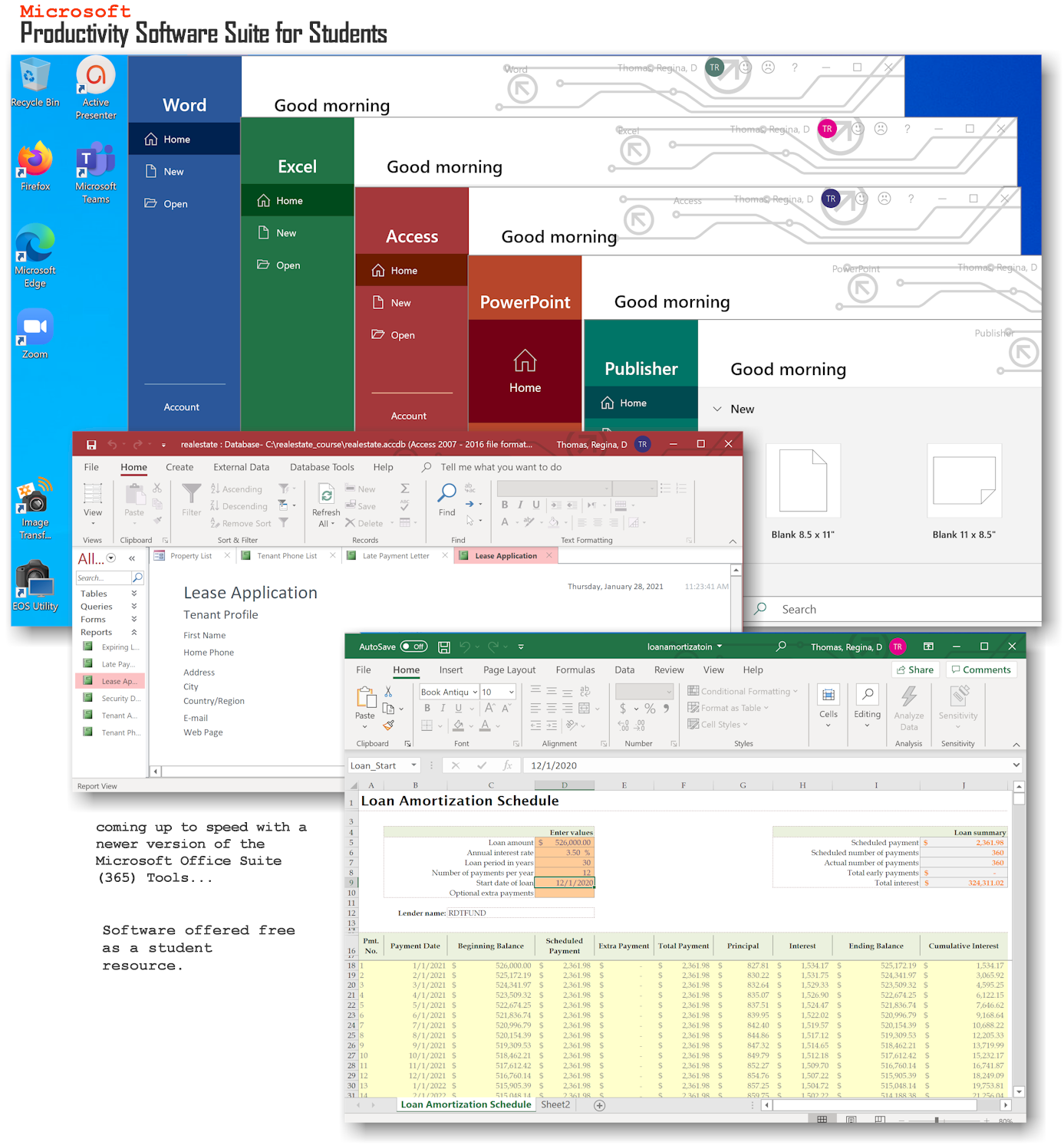 I have also been trying to plan my days for the next two months, in that I will continue to do most of the shopping. In addition, I have several business related tasks coming up, so I am hoping I can accomplish everything as efficiently as possible.

Thursday, January 21, 2021
Over the years, I have avoided using facetime and capturing videos of myself. I am not photogenic. This was never really a problem until now.
I worked in a male dominated field and found I liked conservative suits for daily office wear. Though I wear little in the way of jewelry, hair and makeup always important.
Today, when out, I tend to choose the same types of styles. With online video conferencing about to become more important in my life, I am researching options. I am concerned about mistaken identity issues, so want the same look for all public appearances, even video conferencing (sans the mask).
The real problem? I wear black- a lot. I am going through my closets for more colorful options that will project a better contrast for video conferencing, however I am not coming up with a wide selection.
So why all of the previews? Still thinking about all of this. Happy the online course is business related.

Friday, January 08, 2021
I received notification on January 6th, 2021, the real estate class start date has been postponed until February.
Several plans based on the original class start date- have also been postponed. Still very excited about this project.

Monday, February 03, 2020
Originally posted: 2/3/21
I have started my online class and it did not go exactly as planned.
Number one, I made a mistake and asked the entire class to join my class events. How did I do this? When I joined the Microsoft Team for the class, I created events in the Team Calendar. I thought it was another student (semi-private) calendar. I was able to cancel all of the events, however it left some in the class confused.
Though no one said anything to me, the number of messages and emails I received before the start of class showed my mistake. "Most could not log in". The class coordinator had to help some of my classmates to the correct event. I was rather embarrassed by the whole thing and could only smile at my mistake.
Two, I love understanding software and all aspects of a new user interface. During the class, I played with every button/icon I could find-- to make sure I understood its function. Never worried everything was being recorded.
For the last two months I have been trying to test lighting, camera resolution, etc. however did not actually create a video. I should have done this.
The two videos the professor uploaded after the class, showed me and a handful of my classmates with our video cameras never turned off. Every move I made was recorded and I have a lot of bad angles.
I think I have figured out options to avoid my first day of class mistakes-- however have no problem if you learn from my mistakes.
I take solace in the fact, I thought the real time video streams of my classmates were a lot nicer than the videos. I was using a high resolution monitor so I thought I could see most of the flaws. I recommend testing if you plan on keeping the video on for most of your class time.
The good news, I feel the study time I put in over the last month- is going to pay off.