Monday, November 01, 2021
I have been busy with any number of repairs; autos, sites, several of my programs. That said, I have been ordering inventory for WiredShops and ensuring some of the items listed, are exactly as I imagined.
Below, some of the inventory that has arrived over the last month (click on the image to see the listings).
Two of the sale items I really wanted to checkout were the waterproof riding boots and stretch slim leggings shown in the photos below.
I am very pleased with both items. The blouse is also a new purchase, however I have not listed it. I love the material (transparent crepe-like) and the colors suit my complexion, however there are one or two problems. Contact me (wiredshops@qisoftware.com) privately, if you are interested in the blouse.
I am not on an all out push to over market the new shopping site, however I did expect a little more action than I am currently seeing. Some of the site repairs seem a little to suspicious and my concerns are centered on overwhelming my web hosts and shutting everything down. I cannot afford to lose my core sites- over promoting my new shopping site, hence the reason I am taking a lowkey approach.

Wednesday, October 06, 2021
I spent most of September (2021) learning about online commerce and why Amazon.com is amazon.com.
WiredShops is now open and the cart is in production mode. Note, I am using PayPal exclusively to handle all transactions securely through their gateways.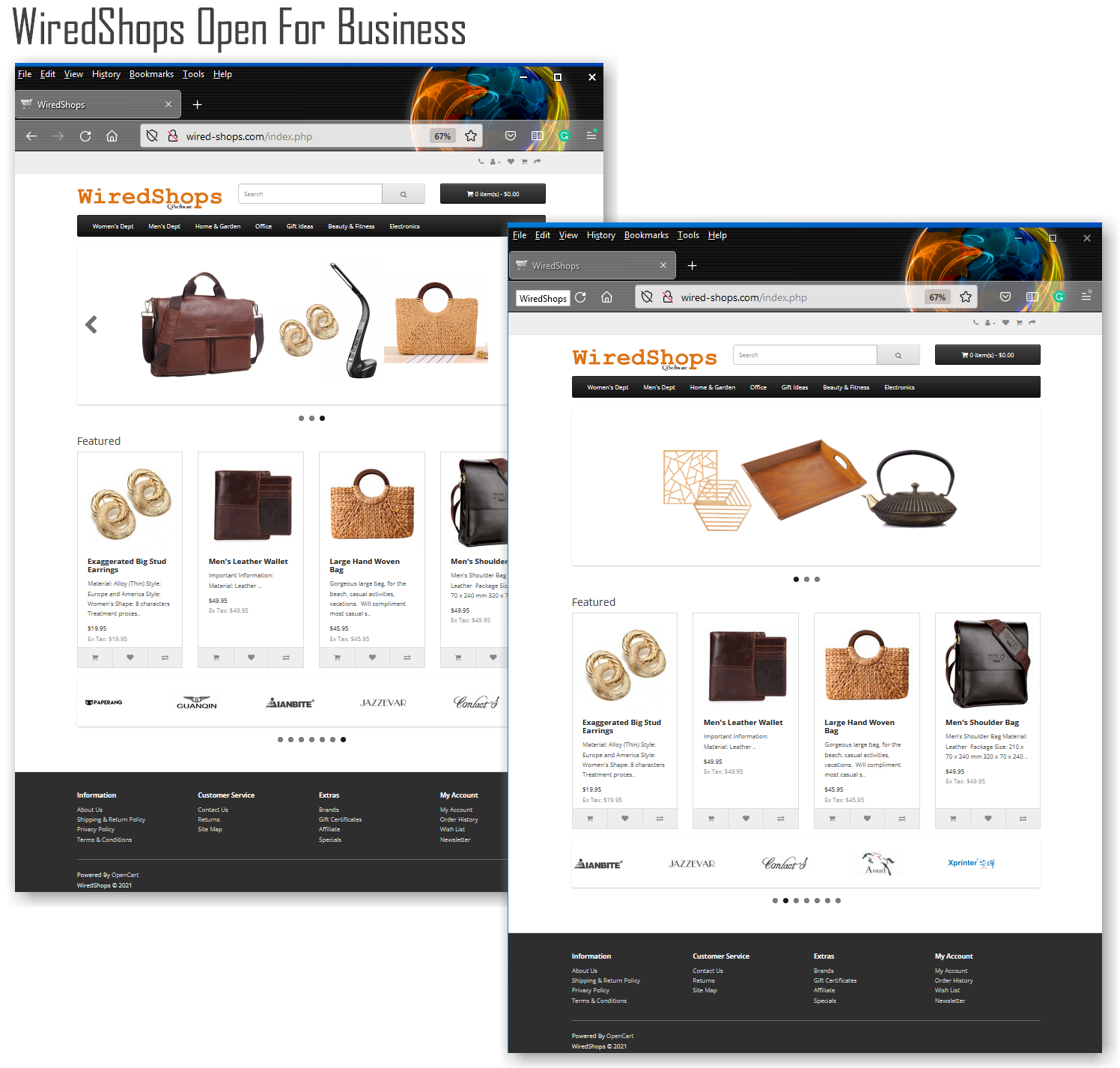 I am happy I decided to add to my skill set in this area. Opencart was an easy application to install and configure for my needs and I am satisfied with the results. Some of the major tasks associated with this project, included:
Understanding drop shipping.
Automating the process using APIs.
Creating a Microsoft Access database to track all of my orders.
Selecting and obtaining inventory I could afford to maintain.
Analysis of shipping times and costs.
Ensuring compliance with the state of Maryland insofar as sales tax.
Research of products, sourcing the products (ensuring I can backup sales activity with actual inventory), and adding the items to my shop.
Issues with browsers and CORS. Spent a Sunday afternoon researching Font-Awesome problems which turned out to be because of browser CORS related issues and the fact my sites use Apache Tomcat.
Legal disclaimers.
The illustration below shows the new sales and use tax number I applied for to ensure I am in compliance with Maryland laws and sales tax regulations.
My core business is software consulting and advertising. I pay taxes on income derived from consulting and advertising activities as reported to the state and IRS. Sales tax on items sold in state through commerce is different and must be reported and collected at the time of sale.
As noted above, I also created a new database to maintain orders. I needed to ensure my orders and the drop shipping orders were in sync. Below an illustration of the design view of the Orders table.
Finally, one of the items I wanted to have on hand, the earrings shown below.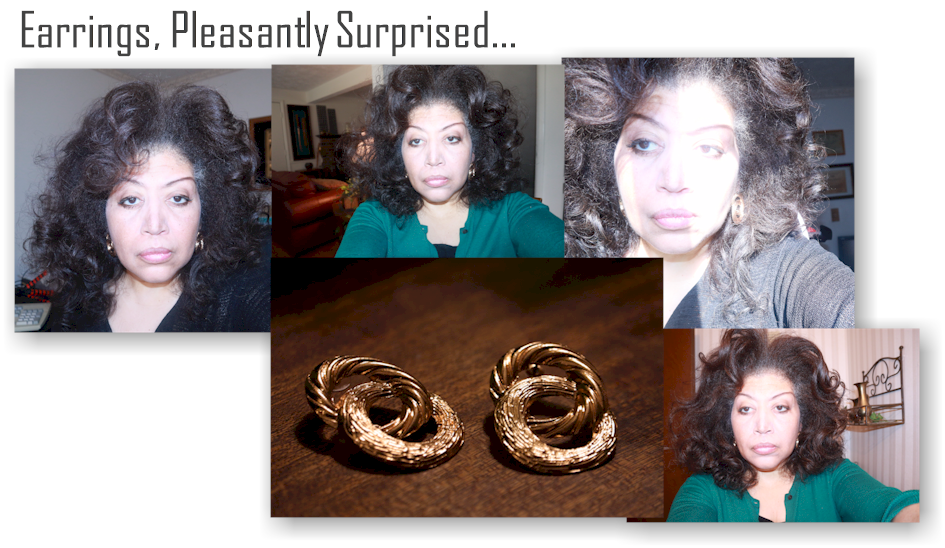 Quite honestly, I used to wear a different type of earring to the office. Today, I wear a pair of inexpensive diamond-like studs. I do not want my mask to snare an expensive earring. I was pleasantly surprised by the weight and how these earrings looked. I can also afford to lose one.
I enjoy researching products and adding them to my shops. I wish I could afford to order everything and ensure it is exactly- what I hoped it would be, however WiredShops does accept returns.
I will probably get back to programming and other projects, but I have to say- I thought this whole experience, very interesting. I am happy I have something to do if other areas of my life and business are not taking up too much of my time.
I worked at Circuit City part time for about three of the four years while in college. A lot of the part timers were college students. I enjoyed my experience in this area-- and understand retail operations in the "brick & mortar" sense. I love learning new things.

Tuesday, October 22, 2019

Friday, September 13, 2019
Starting to update the Gift Ideas post and ran across an idea I thought might be interesting for a kid's birthday, costume or Halloween party theme.
These NFL youth costume theme sets could be a hit with the kids and cost between $17 and $75 depending on size and team.
I am only showing four of the theme sets, however most of the NFL teams are available.

Are you ready for the holidays? I am trying to get into the swing of things, however I am a little late with some of things I want to do this year.

Tuesday, July 25, 2017
I did not go away to college. I lived at home the entire 4 years, while studying for my undergrad degree. Going away to college is one of the things I always felt I should have experienced.
I am always interested to learn what new students leaving home for the first time are hoping the experience will provide them.
That said, school shopping was always one of my favorite things to do and I did more than my share- even though I lived at home. I needed supplies, fashions, books, etc., just like students living on campus. I had a part time job [one summer an internship at NASA] for most of the four years I was in college- to offset expenses and college loans.
Today, if I had to worry about living on campus what would I purchase?


I have also updated some of the other stores.
Also researching for several of my social media projects including the HanoverMaryland Businesses page on Facebook.
Since my last post, I celebrated another birthday. It was a nice birthday and I am always happy to receive the money gifts my family bestows upon me.
I did not like any of my birthday photos, so I will post a new photo later to show how gracefully I am not aging. Did you get that word play? Just kidding.

Monday, January 02, 2017
Coach is a brand long recognized for quality. Some of my Coach pieces are over twenty years old. The Coach classic handbag shown, was used almost everyday for over 10years.
Are you thinking of adding to your Coach collection, or maybe a gift for someone special?

Sunday, January 01, 2017
Sunday, January 01, 2017
Sunday, January 01, 2017