Monday, November 01, 2021
I have been busy with any number of repairs; autos, sites, several of my programs. That said, I have been ordering inventory for WiredShops and ensuring some of the items listed, are exactly as I imagined.
Below, some of the inventory that has arrived over the last month (click on the image to see the listings).
Two of the sale items I really wanted to checkout were the waterproof riding boots and stretch slim leggings shown in the photos below.
I am very pleased with both items. The blouse is also a new purchase, however I have not listed it. I love the material (transparent crepe-like) and the colors suit my complexion, however there are one or two problems. Contact me (wiredshops@qisoftware.com) privately, if you are interested in the blouse.
I am not on an all out push to over market the new shopping site, however I did expect a little more action than I am currently seeing. Some of the site repairs seem a little to suspicious and my concerns are centered on overwhelming my web hosts and shutting everything down. I cannot afford to lose my core sites- over promoting my new shopping site, hence the reason I am taking a lowkey approach.

Wednesday, October 06, 2021
I spent most of September (2021) learning about online commerce and why Amazon.com is amazon.com.
WiredShops is now open and the cart is in production mode. Note, I am using PayPal exclusively to handle all transactions securely through their gateways.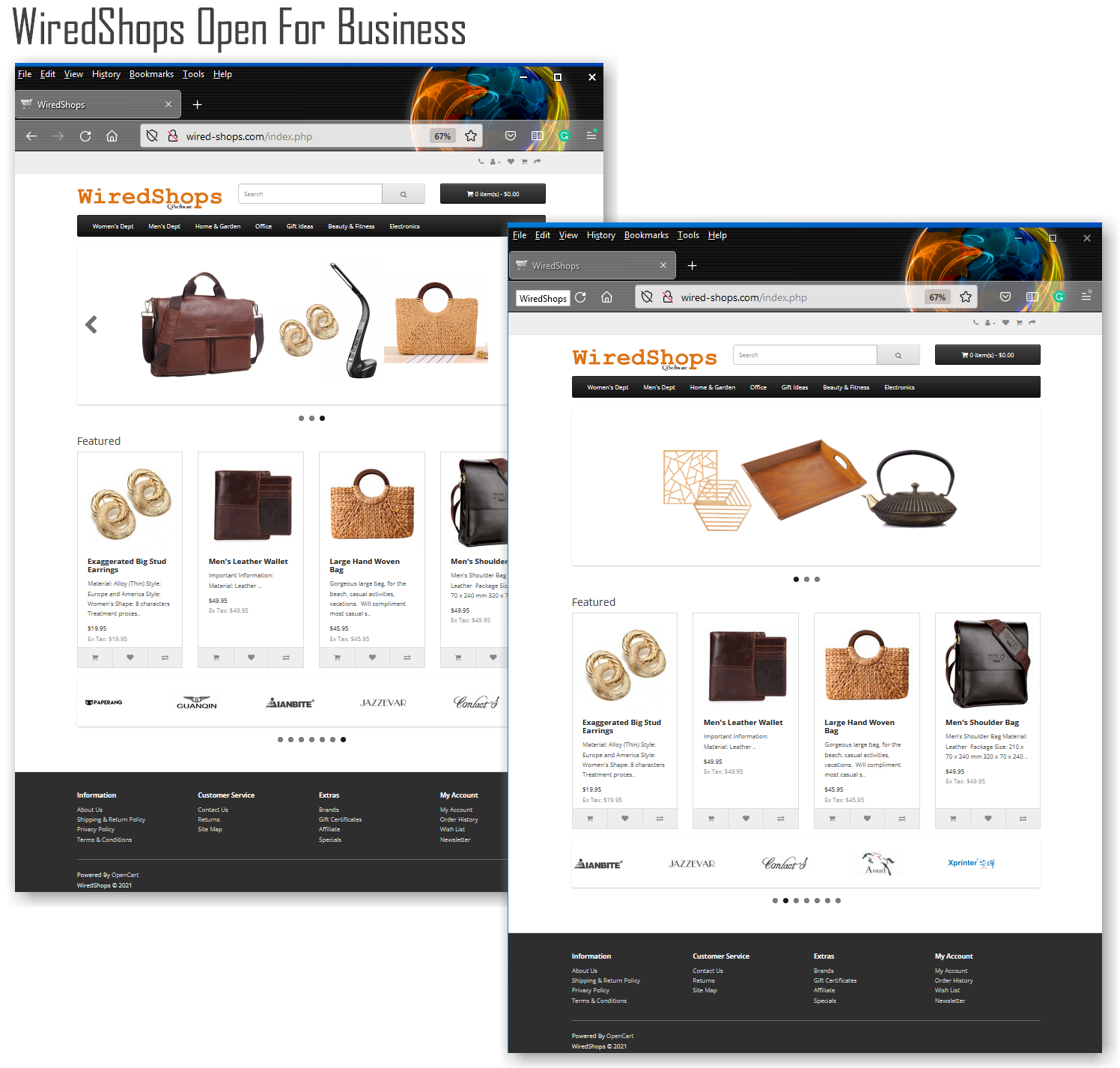 I am happy I decided to add to my skill set in this area. Opencart was an easy application to install and configure for my needs and I am satisfied with the results. Some of the major tasks associated with this project, included:
Understanding drop shipping.
Automating the process using APIs.
Creating a Microsoft Access database to track all of my orders.
Selecting and obtaining inventory I could afford to maintain.
Analysis of shipping times and costs.
Ensuring compliance with the state of Maryland insofar as sales tax.
Research of products, sourcing the products (ensuring I can backup sales activity with actual inventory), and adding the items to my shop.
Issues with browsers and CORS. Spent a Sunday afternoon researching Font-Awesome problems which turned out to be because of browser CORS related issues and the fact my sites use Apache Tomcat.
Legal disclaimers.
The illustration below shows the new sales and use tax number I applied for to ensure I am in compliance with Maryland laws and sales tax regulations.
My core business is software consulting and advertising. I pay taxes on income derived from consulting and advertising activities as reported to the state and IRS. Sales tax on items sold in state through commerce is different and must be reported and collected at the time of sale.
As noted above, I also created a new database to maintain orders. I needed to ensure my orders and the drop shipping orders were in sync. Below an illustration of the design view of the Orders table.
Finally, one of the items I wanted to have on hand, the earrings shown below.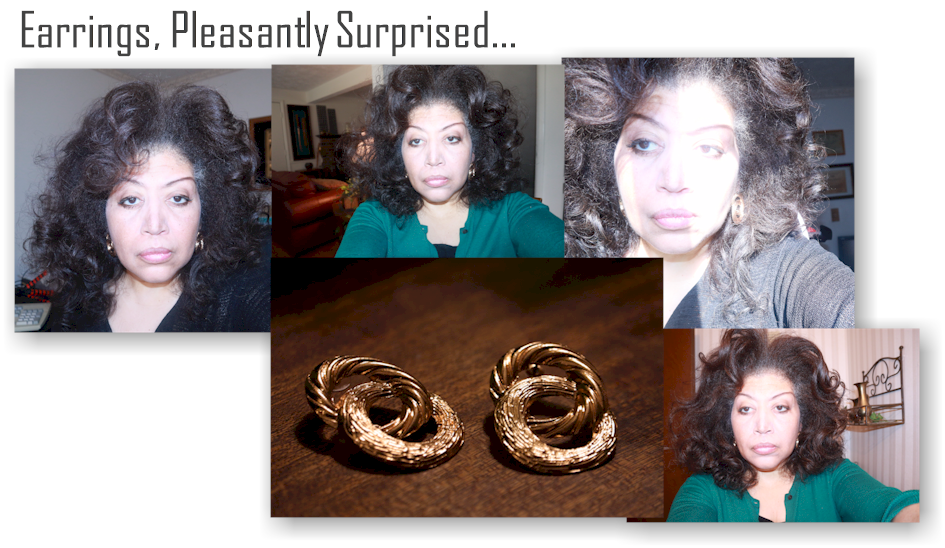 Quite honestly, I used to wear a different type of earring to the office. Today, I wear a pair of inexpensive diamond-like studs. I do not want my mask to snare an expensive earring. I was pleasantly surprised by the weight and how these earrings looked. I can also afford to lose one.
I enjoy researching products and adding them to my shops. I wish I could afford to order everything and ensure it is exactly- what I hoped it would be, however WiredShops does accept returns.
I will probably get back to programming and other projects, but I have to say- I thought this whole experience, very interesting. I am happy I have something to do if other areas of my life and business are not taking up too much of my time.
I worked at Circuit City part time for about three of the four years while in college. A lot of the part timers were college students. I enjoyed my experience in this area-- and understand retail operations in the "brick & mortar" sense. I love learning new things.

Tuesday, October 22, 2019

Friday, September 13, 2019
Starting to update the Gift Ideas post and ran across an idea I thought might be interesting for a kid's birthday, costume or Halloween party theme.
These NFL youth costume theme sets could be a hit with the kids and cost between $17 and $75 depending on size and team.
I am only showing four of the theme sets, however most of the NFL teams are available.

Are you ready for the holidays? I am trying to get into the swing of things, however I am a little late with some of things I want to do this year.

Tuesday, July 25, 2017
I did not go away to college. I lived at home the entire 4 years, while studying for my undergrad degree. Going away to college is one of the things I always felt I should have experienced.
I am always interested to learn what new students leaving home for the first time are hoping the experience will provide them.
That said, school shopping was always one of my favorite things to do and I did more than my share- even though I lived at home. I needed supplies, fashions, books, etc., just like students living on campus. I had a part time job [one summer an internship at NASA] for most of the four years I was in college- to offset expenses and college loans.
Today, if I had to worry about living on campus what would I purchase?


| | | |
| --- | --- | --- |
| WD 1TB Black My Passport Portable External Hard Drive - USB 3.0 - WDBYNN0010BBK-WESN | SanDisk 64GB Ultra Dual Drive m3.0 for Android Devices and Computers - microUSB, USB 3.0 - SDDD3-064G-G46 | Onlyeasy Foldable Underbed Bags - 2 Pack Blankets Clothes Comforters Storage Bag Breathable Zippered Organizer for Bedroom with Clear Window and 4 Handles, 39.4x19.7x5.9 in, Linen-like Grey, MXDUBBP2 |
| EdgeStar CRF321SS 3.1 Cu. Ft. Dorm Sized Energy Star Compact Fridge/Freezer | OSHIBA EM925A5A-BS Countertop Microwave Oven, 0.9 Cu Ft With 10.6 Inch Removable Turntable, 900W, 6 Auto Menus, Mute Function & ECO Mode | Designstyles Wall Hanging 3 Tier File Holder - Wall Mounted Metal Wire Magazine Rack - Office Folder Organizer with Name Tag Slot |
As an Amazon Associate I earn from qualifying purchases.
I have also updated some of the other stores.
Also researching for several of my social media projects including the HanoverMaryland Businesses page on Facebook.
Since my last post, I celebrated another birthday. It was a nice birthday and I am always happy to receive the money gifts my family bestows upon me.
I did not like any of my birthday photos, so I will post a new photo later to show how gracefully I am not aging. Did you get that word play? Just kidding.

Monday, January 02, 2017
Coach is a brand long recognized for quality. Some of my Coach pieces are over twenty years old. The Coach classic handbag shown, was used almost everyday for over 10years.
Are you thinking of adding to your Coach collection, or maybe a gift for someone special?
| | | |
| --- | --- | --- |
| COACH Polished Pebble Leather Lane Satchel Oxblood/Gold One Size | Coach Derby Tote in Pebble Leather | COACH Polished Pebble Leather Taylor Tote |
| COACH Women's Drew Satchel | COACH Women's Ellie File Bag | Coach Katy Satchel In Signature Canvas |
| COACH Mollie Tote 1671 | COACH Val Duffle In Signature Canvas (Redwood), One Size | COACH Women's Kacey Satchel Crossbody (IM/Black) |
As an Amazon Associate I earn from qualifying purchases.

Sunday, January 01, 2017
Products or services that I use or want to own because I know it is the right product/service for my needs.
| | | |
| --- | --- | --- |
| Cybex 770AT Arc Trainer (Renewed) | Ray-Ban Rb2132 New Wayfarer Polarized Square Sunglasses | Amazon Rewards Visa Signature Card |
As an Amazon Associate I earn from qualifying purchases.

Sunday, January 01, 2017
Sunday, January 01, 2017
Sunday, January 01, 2017
The following items include products or services I would love to add to my assets. Periodically, I go through my wish list and add or delete items as I find something new or purchase something from the list.



8-piece portable silverware set by: Devico




The Exchange, John Grisham's follow up to "The Firm". Release date: October 17, 2023.




Great accent piece.




This is getting rave reviews.




Just want to have in my camera bag.




Wide angle lens great for real estate photography.




LECTRIC XP™ Lite Electric Bike | Adult Folding Bikes - Weighs Only 46lbs | 40+ Mile Range w/ 5 Pedal-Assist Levels | 20mph Top Speed - Class 1 and 2 eBike
As an Amazon Associate I earn from qualifying purchases.

Sunday, January 01, 2017
The following gift ideas are from the inventory of products I own & love or items I would want as gifts.



KitchenAid KSM7586PCA 7-Quart Pro Line Stand Mixer Candy Apple Red




MONTBLANC Meisterstuck Le Grand Ballpoint Pen




Mr. Coffee 4-Cup Steam Espresso System with Milk Frother




Porkus Glass Cups with Lids and Straws 4pcs,Glass Iced Coffee Cups with Lids




Brother SE600 Sewing and Embroidery Machine, 80 Designs, 103 Built-In Stitches




Canon EOS M50 Mirrorless Digital Camera (Black) Premium Accessory Bundle with EF-M 15-45mm is STM Lens (Graphite)




GlocalMe DuoTurbo 4G LTE Portable WiFi Mobile Hotspot for Travel, with US 8GB & Global 1GB Data




YUNMAI Premium Smart Scale




Accuteck Gold 86Lbs Digital Shipping Postal Scale




Messermeister Avanta 5" Fine Edge Steak Knife Set - German X50 Stainless Steel




Ice Cream Maker by Cuisinart, Ice Cream and Frozen Yogurt Machine, 2-Qt. Double-Insulated Freezer Bowl




Cuisinart Electric Knife




Bialetti - Moka Express: Iconic Stovetop Espresso Maker




KitchenAid Blade Coffee Grinder




Cross Classic Century Classic Black Ballpoint Pen & 0.7mm Pencil with 23KT Gold-Plated




Ambient Weather WS-2902 WiFi Smart Weather Station




Celestron - AstroMaster 130EQ Newtonian Telescope - Reflector Telescope for Beginners




Mini Tabletop Pool Set- Billiards Game




Happy Sales HSCT-CNG09 Cast Iron Tea Pot Tea Set Ancient Coin Gold




LECTRIC XP™ Lite Electric Bike | Adult Folding Bikes - Weighs Only 46lbs | 40+ Mile Range w/ 5 Pedal-Assist Levels | 20mph Top Speed - Class 1 and 2 eBike
As an Amazon Associate I earn from qualifying purchases.

Sunday, January 01, 2017
Sunday, January 01, 2017
Some of my favorite kitchen and home goods products. If you are looking for a good Madeleines recipe- see this link.



Happy Sales HSCT-CNG09 Cast Iron Tea Pot Tea Set Ancient Coin Gold




Pyrex Glass 1118441 Prepware Mixing Bowl Set, 3-Piece, Clear




Ouddy Stainless Steel Whisk Set 8"+10"+12", Kitchen Whisk Balloon Whisks for Cooking




Wilton Springform Cake Pan Set, 3-Piece




Chicago Metallic Professional 12-Cup Non-Stick Madeleine Pan, 15.75-Inch-by-7.75-Inch




Ozeri Pro Digital Kitchen Food Scale, 1g to 12 lbs Capacity, in Stylish Black




Microplane Classic Zester Grater, Black




Lodge 10.25 Inch Cast Iron Pre-Seasoned Skillet – Signature Teardrop Handle
As an Amazon Associate I earn from qualifying purchases.

Sunday, January 01, 2017
Thursday, June 30, 2016
Most of my family is preparing to leave town for the upcoming holiday [July 4th]. I never make the trek down south for the Annual Family Reunion.
So, what have I been up to?
Trimming the Bushes
Holiday Food Planning
Working on my Amazon Stores, added a new sub-category [Pink Gift Ideas]:
I do most of my shopping online and plan ahead for gift giving. I love finding unique ideas or ideas I think people will appreciate. That is how my "Pink Gift Ideas" page started. Initially, it was a single page under the Gift Ideas category.
Earlier this week, I decided to make it a sub-category. Why? To add more than a page full of pink gift ideas and to unburden myself of trying to insure the pink gifts stayed on the same page. The problem? If I inserted a gift idea before the "pink" page, everything was out of sync.
Shown, a screen grab of the first page of the new sub-category as it appeared yesterday afternoon.

Keep in mind, Amazon prices may change based on different variables. Click here to see the actual page.
Also this week, workmen installed the new gutters, completing all of the work for the new roof installation, which started last week.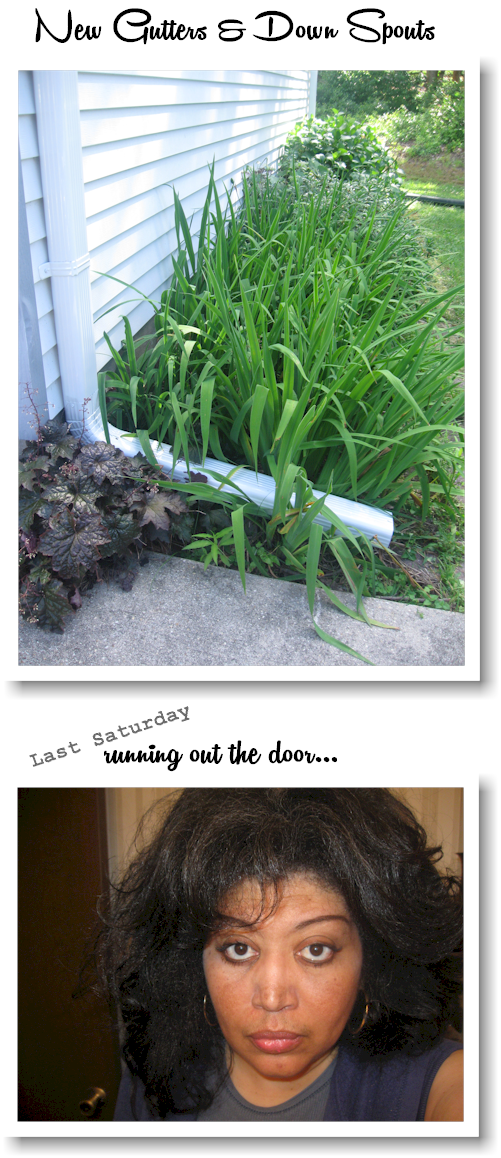 I had a couple of errands to run this week, so also shown... me, as I was leaving the house [alive and busy].

Friday, July 05, 2013
Last week I had some issues with my Macbook's display. I believe the problem occurred because I cracked the case just under the monitor where it is hinged. There was a small screw-- in that location.
This problem began in Oct 2011-- and has not really been an issue until last week. Yesterday, I spent most of the afternoon trying to re-calibrate the display only to go to bed frustrated. This morning I finally fixed the problem.
That said-- yesterday I went in search of a portable monitor I could use with the Macbook and found the Toshiba shown on the right. If you are looking for a similar option for your Macbook-- you will need to visit DisplayLink.com and download a driver for the Mac OSX operating system-- as it uses a USB connection.
This item is still in my Wish List-- however it is a serious contender for my next purchase. When I have problems with my Macbook-- I use a flat-screen television monitor which works fine-- however, I need a more portable solution.

Friday, June 21, 2013
My Current Shopping Cart:
I need two of the hard drives-- and recently only purchased one USB 2.0 cable. I will need another.
My Current Wish List [the shoe came in sand but no longer available-- I like this color combination-- too]: