Tuesday, June 06, 2017
One of my banks offers rewards for using their credit card. I love this concept and pay for most purchases with the card.
This month, charges itemized on the bill included:
Eye Glasses & Contact Lens Prescriptions
Contact Lenses [2 boxes]
Three new domain registrations totaling about $35
Web Hosting qisoftware.com
Cell Phone
Mother's Day Gift for my Mother
Total charges last month; about $397. This added about $4.00 to my rewards account balance bringing it to $44.82. The credit card issuer will send a check when the balance reaches $50.
Noted in the illustration above, this morning I paid the entire card balance. This ensures I do not incur interest charges on any carryover balance, making the cash rewards the card offers even more attractive.
Last month, I noticed Amazon also offers a similar cash rewards [Visa] card. I have a great card, however this appears to be something worth looking into-- Amazon Rewards Visa by Chase.

Monday, May 08, 2017
Last month I scheduled an eye appointment [for today], with the Arundel Mills location of VisionWorks.
For awhile now, I have been trying to get over to the mall for new photos of all the new stores opening @Arundel Mills.
Most of the photos will be used for posts, Instagram feed photos, or events associated with the HanoverMDBusinesses page, I maintain on Facebook.
As most know, the Maryland Live! Casino is co-located with Arundel Mills Mall and the new seventeen story hotel [Live Hotel], under construction now [due to open late 2017 or early 2018], appears to be bringing in a lot of new stores.
Imagine, the casino, live entertainment @Center Stage, the new hotel, shopping, world class dining, and all of the other entertainment venues the mall has to offer- all in one place. It all looks very exciting.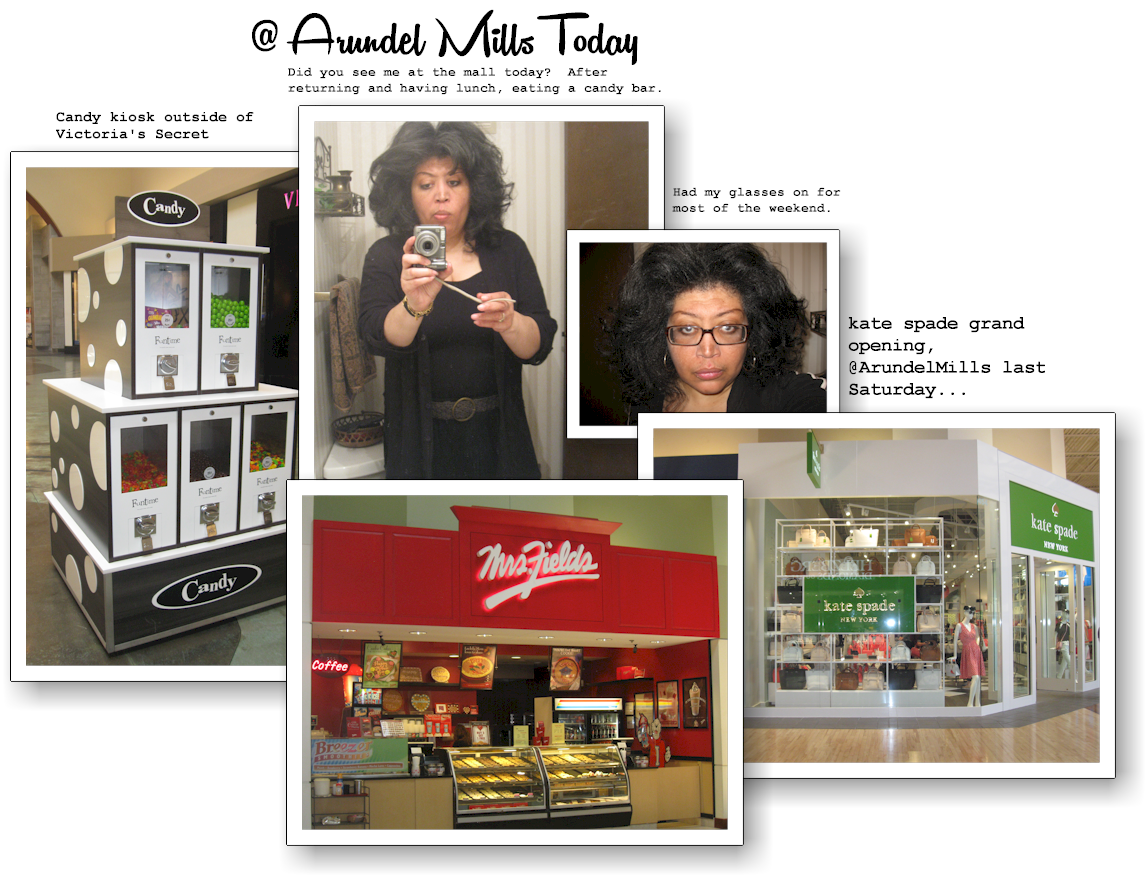 Today was the perfect opportunity to walk the 3/4 of a mile distance around the mall and shoot a lot of new photos.

Saturday, April 15, 2017
Recently, I have been out and about shooting video with my new camcorder. Mainly, trying to become more expert at capturing the moments I want to record. Though the unit is very easy to use I am still having timing issues.
In case you thought it was me [with the camcorder]-- here are recent photos.
Though I have not sported the "updo" that often, I will in the future. My hair is like a sponge when it is humid and I am going to use the comb whenever needed.
I set my hair every night [takes about half an hour]-- just in case I need to dash out during the day. I will be out a bit more in the near future, however mainly because I have to take care of some appointments.
I was over at the Thomas A. Dixon Jr. Aircraft Observation Area last Sunday, and it was crowded. That said, I did not capture any video worth showing. I need a little more practice.
Other things I have been up to?
Added a Pinterest Widget to this blog's sidebar [lower-right].
Added new widgets to the Forums.
Researching Cloud Service Options [Google and Oracle JavaCloud. These offerings provide the SSL Certification [https] and I may use one to host Facebook applications for my pages and page tabs.
Researching MTS video file conversion software
Minor updates to the Amazon Stores...

Tuesday, February 07, 2017
Lately, I have been getting out a bit more.
I rarely go by BWI Airport [even though the terminal is within 5 miles of my residence], so in 2015 or 16 when I first noticed the airport had undergone significant renovations, I wanted to somehow capture the new look.
Last week, I decided to drive around the airport loop with the Dash-Cam recording. Later, I used mobile apps to convert and edit the clips I merged to create the video I uploaded to my Tumblr blog- here.
Yesterday, I went by my business bank to transfer funds and today, I went by my business address in Columbia to pay the rent and pick up the mail. One of the photos below-- one of three trips to the recycle bin after shredding most of the shopping bag full of mail I picked up today.
Other things I have been up to?
Movie: "The Queen"
Movie: "The Nice Guys"
NFL: Superbowl
Giant Panda Live Cams: The 5 month old cubs in Atlanta & Bei Bei in Washington
Professional Tennis on WatchESPN & TennisChannel
Since posting my indeed.com résumé, I have received 4 responses and replied to 3 of the 4 hits. I no longer accept government contracting positions and most of the hits were of that type. [Yes, unofficially- I am being told DOJ and others are working the other resolutions to my situation-- however this has been the case for awhile].
Minor updates to the stores...
Received my Federal Tax Refund... Glad I used TurboTax Online.

Thursday, January 26, 2017
Along with several pages, I maintain two groups on Facebook.
Awhile back [Jan. 2014], I created a custom header graphic for the Thingamablog Group, however opted to use the Alumni group member photos, Facebook used as the default because no group header graphic was specified.
Recently, Facebook changed their default policy [now only a member's group friends' photos show in the header-- even for the admin], so today I created a custom header graphic for the Alumni group.
A screen-grab of the graphics software I used to create the new image...
Below, how the new header graphic looks on the page- via my Android. I have hidden some of the page Admin details, along with some of the data related to my friends who are not group members.
What else?
Filed my Maryland State tax return on Tuesday, January 24th, 2017. Text message this morning reporting it was accepted.
Showtime's series "The Affair".
Tracking Australian Open tennis action.
Extensive updates to my detailed résumé [Linkedin maintains the summary version]. Curious? Public on indeed.com.
Movie: "Bridge of Spies"
Movie: "Genius"
Updating several of the Amazon Stores, see the upper right sidebar.
I have also been going through a lot of old files. Among other things, I found an important letter one of my attorneys sent out in 1995, an aerial photo of the Pentagon given to me when I left Boeing and the Engineering Excellence Award --Rockwell bestowed on me... I am not sure why I went down memory lane recently, however it did prompt the recent updates to my detailed résum&eacute.

Wednesday, January 18, 2017
Saturday, I received the EIN number I needed to file my Federal & State tax returns, so I submitted my return data using the TurboTax service the same day. Shown below, the hardcopy file of the tax returns as prepared by TurboTax.
The Federal return was actually filed and accepted by the IRS- yesterday. Maryland does not allow electronic filing before the 23rd of January [this year], however the service I used has the data and will submit the return on that date.
Below, notifications as to the status of my Federal return and refund.
What do I plan on doing with the refunds? Annual fee for my business address.

Monday, January 09, 2017
Sunday, January 1st, 2017 I cut the base of my left thumb pretty deep with a pairing knife trying to core a cabbage. Though I called 911, I opted out of going to the hospital. I am happy to report the thumb is on the mend--- think [1] because I applied a lot of pressure quickly and [2] my mother and sister came through with the right first aid supplies.
I am still cleaning the wound every 24 hours and applying new gauze bandages and tape-- but mainly to protect the wound from re-opening. It is a very loose dressing to insure the wound gets enough air.
That said, this week I did get some things done.
Tuesday, went by my business bank to transfer some funds from my personal account to the savings account.
Paid off my holiday bills.
Did most of the prep work to e-file my Federal and State returns. Still waiting on an EIN number so that the reason I did not actually file the Federal return. Marylanders cannot iFile [e-file] before the 23rd of January 2017 so the other reason I did not file that return.
Caught early Down Under pro tennis action. The Australian Open starts Monday, January 16, 2017 [that's Sunday night here].
Caught the latest episodes [air dates: 1st & 8th] of Showtime's series "The Affair".
Tweaked the HDTV antenna [holiday gift] for the television in the guest room.
Tried out the new grill [another holiday gift].
Updating the stores [see upper right sidebar]. Noticed some great sales, too...
Recent meals...
If you are wondering how those HDTV antennas work, I have a short demo of how to set it up. Also note the television resolution- I think it looks pretty good.
Photos of the setup...
Minor setback to the new year, insofar as the thumb, however I think it is going to be okay. This is a big load off my mind.

Thursday, November 17, 2016
Today is my Mother's birthday. As previously reported, her gifts arrived November 8th, 2016-- and this morning I finally gave them to her.
On Tuesday, I went to the market to purchase ingredients for the cake, I changed my mind about making. You may recall- I did not think I was going to make her a cake this year.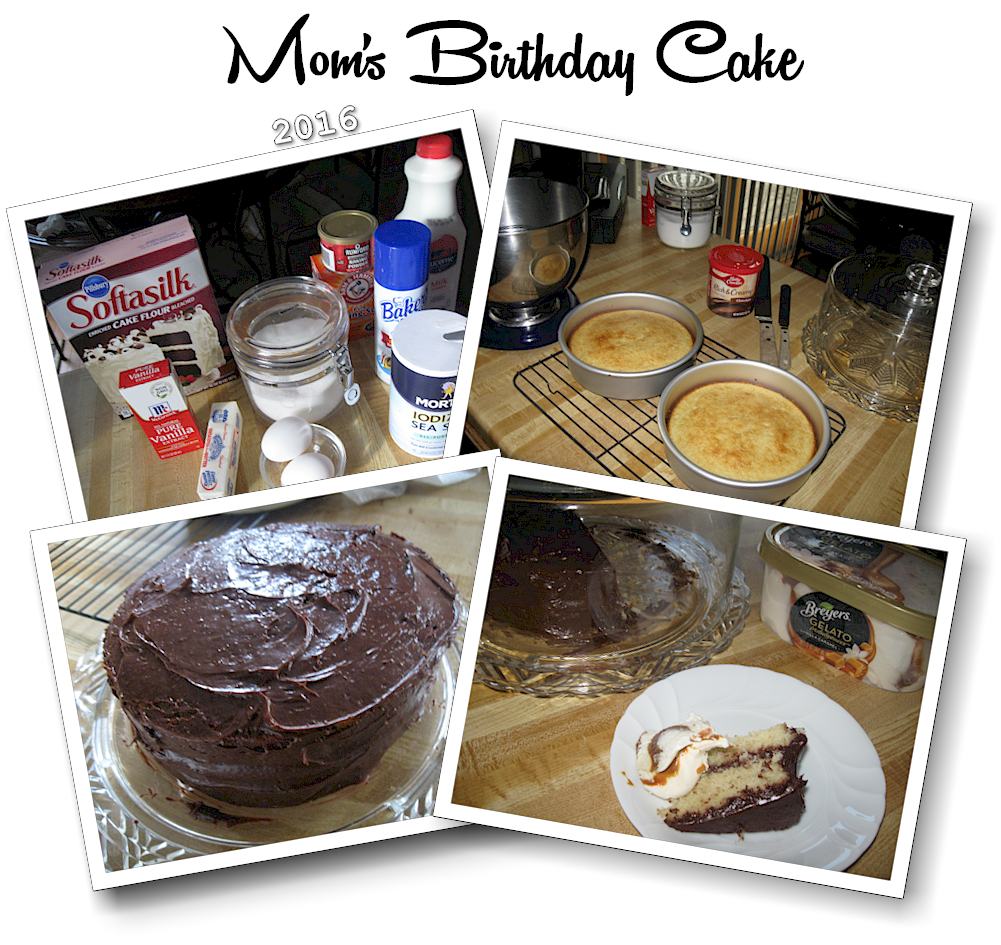 The tea set...
In August, when I gave my sister a similar set- she seemed to like it, so when I found this Ancient Coin Cast Iron Tea Set, I thought she might like it as well. She did, along with her new tunic top.
Big dinner and other plans tomorrow.

Tuesday, November 08, 2016
My mother's birthday is next week. Since it is so close to the holiday shopping period, I tend to start my holiday shopping at the same time I am researching for her birthday.
Happy to report my mother's gifts arrived today along with my first gift purchase for the holidays. I am also happy- I have wrapped the gifts. I dislike wrapping gifts...

Since I rarely get out, I like mentioning when I do venture out and where I check in... [yesterday, between noon and one thirty pm]:
Business bank [actually went inside the bank, normally I only need the drive-through]
Safeway-- [don't think I am going to make a cake for her birthday this year, so I was researching options]
Arundel Mills Mall [went in the Dave & Busters' entrance and stayed awhile in VisionWorks trying on eyeglass frames.
Today, since I was waiting on the UPS delivery I sat around in my office-wear doing the things I normally do except with a bit more makeup...
Recently, I was on a Style [YouLookFab] forum responding to another member's post about what to wear while working from home. I noted that because I normally do my hair and makeup everyday [unless I am too tired]-- I never feel the need to worry about what I have on unless I actually have to leave the house or prune something in the garden. I even go to the mail box-- in the office-wear shown above.
By the way, I am still finding neat Gift Ideas you may want to checkout:
Cannot tell you how happy I am to get my holiday gift buying underway.
I have also been working on my Hanover MD Biz Page-- so if you have not been to our area-- check it out. There are so many things to do here. When I do get out, I am always surprised by how much my town is changing...

Sunday, October 02, 2016
I have been home alone since Thursday, September 29, 2016, because of an extended family health issue. Normalcy should return tomorrow.
This morning, I finally tested the Buttermilk Pancake Recipe I found on cookinglight.com and have to report-- it is pretty good.
Most are aware, because of legal issues- I do not like being mistaken for someone else. In the coming weeks I will be out a bit more than normal because of appointments I need to keep. My appearance is changing. Of course, I am getting older and it shows.
That said, I have been working on a project that slightly changes my appearance more. I simply want to note it...

Other things I have been up to?
Updating my Amazon Stores, see here, here and here. BTW: Found a Mac Mini slightly cheaper however with less memory. My software development environments require a lot of memory. Still researching...
Movie: The Private Lives of Pippa Lee w/Robin Wright Penn [caught last night]
Tennis: Asian swing, including current tournaments; the China Open and Japan Open Championships. Upcoming, the Shanghai Rolex Masters
And finally, see this post on my Business Blog, Remix.
It was a quiet weekend and I am told everything is as good as can be expected insofar as the relative's health issue. This is good news.

Saturday, September 03, 2016
US Open has been on since Monday, so I have been catching a lot of the action on WatchESPN.
Short video describing my setup this afternoon...
Other projects? School started a week ago in my area so I am planning updates to my Amazon Stores for the upcoming Fall and Holiday Seasons... I love Fall.
In addition, yesterday- when I tried to update an application on my Android, I received an insufficient storage message. This the reason I am backing up files to external hard drives and clearing space on several of my systems. Have you had this problem with your Android?

Wednesday, June 08, 2016
I rarely get out these days, however on those occasions I do venture out- it is normally for one of the following reasons:
Bank Visit
Eye Appointment
Photography
Visits to my Business Address
Jury Duty
State Renewals of Business Registration or Driver's License
Business Appointment/Meeting
I run my small business [QiSoftware] from home and take advantage of the following services to minimize the need for travel:
Verizon FiOS (Internet, Land Lines, Television, Cell Phone)
Skype (Business Line & Video Conferencing)
Online Business Banking & Bill Paying
That said, when I do go out- I am more casual than I used to be. There are several reasons for this, including my closet is filled with sixes and eights that need dry cleaning when worn [and a smaller me], and I simply do not need the more formal conservative suits I used to wear for most of the things I do outside of the house- these days.
I even do most of my shopping online. I love Amazon and also maintain several online stores of things I like:
So what do I wear these days when I do go out? Mostly, slacks with heels, some sort of blouse or sweater, and depending on the season- outer wear. This is a far cry from the stockings, suits [not pant suits] and pumps I used to wear all the time.
Around the house? I wear sweats, leggings or black gym shorts [summer] with tee shirts.
These days, I buy a new pair of shoes maybe once a year, whereas in the past, because I was hard on my heels, maybe once per month. I loved black suede pumps with soft leather.
Today my black suede pumps have been replaced by footwear similar to these NineWest Fabric Boots I purchased last month at an out of season price.

The size a little big, however with thick socks they will work.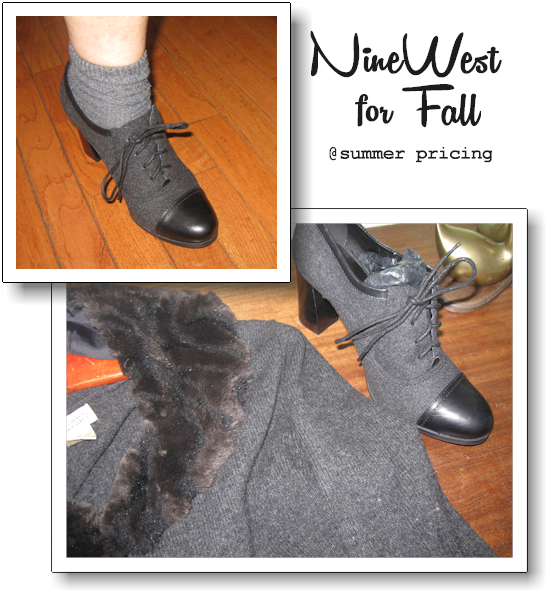 I have any number of sweaters, short coats and blazers I can pair with the boots and excited about what I will be able to do next fall, when they will be in season.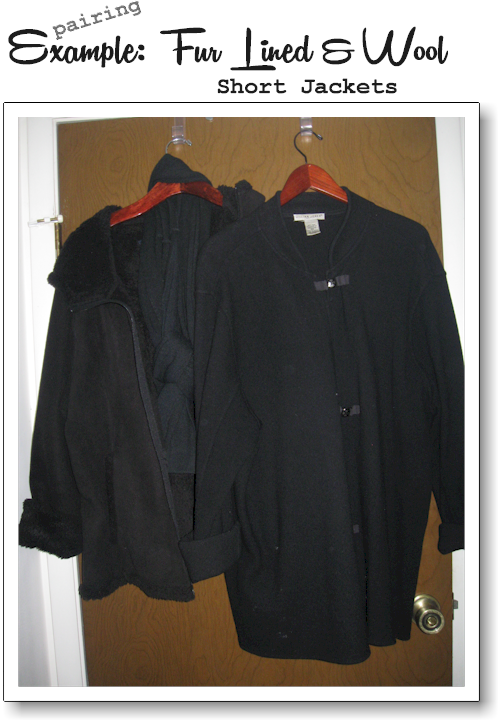 The other order [shown in the illustration] last month? I will discuss in a later post.

Thursday, June 02, 2016
I bank with two separate large banks. At one bank, I have a business account with linked checking and savings accounts and a personal checking account at another bank.
I have not set up online transfer on any of the accounts. In my case, I have had odd things happen with my business checking account and I simply prefer not to set up the feature-- anywhere. Too many powerful people know who I am and my business checking account is linked to a lot of my affiliate activity. I opened the business checking account in November 2004 shortly after I registered my business [QiSoftware] with the State of Maryland.
This causes problems if I want to transfer funds from any of the accounts to an external bank account, i.e., I can easily transfer funds between my business checking account and business savings account, however I cannot transfer between the business accounts and the personal checking account at the other bank.
So today, I went out to learn just how hard this would be. I am not sure why I thought I could simply walk into the bank I wanted to withdraw from, and ask to transfer the funds to the other bank given I had the account and routing information. I thought it would be a swipe of the card. It was not. Instead, I withdrew the funds and then went to the other bank and deposited the funds saving at least $30.00 in wire transfer fees.
Since it was so easy to link [online] all of my accounts [even external bank accounts, credit cards, paypal, etc.] at the bank where I maintain my personal checking account, enabling online review of my "Net Worth" at any time-- I may have thought my financial data was more connected or linked than it really was.
In any case, today the tellers at both banks [I am lucky in that local branches for both my banks are within a quarter of a mile of each other] were very helpful in assisting with my transfer [and all of my questions] and it went well.
Here is what I had on today. Reminder, when I go out I like sharing photos of what I wore, to insure there are no mistaken identity issues.
When I returned I researched "How to transfer money between accounts at different banks" and found the following article. How to Transfer Money Between Accounts

Tuesday, April 26, 2016
So far this Spring, we have had more delightful weather than not. Photos of the house and yard- taken over the last two weeks or so.
I have not been getting as much done as I would like, however I am staying busy. Out and about in Hanover yesterday. A little yard work. Researching several legal issues...
Anyway, do you shop Costco? I love Costco brands, especially Kirkland Chocolate Covered Raisins.
I also love those SkinnyCow Ice Cream Sandwiches.
I cleaned the grill last week so maybe I will do a little grilling later this week.
I am expecting a slight change to my situation in the near future, and think that is why I am a little hesitant about taking on new projects. Until the change is actually a tangible- my plans are more thoughtful, rather than anything else. Nevertheless, I am researching various options based on this expected change.
This sounds a little mysterious I know. It really is not.. It simply explains why I have been sitting around thinking about my options in more detail and not getting a lot done.

Wednesday, March 23, 2016
It is going to be a quiet Easter weekend. Wished everyone a safe trip around six this morning. Large espresso for breakfast. Mini bagel and two slices of bacon for lunch and strawberry shortcake for dessert.
Currently enjoying...
Last night, watched "The Forger" with John Travolta and Christopher Plummer.
The MiamiOpen.
The "Rogue Lawyer" by John Grisham, about halfway through.
Also updating my Amazon Stores.. more details later.
On Monday, I had to mail a package so I went by the Hanover post office and then Arundel Mills Mall. I seldom get out these days, so when I do-- I try to provide details about my outings.
I also post outing photos to my Instagram account.

Wednesday, March 02, 2016
Recently, I have been working various projects including a site monetization project I will post about on my Remix Business Blog later today.
I have also been having fun watching the Giant Pandas and Bei Bei via the Smithsonian's Zoo Cam. See this post.
While I work, I snack a lot- in that I mostly work right off the kitchen in the informal dining area. Over the last 5 days, here is what I have been munching on...
I have also been getting more sleep. These photos were taken yesterday and I am happy that even I see, a lot of the strain from a lack of sleep, has left my face. I feel a lot better.
I snapped this photo of my Mother as she was about to leave for church Sunday.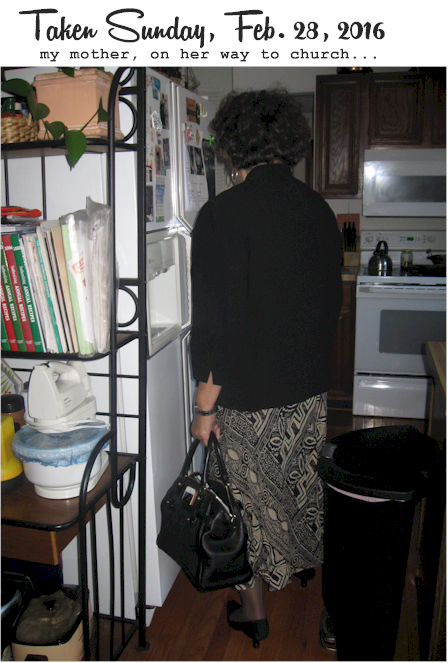 Is she cool, or what? She has her Michael Kors bag [Christmas gift from my sister] and iPhone packed and ready to go for her excursion...
Me, I did not go to church. These days, I rarely go to church. As I explained, I have been working different projects, including several social media issues, intermittently catching a few tennis matches and looking forward to next week. More details later.

Monday, February 08, 2016
Though I seldom work in the basement these days, I do have an office down there, too.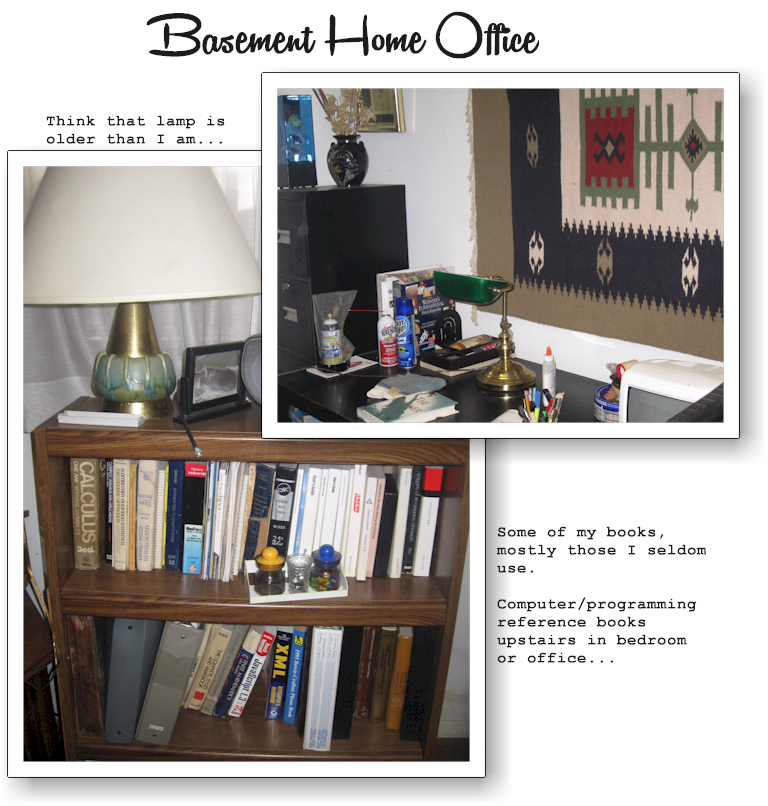 The Gateway Desktop, now in my bedroom used to be down there, along with my exercise equipment.
Mobile computing gives me the flexibility to work from anywhere in the house. The Verizon FiOS router located in my upstairs office provides coverage all over the house, yard and halfway down the block. This the reason I seldom work in the basement.
That said, before coming here-- the home office I set up in my Bowie place was in the spare bedroom. I had the huge black desk shown in the photo above. I purchased the place new and as it was my first real estate purchase, I was into decorative details.
I still have the computer chair I used in my Bowie Home Office. The other [left in photo below], is the chair I purchased when I moved here. I used to keep the larger chair in the basement-- however have since, moved it to the upstairs office.
I also kept the love seat from the first set of living room furniture I purchased when I moved away from home after college. I covered the love seat with a black cover I purchased from Ikea for the new home office in Bowie. The office was mostly black with dusty rose accents-- to match the carpet. Some of the art work that used to hang in my Bowie home office.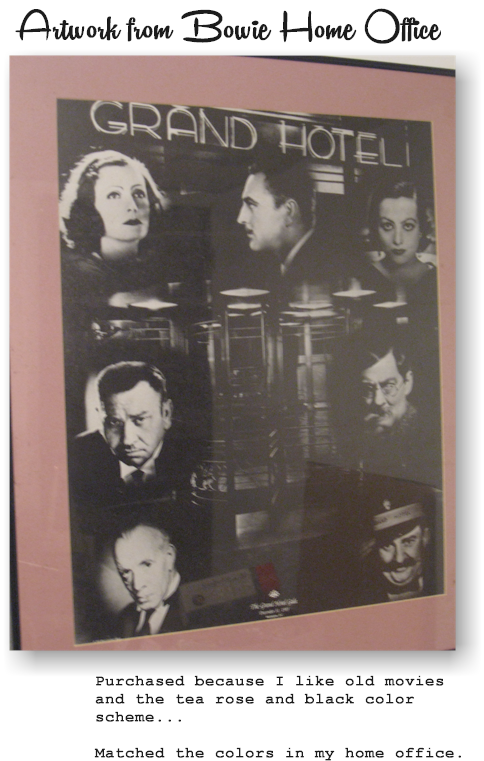 This artwork now hangs in the bedroom in the basement. Nothing here tea rose. Not sure why I keep things like this. Maybe to remind me of life before I came here.
Notable this past week? Caught two movies I thought very interesting.
Movie: Weight of Water w/Sean Penn, Elizabeth Hurley
Movie: The House of Flying Daggers [romance story like Crouching Tiger Hidden Dragon].
Updated the Amazon Widget in the upper sidebar of this blog.
Two or three weeks ago, I started watching Showtime's new series, Billions. Are you watching this series? The US Attorneys portrayed in the series had me a little worried... however, I am still watching.

Friday, January 22, 2016
When I was in high school, leather coats and boots were in style. I wore a lot of winter white back then- that I paired with my long caramel leather coat and boots or my shorter suede jacket in a more rust/caramel color.
Gauchos, knickers, high waisted baggy pants with pleats and pockets, vests, blazers, etc. I also worked in business offices part time in high school, so this is when I also started buying the little business suits, I prefer today.
I reference Knickers in the last paragraph. What are knickers? Wool short pants that fit close to the leg but taper at the knee. Like some golfers wear. My brown tweed pair actually buttoned at the knee. Sometimes I put long baggy pants in my boots [also popular back then], so that it appeared as if they were knickers.
I had a winter white pair of straight leg gauchos that were not wide but hung nicely over my boots. I do not define these as knickers because they did not taper at the knee.
I also had a long oversized brown/tan tweed cloth coat with "Sherlock Holmes" like details [not the full cape, just the pleated overhang detail in the back, with collar and cuff epaulettes] that also went well with my style back then.
Yes, I was a little conservative.. jeans? Not really, I had high waisted Painter's Pants in white that I paired with platform sandals and socks, or my earth shoes- that went well with the many little tube tops and matching gauzy blouses I tied at the waist. Tube tops underneath my tied blouses, the extent of my risqué style.
I also liked some of the styles the women wore in old shows like "The Big Valley" and "High Chaparral". Gauchos, boots and vests. Do you remember Linda Evans in "The Big Valley"?
So anyway, this to explain why- in high school I decided to make a wide leg gaucho outfit for one of my Home Economics Sewing classes.
Photos of the vest.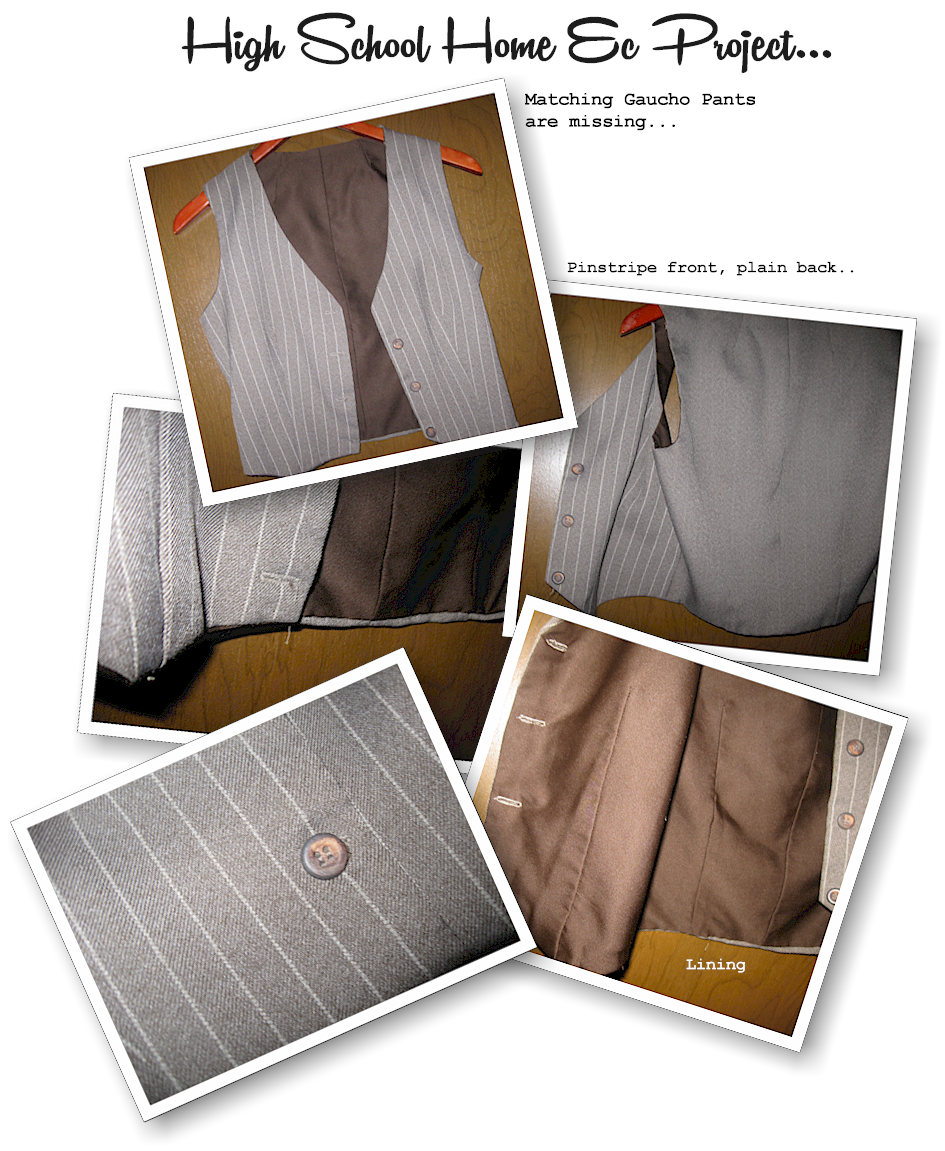 I no longer have the gaucho pants to the set. They were the long wide leg type [wide aline] that went well with boots. The material for the pants matched the back of the vest in that I opted to forgo the pinstripe detail used in the front of the vest.
Note: Everything I owned used to go to the dry cleaners, including non-lined Painter's Pants. I have had this vest for a lot of years-- and it still looks as if- I made it yesterday. The material and lining would not have held up well in the wash.
I keep thinking about how much my life has changed. I cannot remember the last time I went to the dry cleaners and in high school-- all I owned was dry cleaned. The flannel pajama bottoms and tees I now wear to the office-- hold up well in the wash.
That said, this does not stop me from researching the more classic conservative styles I love, which I cannot now afford. I am no longer a size six nor can I justify the cost of a new outfit I do not need for non-existent business meetings and lunches. I am still thinking about where to place the camera I am going to use for Skype calls.
Note, most of the Tumblr blogs I follow via my own Tumblr account, are promotional tools for well known fashion houses.
Someone once noted, I have my own style. I agree.... and I have had strong thoughts and ideas about my style since early high school. Do you watch old Gene Tierney movies?

Saturday, January 16, 2016
Out of bed at 12:20 pm today. Asleep by 10:45 pm last night, up again at 4:07 am this morning [not on purpose, however watched part of the ATP Sydney Final]. Then up and about after twelve noon. This is very unusual for me. I feel rested now, but it was a hard morning.
Anyway, tomorrow evening I plan on watching several of the early round matches from the Australian Open via ESPN.
Of course, since the Australian Open is one of four Grand Slams, prize money is higher than that for most of the other types of professional tennis tournaments. Australian Open prize money [AUD currency] break-down and points for the 2016 tournament: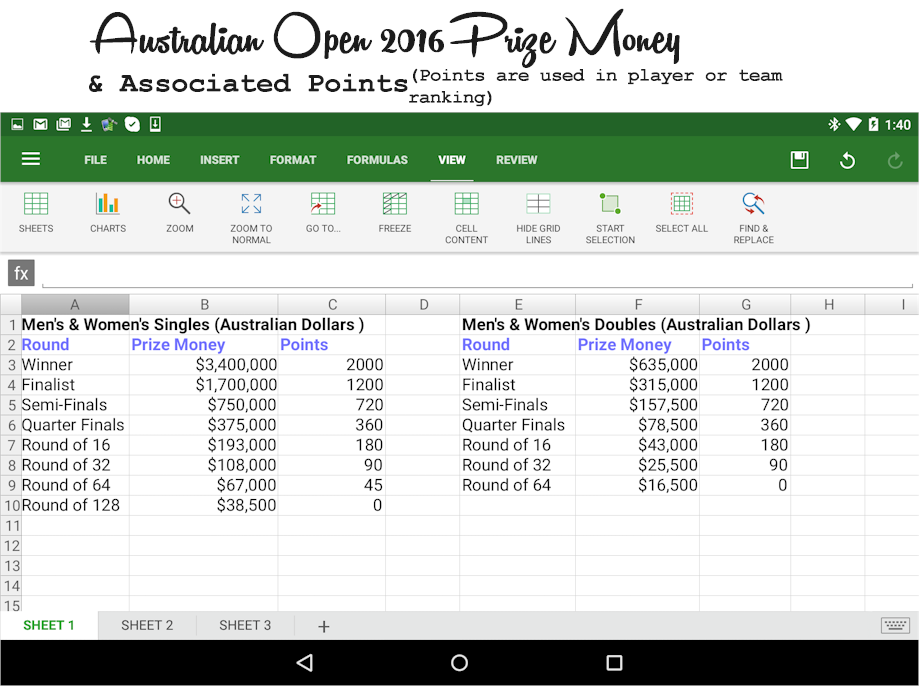 Shown, screen-grabs of the 2016 Men's Singles Draw.
Use the links below to print or save to file- this year's draws you wish to track.
The prize-money spreadsheet shown above was created using the OfficeSuite Pro App on my Android.
You can find the specific OfficeSuite Pro App for your device using one of these links: Apple App Store, Google Android App Store
Initially, I installed the non-Pro version of OfficeSuite, however found I could do more insofar as staying compatible with Microsoft Office Suite Tools and their file formats by upgrading to the OfficeSuite Pro version.
Here are the links for the non-pro version of OfficeSuite: Apple App Store, Google Android App Store

Sunday, January 10, 2016
I know, you have had your Instagram account for so long that my newbie research in this area- tends to suggest I need to get a life. That said, I am having fun playing around with this resource.
I have been researching how others are using their accounts. Recently, a Blogher article suggested ways to use Instagram as an advertising tool, however I have not gotten that far.
I simply take photos of every day things I see-- or, thinking about. For instance, one of my recent photos was of a Verizon FiOS remote. This because, at the time I was looking into issues related to my Android and FiOS Mobile television viewing.
I was out Saturday, and took these photos with Instagram in mind.
I have also been thinking about videos, however have not come up with anything I can post online. I am making Enchiladas one day this week-- however I don't think I am going to video myself doing this. Maybe photos, in-line with what I normally do when I cook and post online. I also found this great app which allows me to post Instagram images, I like to my Tumblr blog. I think I am going to be doing a lot with my Instagram account.
I have also been thinking about minor changes to my upstairs office. I used to work in there all the time-- however rarely these days. Well not since I decided to go mobile with my Macbook in 2008. Purchased my Macbook in January 2008 and we went broadband with Verizon FiOS Internet in March 2008. I tend to work from anywhere, but mostly downstairs in front of a nice view of the backyard or in bed.
The minor changes? Adding my diplomas and awards to my office walls, like lawyers tend to do. They call theirs "I love me" walls, this according to one of the attorneys I met with in 1995.
I used to have a Rockwell award on one of my office walls at work-- however, I can no longer find my "Engineering Excellence" award, or the Cup, but I do have an anniversary pendant. I never installed my diplomas and other awards in offices outside of the home.
Does it always seem as if I am always making a case? Just in case I need to prove something?
Anyway, Saturday when I was upstairs working, I also took photos of me in the office.
I am planning a full week of new projects and more Tennis. The Australian Open, a Grand Slam begins Sunday, January 17, 2016 for us-- for them its Monday, so I plan to catch a lot of that.

Wednesday, January 06, 2016
I opened my first checking account when I was a sophomore in high school. The bank was a local Maryland Bank and I kept the same checking account until I graduated from college and started working in Tysons Corner, VA for Boeing.
The reason I needed a new checking account after college? I lived in Maryland, worked in Virginia and wanted to deposit paychecks to a local account in Northern Va. At the time direct deposit was either not offered or not popular. Cannot now- remember which.
The bank I chose [after college], later became one of the largest banks in the United States, however in May 2012- because of a settlement process being considered, I made sure that all checking accounts I had ever opened, were closed with the exception of the business checking account I opened in 2004 at another large U.S. bank.
In 2004, I opened my first business checking account [referenced in the last paragraph]. In 2014 I also opened a business savings account with the same bank. Since I am able to use my social as a sole proprietor, my business account is almost like a personal checking account and I saw no need to have a personal account.
In 2015, I received notification from Boeing that they were offering a payout on one of my retirement accounts. Not much, but enough for me to consider asking them to go ahead and start the payments. The problem? I did not want the funds to go to either of my business accounts.
I am told, solutions are being sought for my situation, so that was another consideration. Why start early retirement payments?
That said, since I received gifts in the form of money for Christmas, I decided to go ahead and open another personal checking account. I did it online and I have to say, it was so easy.
All I had to do was run over to the bank and deposit funds. I could have transfered from the bank where I have my business accounts-- but I do not like money transfers for my financial dealings. My financial accounts are to accessible by too many in Washington so I will never set up money transfer access for any of my accounts.
Anyway, the new personal checking account is with the same bank I used right after college. Or what it became.
I found the whole process of opening the account online so easy I wanted to write about it. I did all of this a week ago-- but wanted to wait until I received all of the cards, pins and checks via the US Mail before posting about it.
What else have I been up to?
Instagram integration that I discussed in the last post.
Professional Tennis is back and the Australian Open is about 2 weeks away, so I have been watching who is doing what in some of the early down under tournaments.
As I have discussed before, in November 2015 or so, I rooted my Android tablet to get my SmartReader to work. I need access to external drives and USB printers and needed USB support. The only way to do this was to root my Android. What I did not know? I no longer have Verizon FiOS cable support for television viewing on my Android. Research on the Verizon site confirms that a rooted Android causes the problem. I can get ESPN and most other services-- but not Verizon FiOS via their app. Looking at a work around. I also have the TennisChannel as a separate APP so this is not a real hardship--just surprising. The root process changes security settings that Verizon FiOS does not like. I considered spending the money for an Apple iPad that ships rooted, however still looking at my options... An iPad is on my wish list if this ever ends. Right now, I wish I could justify the expense just to watch Verizon FiOS on a tablet. I use all of my computers for a lot of things [mostly business], including my Android. An iPad can do the same things, plus. How much have I spent trying to obtain USB support on the Android? My tablet was close to $200 in Feb. 2015. An iPad Mini about $300 with the same 16GB as on my Android, however the iPad comes rooted with USB support... My Android is nice-- however I had to learn a lot given this was my first tablet and it cost.
Paid off my credit card which was used for part of my holiday spending. This felt good.
Researching how to set up an Apple iPad with a Mac Mini so that the iPad acts as an external display [both on my wish list]. I want a huge 27" Thunderbolt monitor for use with the Mac Mini-- simply researching whether or not an iPad can be used as a more mobile solution in a time of need.
Updating my Amazon Stores.
Am I telling my banks anything they did not know? No.

Friday, December 11, 2015
I love fur collars on sweaters and coats, however it was not until I was leaving my position as a defense contractor with a Fortune 100 corporation that I started to collect the items I have now.
Before that, I always went for more conservative items with less in the way of extra details [e.g. fur collars]. A trench coat [olive/khaki color with a faux suede feel and look], a black cape, a long black leather- and each worked with most of my many suits.
Then I tried the fur "look". For instance, this wool coat [dark rust/with black fur collar] was purchased in March 1995 [left corporate world in April 1995] from the Burlington Coat Factory at Pentagon City in Arlington, VA.

It was a clearance item and I was able to get it for a ridiculously low price. Does it work with most of my suits? Not really. That's why, the other day when I was looking through the coat closet and noticed it- I thought, I really wish that coat was charcoal gray with the black collar.
Then about 10 years ago, after Arundel Mills and TJ Maxx arrived in Hanover, MD, I purchased the two sweaters with fur collars shown below.
The one on the left is charcoal gray with a detachable [snaps] brown collar which I wear mostly without the collar and the other [right] is all black and the inset shows the collar is not detachable.
Then two years ago-- I ordered this Romeo and Juliet Couture item with a detachable collar [inset shows the buttons for the collar]. I love this sweater as well. Everyone who tries it on-- looks really expensive.
And then [late last month], I found a sweater in my mother's "other" closet and had a brainstorm. It was a long lambswool sweater that hung heavy. It had belt loops for a belt and buttons for a collar. Neither the collar nor the belt was available. My mother was away at time time, so explaining I was in her closet in the guest room and looking for a pair of black boots she had given me, I found the sweater.
I sent a text and an email, asking if she ever wore it? I also sent a photo so she wold know what I was talking about. She said, "no, she never wore it and yes I could have it". She may have felt guilty she took back the boots she had given me.
That's when I got busy realigning the existing positions of the buttons for the collar- to fit the elastic stirrups on the brown fur collar that goes with the Romeo and Juliet Couture Sweater.
Here is my new sweater with the collar attached. I absolutely love it and have a lot of outfits I can pair with it.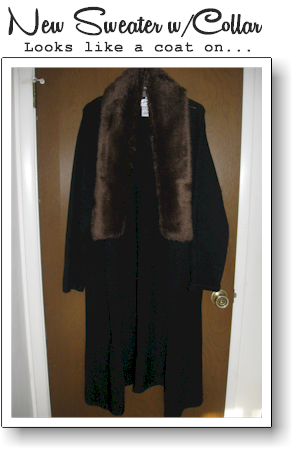 I also had to remove the belt loops and use my Fuzz Buster to make the sweater look brand new.. Do you need a Fuzz Buster?
I did not find the one I have, however did find something similar here. It's a great gift idea. I also looked for a coat similar to the look of my new sweater. Did not find much, think it would be expensive.
History of the black lambswool sweater? My sister gave it to my mother, because the label provided an incorrect size. My mother never wore it. Wrong size give away-- that works well for me as a coat. No, I don't get the boots back.

Sunday, October 11, 2015
One of my credit card issuers offers free FICO® Score reports. In June 2015, I noticed that the free report indicated I had a score of 689 or so. I do not have a screen-grab of that earlier report. The reason for the score? The report indicated a lawsuit might be pending.
Privately, I am told too many with power try to affect issues related to my financial picture-- however the Feds are keeping tabs. I have never been served with a civil [nor criminal] lawsuit, personally, or against my business, QiSoftware. Nor is there any reason I know of, that anyone may have to sue me, or my business.
That said, yesterday when I checked the score again-- the results were better.
There is now- no indication that a lawsuit is pending.
Other things I have been up too?
Updating my Amazon Stores. Also check out this store.
Researching a new recipe. Let me know if you try this. I want to- too!
Washed a lot yesterday, including my hair and a goose-down comforter [came out okay, my hair is kind of having a big/bad day-- show you tomorrow.]
Watching the NFL; Washington in Atlanta [right now].
Watched some of the recent Tennis finals in Asia [this morning].
Watching the new episode of "The Affair" tonight on Showtime.
Washington v. Atlanta: 7 to 3- Washington in the 3rd quarter. Going to finish watching...

Friday, October 09, 2015
The wedding is fast approaching and there has been a flurry of activity. Of course, I will not be attending- however hope everyone is as excited as the bride and groom.
I provided explanations about the wedding in an earlier post and will not provide more details here other than to say, I am happy for the couple.
Other projects:
Continuing to update my Amazon Stores. I wish I thought I could wear that black and gray coat. I tend to stick to solids [like this].. but I just love that coat. Are you getting a new coat for Fall?
Online shopping. Will provide details later.
Went to the bank on Monday.
Early morning Tennis from Asia.
Thinking about building a new tool [widget] for my website and researching the resources I will need.
Photo [of me], taken today. I periodically, provide photos to show how I look on any given day. These days, I don't get out much-- and when I do, I want current photos to leave little doubt as to my identity. The good, the bad and the ugly..
I am seeing more signs of aging and in my opinion, I look and feel too tired. A full night's sleep is the problem right now. I used to never have problems sleeping through the night... I am hoping this will be corrected, soon.

Monday, October 05, 2015
Due to the offshore activity of Hurricane Joaquin, it turned a little chilly and wet in our area over the weekend. I found plenty to do indoors:
Tennis from China, Korea, Japan and Malaysia.
Movie: Falling in Love [repeat for me]
Movie: You've Got Mail [repeat]
Series: Showtime's "The Affair" first episode new season [2].
Posted about some of my plants-- [last post].
Found two great Fall recipes; Homemade Caramel Sauce & Caramel Apple Pound Cake [posted to my Tumblr Blog].
Paid the web hosting annual bill for hosting-q.com.
Updated the Gift Ideas category. Do you like this?
Online shopping for Fall sweaters and coats.