Sunday, September 10, 2023
When it comes to graphics for content creation, sites, or presentations I have to rely on my own non artistic abilities.
That said, I developed Graphical User Interfaces for programs using C and the X-Window platform on Unix and DEC systems. This allowed me to screengrab program interfaces and incorporate the captured images in my user's guides and software product specifications.
Today, I continue to use a lot of screengrabs when creating content, however mainly because I think graphics explain more easily what I wish to convey.
In addition to screengrabs, I use fonts to try to assist with graphics I need for my sites. For instance, the following illustration shows two graphics files I created using only fonts.

When I do need to use a graphic, I use several versions of old software called Corel Gallery. I like this software because it offers vector data files for most of the elements in each package. Vector data allows for easier manipulation of the graphics files. Bit map graphics are like GIF, PNG, or Jpeg files. Vector graphics are transformed and un-grouped if the need arises without losing data. Examples of vector graphics files are Windows metafiles (WMF) and Computer Graphics Metafile (CGM).
In addition, especially with the technological advancements of digital cameras, I take and use a lot of photos.
What else do I use for graphics and content creation? Latest releases of Microsoft Office products and an older Microsoft product called ImageComposer.
Now- we come to why I am posting. In my opinion, ImageComposer is so powerful, I thought I did need anything else for graphics except PowerPoint to manipulate vector graphics files. That said, the program is older and it only supports bit map or raster graphics files (not vector graphics files).
Then I noticed several Instagram reels showing tricks for PowerPoint and I decided to start playing around. I can do a lot of the tricks with ImageComposer, and really do not have the time to play a lot with graphics, however, I do think these tricks are useful. If like me- you do all of your own graphics work- you may want to play around with an office copy of PowerPoint (a copy you can check out, do not want you to get in trouble).
I created a new video showing some of the neat things PowerPoint offers.

Tuesday, September 05, 2023
Yesterday, while researching for the WiredCreators project I noticed two videos I thought interesting so I decided to share.
The first video, an Instagram reel- demonstrates a useful PowerPoint trick that I think is handy for content creators.
I tested this trick and found I had to make a small adjustment to handle irregular spacing with the original proportional font I used, instead using a fixed width font. The results of my test...

The second video, is about a DoorDash delivery guy who is using an electric e-bike for the first time to make his deliveries.

The guy is funny, however what I really liked was his e-bike. So much so, that I researched and found a lighter, folding version by the same brand and added it to my Just Want store. The e-bike was rated so well- that I also added it to the Gift Ideas store.
Items discussed in this post (showing the entire Microsoft Professional Suite of Office Tools which includes PowerPoint):

Thursday, April 20, 2023
Recently, I have been working a number of projects, including:
Four of my online applications have gone into disrepair- including:

XML feed for JOLTS Labor (DOL) numbers provided on the WiredPages Employment page blocked. Repaired.
History Channel no longer providing XML feed for current day's events. Affected the WiredPages Sports & Entertainment pages. In the process of searching for replacement feeds.
Zillow property value estimates provided by Zillow. Expired API license.

Tracking my schedule more efficiently... (next post)
Experiment with a security cam and Alexa.
This post discusses the security cam experiment. For sometime I have wanted a camera for the front door. The problem? I did not want a battery operated camera, however felt a wired camera to much trouble for the experimental aspect of this project.
When I noticed security cameras that looked like light bulbs (August 2022) I immediately ordered one (around $10.00), however the shipment never arrived.
Recently, a highly rated LaView Light Bulb camera went on sale on Amazon, so I decided to experiment.
Because the original outdoor sconce (pictured) was too small to house the new camera, I setup the camera on a work light with a hook (also shown), which was attached to one of the garage doors.
Then ordered a larger outdoor sconce for the front porch (shown below).
The new front door sconce arrived the following Saturday (April 15, 2023) around 6:30 pm. I installed it later that evening. Ran into one or two problems, and happy I decided to cut the power to the outlet before I started work. By 8:30 pm or so, everything was back on and running correctly.
Pleased with how this is working out. The LaView app which controls the light bulb cam is installed on an Android, iPhone, and iPad mini. The Alexa Echo Show device is used to stream throughout the day, and the other devices in the evening or if more control over the camera is required.
Pretty happy with the features on this security camera and the LaView app. The Echo Show does not have the same power, however the speaker, mic and display work well with the camera.

Wednesday, April 12, 2023
Recently, I had the opportunity to work with the Microsoft 365 brand via Amazon. I was provided a copy of Microsoft 365 Personal version, which I installed on a new HP laptop.
The Microsoft 365 Personal applications provided for this installation, included:
The video provided in this post discusses this installation, however also discusses the Microsoft 365 Professional suite of applications I owned prior to my work with the brand.
The suite of applications that make up the Microsoft 365 Professional version include:
Word
Excel
PowerPoint
Access
Publisher
Outlook
I began using Microsoft Office in 1992 or so, and continued to use the professional suite of applications for business, legal, and personal use over the years. I was impressed when I first began using these applications, and I continue to be impressed.

Wednesday, June 08, 2022
Last week before my new iPad arrived, I researched graphics software options for use with that platform. Procreate and Affinity Designer constantly appeared high on every list.
I have no artistic (drawing, painting & sketching) ability, however, I do all of the graphics work for my sites, groups, and the presentations I need for one project or another. The example below shows part of the ImageComposer file where I created the header graphic for the Facebook high school alumni group.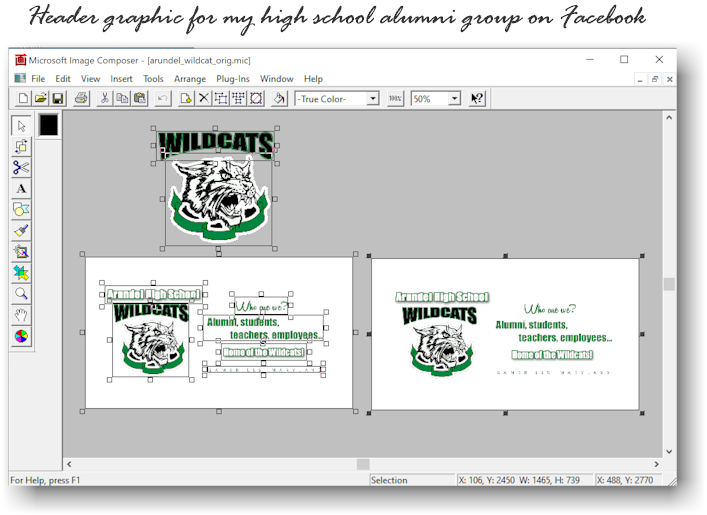 I use the following programs and tools to handle all of my graphics needs:
Microsoft ImageComposer
Microsoft 365 Professional Office Suite (Publisher, Word, PowerPoint)
Microsoft 2000 Professional Office Suite (Publisher, Word, PowerPoint)
Corel Gallery Clipart
The many photos I take.
Screen-grabs
Though I do little insofar as video presentations (other than hair and makeup for a Zoom meeting or class), I do watch one or two video bloggers and noticed how well they incorporate other graphical elements to their videos.
In that I use all of my resources for work efforts, I wanted to ensure that my new iPad Mini would get its fair share of the workload. I have to justify (to myself)- business expenses like a new tablet. That is why I was researching graphical software options for the iPad and the usage areas I could effectively deploy, in terms of ROI.
I purchased Procreate ($9.99 Apple App Store)- Monday evening after installing Libby (Free) and reading a sample of Grisham's latest novel, 'Sparring Partners'.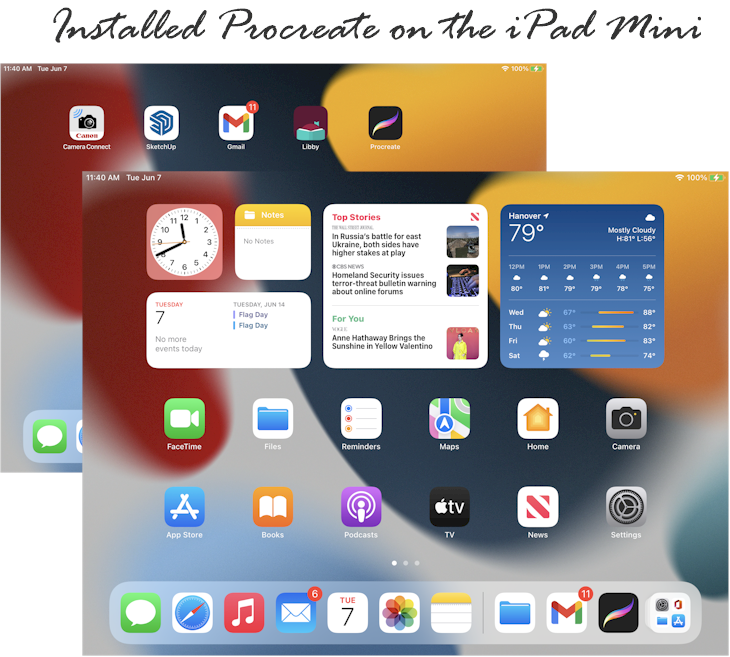 I did not do a lot with the Procreate app Monday evening (tested the new stylus pen with the application), however Tuesday morning, did a lot of research and played around with the software.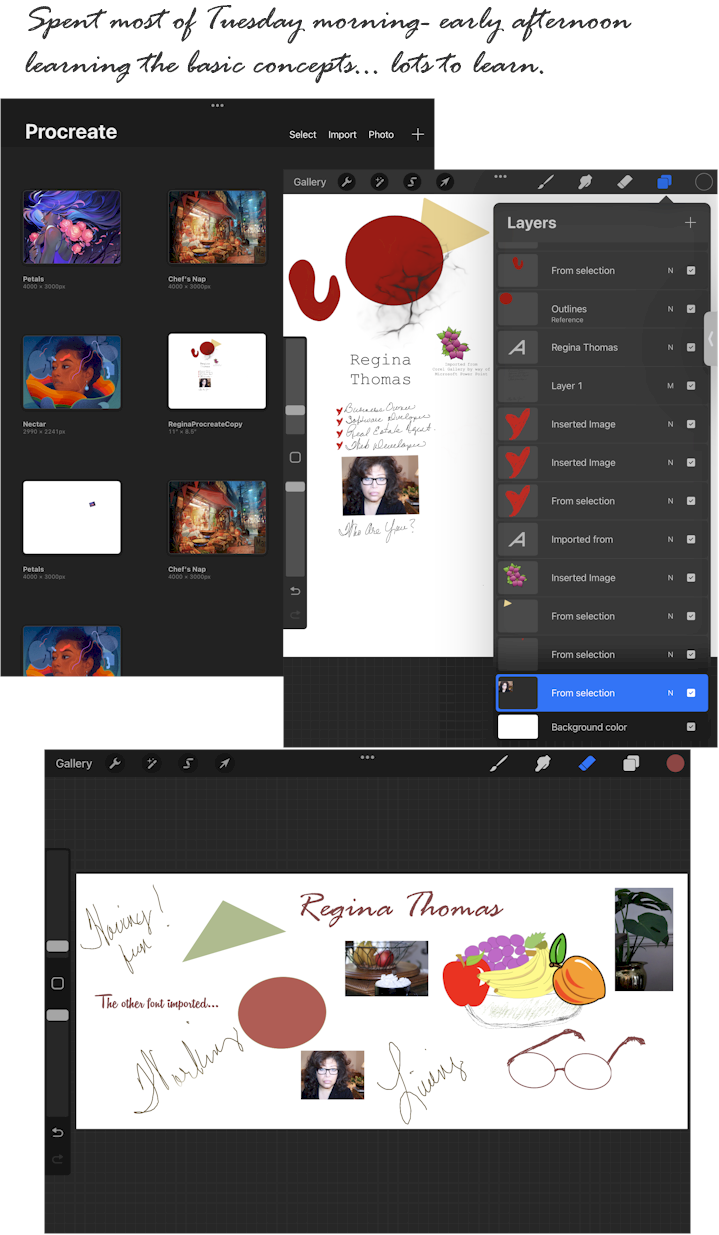 Procreate is different than graphical software I have used in the past. I wish I were more artistically inclined because Procreate showcases that type of talent.
That said, I will be able to find uses for Procreate. It is a powerful tool and though I am not a skilled artist, feel understanding how the software works is going to be useful where my efforts are concerned.
Affinity Designer the other graphics software often mentioned for iPad users, provides the ability to create vector graphics. I am going to continue to create and manipulate vector graphics on the Windows PC side of things using PowerPoint (also installed Microsoft 365 Office Suite on the iPad).
I have been using Any Video Converter to edit my very rudimentary video files, however downloaded Active Presenter about 1.5 years ago.
I have not had the time to play around with Active Presenter, that is until now. Yes, that software is going to be very useful if I decide to add more to my videos.

Friday, June 03, 2022
I mentioned in my last post that I would be getting something I have wanted for years. Though the philodendron shown on the right is new, that is not what I referenced. I purchased the philodendron on Wednesday during my weekly visit to the market. The item I ordered arrived yesterday (Thursday) afternoon.
Wednesday, April 20, 2022
In March 2022, I requested space at one of the Baltimore County Public Libraries to take part in their Spring pop up shop events, set for Saturday, April 30, 2022. A week ago, I was notified another vendor had dropped out and there was space at the library I requested.
I began preparing for my very first pop up shop event, and took part in the Zoom presentation offered last evening- showcasing tips on how to setup and what to expect.
The problem, I did not have enough inventory (jewelry items from WiredShops) as I explained to the organizer when the spot first opened up, however I wanted to take part to gain understanding of how it all worked.
At the end of the Zoom presentation and question and answer session, I knew there was no way I would be prepared, even if I had the inventory. I notified via chat (with a promise to email the organizer), that I would not be participating, however would be checking in as a blogger.
I hope- those in Maryland and surrounding areas who are able to attend, will come out to support local area small businesses through these Baltimore County Public Library sponsored events.

Tuesday, January 26, 2021
On two occasions over the last week, I had the opportunity to witness the use of a Verizon MiFi 6620L Jetpack 4G LTE Mobile Hotspot unit used with an HP laptop. Thought this was pretty impressive.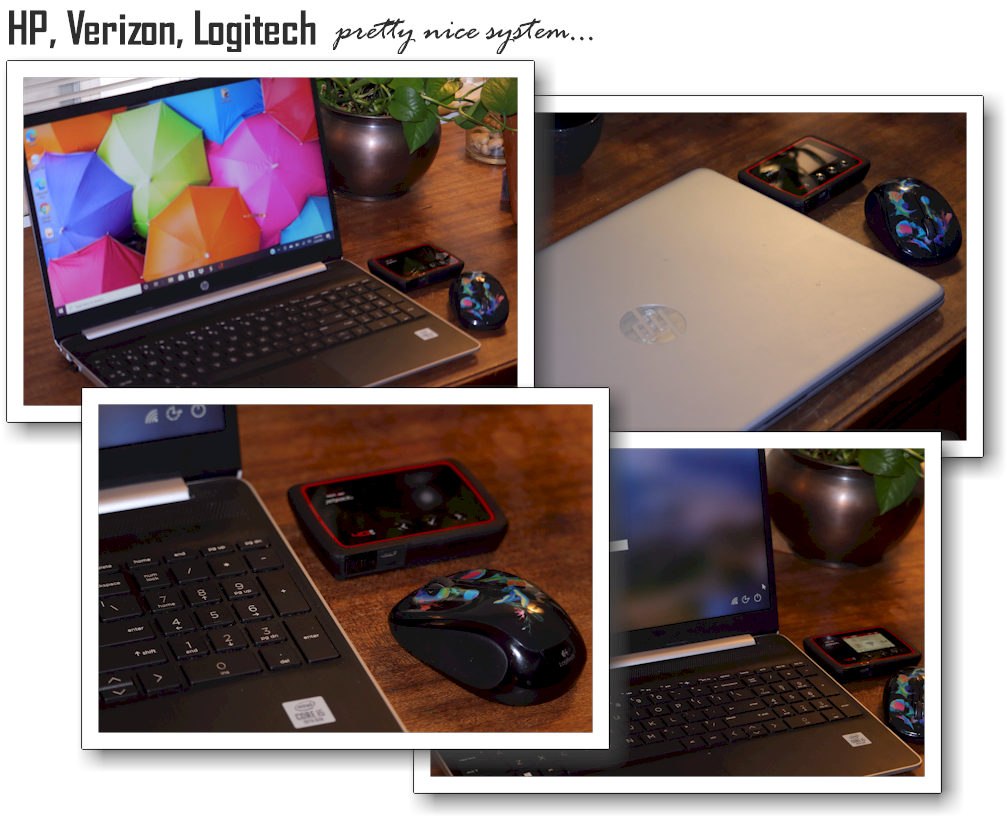 I own several computing platforms, however most are not true mobile systems, in that I am tethered to both my dedicated wifi service and electrical current. These days, I prefer working in this more secure environment, however if I needed to be truly mobile- would definitely look into the acquisition of similar hardware. My choices shown below:
I also checked into current pricing options for mobile hotspot plans and found an interesting article on the Android Authority.

Monday, December 14, 2020
Today, while searching for a Windows 10 utility for screen video capture, I discovered Windows 10 comes with a screen recording utility called "Capture" "Game Bar".
To activate the program, on your keyboard use the Windows key in combination with the "G" key.
I recorded the following video using the capture program. The video discusses a new Java servlet I started work on today, which uses the Share This API.
The resolution on the monitor I used for the screen capture was 2560x1600. The original output file was over 34MB. Since I am not using Youtube for this demonstration, I converted the file to a smaller format.

Tuesday, January 14, 2020
I have been researching portable monitors for awhile and finally decided to purchase the Elecrow 10.1" 2K IPS Touchscreen Monitor.
Initially, the touchscreen capability was not a high priority, however overtime decided I would prefer a portable monitor with this option. When I found the Elecrow, several of the features I wanted with a monitor of this type were met, including:
Touchscreen
Monitor Size: 10.1 inches
Screen Resolution: 2560x1600 (2K)
Cost
The following is a short video demonstrating the Elecrow touchscreen feature.
Video Quality: I shot the videos for this post using my Canon VIXIA HF R700 Camcorder then merged the video files using a 640x480 lower resolution file size. This done mainly to accommodate my web hosting server. The original MP4 file was over 25MB and the converted file less than 10MB.

Tuesday, December 24, 2019
I am baking today, however I wanted to take a moment and tell you about a recent acquisition that I am pretty pleased about.
I imported most of my CDs to iTunes, and have the app installed on several mobile devices. In March of this year, while using an unprotected charging device, I believe I damaged my first bluetooth speaker (no longer accepting a charge), so I caught a sale and picked up this DOSS SoundBox XL 32W Bluetooth Speaker.
In addition to iTunes, I have several Echo devices hooked up to stereo and/or amped standalone speakers, enabling Alexa music requests in most areas of the house. I tested the new speaker with all of these systems and found in most cases the audio was greatly enhanced, however not in the den.
Systems around the house using other Echo devices where the Doss speaker made a significant difference:
If you are looking for a new bluetooth speaker, I think you will find this speaker has surprising output.
P.S. Issue from the last post, cleared up. I am so pleased about this.

Wednesday, October 30, 2019
Recently added to the collection of Alexa devices used in our home to include two new Echo Input units-- reference Instagram Post.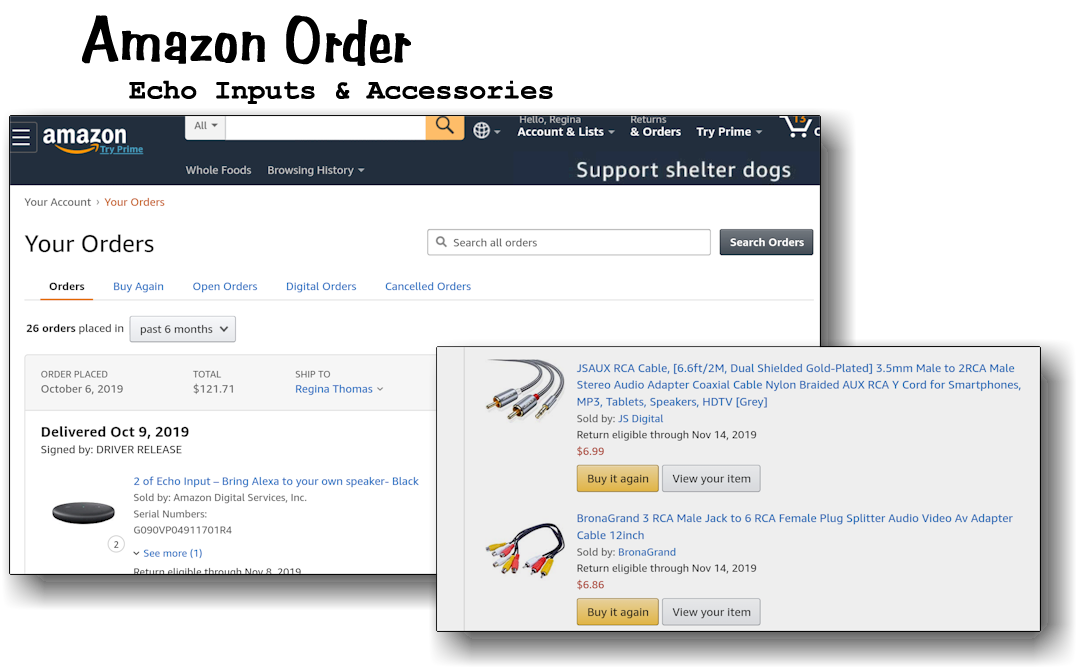 As noted in the above illustration, the order included RCA Splitter and RCA to 3.5mm adapters.
Pretty pleased with how this worked out, in that we already had the bookshelf stereo system and standalone amp speakers we wanted to use with the new devices. Note: I needed the RCA Splitter Adapter to allow both the Verizon Set-top box and Echo Input to output sound to the bookshelf stereo system.
Alexa devices currently used in our home, include:
One of the new Echo Input devices was setup in my office.

I love being able to put on a smooth jazz station while working. The bookshelf stereo system that was already in the office, offers a lot of sound, in that the on-board equalizer offers plenty of options.

Sunday, July 21, 2019
I have been playing around with the Digital Slave Flash that came with the Canon EOS M50 bundle I recently purchased. What is a Digital Slave Flash? It is an external flash that can either be attached to your camera's hot shoe, or positioned away from your camera and used as an autonomous light source that is triggered by the camera's flash.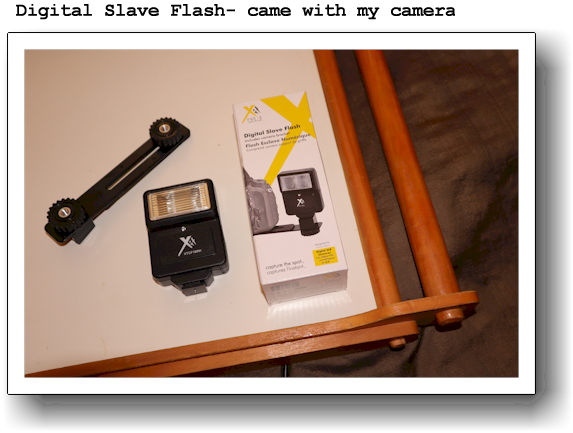 In the above photo, I am of course- not using the external flash and there is very little glare from the camera's flash. I had to slant the camera away from the items to avoid the glare.
The two photos that follow show (1) a photo taken without the digital slave flash and (2) a photo taken with the external flash. I was working on a post for one of my Facebook pages, in my dimly lit bedroom this morning when I decided to pull out the external flash.
Based on my experimentation, I noticed the two flashes working in unison and when positioned correctly, negated a lot of the flash glare.
I know how to set shutter speed and IOS (manual focus settings) without using a flash to allow enough light for a decent photo, however also like using a flash. I simply think I need to learn how to use a flash more effectively.
I am having a lot of fun playing with my new camera. Professionals who have used DSLR cameras are going to love this camera and newbies like me are going to be very pleased with how easy it is to learn what the professionals know.
Background Data (Photography):
This goes without saying, I am not a professional photographer, however I take all of the photos used by my Instagram accounts and blog posts.
In college, back before digital cameras, I took a black and white photography course as an elective- to learn the basics. I have been in a darkroom and learned to use developer, stabilizers, and enlargers. I remember often being a little panicked about opening the film canister (in the dark) and getting the film into the solution.
For digital photography, I have been using a great Canon (A590) Autofocus Point & Shoot and only now, just beginning to understand the complexities of digital photography (and manual focus), with my new DSLR camera.

Thursday, January 03, 2019
I have been working several projects including updating my sites for the new year. This mostly involves updating the copyright year, i.e., 2002-2019 for site pages that provide the data.
I have also been playing around with a new audio resource. I am pleased with how this worked out. The video does not provide the actual robust audio quality, however you may get a sense of how well this works.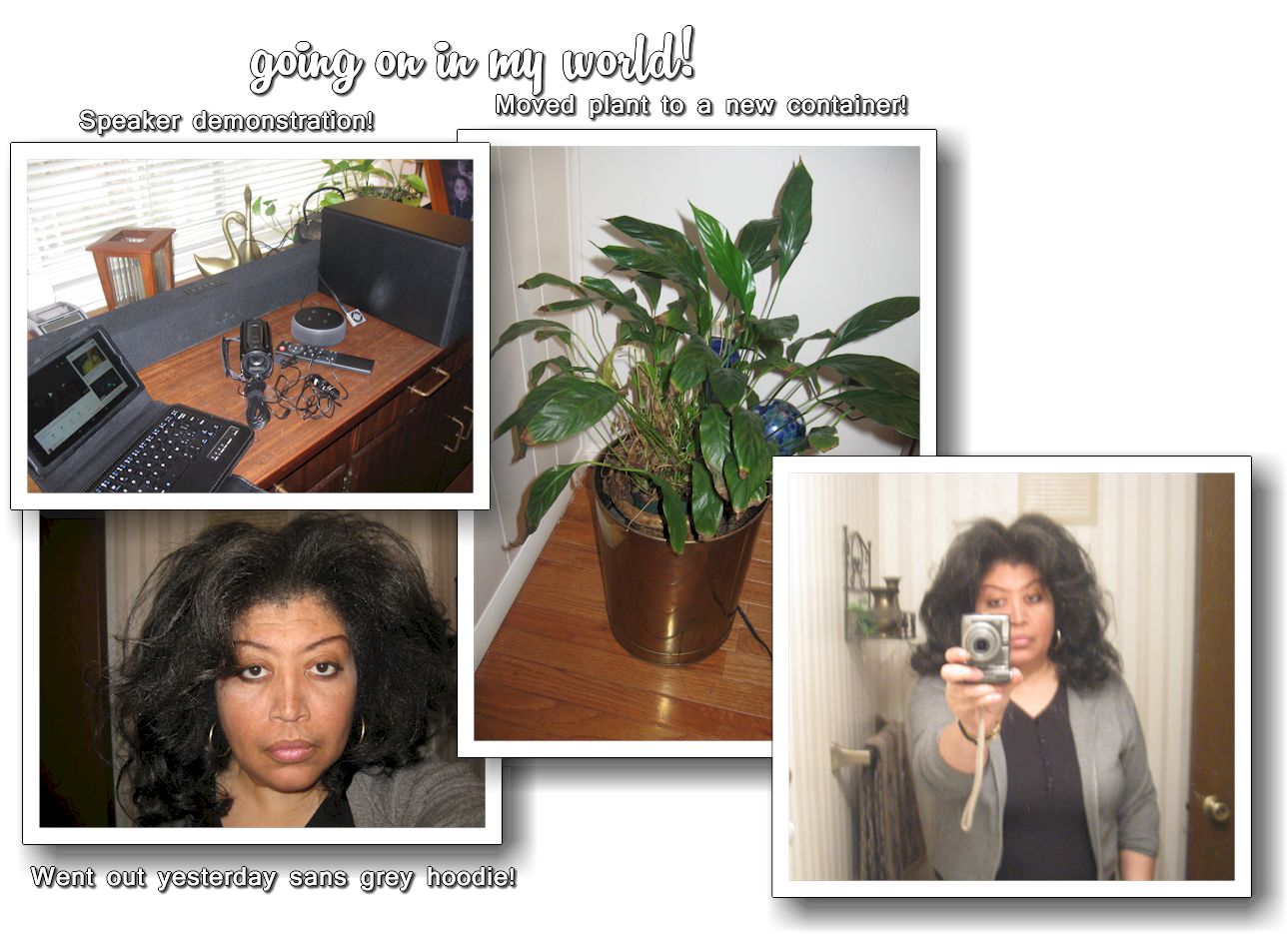 The video provides demonstration of Alexa Echo Dot, Apple iPod Mini and Youtube video via my Android as sample input audio to the 100 Watt per Channel speaker set. Keep in mind, I am still not expert in video production.
Other projects?
What's new in my hometown? My outing yesterday.
Updated the stores, including "Items I Have".
Fixing software bugs.
I missed the first season of "Counterpart" on Starz, so just before Christmas, caught up via Verizon FiOS' OnDemand feature.
Business housekeeping chores that I put off. Happy to get some of these chores out of the way.
This year, I spent a lot of time planning for the holidays. I am kind of happy now, to only have business issues to worry about.

Tuesday, June 12, 2018
Big things are happening in my hometown, and especially the business community. The latest, the opening of the Live! Hotel complex adjacent to the Live! Casino and Arundel Mills.
Briefly, construction milestones for the hotel: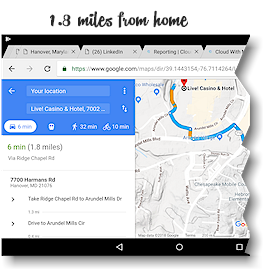 Groundbreaking Celebration, September 13th, 2016
Official Opening, June 6th, 2018
Grand Opening Celebration, Wednesday, July 11, 2018
In that I live within 2 miles of the new hotel, over the last year I tried to stop by at least once a week (starting in June 2017 and ending in June 2018) to capture construction progress photos.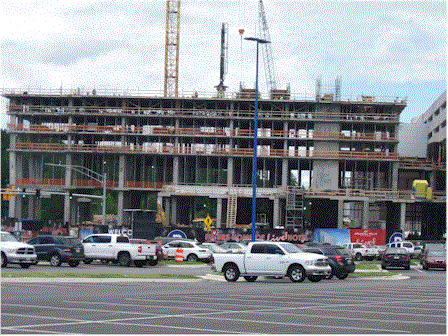 Hanover Maryland has grown into an attractive place to live and play. The thriving local business community that was in place before the mall, casino, and hotel openings- has only benefited from the extensive growth in the area since 2001.

Tuesday, March 20, 2018
Over the weekend I received a package containing a new drive for my android and a case for my RCA Cambio Windows 10 Tablet/PC. I am so pleased with both items.
First the tablet case. About 3 weeks ago, a spilled coke splattered near my Windows 10 Tablet/PC causing the plug-in keyboard that came with the unit to malfunction. Luckily, I had an extra Anker Bluetooth Keyboard which works great.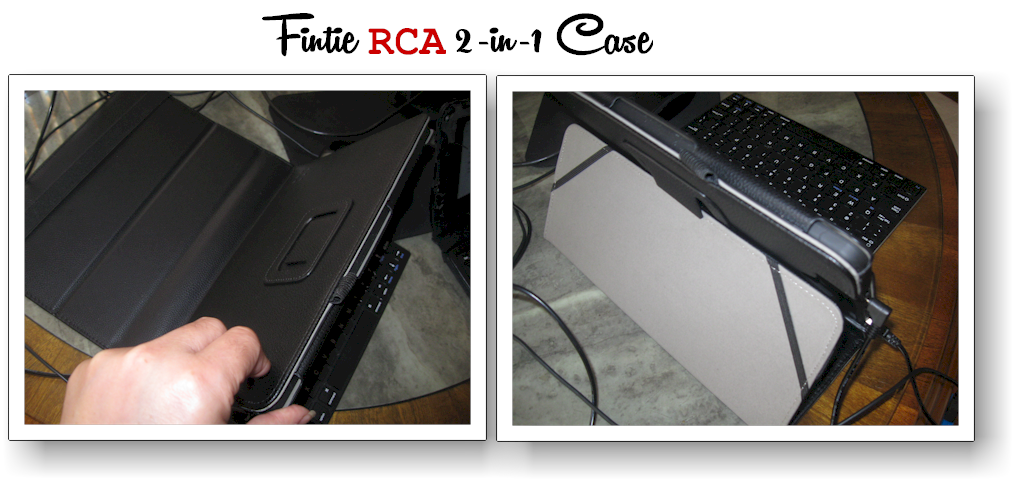 The old keyboard was part of the casing for the device, so the new case now holds both the tablet and bluetooth keyboard that I am using as a replacement. This also, worked out well.
Now the SanDisk Ultra Dual Drive. My Android operating system version is 5.1.1. Shortly after getting the device, I rooted it enabling print service to a USB printer via an OTG connector and USB cable. Initially the root process also allowed me to use USB flash-drives with OTG cables and hubs.
Recently, I somehow changed a setting that although continued to provide printer support via an OTG connection, disabled access to USB flash-drives. I tried any number of things to correct this problem, however was unsuccessful.
After reading reviews for the SanDisk Dual Drive m3.0, I was hopeful that I could once again port items from my Windows10, WindowsXP and Android using one drive and was pleasantly surprised when the SanDisk Dual Drive did the job.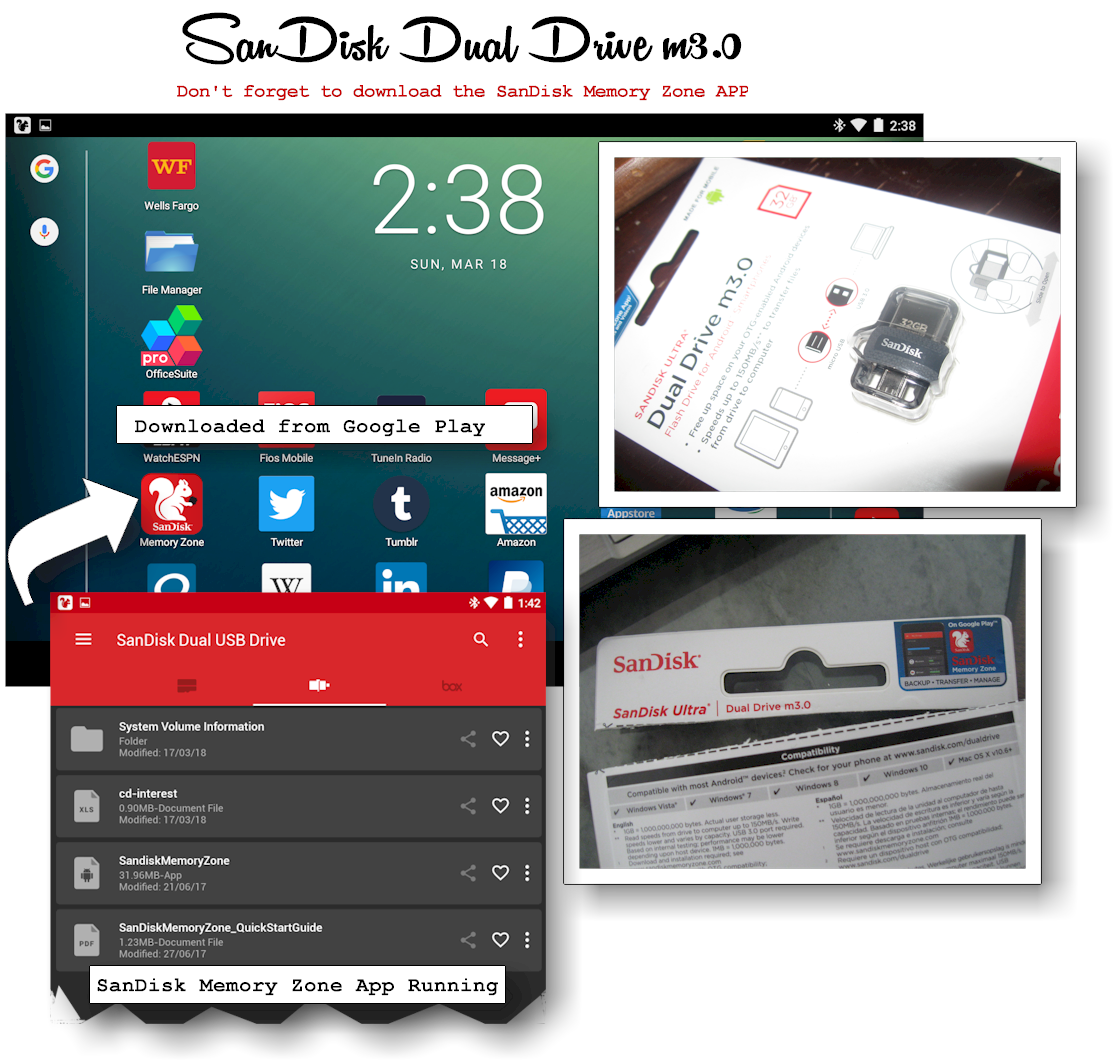 I added the SanDisk Ultra Dual Drive to these stores: Items I Have and Computer Electronics/Home Office.
What else have I been up to?
Also, you may have noticed I added a new category to this blog, Finance, so I have been thinking about relevant material as related to both business and personal finance that may be interesting.

Monday, January 22, 2018
Last Tuesday, I noticed an interesting email from Pinterest.com, highlighting Lemon Loaf Recipe ideas. Today, I decided to test one of the recipes (most who tested it, loved it.).
I am delighted with how these lemon loaves turned out. I only had a slight deviation from the original recipe. The recipe called for milk in the lemon glaze and I had none on hand, so I used half and half instead. I especially love the lemon glaze and the substitution did nothing to lessen the flavor.
The recipe also called for the zest of one lemon. After using a micro-plane to grate the lemon, I used a sharp knife to finely mince the zest. I have found that when a recipe calls for lemon zest, I tend to like it more- when the zest is minced a bit more.
I have also been cleaning out the basement and moving things around. I put components from an old stereo system in the guest bedroom and began testing the separate units. There may be a problem with the phonograph (turntable), however the other components are working fine.
I have been looking for new speakers to use with the system [currently using a pair of old headphones to check things out] and these caught my attention.
I think I am going to add the speakers to my Computer Electronics/Home Office store, listed below.
I love watching movies at home with stereo surround sound effects. Most of the televisions I use- have a stereo amp and speakers connected to the Verizon Set Top Box.
That said, I have been researching the Sound Bar offerings from Sony and Samsung which enable the same surround sound effects when combined with some of the newer high definition televisions. The new Sound Bar offerings enable more hook-up options i.e., bluetooth, HDMI, wifi, etc. than older amps and look pretty impressive. Is your den in theater mode?

Saturday, December 30, 2017
I have not done a video in awhile, so I decided to demonstrate some of the things I have been doing with our new Alexa Echo. The video is a bit longer than some of my others- and of course I am still coming up to speed with taping, editing, and using video in blog posts.
New holiday gifts were added to the "Items I Have" list. Are you taking advantage of some of the great after Christmas bargins?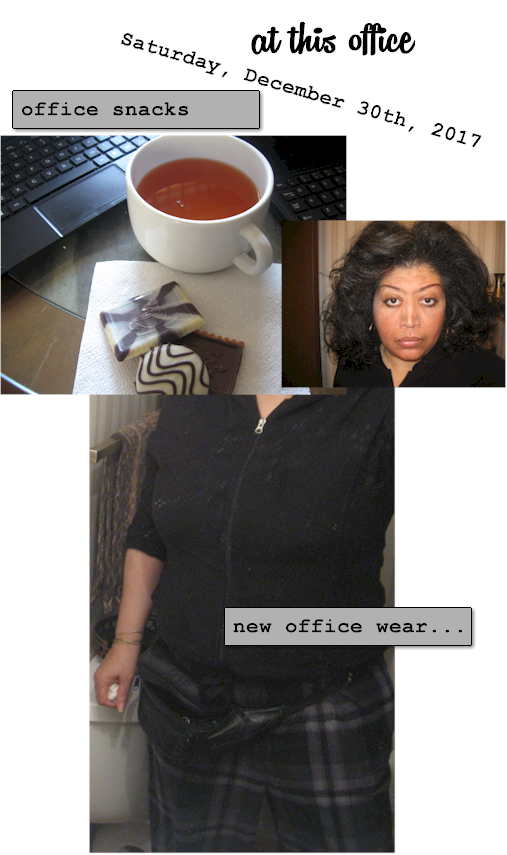 Happy New Year!

Saturday, September 02, 2017
Many are aware- I use Thingamablog as the content management platform for both my business and personal blogs. I started using Thingamablog in 2010 when Blogger decided to discontinue FTP support for users who hosted their blogs on private domains.
Thingamablog runs standalone on desktop computers and requires Java installation, if not already installed on the system.
In my opinion, the Thingamablog platform offers more security in that the entire application and post database are maintained off line. What this means? The master copies of my blogs are maintained off line and are tamper proof.
This also allows for easy backup to external storage devices of the off-line applications and databases, as opposed to online site backups.
That said, in my case I also backup my entire website so snap-shots of both the remix.qisoftware.com and personal.qisoftware.com sub-domains where I maintain the blogs, are also backed-up when I perform full-site backups.
Useful links:
In 2010, I also established the Facebook group [referenced above], for Thingamablog users. We are always looking for new members, so if you are interested in this blogging/content management tool, please join us.

Tuesday, June 06, 2017
One of my banks offers rewards for using their credit card. I love this concept and pay for most purchases with the card.
This month, charges itemized on the bill included:
Eye Glasses & Contact Lens Prescriptions
Contact Lenses [2 boxes]
Three new domain registrations totaling about $35
Web Hosting qisoftware.com
Cell Phone
Mother's Day Gift for my Mother
Total charges last month; about $397. This added about $4.00 to my rewards account balance bringing it to $44.82. The credit card issuer will send a check when the balance reaches $50.
Noted in the illustration above, this morning I paid the entire card balance. This ensures I do not incur interest charges on any carryover balance, making the cash rewards the card offers even more attractive.
Last month, I noticed Amazon also offers a similar cash rewards [Visa] card. I have a great card, however this appears to be something worth looking into-- Amazon Rewards Visa by Chase.