Friday, September 15, 2023
Recently, I think because of an uptick in blog posts- I noticed the numbers from the header bidding resource I integrated on areas of qisoftware.com in October 2018 began to show an increase.
Based on the information in this IAB Tech Lab discussion Why the 'OWNERDOMAIN' & 'MANAGERDOMAIN' fields are important additions to ADS.TXT...

... I added (late September 13, 2023) the following lines to my ads.txt file as illustrated below.

My sellers.json file was left unchanged.

After updating the qisoftware.com ads.txt file the analysis resource offered by sellers.guide for my domain, qisoftware.com changed as noted below.
Just for information, how my Google Adsense and header bidding resource (UAM) accounts report my seller information...

On September 14, 2023, my header bidding numbers decreased to ZERO and today, though still early, the numbers appear to be headed in the same direction (ZERO).
My header bidding numbers are now zero after updating my ads.txt file. It also appears someone else is selling my ad space. Maybe I should not have done all of my site's ad integrations, however it seemed pretty straight forward after lots of research. What am I missing?
Reference discussions about QiSoftware advertising resources and integrations:

Sunday, September 10, 2023
When it comes to graphics for content creation, sites, or presentations I have to rely on my own non artistic abilities.
That said, I developed Graphical User Interfaces for programs using C and the X-Window platform on Unix and DEC systems. This allowed me to screengrab program interfaces and incorporate the captured images in my user's guides and software product specifications.
Today, I continue to use a lot of screengrabs when creating content, however mainly because I think graphics explain more easily what I wish to convey.
In addition to screengrabs, I use fonts to try to assist with graphics I need for my sites. For instance, the following illustration shows two graphics files I created using only fonts.

When I do need to use a graphic, I use several versions of old software called Corel Gallery. I like this software because it offers vector data files for most of the elements in each package. Vector data allows for easier manipulation of the graphics files. Bit map graphics are like GIF, PNG, or Jpeg files. Vector graphics are transformed and un-grouped if the need arises without losing data. Examples of vector graphics files are Windows metafiles (WMF) and Computer Graphics Metafile (CGM).
In addition, especially with the technological advancements of digital cameras, I take and use a lot of photos.
What else do I use for graphics and content creation? Latest releases of Microsoft Office products and an older Microsoft product called ImageComposer.
Now- we come to why I am posting. In my opinion, ImageComposer is so powerful, I thought I did need anything else for graphics except PowerPoint to manipulate vector graphics files. That said, the program is older and it only supports bit map or raster graphics files (not vector graphics files).
Then I noticed several Instagram reels showing tricks for PowerPoint and I decided to start playing around. I can do a lot of the tricks with ImageComposer, and really do not have the time to play a lot with graphics, however, I do think these tricks are useful. If like me- you do all of your own graphics work- you may want to play around with an office copy of PowerPoint (a copy you can check out, do not want you to get in trouble).
I created a new video showing some of the neat things PowerPoint offers.

Friday, September 01, 2023
When I first decided (September 2021) to go online with my own ecommerce shop WiredShops I was very excited about the prospect. The entry I posted as a new shop owner.
I had several limiting factors:
Website cost

Domain Registration Costs
Hosting
Custom Site Design
Listing Products

Inventory Costs
Time Available For This New Business Activity
I cannot say this online shop is a failure, because I love the fact I own it and my cost to own is/was very low.
The time it took to populate the shop was expensive and I use the API service offered by my drop shipper which is not as straight forward as I would like. I did not use a service like Shopify, which in most cases has an associated cost, whereas the API does not- other than my time. Coming up to speed on the OpenCart software was not as time consuming.
That said, I have only had one sale and that- because I asked a relative to ensure my cart/payment hookups were working. They are.
I also tested with the Paypal sandbox cart however, sometimes the results seemed to vary, the reason I tested with an actual sale. I believe there is unlawful interference with this business venture. I have asked DOJ to look into this.
I registered the wired-shops.com for about $10 a year. wiredshops.com was available, however a lot more expensive.
I installed the custom OpenCart site design myself.
I decided drop shipping- at the time, was a more cost effective solution.
The actual inventory acquisition costs were low.
So why have I decided to revisit my efforts in this area?
Lately, I have made a lot of garden salads and decided I needed a salad spinner.
I checked with my drop shipper and found a spinner I thought would also be perfect for my online shop. Now, keep in mind, I have done some research since the pandemic and knew shipping costs had been affected by the global issue and then more recently- inflation rates. So I was sort of prepared for the new shipping rates. Are you, if you are thinking about opening a shop?

I also found the salad spinner I liked on Amazon. I think I am going to place an order with Amazon for my personal use and to ensure the quality is what I expect.

Tuesday, August 29, 2023
I have been working several projects, including:
Integration of a Google-certified Consent Management Platform (CMP) to all of my sites and subdomains, i.e., WiredPages, It's Personal (this blog), etc.
MS Access Database to maintain my Amazon affiliate links & stores
Researching and setting up a new Certificate of Deposit (CD).
The first project listed above- was actually completed earlier today so let's start there.
For several months, the home screen of my Google Adsense account has shown the following notice.

Several years ago, I integrated the CloudFlare interface to all areas of my sites to handle the General Data Protection Regulation (GDPR) law that came into effect in May 2018.
CloudFlare is not a Google-certified Consent Management Platform (CMP), the reason the notice began to appear several months ago on the homepage of my Adsense account.

So from the above list of certified CMPs, I chose Quantcast because I have been using the service for years on all areas of my sites to track traffic and other statistics, and thought it was the natural choice for my needs.

Quantcast allowed the option to show the popup message and dialog options to only EEA and UK visitors to my sites, so those in other areas including the U.S., will not see the message nor options.
The second project listed above, MS Access database to handle affiliate links was completed on Sunday. I am pretty pleased with how this project turned out, and happy I have a more efficient way to maintain and provide my Amazon affiliate data. See the upper sidebar of this blog (under Amazon Stores) or the WiredPages Libraries page for illustration of what the new database provides.
The last project, setup a new savings CD- was actually completed on August 22, 2023 when I noticed the APY on a 16 month term CD jumped from 5.10% to 5.25%. I had transferred the funds from two of my checking accounts a few days earlier and hoped the APY would increase. It did, and I set it up.

Thursday, May 04, 2023
Since the beginning of the year (2023), I have had a number of problems with my new real estate site.
I installed the core site area on a subdomain (realty.reginathomas.studio), because I decided to use the WordPress CMS.
I used Wordpress quite a bit in the past, however in 2011 decided the program's programmers changed too many core features for new releases.
In addition, my web hosting services regularly requested I allow the updates for outdated Wordpress installations. This meant I had to stop what I was doing and "fix" any problems that arose because of a new Wordpress update.
This was very time consuming, so I moved on to Thingamablog.
The main site (reginathomas.studio) area is a Thingamablog. I use the main site area as a blog and the subdomain (realty.reginathomas.studio) to maintain property listings.
When (March 2022), I initially installed Wordpress for my new real estate site- the Wordpress version was 5.9.2.
In March 2023, when I began having issues with the automatic updates installed on my site, I changed the wp-config.php to disable the automatic Wordpress updates. See the following illustration.
My current Wordpress version is 6.1.1 and no longer works. The latest release of Wordpress is 6.2.
I spent most of yesterday researching this problem with no luck. It was almost as if someone else was online at the same time changing my .htaccess file as I was trying different options. The error is a 403 code which is normally very easy to correct.
Long story short, I have updated most of the links to the Wordpress site to the blog on the main area. When I stop screaming (get off my site), I will look at this issue again.

Friday, February 24, 2023
Yesterday, I installed a more robust version of the new site, MarylandBloggers.com.
This evening as I was finishing up, I decided to make a short video of the major update (first element listed below), I added today.
Added a JQuery Hamburger Menu to the top left area of the site.
Several minor issues with design and spacing.
Researching promotion avenues.
Created one or two new graphics.
Why is the Jquery Hamburger element a big deal? Well it took most of the day for me to customize it, and have it work with my custom site design.
You may have noticed my real estate site, uses a hamburger menu and yes, I installed the site.
That said, the menu for that site came with the template I decided to incorporate, and though I did not have to rework the hamburger menu, I did have to rework several other areas on the real estate template I found.
Initially, I planned to develop a new online MySQL database for marylandbloggers.com, however decided some of the feedback suggested I needed a more secure way of storing data for the site.
Thingamablog has a robust database that for the time being- will suit my security issues. I like Thingamablog because the entire master copy of the database sits on my hard drive along with external backup drives.

Friday, February 10, 2023
Recently, when the admin for the Facebook group, MarylandBloggers polled members about blogging and other content creation activities, I noted of the 15 or so respondents- only 23% were still blogging.
That said, most indicated they were using Instagram more (29%), while a smaller percentage were creating content for TikTok and Youtube.
I have been researching Youtube bloggers, which are also known as vloggers. I have to say, that my research provides if you do not have a paid sponsor for each video, the Adsense revenue alone is probably not going to offset the cost of the equipment, software used for editing, and time required for this content creation activity.
So why did I register a new domain, marylandbloggers.com? Mainly because it was only $10.74 a year and I wanted to see if I could come up with a business plan.
I am actually looking to promote both bloggers and vloggers from Maryland. I feel effective use of promotional tools can help with other business areas, and I would like to assist other small business owners in this area.
The morning (February 8, 2023), I registered the new domain (actually renewing my real estate site when I checked to see if "marylandbloggers.com" was available), and roughed out the database schema, using MS Excel. The final version will be used for the online database which will provide a directory of Maryland content creators.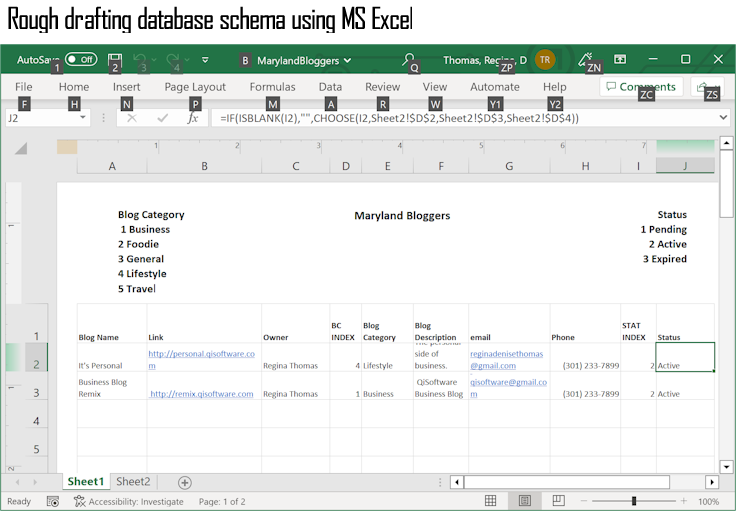 Also playing around with graphics and slogans for the new site.
This project is not a high priority for me, however I do feel that with the current state of employment issues, anything anyone can do to help the communities they are a part of, might be useful.

Thursday, December 15, 2022
Yesterday, I spent the day setting up Python on my experimental development mini PC and researching what would be required to setup my online hosting services to run cgi-bin Python files.
Normally, when I run php, c, or java files from the Netbeans environment, I can launch an external browser window to show the results.
The Netbeans plugin I installed for Python does not allow that option so I used the existing XAMPP Apache server to allow for manual requests of the Python script files. Php and MySQL requests also require the XAMPP Apache server in my developmental environments, however Netbeans can directly launch the browser using XAMPP in the background for these types of programs.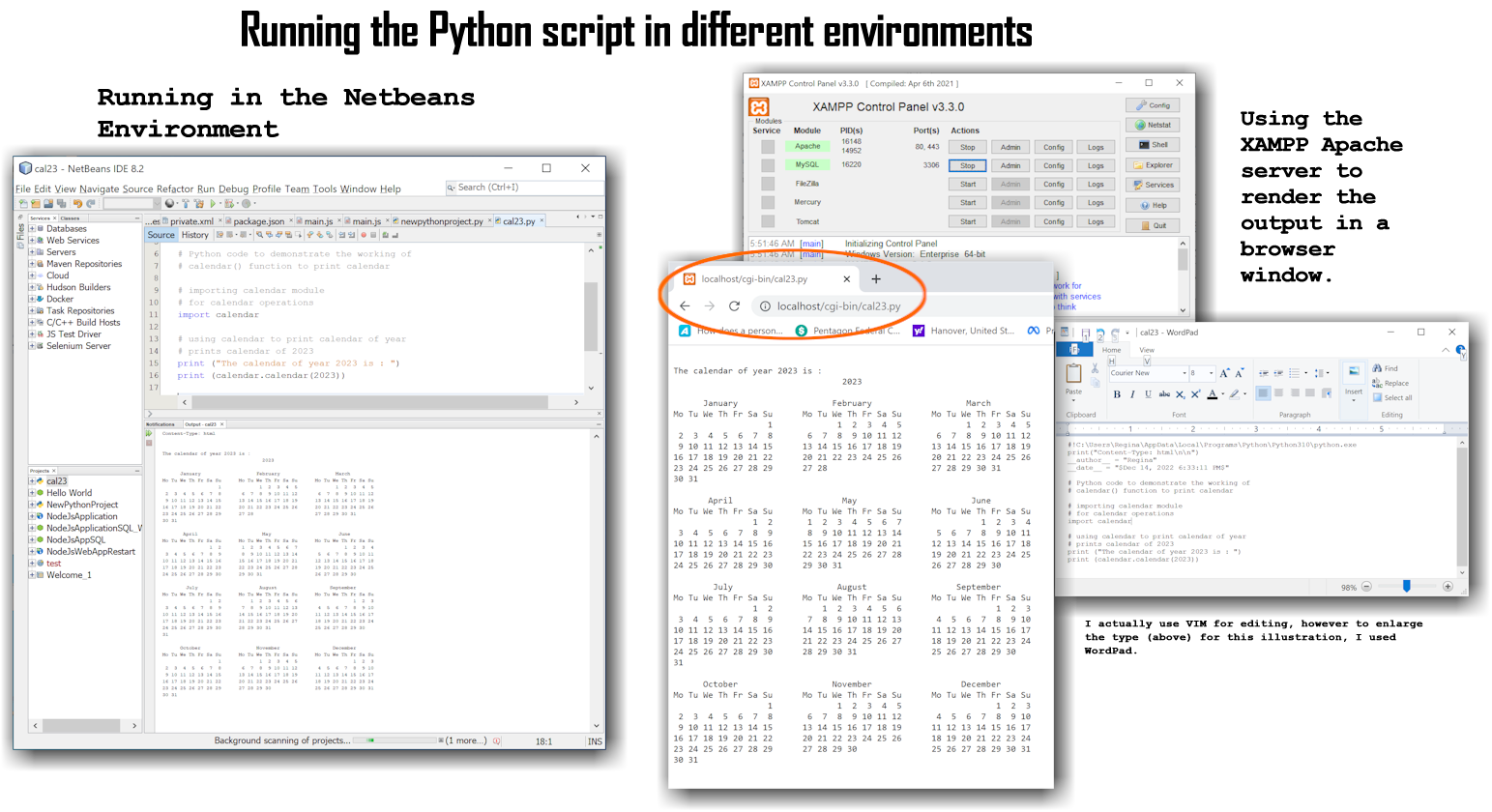 I installed Python39 in August 2021 on the same mini PC, however neglected to set the path correctly, so reinstalled a later version yesterday to enable the Apache XAMPP server access. Netbeans had no problem finding the older Python installation even though it was not part of the path environment.
I used to routinely update Windows autoexec.bat and config.sys system files and now cringe at the thought of having to manually do this with newer versions of Windows operating systems. The problem? More, where did I put those.
What about Python running on my online hosts (qisoftware.com/hosting-q.com)? I am continuing research into running cgi-bin files from my Apache Tomcat online hosting packages. That said, Python is an open scripting language, so I have no plans to use this resource for my own needs however can provide support for clients who would prefer programs written in that language.
Below is a photo of the mini PC (also the real estate course mini PC) I use to setup new experimental development environments. I do not setup these experimental development tools on the mini PC I use for production purposes (cannot afford to corrupt that environment), however the mini PC I use for the non-production development is now also the host for this blog. Long story short, I am thinking of getting a new mini PC. What do you think of the one shown below?
Still in the research phase of this purchase, however I have to say, I love the footprint (size) on the PC I have shown above.

Friday, November 04, 2022
Yesterday, the applications on the WiredPages Business page that retrieve economic data and press releases from the FRED St. Louis API resource (fred.stlouisfed.org/)- went down.
Since other applications using the same resource running on WiredPages were not experiencing the same issues, I decided to go to bed and investigate today. There are many applications running on WiredPages using the FRED St. Louis API resource. The difference with the applications on the business page? Those are hosted directly on qisoftware.com.
This quick post only to notify that I am aware of the problem and the qisoftware.com web hosting service is investigating the issue.

Monday, October 17, 2022
This blog (It's Personal) has been around since December 2011 and there are about 783 posts (excluding this post). I started the blog to replace Q's Wire a Wordpress blog, that is no longer published. For added security, I decided to use the Thingamablog content management system (CMS) to maintain the blog in a local environment.
What does this mean really? The entire blog (master copy) is maintained on a PC hard drive and new posts/images/videos are SFTP/FTP'd to my online server when the application's post publish button is used.
About six months ago, I began having problems with the keyboard on my 2010 Windows XP Acer Netbook, shown below.
In addition, most online services no longer supported the browsers and email clients available for the older Windows XP system, so I knew I had to move on.
About a week ago, I decided to move this blog to the Guzila Mini PC I purchased for my real estate class. Since the completion of the class, I have added three elements to the system; a 500GB internal hard drive, a 1920x1080 24 inch monitor (doubles as a streaming device when the system is connected in my bedroom) and a 13.3 inch 2K portable monitor for my office (zoom meetings, high resolution detail video editing and other efforts).
Although this was not the only task, i.e., moving this blog- I had on tap for the week, it was the most time consuming and tedious. Why?

I have more work to do insofar as checking links across all of my sites, however, I think most of the work is done. What about my Google Juice (old links that are now dead)? I knew the risks when I decided to make this move and if I ever have to move the blog again, I will not have to update the links.

Wednesday, June 22, 2022
I built my new real estate site using WordPress, incorporating several plugins to further one of the goals of the business plan, sourced marketing.
-->".replace(/\r\n/g,"").substring(0,10)); if(nstr)document.getElementById("b776").innerHTML='Read More';
Monday, March 21, 2022
It has been awhile since I have done any work with WordPress. Q's Wire was a WordPress blog that went online in the spring of 2005, and was retired in 2020 or so.
Over the weekend I began researching options for establishing a web presence for my real estate interests. The first major hurdle involved my current domain registrations and could any of those domains be used.
-->".replace(/\r\n/g,"").substring(0,10)); if(nstr)document.getElementById("b763").innerHTML='Read More';
Saturday, September 11, 2021
In August (2021), I began researching how new commerce initiatives are being adopted. I wanted to understand how independent retailers are using services like PayPal Here and PayPal Zettle. See this post.
Pop up shops are becoming very popular and owners are using their card readers to handle their (POS) transactions. Listed below, several Youtube videos I watched to get an idea of how these Popup Shops work.
I researched Artsy Ki's (last video) online shop which showed how she used her online presence to help drive sales.
No, I am not planning a pop up shop, however I did want to learn more about software support services or advertising I might offer retailers who are thinking of- or actually working in this area.
Researched where and how to setup an online shop.

OpenCart- self hosted option selected.
OSCommerce self hosted option.
Shopify shop- (hosted on their site) and similar sites researched. Cost factors an issue. Most who use these types of services, do not have the time to come up to speed in terms of the software skills required to maintain a self hosted shop.
Because I chose a self hosted service (OpenCart), I had to use the drop shipper's API resource to link my shop's products to the service's products. So I also had to come up to speed on the use of the API. Automated linkage was provided for shops hosted on eBay, Shopify, WooCommerce, SquareSpace, etc.

Registered a new domain, wired-shops.com. Cost $10.74 per year. wiredshops.com was available, however cost was well over $4000. (As of 9/11/21, visitors may access the site, however the PayPal hookup is set to the sandbox account). I was lying in bed early, Tuesday morning (Septemeber 7th, 2021), and decided on a site name wiredshops.com. Half an hour later, I had wired-shops.com registered. I used to provide web hosting services, the reason it was easy for me to register the domain so quickly. I then added the domain to qisoftware.com hosting as an addon domain for testing.
Drop shipping services researched.
Legal issues researched. Keep in mind, Qisoftware is a registered business entity in the state of Maryland.

Used FormSwift.com to create a shop Privacy Policy.
Currently, working on a Terms & Conditions statement for the shop.

Sometime ago, I signed up to use the USPS API resource (see this QiSoftware demonstration page), so it was easy to insert the correct registration information in the OpenCart shipping module to handle shipping estimate calculations.
Thinking about a couple of programs to write Excel and json data for import to the drop shipping service.
Below, a screen shot of the homepage of the new shop. It is still in setup mode. I liked the default template that was installed when I setup OpenCart.

Currently, I am adding more products to my shop and linking the products via the API service. I plan to make this a more automated task, however right now it is rather tedious. What is the reason drop shippers cannot automate the service for self hosted shop owners? Self hosted shops tend to have more custom mods and are inconsistent insofar as how to handle import and export data.
This has been a good learning experience for me and I feel I know a great deal more.
On Thursday, September 2, 2021, there was a major issue in my life which has been mostly handled, however the fact that I have been able to get this far with this project (during this time) surprises me, given I knew nothing about drop shipping. This is not for everyone. I want this post to show, I had a lot of pieces in place to be able to do this. This could be very expensive if the proper research is not in place.

Saturday, August 28, 2021
The following interface, is a Java Servlet powered by the CJ Product Search API using GraphQL. The jQuery widget integrated directly within the program- provides the display and navigation of the products.


The jQuery widget was adapted from a CJ supplied interface which uses affiliate specified product selections for showcase. An example is provided in the last post.
The interface demonstrated in this post- allows site visitors to specify the search criteria.
I am currently beta testing the tool. Once complete, the program will be installed in the main site area (qisoftware.com) as a CJ Product Search API demonstration for potential clients.
I am still deciding on user interface issues, e.g., how many rows to display. Leave a comment if you wish to respond or have a program bug report.
Disclosure: I sometimes use affiliate links in content. This will not cost you anything. There is a chance I will receive a fee if my affiliate links are used for purchases. Thanks for your support. Also see the site wide disclosure policy using the link at the bottom of each page, labeled "Disclosure Policy".

Saturday, August 21, 2021
Recent popular browser releases have set new style and site tracking defaults. Shown on the right, an example of the new default HTML radio button. Though the azure blue is striking, I felt it distracted from areas where I use radio buttons, so I decided against the new default style for WiredPages.
It turns out, changing the new default radio button style was not an easy task and I ended up using a CSS workaround I found online. Below, before and after illustrations of the fix I implemented for WiredPages to keep the overall style of the site consistent.
Note, I have not installed the CIA World Factbook interface used in the illustrations above, however the fix is demonstrated on the live WiredPages listed below:
The other issue I wanted to discuss as related to new browser releases, is a security feature that prevents modern browsers from accessing data and information from a referenced site- from that which is actually being visited.
In my case, the problem is mostly overridden by Apache Tomcat configuration settings, enabling the setup of cross domain permissions for the two domains I use i.e., qisoftware.com and hosting-q.com.
My main site of course is- qisoftware.com, however I use hosting-q.com to host many of the programs integrated within the pages of WiredPages (a sub-domain of qisoftware.com) and other areas of qisoftware.com.
If you find you have problems accessing some of the tools on WiredPages, and you are using Firefox or Safari on an iPhone, try the setting features illustrated in the following diagram for each browser type.
Chrome browsers should not present a problem because they use the Apache Tomcat overrides. It is not that Firefox and Safari handle the Apache Tomcat configuration incorrectly, it is more that the setting can be overridden locally.
That said, Chrome today, is the most popular browser and most users should have no problems accessing referenced external site resources from the original calling domain/site if the site administrator has setup the configuration correctly.
The following illustration provides browser market share worldwide data for July 2021 according to StatCounter Global Data.
W3Schools also tracks browser statics, however the data is based on visitors to its site, though still very useful in that it is a popular site.
Privacy and security issues have become very important in the browser developer community, and I have done a lot of research to handle some of the new security procedures that have been put in place. I am always interested in problems, so if you have one with WiredPages insofar as program access or other programs on qisoftware.com please leave a comment and let me know.

Wednesday, June 16, 2021
Recently, I added comments and the option to shorten initial posts with a "read more" teaser to this blog and my business blog. I discuss this project in this post on my business blog.
To minimize legal issues, I use the Thingamablog content management system (CMS) to publish my off-line blog posts to my sites. This insures that I maintain the master copies of my blogs off-line on computers and as backups on external storage devices.
One of the problems with using a CMS hosted locally, and not popular online services like Blogger and WordPress, are issues with comments. Most users who go this route, use services like DISQUS to host the comments associated with their blogs.
The illustration below, shows the script added to the Thingamablog entry.template file for each blog (this and Remix), to handle comments and the read more teaser.
To date, though I have added the feature to this blog, I have not used the "read more" teaser, so I used an illustration from Remix, where I have used the new feature.
I also want to note, if you are a Thingamablog user, and want to try the "read more" teaser solution I discuss in the Remix post, you have to insure the HTML inserted into the Extra 1 field is clean. No double quotes, carriage returns, line feeds, etc. Why? My implementation uses Javascript which has an issue while reading the remaining post text- stored in the Extra 1 field. I only needed to check if the field was not null and believe it or not, that check was not easy.
Initially, I installed DISQUS on each blog, however, by late last week interesting ads began to appear on this blog, so I decided to install a self-hosted comment script. After a bit of research, I decided to use Commentics.
Several issues installing the new script. The first, I use Apache Tomcat so any time I add a PHP driven feature I have issues. One of the workarounds I have found, install the new feature on a sub-domain and make sure to update the underlying Tomcat XML files to handle the new sub-domain.
The second, I did not realize Commentics was a cPanel offering through Softaculous. I downloaded the script and prepared to SSH the files to my server when I found I could no longer use the SCP command I illustrated in this post. In 2017, when I first setup ssh access on qisoftware.com it took me a morning or so to get it setup correctly. I love being able to copy directory trees with a single line of code. Not sure why this is blocked, however I used FileZilla to copy the files. Then I discovered Commentics is a script offered by my web host.
To enable Commentics on this blog, I added the lines of code indicated, to the header and lower areas of the entry.template file of this blog's template.
The following illustration shows the last blog post entry with the Commentics script for comments in the lower area.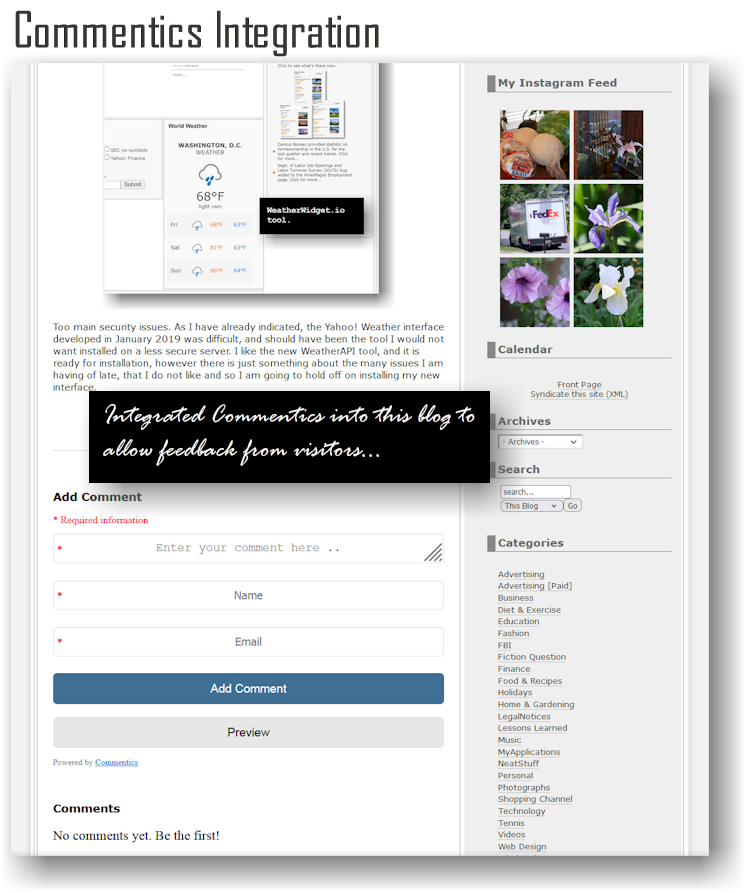 I continue to tweak the Commentics template for this blog. I really like this service because it offers a lot of features. Because I am concerned with load issues, DISQUS continues to be the service used on Remix. That said, other than my test comments, I have no comments so I am not sure why I am concerned with this issue.

Sunday, May 09, 2021
Happy Mother's Day. I have been working different projects over the last week, in preparation for Mother's Day. I ordered online, however did stop by a garden center on Friday, for a hosta plant and marigolds for the planters on the deck.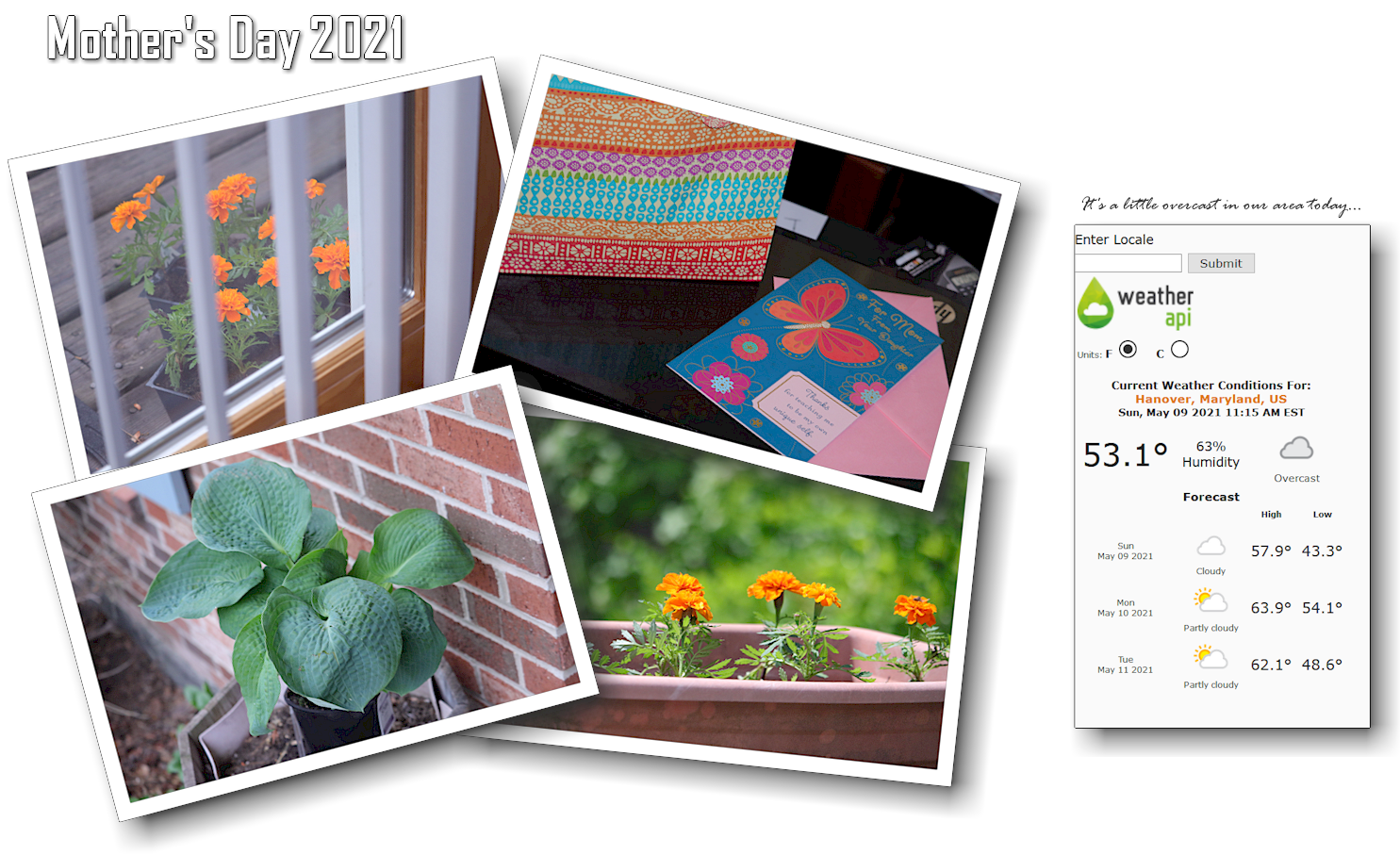 In our area it has been a bit overcast over the last 3 or 4 days, including today. The weather? That is another project I have been working. A new interface (Java Servlet) using the WeatherAPI resource.
The illustration below shows a side by side comparison of the Yahoo Weather interface used on WiredPages and the new WeatherAPI interface.
Most of the work for the new weather interface is complete. There are minor cosmetic changes I may implement, however, since I have no plans to install the new interface online, will probably hold off.

Monday, September 07, 2020
In 2009, I switched from a shared to a private Tomcat jsp hosting plan for use with qisoftware.com.
What is Tomcat?
Apache Tomcat is a long-lived, open source Java servlet container that implements several core Java enterprise specs, namely the Java Servlet, JavaServer Pages (JSP), and WebSockets.
The switch [on qisoftware.com's servers] enabled me to restart my private Tomcat service whenever the need arose.
The switch for hosting-q.com, where I maintain most of my Java Servlets, occurred in October 2018.
When I started using private Tomcat services, I only needed to be able to restart Tomcat so updates to the web.xml file and new Java .class files were recognized.
This to say, that if I ever had a problem with either shared or private Tomcat services-- I simply decided my web hosting providers should research and fix the problem.
In October 2018, a newer Tomcat private service was established on hosting-q.com, for which (quite frankly), I had to do a bit of research- to have it work correctly. Last week, I forgot I had to do this. Yes (even then), I tried asking the web hosting provider to resolve some of the issues, however now I realize, they feel if you ask for a private Tomcat hosting plan, then you know how to run a private Tomcat service.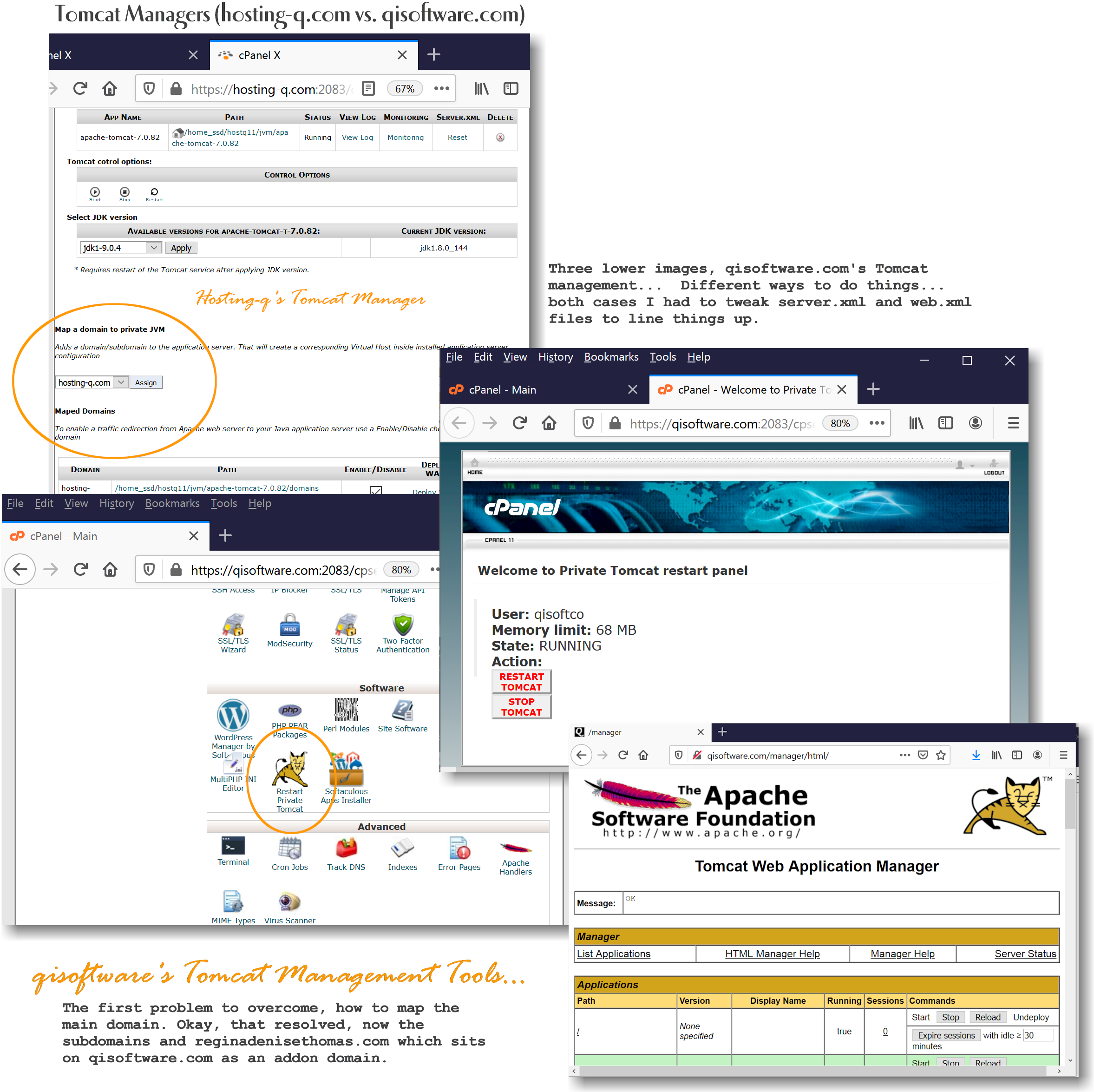 Last Wednesday (September 2, 2020), when I okayed the update for the current Java JDK version 1.6, the web hosts also indicated they would update both Tomcat to version- 8 (8.5) and the Java JDK to 1.8. When this happened, the site dropped almost immediately.
Java JDK 1.8 is considered a must have to handle today's SSL issues, and since I have been developing in that environment (JDK 1.8) since December 2019, I knew it was a must have for qisoftware.com servers.
Preliminary tests showed, I could not even install a simple Java JDK 1.8 test servlet on qisoftware.com servers without dropping the entire site (keep in mind when you use a private Tomcat service the Apache Tomcat server is used to run the entire site).
The other issue, for the last year or so, I have been migrating new tools, or updates of existing tools to hosting-q.com because qisoftware.com's versions of Java and Tomcat simply could not handle the new interfaces.
Two weeks ago, when hosting-q.com experienced an overload, I knew I had to do something about qisoftware.com- to assist in the efficient distribution and deployment of Java class files, between the two sites.
I had errands to run Wednesday (September 2, 2020) morning, and knew before I left- I had a lot of problems. When I returned, I was able to figure out how to map qisoftware.com and reginadenisethomas.com to the new Apache Tomcat Server.
By the end of Wednesday evening, I had the following sub-domains mapped.
forums.qisoftware.com
personal.qisoftware.com
remix.qisoftware.com
wiredpages.qisoftware.com
I probably should not admit to this, however here goes. While trying to get the sub-domains mapped, I inadvertently deleted all of the files in most of the sub-domains, reginadenisethomas.com and the rest of the lower directories under the main level.
No problem- remix.qisoftware.com and personal.qisoftware.com are Thingamablogs so I simply ran the local software and reinstalled each blog (personal.qisoftware.com took over nine hours to reinstall on a Verizon FiOS network-- think we are sharing some of our throughput with neighbors).
As requested two days before (August 31, 2020) by my web hosting providers, I made a backup of the entire site (oddly enough, Tomcat & WiredPages directories were missing), so it was easy to use a secure copy command to replace the deleted directory structures.
Other issues I had to resolve:
cgiemail-- though the cgi-bin directory appeared to be mapped, the MIT Form to Email application I have used since 2004 or so, simply would not work. Created a PHP Form-to-email Function to handle qisoftware.com/contact.html and wiredpages.qisoftware.com/busdir/SubmitListing.html.
index.php not recognized for forums.qisoftware.com. The following command set did work for 10 minutes and then suddenly dropped the Tomcat Server.


Had to come up with another way, which I am not happy about.

Continuing to look at this problem.
All of this to say, at this time, qblog.qisoftware.com (Q's Wire, MySQL Database uncorrupted) and blog.qisoftware.com (original Business Blog) are not installed. Very easy to use the secure copy command to load these sub-domains and the associated directory trees. I am simply weighing the options.
Did you want to ask if you should use Java Servlet Technology or use someone like me to develop custom tools? Yes. Most big sites use Java technology. It is more secure and executes faster than most scripting languages. Smaller sites can use a shared Tomcat environment. Developers like me-- need the Private Tomcat Server.

Saturday, June 06, 2020
I mentioned in the last post, there are several new tools ready for installation on WiredPages.
The following summarizes each tool, and provides illustration as to how the new tool will appear on each page.
The WiredPages Home page will get a Market Indices bug, which will provide timely information about stock markets.

The WiredPages Real Estate page will get a Mortgage Calculator.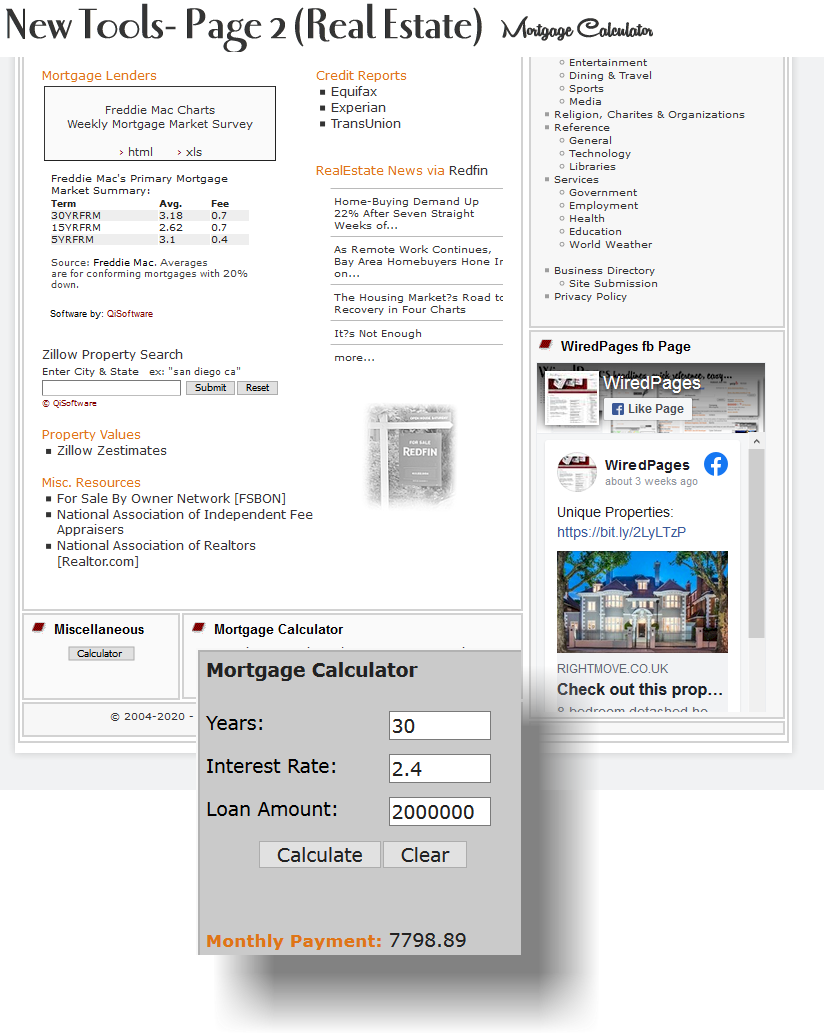 The WiredPages Business & Markets page will get the Market Indices bug along with a Biz Zip Search tool.

The WiredPages Style & Events page will get the "This Day In History Calendar". Click on any day and the tool provides important events in history for that day.

The WiredPages Media page gets the NPR One StationFinder interface.

The WiredPages Health & Wellness page will get the FatSecret Nutrition Information Search tool.

The WiredPages Arts & Entertainment page gets the Youtube Music Video Search & Playback tool.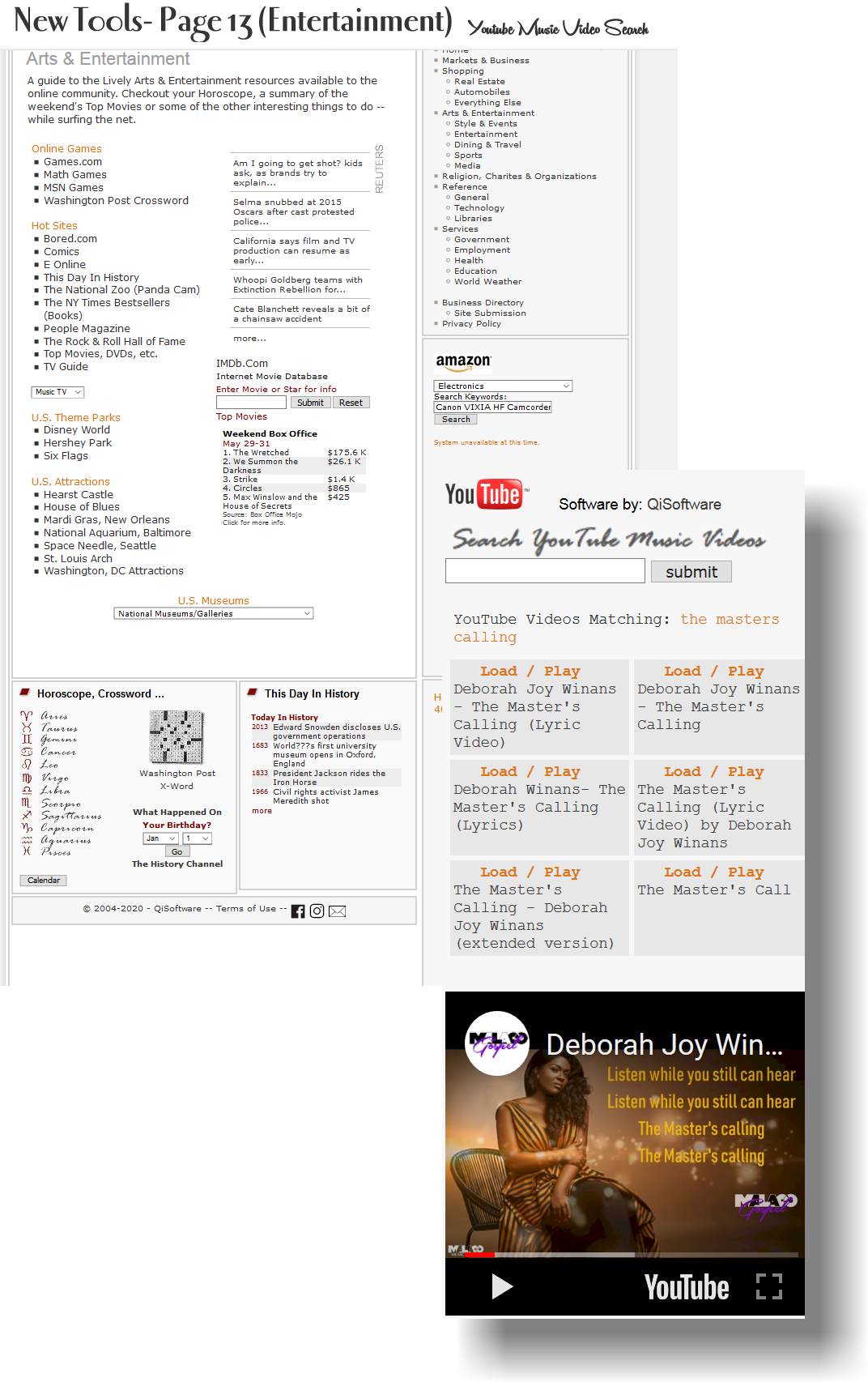 The WiredPages Reference page gets the World Factbook interface.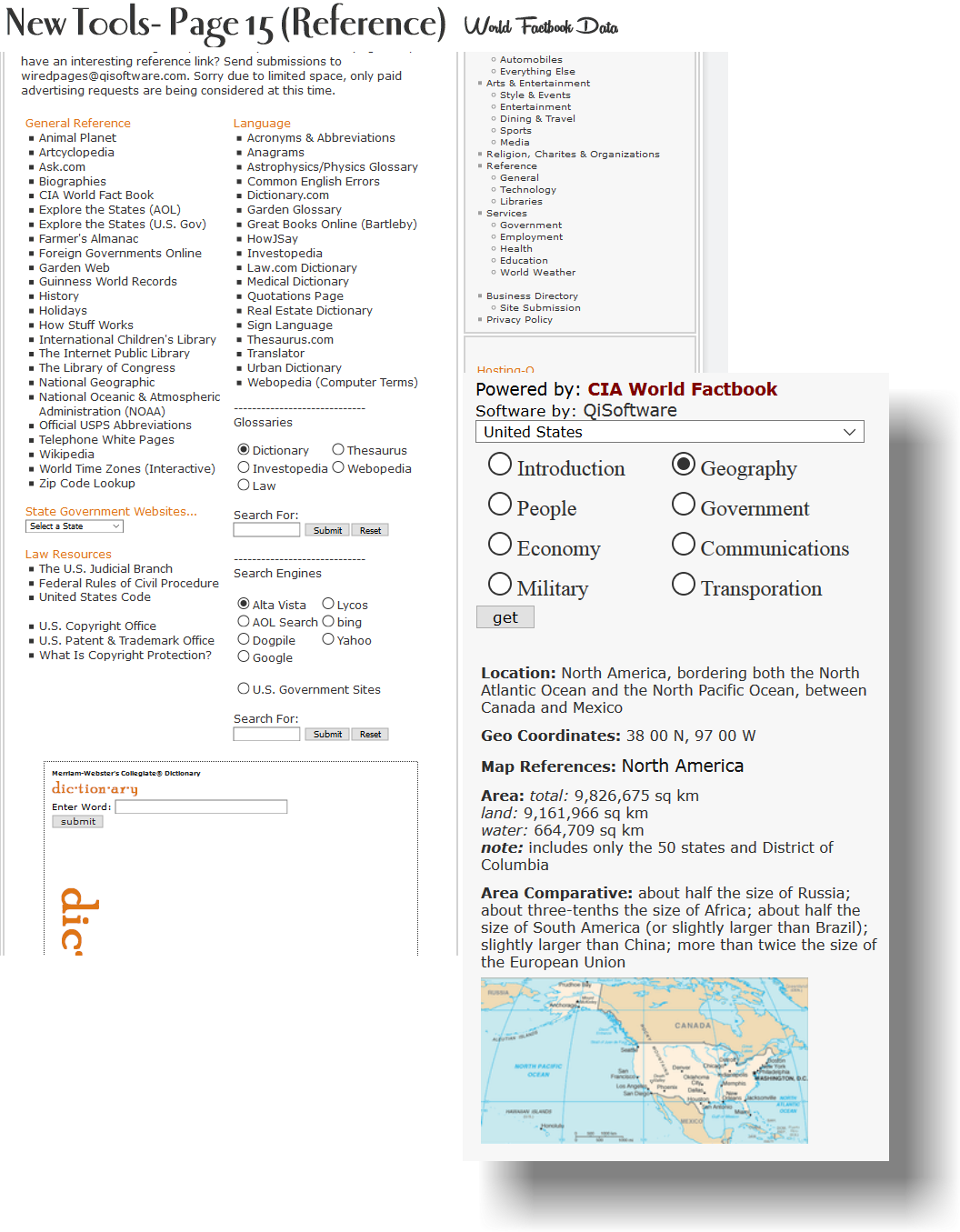 The WiredPages Technology page will get the Alexa Site Rank tool.

There are several other tools in the works, however the tools listed here are ready for installation. Why not install now? Security and potential server load issues. Why continue to develop new interfaces? I hope my issues will be resolved and quite frankly, I love developing new software tools for WiredPages.
Note, the overlay for each tool is larger for illustration purposes.

Monday, March 30, 2020
Recently, when I finished work on the new Amazon Product Advertising API interfaces for WiredPages, I decided to continue with other software projects, specifically an effort I put aside sometime ago.
The NPR One API resource is an interesting project, and quite frankly when I signed up over a year ago, I thought I would get back to the project a lot sooner. Part of the problem, it took longer than usual to set up the correct authorization procedures. When I finally "correctly" initialized all of the codes, I felt most of the hard work was done and it was only a matter of writing the interface.
Below, illustration of work completed on the project, with still lots more to do...
One of the biggest obstacles, I thought I could use HTML5 audio features to enable live streaming of radio programs. I could not. So I spent most of the weekend coming up to speed on a popular jQuery Player.
Over the years, I have decided against using cutting edge technologies like JQuery and AJAX because a lot of my development hardware is older and cannot support those newer technologies. However, what this has enabled me to do, is insure my sites work with both new and old technologies. My old desktop Mac can still run most of the tools on my sites without issues. Today, there are very few sites my old desktop Mac computer can visit.
Now, I do have access to newer hardware, however up until recently, my newer hardware was for testing and not development work. These days, I am using a Windows 10 Pro mini for a lot of development efforts. Updates to SSL protocols left me with little choice but to afford a newer development platform-- see the Items I Have link for more information.
So, back to my efforts this weekend... I am pretty happy with the jQuery Player I will be using for the NPR One API project, and will have to get over the fact that some of my hardware platforms will not be able to provide the live radio streams from NPR's network of stations.
The new tool is a Java Servlet and will be installed on the WiredPages Media page.