Wednesday, December 28, 2022
I thought it was a nice holiday. Relatives stopped by on Christmas Day and Monday. I spent Christmas morning baking, prepping a roast, and putting together the side table shown in the following photos (click the photos for details about the table).
Tuesday, I planned to be at the bank bright and early however, my bank deposit receipt is timestamped 11:31AM. I also wanted to get somethings heading into the weekend. I am making glazed pork chops and dressing for the first.
After leaving the bank I went by Costco. The velvet jeans I discussed in the last post were no longer on sale, however they had the deep burgundy in my size so I figured I could splurge on another pair at full price.
I felt the sweater and dark brown booties by Anne Klein, items I already owned- would match the burgundy jeans. The sweater is a good contrast however another pair of caramel suede Anne Klein's, here again- I already owned, was a better match.
Last night, after all my chores I had to set my hair. I meant to touch up my roots by the first, however feel I am going to miss the deadline.
I took some photos then started flipping channels. I noticed "Three Days of the Condor" was being aired on one of the cable channels. Are there movies you just stop and watch? This is one of mine.
I have a lot of plans for the new year, however I think I am going to close out the year doing mostly nothing. Oddly enough, I am looking forward to the next few days.

Monday, December 05, 2022
Maybe some of you are aware that I am an admin for my high school's alumni group on Facebook. This year, the varsity teams for girls volleyball and boys football have been involved in regional and state championship games. Over the last several weeks, it has been fun watching and reading the reactions from some of the 6K members of the alumni group to these events.
Though Arundel did not win either of these finals, they were pretty impressive throughout the season and many of the alumni members let them know.
What else have I been up to? Cooking, baking, shopping, working, being annoyed (last post), researching tech layoffs and financial news, and taking photos.

On Cyber Monday, I was at Costco bright and early to pickup a gift I wanted. There was a sizeable saving if I purchased the gift by November 28, 2022. Once I knew I had the gift (out of stock concern), I was able to order other gifts which arrived by Saturday, December 3, 2022. I am mostly finished with my holiday shopping, and Mint is happy to let me know I went over budget.
This year, I had a budget of $400 and spent about $425.
That said, if I had paid full price for everything, I would have spent about $650, so I had an overall savings of about $225.00.
Do you think that is a low budget for holiday gifts? These days, I tend to purchase things that are needed on the spot. Gifts are received throughout the year.
Do you want to know if I am losing weight with all of the holiday treats shown in the photos for this post? Yes, believe it or not. I have been getting exercise through chores and eating in moderation.
Hope your holiday plans are going well.

Tuesday, November 22, 2022
It has been a hectic November. Along with shopping, cooking, and normal business activities, I have had a number of unusual issues that required immediate attention.
Software issue #1, Freddie Mac discontinued a number of stats having to do with mortgage loan rates and discount and origination fees making it imperative that I update my software. Relatively easy fix that is reflected here and here.
On November 17, 2022, Freddie Mac changed the methodology of the Primary Mortgage Market Survey® (PMMS®). The weekly mortgage rate is no longer based on a survey of lenders. For more information regarding Freddie Mac's enhancement, see their research note. See more here.
Changes to the FatSecret API required attention, even though my software app is not installed on the WiredPages Health page. The FatSecret API provides nutrient information about specified foods. I periodically check all of my applications (even those offline) to ensure they are operable.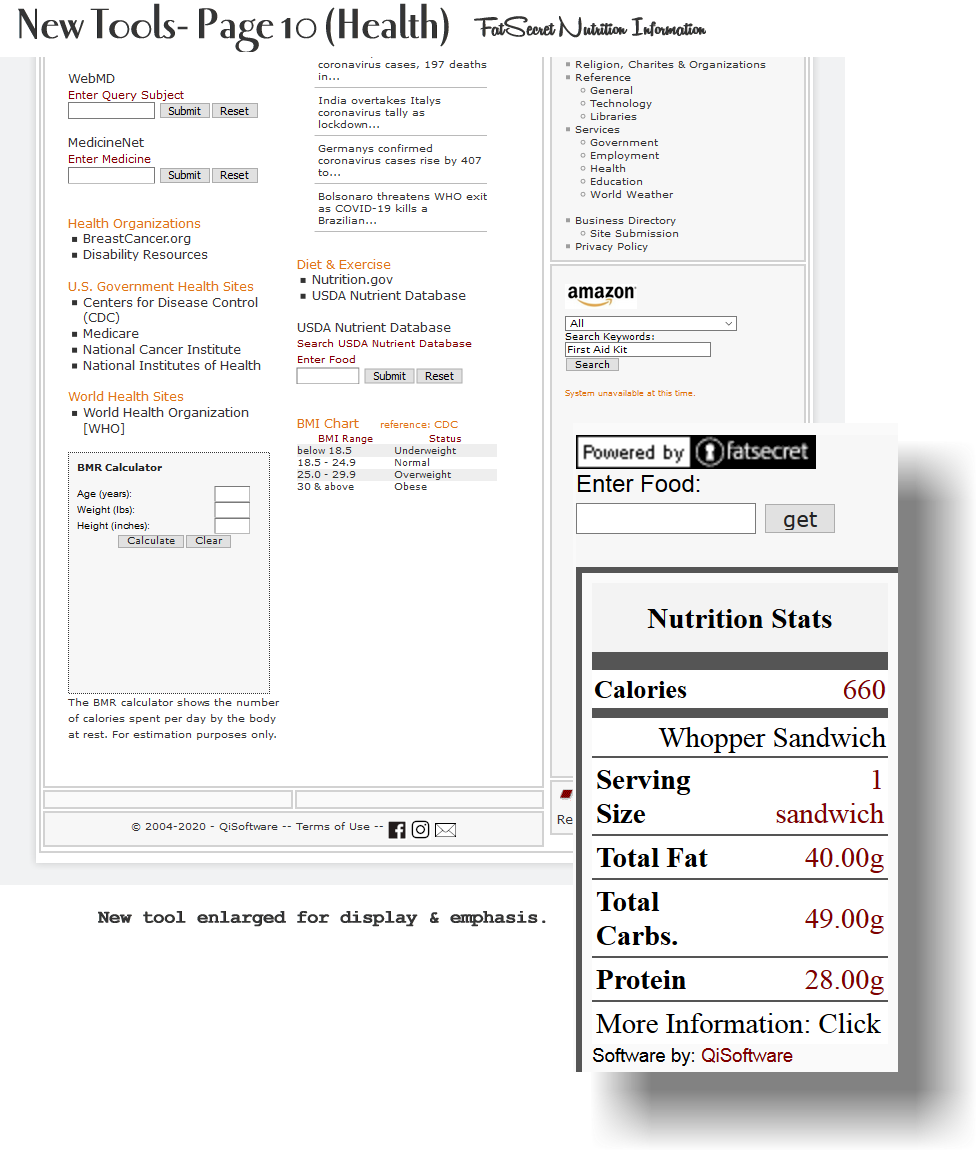 My access to the Amazon Product Advertising API is again available (based on sales). I have become used to the Native Ads that appear when the API is unavailable, so I decided to make that the default when a page using the app is requested.
WiredPages hosting one of two applications which use the Amazon Product Advertising API:
The difference now, the applications provide search results provided by the Amazon Product Advertising API.
It is Thanksgiving week and I began cooking this morning. I ran errands yesterday, and expect to be in, at least until Friday (day after Thanksgiving).
I am one of those people who researches and plans. So already, I have plans that have gone awry. I am expecting everything else to go as planned. Also hoping to get some rest. For some reason, all of these unexpected issues, including one or two not mentioned- are throwing me off kilter.
Hope your holiday plans are going as planned.

Monday, July 04, 2022
A major software issue I wanted to look into- involved my Instagram API Demonstrations, as provided: here and here.
The problem involved thumbnail requests of the photos and videos, which initially were being returned from the API as same size photos no matter what size originally uploaded to Instagram. See this link for illustration, the thumbnail requests initially worked.
Recently, when I uploaded a new photo to Instagram via my new iPad mini, the problem became more evident because the app on the iPad did not crop the photo in the same manner as the Android version. That is what prompted my decision to fix the problem now, rather than later.
The following video, discusses and demonstrates updates to several QiSoftware developed software tools including the Instagram demonstrations.
I am playing around with Microsoft's Power Point 365 and Active Presenter for online videos and presentations which is how I created the video in this blog post. I consider this effort in the early stages and will continue to try to perfect my efforts in this area.
Hope you are having a nice holiday...

Monday, January 17, 2022
Knew I was staying in over the weekend. It was going to be a long holiday weekend. Local weather forecasters had been calling for a winter storm for the four days leading into the weekend.
Had a pound of 93% lean ground beef in the freezer, package of McCormick Hot Chili Seasoning Mix, two 8oz cans of tomato sauce, pinto beans, onions, green peppers, eggs, milk, butter and Jiffy Corn Muffin Mix, so I thought why not.
I love hot chili on a cold day. Is your team in the playoffs?

Friday, November 26, 2021
Thanksgiving week started bright and early for me- Monday morning when I was a non-participant in a virtual meeting that began around 8:00 am. The meeting ended around 9:00 am. I was on my way to the market (Costco/Safeway) by 11:30 am for some last minute shopping.
On Tuesday, I began cooking for Thanksgiving. I started with an easy to make cream cheese tart which required a day to set up in the fridge.
Tuesday, I also made the cornbread for the dressing. I always try to make the cornbread for the stuffing at least two days prior to the holiday.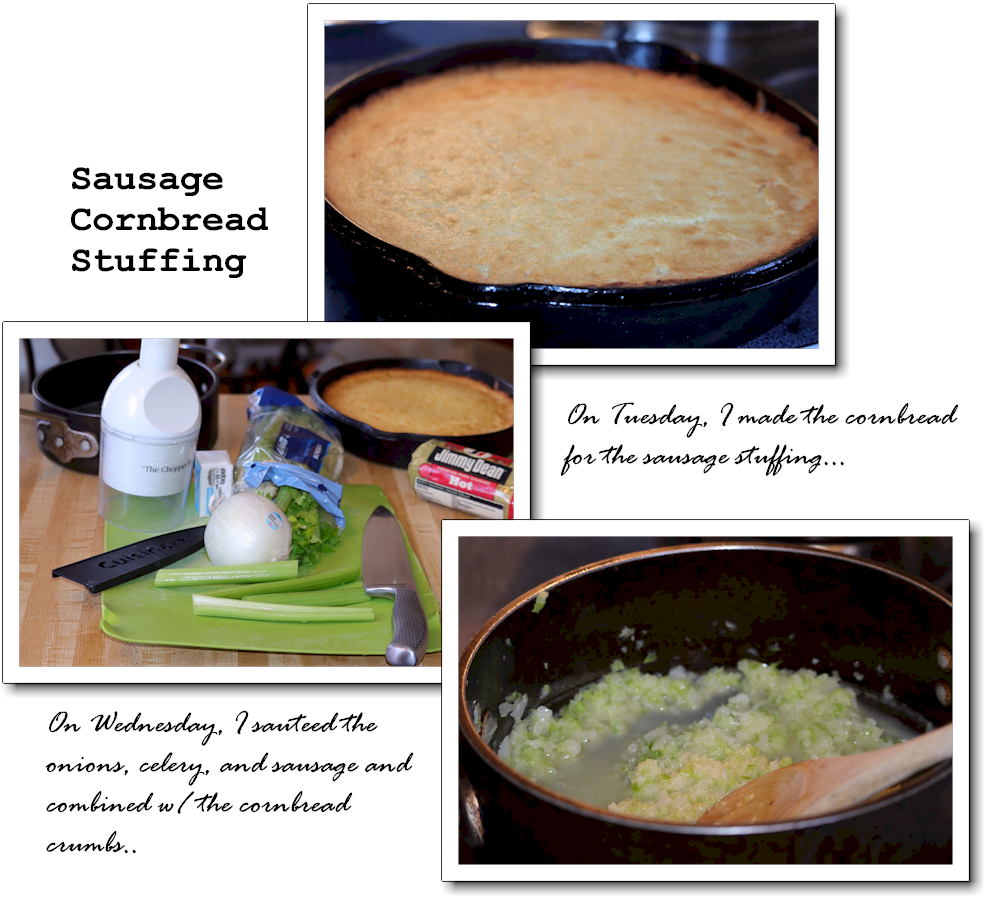 On Wednesday, I made the cranberry sauce.
Also on Wednesday, I made lunch and wrapped the first gift. I am late with my holiday shopping this year. Normally, I am almost done by Thanksgiving week.
Thursday (Thanksgiving), I was late getting out of bed and dressing. Turkey (breast this year), did not go into the oven until just before 11:00 am.
Even though I had a late start, it was an amazingly easy day and I made all of the dishes I planned for the meal. By the way, I found a great mashed potatoes recipe I wanted to share.
Friday morning (today), my brother-in-law and sister dropped by.
Friday afternoon, after eating a late lunch, another holiday dessert option...
Hope you had a wonderful Thanksgiving.

Wednesday, November 17, 2021
My mother's birthday is normally a week before Thanksgiving- so I have had more projects than normal this year.
The following, a list of projects over the last week- in addition to my normal activities.
Wednesday, November 10, 2021, ordered a new over the range microwave (handle broke on the old)
Microwave delivered, Friday, November 12, 2021
Went shopping for holidays, birthday (11/12/21)
Saturday, November 13, 2021 family emergency health issue.
November 15, 2021 went by Lowes to sign contract for microwave installation.
Went by PNC Bank in Odenton to take care of some paperwork. (11/15/21)
Went to the market for more holiday, birthday items. (11/15/21)
Tuesday, November 16, 2021, made lemon loaves and buttermilk cake with chocolate butter cream icing.
Today is Wednesday, November 17th, 2021.
Photos over the last week...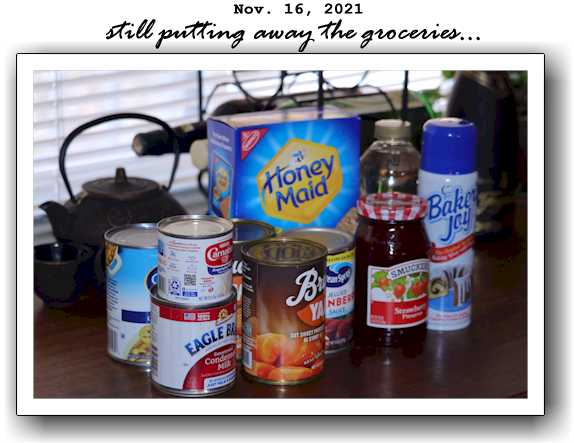 Peak autumn colors in our area over the weekend...
Long day of deliveries, shopping, and taking photos. I look tired.
Yesterday, I started the baking for the upcoming birthday and holidays. The lemon loaf recipe is discussed in this post.
I think I have perfected the recipe for the buttermilk cake and will provide the exact details in a later post.
Are you ready for the holidays?
Update: Nov. 18, 2021. The new microwave was installed today in less than 30 minutes.
For some reason, I thought I would have a difficult time coordinating the purchase, delivery, installation, and haul away for this project. Very pleased with how all of this worked out, especially in that the new microwave was larger than the original and the guys had to install new brackets in the upper cabinet and the wall behind the oven.
Ordered last Wednesday (Nov. 10, 2021), installed and working by the following Thursday, with all of the details handled by Lowes.

Monday, May 31, 2021
It has been a busy week, and I am almost happy the national holiday is about to come to a close.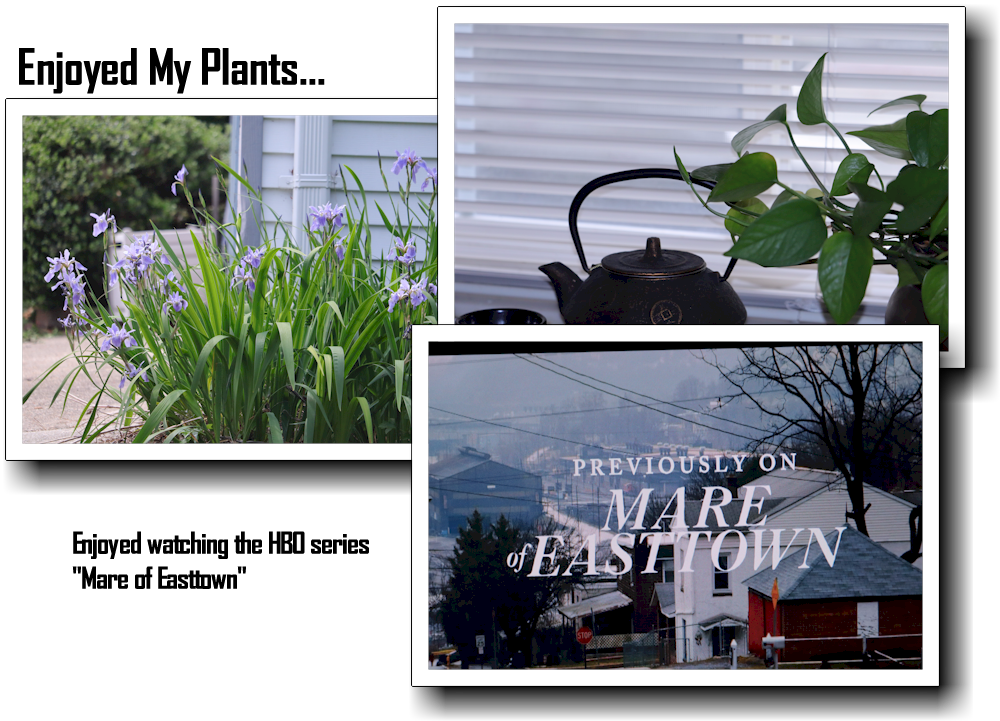 My activities included:
An assortment of visitors including relatives from out of town.
Meal preparations
Eating
Shopping (new espresso machine, groceries, household staples), stores included: Costco, Safeway, Food Lion and Walmart online
Gathered items for the dump, brother helped with delivery
Plants, housekeeping chores...
Article on patch.com about my high school alumni group
Header bidding updates and maintenance, Google AdManager and Unified Ad Marketplace
Website updates
Season finale of "Mare of Easttown"
Other photos taken over the last week, first set (below) - meal preparation.
Some of the meals prepared...
Last week, my espresso machine decided to call it quits, so I ordered a new one. In addition, I hit almost every market in the area in preparation for the week's meals.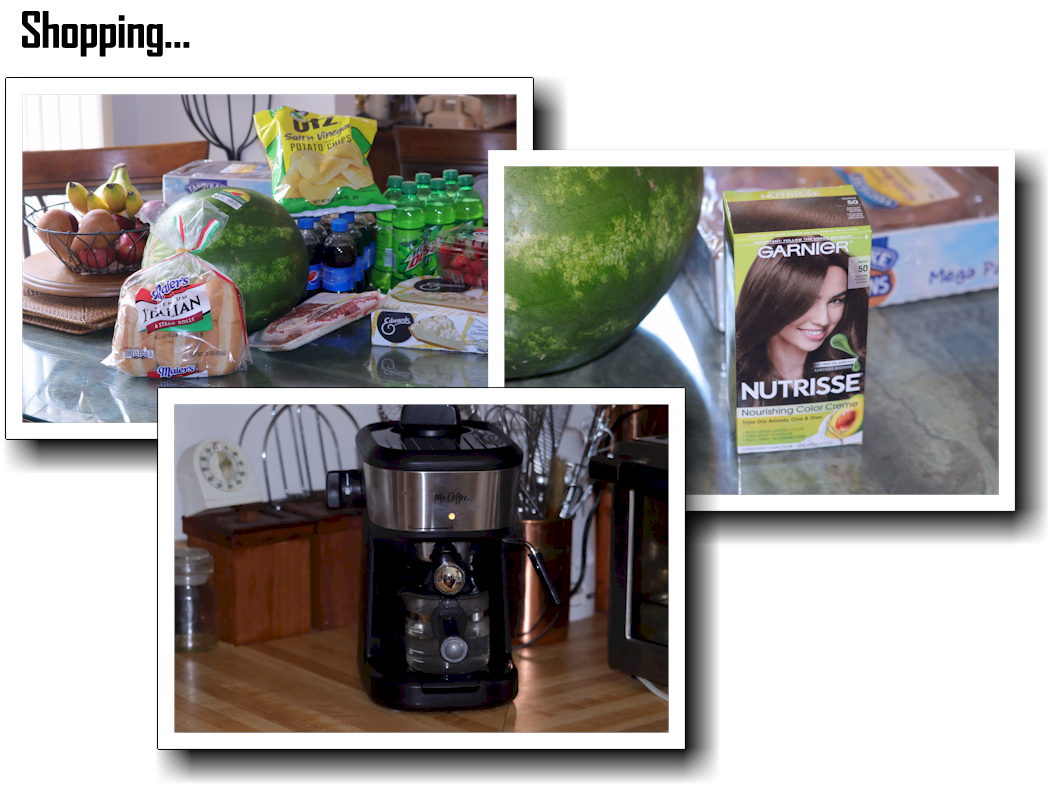 One relative stopped by on Thursday. Photos of me taken after the visit.
I have been meaning to get to my hair, simply cannot find the time. Hope you are having a nice holiday. Are you planning to catch the concert on PBS?

Saturday, November 28, 2020
It was a busy week. Shopping, cooking, preparations for a new project.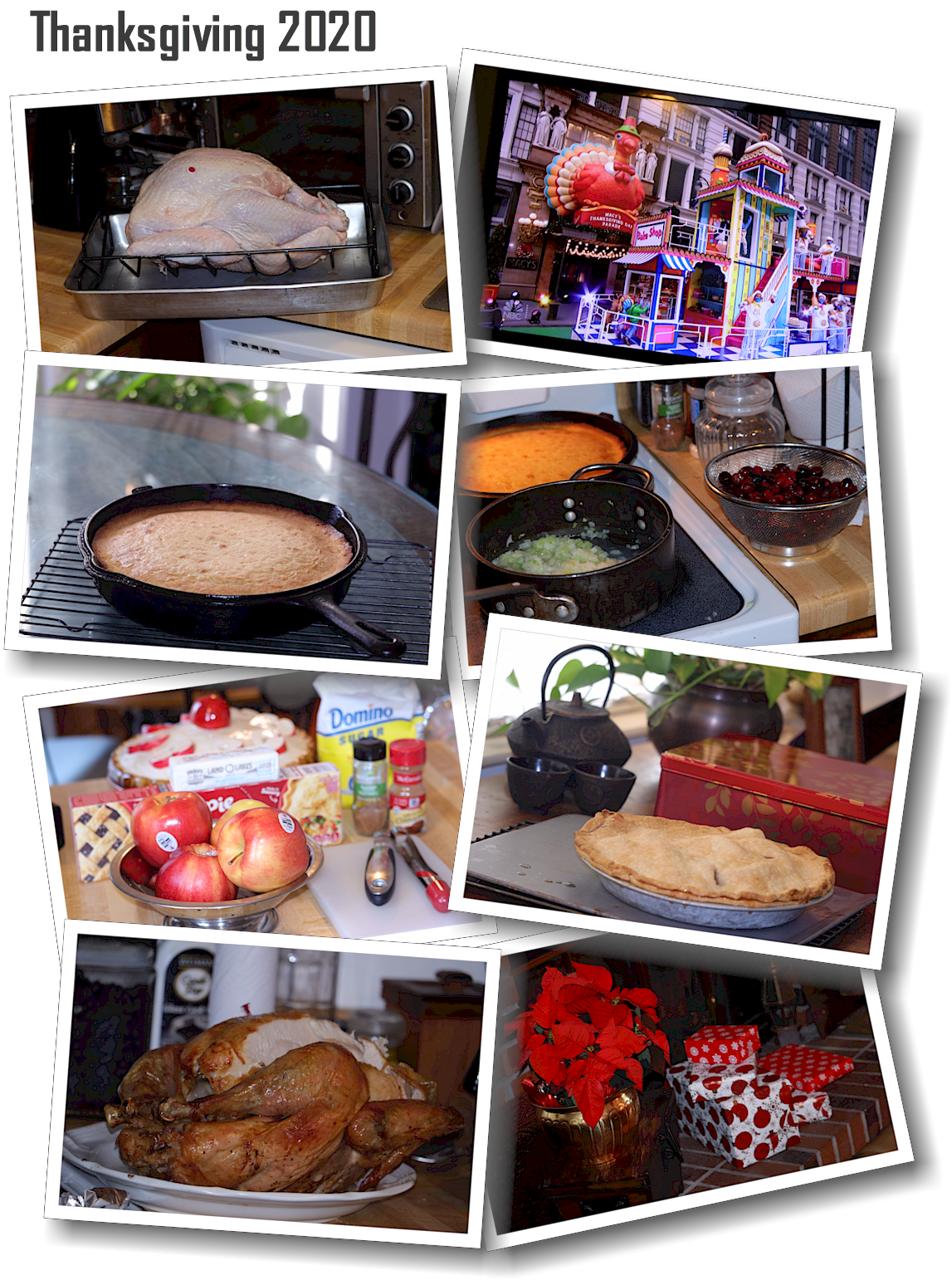 I liked this quiet holiday. I have several projects in the works, so it seemed- everyday over the last week, had any number of tasks that had to be completed, to be able to move on to the next step.
Over the last 8 months or so, I have been out a lot more doing most of the shopping and running errands. People seem busy. I am happy, because I am busy.
Sometimes people seem more upset at the holidays (for years, I have felt more like a bystander at the holidays, giving me the opportunity to observe more). This year is different. People seem busier. This makes me hopeful. Hope you are having a nice holiday.

Sunday, November 15, 2020
This time of year, I am normally out taking photos of beautiful autumn colors. This year is different. I find, I am spending more time ensuring the shopping, and other choirs outside of the house, are getting done.
That said, I have pulled out my camera- to take photos of the spectacular color just outside the door.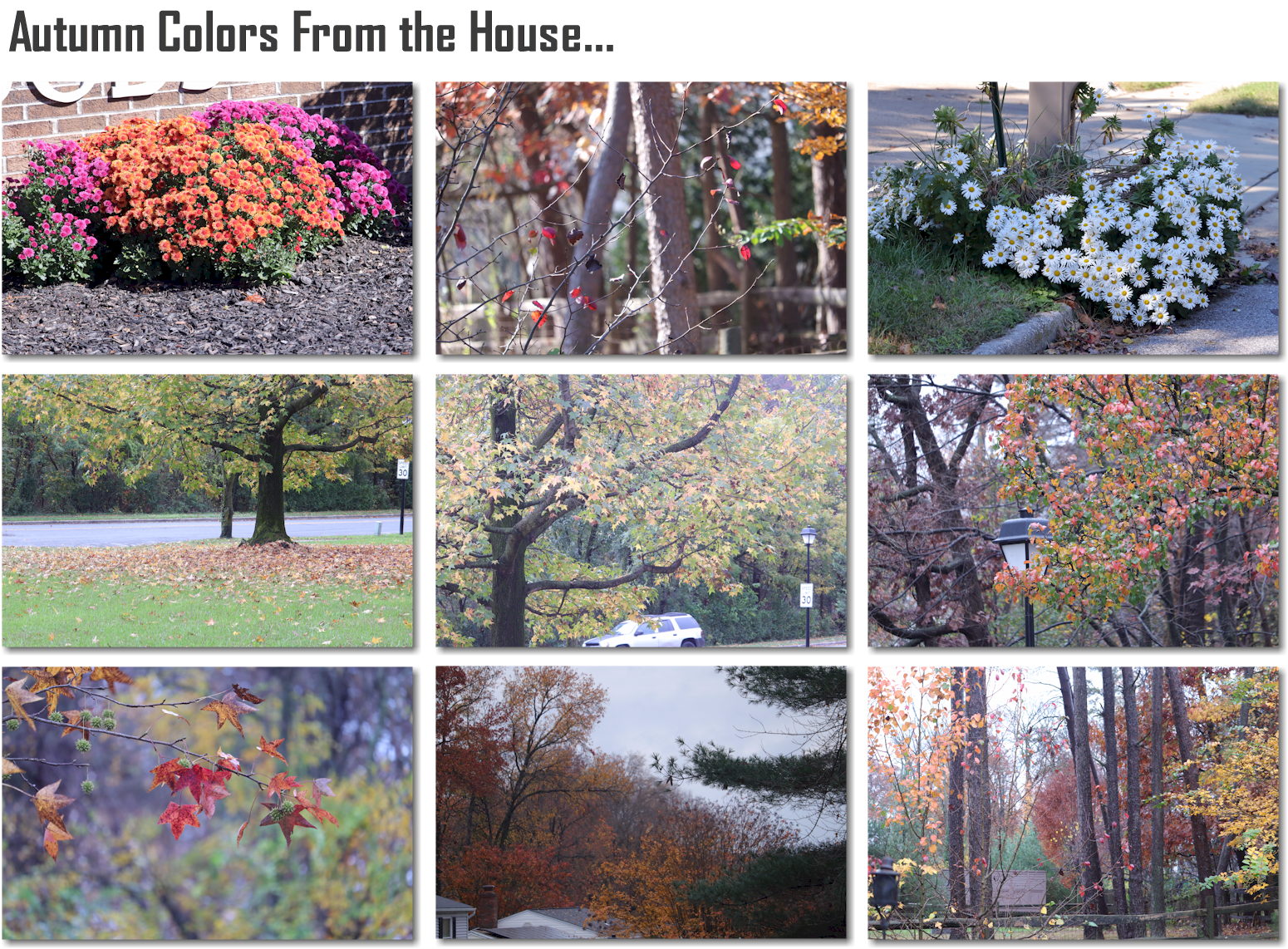 Another Fall 2020 project- "Shop My Sale" is an online marketing experiment I am undertaking, after noticing a new feature being offered by PayPal-"Sell on Social".
I have been going through rooms and taking photos of items never used- now. Things I thought about, but decided I really did not want to sell- are shown below.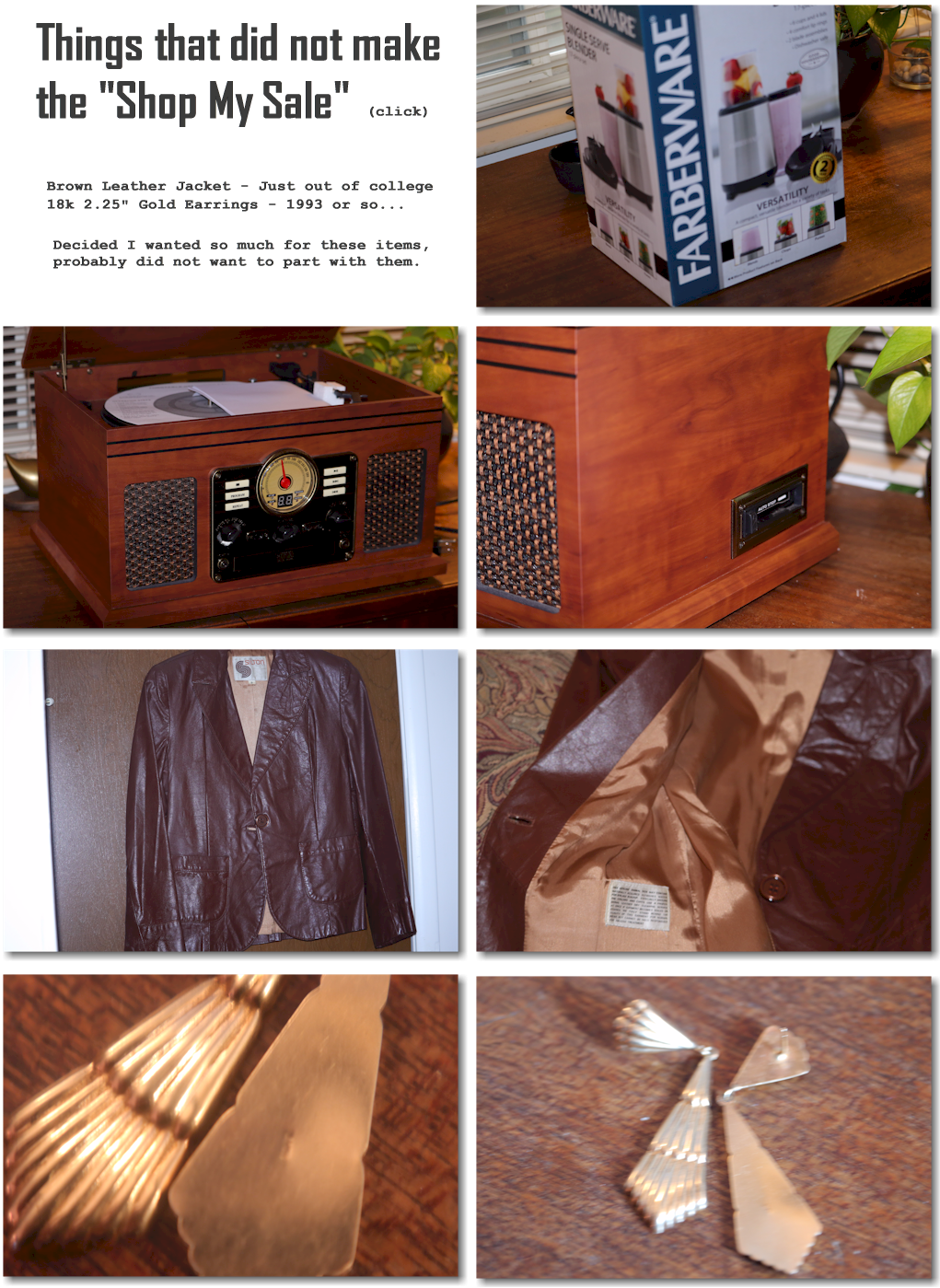 Why show them here? Just to show, what I have been up to. I really did not want to sell my earrings so when I came up with a $2000.00 price tag (I paid under a $1000.00 for them in 1993 or so), I decided, I really should not add them to my sale.
Other things I have been up to?
Yesterday, received a Cash Rewards check from one of my credit card companies, so that made me happy.
Trying to resolve a new problem with Facebook Page Plugins. I use this resource in various places on WiredPages and this blog. For some reason, the plugin will not show the fb page content unless the visitor clicks on the Like link. The thing is, you do not even have to like the page (happens if you are not logged into Facebook), for the content to then render correctly. This is a new problem, and I am still looking for a work-around. Visitors to my pages should not need to login to obtain the public content I am trying to provide. I have been using Facebook Page Plugins for over 2 years and loved the way this worked.
Online shopping for birthday and holiday gifts. This year, mostly, needed items and no- would love to have items.
Attempting minor repairs to my car.
Perusing market sales flyers (I am surprised by how much time I spend doing this, is it paying off? Yes.).
Hope your holiday planning is going well.

Monday, May 25, 2020
We decided not to venture far from home for the Memorial Day weekend, so we stocked up on a lot of favorites to insure we had plenty to eat.
These days, I do most of the shopping and though I try to include a wide variety for meal planning, I think I am purchasing more sweets than were purchased in the past.
We are now purchasing meats in bulk and using a vacuum sealer to repackage smaller portions for daily meals. I like the choices this affords when planning meals.
For example, the meal today consisted of two ½ inch pork loin chops, purchased from Costco in bulk a little over two months ago.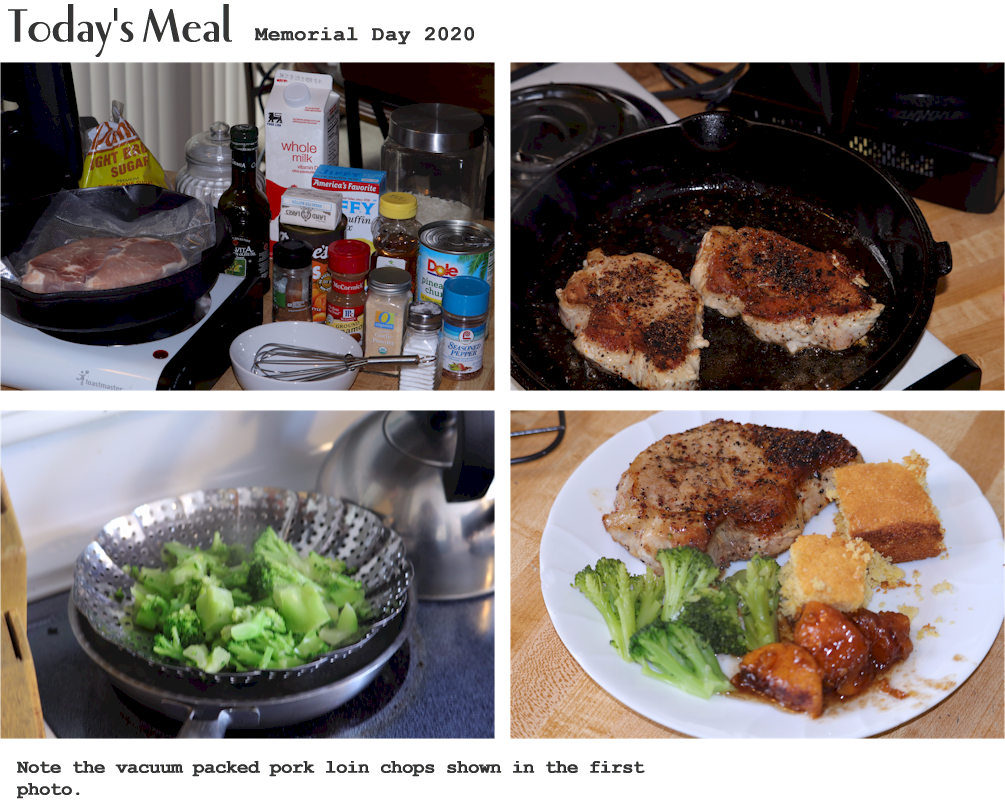 I like the vacuum sealer I purchased as a holiday gift for the house several years ago, however only recently started using it on a regular basis. Shown below, the sealer I have (no longer available) and a very popular unit- slightly more expensive.
I consider a vacuum sealer a great investment, and as I have already mentioned, love the fact I now have options in the freezer for meals.
Hope you are having a wonderful Memorial Day. Weather here- beautiful and I am finding lots to do around the house.

Friday, January 03, 2020
In 2019, I had any number of unexpected business related expenses, where I spent more than I originally budgeted, for the year.
Major 2019 Business Expenses
Replaced my Canon "Point & Shoot" camera with a Canon DSLR (EOS M50)
Replaced my Android
Updated a Windows 10 Tablet with a Windows 10 Pro Mini platform
Luckily, this year my family provided holiday gifts in the form of money so I was also able to afford a personal care unit I have always wanted to try.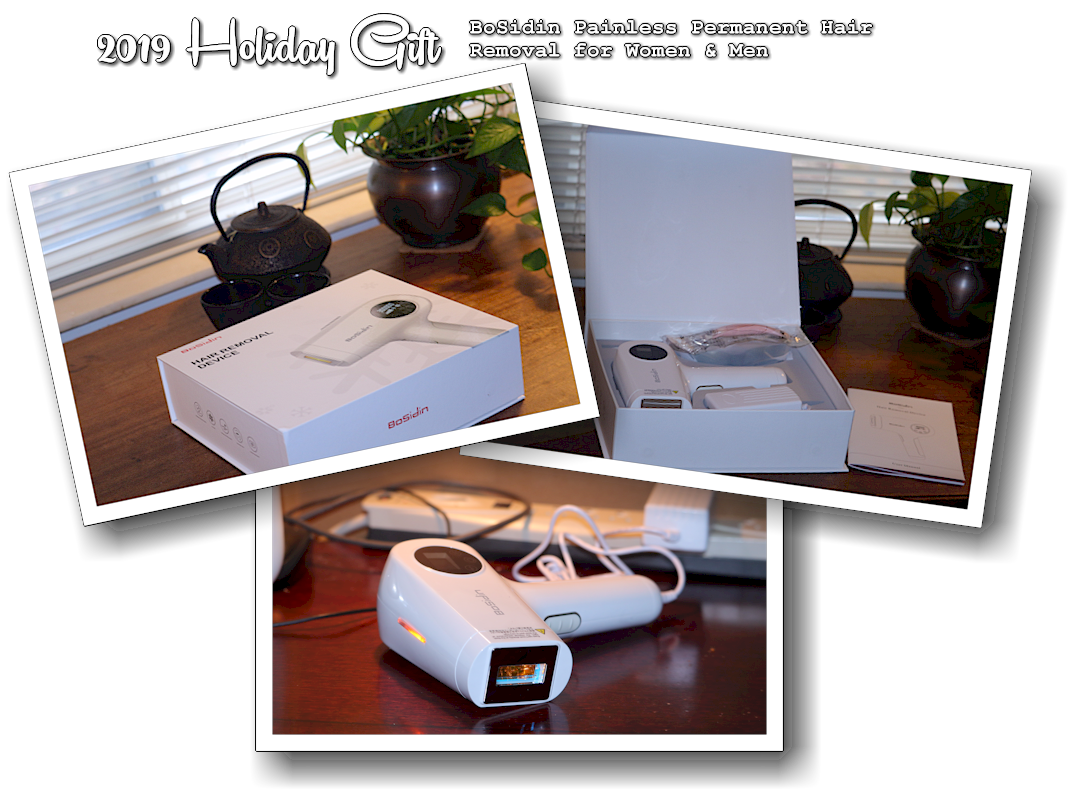 I did a bit of research before purchasing the BoSidin Permanent Hair Removal System and though quite happy to date, still in the early stages in the use of the unit.
Other considerations as related to the selection of the gift? (1) I am dangerous with a razor blade, though some of the newer technology is pretty good. (2) my cordless razor battery died. (3) I wanted a more permanent solution.
Hope your New Year is off to a great start...

Saturday, December 28, 2019
I have no plans New Year's Eve, however earlier this month I ordered two new lipsticks to test, and decided I could use the Blazing Lava L'Oreal Lipstick if I changed my mind.
The other lipstick, L'Oreal Peony Pink is not as festive and more an everyday look for me.
Through the weekend and up until the first, I will be preparing my sites for the new year, i.e., updating copyright information and ensuring any new year's regulations and policy requirements are current as related to my sites.
What are your plans for New Year's Eve?

Saturday, December 14, 2019
It was a busy week, highlights included:
Replaced a brake lamp bulb on one of the cars (The internet allows me to think I can repair anything).
Trip to the market.
Online shopping & waiting on the deliveries.
Wrapping presents.
First holiday gift: Handy Multi-Use Tool - Synchrony
Putting up the tree and the rest of the holiday decorations.
Correcting a problem with the Instagram API Demonstration application.
Fixed the submit button issue with the map tool on the WiredPages Dining & Travel page.
Beautiful moon in our area on December 11th, 2019. The following photos taken with my Canon EOS M50.
Hope your holiday preparations are going well.

Friday, November 29, 2019
I have had a busy week, running errands and preparing for Thanksgiving. Lots of shopping, cooking, and an appointment or two. Who sets an appointment Thanksgiving week?
The last three days in photos...
So much going on here and elsewhere this holiday season. Social media updates...
Found this holiday tune while listening to a station via an Echo device. An old song, however a new favorite for me.

My Echo devices (Note: 2 Echo Inputs):
Hope you are enjoying your Thanksgiving holiday.

Friday, September 13, 2019
Starting to update the Gift Ideas post and ran across an idea I thought might be interesting for a kid's birthday, costume or Halloween party theme.
These NFL youth costume theme sets could be a hit with the kids and cost between $17 and $75 depending on size and team.
I am only showing four of the theme sets, however most of the NFL teams are available.

Are you ready for the holidays? I am trying to get into the swing of things, however I am a little late with some of things I want to do this year.

Tuesday, December 18, 2018
I am always looking for new ideas to add to my stores. That is why recently, while taking stock of items in the guest bedroom/sewing room I found one or two items I decided to add to my Gift Ideas list.
What's in your guest bedroom?
I like the idea of the quilt rack, and quite pleased when I received a similar item in the late eighties as a holiday gift. Unfortunately, my rack was damaged in a move, so the one shown is the one in my parents home.
The valet stand was a gift for my father. Though I think a nice gift, now rarely used.
The other gifts continue to be used. One of my favorites, the convection oven. I use the oven quite a bit and now cannot imagine- not having this appliance in the kitchen.
The fur trimmed cape? I love this gift for its simple elegance. It works with both evening as well as more causal daytime attire. Swank enough to look stylishly expensive while walking the dog in the city? Yes, you will need the right pencil skirt, however the one shown was less than $100. The lace-up heels match the charcoal grey cape perfectly.
This post really is not about last minute gift ideas. It's really about the old gifts I found in the guest room-- and holidays remembered.

Monday, December 10, 2018
Holiday decorations a little less than normal, however happy they are in place.
My holiday shopping is almost complete. Spent more than I planned, however happy with all of my purchases. Are you still looking?
It was an easy weekend filled with holiday good cheer, music, and foods I love. Hope your plans are going well.

Monday, December 03, 2018
In September (2018), I noticed savings rates offered by several of the major banks were starting to rise. In October, one of the online banks was offering a 2.65% APY CD, so I scraped together just over the minimum required deposit amount to open the account.
Since then, I have watched savings rates offered by CIT and Synchrony Bank (two of the more popular, highly rated online banks), rise and just recently, start a slight decline.
Since starting my research, I have noticed banks tend to offer higher rates on savings accounts going into the Fall/Winter holiday seasons and then taper off after the new year.
Would you like to do the research?
I know, it is hard saving this time of the year. Last night, I added more holiday gift purchases to my credit card and though not dreading the bill (which will be paid off entirely when it comes due), know that I do not have extra funds right now for another high interest savings account, though I will continue to track the rates.

Saturday, November 24, 2018
Holiday photos from last Saturday through today (Saturday, November 24, 2018).
Recent movies:
The Post
Red Sparrow
Collateral
American Made
Plans? Several software development projects, WiredPages updates, and holiday shopping.