Wednesday, November 17, 2021
My mother's birthday is normally a week before Thanksgiving- so I have had more projects than normal this year.
The following, a list of projects over the last week- in addition to my normal activities.
Wednesday, November 10, 2021, ordered a new over the range microwave (handle broke on the old)
Microwave delivered, Friday, November 12, 2021
Went shopping for holidays, birthday (11/12/21)
Saturday, November 13, 2021 family emergency health issue.
November 15, 2021 went by Lowes to sign contract for microwave installation.
Went by PNC Bank in Odenton to take care of some paperwork. (11/15/21)
Went to the market for more holiday, birthday items. (11/15/21)
Tuesday, November 16, 2021, made lemon loaves and buttermilk cake with chocolate butter cream icing.
Today is Wednesday, November 17th, 2021.
Photos over the last week...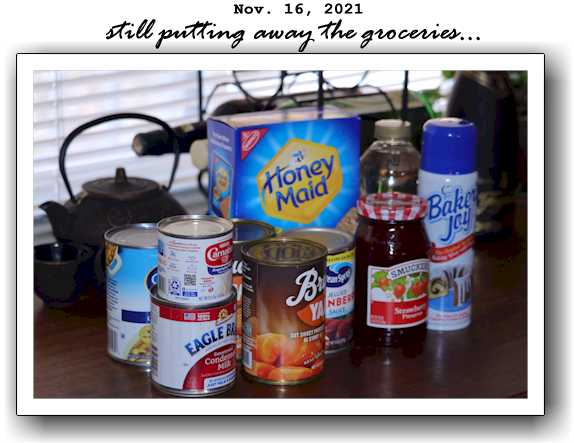 Peak autumn colors in our area over the weekend...
Long day of deliveries, shopping, and taking photos. I look tired.
Yesterday, I started the baking for the upcoming birthday and holidays. The lemon loaf recipe is discussed in this post.
I think I have perfected the recipe for the buttermilk cake and will provide the exact details in a later post.
Are you ready for the holidays?
Update: Nov. 18, 2021. The new microwave was installed today in less than 30 minutes.
For some reason, I thought I would have a difficult time coordinating the purchase, delivery, installation, and haul away for this project. Very pleased with how all of this worked out, especially in that the new microwave was larger than the original and the guys had to install new brackets in the upper cabinet and the wall behind the oven.
Ordered last Wednesday (Nov. 10, 2021), installed and working by the following Thursday, with all of the details handled by Lowes.