Wednesday, September 20, 2023
I continue to research a new business idea, WiredCreators. Earlier this year I registered the domain wiredcreators.com, created Facebook and Instagram accounts using the same name and began thinking about how to make the idea unique.
I continue to think MarylandBloggers.com should have worked, however decided the naming convention may have been limiting and not reflective of the type of content now being created. I wanted content creators from Maryland not just bloggers.
How am I trying to make WiredCreators unique? The business areas my plan covers.
Promotion

Creators
Related Service Areas

Service Areas Include

Video Production
Photography
Writers
Digital Editing Experts (Adobe Premiere, Final Cut Pro, Photoshop, Lightroom, Active Presenter, etc.)
Unique Content Ideas For Specific Clients

Worldwide Base
This evening I was playing around with PowerPoint and put together a draft business plan for WiredCreators. I exported the plan as an animated gif.
I am looking at the numbers and researching quite a bit for this project. I think I have a plan that can work. I need to find experts and professionals in some of these areas however, I do tend to generate a lot of notice.
Areas I can cover, software for a searchable database of service related experts. Competent individuals that can really go in and look at what makes a client unique and marketable, seems a little hard right now. Sometimes it seems people are being told who they are. This business needs to ask who you are. What makes you different? Does anyone do that anymore?

Tuesday, September 05, 2023
Yesterday, while researching for the WiredCreators project I noticed two videos I thought interesting so I decided to share.
The first video, an Instagram reel- demonstrates a useful PowerPoint trick that I think is handy for content creators.
I tested this trick and found I had to make a small adjustment to handle irregular spacing with the original proportional font I used, instead using a fixed width font. The results of my test...

The second video, is about a DoorDash delivery guy who is using an electric e-bike for the first time to make his deliveries.

The guy is funny, however what I really liked was his e-bike. So much so, that I researched and found a lighter, folding version by the same brand and added it to my Just Want store. The e-bike was rated so well- that I also added it to the Gift Ideas store.
Items discussed in this post (showing the entire Microsoft Professional Suite of Office Tools which includes PowerPoint):

Friday, September 01, 2023
When I first decided (September 2021) to go online with my own ecommerce shop WiredShops I was very excited about the prospect. The entry I posted as a new shop owner.
I had several limiting factors:
Website cost

Domain Registration Costs
Hosting
Custom Site Design
Listing Products

Inventory Costs
Time Available For This New Business Activity
I cannot say this online shop is a failure, because I love the fact I own it and my cost to own is/was very low.
The time it took to populate the shop was expensive and I use the API service offered by my drop shipper which is not as straight forward as I would like. I did not use a service like Shopify, which in most cases has an associated cost, whereas the API does not- other than my time. Coming up to speed on the OpenCart software was not as time consuming.
That said, I have only had one sale and that- because I asked a relative to ensure my cart/payment hookups were working. They are.
I also tested with the Paypal sandbox cart however, sometimes the results seemed to vary, the reason I tested with an actual sale. I believe there is unlawful interference with this business venture. I have asked DOJ to look into this.
I registered the wired-shops.com for about $10 a year. wiredshops.com was available, however a lot more expensive.
I installed the custom OpenCart site design myself.
I decided drop shipping- at the time, was a more cost effective solution.
The actual inventory acquisition costs were low.
So why have I decided to revisit my efforts in this area?
Lately, I have made a lot of garden salads and decided I needed a salad spinner.
I checked with my drop shipper and found a spinner I thought would also be perfect for my online shop. Now, keep in mind, I have done some research since the pandemic and knew shipping costs had been affected by the global issue and then more recently- inflation rates. So I was sort of prepared for the new shipping rates. Are you, if you are thinking about opening a shop?

I also found the salad spinner I liked on Amazon. I think I am going to place an order with Amazon for my personal use and to ensure the quality is what I expect.

Tuesday, August 29, 2023
I have been working several projects, including:
Integration of a Google-certified Consent Management Platform (CMP) to all of my sites and subdomains, i.e., WiredPages, It's Personal (this blog), etc.
MS Access Database to maintain my Amazon affiliate links & stores
Researching and setting up a new Certificate of Deposit (CD).
The first project listed above- was actually completed earlier today so let's start there.
For several months, the home screen of my Google Adsense account has shown the following notice.

Several years ago, I integrated the CloudFlare interface to all areas of my sites to handle the General Data Protection Regulation (GDPR) law that came into effect in May 2018.
CloudFlare is not a Google-certified Consent Management Platform (CMP), the reason the notice began to appear several months ago on the homepage of my Adsense account.

So from the above list of certified CMPs, I chose Quantcast because I have been using the service for years on all areas of my sites to track traffic and other statistics, and thought it was the natural choice for my needs.

Quantcast allowed the option to show the popup message and dialog options to only EEA and UK visitors to my sites, so those in other areas including the U.S., will not see the message nor options.
The second project listed above, MS Access database to handle affiliate links was completed on Sunday. I am pretty pleased with how this project turned out, and happy I have a more efficient way to maintain and provide my Amazon affiliate data. See the upper sidebar of this blog (under Amazon Stores) or the WiredPages Libraries page for illustration of what the new database provides.
The last project, setup a new savings CD- was actually completed on August 22, 2023 when I noticed the APY on a 16 month term CD jumped from 5.10% to 5.25%. I had transferred the funds from two of my checking accounts a few days earlier and hoped the APY would increase. It did, and I set it up.

Monday, August 21, 2023
Part of the day Sunday, I spent tweaking my new Access database which stores the Amazon affiliate links for my stores. I ran into a problem with the Visual Basic for Applications (VBA) module that generates the HTML code for each Amazon store. I spent at least two hours resolving this issue.
Okay, I started this post with how I resolved an issue without explaining what led to the problem.
Below, an illustration of how the Gift Ideas products were rendered on the page before I decided to use a Microsoft Access database to maintain my Amazon affiliate links.
When I first started updating my stores to use product links rather than the Native Shopping Ads resource (feature retiring), I simply used Amazon's SiteStripe to copy the product affiliate link information for each product- for inclusion to my pages. For those unfamiliar with how the Amazon affiliate resource SiteStripe works- the graphic below provides illustration.
Because I wanted to add descriptive information about each product, I added a field to the database which I included in the HTML generated for each product. The problem, initially the descriptions were a bit lengthy and took up a lot of "real estate" without the corresponding link. Only the image had the link.
To overcome this, I decided to parse the AffiliateData field (example shown below) for each product, only retrieving the actual link, so I could include the link around the descriptive text without creating a new field for just the link.
This was not as straight forward as I thought it would be, however I did come up with a solution, and I am happy with how I have decided to maintain my Amazon affiliate links.
Below is an illustration of the new Gift Ideas page with the new links, images, and linked descriptions for each product- as provided by the Access database.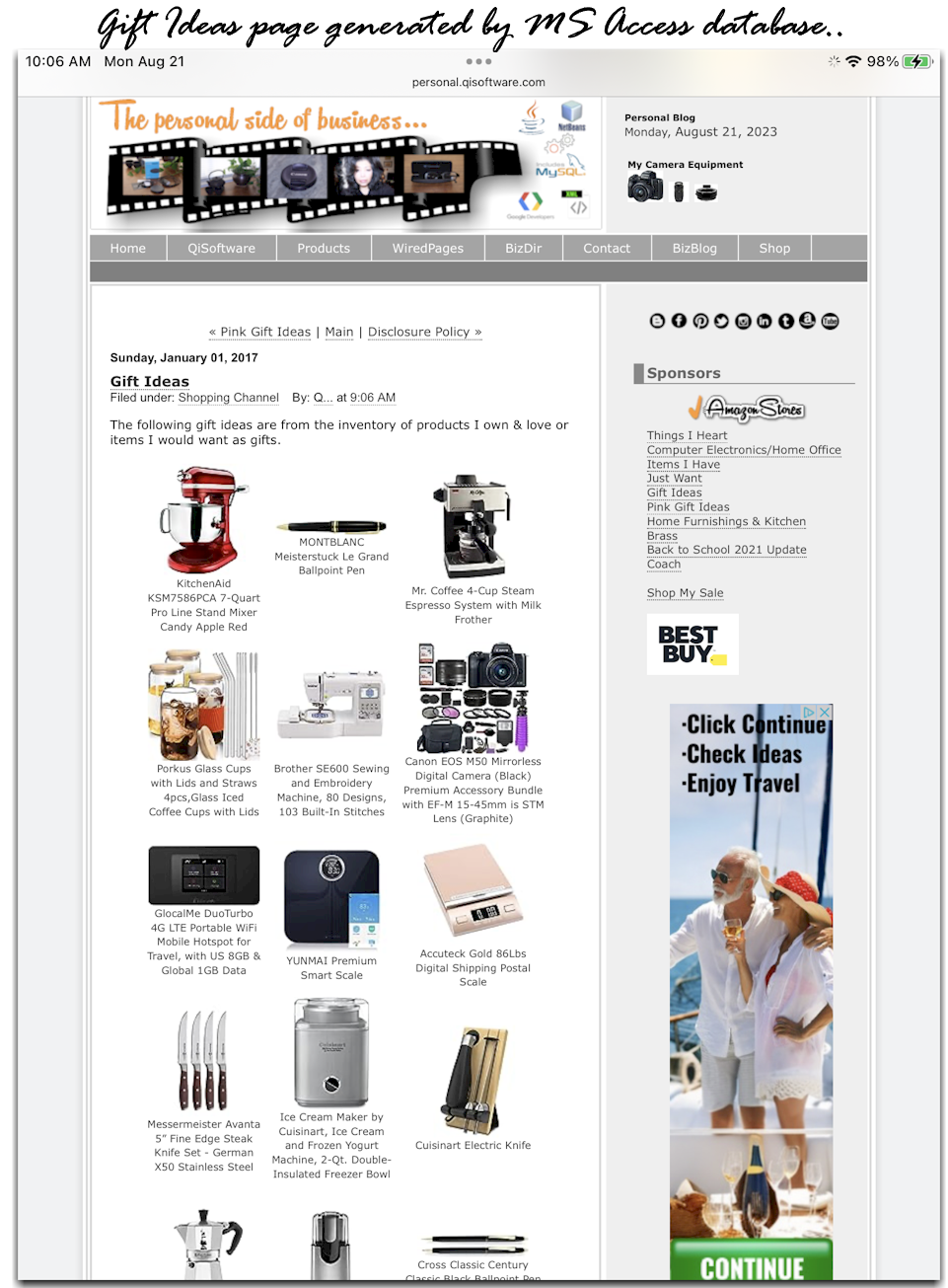 I liked this exercise because it allowed me to work with Visual Basic again, and I always want to stay up to date with the latest issues with software areas I support.

Wednesday, August 16, 2023
Yesterday, I developed a new Microsoft Access Database to handle Amazon affiliate links I use throughout my sites.
The rather involved illustration below shows what the new database accomplishes.
Do you want to ask, why not use Amazon's Product Advertising API to pull my affiliate links? Years go I created an application (quite frankly, several) to pull Amazon affiliate links for use on WiredPages.
The problem with using Amazon's Product Advertising API you must generate a number of orders to be able to use the resource. I never have any sells. If you think otherwise because you have clicked and purchased from my Amazon affiliate links (any link that points to Amazon.com on any part of the qisoftware.com and related domains) then contact IC3.
When my access to the API was suspended (no orders, several years ago), I integrated Amazon Native Shopping Ads into the programs. When the API was unavailable I provided the Native Shopping Ads.
Recently, it was announced Amazon's Native Shopping Ads resource is being retired so I am coming up with new ways to show data and ads I think are relevant to the areas on my sites where I place them.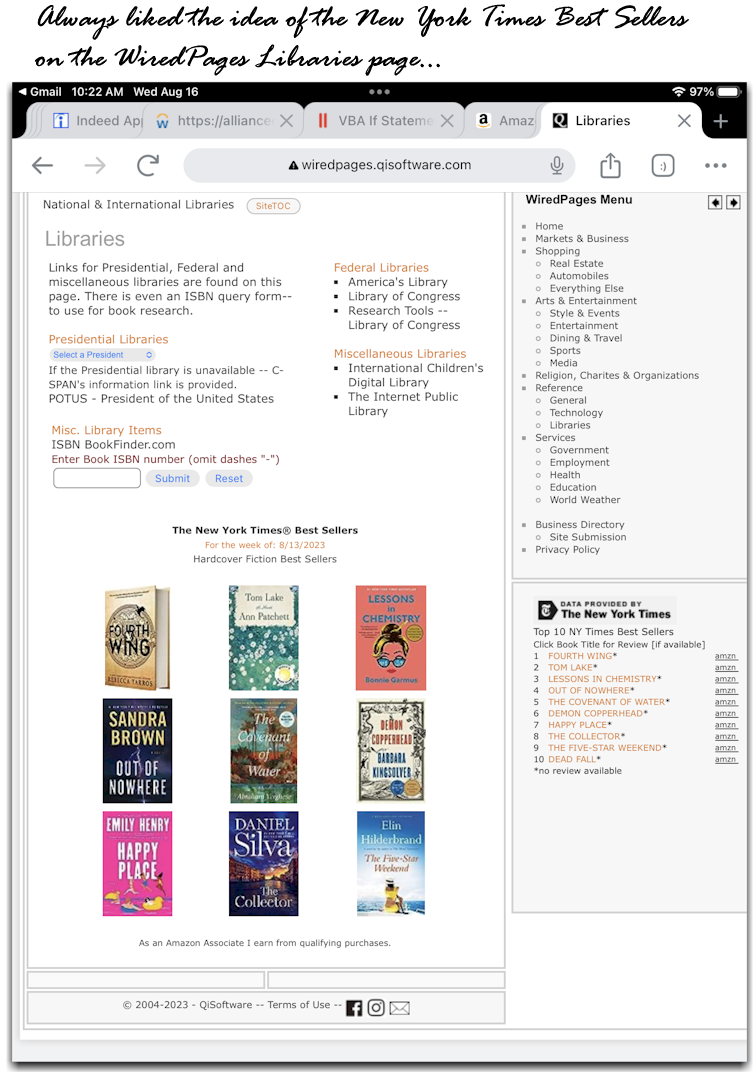 I am a software developer who likes demonstrating the type of custom applications I can provide using popular APIs like Amazon's Product Advertising API. Some of the APIs I have worked with are found on this page.

Sunday, August 06, 2023
It has been hot and humid in the Baltimore/Washington area and I am thankful I can do most things from the comfort of home. That said, on Wednesday of last week, on my way to Costco- I ran into a problem with a dead car battery.
I so seldom go out, that when things like this happen I am momentarily thrown off my game and cannot seem to understand how a dead battery could happen on a car I rarely use and continue to recondition with a battery amp charger/meter.
In this case, it appears the battery simply could no longer be reconditioned and on a hot summer day- I was happy to have another car I could use to both pick up needed supplies from Costco and to purchase a new battery from Autozone.
On Thursday morning, I tried to remove the negative terminal connector without success (positive easily loosened), so I called my brother to ask if he had a battery terminal remover tool. He said he would come by and look at the problem. After going through most of the ratchets in his set he finally found a small enough adjustable wrench in the tools here, to grab and loosen the nut holding the bolt.
The car started right away after putting the new battery in. I would have taken the car to the repair shop to replace the battery, however the battery was completely dead and could not be jump started.
The other project I have been working is going well and getting only good reports.
I am losing weight (project requires a lot of physical activity), and I think that is showing my age. Lately though, I have started to eat more of the foods I used to eat, however, not because I want a rounder less lined face. More because I am getting back into the sync of things.
Other recent purchases I am pleased about are shown below.
In my spare time, I continue to research content creators for a new venture I am thinking about (wiredcreators.com).
Discussed in this post...

Friday, August 04, 2023
On May 13, 2023, I posted about a new business project which relates to the online world of content creation.
In the earlier post, I discussed some of the content creators I follow and provided channel subscriber numbers and annual income data for their channels.
I updated the following table to show the May 13, 2023 number of subscribers for each channel versus the number of subscribers as of today. The estimated yearly revenue of the channel according to noxinfluencer.com or Starstat.yt is also provided however are the same numbers from May 13, 2023. Why? Though I did find differences as related to income for two or three of the channels, most of the revenue reports remained the same. Note, Google provides a Youtube channel revenue API for developers who may wish to explore this data, however I am not sure how often the data is updated.
Youtube Channels I Visit
Channel
Description
Subs (05/13/23)
Subs (08/4/23)
Annual
Revenue
Amber Baldwin
YouTuber & Entrepreneur
73.2K
73.2K
$21,6352
Athan Wright
Living life at Duke University
1.68K
1.78K
$2622
Cherissa Lindsay
Lifestyle / College / Fashion / Travel
2.04K
2.06K
$3392
DominiqueSachse
YouTuber / Author
1.84M
1.84M
$248,7812
Erin Byrd
Real Estate / Lifestyle / Education
287
311
$ 25.551
Hannah Elise
24 Y/O College Grad Living in NYC
758K
769K
$99,9542
Leah Megan
Video Diary / Final Year at University
36.1K
37.1K
$4,339.851
LetsTurnItUpWorld
Tanya and Dave from 'Turn It Up World'
62.7K
72.6K
$61,2632
Life Uncontained
Texas Dream Build Debt-Free Off Grid Shipping Container Home
1.37M
1.42M
$407,4792
LivinFearless
Fashion / Lifestyle / Travel
111K
114K
$6,522.551
Marcos Rico Peng
Cal Men's Swimming Team. Recent Grad. Now Software Engineer in NYC
61.2K
74.2K
$12,541.41
Ox In The Shop
Drew & Woodworking
16.5K
16.7K
$1,9772
ROSA GOLD
Mobile Home / Tiny Home Renovation / Online Shop 📍Germany
30.3K
38.6K
$18,874.151
Scout The City
Fashion Content Creator
51.9K
52.6K
$14,2282
Shealyn Ari'el
Home / Lifestyle / Self Care
1.1K
1.83K
$94.91
Simply Nikki
Lifestyle / Beauty / Decor / Mum Life
529K
529K
$30,3972
Tech Mentor Maria
Tech, Career, Personal Finance, Healthy Habits, Travel 📍NYC
6.85K
8.87K
$1,887.051
Young Lady Business
Lifestyle Vlogs / Decorating
155K
158K
$56,4602
1noxinfluencer.com
2StarStat.yt
Earlier this year, I setup a new site- MarylandBloggers.com. Though, I have not promoted the site as much as I wanted, my stats indicate it is noticed.
In April 2023, I registered two more domains; WiredCreators.com and MarylandCreators.com. I think I am going to release the MarylandCreators.com domain and concentrate on a business plan for WiredCreators.com. What will make my efforts different than other influencer sites? The sites I want to promote.

Friday, February 10, 2023
Recently, when the admin for the Facebook group, MarylandBloggers polled members about blogging and other content creation activities, I noted of the 15 or so respondents- only 23% were still blogging.
That said, most indicated they were using Instagram more (29%), while a smaller percentage were creating content for TikTok and Youtube.
I have been researching Youtube bloggers, which are also known as vloggers. I have to say, that my research provides if you do not have a paid sponsor for each video, the Adsense revenue alone is probably not going to offset the cost of the equipment, software used for editing, and time required for this content creation activity.
So why did I register a new domain, marylandbloggers.com? Mainly because it was only $10.74 a year and I wanted to see if I could come up with a business plan.
I am actually looking to promote both bloggers and vloggers from Maryland. I feel effective use of promotional tools can help with other business areas, and I would like to assist other small business owners in this area.
The morning (February 8, 2023), I registered the new domain (actually renewing my real estate site when I checked to see if "marylandbloggers.com" was available), and roughed out the database schema, using MS Excel. The final version will be used for the online database which will provide a directory of Maryland content creators.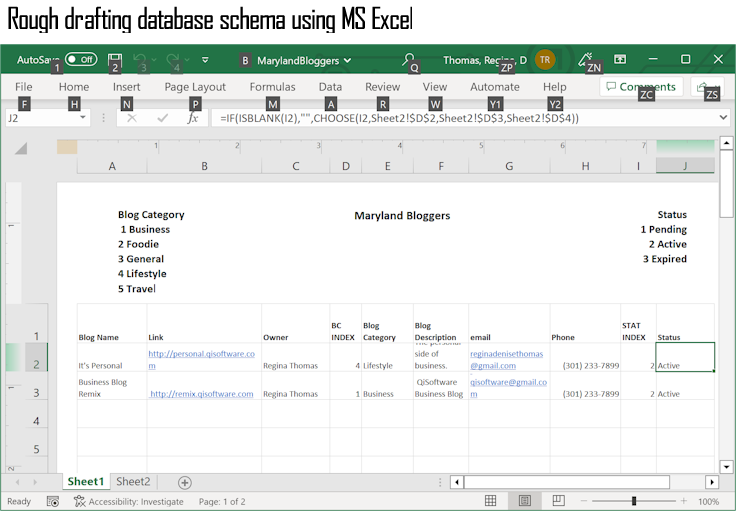 Also playing around with graphics and slogans for the new site.
This project is not a high priority for me, however I do feel that with the current state of employment issues, anything anyone can do to help the communities they are a part of, might be useful.

Tuesday, November 22, 2022
It has been a hectic November. Along with shopping, cooking, and normal business activities, I have had a number of unusual issues that required immediate attention.
Software issue #1, Freddie Mac discontinued a number of stats having to do with mortgage loan rates and discount and origination fees making it imperative that I update my software. Relatively easy fix that is reflected here and here.
On November 17, 2022, Freddie Mac changed the methodology of the Primary Mortgage Market Survey® (PMMS®). The weekly mortgage rate is no longer based on a survey of lenders. For more information regarding Freddie Mac's enhancement, see their research note. See more here.
Changes to the FatSecret API required attention, even though my software app is not installed on the WiredPages Health page. The FatSecret API provides nutrient information about specified foods. I periodically check all of my applications (even those offline) to ensure they are operable.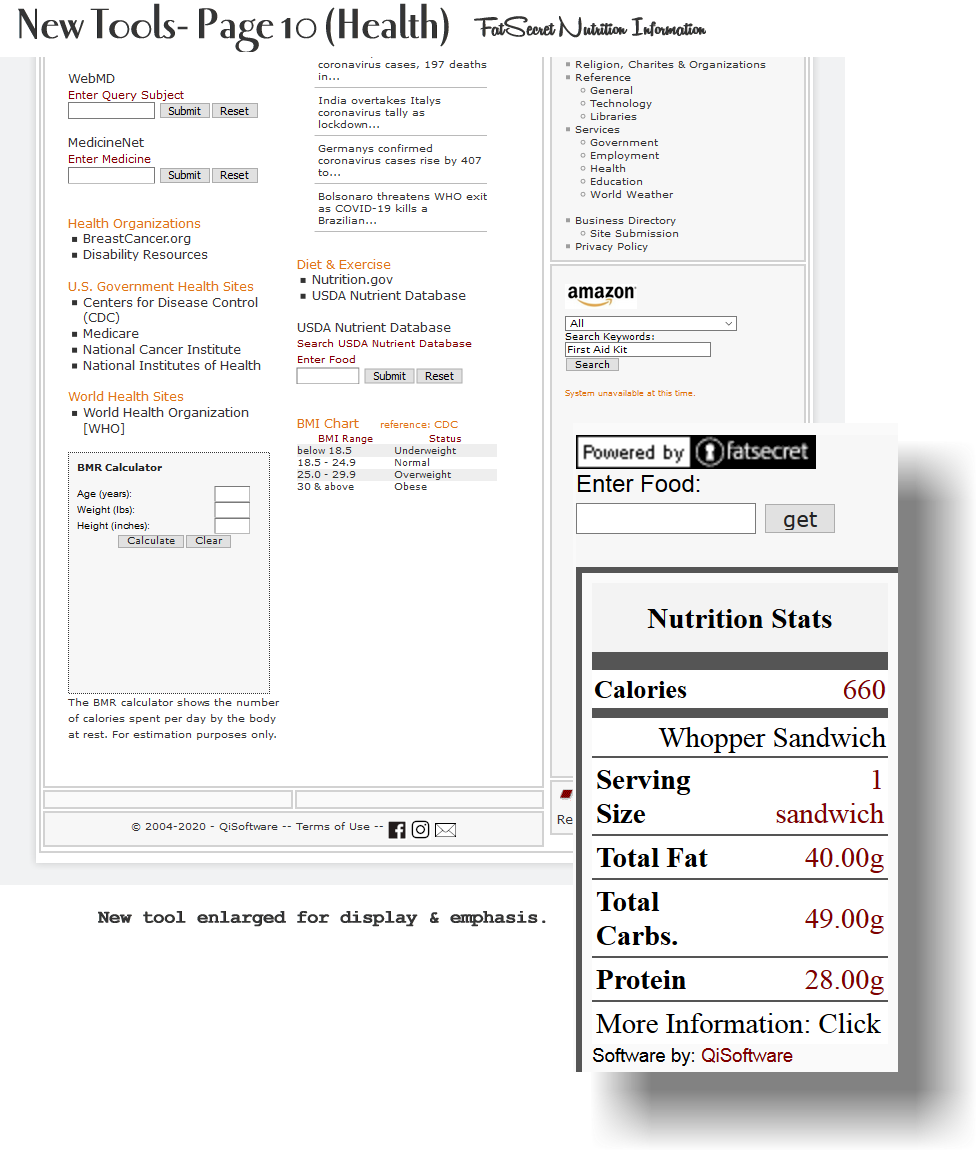 My access to the Amazon Product Advertising API is again available (based on sales). I have become used to the Native Ads that appear when the API is unavailable, so I decided to make that the default when a page using the app is requested.
WiredPages hosting one of two applications which use the Amazon Product Advertising API:
The difference now, the applications provide search results provided by the Amazon Product Advertising API.
It is Thanksgiving week and I began cooking this morning. I ran errands yesterday, and expect to be in, at least until Friday (day after Thanksgiving).
I am one of those people who researches and plans. So already, I have plans that have gone awry. I am expecting everything else to go as planned. Also hoping to get some rest. For some reason, all of these unexpected issues, including one or two not mentioned- are throwing me off kilter.
Hope your holiday plans are going as planned.

Friday, November 18, 2022
With the end of the year quickly approaching, I have more to do than normal. In addition, because my 2010 WindowsXP Acer Netbook is beginning to have problems, I have had to move most of the computing resources on that platform to other systems.
One of the resources on the Acer platform was the Microsoft Access Database I use to maintain addresses. Over the years, I added custom features to my version of the address database that shipped with some of the earlier versions of Access.
I use Microsoft Office 2000 Professional on the Acer Netbook so I had to convert the database to the 365 version of Access for use on the mini PC where the database is now maintained.
Though not a difficult conversion, it was not as straightforward as I had hoped. It took less than 10 minutes yesterday afternoon to convert the database.
I have installed a licensed version of Microsoft Office 2000 Professional on one of my Windows10 Pro mini PCs, however now that I have a licensed copy of MS Office Professional 365, I prefer to use the later release.
I have been developing and using Microsoft Access databases since 1993, the same year I purchased my first version of the software. Though I could have used a workplace copy, I was so impressed- I purchased my own copy of the software. I consider Microsoft Access to be an invaluable resource.

Monday, September 12, 2022
It has been a busy start to September 2022. Some of the things I have been doing, include:
Corrected an issue with the Zillow Zestimate API demo.
Filmed cooking videos for my Youtube channel. I have a lot of editing to do on the videos.
Began working on a new tool using the Youtube API that provides earnings for specified Youtube channels.
Researched Youtube Vloggers.
Completed 1.5 hours of real estate continuing education (Fair Housing) for my license renewal in April 2024.
Researching ways to make money online. Wanted to understand whether surveys were a viable source of income. Made about $20.00 in a little over a week, however given my other time constraints, feel it is more of a burden than I can handle. That said, one can earn money online, doing surveys.
Went to the markets (Costco, Safeway, Food Lion) on separate days.
Finished a book I borrowed from the library, "Cry of the Halidon" by Robert Ludlum. Thought I had read everything he had ever written.
The $10,000 five year CD with my business bank matured, so closed it out and opened a new CD with another of my banks. The rate of 3.50% APY on a five year term CD was too hard to pass up at the other bank. My business and personal banks are large institutions with many branches. For most things like opening or closing accounts I have to make an appointment at one of the branches. My online banks do not have branches, however I love the fact I can open a new account without leaving home.
Noticed tributes for Serena.
Watching some of the many tributes for the Queen of England.

Monday, September 05, 2022
Let me say first of all, I owe a post about why my Instagram demos are no longer working (non-operational as of 11:00pm August 31, 2022 or when I noticed), however I am not happy about this situation, so I am going to put it off for now. A recent Youtube video demonstrates the demos were operational and I hope to correct the issue in the near future.
So, this post is about something that made me very happy, and how I justified everything.
What did I get?
-->".replace(/\r\n/g,"").substring(0,10)); if(nstr)document.getElementById("b782").innerHTML='Read More';
Saturday, August 06, 2022
Awhile back, I began to familiarize myself with the offerings of Node.js. What is Node.js?
Node.js is an open-source, cross-platform, back-end JavaScript runtime environment that runs on the V8 engine and executes JavaScript code outside a web browser, which was designed to build scalable network applications. Wiki Link for full description.
Access to online databases is an essential web service and one of the main offerings of Node.js. The Node.js server-side Javascript provides access to popular online databases like MySQL and MongoDB.
That said, for security reasons, I prefer Java JDBC servlets to access online databases which is not as open as the Node.js offering. The popularity of Node.js prompted my research into this area.
Insofar as online demonstrations of what I can do with node.js, there are issues for me because both of my web hosts use the Apache Tomcat server- which I need to run server side Java programs. This causes a special setup requirement for Node.js support. Because I only need the support to demonstrate Node.js knowledge, I opted to provide the demonstrations in my local experimental software development environment via video.
The following video demonstrates tools I am using and software I have created in my two software development environments: production and experimental including a Node.js demo.
I again used Active Presenter to create the video presentation provided in this post. I continue to learn new features available within Active Presenter however feel I should spend a lot more time editing. I have time issues.
PS. Sorry about the decibel level on the NPR Station Selection demo segment of the video. I wanted to show the control features of the application and may have left too much of the original video in tack.
Also, why am I not looking into the camera?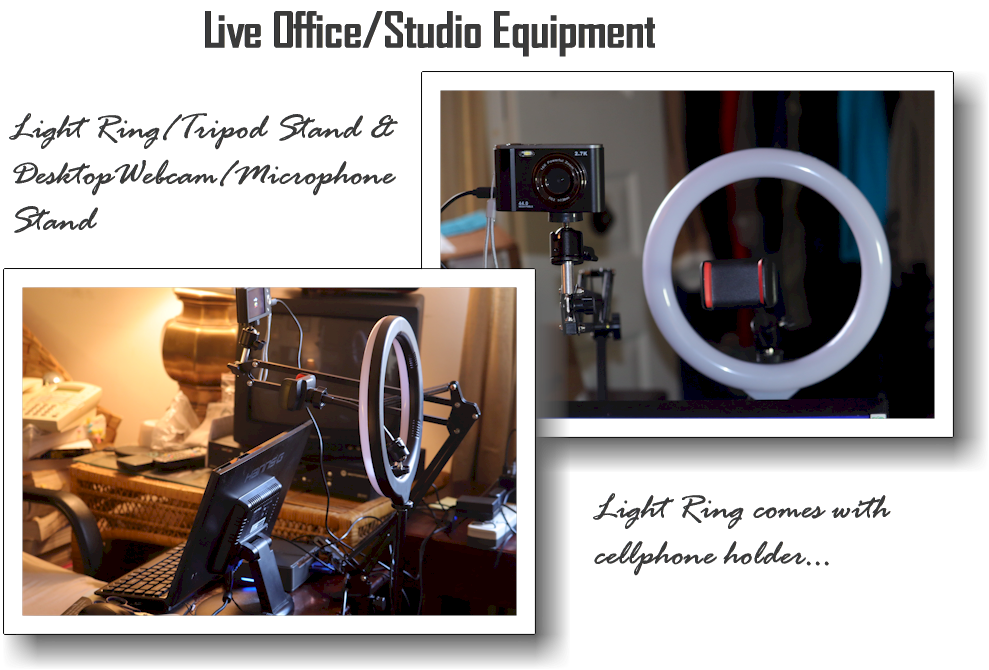 I use a high resolution monitor for Zoom meetings and a separate camera (monitor does not have a camera). Configuration shown above. When I recorded this video, I continued to look at the monitor and not the camera located slightly higher and to the left of the monitor. Trying to learn from my mistakes.

Monday, July 04, 2022
A major software issue I wanted to look into- involved my Instagram API Demonstrations, as provided: here and here.
The problem involved thumbnail requests of the photos and videos, which initially were being returned from the API as same size photos no matter what size originally uploaded to Instagram. See this link for illustration, the thumbnail requests initially worked.
Recently, when I uploaded a new photo to Instagram via my new iPad mini, the problem became more evident because the app on the iPad did not crop the photo in the same manner as the Android version. That is what prompted my decision to fix the problem now, rather than later.
The following video, discusses and demonstrates updates to several QiSoftware developed software tools including the Instagram demonstrations.
I am playing around with Microsoft's Power Point 365 and Active Presenter for online videos and presentations which is how I created the video in this blog post. I consider this effort in the early stages and will continue to try to perfect my efforts in this area.
Hope you are having a nice holiday...

Friday, April 08, 2022
Working a number of projects this week. In mid-March, I began implementing the new interface for the Zillow Zestimate API Demonstration. In mid 2021, Zillow decided to retire the older Zestimate API, and I was a little slow in deciding whether to replace the tool.
-->".replace(/\r\n/g,"").substring(0,10)); if(nstr)document.getElementById("b765").innerHTML='Read More';
Tuesday, February 01, 2022
I have been working several projects. A major effort began January 12, 2022, however I am not going to discuss this project just yet. I have an ongoing post started, chronicling efforts for the project. It is taking up quite a bit of my time.
Other efforts? Taxes, mine, and others. I have been busy gathering all of the needed documents and tax statements for 2021. Happy to report my tax returns, both Federal and State were filed last evening. I use the online version of TurboTax for my filings.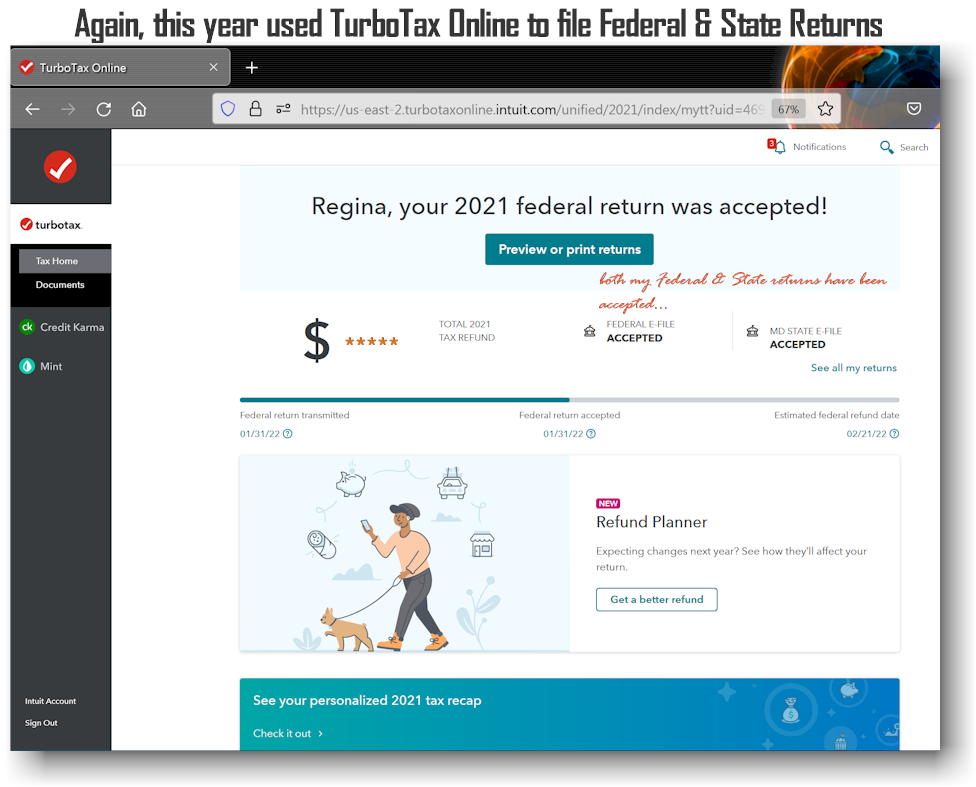 Have a bit more work to do for this tax season, however feel my preparations should make it a breeze.
Another issue? About a week and a half ago, I noticed a problem with the WiredPages Sports page- sports scores widget. I was able to fix the problem, in short order, however decided holding off on installing the new tool.
The reason for the software installation delay- probably has more to do with the major effort, I alluded to earlier. I have done a lot to debug the new tool (scores board), however at this time I do not have the time to run more checkout- if there is a problem once installed online.

Thursday, January 06, 2022
Recently, I developed a Java JDBC Servlet that connects to the WiredShops Opencart database- allowing real-time quick reports of sales data.
The illustrations below show the development (local) mode output of the program.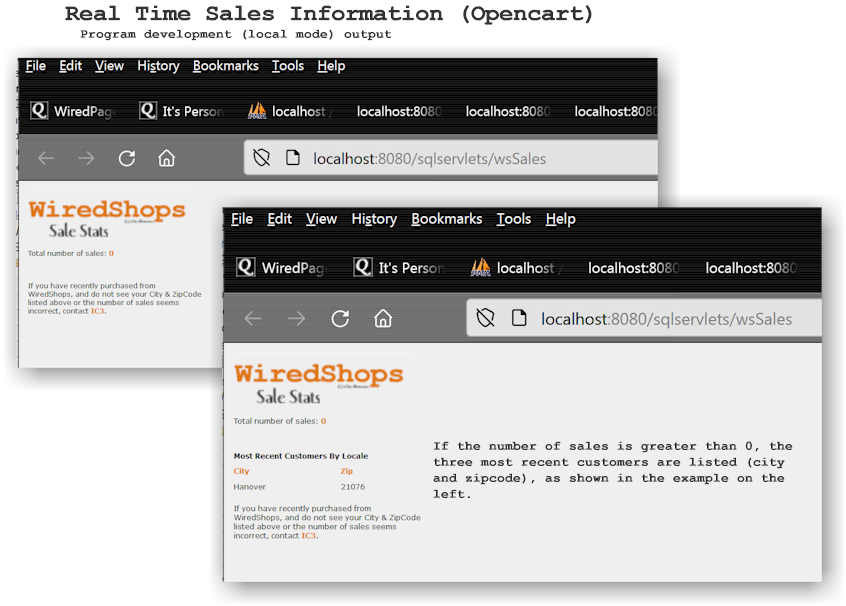 I have ported several integrated databases, i.e., CIA's World FactBook, Commentrics, and Opencart to my local development environment.
I was pleasantly surprised with the ease in which I was able to access the Opencart data. In comparison to the other databases, Opencart is very straight forward as related to executing queries without having to make joined or multiple requests.
The new program is installed on Remix (Business Blog) and this blog in the lower area of the sidebar as illustrated in the graphic below.
Can a program like this be written in PHP rather than Java JDBC Servlet technology? Yes. I prefer Java because it executes faster and is less resource intensive. Opencart is written in PHP. That said, all of my websites use Java hosting services in addition to Linux, Apache, MySQL, and PHP (LAMP).
To learn more about my WiredShops Opencart installation see this promotional article.

Monday, December 27, 2021
As previously discussed, site promotion for the new QiSoftware shopping site, WiredShops, was cancelled for the upcoming holiday season. The site went live the beginning of November (2021), however because of problems with payment processing and shipping times, the decision was made to forgo heavy site promotion.
Though the site has been live since November, there have been no sales. If you feel this is in error, please contact the Internet Crime Complaint Center (IC3).
The site is driven by the Opencart platform. At any given time, the Opencart administration panel reflects the number of visitors to the site.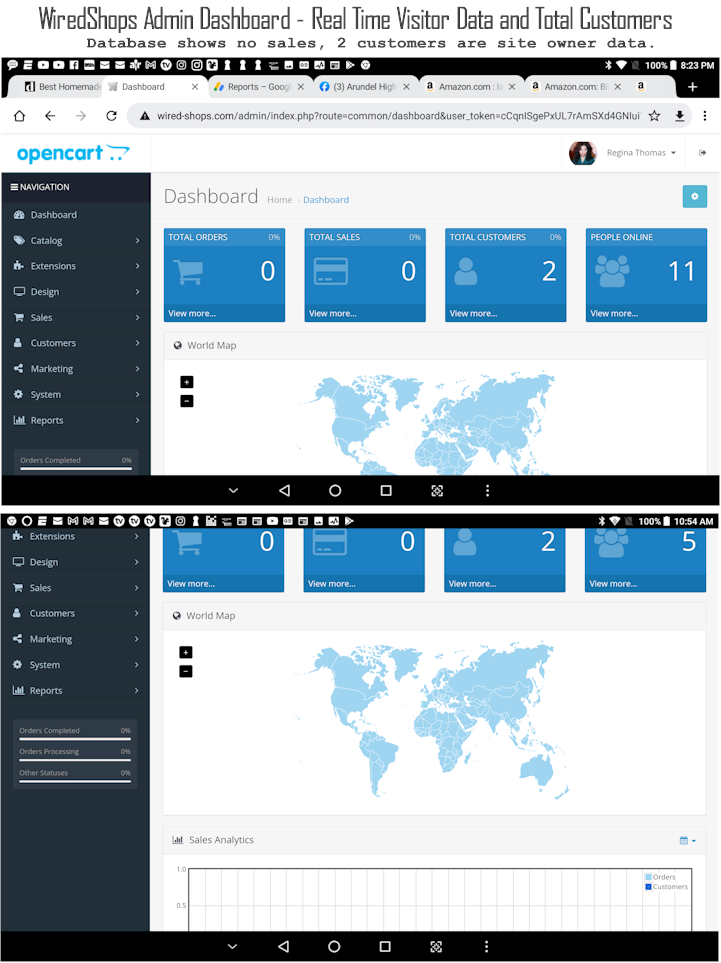 Payment processing issues included problems with non-registered PayPal buyers. For some reason the payment processing for these types of purchases would hang and not process debit and credit card information.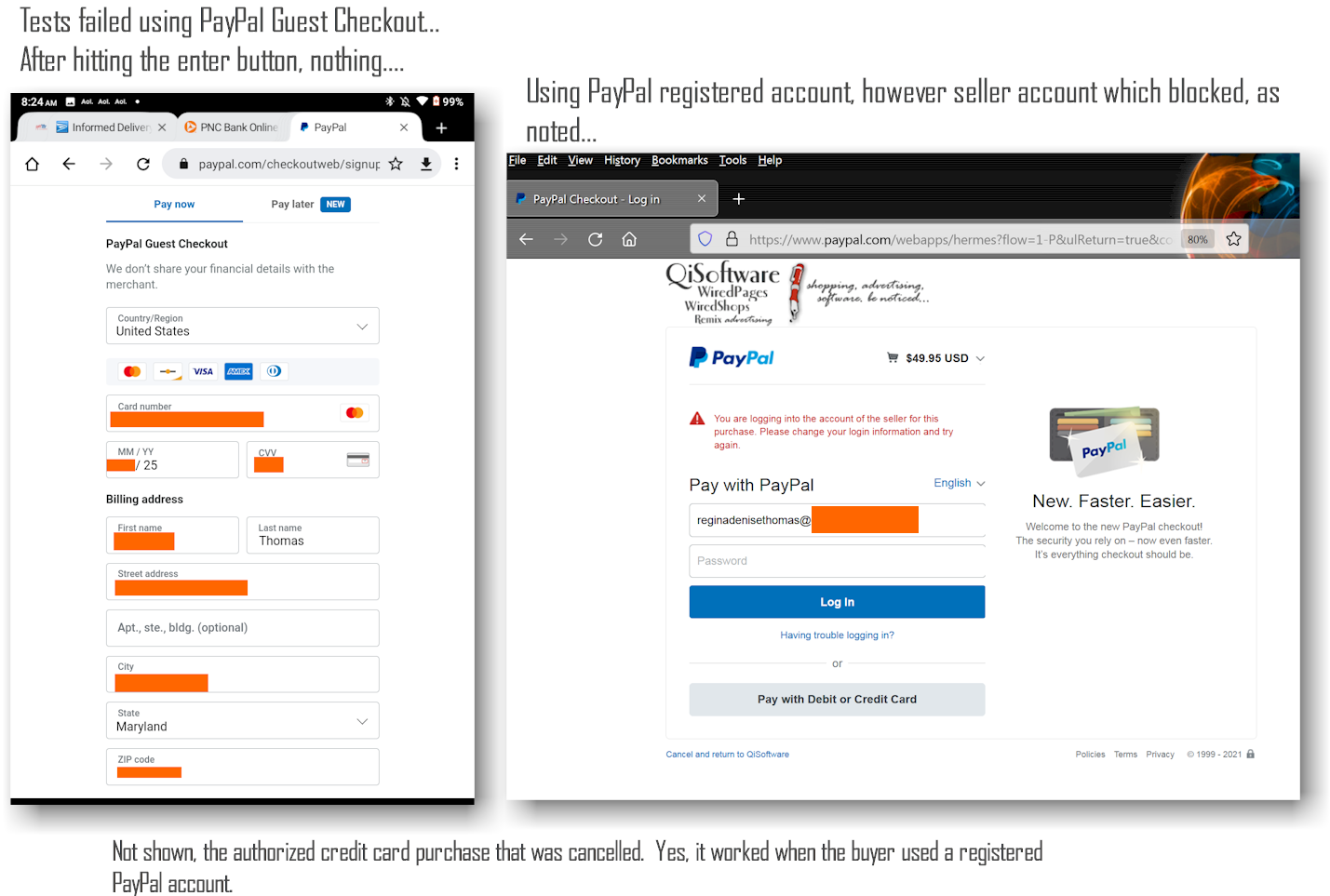 Tests showed, buyers registered with PayPal accounts had less problems.
At this time, PayPal is a cost effective solution which protects both my commerce enterprise and buyers. I have no immediate plans to switch to merchant services offered by my business bank, even though this option is available.
Since mid-September, I have submitted 5 separate orders to my suppliers to check products and understand the process. I am pretty happy with the products I received and received all of the items ordered.
The early orders seemed to take forever to arrive, so I have tested other shipping options with better results. A big reason for the "no holiday promotion" decision this year, I wanted to understand how to correctly select shipping options.
The items I ordered as holiday gifts, using revised shipping options, arrived well before the holiday. I did not use next day service, and the order took about 12 days. WiredShops does offer next day service for an additional fee.
Abstract noise has provided that I have other problems that I would like the proper authorities to look into. Since, I cannot prove any of the allegations, I am looking into other ways to have this checked.

Tuesday, December 14, 2021
I was surprised to learn the site ranking resource, Alexa.com, I have relied upon since 2002 (qisoftware.com registered June 28, 2002), will retire May 1, 2022.
I am not sure why this came as a surprise. In March 2020, I developed a quick reference tool using Java Servlet technology to access the Alexa API. Below are illustrations of the tool's output.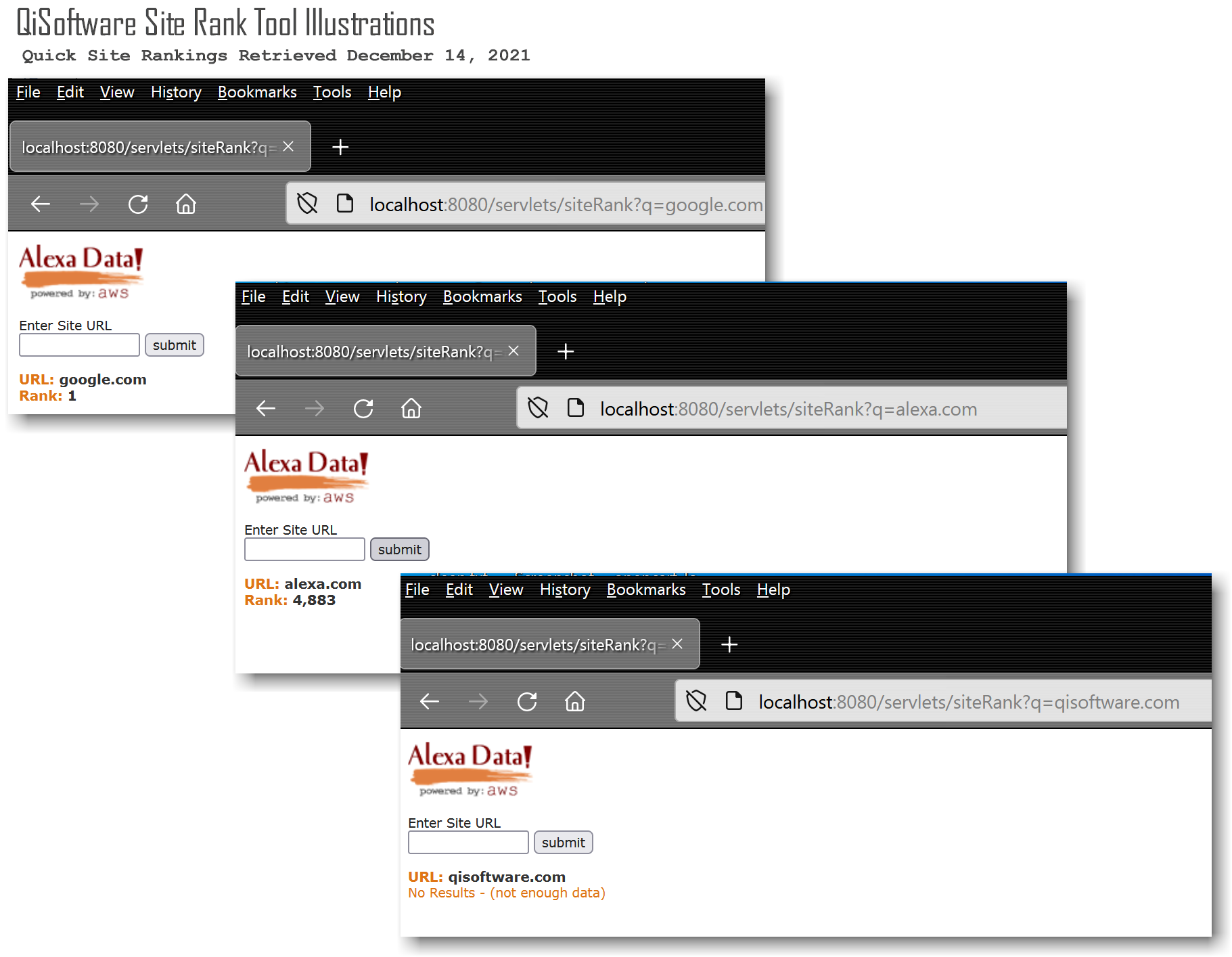 In this business blog (Remix) post, I discuss new tools I developed that would be installed on my sites at a later date. The Alexa site ranking tool was one of the new tools.
I have too many security issues to install all of the software tools I develop. In this case, an additional problem related to Alexa API access costs.
This tool was slated for installation on the WiredPages Technology page. I felt the tool would have added another interesting resource for visitors to the site. I am sorry, I probably will not have the opportunity to install this tool.