Tuesday, August 29, 2023
I have been working several projects, including:
Integration of a Google-certified Consent Management Platform (CMP) to all of my sites and subdomains, i.e., WiredPages, It's Personal (this blog), etc.
MS Access Database to maintain my Amazon affiliate links & stores
Researching and setting up a new Certificate of Deposit (CD).
The first project listed above- was actually completed earlier today so let's start there.
For several months, the home screen of my Google Adsense account has shown the following notice.

Several years ago, I integrated the CloudFlare interface to all areas of my sites to handle the General Data Protection Regulation (GDPR) law that came into effect in May 2018.
CloudFlare is not a Google-certified Consent Management Platform (CMP), the reason the notice began to appear several months ago on the homepage of my Adsense account.

So from the above list of certified CMPs, I chose Quantcast because I have been using the service for years on all areas of my sites to track traffic and other statistics, and thought it was the natural choice for my needs.

Quantcast allowed the option to show the popup message and dialog options to only EEA and UK visitors to my sites, so those in other areas including the U.S., will not see the message nor options.
The second project listed above, MS Access database to handle affiliate links was completed on Sunday. I am pretty pleased with how this project turned out, and happy I have a more efficient way to maintain and provide my Amazon affiliate data. See the upper sidebar of this blog (under Amazon Stores) or the WiredPages Libraries page for illustration of what the new database provides.
The last project, setup a new savings CD- was actually completed on August 22, 2023 when I noticed the APY on a 16 month term CD jumped from 5.10% to 5.25%. I had transferred the funds from two of my checking accounts a few days earlier and hoped the APY would increase. It did, and I set it up.

Monday, August 14, 2023
Over the past month, I have noticed shorter term CD APYs are on the rise. Over the last two or three years, 5 year CD APYs were higher, so I setup several CDs to take advantage of the rates banks were offering.
This week I will setup a new 12 month CD with an APY of 5.10%, and hope the accounts I am transferring the funds from will not be needed for an emergency in the next month or so.
Since I am discussing financial issues, I do have some good news- my FICO scores are on the rise again. After I applied for and obtained two new credit cards last year my credit scores went down. Reference this post or the finance category of this blog where I provide ongoing details about my credit scores.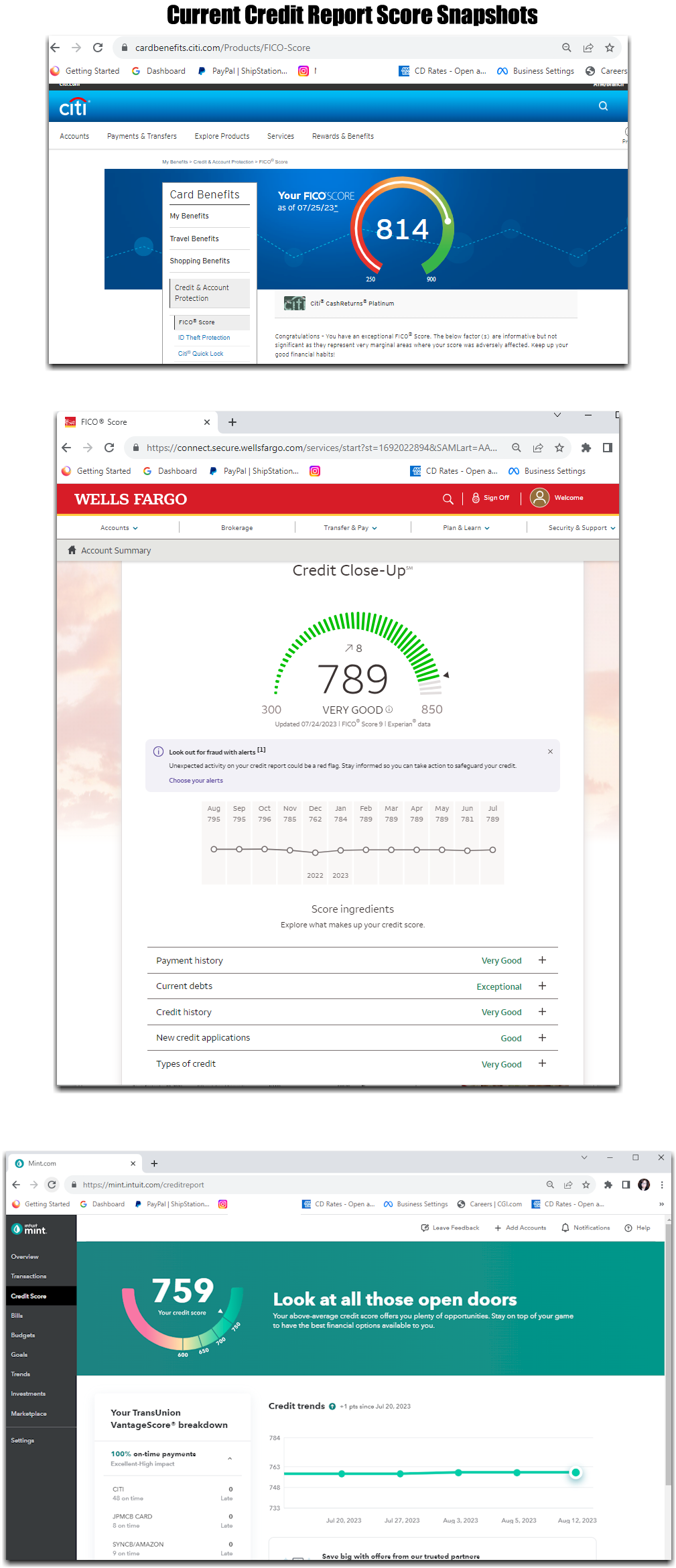 On my journey to monetize my Youtube Channel, there was also more good news, I now only need 500 subscribers rather than 1000. (This is rather a giggle at this point. Someone indicated my subscribe button does not work, however I tend to be rather sporadic with video uploads.)
I have also started planning and making healthier meal choices.
I am particularly happy about a green beans recipe (I use garlic powder rather than garlic cloves) I found, which I add to sauteed chicken breast.

Tuesday, January 31, 2023
Every morning, I check my sites, various site analytics, and my current financial picture.
As I have discussed in recent posts; CD Shopping Update and mid December 2022 post, I have been tracking annual percentage yields (APYs) for 5 year CDs offered by two of my banks hoping to take advantage of rates in the 4.2-4.5% range.
Tomorrow, February 1, 2023- no matter where the rates, I planned to open the new CD. This morning I was a little more than surprised to learn that APY rates were down with American Express, the bank I wanted to use. I am not sure exactly when the rate dropped, but it went from 4.25% to 3.75%.

I was so busy Monday (January 30, 2023) morning, three trips to different area markets, Columbia, MD to my business address, and then the post office to submit a permanent forwarding address for my business- that I may have missed an update on APY rates later in the day.
In addition, in the afternoon (Monday), I had several calls to Maryland taxing agencies concerning business mail I picked up earlier in the day.
On Friday (January 27, 2023), the van I use to do most of the chores would not start. Yes, I do have other vehicles available, however I allowed the van that would not start to annoy me.
Lucky for me, I noticed a charger my brother used once and I purchased something similar not long after. I used the charger to start the van, and then reconditioned the battery (button on the charger), however did not do any of the shopping I planned for Friday. I waited until Monday. I was so happy I could get to all of my shopping and Columbia that I was not going to do anything but handle issues that came up.
Translated, the (AMEX) bank CD rates going down did not jump up and scream like all of the mail from my business address.
This morning, wide awake and happy most of my business issues were resolved, I got back on track and discovered I missed the CD American Express bank rate change that was lower.
Before eight this morning, I opened the new CD with Synchrony for 5 years at 4.30% and directly set up an external transfer from the American Express savings account to the new Synchrony CD account.
I decided not to bore you with some of the details, however to change a business address in Maryland seems so hard I believe they want me to ask an attorney to do it. I set up the business, I am not sure why I need an attorney to change the address. That said the Comptroller of Maryland (taxing authority) had no problem updating the address when I sent Form 109-B MARYLAND CHANGE OF ADDRESS FOR BUSINESSES in October 2022. One of my calls on today- spoke with Brittany. I also registered with bFile the interactive business tax filing service even though I have had no sales since setting up my ecommerce shop. I file something known as a ZERO Return each quarter.
When I check the APY rates tomorrow morning, I am not going to scream if Synchrony's rates are higher.
By the way, I think all girls with vehicles should have automotive accessories in their garage similar to these in my garage.

Tuesday, January 24, 2023
In an earlier post, I discuss the fact I was shopping for a new certificate of deposit (CD).
I wanted a 5 year CD and noticed at the time, two of my banks Synchrony and American Express were both offering the term lengths I wanted at 4.30% and 4.25% respectively.
Since then, I have been waiting for those rates to go up. In mid December (2022) just after I posted the entry, the Fed raised interest rates by 50 basis points, however my banks held at the yield rates previously offered.
I thought maybe by the first of January my banks would offer new rates. No, both held with the same rates. Today is the 24th of January and to date- all the reports I have received, suggest at the end of the month the Fed will again raise interest rates by 25 basis points.
Though I am not counting on rate increases from either bank for the 5 year CD- by the first of February, I am hoping. That explained, in recent weeks I have moved/transferred funds from other accounts to be ready to open the new CD on the first of next month.
Note from the above illustration, I decided to use American Express rather than Synchrony which currently has a lower yield rate than the other bank. Why? I already have two 5 year CDs with Synchrony, with each having more capital than the funding amount (~$15,000) of the new CD.
Not counting the new JP Morgan Chase Visa, American Express is my most recent bank and used for high yield savings. I opened the HYSA account with AmEx on February 2, 2022 with an initial deposit of $2500.
Mint recommended the savings account with American Express and my research indicates their rates are very competitive in several areas. I really did not want to transfer funds from AmEx to fund a CD someplace else. In my case, though I have several banks, only Synchrony offered a competitive rate on the 5 year CD to that being offered by AmEx.

Monday, December 12, 2022
As expected, Sunday (December 11, 2022), my TransUnion credit score was updated and increased slightly according to the report offered through Mint.
Reference this discussion about why I was a little annoyed about the credit reporting. I continue to feel the TransUnion score is a little too low.
For the past week or so I have been shopping for a new Certificate of Deposit (CD). Since I already have accounts with financial institutions offering some of the best rates, my research only involves monitoring rates being offered by two of my banks, American Express and Synchrony.
The Federal Reserve will be issuing new data on rates, I think- December 14, 2022, so I am waiting to see if the reports hold concerning a 50 basis point increase. This increase could have an effect on new rates my banks are willing to offer.
Recently, I have been doing a lot of research into financial planning and routinely monitor investable assets that can be moved into high yield savings accounts and/or CDs. I use two versions of Microsoft Money (business and personal versions) to track these assets.
Yesterday, I decided I needed a summary spreadsheet, so I would not have to log into the separate Money files to see the data. I developed an Excel spreadsheet for this data summary.
This weekend, I planned any number of projects, however because I wanted to watch the full first season of "Injustice", a series out of the UK, I did not get to everything I wanted to do.
That said, playing with this Excel Spreadsheet and some of the underlying formulas was kind of fun.
Saturday, I also made a western omelette for breakfast.
Lately, I have been preoccupied with financial news and tech layoffs (
layoffs.fyi
). It was a nice weekend, doing fun and interesting things. Going to get back to work in just a minute...

Sunday, December 04, 2022
My observations with my personal credit reports began shortly after I moved away from home after graduating from college. I think the one thing most undergrad students know, on campus there is a concerted effort to have students apply for credit, and I did.
My parents gave me a gas credit card when I was in high school, so until that point, that was all the understanding I had to have about credit.
While in college, I lived at home, however had a part time job and attended as a full time student. My credit profile began while in college and quite frankly looked good. Creditors loved me.
Early, in my four year journey for my undergrad degree, I think my parents wanted to ensure I was serious about college. So one semester they requested I take out an education loan (only for that semester's fees) with my credit union (Tower Federal Credit Union). I also took out a new car loan in my sophomore year.
My parents paid all of my living expenses while in college, except the payments on those two loans. Including my auto insurance. During my high school and college years, you would not believe how many times my car was hit, while parked in front of our house.
The year I started my first professional job, I purchased a little two seater with a higher insurance premium. This was in September 1981. In December 1981, my relatively new car was hit while parked in front of my parents house. My auto insurance was high, however always paid through the family policy. These accidents, though no fault of mine, were paid through the family policy however my cars were always registered in my name.
When I moved away from home (June 1982), a year after graduating and acceptance of my first professional position (Boeing), I began to look into credit. I cannot now remember why, however I still remember the credit reports I ordered from the credit reporting agency on occasion.
When I left home, I had more expenses including my own auto insurance policy. Maybe I should have had more expenses before I left home. I did have a low interest college loan, several credit cards, and my new sports car loan, but that was all by the time I moved in 1982. Other loans had been paid off while in college.
The other thing I understood about my credit rating- because I was a defense contractor with a top secret security clearance, I wanted it to remain in the good range.
All of this to explain- why I began looking at my credit ratings early in my professional career. When I wanted to purchase a new home, I set about ensuring my credit rating would be inline with what a mortgage company would accept. And they did.
If I had problems early, it was because I was spoiled as related to credit and had to learn somethings quickly, after I left home.
As a matter of fact, 3 and a half years after first signing with Boeing, I decided, I wanted a career change and looked at different positions. General Electric, explained they would like to hire me, however they would need a lifestyle polygraph. I explained to the hiring manager that I had no problem with the lifestyle poly, however one of the reasons I wanted a career change was I wanted more in the way of salary and also explaining the minor issues I had with debt. He said, there would be no problem with the debt issue and I said there would be no problem with the lifestyle issue. I accepted the position with General Electric.
I left the position with General Electric because it was not what I expected it to be. Boeing had perks that GE did not offer, e.g., my own office, phone, business cards, etc and GE was different. I wanted a more formal setting like I had with Boeing and Rockwell International offered the perks I was used to. I accepted the Rockwell International offer 6 months later. I was with Rockwell for 10 years.
So why am I discussing this? Last night I received an email from the bank that extends credit on my Mastercard (Citi Bank), explaining my FICO score had been updated.
I was a little concerned given my recent observations with the TransUnion reports provided via my Mint account. Mint updates my credit score every 7 days or whenever they receive updates to my credit standing, e.g., new cards added, new inquiries, etc. Applying for credit does impact FICO scores. In 1983 or so, when I first started researching my credit reports, FICO scores were not used. Back then I wanted an "R1" with a lot of months with the same rating- for each credit item on the report.
Today the FICO score offered by my Citibank Mastercard uses Equifax and their latest rating is shown below.
Last night, I was relieved when I took the screenshot shown above. This morning, I checked Mint (TransUnion), and wanted to be annoyed with the screenshot shown below.
I went over the TransUnion report trying to understand why there might be so much difference between the two scores. I have written notes on the screenshots I am using in the illustration below:
I am not sure why the Mint credit report does not show the Citi Mastercard payments on 11/04/22 and this might be a factor as to why the rating is lower. That said, Mint's aggregation process used to stay up to date with all of my financial accounts and related activity- does reflect the payments to Citibank on November 4, 2022.
I am hoping all of this updates early next year, reflecting more positive scores across the board. Even if it does not, I will have learned more about how modern credit ratings are derived. See this post- FICO Realities and Recent FICO Activity for more about my recent credit activity.
I thought of a title for this post, after I had written it.

Monday, November 14, 2022
In a recent blog post, I discussed issues I noticed with my FICO score when I applied for the Amazon Store Card.
This post provides a bit of an update in that my FICO score, as reported by Mint- as of November 9, 2022, based on the TransUnion VantageScore® breakdown, increased by 7 points to 766 from the low of 759 after the application process for the Amazon Store Card.
What happened on November 9, 2022? There was another credit inquiry from Chase Bank because on that day I applied for the Amazon Signature Visa Card. So why did it go up? I am researching all of this.
Why was I applying for credit cards, anyway?
Credit reporting agencies contend negative data because I did not have enough debt or credit cards. Only one Mastercard and several personal & business debit cards.
Rewards on existing Mastercard not as attractive as offerings from other banks.
Amazon Signature Visa offers rewards, not the Amazon Store Card I applied for on Oct. 6, 2022. In both cases I received Amazon Gift cards when my applications were approved for a total of $160.00.
Why do I share this type of information? I need total transparency. Odd things happen to me. Recently (Sept. 30, 2022) I received two invoices via PayPal claiming I owed $299 each for something to do with Microsoft applications. Had no idea why those invoices were sent to me.
When I tried to have Paypal correct these issues, they indicated I could just ignore them. That said, the invoices are still showing on my dashboard and I cannot seem to report I did not order any software from Microsoft.
I use PayPal for my ecommerce shop, and most other payment options. I have had some pressure to switch (not sure why since I get no hits on WiredShops), however, my business bank and other payment options are not as cost effective as PayPal at this time. I am not sure if this is why I have noticed more odd issues than normal.
Prior to that, for some reason, Facebook decided QiSoftware was no longer a legal business entity. Instagram thinks QiSoftware is a business, my banks, PayPal, etc. all consider QiSoftware a business entity. Facebook recorded QiSoftware as a business entity in 2008 when I first joined.
In June 2022, they decided QiSoftware was not a business. I can ask them to reverify, however during the time of the verification process I was getting strange calls on my business line from characters with heavy accents. It may have been one of those calls that determined I was not a legit business, however I am not sure what happened. Just not in the mood to argue about this with Facebook. After I have my banks and Maryland update my business address I will look into this again.
I should also provide, in April 2022 QiSoftware was again verified as a business on Facebook and then in June 2022 for some reason they requested a reverification. It failed. If you are a Facebook developer you may know they do this a lot with applications. Why do you need those permissions, etc? I can easily prove QiSoftware is a business entity so I was surprised they did this.
Other minor issues that seem odd. Decided at this time, I want full transparency.

Saturday, November 12, 2022
I am always looking for cost cutting business moves, so last month when I decided to move my business address from Columbia, MD to Hanover, MD I knew I had several tasks to complete- in preparation for this change. Cost cutting? Since I reside in Hanover, MD I am making the trip to my business address much shorter.
My original attempt to notify the Maryland Department of Assessments and Taxation of the address change failed because I used the wrong form and did not remit a $25.00 payment to have the amendment recorded. The check was debited from my business checking account on November 10, 2022.
Another of my business cost cutting moves? In July 2016, I decided because I seldom write checks, to start printing my own for both my business and personal checking accounts. I discuss my custom check templates in this July 2016 blog post. See the image below for more on the blank checks I ordered.
Recently, I mentioned the keyboard on my Acer Windows XP Netbook is malfunctioning, so I am moving tools to other platforms. I developed the custom check templates using the Publisher version that came with Microsoft Office 2000 Professional version. Happy to report, had no problems converting the custom check templates from Office 2000 Publisher to Microsoft Office 365's Publisher version. See the illustration below.

In the above referenced blog post, I mention I use the Sunset version of Microsoft Money for Business (no longer available online for download). I used GNUCash for many years, however had too many issues so decided to use Microsoft Money for Business instead.
I mention this because I have been researching Quickbooks both as a developer and for use with my business, and believe I have the most cost effective solution for my business and personal finances.
One of the big advantages of Quickbooks over Microsoft Money for Business, is its ability to interactively communicate online with all of your banks to ensure account synchronization. I use both the Net Worth service offered by my personal primary bank (Bank of America) and my online Mint account to ensure all of my banks align with my offline copy of Microsoft Money for Business.
At this time, I do not mind I have to input some of the data to MS Money. Recurring debits, transfers, and deposits are automated, however a lot of the data is not. Bank of America and Mint use automated processes or aggregators to access real-time account balances from external account references.
I also use the non-business Sunset version of Microsoft Money to maintain financial and tax information for someone close.
I have to say, without Microsoft Money the cost to maintain these financial records would be a lot. I have cash assets that I need to be able to move quickly, especially now with the Fed's moves on interest rates. I am able to maintain this financial data effectively and efficiently with the Sunset versions of Microsoft Money.
Below, an illustration of some of the accounts and features I use with my version of the Sunset version of Microsoft Money for Business.
When will the business address change go into effect? The state has not updated the online business information, however I have begun to add the new address to some of the many areas I will need to update.

Wednesday, October 19, 2022
Since early September (2022) I have been experimenting with online surveys to determine whether they are a viable source of income. In my case, I have decided they take up a little more time than I can afford, however will help out with gift purchases for the upcoming holiday season.
That said, the following chart shows the Amazon Gift Cards I have claimed since September...
-->".replace(/\r\n/g,"").substring(0,10)); if(nstr)document.getElementById("b785").innerHTML='Read More';
Friday, August 26, 2022
The general idea of my financial planning is to save every penny possible, only allowing for business and limited social expenses, i.e., birthdays, holidays, and every now and again a treat.
For legal reasons, which I am not going to reiterate in this post, I also like my financial picture to be totally transparent.
This- the reason I provide the illustration below of the "overview" of my Mint account, showing a redacted accounting of all of my active financial accounts.
If this is meant to be a transparent overview, why is the illustration redacted? Legal authorities, businesses, agencies (e.g. Maryland Real Estate Commission) and higher education institutions can all easily verify the information I am providing, so I mean transparent in that regard.
Recently, I have had a series of appointments with one or two of my banks for a couple of reasons. One, I needed a notary and two, I have a 5 year CD that is about to mature.
You will note from the above illustration, most of the financial institutions I deal with are primarily online service providers. Wells Fargo and Bank of America have local branches that I visit on occasion and represent the institutions I use for both business and personal checking and savings accounts respectively.
Interest yield rates are going up, and my business bank no longer charges as much for the monthly service fee and has also lowered the amount I need to maintain to avoid the fee altogether. So I no longer need to maintain a $10,000 CD with the bank to avoid the monthly service fee and I wanted to ensure the CD would not automatically rollover when it matures next month.
I also needed a notary for some legal documents. I made three appointments and attempted one walk-in (UPS Store in Hanover), before I finally had my document notarized. I was surprised by how hard this was, especially, in that I made appointments. The last bank appointment worked.
I have no choice at this time but to save money and try to find the best rates possible. I really cannot afford a financial planner (for market investments) so as with everything else, I learn what I need to learn and do it myself which means in my case, no risky investments.
Some of my recent issues rather surprised me, so I thought I would note it for the record. I mainly do things like this for legal authorities.

Saturday, July 09, 2022
Do you ignore promotional emails? I get probably- as many as anyone else, and I must admit my cursor stays on the delete button when checking the mail.
That said, on June 13, 2022 I noticed the subject line for the email highlighted in the graphic below and decided to have a look.

When I opened the email to investigate, I found the following offer.
So the next day, I decided to use my personal checking account (Bank of America) app rather than my business checking account (Wells Fargo) app to deposit the rewards check from the credit card company. I made a video of the mobile deposit.


The last time I received a credit card rewards check was 3 years ago after I purchased my new camera. I normally deposit these infrequent cash rewards checks to my business checking account, however, because of the rewards offer from my other bank, decided to change my routine and use the other bank.
The bank stated the $10 rewards deposit would be within sixty days, and showed up this morning as a deposit made yesterday.

Needless to say, I am not going to be so quick to delete promotional emails in the future.

Friday, February 04, 2022
When I left the corporate world for a home/office setting, initially I did not notice an exponential rise in the number of appliances in disrepair.
I did notice the cost to stock paper products, i.e., paper towels, tissue paper, etc. went up. My dry cleaning bill went down. I used to spend anywhere from $20 to $40 a month on dry cleaning.
When did I notice issues with major appliances? In March 2020 with the onset of the pandemic. My theories on why these new home maintenance costs seemed to coincide with that period.
Cooking more meals, and not just frozen entrées
Washing more dishes
Washing more clothes
Timing, appliance age and more use since making my office, my home
How have I avoided some repair costs that could have been expensive (note: not the new microwave purchase)?
Once, after washing a load of clothes, I noticed a small puddle of water on the basement washroom floor. I also noticed the back of the washroom door was wet. Initially, I did not understand how this could have happened.
I washed another, smaller load and noticed the washer outtake hose with the lint filter was spewing water all over the place and not in the utility sink. The lint filter was full. So I spent less than $10 for two new lint filters. It worked.
I think the lint traps I purchased were rather small. I thought of using a screw clamp and a small garment laundry bag, if I have to replace the lint bags more often than I want.
On Sunday, January 16, 2022 I decided to clean the oven. It takes about 4½ hours for this high temperature process to complete. The scent from the heat cleaning process is notable.
Later in the evening, I used the dishwasher. When I went down later, around 11:00 pm I noticed a smell. Initially, I thought it was the stove from the earlier cleaning. The next morning when I unloaded the dishwasher I noticed the scent. It was the dishwasher.
Underneath the sink was a bottle of Jet-Dry dishwasher cleaner. The bottle so old, that when I researched how to purchase more-- it was no longer the same brand label.

The Jet-Dry dishwasher cleaner worked so well, I was amazed.
I moved away from home after college. I was a young professional who really did not worry about cooking or washing clothes. My dishwasher and stove were rarely used and the washer and dryer maybe once a month. Dry cleaning, hosiery shops, and eating out were my budgeted expenditures.
Before moving to my first place, I did not know how to cook. My clothes were washed with the family loads. I lived at home during the fours years I was an undergrad student. That said, I was rarely home because I worked part time and was a full time student. This to explain why this new domestication on my part is late in coming.
Maybe you simply have a repair service come in. That is very expensive these days. I admit, some of this stuff seems elementary, however if your background is similar to mine-- you may find these tips helpful especially in today's world where everyone seems to be spending more time at home- using appliances more than ever.

Tuesday, February 01, 2022
I have been working several projects. A major effort began January 12, 2022, however I am not going to discuss this project just yet. I have an ongoing post started, chronicling efforts for the project. It is taking up quite a bit of my time.
Other efforts? Taxes, mine, and others. I have been busy gathering all of the needed documents and tax statements for 2021. Happy to report my tax returns, both Federal and State were filed last evening. I use the online version of TurboTax for my filings.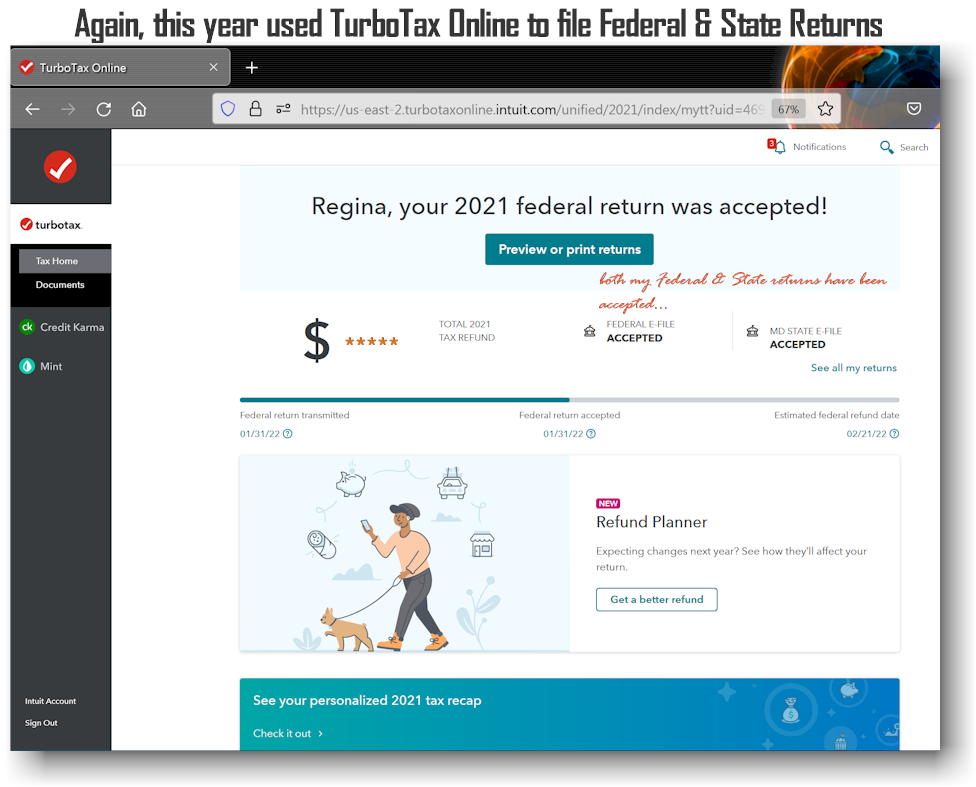 Have a bit more work to do for this tax season, however feel my preparations should make it a breeze.
Another issue? About a week and a half ago, I noticed a problem with the WiredPages Sports page- sports scores widget. I was able to fix the problem, in short order, however decided holding off on installing the new tool.
The reason for the software installation delay- probably has more to do with the major effort, I alluded to earlier. I have done a lot to debug the new tool (scores board), however at this time I do not have the time to run more checkout- if there is a problem once installed online.

Thursday, December 09, 2021
In March 2020, because of COVID-19, spending outside of normal upkeep was only done if absolutely necessary. Some years earlier, I setup all of my accounts in in the Microsoft Money Sunset Business version. I have 4 banks, PayPal and at any given time, several accounts associated with each bank, including checking, CDs and savings accounts. Today, I have 8 bank accounts, including the funds I maintain via PayPal.
All of my accounts are linked, in that I can easily transfer funds between external accounts if needed.
In 2020, I started handling all my mother's accounts. Mainly, because the trip to HR & Block was a trip she did not want to make at the time. My mother has 3 banks, however she is not a business owner, so I setup her financial data in the Microsoft Money Sunset version for personal use.
Before my father died, I used to do their taxes. Because of my own legal issues, I stopped doing my mother's taxes about 5 years after his death, then started again in 2020 because of the pandemic.
Quick frankly, my business does have assets, so mostly to avoid any legal issues where tax filings were concerned, in April 2021, I setup legal assurances to ensure everyone was protected.
I have always had my mother's permission to act on her behalf, as many of her household account organizations i.e., electric, phone, cable, etc. can attest to. I also set her up so she could pay bills online. She likes checks and the USPS.
Me, when I write a check, I use a form I created using Microsoft Publisher and blank checks I ordered from Amazon. I seldom write checks. The last, a redacted copy as rendered by Microsoft Publisher is shown below.
The check was deposited from my personal checking account to my business savings account before I linked all of my bank accounts.
I am very happy with Microsoft Money, in terms of cost to own, and the power it gives me to track everything to the penny for both me, my business and all of my mother's personal accounts. She has many.
Over the last 2 years, interest rates on CDs have not been great. I used to routinely, setup 12-18 month CDs at Synchrony (one of my banks) with rates well over 1%. The only CD I have now is a 5 year CD I setup in Sept. 2017 at my business bank. The rate is only .35%, however I set it up to ensure I avoided a $14.00 monthly maintenance fee on my checking account.
At the time, if I maintained $10,000 or more in combined accounts I could avoid the monthly checking and savings account fees. So I set up a CD for $10,000.
Since then, my business bank has revamped their charges (COVID impact), and now the fees are under $10 however I continue to maintain the combined balance to avoid maintenance fees, altogether.
CD rates are picking up again. Both my mother and I maintain too much is low interest bearing checking accounts and I have been researching ways to invest in CDs with higher rates. Why not stocks? I like more guaranteed returns on investments. When setting up savings accounts with the corporations I worked for, i.e., Boeing, GE, Rockwell, I always selected guaranteed returns though I could have invested in higher return options with less guarantees. I never gamble with money. Not mine, not my mother's.
When I setup the legal paperwork for handling financial planning, I was taking a real estate course and did quite a bit of research into the types of legal documents I needed to protect all parties.
I am told, I did a great job with the legal documents I created which were notarized in April 2021. Actually about 2 years ago, it was a customer service rep with BG&E who suggested this legal solution.
Why all of the transparency? You would not believe the legal issues I have had over the years, or maybe you would. I am owed an explanation from DOJ.
FBI, over the many years I have maintained my business (since 2004), I have noticed anomalies where my business banking is concerned. This is a legal notice of shorts. I am aware you have looked into some of these issues. I am hoping you are still looking into these issues.

Tuesday, May 25, 2021
While researching data tables (FRED, Federal Reserve Bank of St. Louis), I thought would be useful for different areas of WiredPages, I noticed an interesting statistic about nationwide personal income and savings over the period March 2020 through March 2021.
This period of course, encompasses the upheaval to business, employment, and life in general across the U.S., and the world, due to the COVID-19 crisis.
What is interesting? According to the numbers, U.S. personal income rose and so did the percentage of disposable income that was held in savings.
The graphs shown above were charted using data from the partial spreadsheet shown below (click on the illustration for the entire data set):
My personal financial situation over the same time period? My personal income was slightly higher along with the amount I held in savings.

Sunday, March 21, 2021
The final for the real estate course is Tuesday, March 30, 2021. I will be studying for most of the week, however feel ready to take the exam.
Was this an easy course? In my opinion, if you do not have time to study, you will probably find it is not as easy as you may think. That said, I have learned a lot and happy I had the opportunity to do this.
Financial terms I may have looked up in the past, simply because they were mentioned in a news story, now have new meaning as applied to real estate finance. Some of these terms include:
Capitalization Rate (also known as Cap Rate). Example: a property in Maryland has a ground rent of $2160 annually. If a buyer is looking to obtain both land improvements and the land, the ground rent in this example would be capitalized by dividing $2160 ÷ 6% = $36,000 (the price the buyer would pay for the land). Six percent is the rate the State of Maryland sets for most redemption cases of this type.
Consumer Price Index (CPI), the State of Maryland uses this factor to determine the filing, delivery, etc. fees for some of the services it provides.
Loan To Value ratio (LTV). Principle Loan Amount ÷ Sales Price (or Appraised Value). A conforming mortgage loan normally requires an 80% LTV. A mortgage lender considers a lower LTV more attractive, i.e., 80% is better than 90% to a loan officer.
I purchased real estate years ago. At the time, some of these terms may have been mentioned in the loan and settlement processes, however probably forgotten. I appreciated this refresher course, in that the definitions now have broader meaning across a wide spectrum of uses.
New features, recently added to WiredPages, provide a myriad of statistics for everyday use. Below, illustration of new resources added to the WiredPages Real Estate page.

I consider myself well versed in consumer news, however if I never looked up uses for the CPI, I was not overly concerned. I thought, if needed, I could easily look up anything. I say this to say, some of the new features may seem a little intimidating, however in real life (& business), these numbers may be useful and easy to lookup.

Wednesday, February 05, 2020
I use the OverDrive App to borrow books from the Maryland Digital Library. Just finished the latest Grisham release "The Guardians". Now reading "The Silent Wife".
Also happy to report, I am done with my 2019 taxes. Any refunds due, already deposited to my personal checking account.
Here are recent photos from other things going on around here. Lunch today, cookies I made Monday, watching the banana plant I moved to the guest bedroom flourish.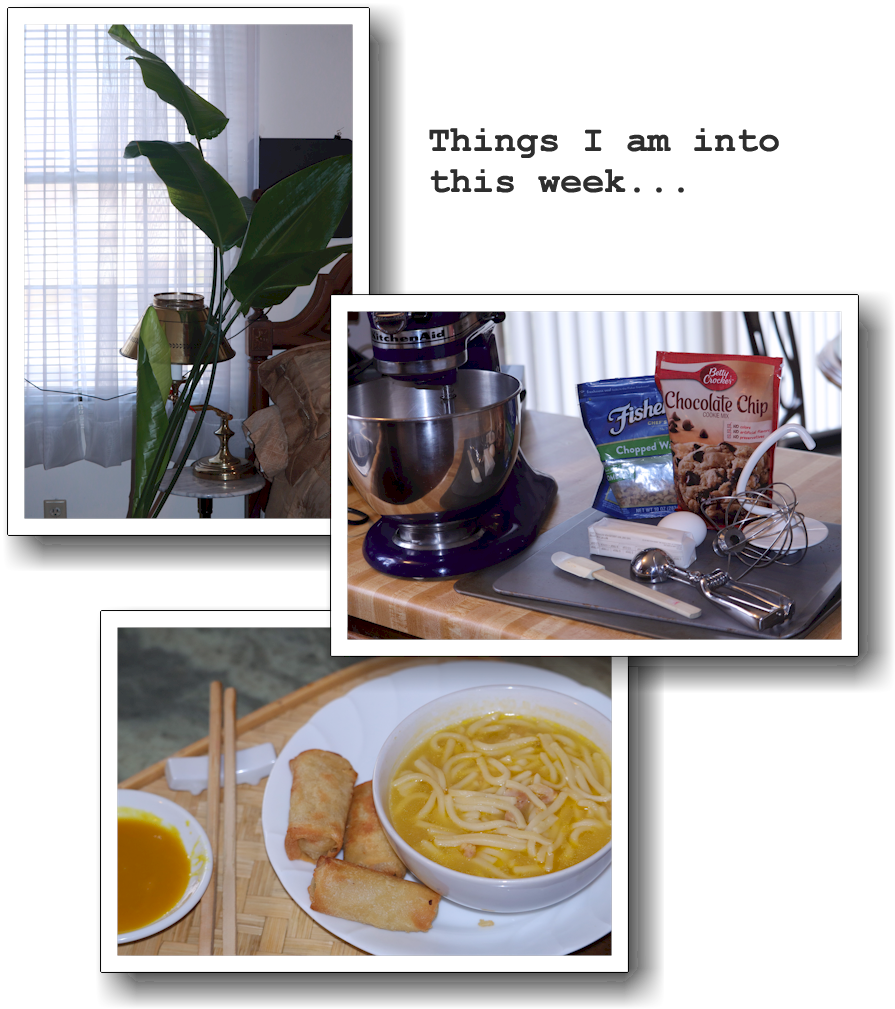 Other things I am watching? Recent news reports indicate FICO score computations are changing. One of my credit cards provides free access to my personal FICO score and my business bank provides reports about my business scores (in my case these scores should be the same because I am a sole proprietor and use the same tax information for both personal and business accounts).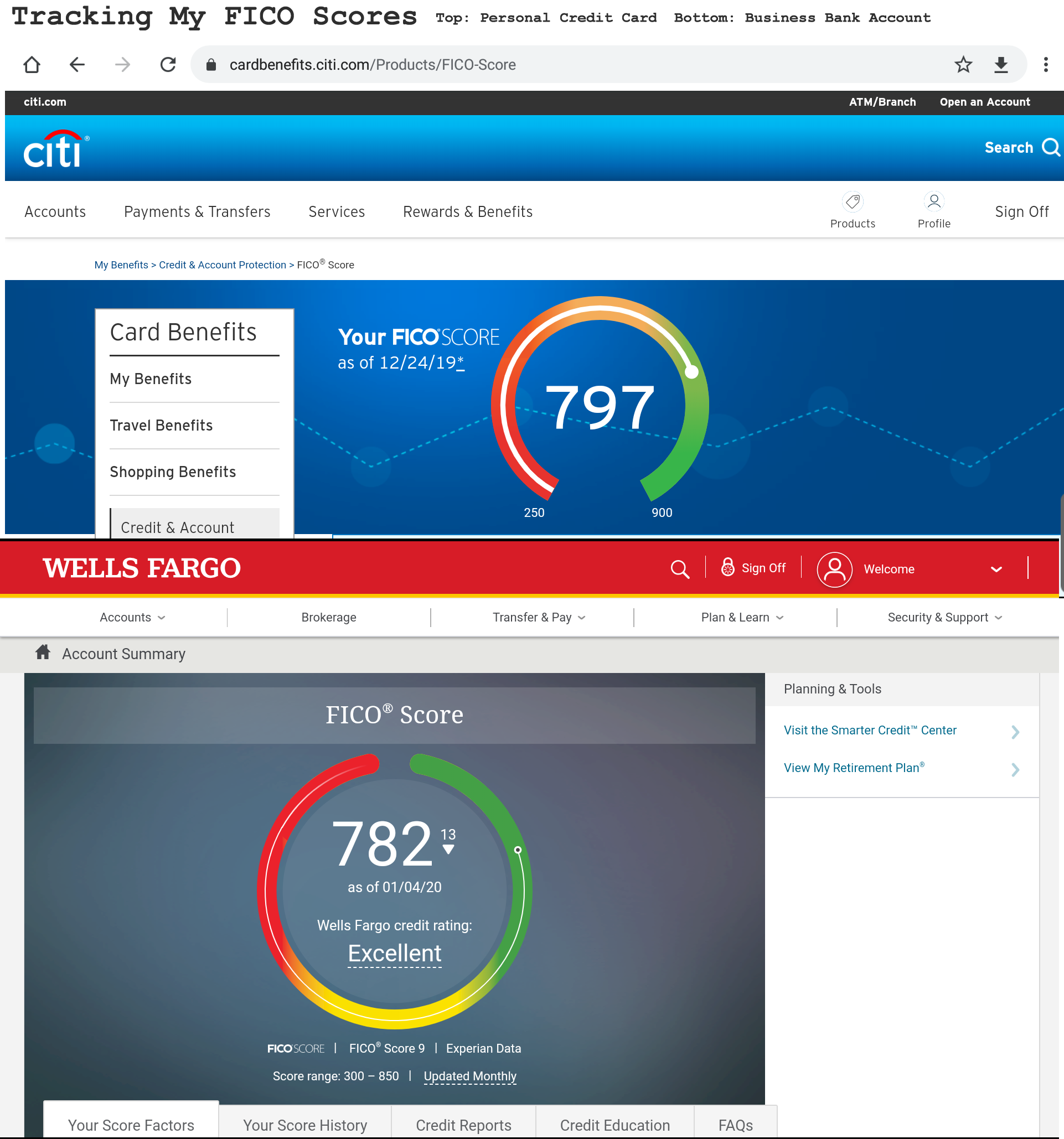 That said, I noticed a 13 point drop in the FICO score being reported by my business bank in early January 2020 and think this may explain the change. The fluctuations seem to be more reflective of spending. Holiday spending using credit cards may have been used in the business FICO score, however I always pay the entire balance on my credit cards so I think the new computations maybe a little trigger happy.
Are you noticing changes with your FICO scores?

Tuesday, October 15, 2019
I provide a lot of information relating to my private, business and financial interests. I provide this type of transparency as related to my business and financial affairs because of ongoing investigations.
Quite frankly, I thought my legal issues would have been over a long time ago. That said, the promises from both Washington, and some of the corporations involved have not as of today, come to fruition.
Promises are still offered, however I am not sure of many of the issues still remaining.
The other problem? I have been out quite a bit working on community business projects rather than software development. Mostly taking photographs (next post).
That said, I have noticed odd things from some people who have gone out of their way to engage me. This should not begin again. I have had assurances from law enforcement that what I have noticed should not be happening and some of the people have been dealt with.
I have also noticed odd things with posts from Q's Wire. I continue to maintain the WordPress blog online, though law enforcement and judges have indicated the blog posts have been tampered with too much over the years.
I simply want to provide this disclaimer of sorts. That said-- because of the nature of my case and the amount of time involved most agree- the blog (Q's Wire) is only there to provide background to the horrific nature of all of this. Legally, experts agree I do have the master copy of all posts for that blog, and timely issues insofar as tampered posts should not be an issue.
This blog and my business blog are Thingamablogs and harder to tamper with.
Now back to a financial matter that I wish to provide transparency on. I use Synchrony to maintain two CDs and a Money Market Account. Recently, one of the CDs came to term. I decided to allow the CD to rollover, however knew because the interest rates were now lower, I would need to add more funds to maintain the same interest payment. The following illustrations provide the process I used to rollover the CD with more funds.
With my meager income, credit rating, business credit rating and a penchant to mind my own business, I should not have the problems I have. A hard look continues to suggest too much is wrong-- and I said no. I thought a lot of this was about "clean up".
Not sure why, some of the issues I have noticed recently are happening, however I am not one to be shy about why law enforcement owes a lot of these issues.

Monday, August 12, 2019
Two items of note on the financial front:
My FICO Score rose slightly.
My cash rewards credit card finally reached the $50 threshold for payout.
The emergency purchase of my new Canon EOS M50 Camera last month, finally pushed my cash rewards on my credit card over the payout limit. Paid off the credit card last week, so I think I will put the check into my bank account and let it sit for awhile.

Monday, July 15, 2019
On Sunday, July 6, 2019, I damaged my Canon PowerShot A590, beyond repair. I was so devastated by what happened (rushing to pack up, I dropped it on the hardwood floor), I cried. I seldom cry.
I purchased the camera in 2008 and loved the many features this point and shot offered. I seldom went anywhere without it.
That said, the camera could only produce 8MB photos. Though my web hosts should have loved the small footprint of the images I used with my posts, my social media account offerings- looked a little shabby in comparison to others.
For various reasons, all of the images and photos I use on my business site, are hosted on my domains, and not a cloud or image hosting service, like Flickr. Digital photo size is an important factor in my environment and provides part of the rational for why I held off replacing the camera. The other reason? I could not justify the business expense.
That said, I did have plans to purchase a new camera in December 2019 (Christmas), and researching the Canon EOS M50. Late in the evening on July 6, 2019, I ordered the following bundle.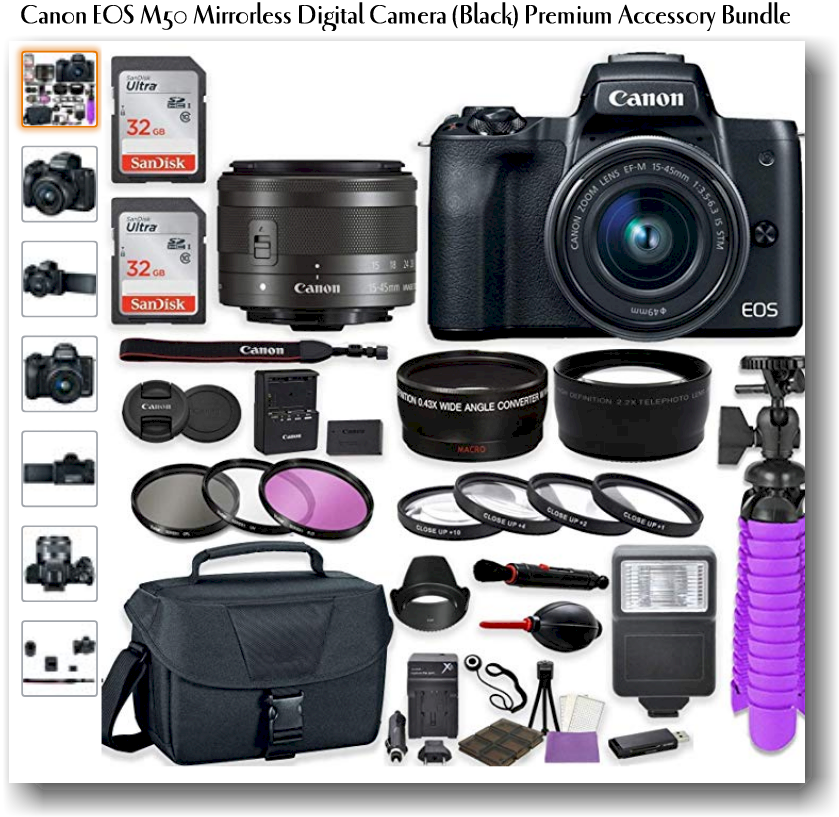 I have to say, I am very pleased with this new camera. Additional info about my purchase(s):
Love the TouchScreen Menu.
Love the Manual Focus and Portrait Features.
Also purchased BM Premium 2-Pack of LP-E12 Batteries for Canon etc..
Also purchased the Fotodiox Pro Lens Mount Auto Adapter.
Also purchased the telephoto Canon EF-S 55-250mm F4-5.6 IS STM Lens for Canon SLR Cameras- see more here.
Love the 4K Video option.
Love the Digital Slave Flash that came with the bundle.
Love the 9 different filters that also came in the bundle.
Love the many YouTube videos about the Canon EOS M50.
The following is an example using the Portrait option on the Canon EOS M50.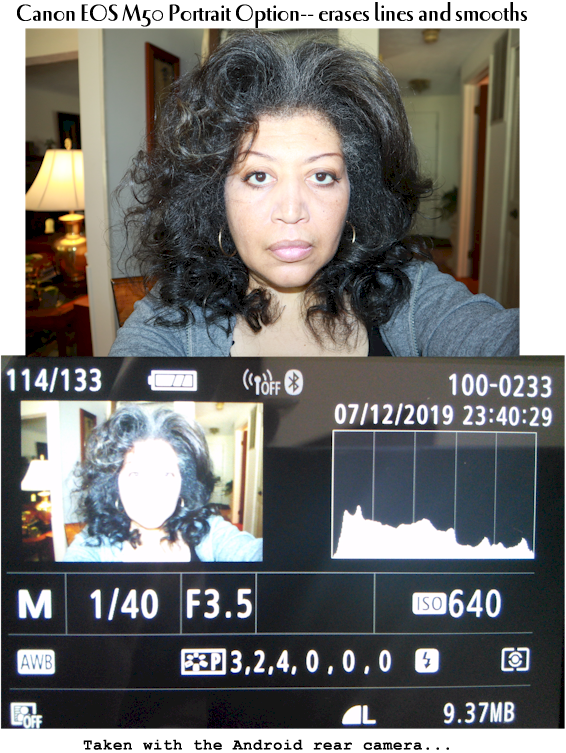 I am still playing around with the many features of the camera and other tools that came in the bundle. That said, I have found things pretty easy to understand and have come up-to-speed quickly (yes, I know the above photo, is a little overexposed). This is my first DSLR camera, and though I wanted to wait for Christmas, I am pleased with my selection.