Tuesday, February 19, 2019
Yesterday, I decided to check my FICO® Credit Score. This link provides similar statistics from a check 3.5 years ago.
The score is slightly higher now, I think because savings accounts were established in the intervening period and my debt to income ratio looks good.
I have business savings and checking accounts with the same bank, a personal checking account with another large institution, and personal savings accounts with the following:
Want to learn more about credit scores?

Thursday, January 24, 2019
I have been working a number of projects, illustrated in the diagram below.
Several license/registration related renewals this year, including MVA.
Gathering tax related documents and starting my TurboTax process.
Finance moves, hoping to get the best returns on my meager savings. Switched funds in a recently matured CD, to a CD with higher interest rates. Went from 1.75% to 2.85%. Happy with the timing on all of that.
Last but not least, preparing (setting up development environments on my MacBook and WindowsXP systems) for more efforts using the c++ programing language.
Lately, I have spent a lot of time on software efforts. Several problems with API resources that have me searching for workarounds. You may have noticed issues with WiredPages.
To a lesser degree; efforts with taxes, finance and state renewals-- nevertheless important projects that I need to get out of the way. Simply a matter of gathering paperwork and submitting requests.
Maryland's Motor Vehicle Administration- in keeping with Federal law, now requiring new procedures for renewals. Happy to report, this seems like an easy adjustment to my plans and moving along.
Several in my family are affected by the Federal Government's partial shutdown so things are a bit low key. I am self employed. I have been working late hours and hoping things work out.

Monday, December 03, 2018
In September (2018), I noticed savings rates offered by several of the major banks were starting to rise. In October, one of the online banks was offering a 2.65% APY CD, so I scraped together just over the minimum required deposit amount to open the account.
Since then, I have watched savings rates offered by CIT and Synchrony Bank (two of the more popular, highly rated online banks), rise and just recently, start a slight decline.
Since starting my research, I have noticed banks tend to offer higher rates on savings accounts going into the Fall/Winter holiday seasons and then taper off after the new year.
Would you like to do the research?
I know, it is hard saving this time of the year. Last night, I added more holiday gift purchases to my credit card and though not dreading the bill (which will be paid off entirely when it comes due), know that I do not have extra funds right now for another high interest savings account, though I will continue to track the rates.

Thursday, July 12, 2018
My car [shown in one of the blog header photos], is registered with Historical tags. In Maryland, this allows for limited use of the car. Since I work from home, it is no great hardship however I am thinking about a new car. This, one of reasons I am saving money.
I started this process a year ago in September and have managed to save one or two dollars. Okay. it is a little more than that. I am happy with my progress.
This post discusses how I have been able to achieve some of my success with this project.
The following is an updated image providing current rates banks are offering on savings accounts.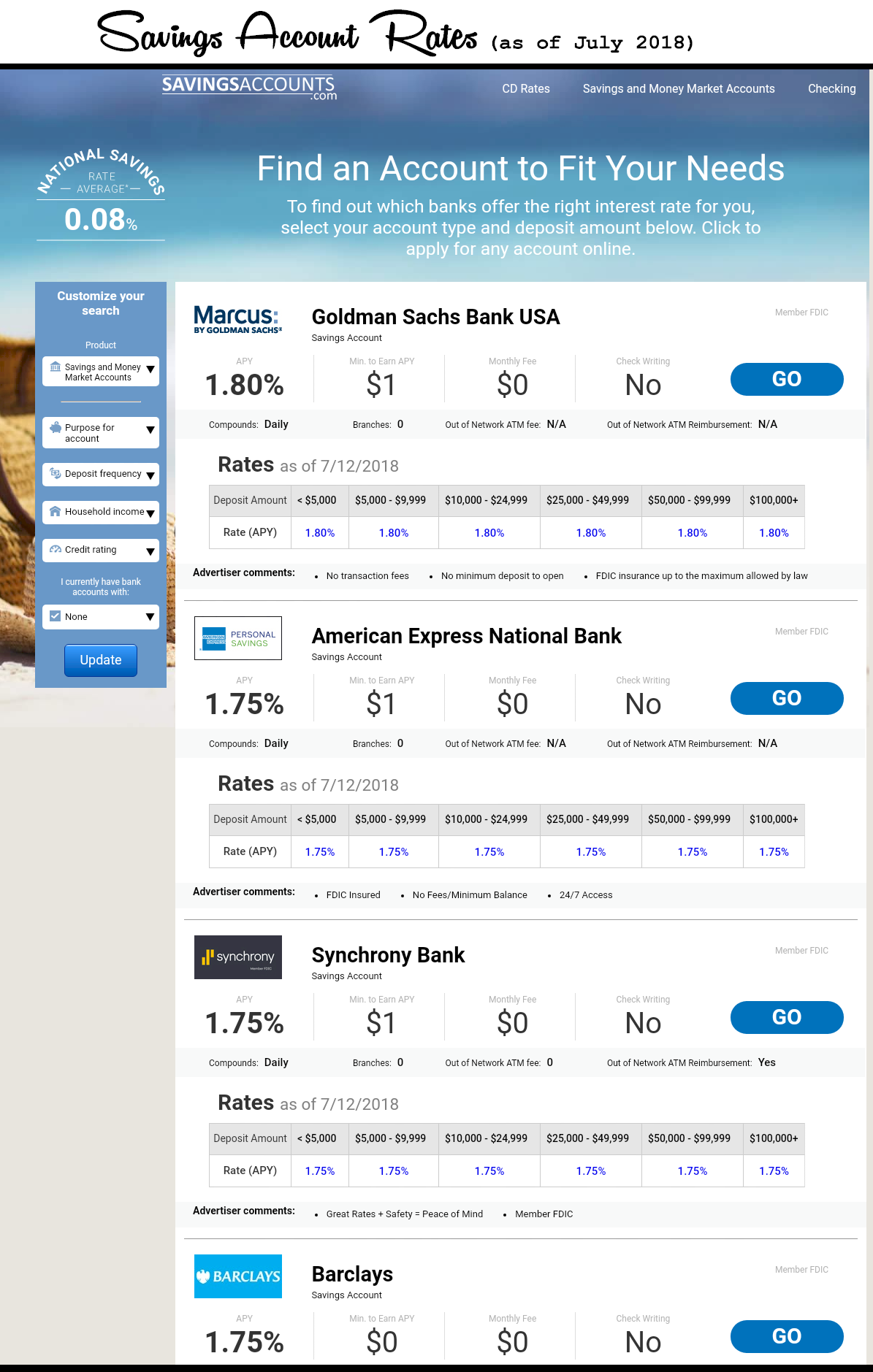 I like my banking choices, however listed below are more resources if you want to do your own research.

Friday, March 09, 2018
Every now and then, I publish details about my business related expenses.
March is normally more expensive as related to business than other months because my annual business address fee is due in March.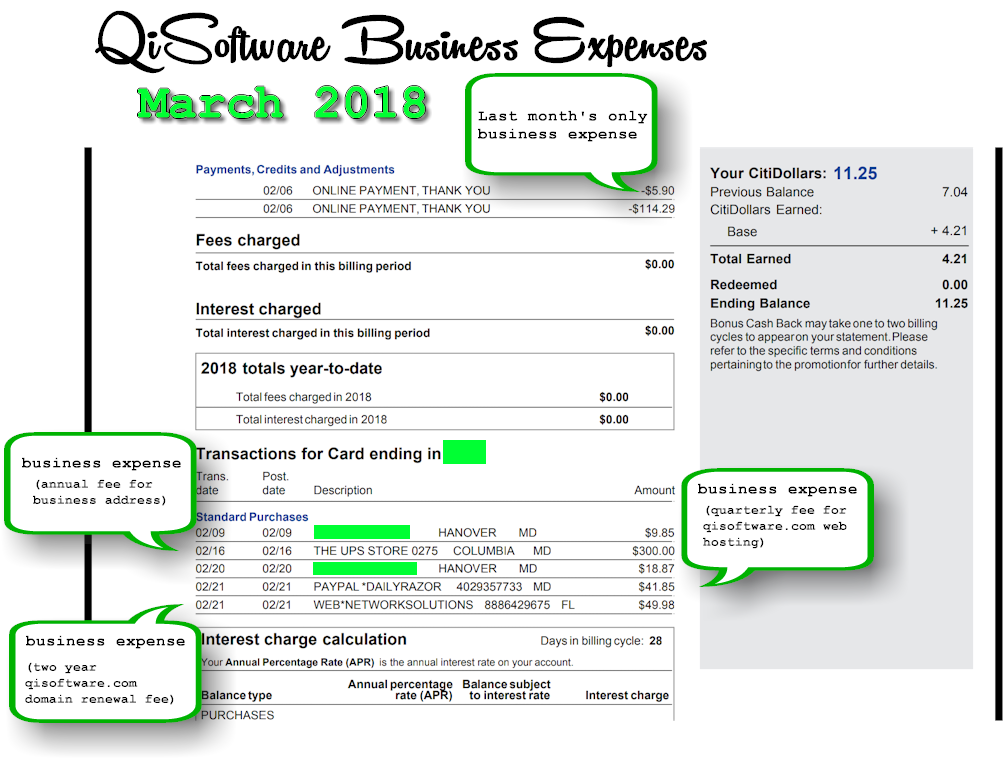 That said, because I opted to pay the qisoftware.com domain renewal fee early (actually due June 2018), my business related expenses for this March were made more so.
Note my business is registered with the State of Maryland as a Trade Name entity, i.e., Sole Proprietorship, so though I use a personal credit card for some of my business related expenses, I actually separate the expenses as either business or personal and pay the card issuer with either my business or personal bank account depending on the expense.
I track business and personal expenses separately using Microsoft Money for Business & Personal use [Quicken for Business & Personal Use another great choice], however at this time- I do not deduct business expenses.
The type of business I own allows for the use of my social security as the tax identification number associated with the business. Perhaps once a year, I review the request form for a Federal Employer Identification Number [EIN], however to date, can think of no reason I would want to do this.
I simply like the one tax identification number associated with both my personal and business affairs and because I do not outsource nor hire contractors, this works for me.
Products discussed in this post (latest version of Quicken):

Saturday, March 03, 2018
Just over a year ago, I activated an early retirement account and decided to put most of the funds into savings.
Because I am a business owner, I have both a business bank and a personal bank. Both large institutions in the U.S. I have had my business bank since 2004 and up until June 2017, paid a monthly service fee to maintain the account.
In June 2017, I was able to reach and maintain a minimum balance across all of the business related accounts, which allowed me to avoid the service fee. Most of the funds were in the business savings account which comparatively speaking, were not as good as business CD rates my bank was offering. Therefore, in September 2017, I moved most of the business savings account to an associated business CD [Time Account].
Please note, I was able to save a lot of the early retirement account funds to be able to do this.
Late in 2017, I began researching online banking institutions for higher savings interest rates than those offered by my traditional banks.
I use the Bankrate.com site on WiredPages, so have known about this site's offerings for a while, however also used other online resources for research associated with this project.
In early December 2017, I opened a small CD account with a well known "online savings" institution which at the time was offering the best rates on CDs for a 12/13 month period. I am very pleased with how this worked out. The CD monthly interest payments are higher with my "online bank", even though I have less money in the certificate of deposit than that associated with my business account.
So why not move the business CD [time account] funds to an online savings/deposit bank? I need my business bank and the maintenance fee is high for the type of business account I have. In my case, it is worth it to keep the business CD with my business account, avoid the maintenance fee and earn less in interest.
Earlier this year, I opened a Money Market Account (MMA) associated with the same online savings bank. The MMA account allows me to earn interest on money that I can also use with a debit card. I am in save mode, so this is very important to me.
A Money Market Account (MMA), typically does not offer the same high interest rates as a High Yield Savings Account (HYSA). That said the HYSA, in most cases, does not provide an associated debit card. It is meant to be a straight savings account.
In January 2018, I also opened a small HYSA with another online banking/savings account. Last month, I set up a small recurring monthly deposit of $150 as a external funds transfer from my personal bank checking account to the HYSA online savings account. Works great, however there maybe a small wait period depending on your bank's policies.
As I indicated, I am in "save" mode and have limited funds to work with. Taking advantage of online savings banks is a "smart" thing for me to do at this time, however these banks are not the same as my traditional banks.
In September, when I opened my business Time Account [CD], one of the bank representatives walked me through the entire process while sitting at his work station.
With my online savings banks, I must read everything and decide how to set up my accounts. It is relatively easy, however may not be for everyone. Another thing I love about my online savings accounts? No maintenance fees. That said, check the fine print of those banks you decide to bank with.