Thursday, May 04, 2023
Since the beginning of the year (2023), I have had a number of problems with my new real estate site.
I installed the core site area on a subdomain (realty.reginathomas.studio), because I decided to use the WordPress CMS.
I used Wordpress quite a bit in the past, however in 2011 decided the program's programmers changed too many core features for new releases.
In addition, my web hosting services regularly requested I allow the updates for outdated Wordpress installations. This meant I had to stop what I was doing and "fix" any problems that arose because of a new Wordpress update.
This was very time consuming, so I moved on to Thingamablog.
The main site (reginathomas.studio) area is a Thingamablog. I use the main site area as a blog and the subdomain (realty.reginathomas.studio) to maintain property listings.
When (March 2022), I initially installed Wordpress for my new real estate site- the Wordpress version was 5.9.2.
In March 2023, when I began having issues with the automatic updates installed on my site, I changed the wp-config.php to disable the automatic Wordpress updates. See the following illustration.
My current Wordpress version is 6.1.1 and no longer works. The latest release of Wordpress is 6.2.
I spent most of yesterday researching this problem with no luck. It was almost as if someone else was online at the same time changing my .htaccess file as I was trying different options. The error is a 403 code which is normally very easy to correct.
Long story short, I have updated most of the links to the Wordpress site to the blog on the main area. When I stop screaming (get off my site), I will look at this issue again.

Saturday, April 22, 2023
I have been trying to create professional quality content for my sites, e-commerce shop, brand partnerships, and videos, without paying professionals.
My current issues include:
Time
Need Models
More Lights
Dedicated Space
Yesterday (Friday, April 21, 2023), I setup a larger tripod and the Canon VIXIA HF R700 Camcorder in portrait mode to see if I could model while standing and walking. The answer is a resounding no, not with my current space and lighting constraints. I also think a model would be more effective for my needs, however, simply not in the budget at this time.
Yesterday's experiment results were frustrating.
On Thursday, April 20, 2023, I was expecting a package from Amazon, so I decided to film that part of my day. I used the Canon camcorder and my mini tripod to produce the following video content.
I thought the video was going to be a Youtube Short, so I filmed in portrait mode, however decided to keep more length than the Youtube Shorts' format allows.
I should have used landscape mode to shoot the video and this is another lesson learned. Video looks okay in local mode, however the Youtube resolution is off.
I hope to become more creative in this area, however though I am setting up templates and other formats to enable efficient use of my time, I feel I am spending too much time to create this type of content.
Products discussed in this post:

Tuesday, April 11, 2023
Lately, I have been preoccupied with personal and home security projects, so in addition to holiday meal preparation, my short term goals through last weekend included those efforts.
This morning, with most of my short term goals in place (have one or two remaining issues with the security projects) I refocused my attention on business efforts.
I have done a lot of research into online content creation resources, income potential, and those currently working in this area.
Though my research provides you probably should not give up your day job to become an online content creator- there is the potential for side income if you have the time.
That said, in my opinion part of the problem lies in how search engines find your content. Bloggers and other content creators used to use online forums and backlinks to create their web presence. Now it is more social media links and the number of likes.
The problem with someone like me? I do not chase social media likes nor posts.
I prefer backlinks and directories. For example, one of the Facebook groups to which I belong- provides membership for regional content creators. When I posted a question to the group searching for a post with a list of links for our members' content- the admin for the group responded that there was an old post somewhere. Upon further research, I discovered Facebook had deleted the post.
When I developed the Blogger Calendar Java application in 2004 for the blogger.com platform, I created a blog post titled, "Dating Your Blog" using "Blogger Calendar" as a keyword.
I then posted to a great many online forums about my new application. Web directories and the older forums services (e.g., BBS) do not delete old forum threads with links.
When using Google, Yahoo, etc. to search for the term "Blogger Calendar" there were many returned references all pointing to one of my forum posts or the blog post itself. And my results were always at the top.
Content creators do not have as many backlinks to their content, instead a person on Facebook or Youtube liked your post. This does not provide the same backlink coverage the old forum posts and directories used to provide.
Of course you can always purchase the top of the search results list. How is that done today? In the past it was the backlinks from forum posts and online directories. I am no sure how Google creates backlinks today or if they are even needed to reach the top of their search results lists.
Social media 'likes' do not create backlinks.
When the Facebook admin responded to my query, I started thinking about how creators might be found without sinking entire budgets into advertising to get top search engine results. That is why I registered MarylandBloggers.com in late February 2023.
SEO (Search Engine Optimization) used to mean- those offering those services went out and did what I did when I developed the Blogger Calendar app, post to a lot of different forums to get top ranking in search engines.
Forums have gone mostly by the wayside, so today I am unsure as to how those providing those services obtain top results in search engine rankings. Backlinks are important. Someone liked your page? Does that get you a backlink? That may get Instagram a backlink.
Because I have created my own online content, I know videos are especially time consuming and you need the right equipment. I use starstat.yt to provide income data for Youtube channels. Given the number of subscribers and the work effort to create some of those videos, I find it a little shocking as to the dollar amounts those creators are generating. Virtually nothing. Can you buy subscribers? It seems the subscribers are not returning.
Someone is making money. I am not sure if it is the creators. I get hits. I do not get credit. I have asked DOJ to investigate.
How do I know I get hits? One, I have to restart my private Tomcat servers on both my hosts too often which tends to show it is not only me visiting my sites. Two, there is other evidence, however a little harder for me to prove. Three, I am the sole admin for my high school alumni group of 6K members. I am sure they are curious about who I am. Why? I always get hits on an external alumni group I belong to. Though the Facebook group is active my business/personal site analytics do not reflect any traffic from this rather large group.
Last year, a large power admins group on Facebook invited me to join because of the high school alumni group. My group is considered clean and rates high on Facebook. Why are those members (Facebook high school alumni group) not curious about who I am- and those on the external alumni group seem to be? The external sites sends email messages about profile hits.
I do not think I am the only content provider not getting credit. What am I trying to do? Old School. Provide a way to have links found.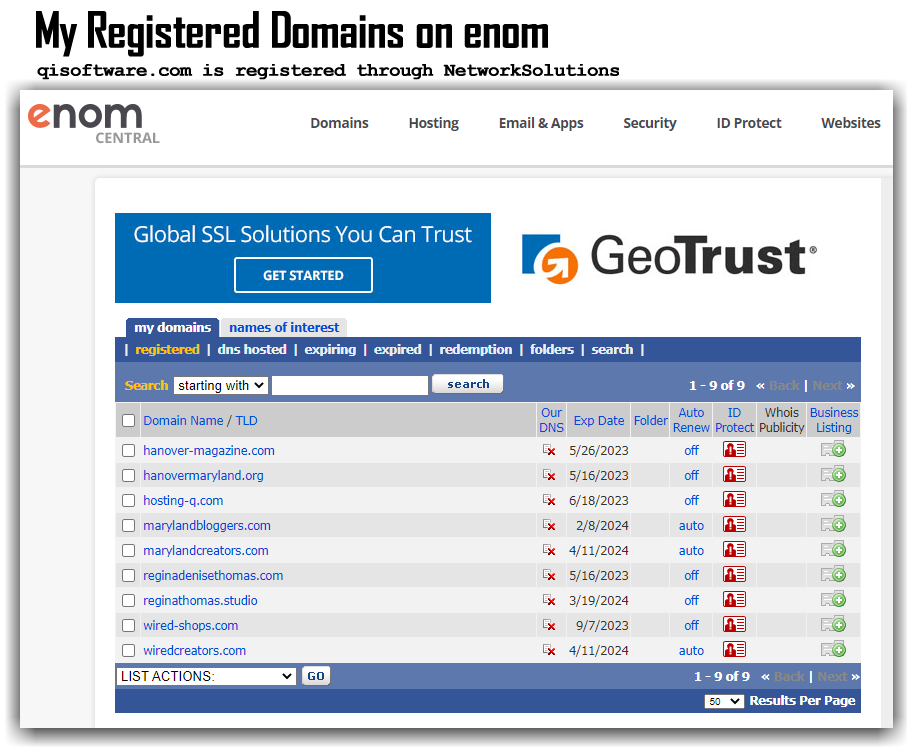 Sources suggest hits from this blog and other sites I offer do provide audience for links I include in my posts. I registered two new domains this morning- MarylandCreators.com and WiredCreators.com at $10.74 per year for each.
Can I get you hits? I think so.

Tuesday, February 14, 2023
In an earlier post I discuss issues related to producing videos for online consumption. I wanted to provide more details specific to my production efforts.
First, allow me to discuss the equipment I use for video production.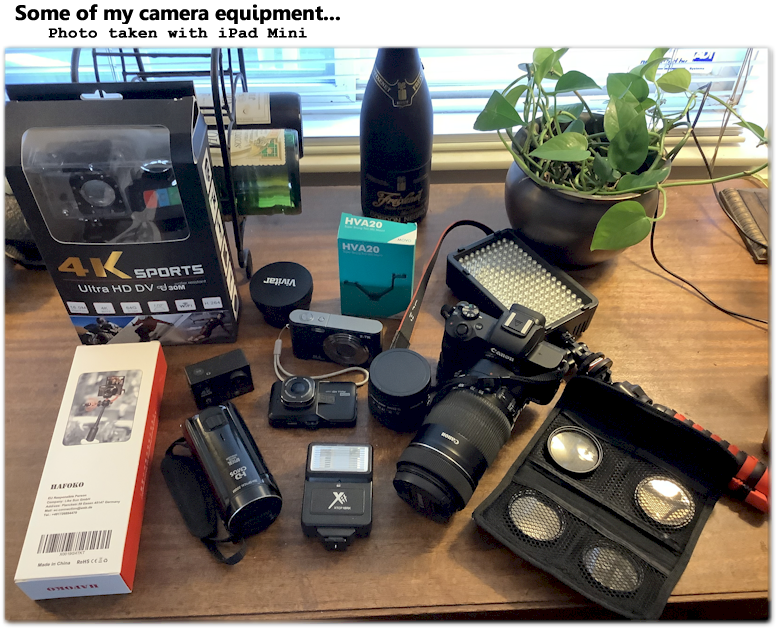 Starting in the back on the left:
Accessories for my action/sports cam
Vivitar magnification lens for my Canon M50 (one of several that came with my camera)
Dual Shoe Bracket for lights, microphones, etc.
Ultra High Dimmable 168 LED Video/Photo Light
Hafoko MT16 Mini Camera Tripod
Action/Sports Cam
2.7K Ultra HD mini Video Camera. Used for Zoom meetings.
Canon EF-M 15-45mm STM lens came with Canon EOS M50 Bundle
Canon EOS M50 Camera with Fotodiox Pro Lens Mount Auto Adapter, Canon EF-S 55-250mm
HD Dash Cam
Canon VIXIA HF R700 Camcorder
Digital Slave Flash
Not shown the Lavalier Microphone and 53 inch Camera Tripod
Some of my camera equipment is no longer available- the reason the link is not provided above.
Software I use includes Microsoft PowerPoint 365, Active Presenter, and Any Video Converter.
On Thursday, February 9, 2023 after finishing my weekly shopping, I took out one of the cars that I rarely use. I also decided to mount the dash cam I never use and ride around Hanover, MD where I reside.
The following Youtube video, shows part of my drive around Hanover and then the Chili I made for Super Bowl Sunday. As I have already explained, I used the dash cam for the tour footage and the Canon VIXIA HF R700 Camcorder for the Chili cooking footage. P.S. I should have removed the time stamp if I was not going to set the date on the dash cam, however I forgot. The stamp shows 01/01/2015 however the footage was shot around noon on February 9, 2023. Landmarks can be used as a guide.
Based on review of the video, do you wish to discuss the hair cut I need, which I mentioned in this post?
On Saturday, I received the mini tripod shown in several photos below, and I used for the cooking portion of the above video. I am pretty impressed with the mini tripod in that it actually supports my Canon EOS M50 with the telephoto lens and adaptor.
Video editing is very time consuming and I am not sure how others find the time for these endeavors. Maybe only those who can afford to produce these videos are seeing the profitability in this type of work.
So why am I continuing to purchase equipment for this type of work? I purchased the new mini tripod using a gift card I recently received through one of my banks. I have other interests like my ecommerce shop and real estate. I can justify the purchase of this type of equipment for other projects.
Video production errors with these experiments that I believe I have learned from include:
Hanover Tour video- should have removed the audio track.
If not removing the audio track, do not try to move the camera while filming.
Though I may find a use for dash cam footage in video production, I think it will be rare.
Clean the windshield.
Ensure cameras in storage for any length of time have the correct date set before filming or set the time stamp feature off.
No, cannot add video producer to my resume.
Background noise in the cooking segment is the television. Happy I did not have to add any voice overs for that segment, however I probably should have recorded without the television.
I think Active Presenter is a powerful video editing tool and I would recommend this software. I simply cannot figure where I can find the time to perfect my skills in this area. That said, I do feel I am well versed in the use of Active Presenter if you have any questions.

Wednesday, October 19, 2022
Since early September (2022) I have been experimenting with online surveys to determine whether they are a viable source of income. In my case, I have decided they take up a little more time than I can afford, however will help out with gift purchases for the upcoming holiday season.
That said, the following chart shows the Amazon Gift Cards I have claimed since September...
-->".replace(/\r\n/g,"").substring(0,10)); if(nstr)document.getElementById("b785").innerHTML='Read More';
Sunday, February 20, 2022
This week, at last I will be taking my real estate salesperson licensing exam. I have scheduled, rescheduled, made calls, submitted accommodation requests, stopped by the exam center, worried, studied, purchased a larger lockable storage case, and learned to decode combination locks in preparation for this week.
As many of you know, I am a sole proprietor and work mainly in the area of software development. Over the years, I have developed many software tools that are well known. WiredPages (showcases some of my software tools), this post, and discussions on the main area of qisoftware.com provide details about my software.
Believe it not, I have security issues where my business and custom software solutions are concerned. This is such an issue, that I have not installed most of the applications developed for WiredPages, including the CIA World Factbook database and software application.
Last March (2021), as the end of my real estate course was nearing, the instructor provided details about the PSI exam & test center in the form of a PDF. I was concerned and immediately began to make plans to take the exam. The main concern, the PSI PDF provided what could and could not be taken into the test center and why they would not be responsible for any losses.
One of the first things I did was write to PSI inquiring about an accommodation request, explaining my bags and equipment. I also tried to contact the Maryland Real Estate Commission. Probably because of the business and government office shut downs (still in the throes of the pandemic), it was hard to get responses from the proper authorities.
In late November 2021, thinking after the holidays I would again begin my quest to take the exam and become a licensed real estate sales person in Maryland, I rescheduled for early January 2022. I was busier than planned with the holidays so the rescheduled date of January 11, 2022 was pushed back again to February 2022. I was supposed to take the exam last Wednesday, February 16th, however pushed it back again after stopping by the exam center. I needed a larger storage bin.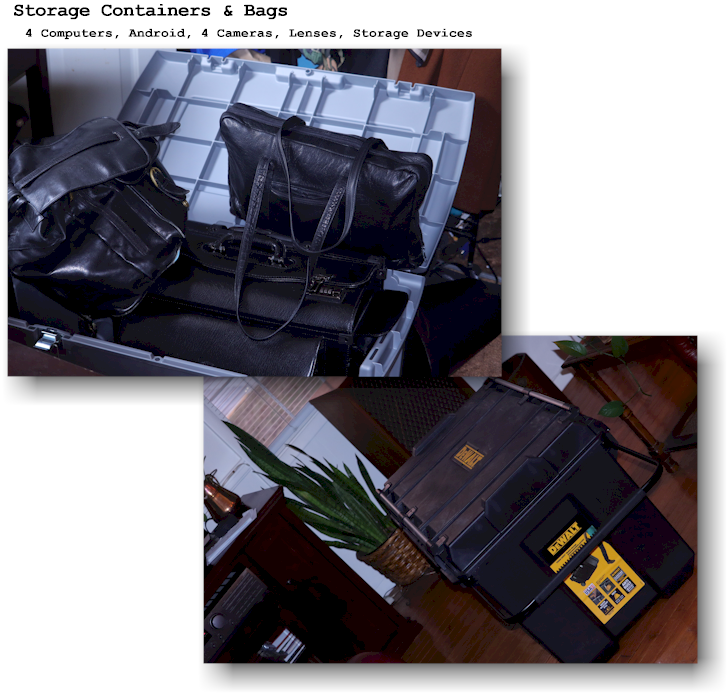 Since early January 2022, I have been studying and taking every practice exam available. I feel I am ready to take the exam, however I felt I would get an A on the final for the course in March 2021, and only achieved the "B". Here is an example of a surprise question I found on one of the preparation exams-- and how I might have to handle a similar question on the real exam.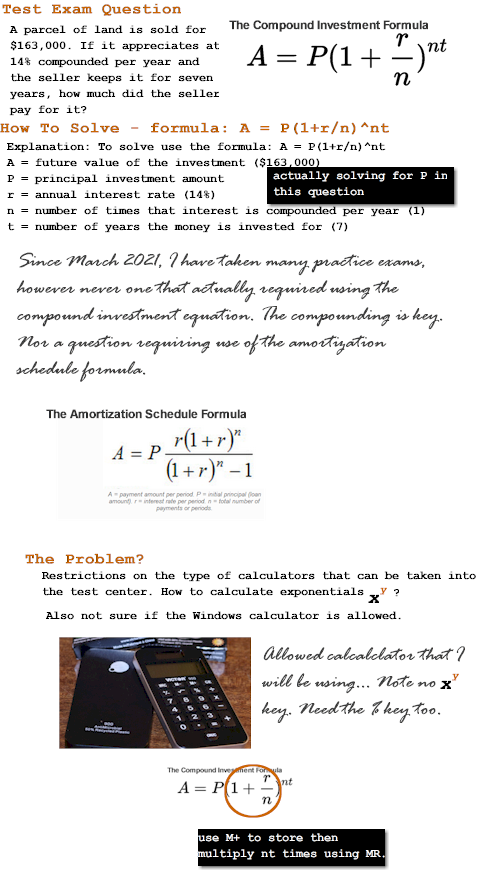 During the course, I created an Excel spreadsheet based on one of the textbook examples of an loan amortization schedule. Download the spreadsheet here.
Finally, on Friday, I had a virtual interview with one of the large real estate firms in the area. Because of legal issues, and the number of things that can go wrong in a real estate transaction, I really want to sign up as more a support staff function (rather than independent contractor), however most firms want me to sign as the independent contractor. I want the license, however I want to be in more of a support role.
To be in real estate sales, your character must not be an issue. Mine is not, however over the years, I have had more than my share of problems with others wanting to take credit. This is where my legal issues are most apparent.
As I was taking the course, I knew real estate sales could leave too many legal doors open, if I did not cross every "t" and dot every "i". I am a detailed orientated person, however I draw too much of the wrong attention. How can a real estate transaction I might become a part of- affect my business? You would be surprised.
Some would not question whether they think I have false concerns and ask only- "why would I risk it"? Are you one who feels my concerns are unwarranted?

Saturday, February 12, 2022
Yesterday, I was out and about researching my latest project and running errands.
After my first stop (yesterday), I made the decision to purchase something I will need for the project. The item is shown below.
It is the DeWalt Tough Chest with a storage capacity of 63 gallons. I could not believe my luck in finding exactly what I needed on such short notice.
I have to admit, my sister was a big help with this find. I called her because I had no idea where to start and she tends to know where a good storage container might be found.
Can you guess what my new project involves? Leave a comment if you want to guess.
One of the guys at The Home Depot suggested something to do with an Alfred Hitchcock movie ("Rear Window"), and I laughed. No, that is not why I need it.

Tuesday, April 27, 2021
In the summer of 1995, I decided to take the LSAT. The LSAT is like the SAT test given to high school students who wish to go on to college, however it is for people who already have at least a four year degree- and wish to go to law school. Both tests evaluate a student's potential for success, given their higher education goals.
At the time, I lived in Bowie, Maryland and I chose the US Naval Academy (Annapolis) as my testing site.
So why then? Beginning in 1994, I asked the US Government to investigate an employment issue. I thought the investigation went well, however was surprised when my employer of ten years, rather than correcting the problems, asked me to leave.
When I explained this to the government investigation service, the case supervisor said- "go shopping". I went shopping for lawyers. Should I have had a lawyer when I first asked the US Government to investigate? In hindsight, I believe the answer is yes.
That said, with 10 years, an engineering excellence award, and what appeared to be retaliation for an earlier internal complaint I filed with our corporation's office in Anaheim, the US Government found merit for my 1994 complaint.
In 1995+ (1996 1997) or so, I think, I had a meeting with every single major law firm in Washington. All interested on some level in my case. One of the smaller employment law firms recommended a large law firm which took the case, however handed it off almost immediately, to another large DC law firm. This should have raised flags immediately, however I signed a check anyway.
The US Government had run a 9+ month investigation into my allegations and found my case had merit.
My tenure (10 years) with the Fortune 100 defense contractor and an internal complaint filed about 5 years prior to my leaving the company, complicated things. Most of the small employment law firms in Washington, DC and Northern Virginia felt the defense contractor was too large for them to handle.
One or two of the large law firms in Washington- ran conflict checks, and found issues. A conflict check usually determines whether the law firm has any dealings with an entity- a potential client wants to file against.
I thought, what happened next was because the defense contractor was so large. That is when I decided I wanted to go to law school (Where Was I?).
In earlier years, I had filed suits on my own or handled most legal issues on my own. I had the car plates for a hit and run driver, a traffic ticket I felt was unfair, issues with two landlords, etc.
I mostly handled my own legal issues, and was pretty happy with the results. I fired the law firm in Washington that took my case, because the lawyers would not stop asking me to make it a contingency case. They returned my check upon request. I felt I had no choice. The last straw? I asked to see the Government case file that the law firm had pulled, and my lawyers (a partner and jr associate with a large DC firm) asked, "Why kill a tree?". Newspaper print? Not sure.
Earlier this year, I took a real estate course online with Anne Arundel Community College. I was very pleased with how much I was able to learn in this environment, especially as related to legal matters. This mostly through my own independent study, so I decided to look into other courses that would be useful in running my business.
Business law and contracts are areas I felt would be of great use. When I looked into what AACC offered, I found to take a credited course like Business Law 101, I had to have several prerequisites, i.e., math and english 101, which I have. So I had Bowie send over my transcripts.
The real estate course was a non-credited course and required no advance studies. The business course I wanted to take was part of a specific curriculum offered by the community college- Law and Jurisprudence. This curriculum is specifically setup for students who may wish to transfer credits, if they later decide to look into a JD program with a law school.
The following illustration, shows the 29 undergrad credits accepted by the AACC Law and Jurisprudence program I have selected.
Why would I provide this information? So many these days, falsify school records. I did not go to an Ivy league school, however a Maryland State Police Officer once thought I had lied to him about my work and educational background. I knew the officer socially. I did not know issues like this were still on the table.
Late last year, when I signed up for the real estate course, I was surprised by some of the noise associated with my decision to take the course. I was so hyped by being back in the school environment, I decided to take a business law course.
In addition, at the beginning of the year I began research to help with preparation of legal documents which required notary seals. I was pretty happy with the results of this effort, however I did quite a bit of research and crossed checked everything again. I think if I could have afforded a lawyer, the work may have cost well into the thousands.
Apparently, the transfer of my school transcripts, had some in the legal community asking more questions. I recently took part in a Zoom forum that involved 5 Judges and a law professor. It was promoted as a Judicial Forum based on my curriculum selection, and I was notified after my undergrad transcripts were transfered. Why were some surprised? I am not sure. I have found many have falsified their school credentials. Was it assumed mine were false? Why would I falsify something like that? I can find professors and classmates from my undergrad days. As I have indicated, I am still trying to correct my situation.
Have you checked my finances and asked why? Here are my latest FICO scores for both personal and business related activities.
I said no to everything except DOJ. I want them to come in with the explanations and resolutions. Why would a community college and a request that my undergrad transcripts be sent to another school, cause any noise whatsoever? What am I missing?
I have not had the opportunity to post as much lately. I added statistical graphs to WiredPages, and have been researching a lot of legal issues. I was going to research the legal issues anyway. Something I have known I had to do for some time. I was surprised by the noise that resulted from some of this. I should be easy to check and verify. In the past, I have claimed I have many well known relatives. I do. This is not important to my rights and the rest of my life. I believe many are aware of this. Too many I have known over the years were asked to provide any negatives, in hopes of justifying what was done. I work hard. There was no justification. No one officially said I did anything illegal. I told every employer since high school about limited marijuana use in high school. That is the only illegal substance I have ever tried. I thought I suffered with migraines most of my life. The actual problem, my eyes are offset. This caused dizziness which made it unlikly I would want to use anything that would affect my head. I do not even drink.
The relatives? Should not have been a problem. I did not know most of my life.
I now believe HIV is a factor. Not because my status has changed, but more because I did not know it was an issue for some of the people I have known. I am HIV negative. This should not have caused the issues I have had. When I showed my tests results in a blog post in 2004 or so, I thought I put to rest any questions on this issue. I thought, I was simply answering any questions that may have been on the table. I did not understand everything I should have understood.
That said, where are my hospital bills. I was a heavy smoker (as I hit 30 more for weight control) starting my junior year in college until December 1998. HIV patients cannot smoke the way I smoked and not have medical issues. Where are my medical and prescription bills. I take nothing but Advil. I wear contacts.
Fraud? Does anyone think, I would put all of these ads on my sites and risk a fraud charge because I claimed education I did not have? Do you know what fraud is? If you put up an ad, then claim a law degree you do not have, it is fraud. Those in the know, would suggest- if there was a legitimate charge that could be brought, it would have been done. There should be no question about my undergraduate degree, employment history, or conservative background. DOJ/FBI, I repeat- I said no.
I am not going to go into a lot of detail as to why, I seem a bit upset of late. I am in the public. I zoom, school, business forums. I have to do the shopping because of the health crisis. People are ill and I am worried. Maybe this is why I am feeling a little pressed at this time.

Friday, April 03, 2020
In early March [2020], I discovered because of corrosion, the faucet in the main upstairs bathroom would have to be replaced. We ordered a new faucet (PARLOS Brushed Nickel) and also decided to use Amazon's Home Services to have the work done.
The plumber who performed the initial work, although installing the new faucet, also explained the corrosion was more extensive than we thought. We would need a new sink as well. So I took measurements and went over to Lowes to get a new sink.
While at Lowes, I also found a Dracaena Trifasciata (mother-in-law's tongue or snake plant, similar Amazon offering) that I decided I had to have. When I left home right after college, my mother gave me one she had had for years, so I was happy to find another at a very reasonable price (under fourteen dollars).
This post was going to be about all of the projects I have been working lately, however the bathroom project was a big one and took a lot of time to complete. The repairs were completed by 11:00 am Wednesday, however the sink was not usable until the following morning to give the epoxy a chance to set up.
Of course, the current situation with COVID-19 a factor in scheduling of repair services--- even with our hustle to purchase the hardware that was needed for the repairs. Just happy to have that sink working again.

Saturday, September 09, 2017
After what seemed like a month of rain, the skies have cleared and it has been a bit cooler. I am keeping busy with a myriad of projects.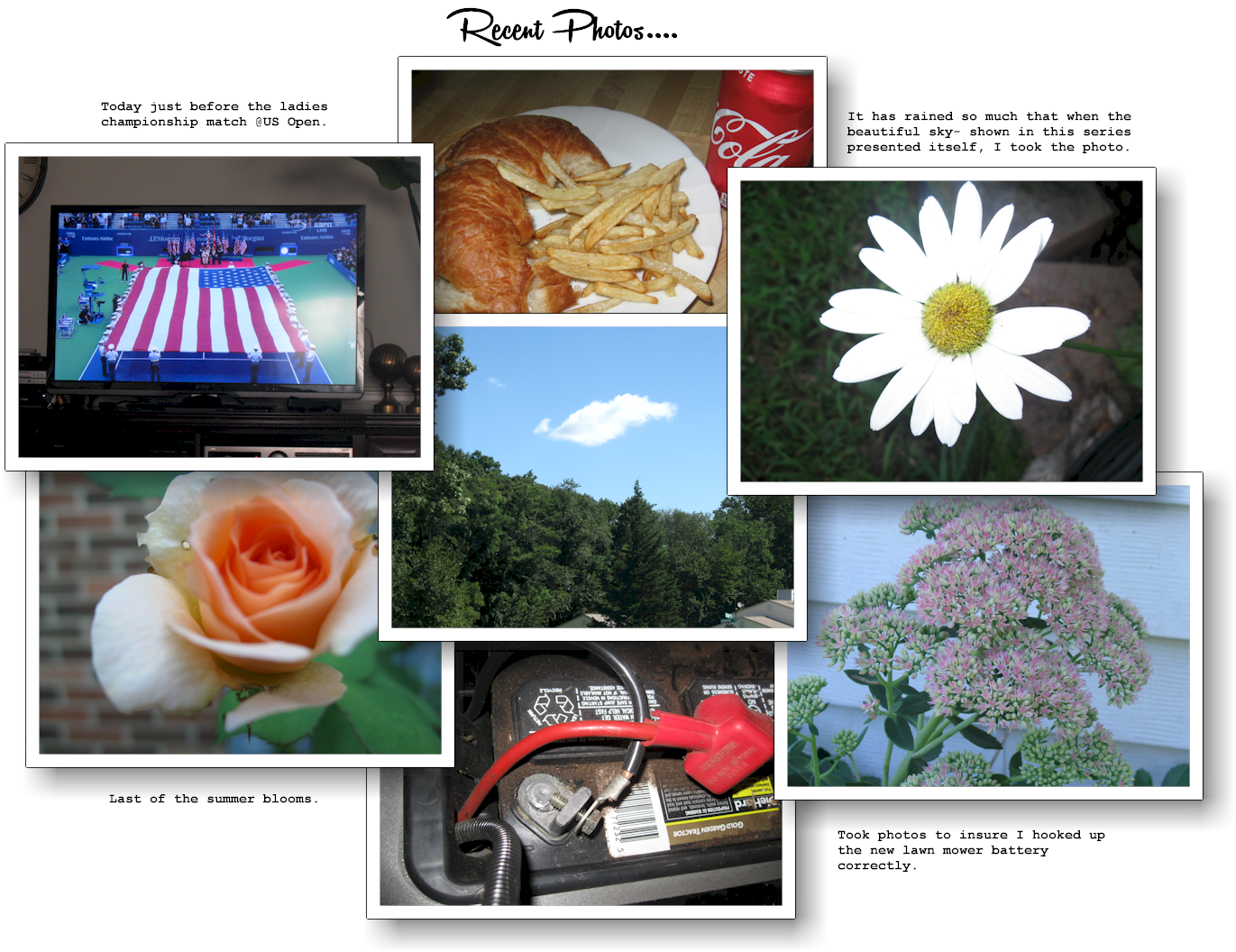 Recent projects...
Updated the Celebrity Blogs List I maintain on the NS&J Forums.
Social media posts for the Hanover Maryland Businesses page on Facebook.
Shopping... see illustration below.
Watched the remaining episodes of the latest season of StarZ's "Power" series.
Movie: "A Bronx Tale"
US Open Tennis action.
Updating my Amazon Stores.


Went by my business bank to set up a new account.
Creating new spreadsheets to help track my business finances.
Replaced the battery in my mother's riding mower. I thought this was going to be easier than it was.
Note the number of power adapters and cables in the illustration of my recent purchases. I have found that when I keep my mobile devices powered with an external power adapter, I extend the life of the battery of each device.
For example, I have had my Android since February 2015 and I am still able to get over 5 hours with the battery if I need to. When I use battery power, I also try to discharge the battery so that only one or two percent of the charge is remaining. Recharging from this depleted level, calibrates the battery which also helps to extend battery life.
The downside to the use of constant power adapters? I replace cables and adapters at least every other year [if not more], as indicated by the illustration of my recent purchases.

Monday, January 09, 2017
Sunday, January 1st, 2017 I cut the base of my left thumb pretty deep with a pairing knife trying to core a cabbage. Though I called 911, I opted out of going to the hospital. I am happy to report the thumb is on the mend--- think [1] because I applied a lot of pressure quickly and [2] my mother and sister came through with the right first aid supplies.
I am still cleaning the wound every 24 hours and applying new gauze bandages and tape-- but mainly to protect the wound from re-opening. It is a very loose dressing to insure the wound gets enough air.
That said, this week I did get some things done.
Tuesday, went by my business bank to transfer some funds from my personal account to the savings account.
Paid off my holiday bills.
Did most of the prep work to e-file my Federal and State returns. Still waiting on an EIN number so that the reason I did not actually file the Federal return. Marylanders cannot iFile [e-file] before the 23rd of January 2017 so the other reason I did not file that return.
Caught early Down Under pro tennis action. The Australian Open starts Monday, January 16, 2017 [that's Sunday night here].
Caught the latest episodes [air dates: 1st & 8th] of Showtime's series "The Affair".
Tweaked the HDTV antenna [holiday gift] for the television in the guest room.
Tried out the new grill [another holiday gift].
Updating the stores [see upper right sidebar]. Noticed some great sales, too...
Recent meals...
If you are wondering how those HDTV antennas work, I have a short demo of how to set it up. Also note the television resolution- I think it looks pretty good.
Photos of the setup...
Minor setback to the new year, insofar as the thumb, however I think it is going to be okay. This is a big load off my mind.

Sunday, June 05, 2016
For sometime, I have wanted to add more security to the front door. We had only a deadbolt and a regular door lock as installed by the builder when my parents purchased their new home in 1984.
Several years ago I stayed at a hotel which used Security Door Guards on the doors, so I decided this might be the right solution. Since my Mother was going to Lowes on Friday anyway, I asked her to pick one up- after first "sharing" the item via Amazon [had one in my cart, picture is worth a thousand words].
She returned with the brass version [for some reason I chose antique brass] shown in the final installation photos below. Cost about the same as that on Amazon.
It has been awhile since I have pulled out my drill and worked on projects around the house, however I did not think I would have any problems. Boy was I wrong.
I got out all of the tools I would need:
Marked all of the holes with a pencil-- 7 holes total.
Drill
Phillips Head Drill Bit
Level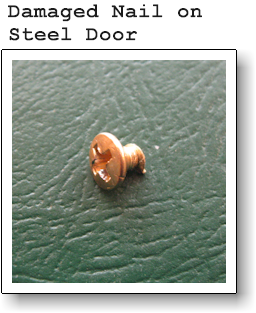 After installing the left side of the guard without a hitch-- I was ready to start on the right. The first problem? I broke the screw shown on the right. How? The door is steel.
So I had to find drill bits that would allow me to make pilot holes. I thought we had some because my Father used to have a lot of things like that but I had no idea where. Right after my Father died, My Aunt Judy [Virginia Johnson] came to visit and she installed the peephole you see in the photo, of the door [above]. She used my Father's tools to do this.
I searched for awhile and finally find the two bits shown below. I searched on the internet for steel penetrating bits and found most were gold so I knew I was looking for gold bits.
The two sizes I found:
The lock guard package indicated I would need to drill 3/32 pilot holes so I thought I was good to go. Boy was I wrong.
Though I was able to drill a hole with the 3/32 drill bit-- the screws that came with the lock would only go in about 1/8 of the way. So then I thought I would try the larger bit [1/8]. Same problem. The screws that came with the lock would not screw in all the way.
Again Internet research saved the day.
I ended up using the larger bit and smaller brass screws we had around the house. [We keep lots of things like this]. I think the instructions are for wood doors and not steel doors, that said-- I did not need to drill pilot holes in the wood frame for the left side installation of the lock.
By the time I finished around 6:00 pm Friday evening, I was frazzled. I think I am just not used to doing things like this anymore. I used to hang curtains, art, cornice boards, etc., without the problems I had Friday-- but none of those earlier tasks involved a steel door.
FYI: I owned property in Bowie, MD and that is where I lived until February 1996. I moved to Hanover, MD at that time. In 1989 when my Father died, only my Mother and Sister lived at the home I now reside in. My sister moved- late 2005. Just my Mother and I now.

Thursday, June 02, 2016
I bank with two separate large banks. At one bank, I have a business account with linked checking and savings accounts and a personal checking account at another bank.
I have not set up online transfer on any of the accounts. In my case, I have had odd things happen with my business checking account and I simply prefer not to set up the feature-- anywhere. Too many powerful people know who I am and my business checking account is linked to a lot of my affiliate activity. I opened the business checking account in November 2004 shortly after I registered my business [QiSoftware] with the State of Maryland.
This causes problems if I want to transfer funds from any of the accounts to an external bank account, i.e., I can easily transfer funds between my business checking account and business savings account, however I cannot transfer between the business accounts and the personal checking account at the other bank.
So today, I went out to learn just how hard this would be. I am not sure why I thought I could simply walk into the bank I wanted to withdraw from, and ask to transfer the funds to the other bank given I had the account and routing information. I thought it would be a swipe of the card. It was not. Instead, I withdrew the funds and then went to the other bank and deposited the funds saving at least $30.00 in wire transfer fees.
Since it was so easy to link [online] all of my accounts [even external bank accounts, credit cards, paypal, etc.] at the bank where I maintain my personal checking account, enabling online review of my "Net Worth" at any time-- I may have thought my financial data was more connected or linked than it really was.
In any case, today the tellers at both banks [I am lucky in that local branches for both my banks are within a quarter of a mile of each other] were very helpful in assisting with my transfer [and all of my questions] and it went well.
Here is what I had on today. Reminder, when I go out I like sharing photos of what I wore, to insure there are no mistaken identity issues.
When I returned I researched "How to transfer money between accounts at different banks" and found the following article. How to Transfer Money Between Accounts

Sunday, May 24, 2015
Last Friday, I used Garnier Olia Darkest Brown Hair dye to get rid of my gray.
I am naturally a mid-to dark brown, so I was very surprised to see how dark my hair turned out. I am trying to get used to it, however think changing my makeup to brown shadows, off black pencils and red lipsticks will make a difference.
That said, I am very impressed with how well this product covered my gray.
Other things I have been up to?
Tennis: French Open started today.
Movie: Mission Impossible III
Movie: The Ledge with Terrence Howard, Liv Tyler
Thinking about why my next tablet will have at least one USB port. Screen grabs from last post were emailed from my tablet. Because of ongoing legal issues, I do not use the Cloud.
The last bullet [above]: iPad and several others [i.e., Samsung], have built in USB ports. I use my tablet for everything, including watching online streaming programs [Verizon FiOS, WatchESPN, TennisEverywhere]. I also keep my tablet plugged in when I am at home, to save battery life. I need the separate USB port to print, port images and data to other devices while using the micro USB port for power. I use a Bluetooth keyboard with my tablet, however I never enabled Bluetooth on my Macbook-- because of security issues. [I keep a lot of QiSoftware proprietary data and code on my Macbook.] This makes it hard to port data. I do not keep company proprietary data on my netbook nor other systems, however none of the others have the Bluetooth option. A wireless printer would solve part of the problem-- however I cannot justify another printer at this time. What are you using?

Monday, March 16, 2015
Since last Wednesday, about the only things I have done:
Lunch today...
Before that [last Wednesday], I read almost every John Grisham book I could borrow and download to my tablet using the OverDrive App. Next week, I plan on watching the Miami Tennis Tournament-- so my reading is on hold for now.
I am so pleased with the solution for my hair. I cannot tell you how easy this makes my life. I spend about 20 minutes at night with the curling wand and 12 large pink sponge rollers-- and 5 minutes in the morning combing it out.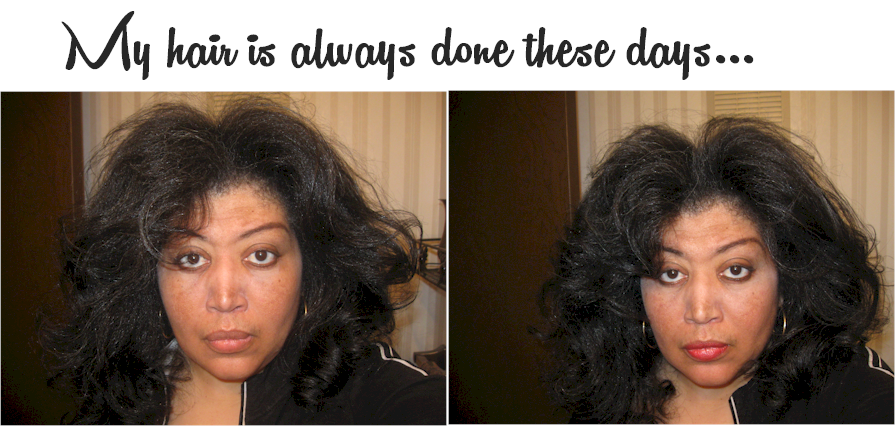 I wish I had known this was a solution before now. I used to keep a curling wand [butane] in my briefcase or at the office. That said, I did own sponge rollers when I was younger but thought they made my hair too curly. My hair is longer now and I roll with a curling wand rather than setting gel/solution--- and this makes all the difference. Lotta-Body, though sets my hair nicely [if not overly curly] was too harsh for me. This new solution is working....
Washington news.. looking in some detail, at my high school years. I think any questions have been ironed out.... Others issues still on the table...

Monday, September 22, 2014
Lately, I have been watching the PBS seven part series on the Roosevelts: An Initmate History.
I have always found documentaries like this interesting and learned quite a bit from this series. For instance, the uncanny resemblance FDR has to Woodrow Wilson.
In the last 20 years, I have done a lot of research to help in my understanding of the complex world I found myself to be a part of in 1995-- when the world I knew, ceased to exist. That's not to say, that I had not watched documentaries before then-- I did, but more that the later research required that I read between the lines to understand who we really are.
FDR was an intellectual. In his day, Washington and the politicians were powerful. FDR reminds me of the German Aristocracy of the same time-- however he and Wilson disliked Germany.
I was a little amazed by the series, in that it provided how powerful Washington had been-- versus my understanding today, of New York and Wall Street.
I have learned more on the history of German Aristocracy and their intellectual prowess-- watching:
The Blue Max [Movie] -- Though this movie rather risqué for a 7 year old of the late 60's, my parents took me to see it on Upper Heyford, England around the time it first came out. I caught it again last week.
The Night of the Generals [Movie]
Documentaries on great composers of Germany and Austria
Mussolini in Color
There are of course other movies on Germany of FDRs time:
Flame & Citron [Danish Movie]
Valkyrie with Tom Cruise -- see "The Night of the Generals"
Head in the Clouds with Charlize Theron
Inglourious Basterds with Brad Pitt
however the movies listed above, tend to ignore important aspects of the German culture at that time.
I thought this series [ Roosevelts: An Initmate History] very interesting. I like intelligent thought and logic. I am not hearing a lot of that right now. I will continue to wait.
Washington has changed from FDR's time. Putting aside race issues of the time, I do not think I would be going through, what I am going through, if FDR were in power today. Who is in charge today? Those with ancestors of the Hasidic Jewish faith- who became lawyers, psychiatrists, and Wall Street brokers. Today, they have no money and have interfered with my affiliates request to help with my legal issues....
While watching the series, someone said they [The Germans] did not mind if the "crazy ones" came over. The others died. Washington, I need our laws and intelligent resolve. Not a Jewish agent that seems to think I owe him 10 percent. I refer you to the movie "Nuts" with Barbra Streisand. I said no.

Friday, May 16, 2014
Have you ever booted your Acer Netbook to a white screen? If this happens, plug in an external monitor [should be a standard 15 pin serial port on you device], ensure Windows has booted and use the following "hot keys" to toggle between the Netbook display and external monitor.
Keep in mind, attempting to use the hot key for an external monitor that is not connected will not work. I thought I could trick it and tried. Did not work. The monitor most be connected.
If you boot to a "white screen", you will not be able to see the options illustrated in the above image- however after correcting the problem-- simply click anywhere on your Windows Desktop with the right mouse button and select "Graphics Properties" from the popup menu.
I found, that when you toggle to the external monitor and then back to the Netbook-- the "white screen" error is corrected.
I have also noted ambient light problems associated with the built in video cameras on my mobile computers, so I think using an external USB video camera can extend the life of the display on your mobile computer [i.e., Netbook, MacBook].
I have provided buying options here-- for a Mac or Windows compatible video camera and an inexpensive external monitor.
News from Washington? Unsure what it means-- promises offered, promises broken-- trying to stay positive.

Tuesday, July 16, 2013
Yesterday, around noon the air conditioner went on the fritz and it started getting very warm. Around 5:00 pm--- I went upstairs and took a shower. I never take showers in the middle of the day-- unless I have plans to go out.
After trying to coax the compressor fan to generate more cool air for most of the afternoon-- we finally turned the unit off around 8:00 pm last night.
I went upstairs to prepare for bed around 9:30 pm. The little fan shown in the photo on the left-- put out a decent amount of cool air-- until 2:30 am when I awoke with a throbbing headache.
I finally dozed off about 4:00 am and awoke around 8:00 am. Again awakening with a throbbing headache. The air conditioner repair guys were supposed to be here between 7:00 and 9:00 this morning, however pushed it back until 2:00 to 4:00 pm. Security issues dictate I do not provide more detail at this time.
Boy is it hot.
Other items... I read a lot of style bloggers. I used to link to them within blog posts. I get a lot of traffic. Some of these bloggers knew that. I knew that even before it was confirmed in Feb. 2012. How? I would get offers all the time from advertisers even though I had no revenue and some expected a link. I just knew. I would love too.. but there is a problem.
When I used to use BlogExplosion and other promotional tools daily for weeks on end, then stop for a day or two-- my Alexa numbers would get better then drop back-- more than where i started from. This is the reason I no longer link to blogs within blog posts. I need legal agreements for a blog roll. I [QiSoftware], cannot afford legal issues-- never could and certainly not now.
That said-- anything I do gets a lot of attention. So I like reminding bloggers I read- I read them.. Heather, Jenna, Lecia, Beth, Lindsey, Gabi, Rachel, Chiara, Andy, Erica, Nik, Monroe, Meg, Camille, Jen, Rebecca, Perpetually, Wendy, Budget, That's, Stripes, Penelope, Taza, Mac, Contessa, Phase, Nife etc..

Friday, January 06, 2012
I am pretty confident I have found the solution for my Macbook's black screen issues-- that this morning, I made the kitchen flat screen television the "kitchen flat screen television" again. Since mid-October I have been using it as my external monitor.
The other thing I did? Carefully took the white cover off the expanded rechargeable Macbook battery and super-glued the rubber pedestal and another small round piece to the bottom that was also directly glued to the battery.
Here is how the cover looks without the battery.
I took the battery out of my Macbook in October when I started having the display problems and covered the compartment with electrical tape to keep it clean and to prevent damage.
I rarely used the battery-- and it was still good-- however too large for the compartment. This month my Macbook turns 4 years old-- so it has held up pretty well, given I believe I have turned it on at least once-- every day I have had it.
I will be getting a new battery-- however will not install it for every day use, instead using the new cover I just made and electrical power. Of course the battery is what enabled the cover to lock to the bottom of the Macbook-- so I will have to improvise with tape.
So why get a new battery if I never used it? In case of an emergency. At $129.00, if the first lasted 4 years and for the most part- was installed in the Macbook, I should never have to get another one.
Also note the clip on light [shown in the top photo next to the Macbook display] I found in the basement-- to use when I tent my work area.

Wednesday, January 04, 2012
Used my Macbook display for most of the day-- yesterday and again today [only 10:00 a.m. here now-- however I have been up since 5:00 a.m.].
Wanted to provide a little more information as related to this experience.
I tent my work area a lot-- especially when I am developing software. Back in October [2011] when I first started having problems with the display, I was working day and night in a tented environment. Meaning very little light other than the display itself. I was also using a newer release of Firefox which seemed to cause my system to run hot-- and lock up often. I often rebooted or the system crashed in this tented environment.
Another issue-- as reported in the post I did at the time [October 2011], my battery had expanded and was causing problems with the track pad. Battery compartment directly under the track pad on my model.
I believe the constant rebooting of the system in the tented [darkened] environment-- caused a re-calibration of the algorithm used to adjust the display brightness based on the Ambient Light Sensor. My Macbook is older and does not allow this sensor to be disabled in the System Preferences.. though I did research extensively a solution with a plist. I believe the plist associated with this problem is the com.apple.BezelSystems.plist.
I also believe my sensor is co-located with the speakers on the back of the base of the notebook.
Given all of this, last night in an effort to re-calibrate the sensor-- I turned on every light in the area- and rebooted the system several times.. [think more than 10..] changing the System Preferences brightness levels each time. I did not set it to maximum brightness. This seems to have done the trick.
So, how will I work in a tented area in the future? With a lamp in my tent..