Monday, February 12, 2018
In an earlier post, I mentioned I registered several new domains- including reginadenisethomas.com. Because of a glitch with Tomcat [jsp support], a web hosting service feature I use on qisoftware.com, I was unable to correctly access the new domain as the add-on domain I setup and pointed to via the domain registrar.
Recently, I decided to research and fix the error [when requested- reginadenisethomas.com resolved to qisoftware.com], however had to first have the web hosting provider for qisoftware.com- delete a system entry that I was unable to access.
At this time, I am not doing much with the site, however did provide my resume.
Other things I have been working on?
Store updates:

Integrating and testing this formula:

"=IF(ISBLANK(G43)," ",IF(A43='Sheet 1'!A159,'Sheet 1'!G159))"

in an Excel Workbook used for finances.
Checking the status of my tax refunds.
Monetizing reginadenisethomas.com.
New batch of the lemon loaves, mentioned in an earlier post. We love this recipe.
Getting something new with my tax refund? No, already moved the funds to a savings account.

Saturday, September 09, 2017
After what seemed like a month of rain, the skies have cleared and it has been a bit cooler. I am keeping busy with a myriad of projects.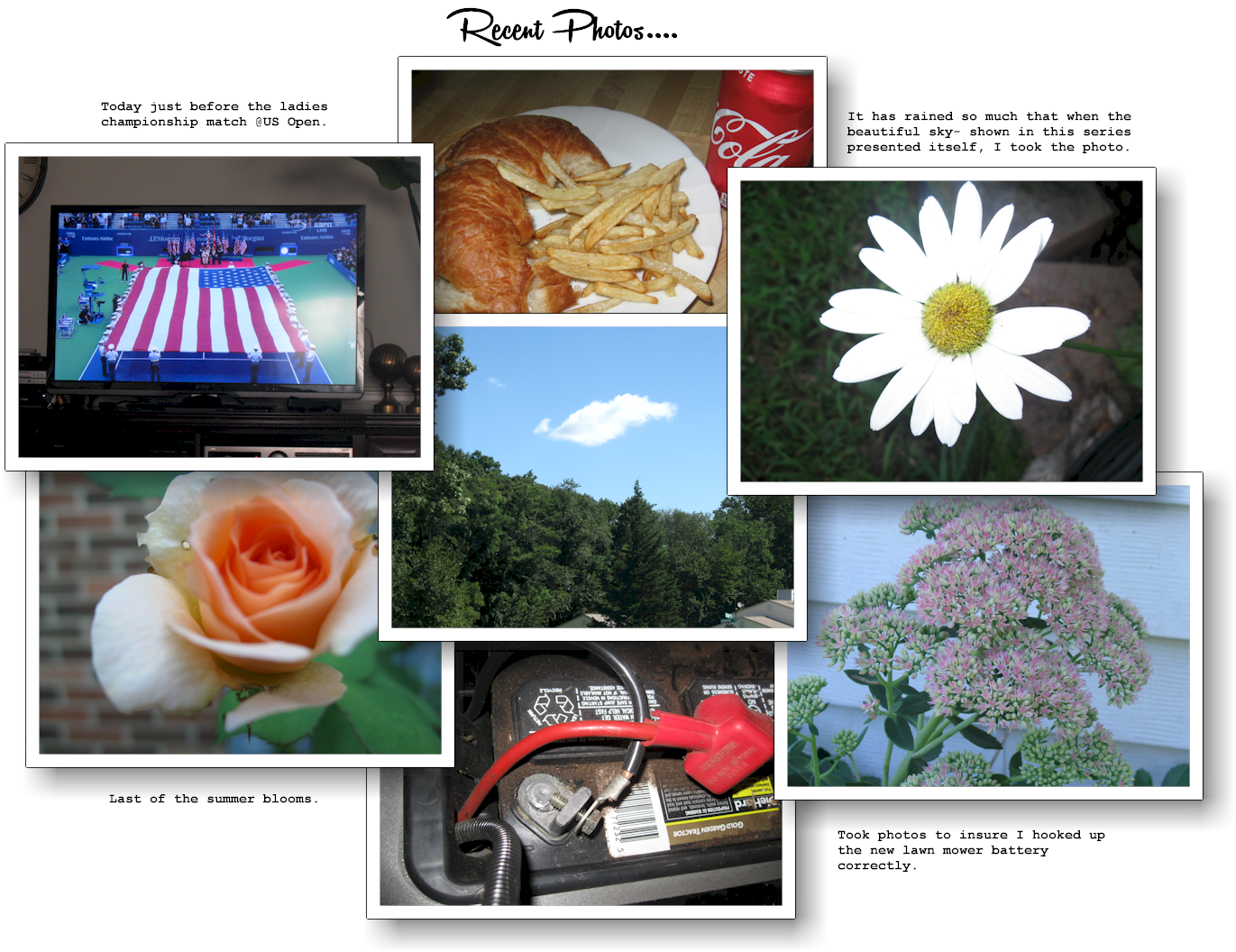 Recent projects...
Updated the Celebrity Blogs List I maintain on the NS&J Forums.
Social media posts for the Hanover Maryland Businesses page on Facebook.
Shopping... see illustration below.
Watched the remaining episodes of the latest season of StarZ's "Power" series.
Movie: "A Bronx Tale"
US Open Tennis action.
Updating my Amazon Stores.


Went by my business bank to set up a new account.
Creating new spreadsheets to help track my business finances.
Replaced the battery in my mother's riding mower. I thought this was going to be easier than it was.
Note the number of power adapters and cables in the illustration of my recent purchases. I have found that when I keep my mobile devices powered with an external power adapter, I extend the life of the battery of each device.
For example, I have had my Android since February 2015 and I am still able to get over 5 hours with the battery if I need to. When I use battery power, I also try to discharge the battery so that only one or two percent of the charge is remaining. Recharging from this depleted level, calibrates the battery which also helps to extend battery life.
The downside to the use of constant power adapters? I replace cables and adapters at least every other year [if not more], as indicated by the illustration of my recent purchases.

Saturday, September 02, 2017
Many are aware- I use Thingamablog as the content management platform for both my business and personal blogs. I started using Thingamablog in 2010 when Blogger decided to discontinue FTP support for users who hosted their blogs on private domains.
Thingamablog runs standalone on desktop computers and requires Java installation, if not already installed on the system.
In my opinion, the Thingamablog platform offers more security in that the entire application and post database are maintained off line. What this means? The master copies of my blogs are maintained off line and are tamper proof.
This also allows for easy backup to external storage devices of the off-line applications and databases, as opposed to online site backups.
That said, in my case I also backup my entire website so snap-shots of both the remix.qisoftware.com and personal.qisoftware.com sub-domains where I maintain the blogs, are also backed-up when I perform full-site backups.
Useful links:
In 2010, I also established the Facebook group [referenced above], for Thingamablog users. We are always looking for new members, so if you are interested in this blogging/content management tool, please join us.

Friday, August 25, 2017
So what are your plans for the weekend? Me? With the new school year and holidays right around the corner, I am planning updates to the stores.
I meant to post new photos around the time of my birthday [July], however never did. Below, recent photos.
In recent weeks, I have been out a bit researching local business activities however, have mostly stayed close to home. It has been wet and humid here.
Other things I have been up to?
Watching professional tennis. BTW: US Open starts Monday, August 28, 2017.
Paid bills including, qisoftware.com web hosting, phones, etc.
Monetized another sub-domain on my site [qisoftware.com] and integrated the related Google Analytics code.
Watched Bei Bei [National Zoo's Panda Cub], celebrate his second birthday.
Went by my business bank.
Sharing social media posts.
Hope you have a nice weekend.

Saturday, July 08, 2017
My home office is comprised of several areas on all three levels of my residence. I am lucky in that I have space to spread out.
Why do I need so much space? I am a business owner/software consultant and own a lot of office equipment. I started purchasing items for my home office long before starting my own business, in fact, while still working as a defense contractor for a major corporation.
Note the fax machine shown in the above illustration. This is the second fax machine I have owned. I purchased my first in 1995. I like owning a fax machine for both legal issues and the convenience -even in today's more digital age.
Yes, today one can sign an email digitally and it is a legal and binding communique, however I prefer the fax machine.
So why am I discussing my home office? Well recently, I have been taking inventory for another project. What do I really use? Believe it or not, a lot of the equipment I own.
The project? I recently moved my Amazon Stores so I had the opportunity to review and update products previously listed in all the stores, including the Computer Electronics/Home Office store.
The updates? I added more of what I own, however did not list in the earlier version including:
File Cabinets
Manilla Folders
Staplers & Dispensers
Things I own, however no longer use and did not list? Rolodexes.
When I first started my home office, I made regular visits to Office Depot and Staples. Though I like walking the aisles of these stores-- I find when I need to replenish or research what others are saying-- online research and purchases are too convenient for me to pass on.

Wednesday, June 28, 2017
For the last week I have been integrating affiliate stores and links that were hosted on affiliate sites, to my business site and blogs. Affiliate program changes the reason for these updates.
Both the Business Blog Remix and this one [personal blog], maintained off-site stores. Now the stores are accessed via the blogs.
In addition to creating the new stores for each of the blogs, I also updated the banner graphic used on the Remix Blog. There were also several minor cosmetic issues associated with the blog, that were also corrected.
When I first received notice one of my affiliate programs would be undergoing significant changes, I was a bit worried. A week and a half later, I am happy most of my work in anticipation of the affiliate program changes has been completed.
Links for the blog stores are located in the upper right sidebar of each blog and listed below for your convenience.

Saturday, June 24, 2017
A death in the family took most of the family out of the area in early June. I did not attend the funeral. I have not been out much, instead working, catching a movie here or there and watching live tennis action.
Recent activities and plans:
Movie: The Accountant
Movie: Legend [2015]
Movie: Inferno
Movie: The Wizard of Lies
Upcoming: Starz "Power" Series [new season starts Sunday, June 25th @9:00 pm ET]
Upcoming: Wimbledon starts July 3rd.
Grass court [professional tennis] action from Europe.
Social Media Posts [including]: Hanover Maryland Businesses, Instagram [QiSoftware & HanoverBusinesses], Tumblr.
Revising Amazon Stores in anticipation of upcoming changes Amazon plans to make to the program. Updates to the new store formats are ongoing and several shopping categories were removed. The new shopping categories:
I have a little more work to do on the stores-- and new additions and deletions are constant. I also have three new domain registrations I plan to start work on.
In the coming months, for a change of scenery and project research, I may check in at the air conditioned mall [ArundelMills] & Live! Casino.

Tuesday, June 06, 2017
One of my banks offers rewards for using their credit card. I love this concept and pay for most purchases with the card.
This month, charges itemized on the bill included:
Eye Glasses & Contact Lens Prescriptions
Contact Lenses [2 boxes]
Three new domain registrations totaling about $35
Web Hosting qisoftware.com
Cell Phone
Mother's Day Gift for my Mother
Total charges last month; about $397. This added about $4.00 to my rewards account balance bringing it to $44.82. The credit card issuer will send a check when the balance reaches $50.
Noted in the illustration above, this morning I paid the entire card balance. This ensures I do not incur interest charges on any carryover balance, making the cash rewards the card offers even more attractive.
Last month, I noticed Amazon also offers a similar cash rewards [Visa] card. I have a great card, however this appears to be something worth looking into-- Amazon Rewards Visa by Chase.

Sunday, May 28, 2017
It is a beautiful quiet holiday weekend here and I do not have much on tap.
Things I have been up to?
Those in the area may have noticed, I have been out a bit more researching and photographing ongoing projects.
Also still thinking about new websites [discussed in the last post] and all that entails.

Saturday, May 20, 2017
Recently, I have been working several projects mostly associated with the HanoverMDBusinesses Page maintained on Facebook.
Preliminary tasks [for one of the projects] included, registering two new domains:
hanovermaryland.org [future full blown website similar to ococean.com]
reginadenisethomas.com [software and other support tools for my projects that I do not want hosted on my business sites, i.e., qisoftware.com and hosting-q.com]
I also created a new Instagram account that will be used exclusively with the HanoverMaryland Businesses page and site.
Currently, the Facebook page uses the QiSoftware Instagram account w/hashtag "hanovermdbiz". In the future, the new HanoverBusinesses Instagram account will be integrated on both the page and site.
To provide a more professional appearance to the photos published via Instagram, I have been playing around with the Photo Apps that were pre-installed on my Android and Windows10 platform.
Both apps, quite frankly are pretty sophisticated and allow for incremental angular rotation and image cropping- both of which I find quite useful. I use these apps because I post Instagram photos from my Android to the QiSoftware account and now from the Windows10 platform to the new HanoverBusinesses Instagram account.
The HanoverMDBusinesses page is sort of a hobby that I started in 2010 and work when time permits. I hope the new [future] website and other online resources will engage visitors and promote the business/entertainment/shopping/dining community that exists just outside my back door [figuratively speaking].

Monday, May 08, 2017
Last month I scheduled an eye appointment [for today], with the Arundel Mills location of VisionWorks.
For awhile now, I have been trying to get over to the mall for new photos of all the new stores opening @Arundel Mills.
Most of the photos will be used for posts, Instagram feed photos, or events associated with the HanoverMDBusinesses page, I maintain on Facebook.
As most know, the Maryland Live! Casino is co-located with Arundel Mills Mall and the new seventeen story hotel [Live Hotel], under construction now [due to open late 2017 or early 2018], appears to be bringing in a lot of new stores.
Imagine, the casino, live entertainment @Center Stage, the new hotel, shopping, world class dining, and all of the other entertainment venues the mall has to offer- all in one place. It all looks very exciting.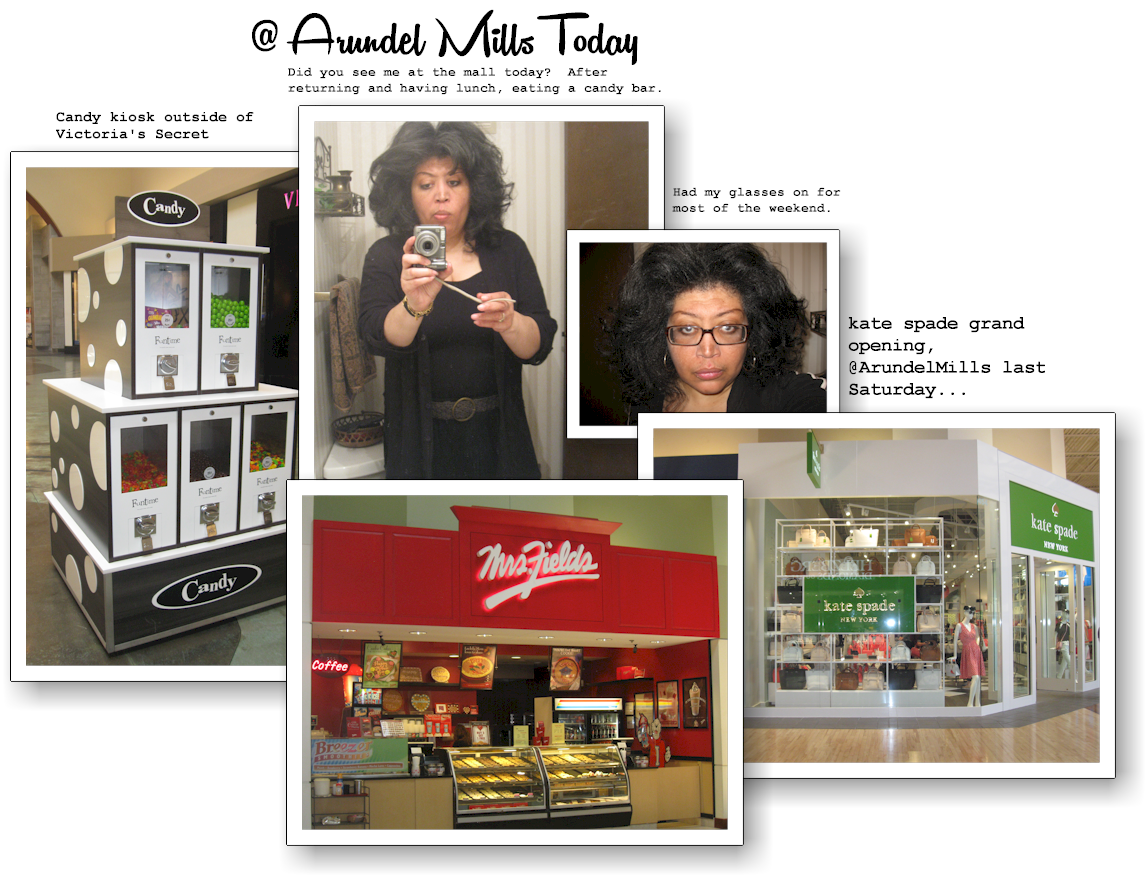 Today was the perfect opportunity to walk the 3/4 of a mile distance around the mall and shoot a lot of new photos.

Friday, April 28, 2017
I have been working on several enhancements to the Hanover Maryland Businesses Page on Facebook.
Several page tabs have been added, including:
Hanover Maryland Jobs [now working, also see the "Use App" Button installed sometime ago providing the same type of data...]
Hanover Maryland Real Estate
Instagram Feed using a specific #hashtag for the area
Pinerest [added a board w/pins, specific to Hanover Maryland]
Illustrated below, the updated page and tab flow as provided to the page administrator [in case you are wondering why the page in your browser is slightly different].
I would also like to include a page tab that provides economic and demographic profile data for the area, however have yet to find an up-to-date source for the specific area of Hanover Maryland.
In the meantime, if you would like more information about the area- contact the West Anne Arundel County Chamber of Commerce or the Anne Arundel Economic Development Corporation.

Friday, March 24, 2017
Finally ordered a camcorder. The final decision came down to these two:
Canon Vixia HF R700
Canon Vixia HF R800 [see this link]
I opted for the 2016 unit [R700] because it was $41.00 cheaper. The specs on both almost the same, however the R800 has one or two added features.
I am very pleased with my new hardware. Its light, easy to use and has the high definition and external microphone support I was looking for. Two items I will be ordering in the near future, an external microphone and one additional battery pack.
A short demo video to show the type of output you can expect from this camcorder.
Above, I am using the HTML5 Video Player to provide either a MP4, OGV or WEBM version of the video- depending on the browser requesting the playback.
I am using a commercial software app "TheFileConverter" to convert the MTS video file the camcorder created, into the MP4, OGV and WEBM formats for use with web browsers. Shown below- part of the underlying html for the HTML5 Video Player.
I do not need to provide different video formats for my social media accounts and am so pleased I can now upload Full HD Video to my Facebook, Flickr, Instagram, Tumblr, Twitter, and Youtube accounts.

Monday, March 20, 2017
Sunday, January 01, 2017
This policy is valid from 01 January 2017
This blog is a personal blog written and edited by me, Regina D. Thomas. For questions about this blog, please contact blog@qisoftware.com.
This blog accepts forms of cash advertising, sponsorship, paid insertions or other forms of compensation.
The compensation received will never influence the content, topics or posts made in this blog. All advertising is in the form of advertisements generated by a third party ad network. Those advertisements will be identified as paid advertisements.
The owner(s) of this blog is compensated to provide opinion on products, services, websites and various other topics. Even though the owner(s) of this blog receives compensation for our posts or advertisements, we always give our honest opinions, findings, beliefs, or experiences on those topics or products. The views and opinions expressed on this blog are purely the bloggers' own. Any product claim, statistic, quote or other representation about a product or service should be verified with the manufacturer, provider or party in question.
The owner(s) of this blog would like to disclose the following existing relationships. These are companies, organizations or individuals that may have a significant impact on the content of this blog. We are employed by or consult with: Owner QiSoftware. We serve on the following corporate or non profit boards: n/a. We are active in a political party which influences our blog: n/a. We have a financial interest in the following that are relevant to our blogging: Owner QiSoftware.
To get your own policy, go to http://www.disclosurepolicy.org

Saturday, October 15, 2016
When I started putting together my first home office, I was still with corporate America.
That first home office was comprised of a notebook computer, desktop computer, postscript printer, dot matrix printer, a big black desk from Ikea and a myriad of productivity software, including WordPerfect and most of the components of the first versions of Microsoft Office. Other software programs installed on my home computers included: a C-Compiler, FoxPro [checked out from the office] and Harvard Graphics . I used the spare bedroom in my condo for my office space.
Why did I need a home office? I worked a lot. I was a task leader on several life cycle computer related programs for the Navy [as a contractor], which meant I was responsible for the software, design, debug and documentation.
Because of the type of programming I provided-- most of the software implementation had to be done from my business office where I had access to X-Windows supported hardware and resources. I could write and edit the program documentation anywhere-- and at home, any hour of the day. I am a morning person-- and like nothing better than getting up first thing in the morning to work.
The summer right after I left corporate America, because of the many legal issues involved with my departure-- and the lawyers-- my home office became more of a legal center.
Rather than the postscript printer, my then new, Brother Fax Machine became the center of my world.
Today, my home office shows remnants of that earlier legal center, however is rarely used now, unless the need to fax the FBI or a Court arises.
Shown below, my new home office [the briefcase] and the fax/laser printer located on the main floor.
Okay, I do have other "office space" in the house where computers and other supplies are located, however the contents of the bag include my Macbook, Netbook and Andriod which are the main tools I use most often for work [these days].

Sunday, September 25, 2016
Like most, I have more [combination of personal and business] expenses between September and the end of December- than at any other time of the year. This in part, due to holiday spending and an annual web hosting bill for hosting-q.com. QiSoftware's [qisoftware.com] domain web hosting payments are quarterly.
I currently use Microsoft Money [Sunset version] for both personal and business finance management. Below, an itemized listing of some of my recurring business expenses/bills that are stored within the application. This allows for easy insertion and debit from the specified payment account[s] when the bills are paid.

Since in recent weeks I have had a number of both scheduled and unscheduled business related expenses, rather than provide copies of the bills I paid [as I have done in the past], I thought I would provide the MS Money illustration.
Unscheduled Business Expenses....
New USB Mouse for RCA/Windows 10 platform
New Blue Tooth Keyboard and Case for Android
Yes, running my business costs and I still have a number of legal issues. This just a reminder for law enforcement jurisdictions, i.e., FBI, DOJ.
What else have I been up to?
Updating Amazon Stores-- See upper right sidebar.
Tonight: Season Finale Starz's "Power" Series
Photography...
Minor adjustments to this blog's template.
Thinking about all the business related tasks I want to do with a new Mac Mini and trying to justify using credit. Would be another unscheduled business expense.

Saturday, July 16, 2016
I have been busy this week with several projects. As mentiioned earlier I ordered several items last week, including:
Blank Bank Checks
Memory for my WindowsXP Desktop
Power and Data Sync Cables
Most of the items arrived this week [yesterday], so I have either been installing memory, designing check templates or setting up the new Windows10 Tablet, i.e., printer drivers, every internet browser I can find, etc.
For most of the week, I researched financial software features, legal questions and design issues as related to the use of blank bank checks.
I currently use MS Money to track business and personal finances. I have two checking accounts; a business account and a personal account. I have never ordered checks for either.
I am not sure why I will ever need to use a check, in that my business checking account provides a lot of services, i.e., Direct Deposit, Payroll, etc., because it is a business account. I have had my business checking account since 2004 and have only used counter checks twice over the entire time the account has been in use.
My personal account is a basic checking account, and both [business & peronal] have associated credit/debit cards.
That said, I thought I would design checks for use with MS Money, and discovered after I ordered the blank checks, my verison of MS Money does not print the account information on the checks. This the reason I decided to design my own checks.
I spent under $200 for everything I ordered last week, [not mentioned the 32GB card for the new RCA Windows10 Tablet/PC, however also included in the total amount spent]. My birthday is next week, so I will recoup most of what I spent.

The RCA Windows10 Tablet/PC? I could not be more pleased... It was a good decision in that I do not have a Windows10 platform [mom has an HP Notebook Windows10 in her bedroom- that I fix sometimes, however rarely use].
The new tablet allows me to see all of the issues as related to web and software desgin for that platform. It arrived yesterday afternoon, and I have already started working some of the design issues based on what I now know about Windows 10.
For well under $200 given my career-- it is perfect. No, the new tablet will not travel with me, it is heavy. It will be used as more a house internet tool on the main floor where shown [see above photo]. House gadget? Print recipes, maps, etc. It is always on.
I did install the WatchESPN app for that platform, however could not install Verizon FiOS, so it will not replace iPads nor Androids at this time. Overall there are more apps for iPads and Androids and a lot of the tools we all use on our tablets, are simply not available- for the Windows10 Tablet. Think of it more as a Windows 10 PC for a great price.

Thursday, June 02, 2016
I bank with two separate large banks. At one bank, I have a business account with linked checking and savings accounts and a personal checking account at another bank.
I have not set up online transfer on any of the accounts. In my case, I have had odd things happen with my business checking account and I simply prefer not to set up the feature-- anywhere. Too many powerful people know who I am and my business checking account is linked to a lot of my affiliate activity. I opened the business checking account in November 2004 shortly after I registered my business [QiSoftware] with the State of Maryland.
This causes problems if I want to transfer funds from any of the accounts to an external bank account, i.e., I can easily transfer funds between my business checking account and business savings account, however I cannot transfer between the business accounts and the personal checking account at the other bank.
So today, I went out to learn just how hard this would be. I am not sure why I thought I could simply walk into the bank I wanted to withdraw from, and ask to transfer the funds to the other bank given I had the account and routing information. I thought it would be a swipe of the card. It was not. Instead, I withdrew the funds and then went to the other bank and deposited the funds saving at least $30.00 in wire transfer fees.
Since it was so easy to link [online] all of my accounts [even external bank accounts, credit cards, paypal, etc.] at the bank where I maintain my personal checking account, enabling online review of my "Net Worth" at any time-- I may have thought my financial data was more connected or linked than it really was.
In any case, today the tellers at both banks [I am lucky in that local branches for both my banks are within a quarter of a mile of each other] were very helpful in assisting with my transfer [and all of my questions] and it went well.
Here is what I had on today. Reminder, when I go out I like sharing photos of what I wore, to insure there are no mistaken identity issues.
When I returned I researched "How to transfer money between accounts at different banks" and found the following article. How to Transfer Money Between Accounts

Friday, April 22, 2016
I worked a number of projects this week, starting with the creation of a new spreadsheet to help me track the Hanover, MD Businesses I list on a community page I maintain.
Background: My parents purchased property in Hanover, Maryland in the mid 80s [back then, mostly a small residential community just outside of Fort Meade]- which has since become a major commerce and residential area in the state. Primary reasons:
Arundel Mills Mall [opened 2000]
Maryland Live Casino [opened 2012]
Proximity of Fort Meade and the National Security Agency
I maintain the Facebook Business Community Page because I do know how much the area has grown, and though my own business has a Columbia, Maryland business address, I reside in Hanover and maintain a home office.
I enjoy maintaining this local business community page and my new spreadsheet helps me to track the businesses I have already listed since I tend to schedule the posts weeks in advance.
Another major project this week?
Extensive research into the use of the HTML5 video tag and running tests ensuring most platforms and browsers support the feature. To that end, I have installed several updates on systems including [make sure you check the system requirements, some of these updates require more memory than earlier versions]: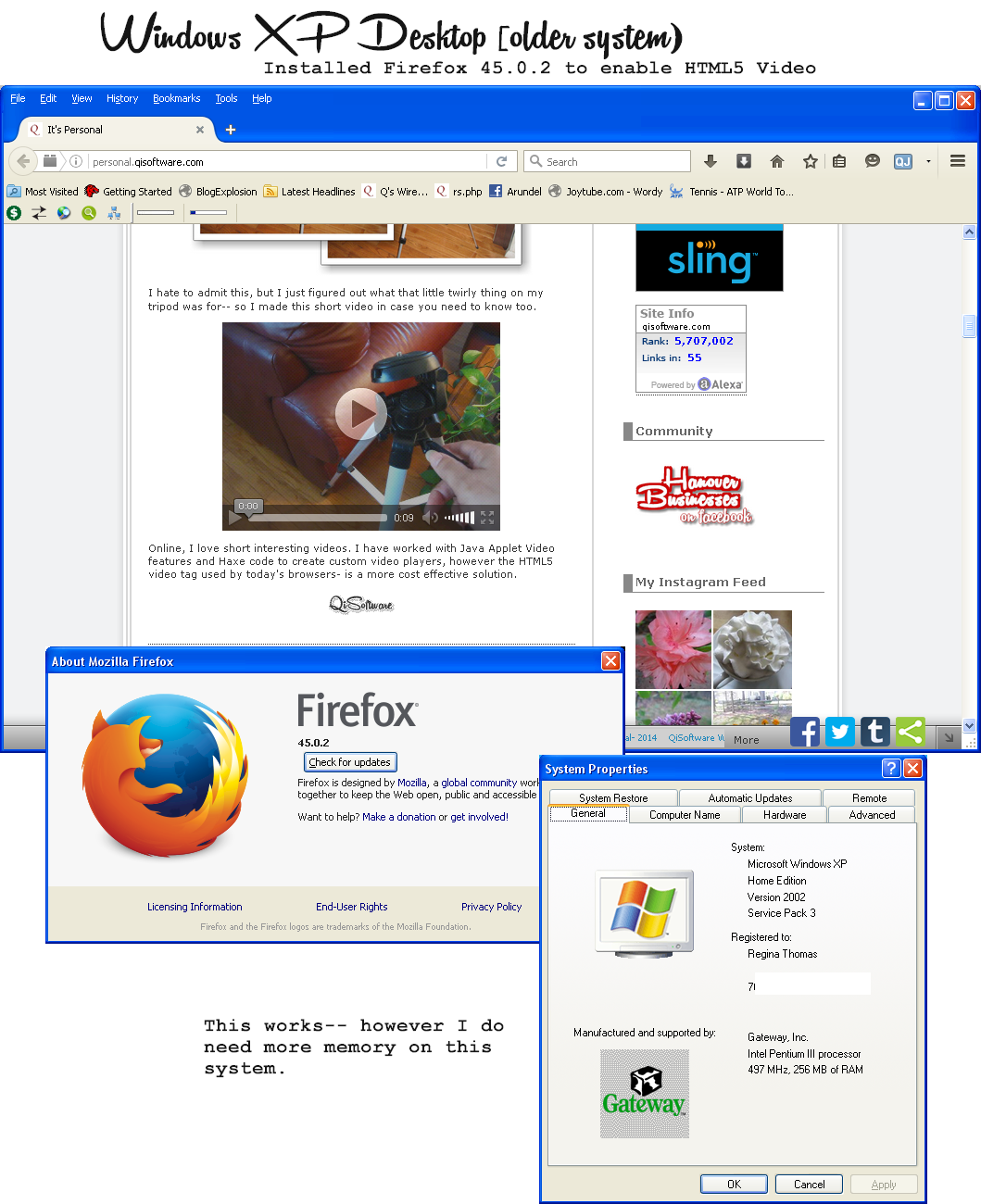 I have found a good reference insofar as browser support for the HTML5 Video tag that you may want to check out.
Another tool I use to check HTML5 browser support? Youtube's HTML5 browser checker.
One of the options the HTML5 Video Tag offers is the "Poster" option. This option defines the image the video player will load if the player is not running. Most browsers do not need the image defined-- in that the first frame of the video is displayed automatically if the player is not running.
One big exception to the automatic loading of the video's first frame? Browsers I maintain on my Android, which include Chrome and Firefox. So this week, I created a banner image that makes the white space less noticeable if the player is not running. I load the image if the userAgent is "Android".
I have to say, I am very pleased my old Windows XP Desktop can now run HTML5 Videos.

Wednesday, April 20, 2016
Thinking about adding short videos to your blog posts to enhance your advertising optons or add more interest to your content?
The HTML5 <video ... > </video> tags make this easier than ever.
What you will need:
A camera that records video with at least 640x480 or 320x240 resolution in vivid color.
A camera tripod that extends to at least 50".
Video file conversion utility that exports MP4, WEBM and OGV; the 3 formats supported by the HTML5 video tag.
Optional: Video record utility for your tablet or PC.
Here is a short video I made with the camera tripod shown in the group of photos in the header graphics for this blog and my Canon PowerShot A590. [If I were really using this for advertising I would have re-shot the footage. Whip cream application is kind of messy. This just to give you an idea of how easy this is].
In my opinion, using a camera tripod to record video helps to make the results more professional in appearance. My Canon PowerShot A590 is not that lightweight [can topple a flimsy desktop camera tripod], however my lightweight aluminum tripod that extends to 59" easily supports the camera.
More info about my tripod:
Photos of my tripod extended...
I hate to admit this, but I just figured out what that little twirly thing on my tripod was for-- so I made this short video in case you need to know too.
Online, I love short interesting videos. I have worked with Java Applet Video features and Haxe code to create custom video players, however the HTML5 video tag used by today's browsers- is a more cost effective solution.

Tuesday, April 12, 2016
Within the last 21 days I have remitted payment for several business expenses including:
Skype Quarterly Payment for Business Number [443-393-6650]
Skype Annual Subscription Unlimited Calling U.S. & Canada
Domain Renewal qisoftware.com
Verizon Wireless Cell Phone [301-xxx-xxxx]
For legal reasons, ever so often- I remind the public, DOJ and the FBI that I do make these payments.
Skype receipts [business line]: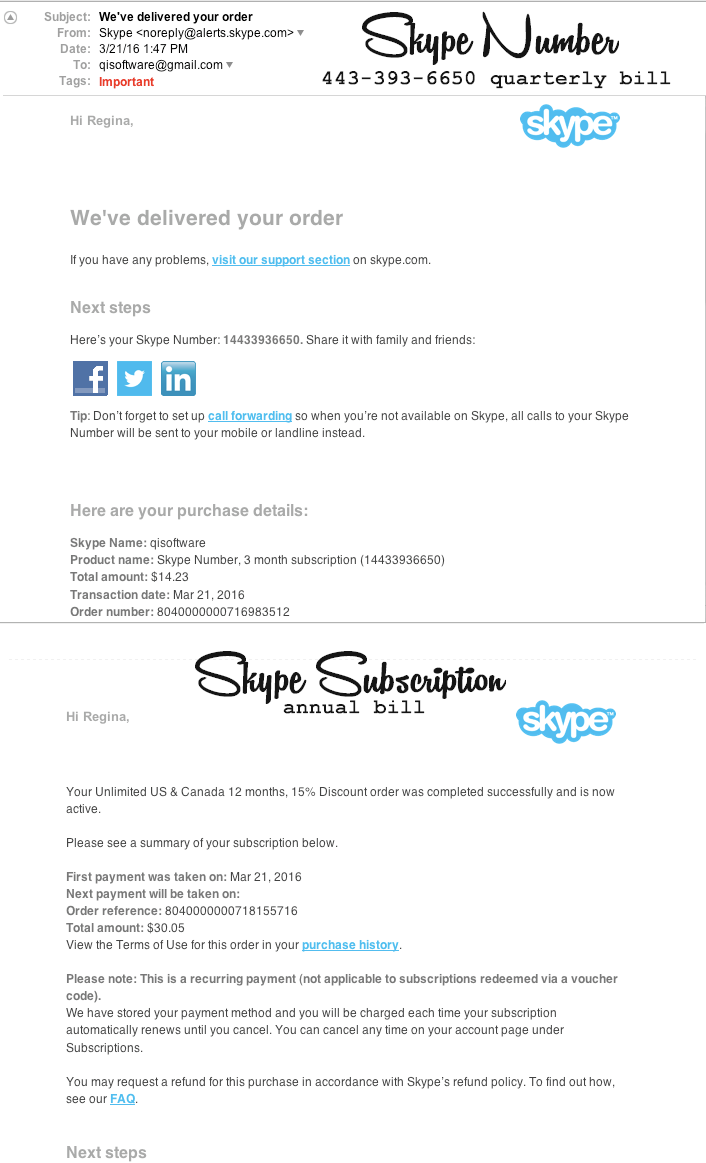 NetworkSolutions receipt [qisoftware.com domain renewal]:
Filed under legal notices. I seldom receive business calls. Abstract noise provides; some delete qisoftware.com domain log files and others answer telephone lines. FBI indicated there is a problem with interference with my business line. My telephone log files show the few calls I receive. Abstract noise provides the FBI thinks the router maybe redirecting the calls. Not sure what is true. I have repeatedly asked that since I do not receive my own calls, no one else should either.
Note the NetworkSolutions receipt shown above. Do you see the little Skype icon with the check mark in the upper left corner?

I use my Android night and day. Because Skype can wake my Android, I keep the device nearby at all times. The calls I do receive tend to be from overseas companies who wish to partner with me, i.e., QiSoftware outsource its business overseas. I get about one call every quarter. I decline these offers.

Monday, February 29, 2016
Last Friday, for the first time- I noticed an Amazon Service Truck in my neighborhood.
A little research provided the answer for this. Amazon now offers Home Services for customer purchases. I am not sure how long they have offered these services, however I love this idea.
Some of the items I list in my stores are big ticket items and in most cases need to be put together or installed after delivery.
One of my Amazon purchases [not listed], an elliptical- took about 3-4 hours to put together and required two people to line up the rather heavy fly-wheel.
My mother and I, though handy with a screw-driver really would prefer someone else do it. This option [Amazon Home Services], given Amazon is one of our favorite online shopping destinations is perfect for us.

Monday, February 22, 2016
Every three months, I pay the web hosting for qisoftware.com. This year, the domain registration will also be extended which is currently due to expire in June 2016. I have had the domain since June 2002.
Every now and a again, I like to remind everyone-- that I pay this bill, along with my Skype business phone line & subscription, Verizon cell phone, Maryland business registration, my business address [in Columbia, MD], domain registrations for not only qisoftware.com but also hosting-q.com as part of the myriad of business expenses I incur to be in business.
Several years back, The Department of Justice sent a letter to my business address in Columbia. I still have the correspondence. What does this mean? Not only does the State of Maryland recognize QiSoftware as the legal business entity I own, but the Department of Justice also knows who I am.
This, just a reminder....

Thursday, November 19, 2015
My Mother's Birthday was this week, so in addition to other projects- I also made a cake and helped her to celebrate.
I have also been out in the area taking photos for the Facebook Hanover, MD Businesses Page.
Some of the photos I took:
I have also done more online holiday shopping and made updates to my Amazon Stores:
Thanksgiving is a week away, and I have most of the groceries I will need to get started next week. Are you planning a new dish this year?