Monday, March 20, 2017
Saturday, October 15, 2016
When I started putting together my first home office, I was still with corporate America.
That first home office was comprised of a notebook computer, desktop computer, postscript printer, dot matrix printer, a big black desk from Ikea and a myriad of productivity software, including WordPerfect and most of the components of the first versions of Microsoft Office. Other software programs installed on my home computers included: a C-Compiler, FoxPro [checked out from the office] and Harvard Graphics . I used the spare bedroom in my condo for my office space.
Why did I need a home office? I worked a lot. I was a task leader on several life cycle computer related programs for the Navy [as a contractor], which meant I was responsible for the software, design, debug and documentation.
Because of the type of programming I provided-- most of the software implementation had to be done from my business office where I had access to X-Windows supported hardware and resources. I could write and edit the program documentation anywhere-- and at home, any hour of the day. I am a morning person-- and like nothing better than getting up first thing in the morning to work.
The summer right after I left corporate America, because of the many legal issues involved with my departure-- and the lawyers-- my home office became more of a legal center.
Rather than the postscript printer, my then new, Brother Fax Machine became the center of my world.
Today, my home office shows remnants of that earlier legal center, however is rarely used now, unless the need to fax the FBI or a Court arises.
Shown below, my new home office [the briefcase] and the fax/laser printer located on the main floor.
Okay, I do have other "office space" in the house where computers and other supplies are located, however the contents of the bag include my Macbook, Netbook and Andriod which are the main tools I use most often for work [these days].

Sunday, September 25, 2016
Like most, I have more [combination of personal and business] expenses between September and the end of December- than at any other time of the year. This in part, due to holiday spending and an annual web hosting bill for hosting-q.com. QiSoftware's [qisoftware.com] domain web hosting payments are quarterly.
I currently use Microsoft Money [Sunset version] for both personal and business finance management. Below, an itemized listing of some of my recurring business expenses/bills that are stored within the application. This allows for easy insertion and debit from the specified payment account[s] when the bills are paid.

Since in recent weeks I have had a number of both scheduled and unscheduled business related expenses, rather than provide copies of the bills I paid [as I have done in the past], I thought I would provide the MS Money illustration.
Unscheduled Business Expenses....
New USB Mouse for RCA/Windows 10 platform
New Blue Tooth Keyboard and Case for Android
Yes, running my business costs and I still have a number of legal issues. This just a reminder for law enforcement jurisdictions, i.e., FBI, DOJ.
What else have I been up to?
Updating Amazon Stores-- See upper right sidebar.
Tonight: Season Finale Starz's "Power" Series
Photography...
Minor adjustments to this blog's template.
Thinking about all the business related tasks I want to do with a new Mac Mini and trying to justify using credit. Would be another unscheduled business expense.

Saturday, July 16, 2016
I have been busy this week with several projects. As mentiioned earlier I ordered several items last week, including:
Blank Bank Checks
Memory for my WindowsXP Desktop
Power and Data Sync Cables
Most of the items arrived this week [yesterday], so I have either been installing memory, designing check templates or setting up the new Windows10 Tablet, i.e., printer drivers, every internet browser I can find, etc.
For most of the week, I researched financial software features, legal questions and design issues as related to the use of blank bank checks.
I currently use MS Money to track business and personal finances. I have two checking accounts; a business account and a personal account. I have never ordered checks for either.
I am not sure why I will ever need to use a check, in that my business checking account provides a lot of services, i.e., Direct Deposit, Payroll, etc., because it is a business account. I have had my business checking account since 2004 and have only used counter checks twice over the entire time the account has been in use.
My personal account is a basic checking account, and both [business & peronal] have associated credit/debit cards.
That said, I thought I would design checks for use with MS Money, and discovered after I ordered the blank checks, my verison of MS Money does not print the account information on the checks. This the reason I decided to design my own checks.
I spent under $200 for everything I ordered last week, [not mentioned the 32GB card for the new RCA Windows10 Tablet/PC, however also included in the total amount spent]. My birthday is next week, so I will recoup most of what I spent.

The RCA Windows10 Tablet/PC? I could not be more pleased... It was a good decision in that I do not have a Windows10 platform [mom has an HP Notebook Windows10 in her bedroom- that I fix sometimes, however rarely use].
The new tablet allows me to see all of the issues as related to web and software desgin for that platform. It arrived yesterday afternoon, and I have already started working some of the design issues based on what I now know about Windows 10.
For well under $200 given my career-- it is perfect. No, the new tablet will not travel with me, it is heavy. It will be used as more a house internet tool on the main floor where shown [see above photo]. House gadget? Print recipes, maps, etc. It is always on.
I did install the WatchESPN app for that platform, however could not install Verizon FiOS, so it will not replace iPads nor Androids at this time. Overall there are more apps for iPads and Androids and a lot of the tools we all use on our tablets, are simply not available- for the Windows10 Tablet. Think of it more as a Windows 10 PC for a great price.

Thursday, June 02, 2016
I bank with two separate large banks. At one bank, I have a business account with linked checking and savings accounts and a personal checking account at another bank.
I have not set up online transfer on any of the accounts. In my case, I have had odd things happen with my business checking account and I simply prefer not to set up the feature-- anywhere. Too many powerful people know who I am and my business checking account is linked to a lot of my affiliate activity. I opened the business checking account in November 2004 shortly after I registered my business [QiSoftware] with the State of Maryland.
This causes problems if I want to transfer funds from any of the accounts to an external bank account, i.e., I can easily transfer funds between my business checking account and business savings account, however I cannot transfer between the business accounts and the personal checking account at the other bank.
So today, I went out to learn just how hard this would be. I am not sure why I thought I could simply walk into the bank I wanted to withdraw from, and ask to transfer the funds to the other bank given I had the account and routing information. I thought it would be a swipe of the card. It was not. Instead, I withdrew the funds and then went to the other bank and deposited the funds saving at least $30.00 in wire transfer fees.
Since it was so easy to link [online] all of my accounts [even external bank accounts, credit cards, paypal, etc.] at the bank where I maintain my personal checking account, enabling online review of my "Net Worth" at any time-- I may have thought my financial data was more connected or linked than it really was.
In any case, today the tellers at both banks [I am lucky in that local branches for both my banks are within a quarter of a mile of each other] were very helpful in assisting with my transfer [and all of my questions] and it went well.
Here is what I had on today. Reminder, when I go out I like sharing photos of what I wore, to insure there are no mistaken identity issues.
When I returned I researched "How to transfer money between accounts at different banks" and found the following article. How to Transfer Money Between Accounts

Friday, April 22, 2016
I worked a number of projects this week, starting with the creation of a new spreadsheet to help me track the Hanover, MD Businesses I list on a community page I maintain.
Background: My parents purchased property in Hanover, Maryland in the mid 80s [back then, mostly a small residential community just outside of Fort Meade]- which has since become a major commerce and residential area in the state. Primary reasons:
Arundel Mills Mall [opened 2000]
Maryland Live Casino [opened 2012]
Proximity of Fort Meade and the National Security Agency
I maintain the Facebook Business Community Page because I do know how much the area has grown, and though my own business has a Columbia, Maryland business address, I reside in Hanover and maintain a home office.
I enjoy maintaining this local business community page and my new spreadsheet helps me to track the businesses I have already listed since I tend to schedule the posts weeks in advance.
Another major project this week?
Extensive research into the use of the HTML5 video tag and running tests ensuring most platforms and browsers support the feature. To that end, I have installed several updates on systems including [make sure you check the system requirements, some of these updates require more memory than earlier versions]: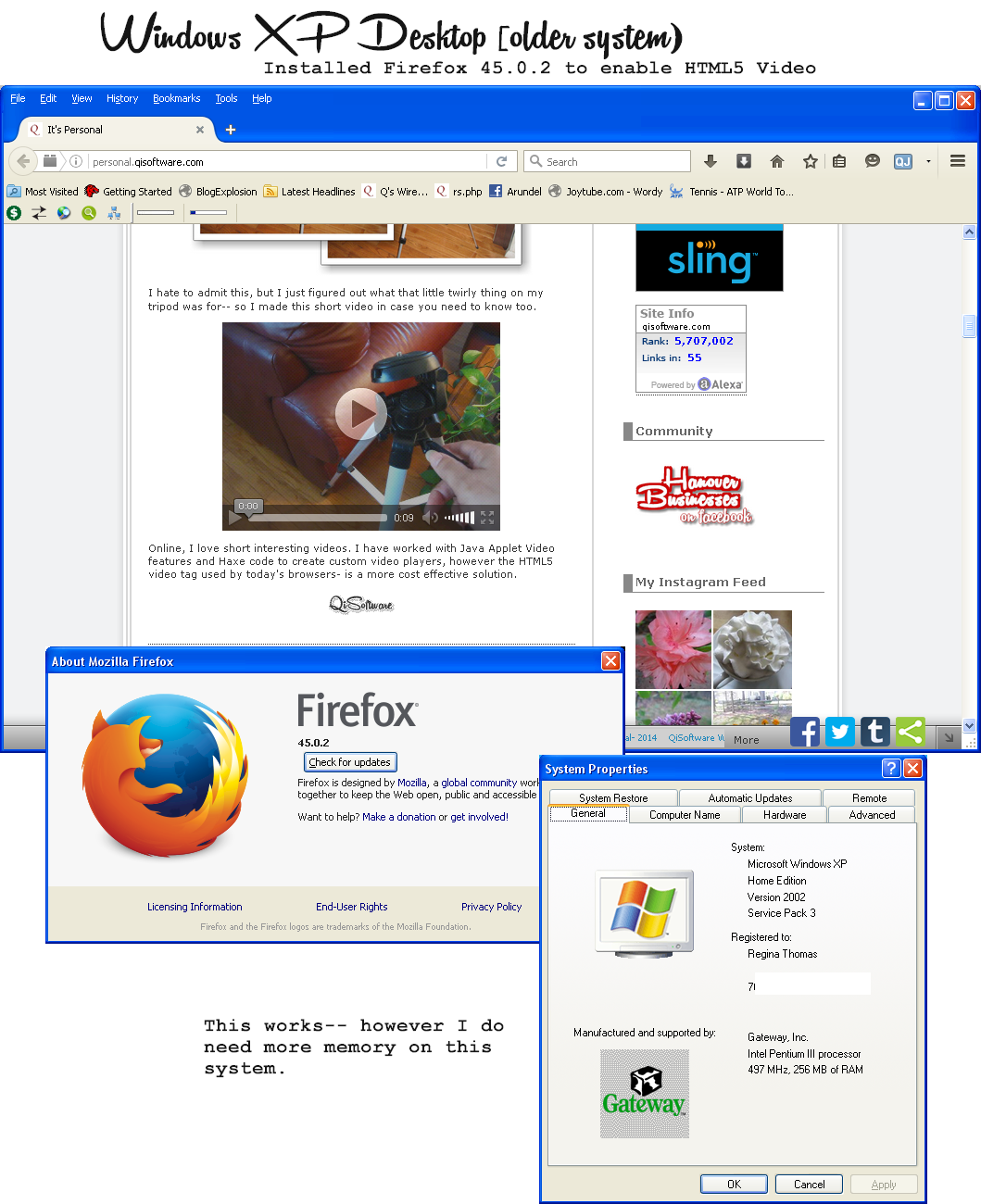 I have found a good reference insofar as browser support for the HTML5 Video tag that you may want to check out.
Another tool I use to check HTML5 browser support? Youtube's HTML5 browser checker.
One of the options the HTML5 Video Tag offers is the "Poster" option. This option defines the image the video player will load if the player is not running. Most browsers do not need the image defined-- in that the first frame of the video is displayed automatically if the player is not running.
One big exception to the automatic loading of the video's first frame? Browsers I maintain on my Android, which include Chrome and Firefox. So this week, I created a banner image that makes the white space less noticeable if the player is not running. I load the image if the userAgent is "Android".
I have to say, I am very pleased my old Windows XP Desktop can now run HTML5 Videos.

Wednesday, April 20, 2016
Thinking about adding short videos to your blog posts to enhance your advertising optons or add more interest to your content?
The HTML5 <video ... > </video> tags make this easier than ever.
What you will need:
A camera that records video with at least 640x480 or 320x240 resolution in vivid color.
A camera tripod that extends to at least 50".
Video file conversion utility that exports MP4, WEBM and OGV; the 3 formats supported by the HTML5 video tag.
Optional: Video record utility for your tablet or PC.
Here is a short video I made with the camera tripod shown in the group of photos in the header graphics for this blog and my Canon PowerShot A590. [If I were really using this for advertising I would have re-shot the footage. Whip cream application is kind of messy. This just to give you an idea of how easy this is].
In my opinion, using a camera tripod to record video helps to make the results more professional in appearance. My Canon PowerShot A590 is not that lightweight [can topple a flimsy desktop camera tripod], however my lightweight aluminum tripod that extends to 59" easily supports the camera.
More info about my tripod:
Photos of my tripod extended...
I hate to admit this, but I just figured out what that little twirly thing on my tripod was for-- so I made this short video in case you need to know too.
Online, I love short interesting videos. I have worked with Java Applet Video features and Haxe code to create custom video players, however the HTML5 video tag used by today's browsers- is a more cost effective solution.

Tuesday, April 12, 2016
Within the last 21 days I have remitted payment for several business expenses including:
Skype Quarterly Payment for Business Number [443-393-6650]
Skype Annual Subscription Unlimited Calling U.S. & Canada
Domain Renewal qisoftware.com
Verizon Wireless Cell Phone [301-xxx-xxxx]
For legal reasons, ever so often- I remind the public, DOJ and the FBI that I do make these payments.
Skype receipts [business line]: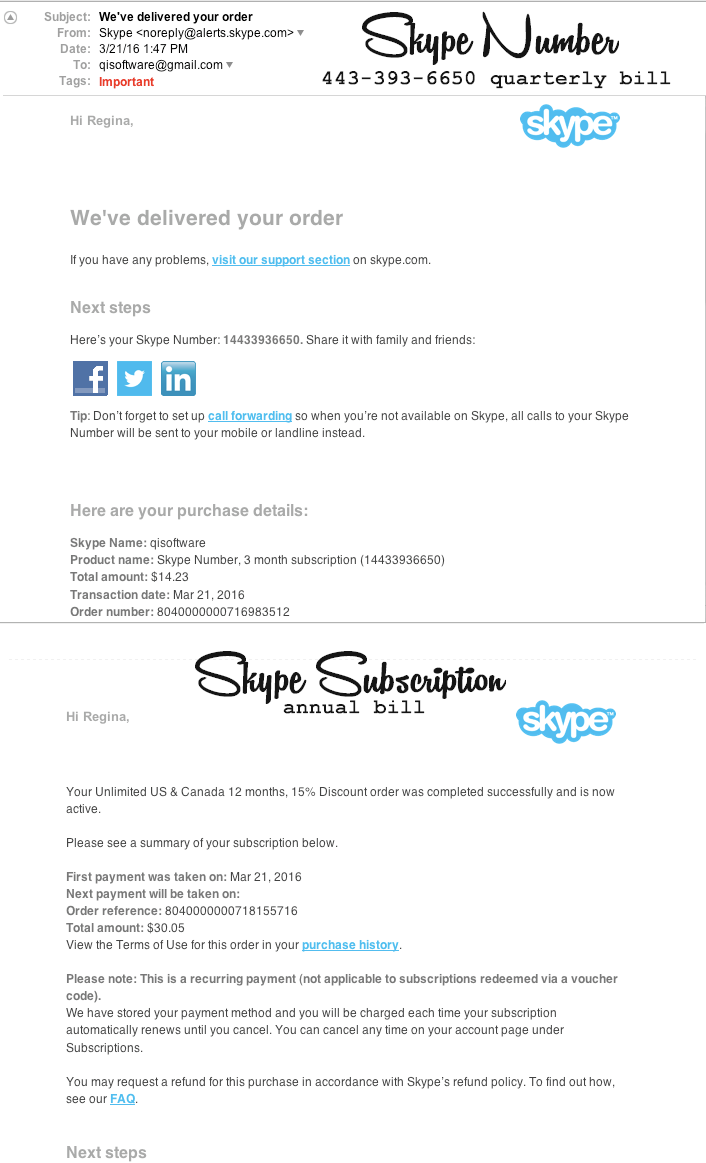 NetworkSolutions receipt [qisoftware.com domain renewal]:
Filed under legal notices. I seldom receive business calls. Abstract noise provides; some delete qisoftware.com domain log files and others answer telephone lines. FBI indicated there is a problem with interference with my business line. My telephone log files show the few calls I receive. Abstract noise provides the FBI thinks the router maybe redirecting the calls. Not sure what is true. I have repeatedly asked that since I do not receive my own calls, no one else should either.
Note the NetworkSolutions receipt shown above. Do you see the little Skype icon with the check mark in the upper left corner?

I use my Android night and day. Because Skype can wake my Android, I keep the device nearby at all times. The calls I do receive tend to be from overseas companies who wish to partner with me, i.e., QiSoftware outsource its business overseas. I get about one call every quarter. I decline these offers.

Monday, February 29, 2016
Last Friday, for the first time- I noticed an Amazon Service Truck in my neighborhood.
A little research provided the answer for this. Amazon now offers Home Services for customer purchases. I am not sure how long they have offered these services, however I love this idea.
Some of the items I list in my stores are big ticket items and in most cases need to be put together or installed after delivery.
One of my Amazon purchases [not listed], an elliptical- took about 3-4 hours to put together and required two people to line up the rather heavy fly-wheel.
My mother and I, though handy with a screw-driver really would prefer someone else do it. This option [Amazon Home Services], given Amazon is one of our favorite online shopping destinations is perfect for us.

Monday, February 22, 2016
Every three months, I pay the web hosting for qisoftware.com. This year, the domain registration will also be extended which is currently due to expire in June 2016. I have had the domain since June 2002.
Every now and a again, I like to remind everyone-- that I pay this bill, along with my Skype business phone line & subscription, Verizon cell phone, Maryland business registration, my business address [in Columbia, MD], domain registrations for not only qisoftware.com but also hosting-q.com as part of the myriad of business expenses I incur to be in business.
Several years back, The Department of Justice sent a letter to my business address in Columbia. I still have the correspondence. What does this mean? Not only does the State of Maryland recognize QiSoftware as the legal business entity I own, but the Department of Justice also knows who I am.
This, just a reminder....

Thursday, November 19, 2015
My Mother's Birthday was this week, so in addition to other projects- I also made a cake and helped her to celebrate.
I have also been out in the area taking photos for the Facebook Hanover, MD Businesses Page.
Some of the photos I took:
I have also done more online holiday shopping and made updates to my Amazon Stores:
Thanksgiving is a week away, and I have most of the groceries I will need to get started next week. Are you planning a new dish this year?

Tuesday, October 13, 2015
I love black suits and I loved wearing black suits to the office. I still have quite a few of my suits, however they are mostly too tight and if I did need to make a business appearance, I would have little to choose from.
Like many business owners that work from home, I have picked up several bad habits including:
Not worrying about proper business attire.
Staying fit.
Overeating.
Working all hours of the day.
That said, earlier this year I did decide I needed to keep my hair "ready to go" and I apply a little makeup everyday [my hair looked too "done" to go without], no matter if I leave the house or not.
This routine may become obsolete if I get my treadmill repaired. I used to fast or play tennis to stay in shape. These days, I do not like the idea of fasting, so physical exercise is my only option. When I have a working treadmill I stay on morning, noon and night [about half an hour each session]-- so while in "lose mode" hair will have to wait.
While I am still debating what to do about my slightly larger size, I decided I needed more business attire options in case a situation did arise, wherein I needed an easy business look.
Believe it or not-- one basic element is going to work for me and I found it on Amazon, here.
I am very pleased with this purchase and plan to purchase one or two other colors in a slightly smaller size. I like the quality of the material and the way it feels and hangs. I can combine the skirts with things I already have to create several different looks for business or slightly more formal occasions.
I have to confess, I am someone that owns a lot of more expensive lined skirts that are dry cleaned. I was a little skeptical, however I have a shorter Spandex skirt without the Rayon [purchased from H&M several years ago] that I use when I need a slightly more formal look than jeans or sweats. It does not need dry cleaning. The problem, it is above the knee but very easy to wear and achieve different looks with. That is why I thought I would give this longer skirt with Rayon, and a slit a try. I am pleased.

Why would I worry about a "business look" when I can do most things from home? Just in case.

Tuesday, September 15, 2015
Recently, I discussed new technology I want to purchase.
Technology, especially in the areas of mobility and access- have changed quite a bit since I purchased my 13" Macbook and Acer Netbook in 2008 and 2010 respectively.
As noted in the earlier post, I hope to replace my 13" Macbook with the Mac Mini and the new lighter 12" Macbook.
The Mac Mini is a desktop, and powerful enough to handle most of my business and programming needs, however will allow me to "unplug" and secure easily.
The new 12" Macbook will be for "on the go" use. Because fewer ports ship with the new Macbook, I plan to use more external devices and adaptors to allow for easy data transfer. Including:
When I first got my Android Tablet, I noticed something called Portable WiFi Hotspots [sometimes called Software or Mobile Hotspots] amongst the "Settings" options. Initially, unsure how to use this feature I now understand I can connect tools like the HooToo Wireless Travel Router listed above, to provide support for USB hubs and charging.
The new 12" Macbook can also use this tool to allow connection to a USB hub or as a charger. See this article on How to turn your Mac into a Wi-Fi Hotspot.
Of course, you can also purchase the Apple USB-C Digital AV Multiport Adapter to power up or stay fully charged while also connecting to USB devices. I think I will need both.
I have done a lot of research as related to business tools I would like to own and think I have found many of the tools I will need to get the things done I need to get done-- plus more.
I also maintain a list of new technology and computing tools I am interested in owning at this Amazon Store.

Tuesday, August 25, 2015
While I wait for a resolution to some of the many issues I face, I keep myself busy with a myriad of mostly non-business related tasks. That said, on occasion I do research issues related to business. My latest research has provided solutions for future acquisitions related to technology and computing, I think will solve my current security and innovation issues.
Some of you may be aware, in Feb. 2015 I purchased my first tablet. Though I have found many uses for this device, I actually do very little productive business work with the tablet. Uses include:
Bill paying.
Statistical checks, i.e., Adsense, Web Site Analytics, Bank Accounts
Sports, specifically professional tennis matches. My tablet's resolution is 1920x1200 so the video is great, a big factor in my choice given I planned to watch a lot of tennis matches. The iPad is one of the few tablet like devices that has more in the way of display resolution. I used to watch via my netbook. The resolution was not that good. Did I explain, this was the reason I wanted a tablet, after noting how well my mother's worked with streaming video?
Maintenance of my Amazon Stores [this is in part more of a business task, but one of the few I can do from my tablet].
Games
Membership maintenance and posting to Facebook groups and pages. Artwork for pages/groups is done on other, more robust platforms.
So what do I think I will need in the future, for business productivity as related to computing and technology?
Mac Mini-- I can unplug it and take it with me.
Huge Thunderbolt Display Monitor like this Samsung offering which is also compatible with the high resolution [Thunderbolt] output of the Mac Mini.
Portable display monitor but not for travel, only in case I want to work outside with the Mac Mini or some other area of the house.
The new 12" Macbook, in gold? A full Macbook, but smaller so that I can "fix" or login from anywhere. The Mac Mini and this smaller 12" Macbook would replace my current 13.3" Macbook which is very heavy and 7.5 years old. The new 12" Macbook is only 2 lbs.
Smallest Windows notebook I can find-- my netbook is still useful, however uses Windows XP. I need to upgrade to insure my programs are compatible with the latest Windows releases.
Microsoft Office Suite [currently own the Professional Suite for Windows] for both Windows and Mac operating systems.
Adobe Illustrator
What are you using for business? Check out some of my other business computing finds-- here and here.

Monday, August 03, 2015
Last Thursday, I went by the bank so while out- I snapped several photos for a project I have been thinking about.
Awhile back [2010], I started a Facebook Page for Hanover, MD Businesses [sort of an unofficial Chamber of Commerce]. I really did not do much with the page over the years and just recently, thought I would start updating again.
Background: Arundel Mills the mega outlet mall opened November 2000 and since then many new businesses or franchises have opened.
In June 2012, the Maryland Live Casino opened.
The area [also where I reside, i.e., Hanover, MD], has experienced exponential growth, so in 2010 when I started the Facebook Page, I thought I would ask local businesses to "Like" the page and post their events or sites. Of course, there exists an official Chamber of Commerce [for a larger area], however I thought Hanover MD [with the many new businesses to the area] could justify an unofficial Facebook Page. That said, I simply did not do anything else with the page. Then a couple of weeks ago, a local business "Liked" the page.. I and I thought.. "goody" something new to work on....
I snapped more photos on Friday and incorporated them into the cover illustration I have been working on. Here is how the page looks as of this morning.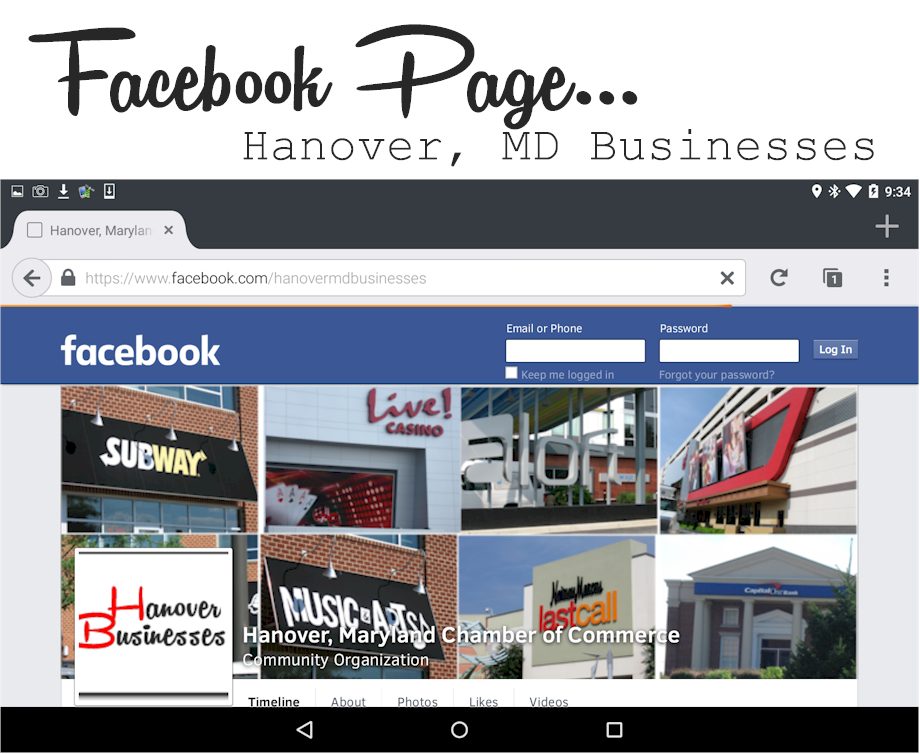 Okay, so what else have I been up to?
Sent off for a Press Pass [in case I need one-- someday].
Watched a myriad of Tennis Tournaments including the ATP Atlanta and Hamburg Opens.
Watched: STARZ's Power Series and HBO's True Detective.
Updating my Amazon Stores. Have you noticed the trend in retro dresses? I really like this style. I am also going to start watching my diet.
I thought this arena looked so inviting:

The Citi Tennis Open [Washington] and Bank of the West Open [Stanford, CA] begin today, so later I will be catching live action on WatchESPN and the Tennis Channel.
Are you from the area? Are you going to the Citi Tennis Open?

Wednesday, July 22, 2015
For over a year, I have been using a commercial grade font that I really like. I failed to read the license properly and thought I could use the "personal use" version anywhere I wanted as long as the work in question, belonged to me or was for my personal use, i.e., I was not selling the work. This was a silly error on my part-- in that I often use the font in images I use on this blog, and this site is considered commercial in nature. [wish I had read the license].
There were two reasons I began researching purchase options for the font:
Recently, I modified the QiSoftware Remix Blog Template and incorporated the font in some of the new images. Before then, I had not used the font on that blog. Really silly part [my assumption]-- "It's Personal" is not a part of my commercial site. I also used the font on my Tumblr Blog, however my read of the license, indicated that was okay.
The free "personal use" version that I obtained awhile back, did not have the full character set.
The other day, I searched Amazon but could not find what I wanted. So today, I searched other offerings and that is when I checked the license for the version I have and found my error.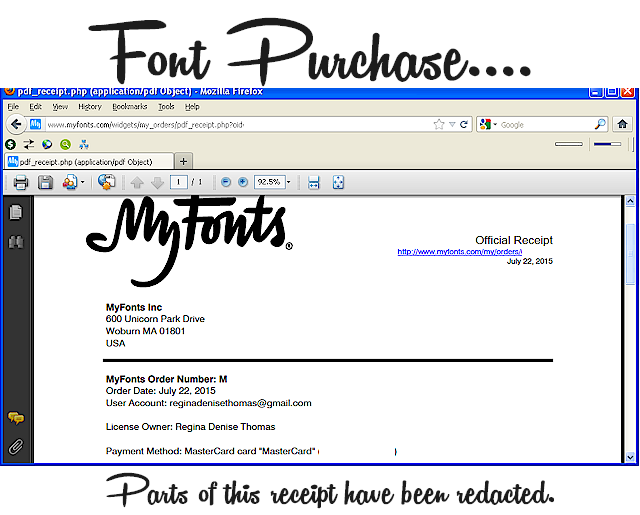 Happy to report, today I did obtain a fully licensed version of the entire character set for the font.
News? Always. Even some related to the acquisition I describe in this entry. One of my big complaints over the years-- others have broken laws that have hurt me and my ability to conduct business. Me, today I found out someone could have sued me for copyright infringement [because I failed to read the license for the "personal use" version of the font]. Needless to say, I am reading everything from now on. The rest of the news? Nothing I am going to report.

Saturday, July 11, 2015
The Wimbledon Ladies Singles Final will start in 15 minutes, so I will be quick.
Earlier in the week, I found a case I wanted for my Birthday [July 20th], and my Mother agreed to give it to me. It arrived yesterday.
I am so pleased that most of my notebook computers, drives and discs fit. It's big, however I needed the space.
Other things:
Movie: The Manchurian Candidate w/Denzel Washington, Meryl Streep
Movie: Miami Vice w/Colin Farrell, Jamie Fox
Trimming the bushes.
Always more news. Nothing I am going to report.

Friday, February 13, 2015
Since I have been using Microsoft Office for years, I try to stay compatible with this productivity suite as related to software I install on all of my computers. My latest acquisition, the tablet- is no different.
After research, I downloaded the OfficeSuite 8 App to test drive. I was not disappointed, however could not do much, in that- it is the limited free version.
OfficeSuite 8 Pro [Apple App Store/Google Play] is the non-limited version and provided more of the power I need, which also enables me to stay compatible with my other Microsoft Office Suite installations.
I must admit, I do find it easier to create templates and documents using the full Microsoft Office Professional Suite installations rather than on my tablet. That said, what's great about my new tablet software [OfficeSuite 8 Pro]? It is easy to port Microsoft Office documents and templates to the tablet-- in case I need to do something on the fly and pulling out the tablet the easiest thing to do.

QiSoftware Business Letter Template:
Professional Tennis Stats Spreadsheet:
Most of the Microsoft Office customization features are converted upon import to OfficeSuite 8 Pro file formats.
Some of Sample Templates that came with OfficeSuite 8 Pro:
I have also been doing a lot of research on printing from my new tablet and will post about that later.

Wednesday, February 11, 2015
I am still downloading and configuring apps for my new Tablet. I downloaded the OverDrive app the first day [last Thursday], however did not get a chance to look around more thoroughly until today.
The OverDrive App allows Public Library Patrons to borrow and download eBooks to their tablets. The following illustration shows the two books I have on hold.

I took the above screen shot with another tablet app I downloaded called "Screenshot Easy".
Other things I have been up to:
Updating my Amazon Stores
Watching Tennis Tournaments
Playing around with Google Analytics... Noticed the other day, that ShareThis is reporting qisoftware.tumblr.com has a 154 SQI rank-- while nothing on this domain, i.e., qisoftware.com. See email below from sharethis.com...
Playing around with my pro tennis stats spreadsheets... contacted one of the reporting agencies about getting up to date data...
Syncing my contact lists and removing redundancy from services I use, i.e., Facebook, Linkedin, Skype and Verizon- that maintain their own lists... Also, added bubbles for my chat dialogues [see below].
I have tracking scripts installed on most of my website properties including:
Google Analytics
Quantcast
Compete
ShareThis
Alexa Bugs
It is odd that Sharethis claims SQI rank for my little qisoftware.tumblr.com blog however nothing for the other properties [on qisoftware.com, including 3 of my blogs and the forums], which also have their scripts installed.
Yes, earpiece confirmed long ago-- the US Government interfered with my sites and online business presence. Phones and websites.
Talk today is still going on that this will end with a settlement. Most are saying these numbers show part of the problem and will be cleared by the settlement. Why these odd readings now, and why report them to me? Did you overlook your own numbers for my site [qisoftware.com]?

Saturday, February 07, 2015
As I explained in an earlier post, I watched quite a bit of the 2015 Australian Open, both via the Tennis Channel and WatchESPN. The latter, via my mother's Verizon Ellipsis Tablet.
I was so impressed with how well the tablet worked, running the WatchESPN app- as compared to my netbook and browser, I decided to get my own, i.e., tablet.
Resolution and data processing speed- keys to why my mother's tablet was clearer with fewer digital hiccups. The comparison relied on the same WiFi offering [Quantum Speed Verizon FiOS], so it was easy to surmise- the browser and the netbook's resolution the reason the picture was less than that of the tablet.
My purchase choice was based on available funds and tablet resolution [and though I am happy with my choice, have decided to provide no further details, other than to say, I also purchased a Bluetooth keyboard].
The tablet arrived Thursday, and I have been busy setting up all of my accounts.

Initially, I had a problem connecting both WindowsXP systems [Netbook and Desktop in my office] to my new tablet. To resolve the problem, I downloaded and installed the following files on both systems:
One pro amongst many, as related to the purchase of my new tablet; my location is always being broadcast [via the tablet's on-board GPS]. I also have the Skype app installed, and it is always on. What does that mean FBI? It means-- others should not be picking up my calls. Neither on my Skype line nor my mobile line. Yes, I do have a dedicated Skype Phone and my netbook, when I have it on-- also boots with Skype on. Unfortunately, because of security concerns, as related to my work-- I cannot open up the netbook nor is GPS installed on my netbook. I can leave my new tablet open.
Also this week, I started a new project. With all of the professional tennis I watch, I have become more interested in statistics. Tournament prize money being one, so I developed my own spreadsheets and Java Servlets to help me track the data.

This week was an odd mixture of productive projects-- and irritations beyond belief. I am hoping the irritations subside very soon.

Sunday, February 01, 2015
In the summer of 2012, I noticed that the Windows98 platform in my bedroom had a serious problem. The system was originally a Windows95 platform and in the late nineties I upgraded to Windows98, put in a CD Writer [that was way to fast for that system], replaced the 3.5 inch floppy drive, upgraded the Pentium Chip [with a faster overdrive chip], upgraded the Fax/Modem card and added a second hard drive.
The serious problem? The second hard drive I installed crashed in 2012. [Yes, those of you who know about the summer of 2012 should surmise there was interference. [Earpiece supplied explaination.] The full JBuilder compiler seemed important to someone. I do not have a full compiler on the Windows98SE [recently upgraded to WindowsXP] system in my office-- so it was explained, the government employee thought he was protecting my software development environment. I am not sure if he replaced the hard drive or just rendered it dead. Why is this important? I write and compile code to work on old and new systems and the JBuilder installations on my older Windows systems worked well. I am thinking whoever did it, did not understand-- NetBeans could be set up to do what the old compilers on those systems did.] Anyway, amongst many things that summer, I lost a lot including the Windows98 system in my bedroom due to the hard drive failure and it was not worth it to do anything else with the system.
That said, I never added an ethernet card to the old Windows98 system in my bedrook but did add one to the Windows98SE [now a WindowsXP system] platform in my office. I primarily used the system in my bedroom to write or compile code [old JBuilder Installation] and did not need internet access for that platform. I always disconnect from WiFi or the Ethernet cable if I am writing code on any of my systems. The old one in my bedroom I did not have to worry about.
The Windows98SE platform in my office upstairs was newer and originally came with a CDROM and CDWriter. Both CD Drives failed on that system sometime ago-- and I purchased an external PlexiWriter in case I needed to access CDs. I use the external CD writer with my Acer Netbook and the Mac desktop also in my upstairs office. I broke the CD drive on the Mac desktop sometime ago when I incorrectly put a disc in.
I store a lot of my code on 3.5 inch floppy discs and cds-- so I have both external CD and 3.5 disc drives that can be used on all of my systems, except the older older Windows98 system in my bedroom which did not have USB ports.
So with the recent upgrade of the Windows98SE system in my office to a WindwosXP system-- I decided to take the Memorex CD 48X Write, 24X ReWrite, 48X Read drive from the old Windows98 system in my bedroom and put it in the newly upgraded system. You might ask: If the PlexiWriter External CD Drive worked-- why? Yes, I did install WindowsXP from the external PlexiWriter CD Drive. That said-- the PlexiWriter is only 24x, 10x, 24x even with its own electrical source. If you have found your USB power driven CD drive is a little slow-- consider getting one with its own power source.
Yesterday, I spent most of the afternoon taking the fast Memorex CD writer out of the old system and installing it in the [new] WindowsXP system in my office. I also had to remove the old CD Writer from the XP system.
Keep in mind the reason I started upgrading the Windows98SE sysetm in my office was because I found a great deal on a color laser printer that did not have a driver for Windows98SE. I also did not have the old Windows98se system discs but did have a great desktop publishing platform-- that worked with my copy of MS Office Professional-- so these upgrades have been worth it for me. I have spent about $200 for a Color Laser Desktop publishing environment and I am very happy.
Also this week, while watching the Australian Open-- I was able to get the last of my computers to work with the new color laser printer. In December, when I first got the new printer, only my Acer NetBook worked. Then I found a work around for my Macbook [10.4.11]. I then upgraded the Windows98SE system to WindowsXP and it worked well with the printer manufacturer's supplied driver.
So the only system that did not work was the Mac desktop [also in my upstairs office] and this week I finally found the right combination to get it to work. The Mac desktop is running 10.2.8 and it took awhile to find a fix. [GhostScript, Magicolor 1680mf driver, Cups.org].

Over the last month, I feel I have upgraded my productivity environment a great deal. Now, I am working on something else. With the Tennis and the use of my Mother's Verizon Ellipsis Android Tablet to access WatchESPN and watch any match I want-- I have decided I need my own. I have been researching for this purchase.
BTW: Yes, I could have moved that CD Writer Drive long ago-- but just got around to it yesterday... Procrastination.

Sunday, January 18, 2015
As you may know, I develop Java Applet applications. Examples include the Blogger Calendar, World Weather Tool, and many of the other tools that were found on WiredPages.
With my recent Windows98 system upgrade to a WindowsXP platform, I found issues with Java support that I had to resolve and want to address.
Because I setup developer environments insofar as Java, on the main computers [Macbook and Acer Netbook] I use, I seldom allow automatic upgrades of my Java development nor runtime environments.
What this means, I am sorry to say I did not understand fully that my Java Applet applications are having problems on older platforms like Windows XP, where Java Runtime Environments are allowed to be updated when a new release is offered.
I do not want to bore you with too many technical details, however briefly want to explain that the Java Development Environment [SDK or software development kit] that I download for Java I rarely update. I can do this because I use the early safe AWT framework which rarely changes. This allows me to be consistent across many platforms [Macs, Windows, Linux] without having to write too many code workarounds for the many platforms and the browsers they support.
Unless you are a Java Developer you will not need to worry about downloading the Java SDK.
The Java Runtime Environment is the problem. This is the framework that allows Java Applets to run in most Internet browsers.
What I found:
My Mother's Windows 7 HP Notebook allowed an automatic Java runtime environment update. The update was for a Java 7 release which blocked applets from being displayed in her browsers, e.g, Blogger Calendars on my Blogs would not appear. It was an easy fix to update within the Java Control Panel to enable Java Runtime Support for all of her browsers. The Java Control Panel is found under the Control Panel- click Java.
When I was updating my new WindowsXP system, I downloaded a Java 7 runtime environment along with later versions of browsers I had been using with my old Windows98 environment. Though I was able to get the Java 7 runtime environment to work for Internet Explorer, I was never able to get Firefox to work. So I downloaded a Java 6 Runtime Environment release and then deleted the Java 7 Runtime under Remove Software Programs also found under the Windows Control Panel. This worked.
In summary: The Java 6 Runtime Environment releases work for everything. Java 7 and 8 you have to make changes within the Java Control Panel.
As I stated earlier, the Java Software Development Framework I use is very safe and does not require signatures for my applets. Later Java features like Swing and FX were more powerful and required developers to "sign" the tools for use over the Internet in browsers.
This is the basis for the new Run query that Java 7 [and above] Runtime Environments prompt for when a Java Applet is encountered on any page you visit with a browser.
I would like to protest to Oracle, Sun and Java about the new security measures implemented across the board. Only in that I use the very first framework-- Java AWT and it is very safe. The warnings from the Java 7 [and above] Runtime Environments look more dangerous than they are for my applets and applications. That said, only allowing updates through Java 6 Runtime Environment Releases will correct the problem. See this link: Java Archive Downloads- Java SE 6.

The following shows the options for one of the Java SE Runtime Environment Releases, 6u39. Major release 6 update 39. I used this one with my new WindowsXP platform. I used 6u39 because I have 6u31 on my WindowsXP netbook that works. Why not 6u45? I am a programmer and 6u31 "looks" more similar to 6u39 than 6u45. We tend to note major differences with numbers. That said, they do not use fractions, so maybe it did not matter. I had a Java SE 5 release on this system before I did the recent Windows XP upgrade. I am showing the 32 bit release. My mother's HP Notebook is a 64 bit system, however when the automatic update was installed it also used the 32 bit release.
I may update this article to include more images, of how to access the Java Control Panel and exactly what you need to do, but it will be for the Remix Business Blog. This is not really that complicated.
What about the newer FX and Swing frameworks with the older runtime environment? By default they always required signatures anyway. That said, what I do not know is how newer SDKs work. The software development tools and the applications that are produced by the newer SDKs. My older ones will not allow me to do certain things unless I sign the work. My tools do not require the signatures and should not. I do understand it was a global decision for all frameworks but feel my tools are a lot safer that some of the newer developer frameworks like AJAX or JQuery.
Around Summer of last year, I noticed the Washington Post stopped using the Java Applet they used for years [starting in 1998 or so] for their Crossword section. This worried me. I knew I might have a problem [with my abundant use of the Java Applet] but did not investigate the reasons for their change. I think the Crossword is now a Flash program. Do I plan on changing the Blogger Calendar? When I move and fix most of the widgets on WiredPages what will I do? Most of the widgets on WiredPages are Java Servlets that run without a Applet GUI interface. Some are Applets. When and if I move the site-- I will make those decisions. Yes, I have given it some thought.
In the meantime, If you are not a part of academia [they tend to do a lot of work with Java too and like new features]-- and loved the way WiredPages worked-- Java 6 Runtime Environment Releases will work across the board.
Access the Java Contol Panel on your Windows platform:

Clicking the Java Icon provides the Java Contol Panel. To prevent updates use the setting shown here under the Update tab.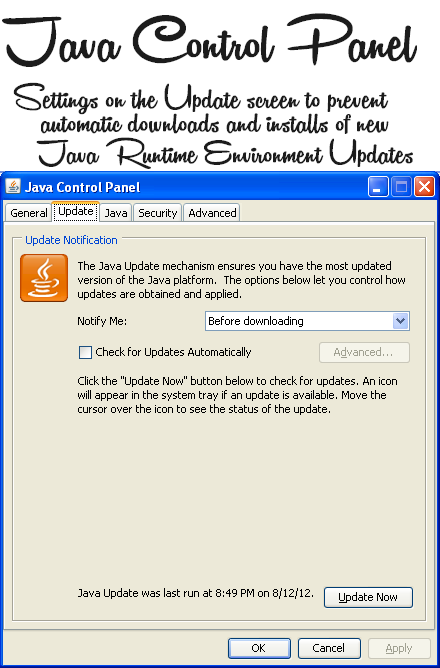 The Java Control Panel refers to the release as 1.6. However the releases are referred to as 6, 7, or 8. Only the number after the decimal [yes, they do use decimals]. Keep this in mind if you have to remove a later version than 6.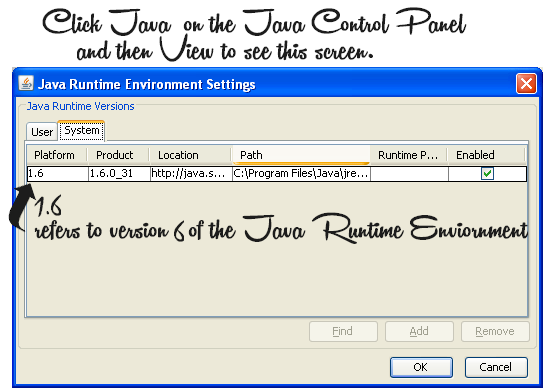 I have tested the Java 6 Runtime Environment releases and they work [also referred to as 1.6]. I have found problems with 7 and 8 using my Windows systems. These Java Runtime Environment downloads only assist with running Java Applets in your browsers. This should not affect other browser features or operations.