Monday, April 24, 2023
During the summer months, Washington and the surrounding areas can get pretty hot and sticky. When I do need to go out- I like being cool & stylish.
When I was younger, I found that classic styles suited me, even if it seemed they would also suit an older woman.
Today, though I still have many of my classic suits and dresses, they are now- more than a little tight and not made of today's popular stretchy fabrics.
The good news, I am losing weight. That said, I prefer the stretchier fabrics I have grown used to, and though I do no get out as much now- have been looking for a summer style I can dress up or down if the need arises.
I wanted to go with what works for me- and the style shown in the following images- is similar in style to some of my older summer dresses.
The first set of images are my color choices.
The remaining color options...
Though a little short (my older dresses were short too), I think I can get away with the length, and need only worry about my arms.

Monday, September 05, 2022
Let me say first of all, I owe a post about why my Instagram demos are no longer working (non-operational as of 11:00pm August 31, 2022 or when I noticed), however I am not happy about this situation, so I am going to put it off for now. A recent Youtube video demonstrates the demos were operational and I hope to correct the issue in the near future.
So, this post is about something that made me very happy, and how I justified everything.
What did I get?
-->".replace(/\r\n/g,"").substring(0,10)); if(nstr)document.getElementById("b782").innerHTML='Read More';
Wednesday, August 25, 2021
Years ago, when I first started developing applications using the Commission Junction (CJ) API, SOAP using WSDL were the technologies in use.
Today, the CJ Product Search API uses GraphQL.
Those familiar with SOAP/WSDL APIs, probably understand the complications involved with using Java Servlet technology to develop applications using the SOAP protocol and WSDL definition language.
This to say, yesterday when it took all day for me to figure out how to request data via a Java Servlet- using the newer CJ Product Search API and GraphQL, I was a little surprised.
As shown in the illustration above (CJ's GraphQL test page), it was not because I was unfamiliar with GraphQL. The Yelp API uses GraphQL, so I had the opportunity to research this technology in 2018.
The problem, I had to figure out how to send the correct data from the servlet to the service, and I could find very little in the way of documentation. Illustrated in the following graphic, some of the tools I use when testing new APIs I want to work with.
Around eight last night, I finally found the answer. Below the response from a successful servlet "GET" request as rendered within the Netbeans IDE output pane.
I plan to provide a demonstration of the CJ Product Search API using GraphQL on one of the QiSoftware Product pages, similar to the Instagram API demonstration.
What will the demonstration of the CJ Product Search API provide? The widget below, illustrates some of the designs of major designers- that will be available when the demonstration application is installed.


Wednesday, September 16, 2020
Folks in my area are allowing their hair, to take on beautiful shades of gray. I wish my coloring allowed me to consider this option.
Over the weekend I did my hair...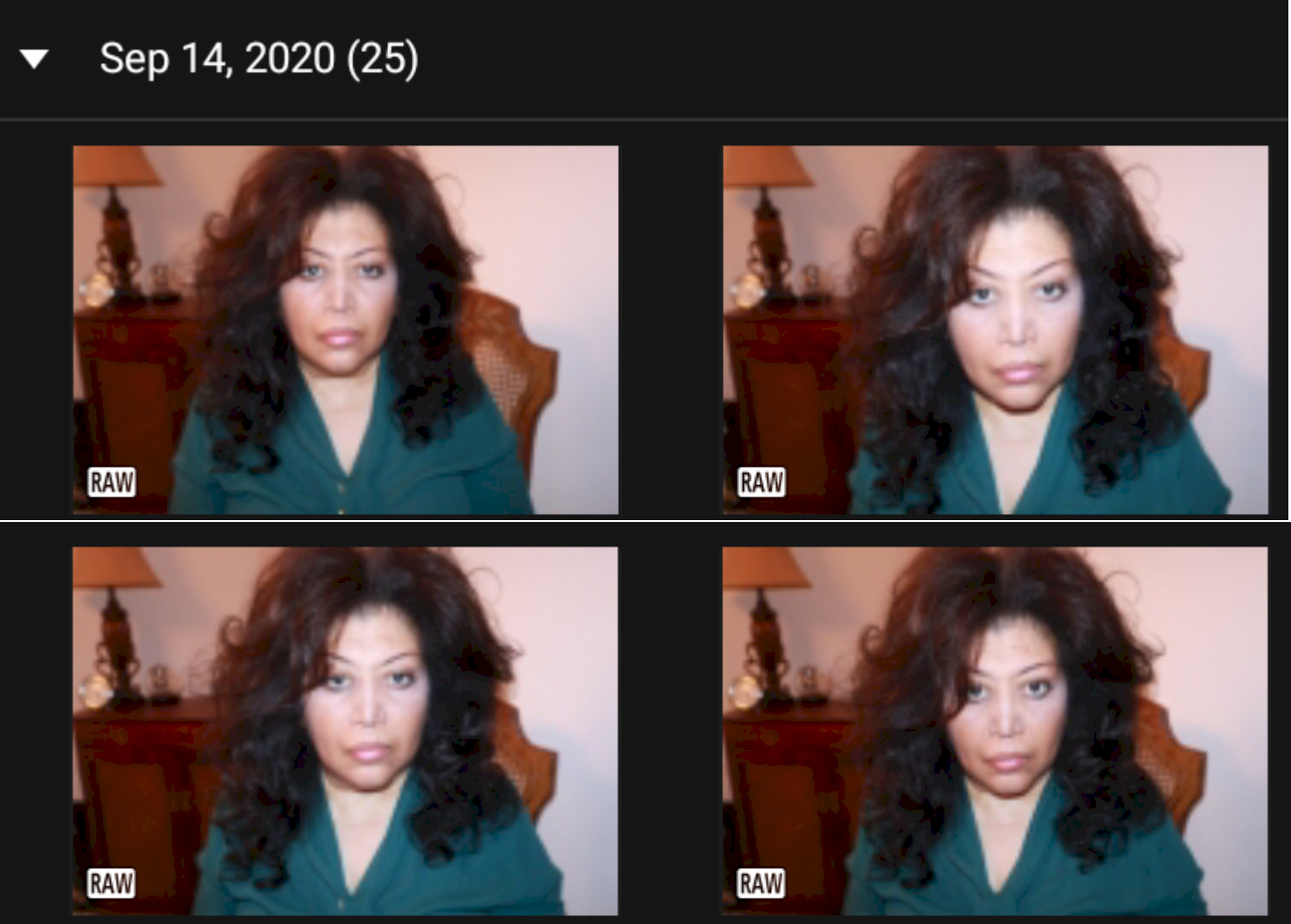 I was watching a review of the Dyson Airwrap Complete Styler for Multiple Hair Types and noted the total time- the young lady took to achieve her blowout.
I set my hair at night. It takes about 40 minutes. I use a very hot Conair 1" Curling Iron and then set each curl in a soft roller for overnight wear. I use an ISOPlus conditioner on the ends, just before winding each section of hair on the curling iron. My hair is deceptively full (lot thinner than it looks).
Why does it take so long? To achieve longer lasting curls-- each curl (16 total), has to stay wound on the curling iron for an 80 count. Eighty seconds? No, just an 80 count which is probably less than 80 seconds.
Do I take my hair out every day? No. Do I use weaves or other sources of hair? No. I keep my hair straighter, by using a blow dryer and curling iron to take out most of the natural wave.
I wanted to snap new photos for Linkedin and other business services I use, however I am not sure I want to use the photos shown here. They are screen grabs from my Android as taken by my Canon EOS M50 (see info in the blog header) using the portrait setting and the two second timer. The hair length for a business photo- the problem? No. My conservative earrings are overshadowed and I am not sure why.

Thursday, July 02, 2020
I am always looking for affordable business styles, and Ann Taylor has always been a favorite- reference post.
Two weeks ago, an Ann Taylor blouse I bookmarked over a year ago, went on sale. Shown in the images below, the Lush Lagoon Tie Neck blouse.
The other two tops were also on sale. Though out of season now, in the coming months, I will be able to pair various pieces I already own- with the new tops.
I tend to know what works for me, however sometimes, I miss on prints. I was pleasantly surprised, the tie neck geometric print blouse, works with black- in suits, skirts and high waisted slacks.
As things slowly begin to reopen in my area, I am doing more in the local business community with a project I have been thinking about for awhile (did you know I registered hanover-magazine.com and hanovermaryland.org a couple of years ago?).
I want my style to suggest, I really mean business....

Thursday, June 11, 2020
For business, I tend to purchase suits, dresses and heels in the same muted solid colors; blacks, browns, caramels and olives. Since I am more conservative than not, this has worked to my advantage in that most of my business wear has lasted through the years.
My business heel? Since high school a 2-3" skinny heel, that suits my rather small ankles. Toe coverage is minimal, meaning just enough leather to hide them.
That said, these days, I prefer a wider, more sturdy heel, to my old standbys. The Amazon orders shown on the right, illustrate how I acquired the recent additions to my wardrobe. I love the new heels because they are so comfortable.
The illustration below, top row: shows the older version of heels I wear with business suits and dresses, and the lower row: the new heels I began purchasing last fall to accommodate new style, as well as a physique that is no longer between 120-130 pounds.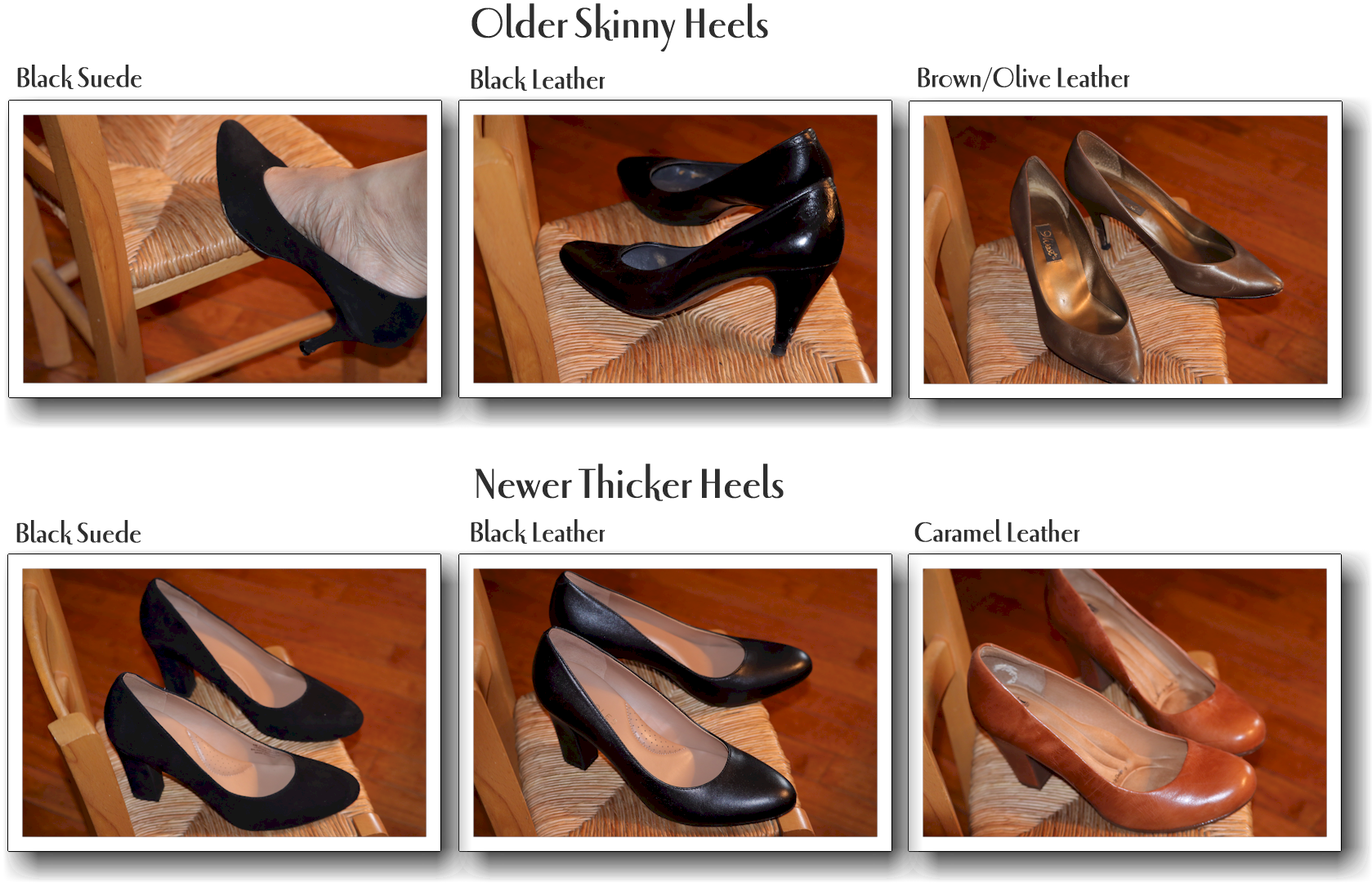 So how is it that I can wear all of my old fours, sixes and eights if I am no longer between 120 and 130 pounds? Okay, I cannot, however (1) I plan on reaching that size again, and (2) I have newer (with vanity sizing and stretchable rayon) items, in my color palette- that will work for the time being.
Either way, my new business heels should work.

Monday, September 30, 2019
Yesterday, I received a new pair of Aerosoles Women's Octagon, Black Suede Pumps and a Urban CoCo Women's Long Sleeve Coffee Dress (inexpensive budget item).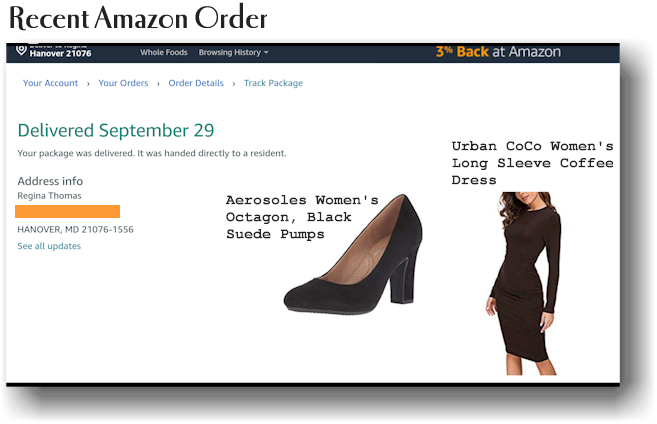 I was not sure whether the dress would work with some of my existing items, and quite pleased when most of the pieces I tried with the dress, worked.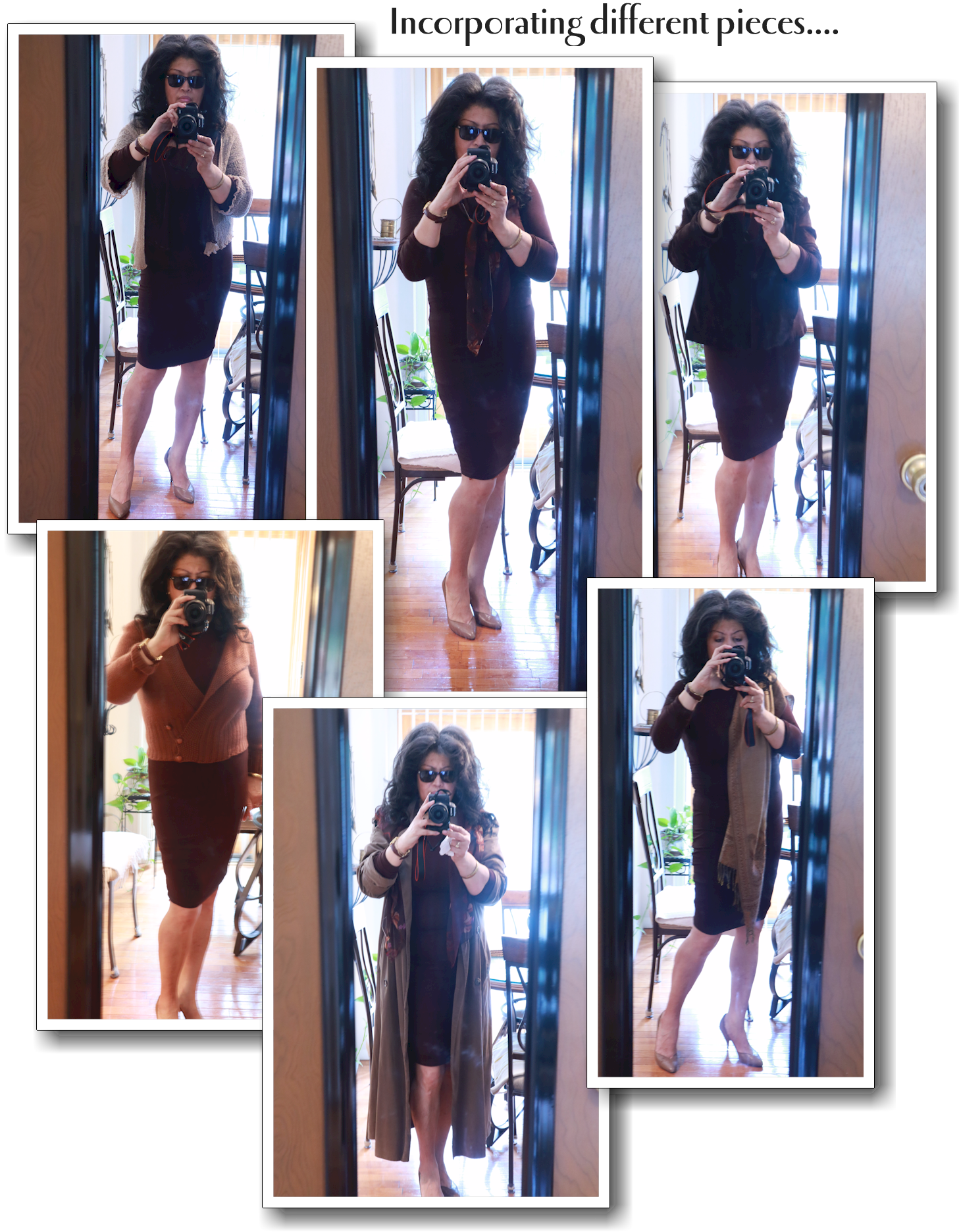 Here are similar items that worked with the dress:
I added a body shaper slip to the above list of items. The dress is rather transparent. I wore the following cami/slip set with the dress.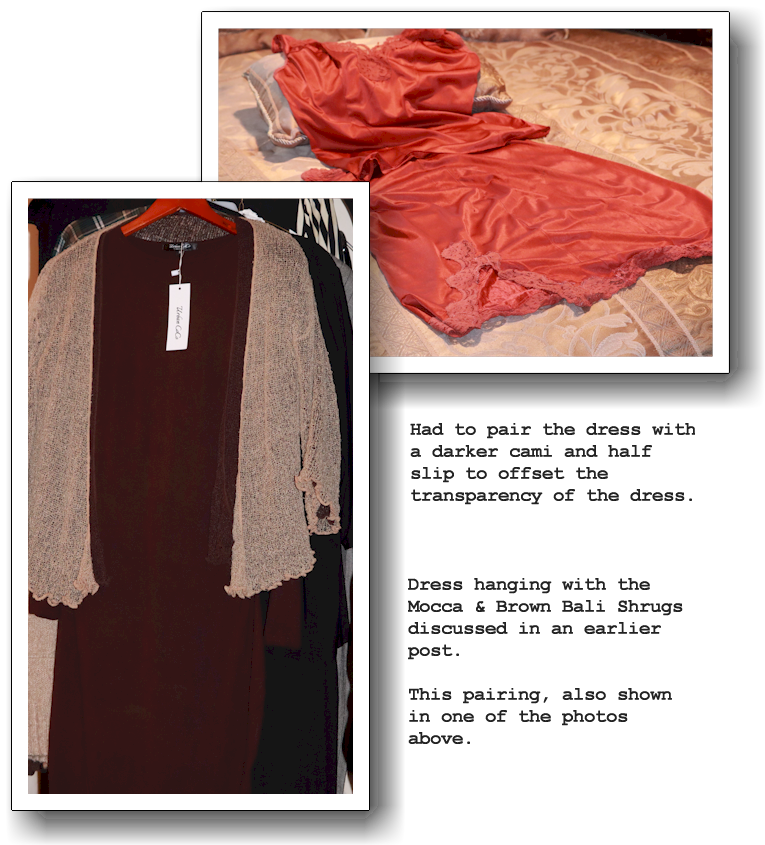 I am always looking for items like this. No worries about dry cleaning and I can easily add a blazer, scarf or coat to make it office/meeting friendly. Though I am dieting, I am still not in my older suits and right now, solutions like this work for me.

Monday, September 16, 2019
New additions to my wardrobe, suitable for light Summer/Fall evenings.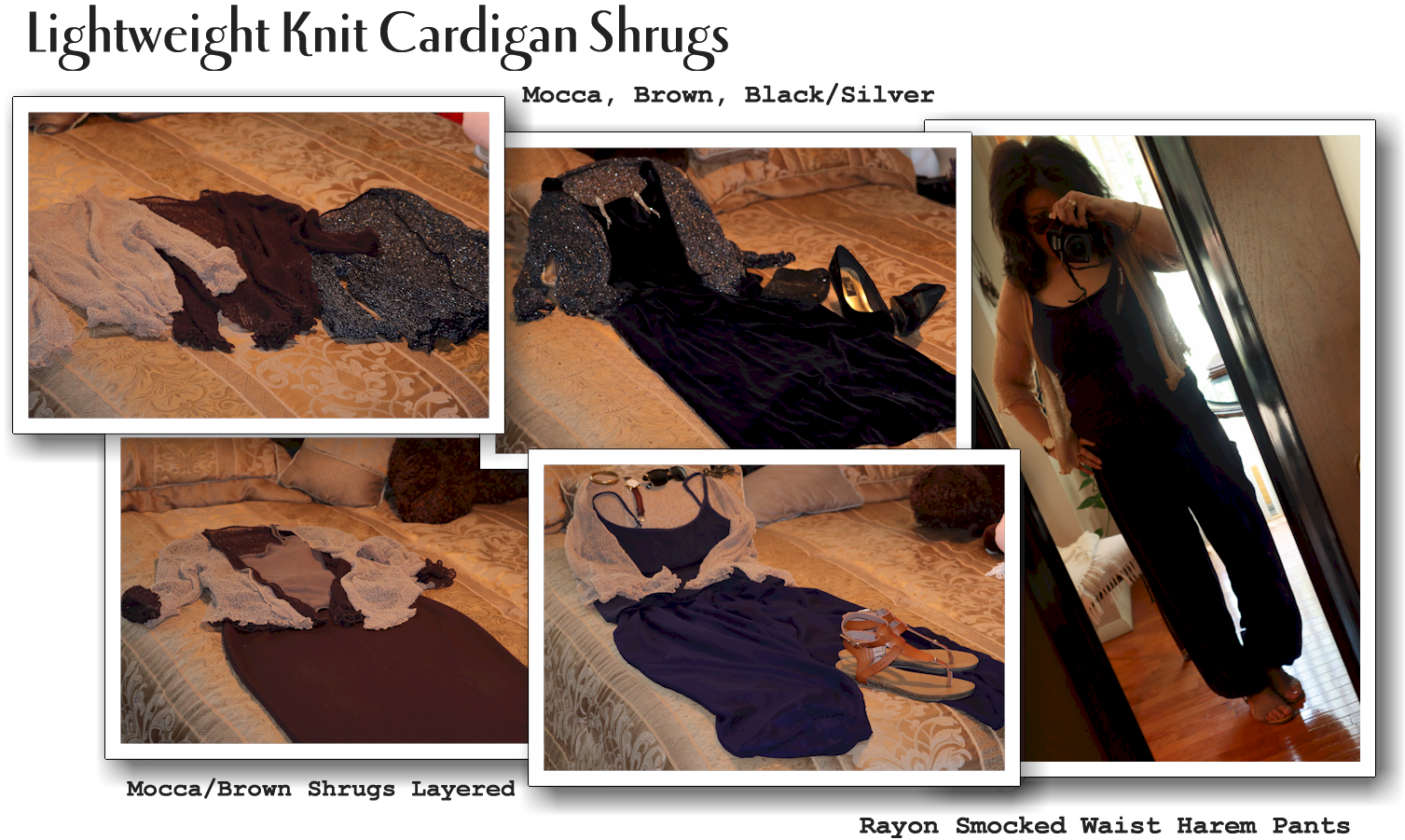 Below, I have provided the links for the items shown, however the Brown Lightweight Cardigan Shrug is no longer available.
I tried on all of the outfits shown in the photos above and happy with the look the shrugs add to each look. The layered look using the mocca & brown shrugs is surprisingly striking.
I ordered the rayon blue harem pants in an XL because I wanted a full effect. I am very pleased with this purchase, however think I will have the pants dry cleaned to maintain the vibrant blue coloring.

Monday, September 09, 2019
I am on a diet. You may recall, earlier this summer I decided to add to my wardrobe. Two of the dresses I ordered were a little tight so I decided to take seriously a diet.
The photos below, show the two dresses and my current weight. I lost several pounds in August, so can now wear the two dresses in question, however decided to continue with the diet.
Without my much loved treadmill, I have had to resort to habits used in the past to maintain my weight, i.e., simply not eating. My incentive? My old clothes. I have a lot of classic suits, so I am not worried about dated looks- and quite frankly, happy with my progress.
That said, things like the boots shown in the photos below are about 3 years old, however never worn. I am having fun thinking about the old things I can wear with these slouchy boots.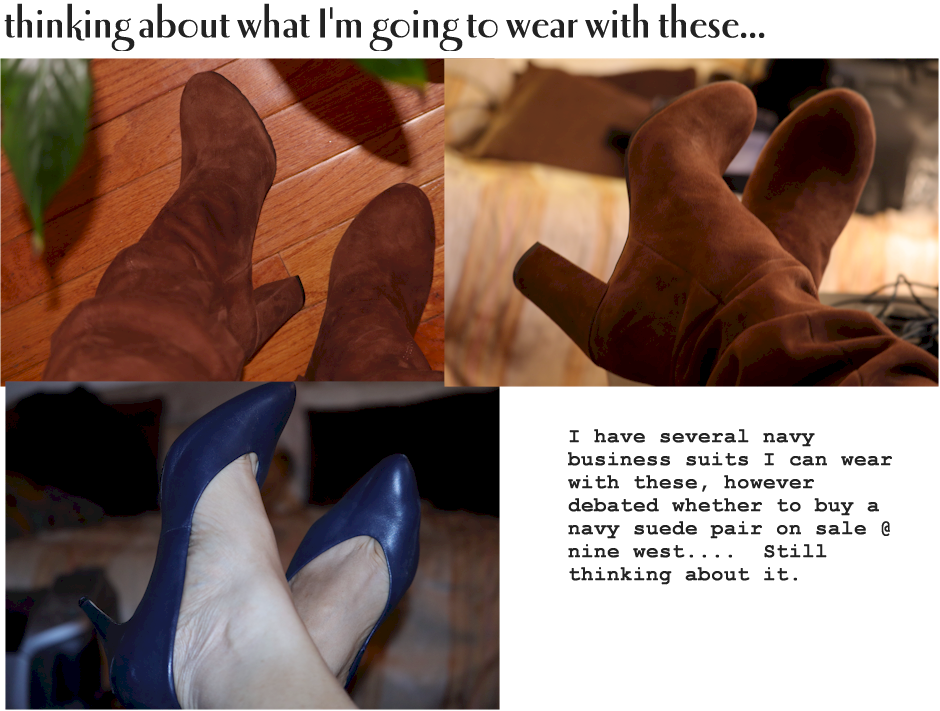 Slouchy boots are not in this upcoming season? Not sure, however I like long skirts (just below the calves) with this heeled boot so I am sure I can come up with a classic look.
As noted in the caption for the navy pumps, I wanted to purchase a suede pair of navy pumps. Instead I may purchase a navy dress I already have in aqua green (shown in the above photo). The style is flattering on me, however I will have to purchase the smaller size.
My diet? Eating a meal (daily) like the one shown in the following set of photos. I may have a mini bagel either mid-morning or late afternoon and that is about all.
I am ready for Fall 2019. Football, new business projects, my old clothes on a slimmer me.

Friday, July 26, 2019
I intended to wear the new outfit shown in the following photos on my birthday (Saturday, July 20th), however I felt a little under the weather, so instead I wore it yesterday to run several errands.
I stopped by the bank (birthday gifts), Aldi's market, and shot video for the local business community page I maintain on Facebook.
The Canon EOS M50 shoots great 4k video, however I decided after returning home, the video was unusable because several traffic signs were in the foreground of each frame.

Saturday, July 06, 2019
Yesterday, my new Blowfish Malibu Sandals arrived. I have to say, I just love this pair of sandals.
I am about done with this rather fun task and pretty pleased with most of the items I purchased. Maybe I just needed an excuse to spend money on new clothes.
That said, while shopping for my new casual summer wardrobe, I also searched for new items to add to my Back To School shop. I am pretty pleased with many of these finds. Almost wish I were off to school next month.

Monday, October 16, 2017
In years past, shopping for a new business suit was one of my favorite things to do. Often it did not matter if the item was on sale or not.
Not the case these days. I shop on a budget and often find great deals.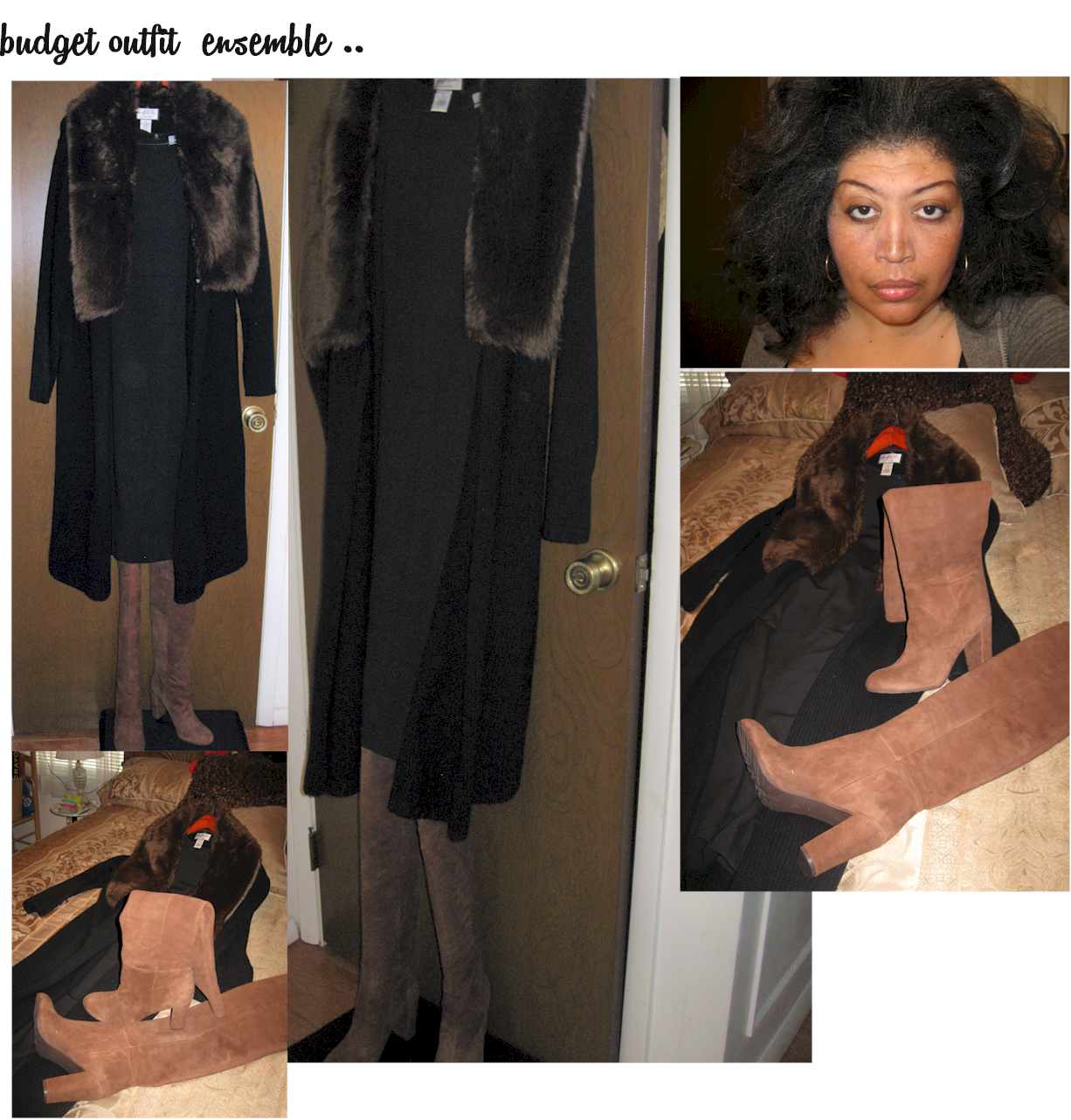 Item, price paid, original price and where purchased...
ROMEO & JULIET COUTURE Oversized Sweater w/ Detachable Faux Fur $15 original price $155 Amazon.
Nine West Women's Snowfall Suede Slouch Boot $67.54 shipping included was $300.00 Nine West Online
Liz Claiborne Dress $26.00 original price est. $100 Arundel Mills Liz Claiborne Outlet Store
Mary McFadden Collection- Long Black Sweater $0.00 original price est. $100, Mom's Closet. Shown wearing in this post.
I purchased the brown suede in the Nine West Snowfall Suede Slouch Boot directly from Nine West in February of this year, however showing the Amazon listing for the black suede. Not sure if the brown is still available.
What else have I been up to? Working on software development projects and preparing for the holidays.

Thursday, October 12, 2017
These days I seldom write about fashion unless to discuss an outing and wish to describe or show the outfit I wore for identification purposes.
That said, recently I purchased a pair of black suede boots that I absolutely love. They were such a great deal, I thought I would share the news.
I am showing the boots with a skirt I made several years ago, which some may recognize as one I own. I have a lot I can pair with these boots and feel very lucky to have found them.
Note from the receipt, I purchased them in September [end of summer] which may explain the great deal.
Do you shop off season for fashion finds?
What else have I been up to? Updating my Amazon stores. In the past, I added fashion items either under the "Let Me Know" or "Career Dressing" category. You may have noticed I decided to omit those categories for the new store formats:
I have also been working on a new software project which I am pretty excited about [discussed on Remix] and hoping to do more research on Celebrity Bloggers.

Monday, October 31, 2016
We have had a beautiful October. Peak Autumn color is all around.
I have been eyeing this jacket since I added it to my Career Dressing Category and when it went on sale earlier this month- I decided I had to have it.

It wears like a heavier jacket and I have found a number of items to pair it with. Also, if I lose weight-- because of the jacket's weight and belt, I will be able to wear it no matter my size [assuming I only lose weight]. When ordering online, I tend to like larger sizes.
Recent meals.... It is getting a little cooler and I am having more tea...
Are you a tea lover too? I added several gifts for tea lovers to the Gift Ideas Category. Our area [Arundel Mills], has a tea speciality shop, Teavana which also carries a lot of items.
More October photos...

This October, I have also done quite a bit of research for my stores. I think I have found some great ideas-- so see what you think:
Hope you have a safe and happy Halloween....

Wednesday, June 08, 2016
I rarely get out these days, however on those occasions I do venture out- it is normally for one of the following reasons:
Bank Visit
Eye Appointment
Photography
Visits to my Business Address
Jury Duty
State Renewals of Business Registration or Driver's License
Business Appointment/Meeting
I run my small business [QiSoftware] from home and take advantage of the following services to minimize the need for travel:
Verizon FiOS (Internet, Land Lines, Television, Cell Phone)
Skype (Business Line & Video Conferencing)
Online Business Banking & Bill Paying
That said, when I do go out- I am more casual than I used to be. There are several reasons for this, including my closet is filled with sixes and eights that need dry cleaning when worn [and a smaller me], and I simply do not need the more formal conservative suits I used to wear for most of the things I do outside of the house- these days.
I even do most of my shopping online. I love Amazon and also maintain several online stores of things I like:
So what do I wear these days when I do go out? Mostly, slacks with heels, some sort of blouse or sweater, and depending on the season- outer wear. This is a far cry from the stockings, suits [not pant suits] and pumps I used to wear all the time.
Around the house? I wear sweats, leggings or black gym shorts [summer] with tee shirts.
These days, I buy a new pair of shoes maybe once a year, whereas in the past, because I was hard on my heels, maybe once per month. I loved black suede pumps with soft leather.
Today my black suede pumps have been replaced by footwear similar to these NineWest Fabric Boots I purchased last month at an out of season price.

The size a little big, however with thick socks they will work.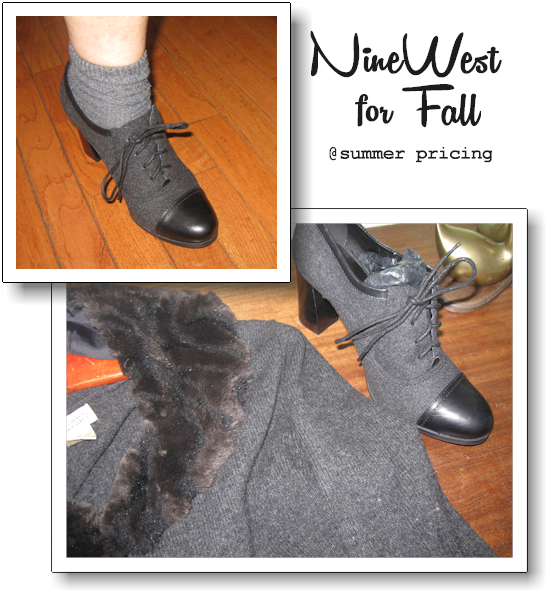 I have any number of sweaters, short coats and blazers I can pair with the boots and excited about what I will be able to do next fall, when they will be in season.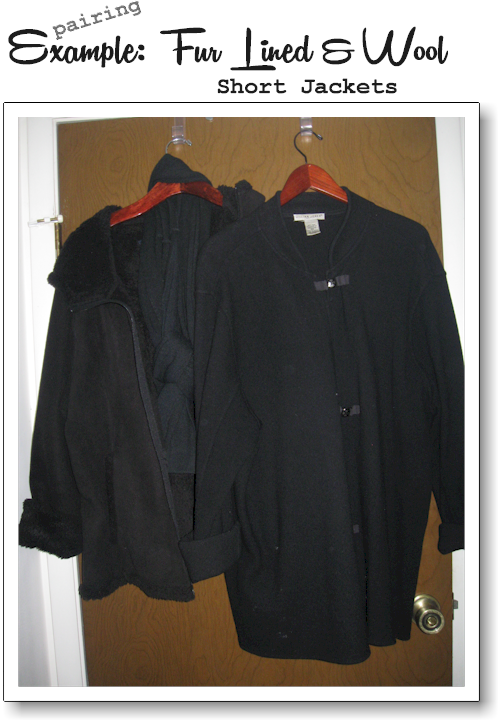 The other order [shown in the illustration] last month? I will discuss in a later post.

Monday, March 07, 2016
Last week was kind of odd. Little things that were out of the ordinary, however nothing I am going to discuss here.
Things I will discuss?
Thursday morning, I woke up to a beautiful snowy day, that was made even more so, in that all of the snow had melted by noon. This is not odd in our area for this time of the year.
Friday night, I was home alone so I decided to try on sweaters and coats I have not had a chance to wear this winter. Yes, in the photo I purposely poofed up my hair to create a look similar to something I saw earlier in the day, while perusing fashion sites.
The series of photos [above], taken through the weekend and today.
In late February [2016], a regularly scheduled business expense was due, which for the first two months of the year sidelined other purchases I wanted to make. The remittance of the payment last week, to my credit card company, enabled me to feel comfortable about replacing somethings I needed.
I ordered 8 items on Saturday, and much to my surprise the first package arrived today. Shown in the group of photos above, the package that arrived today.
Plans for the rest of the week? Two Masters Tennis Tournaments are upcoming. Indian Wells starts Wednesday and runs through Sunday after next. The Miami Tournament starts the Wednesday after the end of Indian Wells.
I am not sure why these two tournaments are scheduled so closely together, however I plan on catching a lot of the action. WatchESPN and The TennisChannel are providing a lot of the live coverage.
Also tomorrow evening, I want to catch the 2006 movie "Babel" with Brad Pitt. It is airing on Showtime.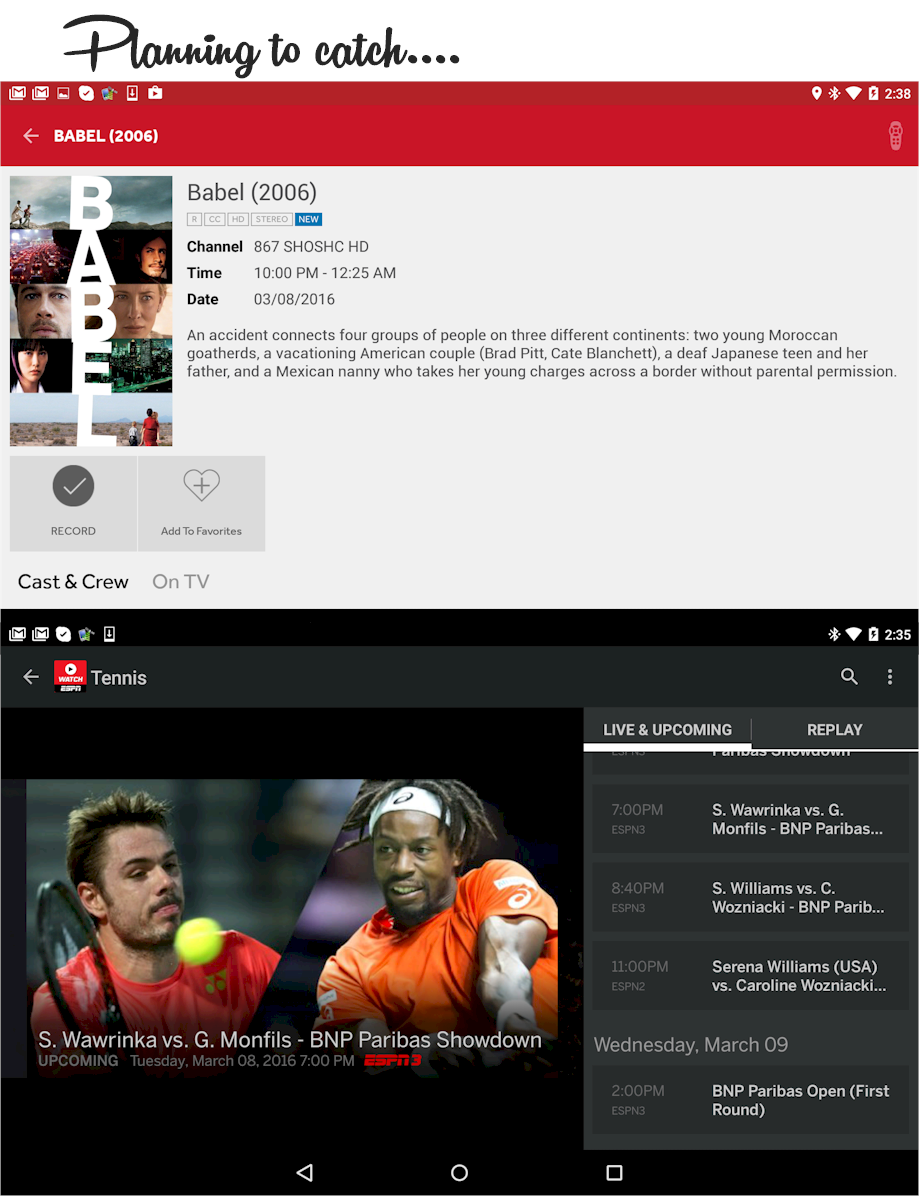 I am not getting out as much as I would like, so I provide details of what I am doing... and how it's hanging. This week, I thought I was going to cut back insofar as eating, however my Mother went to the market today, and purchased a lot of my favorites.

Thursday, February 04, 2016
I mentioned in this post, the long leather coat I wore in high school. Believe it or not, I still have the coat.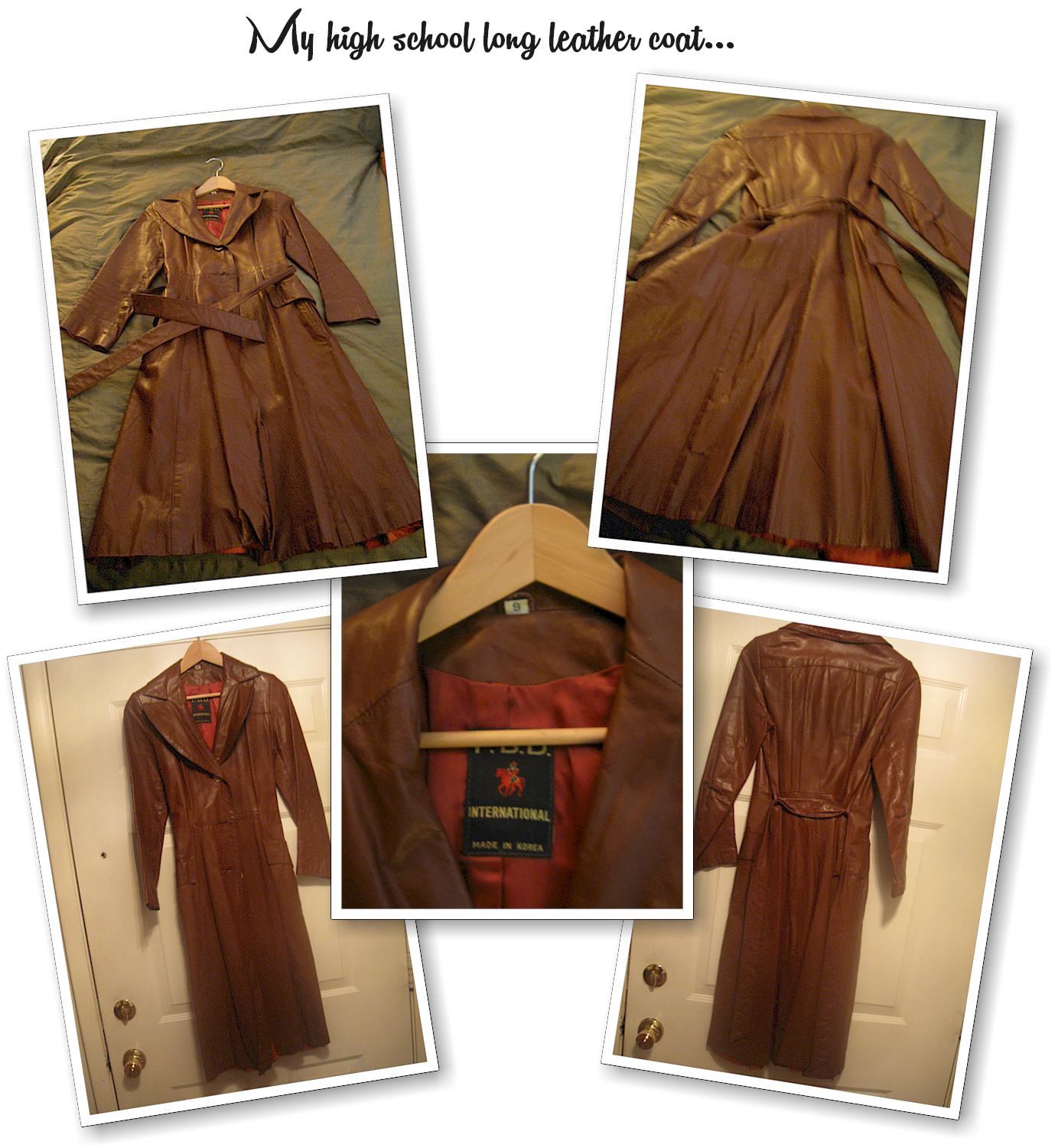 How is it, I still have the leather coat I wore in high school and early college? It is a size 9 junior and I never took it with me when I left home after college. Little tight with suits and I preferred long cloth coats when I left home.
My mother liked keeping my nicer things and I was very surprised [and happy] when she handed it to me when I came back to stay.
The house I live in has four bedrooms upstairs, and one in the finished basement. My mother and I fill all of the closets with the things we never throw out.
Moving on... We have had plumbing problems for about two or three weeks now. The kitchen sinks and garbage disposal are affected-- so tomorrow the plumber will be in bright and early. This is his second visit, in as many weeks.
Today I was out and about. I went to the bank after having lunch. Do you shop at Costco? I love Costco.
Other than updating my Amazon Stores, I really have not been doing much.

Monday, February 01, 2016
The other day, I was watching television and a commercial featuring Wallapop, caught my attention, so I decided to look into how this service worked.
After a bit of research, I found there are several services [new to me] that allow users to buy and sell in their local communities or regions. Some of these include:
So after downloading one of the apps I took a look around. Then I decided to go through my closet and look around. I found these shoes:
and this outfit I wore to a Washington, DC- Al Jarreau Concert in 1987 or so.
Styles always come back-- and although this outfit is old-- it is actually very becoming on. The dark velour/velvet like skirt comes about 8" inches from the ankle and looks very elegant with heels and long rhinestone earrings. The top is again in style with the peplum [bottom edge] detail.
I love clothes and keep most of the things I purchase, except when given no choice. I am an organizer's nightmare, however since I tend to buy more in the way of classic styles- I would probably pass on their advice anyway, in that I tend to think they are more likely to be trend setters and would want to keep nothing unless "current".
The outfit for the Al Jarreau concert does have details that tend to be more trendy [especially the top], so it is not exactly a classic-- however I could use the skirt in different ways. It is a junior 9/10, meaning it is not cut for a fuller figure and vanity sizing today would probably make it a 7/8 without the popular stretch element many of today's garments feature.
The shoes? I walked around in them for a couple of hours today, and decided they were so comfortable I would keep them. The shoe upper, mostly "just" leather with nothing to make the shoe stiff. I consider these classics, so I can pair them with many of my spring/summer dresses. Yes, I buy a lot of black for summer too.
So, I decided not to try to sell my old things. I do have one or two miscues, purchased online- that still have the tags, that are really nice-- but just do not work for me. I think I will try selling those items with one of the services.
Have you tried selling, using one of these services?

Friday, January 22, 2016
When I was in high school, leather coats and boots were in style. I wore a lot of winter white back then- that I paired with my long caramel leather coat and boots or my shorter suede jacket in a more rust/caramel color.
Gauchos, knickers, high waisted baggy pants with pleats and pockets, vests, blazers, etc. I also worked in business offices part time in high school, so this is when I also started buying the little business suits, I prefer today.
I reference Knickers in the last paragraph. What are knickers? Wool short pants that fit close to the leg but taper at the knee. Like some golfers wear. My brown tweed pair actually buttoned at the knee. Sometimes I put long baggy pants in my boots [also popular back then], so that it appeared as if they were knickers.
I had a winter white pair of straight leg gauchos that were not wide but hung nicely over my boots. I do not define these as knickers because they did not taper at the knee.
I also had a long oversized brown/tan tweed cloth coat with "Sherlock Holmes" like details [not the full cape, just the pleated overhang detail in the back, with collar and cuff epaulettes] that also went well with my style back then.
Yes, I was a little conservative.. jeans? Not really, I had high waisted Painter's Pants in white that I paired with platform sandals and socks, or my earth shoes- that went well with the many little tube tops and matching gauzy blouses I tied at the waist. Tube tops underneath my tied blouses, the extent of my risqué style.
I also liked some of the styles the women wore in old shows like "The Big Valley" and "High Chaparral". Gauchos, boots and vests. Do you remember Linda Evans in "The Big Valley"?
So anyway, this to explain why- in high school I decided to make a wide leg gaucho outfit for one of my Home Economics Sewing classes.
Photos of the vest.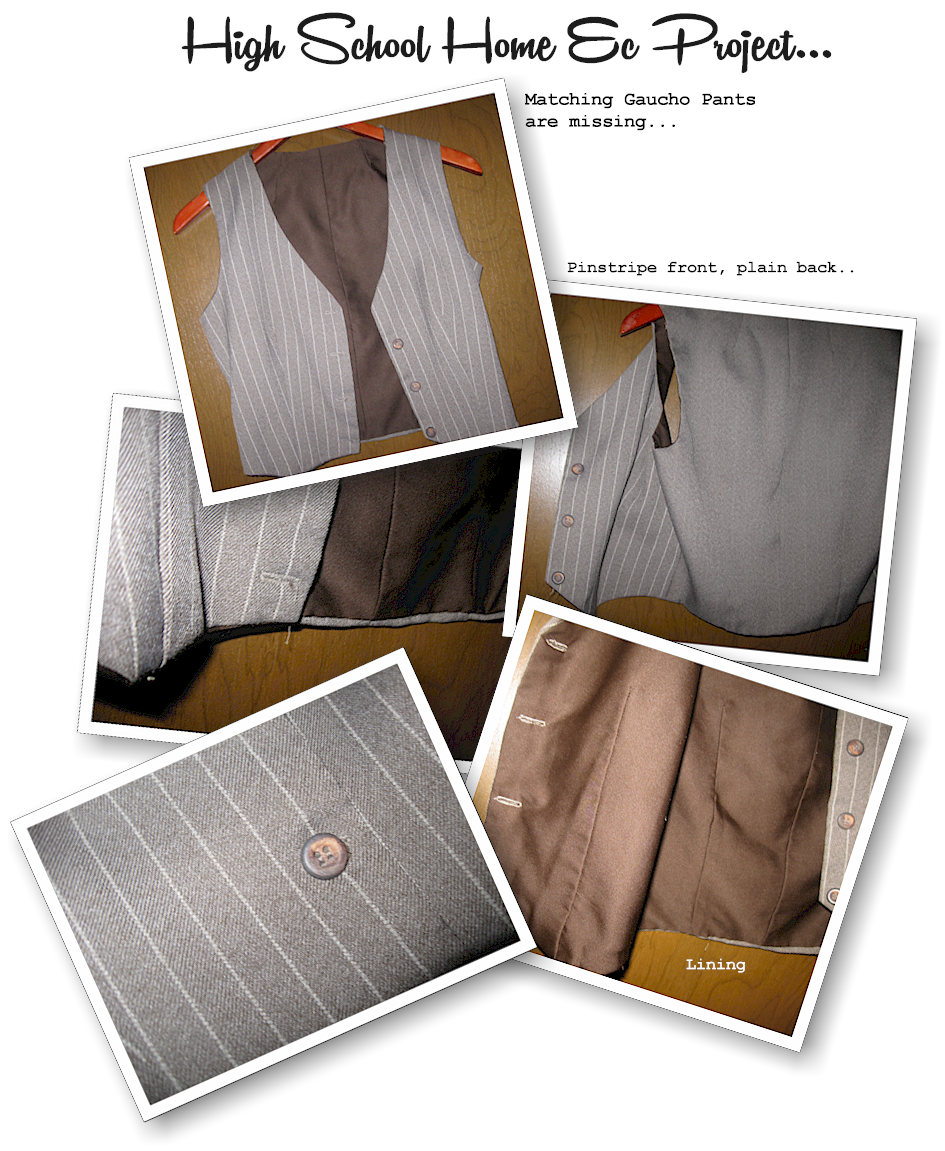 I no longer have the gaucho pants to the set. They were the long wide leg type [wide aline] that went well with boots. The material for the pants matched the back of the vest in that I opted to forgo the pinstripe detail used in the front of the vest.
Note: Everything I owned used to go to the dry cleaners, including non-lined Painter's Pants. I have had this vest for a lot of years-- and it still looks as if- I made it yesterday. The material and lining would not have held up well in the wash.
I keep thinking about how much my life has changed. I cannot remember the last time I went to the dry cleaners and in high school-- all I owned was dry cleaned. The flannel pajama bottoms and tees I now wear to the office-- hold up well in the wash.
That said, this does not stop me from researching the more classic conservative styles I love, which I cannot now afford. I am no longer a size six nor can I justify the cost of a new outfit I do not need for non-existent business meetings and lunches. I am still thinking about where to place the camera I am going to use for Skype calls.
Note, most of the Tumblr blogs I follow via my own Tumblr account, are promotional tools for well known fashion houses.
Someone once noted, I have my own style. I agree.... and I have had strong thoughts and ideas about my style since early high school. Do you watch old Gene Tierney movies?

Thursday, December 31, 2015
I started this post last night, in bed while watching television. I took photos to show my vantage point.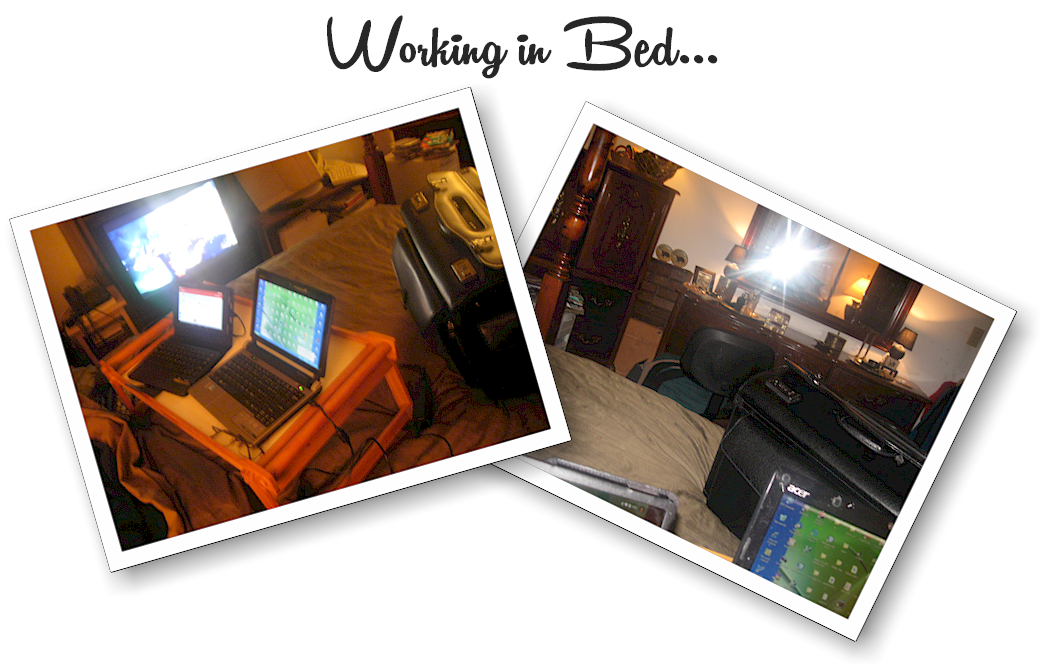 That said, after making the Pineapple Upside Down Cake [shown below], cleaning the kitchen, preparing for bed and then more research [how to set up recurring events in Facebook, ans: copy a previous event and update], I was too tired to do anything but put my camera away and go to sleep.
I made the Upside Down Cake, because the day before I made Sweet and Sour Pork using the leftover Pork Tenderloin from Christmas and had leftover pineapple slices.
I love the basic cake recipe I used for this and plan on using it again with other flavors. Recipe here. I used unsalted butter instead of margarine [creaming the butter and sugar for 3 minutes] and a 9" round cake pan instead of a 9"x9" square pan. I only have 8"x8" pans.
Earlier in the day, before I started the cake, I had leftover Sweet and Sour Pork for lunch and began taking down the holiday decorations.
Other things I've been up too?
Tuesday: Visit to the bank, deposited some of my Christmas Gifts.
Tuesday: Taking photos in Hanover, MD for the Facebook HanoverMDBusinesses Page.
Movie: The Children's Hour [1961] w/Audrey Hepburn, Shirley MacLaine, James Garner on Turner Movie Classics or AMC.
Movie: The Mirror Has Two Faces w/Barbra Streisand, Lauren Bacall and Jeff Bridges, yes, I have seen this before but saw it again the other day.
Movie: 5 Flights Up w/Diane Keaton, Morgan Freeman I was a little surprised by how much I liked this movie. In my opinion, my favorite stars have been doing more films that are philosophical in nature, doomsday or an elongated discussion on society in general, which given my current set of circumstances, I sometimes find hard to watch. This movie was pretty good. I watch a lot of old movies.
Did you get holiday gifts in the form of money? Me too. Something I purchased with some of the gift money: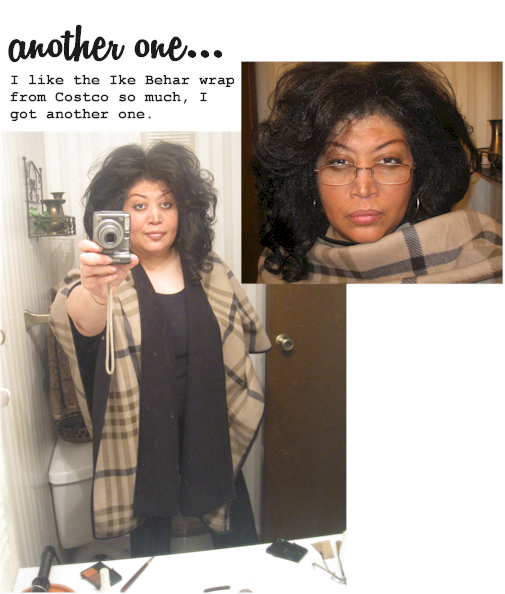 Also updating Amazon Stores. You can find great deals now.
Oh and by the way, Happy New Year...