Sunday, September 10, 2023
When it comes to graphics for content creation, sites, or presentations I have to rely on my own non artistic abilities.
That said, I developed Graphical User Interfaces for programs using C and the X-Window platform on Unix and DEC systems. This allowed me to screengrab program interfaces and incorporate the captured images in my user's guides and software product specifications.
Today, I continue to use a lot of screengrabs when creating content, however mainly because I think graphics explain more easily what I wish to convey.
In addition to screengrabs, I use fonts to try to assist with graphics I need for my sites. For instance, the following illustration shows two graphics files I created using only fonts.

When I do need to use a graphic, I use several versions of old software called Corel Gallery. I like this software because it offers vector data files for most of the elements in each package. Vector data allows for easier manipulation of the graphics files. Bit map graphics are like GIF, PNG, or Jpeg files. Vector graphics are transformed and un-grouped if the need arises without losing data. Examples of vector graphics files are Windows metafiles (WMF) and Computer Graphics Metafile (CGM).
In addition, especially with the technological advancements of digital cameras, I take and use a lot of photos.
What else do I use for graphics and content creation? Latest releases of Microsoft Office products and an older Microsoft product called ImageComposer.
Now- we come to why I am posting. In my opinion, ImageComposer is so powerful, I thought I did need anything else for graphics except PowerPoint to manipulate vector graphics files. That said, the program is older and it only supports bit map or raster graphics files (not vector graphics files).
Then I noticed several Instagram reels showing tricks for PowerPoint and I decided to start playing around. I can do a lot of the tricks with ImageComposer, and really do not have the time to play a lot with graphics, however, I do think these tricks are useful. If like me- you do all of your own graphics work- you may want to play around with an office copy of PowerPoint (a copy you can check out, do not want you to get in trouble).
I created a new video showing some of the neat things PowerPoint offers.

Monday, May 08, 2023
In a recent post, I discuss my old leather day planner.
On Friday, May 5, 2023 I decided to research day planner applications for my iPad Mini and downloaded the program shown in the following illustrations.
Yesterday (Sunday), rather than scream about the latest issues with my web hosts, I decided to wash (laundry), cook, work a little on a new database/Java JDBC servlet, and customize one of the templates that came with the AJournal program.
The reasons I chose the AJournal app for my iPad Mini include:
User ratings
Icons available within the program
Multiple templates to edit and add too
Writable
I am pretty happy with this free offering, though I did find one or two glitches.

Thursday, April 20, 2023
Recently, I have been working a number of projects, including:
Four of my online applications have gone into disrepair- including:

XML feed for JOLTS Labor (DOL) numbers provided on the WiredPages Employment page blocked. Repaired.
History Channel no longer providing XML feed for current day's events. Affected the WiredPages Sports & Entertainment pages. In the process of searching for replacement feeds.
Zillow property value estimates provided by Zillow. Expired API license.

Tracking my schedule more efficiently... (next post)
Experiment with a security cam and Alexa.
This post discusses the security cam experiment. For sometime I have wanted a camera for the front door. The problem? I did not want a battery operated camera, however felt a wired camera to much trouble for the experimental aspect of this project.
When I noticed security cameras that looked like light bulbs (August 2022) I immediately ordered one (around $10.00), however the shipment never arrived.
Recently, a highly rated LaView Light Bulb camera went on sale on Amazon, so I decided to experiment.
Because the original outdoor sconce (pictured) was too small to house the new camera, I setup the camera on a work light with a hook (also shown), which was attached to one of the garage doors.
Then ordered a larger outdoor sconce for the front porch (shown below).
The new front door sconce arrived the following Saturday (April 15, 2023) around 6:30 pm. I installed it later that evening. Ran into one or two problems, and happy I decided to cut the power to the outlet before I started work. By 8:30 pm or so, everything was back on and running correctly.
Pleased with how this is working out. The LaView app which controls the light bulb cam is installed on an Android, iPhone, and iPad mini. The Alexa Echo Show device is used to stream throughout the day, and the other devices in the evening or if more control over the camera is required.
Pretty happy with the features on this security camera and the LaView app. The Echo Show does not have the same power, however the speaker, mic and display work well with the camera.

Wednesday, April 12, 2023
Recently, I had the opportunity to work with the Microsoft 365 brand via Amazon. I was provided a copy of Microsoft 365 Personal version, which I installed on a new HP laptop.
The Microsoft 365 Personal applications provided for this installation, included:
The video provided in this post discusses this installation, however also discusses the Microsoft 365 Professional suite of applications I owned prior to my work with the brand.
The suite of applications that make up the Microsoft 365 Professional version include:
Word
Excel
PowerPoint
Access
Publisher
Outlook
I began using Microsoft Office in 1992 or so, and continued to use the professional suite of applications for business, legal, and personal use over the years. I was impressed when I first began using these applications, and I continue to be impressed.

Friday, March 03, 2023
Yesterday, I was working on a project which required the installation of a licensed copy of Microsoft Office 365, on the new HP Windows 11 laptop acquired over the holidays.
One of the subtasks involved creating an Excel spreadsheet, which once completed, I wanted to print to an older Brother Monochrome Fax/Laser printer.
I plugged in the USB cable from the printer to the new Windows 11 system and noticed it recognized the printer, however the print driver was unavailable.
Plug & Play was not available for either of my older printers while connected to the new Windows 11 system. My older printers include a Brother 2820 Monochrome Fax/Laser Printer and one of two- Konica Minolta Magicolor 1600W Laser Printers.
How did I resolve this dilemma?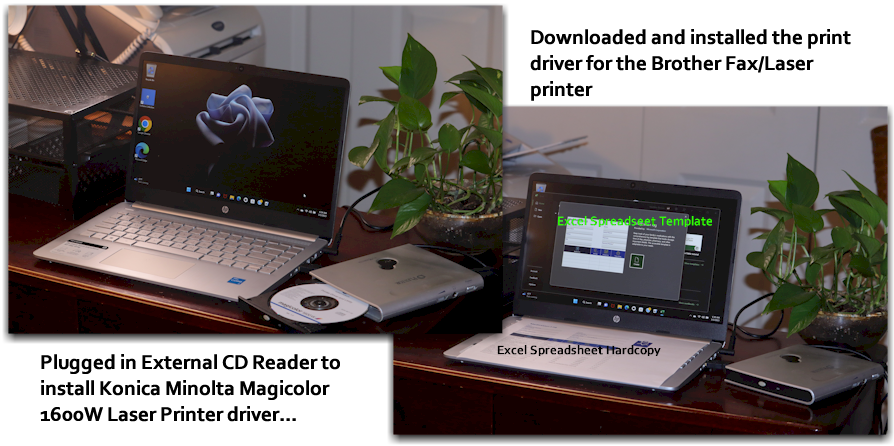 I used the CD disc that came with the Konica Minolta Magicolor 1600W Laser Printer to install the driver and for the Brother 2820 Monochrome Fax/Laser Printer, I downloaded the driver for the Windows 7 platform.
The manufacturer, Brother claimed the Windows 10 operating system came with a built in driver for the fax/laser printer, the reason I had no option but to download the Windows 7 version. Windows 11 is so new (and probably the printer is so old), Brother did not offer a Windows 11 download version for the printer.
Both drivers installed correctly on the Windows 11 laptop.
Why not purchase a color wireless laser printer? Do not use hardcopy print enough to warrant a new printer, however did consider this printer.

Saturday, January 28, 2023
First of all let's define ROI. Return On Investment.
In August 2020, I received my EMV Chip & Swipe Card Reader, so I count that as my first ecommerce business tool. Since then I have added quite a few devices to my collection at what I consider to be substantial savings.
Most of you realize that I have been online for quite a number of years, so you maybe asking yourselves, why the acquisition of that first device was that recent?
First of all, I am a software developer and a business owner. So in my case- other than an online method to send invoices and accept payments, I really did not need anything other than a desktop, laptop, tablet, or smartphone to conduct business.
Though my business bank offers payment solutions, I have always used my PayPal business account to handle all of my business payment needs. The reason for this? It is simply not cost effective for me to have recurring monthly fees to maintain a business payment solution.
In 2012 or so, PayPal and others began contacting me about free card readers for point of sale payment solutions, however, I routinely passed on these offers.
In 2020, I finally decided to accept PayPal's offer of a free EMV Chip & Swipe Card Reader. I began reading about pop-up shops and wanted to learn more. I began thinking of things I could do with a free card reader. Yard sales, business meetings where I could accept development consultation fees on the spot, etc.
Then in 2021, after taking my real estate course, I was kind of concerned about the logistics of taking the state and national exams for the real estate license. I contacted the testing authority about my concerns and they would not respond. So I continued to push the test date back hoping to hear from them.
In the meantime, I decided to play with the OpenCart software offered by cpanel via my web host and then setup my own ecommerce shop- for what is now WiredShops.
I worked quite a bit setting up the shop, researching products, learning about digital commerce laws, drop shipping, registering for a Maryland State Tax Number, etc. however never had any sales.
Still this idea was fascinating to me, however in late December 2021, I decided I wanted to take the real estate exam, and time was running out. Once you take the course and pass, you have a year to take the state and national exams. So I began studying again, and scheduled the exams for late February 2022. After passing, finding a broker, and putting up my realty studio site, I began researching ecommerce. Real estate sales were down across the board and interest rates going up. So I have continued to study real estate options however have also focused on my ecommerce efforts.
So this brings me up to date and where I stand with my business efforts.
Today, I received another device which I will use for commerce that I want to discuss. Before I provide more details about my new device, lets look at all of the business commerce tools I have acquired since August 2020.


| eCommerce Device | Cost To Own | Retail Price | Date Acquired |
| --- | --- | --- | --- |
| PayPal Here EMV Chip & Swipe Card Reader | $0.00 | $24.95 | August 2020 |
| Thermal Receipt Printer | $49.99 | $49.99 | August 2020 |
| PayPal Zettle Card Reader | $24.95 | $24.95 | July 2021 |
| Accuteck Gold 86Lbs Digital Shipping Postal Scale with Batteries and AC Adapter | $22.85 | $35.99 | November 2021 |
| Tordorday Bluetooth Thermal Label Printer 4×6 | $0.00* | $94.99 | November 2022 |
| GlocalMe DuoTurbo 4G LTE Mobile Hotspot | $84.00* | $179.99 | January 2023 |
* Credit Card Application Approvals/Online Surveys
Ecommerce business tools I would like to own, however cannot yet justify the cost include the following...
My thought was to create my own brand using the WiredShops logo, and justifying the cost by offering sublimation products to offset the cost of the branding equipment shown above. I am going to have to find some really good deals on that equipment before I can even think about it.
Check out the following video to see how this video blogger has custom branded her line.
Today, I received my new GlocalMe DuoTurbo 4G LTE Mobile Hotspot. I can now connect several mobile devices to my own vpn wherever I might be and use card readers via my payment hub for ecommerce efforts. The cost to own this device was within my limits and I love the fact I only pay when I need to use the device.
I have collected some nice tools and devices and along the way learned a lot about ecommerce. If and when I join the ecommerce game, I think I will be ready. Even if I cannot move forward with this endeavor the cost to own the devices and tools I have acquired, is a cost I can afford.

Monday, January 09, 2023
This post provides supplemental information supporting experience summaries noted in my online résumé.
Under the Rockwell International work experience, I provide I am a Microsoft Office Power User. In addition, the next bullet describes the in house Human Resources (HR) system I developed using Microsoft Access.
In 1993 when I developed this system, the program was widely praised for its sophistication, cost effectiveness, time utilization reduction, and the fact I was able to bring together so many HR features under one system in a short period of time.
-->".replace(/\r\n/g,"").substring(0,10)); if(nstr)document.getElementById("b801").innerHTML='Read More';
Thursday, December 15, 2022
Yesterday, I spent the day setting up Python on my experimental development mini PC and researching what would be required to setup my online hosting services to run cgi-bin Python files.
Normally, when I run php, c, or java files from the Netbeans environment, I can launch an external browser window to show the results.
The Netbeans plugin I installed for Python does not allow that option so I used the existing XAMPP Apache server to allow for manual requests of the Python script files. Php and MySQL requests also require the XAMPP Apache server in my developmental environments, however Netbeans can directly launch the browser using XAMPP in the background for these types of programs.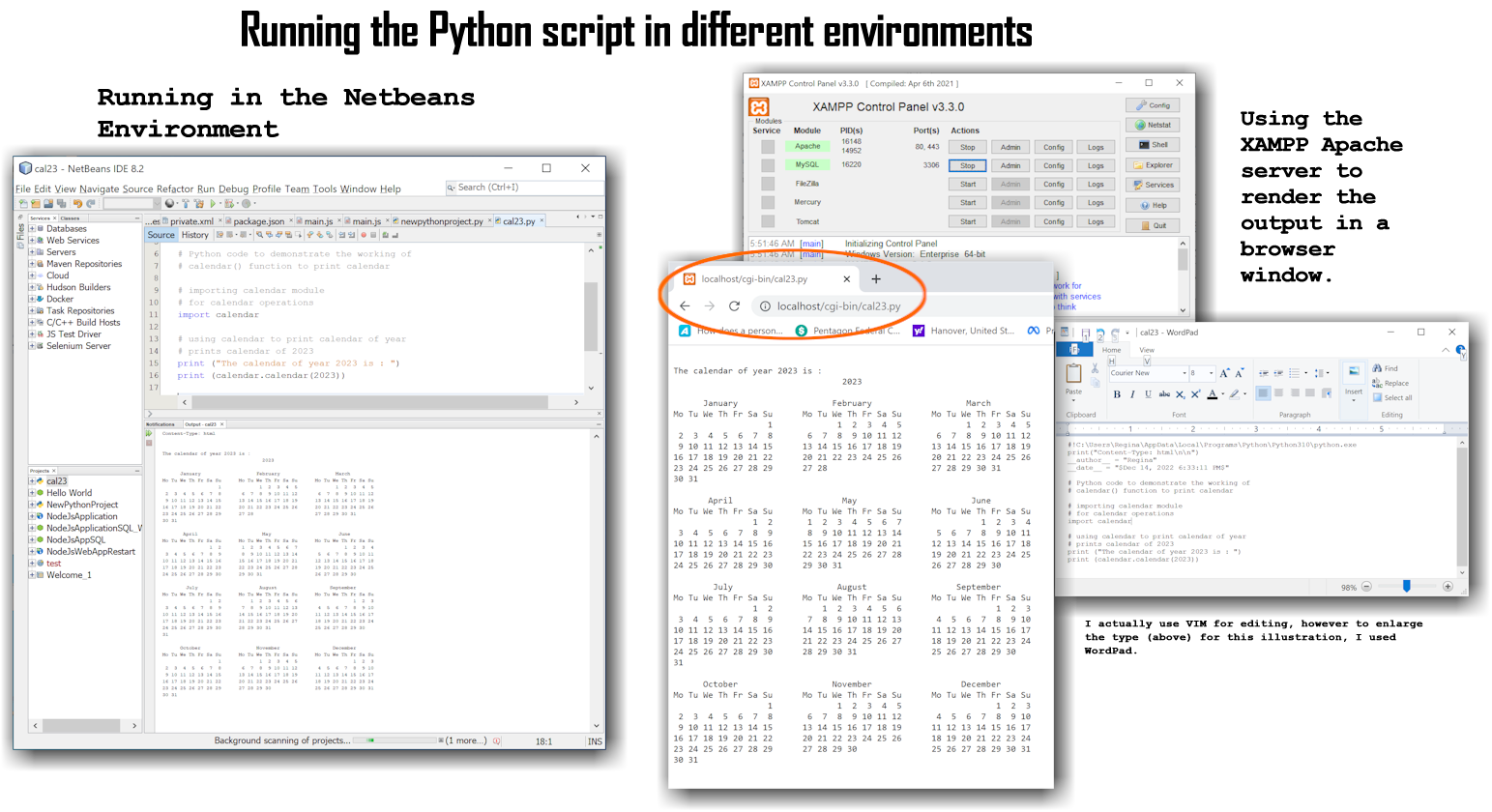 I installed Python39 in August 2021 on the same mini PC, however neglected to set the path correctly, so reinstalled a later version yesterday to enable the Apache XAMPP server access. Netbeans had no problem finding the older Python installation even though it was not part of the path environment.
I used to routinely update Windows autoexec.bat and config.sys system files and now cringe at the thought of having to manually do this with newer versions of Windows operating systems. The problem? More, where did I put those.
What about Python running on my online hosts (qisoftware.com/hosting-q.com)? I am continuing research into running cgi-bin files from my Apache Tomcat online hosting packages. That said, Python is an open scripting language, so I have no plans to use this resource for my own needs however can provide support for clients who would prefer programs written in that language.
Below is a photo of the mini PC (also the real estate course mini PC) I use to setup new experimental development environments. I do not setup these experimental development tools on the mini PC I use for production purposes (cannot afford to corrupt that environment), however the mini PC I use for the non-production development is now also the host for this blog. Long story short, I am thinking of getting a new mini PC. What do you think of the one shown below?
Still in the research phase of this purchase, however I have to say, I love the footprint (size) on the PC I have shown above.

Monday, December 12, 2022
As expected, Sunday (December 11, 2022), my TransUnion credit score was updated and increased slightly according to the report offered through Mint.
Reference this discussion about why I was a little annoyed about the credit reporting. I continue to feel the TransUnion score is a little too low.
For the past week or so I have been shopping for a new Certificate of Deposit (CD). Since I already have accounts with financial institutions offering some of the best rates, my research only involves monitoring rates being offered by two of my banks, American Express and Synchrony.
The Federal Reserve will be issuing new data on rates, I think- December 14, 2022, so I am waiting to see if the reports hold concerning a 50 basis point increase. This increase could have an effect on new rates my banks are willing to offer.
Recently, I have been doing a lot of research into financial planning and routinely monitor investable assets that can be moved into high yield savings accounts and/or CDs. I use two versions of Microsoft Money (business and personal versions) to track these assets.
Yesterday, I decided I needed a summary spreadsheet, so I would not have to log into the separate Money files to see the data. I developed an Excel spreadsheet for this data summary.
This weekend, I planned any number of projects, however because I wanted to watch the full first season of "Injustice", a series out of the UK, I did not get to everything I wanted to do.
That said, playing with this Excel Spreadsheet and some of the underlying formulas was kind of fun.
Saturday, I also made a western omelette for breakfast.
Lately, I have been preoccupied with financial news and tech layoffs (
layoffs.fyi
). It was a nice weekend, doing fun and interesting things. Going to get back to work in just a minute...

Friday, November 18, 2022
With the end of the year quickly approaching, I have more to do than normal. In addition, because my 2010 WindowsXP Acer Netbook is beginning to have problems, I have had to move most of the computing resources on that platform to other systems.
One of the resources on the Acer platform was the Microsoft Access Database I use to maintain addresses. Over the years, I added custom features to my version of the address database that shipped with some of the earlier versions of Access.
I use Microsoft Office 2000 Professional on the Acer Netbook so I had to convert the database to the 365 version of Access for use on the mini PC where the database is now maintained.
Though not a difficult conversion, it was not as straightforward as I had hoped. It took less than 10 minutes yesterday afternoon to convert the database.
I have installed a licensed version of Microsoft Office 2000 Professional on one of my Windows10 Pro mini PCs, however now that I have a licensed copy of MS Office Professional 365, I prefer to use the later release.
I have been developing and using Microsoft Access databases since 1993, the same year I purchased my first version of the software. Though I could have used a workplace copy, I was so impressed- I purchased my own copy of the software. I consider Microsoft Access to be an invaluable resource.

Saturday, November 12, 2022
I am always looking for cost cutting business moves, so last month when I decided to move my business address from Columbia, MD to Hanover, MD I knew I had several tasks to complete- in preparation for this change. Cost cutting? Since I reside in Hanover, MD I am making the trip to my business address much shorter.
My original attempt to notify the Maryland Department of Assessments and Taxation of the address change failed because I used the wrong form and did not remit a $25.00 payment to have the amendment recorded. The check was debited from my business checking account on November 10, 2022.
Another of my business cost cutting moves? In July 2016, I decided because I seldom write checks, to start printing my own for both my business and personal checking accounts. I discuss my custom check templates in this July 2016 blog post. See the image below for more on the blank checks I ordered.
Recently, I mentioned the keyboard on my Acer Windows XP Netbook is malfunctioning, so I am moving tools to other platforms. I developed the custom check templates using the Publisher version that came with Microsoft Office 2000 Professional version. Happy to report, had no problems converting the custom check templates from Office 2000 Publisher to Microsoft Office 365's Publisher version. See the illustration below.

In the above referenced blog post, I mention I use the Sunset version of Microsoft Money for Business (no longer available online for download). I used GNUCash for many years, however had too many issues so decided to use Microsoft Money for Business instead.
I mention this because I have been researching Quickbooks both as a developer and for use with my business, and believe I have the most cost effective solution for my business and personal finances.
One of the big advantages of Quickbooks over Microsoft Money for Business, is its ability to interactively communicate online with all of your banks to ensure account synchronization. I use both the Net Worth service offered by my personal primary bank (Bank of America) and my online Mint account to ensure all of my banks align with my offline copy of Microsoft Money for Business.
At this time, I do not mind I have to input some of the data to MS Money. Recurring debits, transfers, and deposits are automated, however a lot of the data is not. Bank of America and Mint use automated processes or aggregators to access real-time account balances from external account references.
I also use the non-business Sunset version of Microsoft Money to maintain financial and tax information for someone close.
I have to say, without Microsoft Money the cost to maintain these financial records would be a lot. I have cash assets that I need to be able to move quickly, especially now with the Fed's moves on interest rates. I am able to maintain this financial data effectively and efficiently with the Sunset versions of Microsoft Money.
Below, an illustration of some of the accounts and features I use with my version of the Sunset version of Microsoft Money for Business.
When will the business address change go into effect? The state has not updated the online business information, however I have begun to add the new address to some of the many areas I will need to update.

Monday, October 31, 2022
I am spending more time in online meetings and courses, so I have been trying to find affordable solutions to update the office. The last post showed some of the latest additions and included a photo of the old 13" television used to keep up with breaking news and business headlines.
I have wanted to replace the television for awhile, however could not justify the cost in that I rarely used the office before my real estate course and the onset of the pandemic.
In early October 2022, Verizon required upgrades to all of the set top boxes and the WiFi Gateway because the equipment was obsolete. There were two televisions that were not HDMI ready, so with the upgrade- HDMI channels were now accessible via the new set top boxes. One of the old televisions was in the office.
Allow me to digress for a moment. How is the cost of Verizon FiOS justified? I use FiOS for business and rarely go out for entertainment. The cost of the FiOS service is about $240.00 a month, however includes two land lines, internet, and television (6 set top boxes). There are several discounts applied because of customer loyalty and bundle selection.
Last week when I decided to get a new television for the office, I determined I could spend no more than $200.00. Initially, I selected a 24" Vizio.
After thinking about it, I decided to go with the smallest monitor I could find and use the existing RCA hookups from the set top box to the bookshelf stereo system for the audio. I thought the 24" Vizio, simply too large for the space and I did not want to mount it on the wall. There is a daybed in the room (behind the desk), however the wall is simply too close and would have made watching while sitting at the desk too awkward.
Shown below, the before and after photos of the old television versus the new monitor now being used as an HDMI television.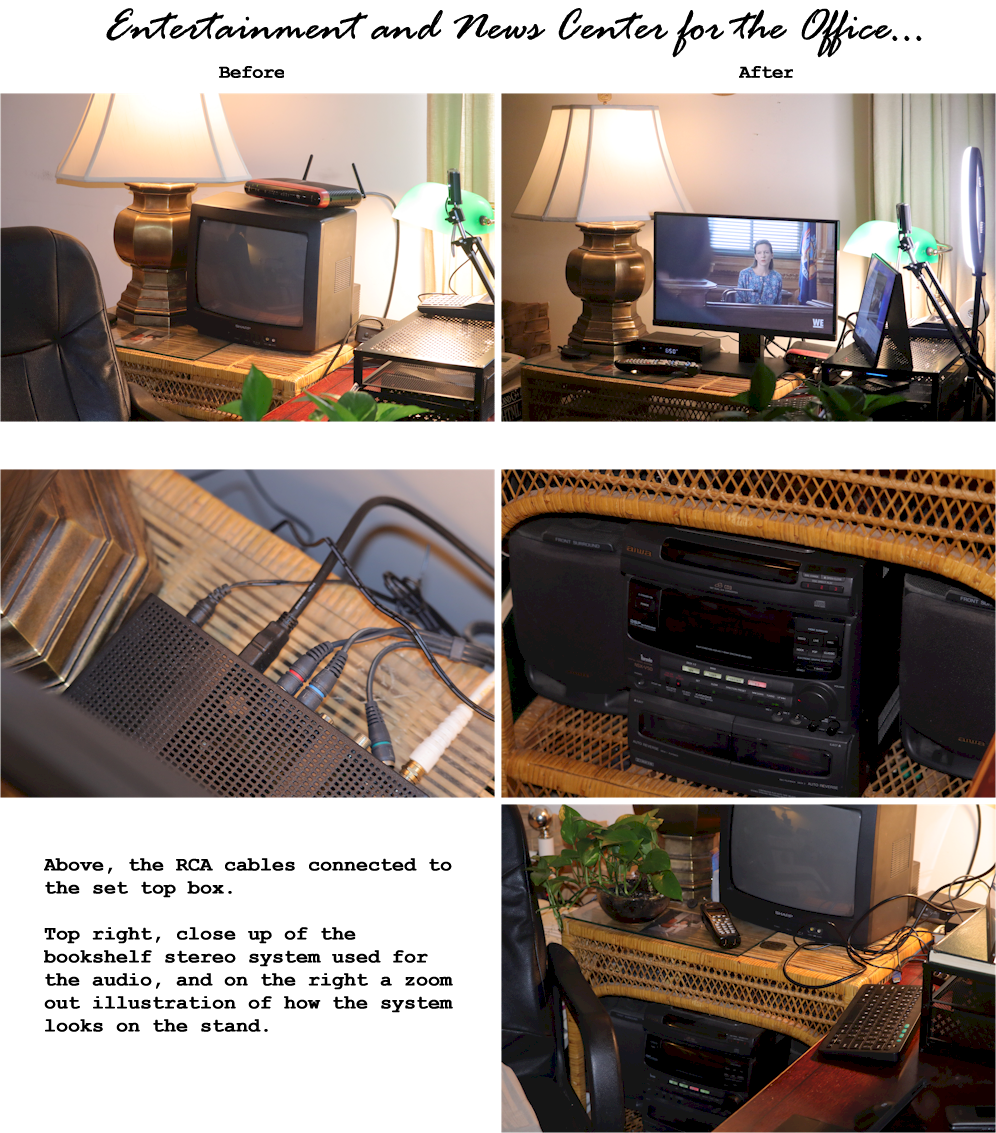 Below the invoice for the new monitor.
I had to adjust several settings on the monitor and the video sharpness level on the set top box to achieve optimal display results. I am pretty happy with the outcome of this project.

Monday, October 17, 2022
This blog (It's Personal) has been around since December 2011 and there are about 783 posts (excluding this post). I started the blog to replace Q's Wire a Wordpress blog, that is no longer published. For added security, I decided to use the Thingamablog content management system (CMS) to maintain the blog in a local environment.
What does this mean really? The entire blog (master copy) is maintained on a PC hard drive and new posts/images/videos are SFTP/FTP'd to my online server when the application's post publish button is used.
About six months ago, I began having problems with the keyboard on my 2010 Windows XP Acer Netbook, shown below.
In addition, most online services no longer supported the browsers and email clients available for the older Windows XP system, so I knew I had to move on.
About a week ago, I decided to move this blog to the Guzila Mini PC I purchased for my real estate class. Since the completion of the class, I have added three elements to the system; a 500GB internal hard drive, a 1920x1080 24 inch monitor (doubles as a streaming device when the system is connected in my bedroom) and a 13.3 inch 2K portable monitor for my office (zoom meetings, high resolution detail video editing and other efforts).
Although this was not the only task, i.e., moving this blog- I had on tap for the week, it was the most time consuming and tedious. Why?

I have more work to do insofar as checking links across all of my sites, however, I think most of the work is done. What about my Google Juice (old links that are now dead)? I knew the risks when I decided to make this move and if I ever have to move the blog again, I will not have to update the links.

Wednesday, June 29, 2022
For the last two weeks, I have been trying to create Youtube Shorts videos. What are Youtube Shorts? They are Youtube's short videos, 60 seconds or less, similar to TikTok or Instagram Reels.
Why would I look into this? Youtube has a monetization partner program which requires (1) an Amazon Adsense account, (2) 4000 hours of watch time for existing videos and (3) 1000 subscribers to a channel. I have the first requirement.
I have had videos on my Youtube channel for over 3 years, however because I once taped a call to the FBI and later posted the video, I decided I wanted to keep my videos local, on my server. Why? The video was changed. It was shortened. I did not want Youtube to own my videos, with a legal right to do anything with the videos. So I tend to serve up videos from my own servers, which is very expensive in terms of bandwidth and storage.
If some of you recall the FBI video, you will remember is was hosted on my servers. The key here is legal right. I am sure a class action law suit might prevent Youtube from changing a lot, however videos installed on their servers are subject to their legal terms.
So this is why, I did not want to use their service. That said, I am researching different monetization avenues to see what works.
What is amazing to me? The number of "unreal" vbloggers who post to Youtube. I never understood why it was okay to lie about education or other credentials and serve up sponsored ads (started to notice this with bloggers years ago). That is fraud.
Bloggers and vbloggers tend to say a lot. Most of them negate their own lies. I say a lot. I want investigators to try and take it apart.
Anyway back to Youtube Shorts. Recently, I posted two new videos to my Youtube channel.


The mistake I made shooting the video shown above, was not made shooting the following video yesterday morning. When I initially uploaded the following video it was categorized as a Youtube Shorts video, thereby enabling automatic monetization.


Did I forget to mention that Youtube Shorts are automatically monetized whereas Youtube vbloggers have to meet certain requirements (noted above) to achieve monetization of their regular videos?
Did I crop the video correctly? I used Microsoft's Clipchamp video editor to modify the final output from Active Presenter and as I have already indicated, Youtube initially categorized the video as a Shorts. Why would it have changed?
You see, I made another mistake with the first "pancake" video and did not crop the wide black edges. When I uploaded the first version of the video- it was never considered a Youtube Shorts video. Only after I used Clipchamp to crop the edges, providing the original portrait mode- of the video as captured. Then it reverted (Youtube changed it). Why?
These videos are simply my tests and not meant to suggest anything a professional video editor might release.

Wednesday, June 08, 2022
Last week before my new iPad arrived, I researched graphics software options for use with that platform. Procreate and Affinity Designer constantly appeared high on every list.
I have no artistic (drawing, painting & sketching) ability, however, I do all of the graphics work for my sites, groups, and the presentations I need for one project or another. The example below shows part of the ImageComposer file where I created the header graphic for the Facebook high school alumni group.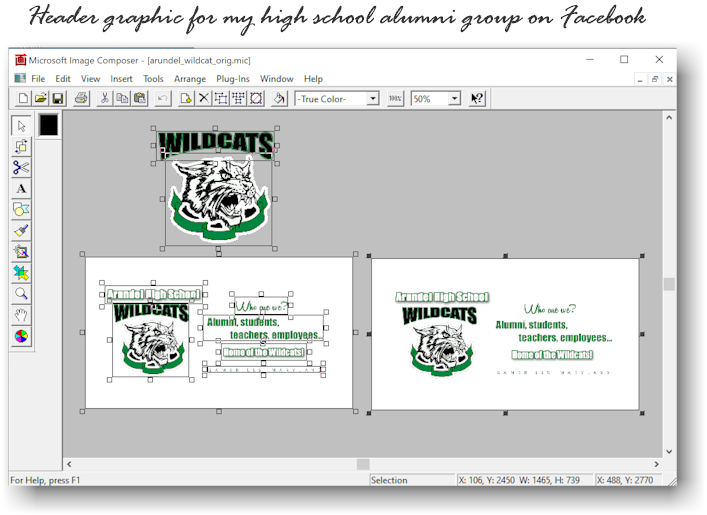 I use the following programs and tools to handle all of my graphics needs:
Microsoft ImageComposer
Microsoft 365 Professional Office Suite (Publisher, Word, PowerPoint)
Microsoft 2000 Professional Office Suite (Publisher, Word, PowerPoint)
Corel Gallery Clipart
The many photos I take.
Screen-grabs
Though I do little insofar as video presentations (other than hair and makeup for a Zoom meeting or class), I do watch one or two video bloggers and noticed how well they incorporate other graphical elements to their videos.
In that I use all of my resources for work efforts, I wanted to ensure that my new iPad Mini would get its fair share of the workload. I have to justify (to myself)- business expenses like a new tablet. That is why I was researching graphical software options for the iPad and the usage areas I could effectively deploy, in terms of ROI.
I purchased Procreate ($9.99 Apple App Store)- Monday evening after installing Libby (Free) and reading a sample of Grisham's latest novel, 'Sparring Partners'.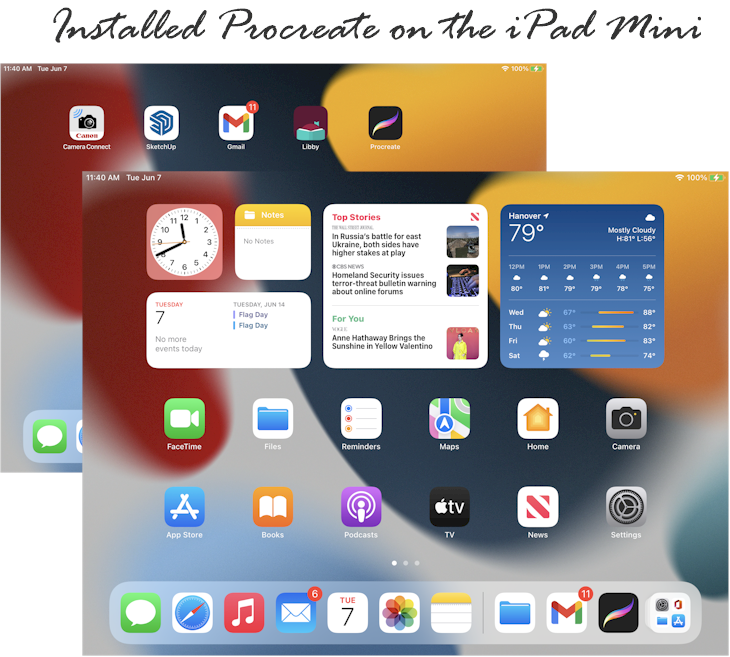 I did not do a lot with the Procreate app Monday evening (tested the new stylus pen with the application), however Tuesday morning, did a lot of research and played around with the software.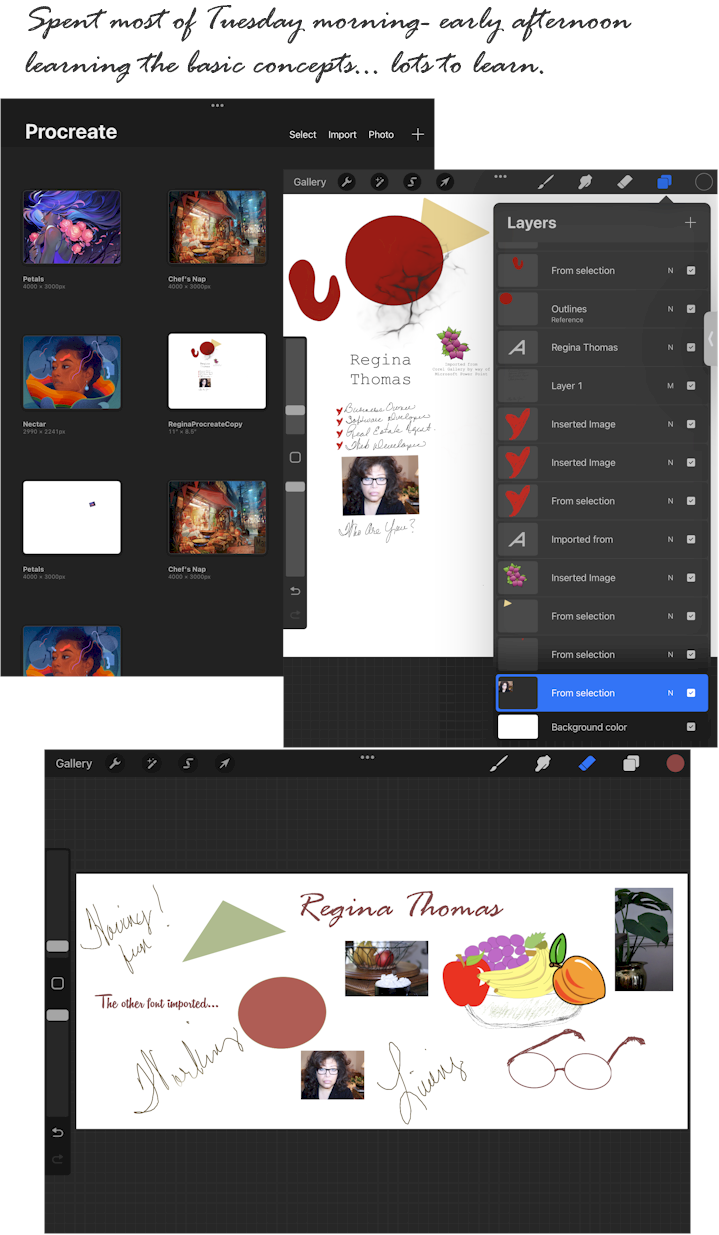 Procreate is different than graphical software I have used in the past. I wish I were more artistically inclined because Procreate showcases that type of talent.
That said, I will be able to find uses for Procreate. It is a powerful tool and though I am not a skilled artist, feel understanding how the software works is going to be useful where my efforts are concerned.
Affinity Designer the other graphics software often mentioned for iPad users, provides the ability to create vector graphics. I am going to continue to create and manipulate vector graphics on the Windows PC side of things using PowerPoint (also installed Microsoft 365 Office Suite on the iPad).
I have been using Any Video Converter to edit my very rudimentary video files, however downloaded Active Presenter about 1.5 years ago.
I have not had the time to play around with Active Presenter, that is until now. Yes, that software is going to be very useful if I decide to add more to my videos.

Friday, June 03, 2022
I mentioned in my last post that I would be getting something I have wanted for years. Though the philodendron shown on the right is new, that is not what I referenced. I purchased the philodendron on Wednesday during my weekly visit to the market. The item I ordered arrived yesterday (Thursday) afternoon.
Thursday, January 06, 2022
Recently, I developed a Java JDBC Servlet that connects to the WiredShops Opencart database- allowing real-time quick reports of sales data.
The illustrations below show the development (local) mode output of the program.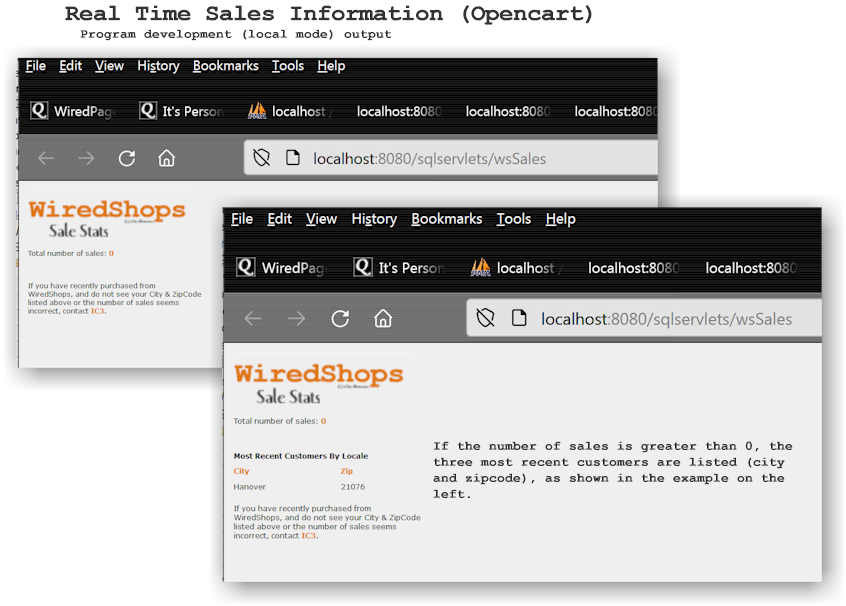 I have ported several integrated databases, i.e., CIA's World FactBook, Commentrics, and Opencart to my local development environment.
I was pleasantly surprised with the ease in which I was able to access the Opencart data. In comparison to the other databases, Opencart is very straight forward as related to executing queries without having to make joined or multiple requests.
The new program is installed on Remix (Business Blog) and this blog in the lower area of the sidebar as illustrated in the graphic below.
Can a program like this be written in PHP rather than Java JDBC Servlet technology? Yes. I prefer Java because it executes faster and is less resource intensive. Opencart is written in PHP. That said, all of my websites use Java hosting services in addition to Linux, Apache, MySQL, and PHP (LAMP).
To learn more about my WiredShops Opencart installation see this promotional article.

Tuesday, December 14, 2021
I was surprised to learn the site ranking resource, Alexa.com, I have relied upon since 2002 (qisoftware.com registered June 28, 2002), will retire May 1, 2022.
I am not sure why this came as a surprise. In March 2020, I developed a quick reference tool using Java Servlet technology to access the Alexa API. Below are illustrations of the tool's output.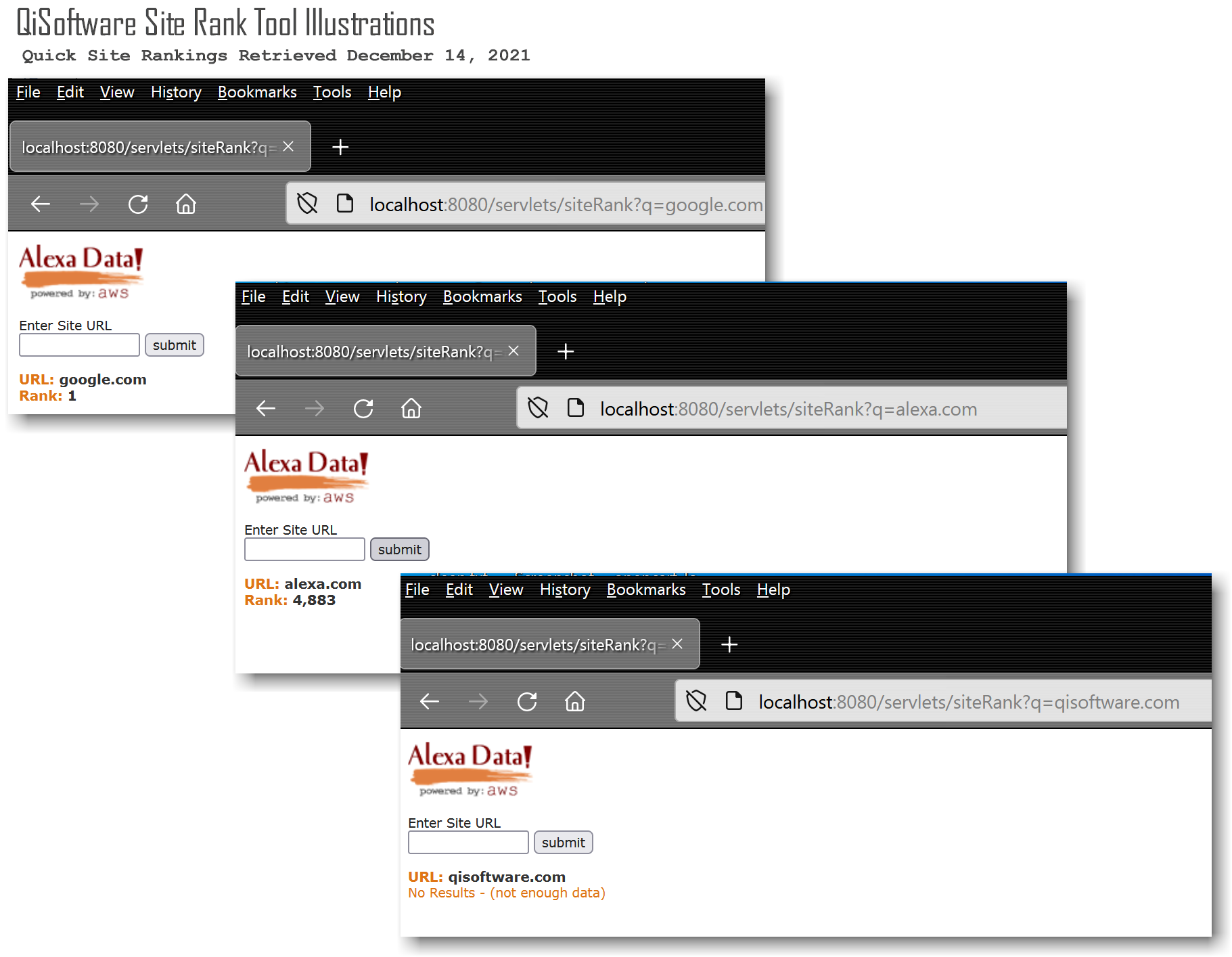 In this business blog (Remix) post, I discuss new tools I developed that would be installed on my sites at a later date. The Alexa site ranking tool was one of the new tools.
I have too many security issues to install all of the software tools I develop. In this case, an additional problem related to Alexa API access costs.
This tool was slated for installation on the WiredPages Technology page. I felt the tool would have added another interesting resource for visitors to the site. I am sorry, I probably will not have the opportunity to install this tool.

Sunday, November 07, 2021
Since I carry inventory for WiredShops, I needed an efficient way to handle shipping.
The first order of business, purchase a reliable postal shipping scale. I chose the Accuteck 86lb Gold Digital Scale.
The scale arrived today. The following is a short video demonstration.
I use PayPal to handle all transactions, so using their shipping service was an easy choice. The illustration below shows some of the steps involved in connecting my PayPal account to ShipStation.
I am researching thermal label/barcode printers and like a no frills option I listed on WiredShops, the XPrinter XP-460 w/Bluetooth. That said, for now any shipments that I handle will have shipping labels printed using one of several desktop printers I currently have at my disposal.

Saturday, September 11, 2021
In August (2021), I began researching how new commerce initiatives are being adopted. I wanted to understand how independent retailers are using services like PayPal Here and PayPal Zettle. See this post.
Pop up shops are becoming very popular and owners are using their card readers to handle their (POS) transactions. Listed below, several Youtube videos I watched to get an idea of how these Popup Shops work.
I researched Artsy Ki's (last video) online shop which showed how she used her online presence to help drive sales.
No, I am not planning a pop up shop, however I did want to learn more about software support services or advertising I might offer retailers who are thinking of- or actually working in this area.
Researched where and how to setup an online shop.

OpenCart- self hosted option selected.
OSCommerce self hosted option.
Shopify shop- (hosted on their site) and similar sites researched. Cost factors an issue. Most who use these types of services, do not have the time to come up to speed in terms of the software skills required to maintain a self hosted shop.
Because I chose a self hosted service (OpenCart), I had to use the drop shipper's API resource to link my shop's products to the service's products. So I also had to come up to speed on the use of the API. Automated linkage was provided for shops hosted on eBay, Shopify, WooCommerce, SquareSpace, etc.

Registered a new domain, wired-shops.com. Cost $10.74 per year. wiredshops.com was available, however cost was well over $4000. (As of 9/11/21, visitors may access the site, however the PayPal hookup is set to the sandbox account). I was lying in bed early, Tuesday morning (Septemeber 7th, 2021), and decided on a site name wiredshops.com. Half an hour later, I had wired-shops.com registered. I used to provide web hosting services, the reason it was easy for me to register the domain so quickly. I then added the domain to qisoftware.com hosting as an addon domain for testing.
Drop shipping services researched.
Legal issues researched. Keep in mind, Qisoftware is a registered business entity in the state of Maryland.

Used FormSwift.com to create a shop Privacy Policy.
Currently, working on a Terms & Conditions statement for the shop.

Sometime ago, I signed up to use the USPS API resource (see this QiSoftware demonstration page), so it was easy to insert the correct registration information in the OpenCart shipping module to handle shipping estimate calculations.
Thinking about a couple of programs to write Excel and json data for import to the drop shipping service.
Below, a screen shot of the homepage of the new shop. It is still in setup mode. I liked the default template that was installed when I setup OpenCart.

Currently, I am adding more products to my shop and linking the products via the API service. I plan to make this a more automated task, however right now it is rather tedious. What is the reason drop shippers cannot automate the service for self hosted shop owners? Self hosted shops tend to have more custom mods and are inconsistent insofar as how to handle import and export data.
This has been a good learning experience for me and I feel I know a great deal more.
On Thursday, September 2, 2021, there was a major issue in my life which has been mostly handled, however the fact that I have been able to get this far with this project (during this time) surprises me, given I knew nothing about drop shipping. This is not for everyone. I want this post to show, I had a lot of pieces in place to be able to do this. This could be very expensive if the proper research is not in place.