Sunday, February 18, 2018
In late 2016, we ordered new handles for the refrigerator in the kitchen. The handles had turned slightly orange with age. Thursday, I finally decided I would attempt to install the new handles.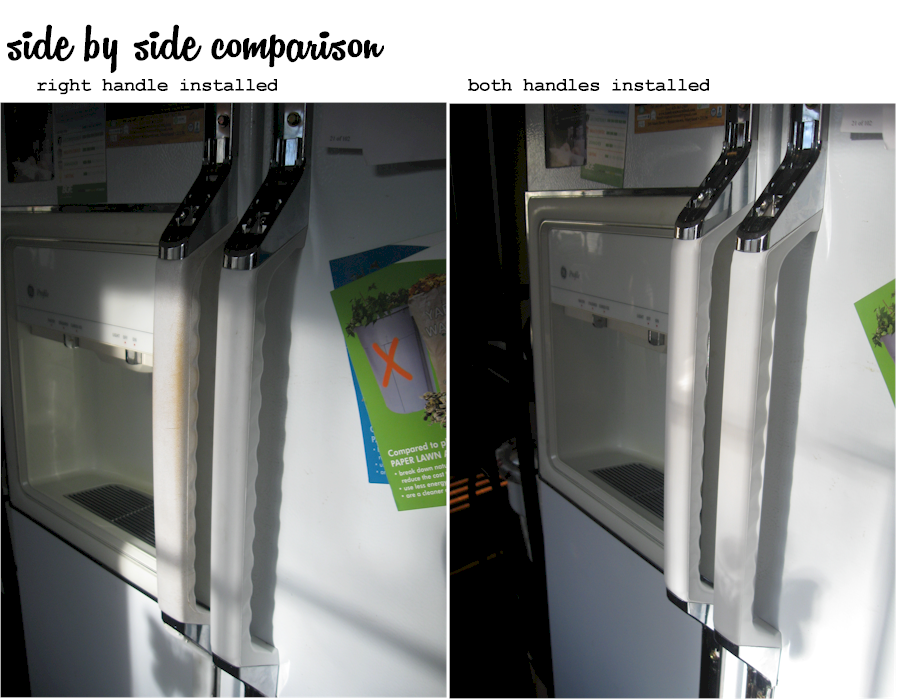 What took so long? Even though I found any number of DIY forums that explained how to install the handles, when I first tried to wedge a knife between the trim and the frame I could not get it to budge.
Thursday, I used a flathead screwdriver I found in the kitchen utility drawer which did the trick.
FYI: You are also going to need a special screwdriver that has a tip with six points as shown in the illustration below: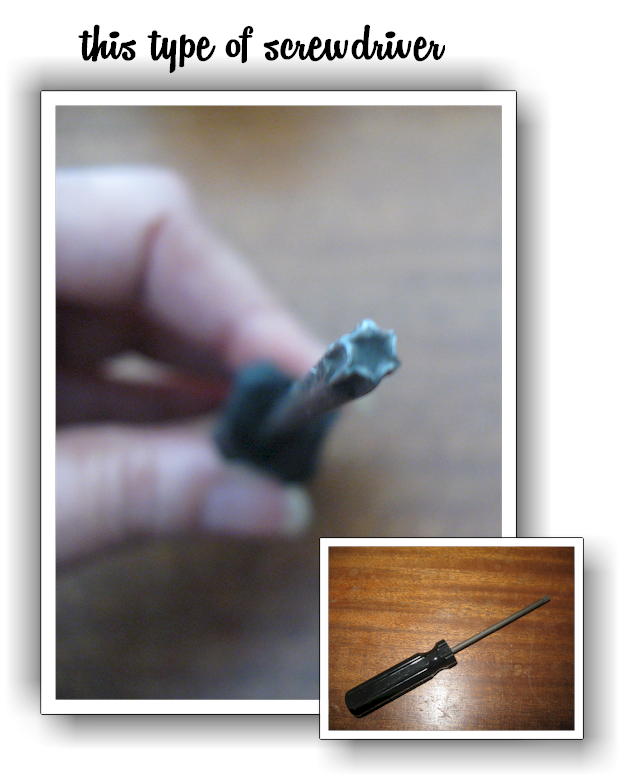 Products discussed in this post:
Are you in the mood for your own DIY projects? Since getting our Alexa Echo [Christmas 2017], I have been researching the many appliances coming out that are "Alexa" enabled and added a few of the more noteworthy items to my store.

Saturday, December 30, 2017
I have not done a video in awhile, so I decided to demonstrate some of the things I have been doing with our new Alexa Echo. The video is a bit longer than some of my others- and of course I am still coming up to speed with taping, editing and using video in blog posts.
New holiday gifts were added to the "Items I Have" list. Are you taking advantage of some of the great after Christmas bargins?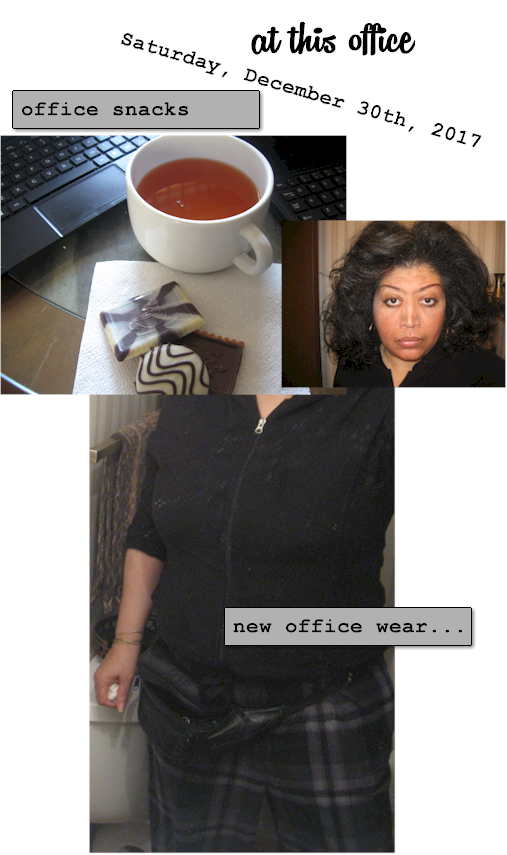 Happy New Year!

Saturday, November 04, 2017
For the last two weeks, I have experienced problems with my Android in that an error message indicated the Storage Space was under 250 MB causing several applications [apps] to malfunction.
Briefly the specs on my Android include:
Android OS 5.1.1 Lollipop
16GB Storage
2GB RAM
No SD Card Slot
Initially, I tried several solutions however the error returned within a day or so. One of my problems, I use my Android and the Chrome browser quite a bit and tend to leave the browser cache unattended. Deleting the browser cache helped for a moment or two. I also deleted several apps I rarely used. Neither of these solutions worked long term.
Then I discovered, the error message was a bit misleading in that it was not actually the storage space that was causing the problem, more the amount of free RAM.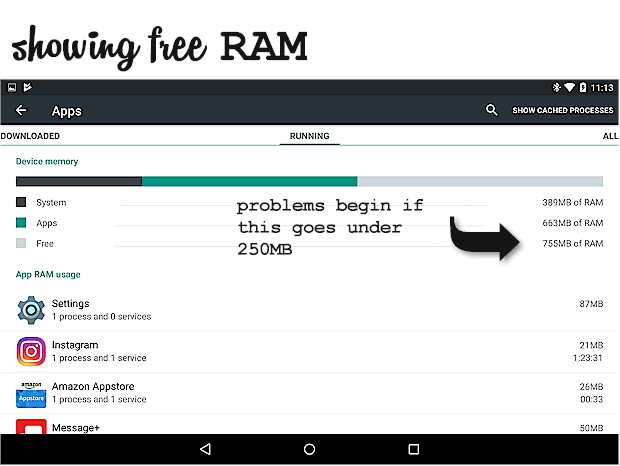 Why "all of a sudden" was this causing a "Storage Space" problem on the Android I have used daily since February 2015?
I believe it is because recent releases of the apps I use, provide more instant notifications requiring the programs to stay resident in memory.
For example, my Amazon App now provides an instant notification every time something on my "Wish List" is on sale as a Deal.
When these notifications started in October [2017], I was pleased. I still love the feature, however I had to disable it on that app as well as most of the others to free up RAM space on my Android.
As noted, solutions included turning off "Show Notifications" for most of the apps running on the Android. Since I will miss those notifications, I researched devices that would be able to handle the many applications I use on tablet/Android devices and came up with two solutions [iPad & Samsung devices with lots of storage and memory]:
Have you had a similar problem?

Saturday, October 28, 2017
Yesterday, while driving around Arundel Mills, I took these photos.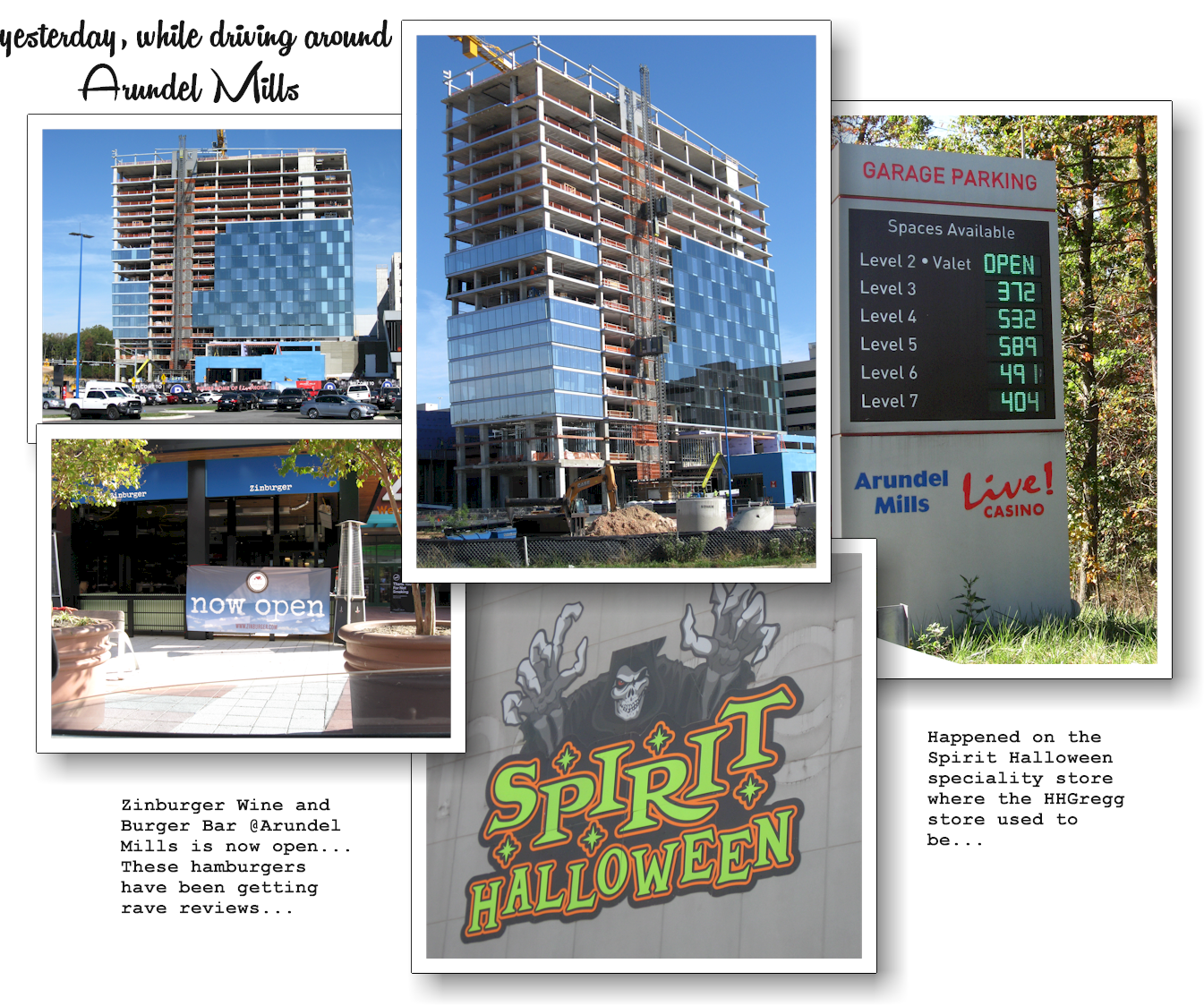 It was a gorgeous day, and today is even prettier. In our area, the leaves are just beginning to change and peak color should be here in no time. This is one of my favorite times of the year.
What else have I been up to?
I have also been researching software products. Microsoft Access is a powerful tool and as a software developer I can do a lot with this software, however it is not supported on the Mac operating system. I do a lot of development work on a Mac computer.
Alternatives for Mac users include, FileMaker Pro and FileMaker Pro Advanced. These packages are also supported on Windows platforms.
In addition, if you are not well versed in database definition [schema/structure] or the SQL standard, you may find the FileMaker offering a bit easier to use, in that there is no programming involved.

Friday, October 20, 2017
For the last two days, I have been developing a new Microsoft Access Database to assist with running, tracking and reporting items associated with an affiliate program.
Thus far I have created the following elements for this new database:
2 Tables
1 Form
4 Reports [2 HTML snippets to use with my site areas]
8 Queries
1 Macro
Data Access Page [still working on this]
Though I have extensive experience developing and working with SQL compliant databases [and Microsoft's Access product], in recent years my work in this area has concentrated more on MySQL development efforts and Java JDBC programming.
This has been a great exercise for me, in that I have been looking for a reason to play with Microsoft Access again. I am pretty pleased with my efforts thus far. In 1993, when I first started working with Microsoft Access, I was pretty impressed, and I must say-- I am still impressed with its power.
That said, in 1993 I was writing front-end c routines, back-end Fortran code, c-binding for DEC's RMDBS, and the X-Windows System platform to develop graphical user interfaces for my programs.
When I was tasked to come up to speed with Microsoft's new offering [Access], I felt it comparatively easy to my other system development efforts.
I still have the original HR System I developed for my Crystal City Rockwell office. The system was pretty extensive and gave me a great opportunity to develop in the Windows environment.
Back then, I mostly developed software for Unix or VMS platforms, and used a PC to document my software development life cycle efforts.
I also used Microsoft Access to create a Program Trouble Report database that was used to support Configuration Management efforts for our contract deliverable programs. I also have this system.
My résumé boasts, Microsoft Office Power User, however until this week I had forgotten just how powerful this resource is.
Next week, I am going to continue looking at the Facebook API. I have been adding national events to the WiredPages Facebook page, for the new widget/servlet I am developing for the Style & Events page. See illustration of a similar interface here.
If you would like to have your event listed-- contact me at wiredpages dot qisoftware dot com. Check out the list to see the type of events being listed.

Saturday, September 02, 2017
Many are aware- I use Thingamablog as the content management platform for both my business and personal blogs. I started using Thingamablog in 2010 when Blogger decided to discontinue FTP support for users who hosted their blogs on private domains.
Thingamablog runs standalone on desktop computers and requires Java installation, if not already installed on the system.
In my opinion, the Thingamablog platform offers more security in that the entire application and post database are maintained off line. What this means? The master copies of my blogs are maintained off line and are tamper proof.
This also allows for easy backup to external storage devices of the off-line applications and databases, as opposed to online site backups.
That said, in my case I also backup my entire website so snap-shots of both the remix.qisoftware.com and personal.qisoftware.com sub-domains where I maintain the blogs, are also backed-up when I perform full-site backups.
Useful links:
In 2010, I also established the Facebook group [referenced above], for Thingamablog users. We are always looking for new members, so if you are interested in this blogging/content management tool, please join us.

Friday, May 12, 2017
In March, when I ordered my new camcorder, I did not order a backup battery nor a condenser microphone. A week ago, I ordered those accessories and yesterday the purchases arrived.
Check below for links to the specific camcorder accessories I ordered:
Amazon order: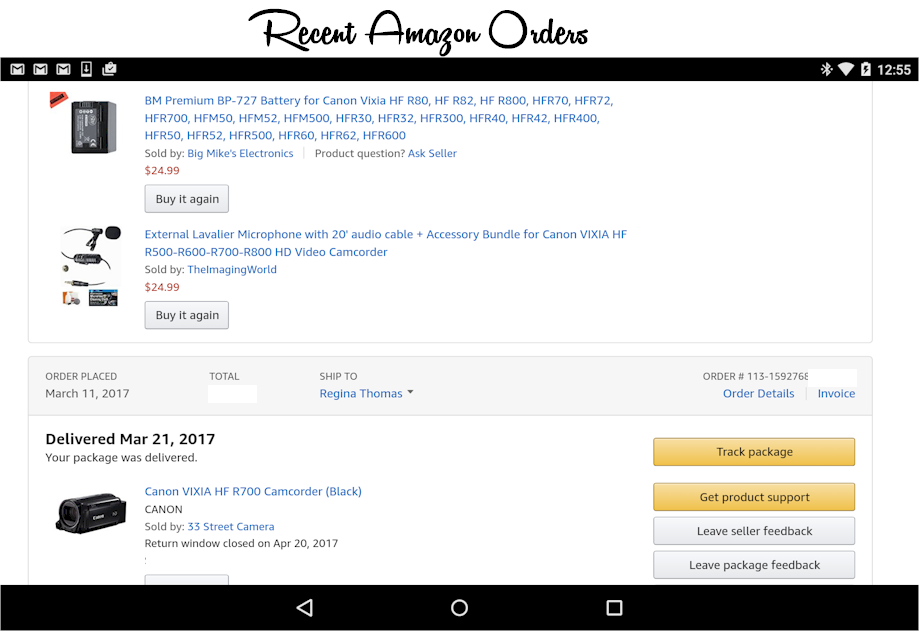 Short video demonstrating the difference between using the camcorder with and without the condenser microphone.
What else have I been up to? Actually several projects, however I will have to update this later.

Tuesday, May 02, 2017
About a week ago, most of my family went out of town. Before leaving, the fridge was stocked and I have been testing different recipes almost everyday.
One of my favorites- a roasted chicken breast with olive oil, cayenne pepper, salt, and the original chicken seasoning by McCormick. I roasted it in the convection oven-- according to the instructions in this recipe and added sides of fresh cranberry sauce and white rice.
Today, I grilled a steak on an indoor grill I purchased last year as a holiday gift that I decided to keep. The price on the grill was such a great deal, Amazon does not even list it with the order. Check here for more on the grill.
Short video capturing the grill in action today.
My new Canon camcorder produces MP4 and AVCHD [MTS] video files. Often I use the AVCHD setting for the higher resolutions. The camcorder has a built-in utility enabling quick conversion of AVCHD videos to MP4.
I also found a great video conversion utility which works with the MTS [AVCHD] video files, allowing for slightly higher file resolutions than the camcorder's built-in function.
Here is a screenshot of the AVC program.
This week, I also made a video showing how to make fresh cranberry sauce with frozen berries, however that video was 35 seconds and the steak video only 15, so I opted to use the shorter to discuss the AVC utility program.
By the way, I also love the grill.

Saturday, April 01, 2017
All day, I have been updating my iTunes Library with old CDs from my extensive collection.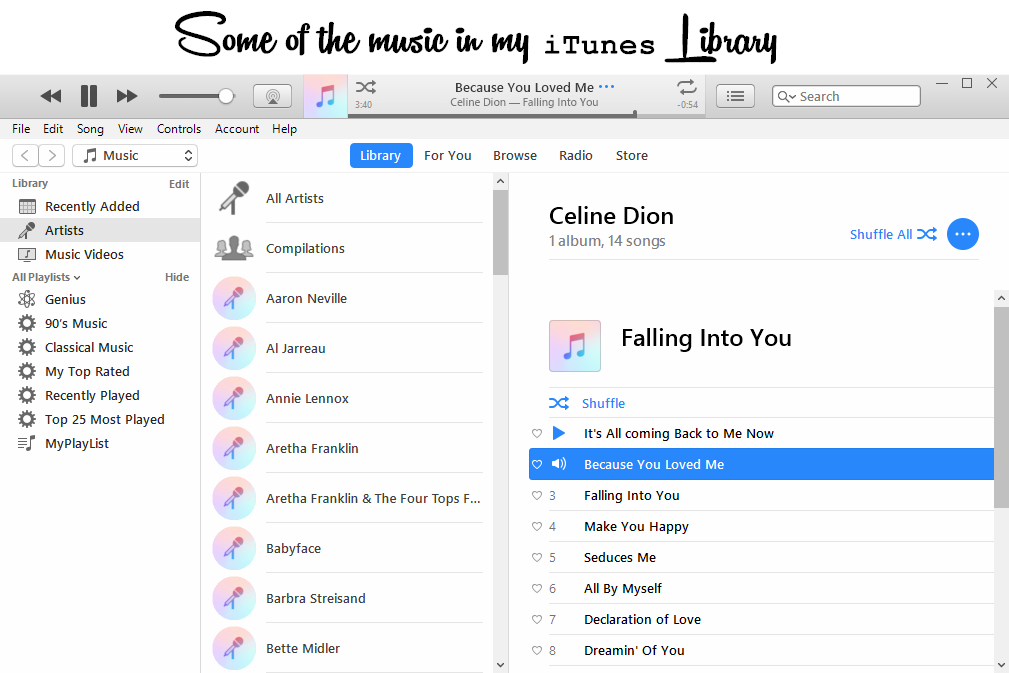 I had separate iTunes libraries on my Macbook and Netbook, so earlier this year I decided to put everything in one location and maintain the actual music library on a 32GB SD card shown as an inset in the illustration below.
Most days when I want to listen to my music, I use the RCA Cambio Windows10 platform with my TaoTronics Stereo Bluetooth Speaker.
Below, short video showing my work environment today, while porting more "old" music to my iTunes Library.
I love having all my old CDs digitized and available whenever I want to listen.

Friday, March 24, 2017
Finally ordered a camcorder. The final decision came down to these two:
Canon Vixia HF R700
Canon Vixia HF R800 [see this link]
I opted for the 2016 unit [R700] because it was $41.00 cheaper. The specs on both almost the same, however the R800 has one or two added features.
I am very pleased with my new hardware. Its light, easy to use and has the high definition and external microphone support I was looking for. Two items I will be ordering in the near future, an external microphone and one additional battery pack.
A short demo video to show the type of output you can expect from this camcorder.
Above, I am using the HTML5 Video Player to provide either a MP4, OGV or WEBM version of the video- depending on the browser requesting the playback.
I am using a commercial software app "TheFileConverter" to convert the MTS video file the camcorder created, into the MP4, OGV and WEBM formats for use with web browsers. Shown below- part of the underlying html for the HTML5 Video Player.
I do not need to provide different video formats for my social media accounts and am so pleased I can now upload Full HD Video to my Facebook, Flickr, Instagram, Tumblr, Twitter, and Youtube accounts.

Thursday, March 09, 2017
I have been researching digital video camera options, and recently added two new cameras to my resources.
Action Camera-- it is so small and light I actually carry it in my purse.
Dash-Cam for the car.
I like using resources in multiple environments and have found I can use each new camera as a webcam as well. Shown below, photos of the dash-cam as a webcam.
Another set of images showing screen-shots of the Camera application [app] I use with webcams. The screen-shots show me as depicted by the webcam and my environment when working just off the kitchen.
Late last year, I posted a video to one of my social media accounts that was so grainy, I decided I needed a new video camera. I like the action cam and dash cam, however there are limitations to the types of video I can shoot. Also the new cameras support resolutions a lot higher than that of my older digital camera, the Canon Powershot A590.
Currently, I use my digital camera for both video and still shots. What I love about my camera? Its many features and the low resolution options for videos and images. Like most who pay for web hosting for their domains, I have limits to the amount of storage I can use. Videos and photos can take up a lot of storage- quickly.
Important features I am looking for in a video camera:
Optical zoom at least 20x
External microphone support [already have a stereo microphone]
Macro lens support.
Full HD recording
My research has led me to some interesting finds-- and I have listed some of the results in my stores under the "Just Want" Category and the "Computer Electronics & Home Office" Category. [New finds added at the end.]
I think my finds can provide a good basis for your own research and help in determining what you need based on your requirements. For instance, you may not have my concerns about storing videos online. You may only need a great video camera for life's moments or a vacation. There are a lot of great options.

Wednesday, February 22, 2017
Sunday, my Mother had to get a new cell phone. What did she get? Apple's iPhone 7.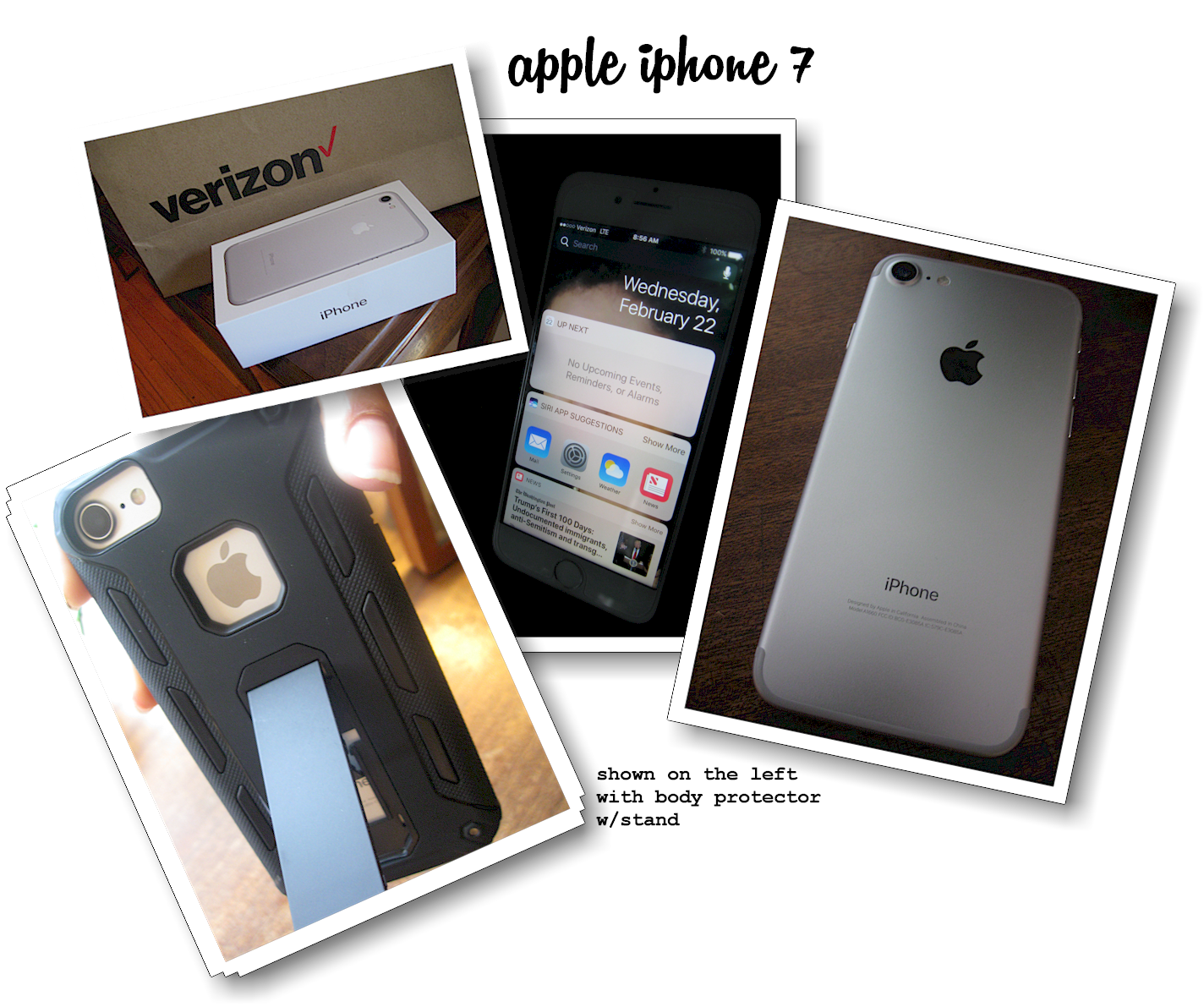 I have to say, this phone is pretty impressive. Features include...
Full HD Video
Display 1920 x 1080 pixel-resolution.
12MP Camera-- wow is that camera nice.
2x optical zoom and up to 10x digital zoom.
See the specs for yourself here, she opted for the 5.5" with 32GB of storage.
She is still playing around with the many features and is extremely pleased with her new hardware. Yes, I think this should be my next phone too.

Friday, January 13, 2017
Today, I decided to take a tour of Hanover, MD [the town where I reside] using the new dash cam.
I merged several longer clips [shot today], to create this video, however have yet to master a dubbing technique to add sound bites.
Areas shown in the video...
AACC @Arundel Mills
Maryland Live Casino-- when I slo-mo the video the flickering on the neon signs is absent.
The area known as Arundel Preserve in Hanover.
Milestone Parkway [runs from Arundel Mills Blvd to Route 175].
One of several new housing areas right down the street from where I live.
Pulling into the driveway.
Probably will not use the dash-cam every time we use one of the cars-- however like having it just in case...
You can learn more about Hanover, MD as related to commerce here.

Saturday, December 31, 2016
Early this morning, my mother and I took her car out to test the new DVR Dash Cam. It was one of her Christmas gifts.
I like the features on this dash cam and everything is so clear. It was also easy to install and mount. Because of the many features-- the learning curve for the seven buttons on this cam might be a little intimidating, however well worth the effort. I think I have got it, however she seems a little concerned.
In addition, today I received the LED light I ordered. Hoping it will lighten up my photos and videos. What do you think?
Yes, I like this new light a lot. Are you ready for the new year?

Friday, December 23, 2016
Winter arrived this week- with a cold snap. We even had an ice storm the day before.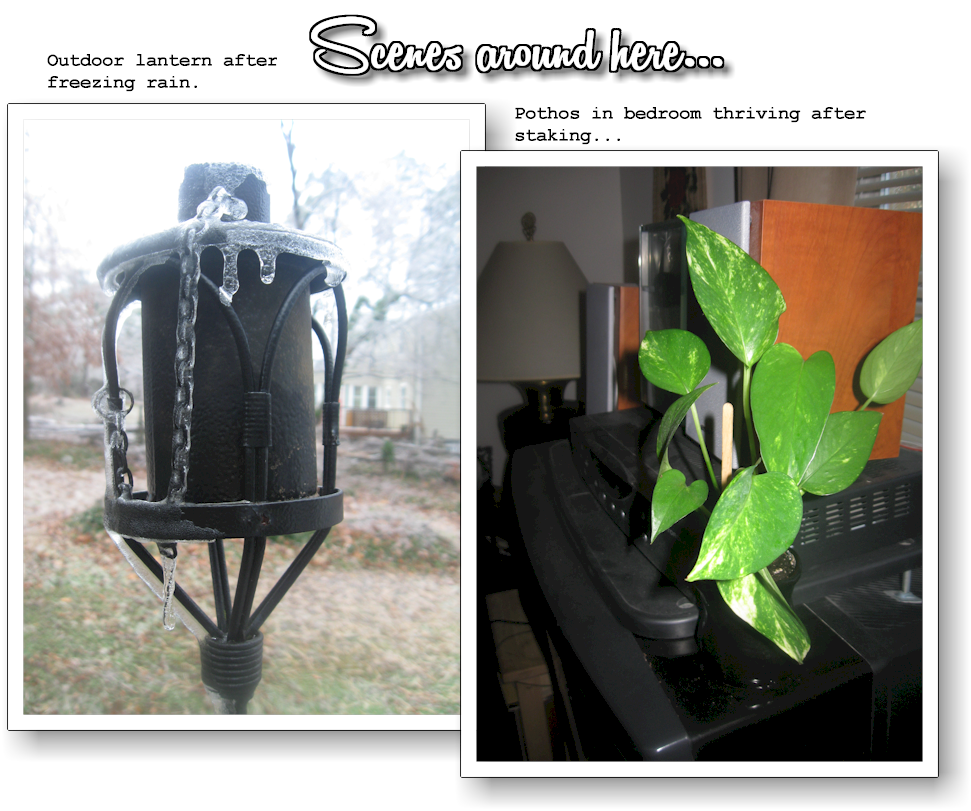 I am happy most of the choirs for the end of year festivities are complete. We again opted out of the big turkey dinner this year, however will have a nice dinner [roast and potatoes w/all the fixings] Sunday.
Last week my new bluetooth speaker arrived, so I have been playing around with that- along with the new sports action camera. I am happy with both of these recent acquisitions.
Other activities? Years ago, I signed up as a Facebook developer however have done little with the platform. With a little extra time on my hands this week, I decided to add an app for use with the HanoverMD Businesses page.
My efforts were met with mixed results. The "Use App" button, illustrated below, provides job listings in Hanover MD.
The application for the page tab [shown on the left in the above illustration] is where I ran into issues. Because of page width problems I was unable to get the app to display correctly using the page tab redirect.
The following illustrates how the page tab application should have looked:
I believe the easiest way to correct the problem is to use the API the listing service provides- and develop my own interface. This would require setting up at least one of my domains with an SSL certification. At this time, I do not want to do this-- in that I need to move one or both of the domains. I know, I have been saying this for 4 years now.
That said, this exercise was interesting in that the Facebook developer platform has changed since the last time I did anything with it.
I plan to relax and enjoy a lot of quiet time until the beginning of the New Year. How about you? Anything exciting planned?

Tuesday, December 13, 2016
Sunday, my sports action camera arrived. I have been testing the many features, and quite frankly it has many that are impressive. I am still learning how to use some of them. Photos taken with the XDV Sports Camera...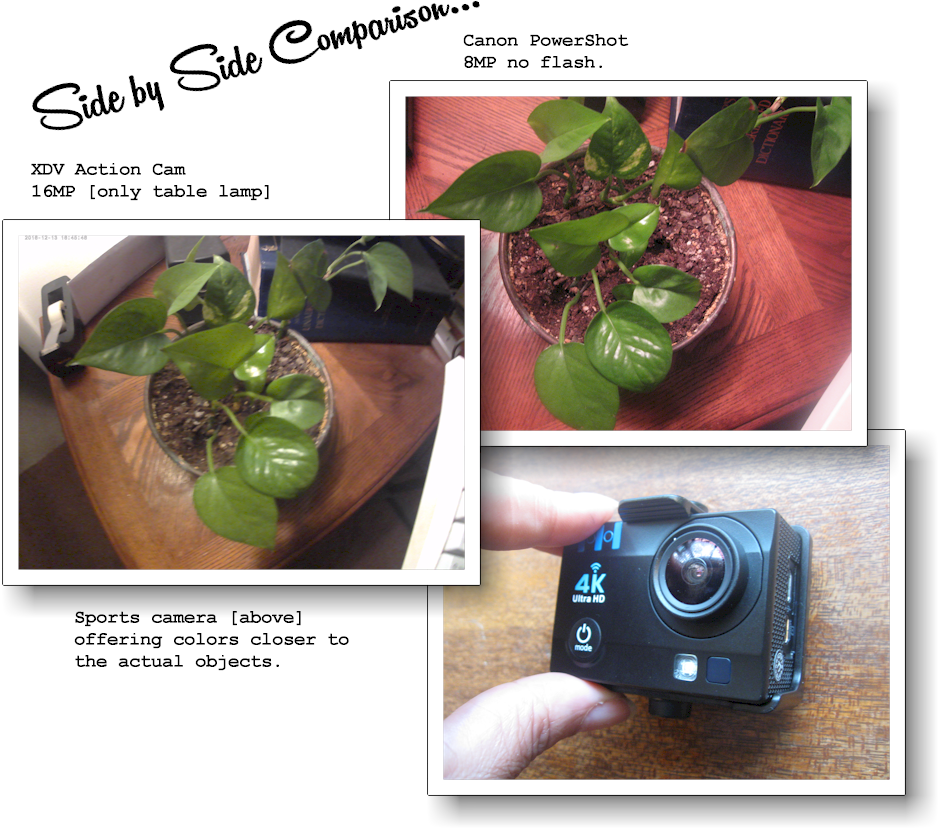 I tapped "plug and play" features to enable connection between the camera and most of my computers and tablets.
Short video clip from XDV Sports Camera- captured yesterday while creaming butter and sugar for a cake. I used an accessory that came with the camera and a 57" tripod to mount the camera- to shoot the video.
I like my new camera, however I have one or two issues [okay three]:
Really need an external light source-- not collocated with the camera but more on the subject. I have a similar issue with my Canon.
Not enough telescopic lens support.
Though other action sports cameras come with the option to select the FOV, mine did not. I would like this option.
I got a good deal on my camera and happy to add it to the business tools I use everyday.
For the money, you get a lot of features-- including a webcam, high resolution video and image output, and it is small enough to carry and clamp anywhere.

Friday, December 09, 2016
Normally, I purchase new business equipment in January or February of each year. This year, new business equipment purchases will be before the new year arrives.
Business tools and equipment I have been researching?
Sports Camera. I am shooting more video for social media accounts, i.e., Facebook & Instagram while also producing short video clips for this blog. I want sharper resolution and better audio quality. Some of my research results:

Bluetooth Speaker with a built in microphone for Skype calls, however robust enough to support YouTube and iTunes playback.

The sports camera will also need WiFi connectivity for Skype video calls. Most of the newer cameras support this feature with a lot of flexibility in price. I like the idea of being able to clamp the camera anywhere for video calls. My best angle is higher than eye level.

Are you still looking for gift ideas? I have listed new items like Hibachis and Kitchen Flame Torches [I cannot believe how inexpensive some of these are now] under the Home Furnishings & Kitchen Category.

I purchased a Hibachi when I moved into my first home years ago as a young professional. I no longer have the grill- and quite frankly, only used it once or twice, however just loved the idea of owning one.



Saturday, October 29, 2016
I have had a number of issues with my hardware this week, including:
My Android would not auto-rotate.
An issue with new USB Mouse used with my RCA Windows10 PC/Tablet.
Camera Date/Time Settings.
Starting with the camera. I purchased my Canon PowerShot A590 in 2008 and use it almost daily with very few issues. That said, about once a week, I replace the two AA batteries that power the camera.
This morning when I turned the camera on, the Date/Time Set Menu appeared automatically. I thought it somehow reset itself to the factory setting. Resetting the date and time did not correct the problem.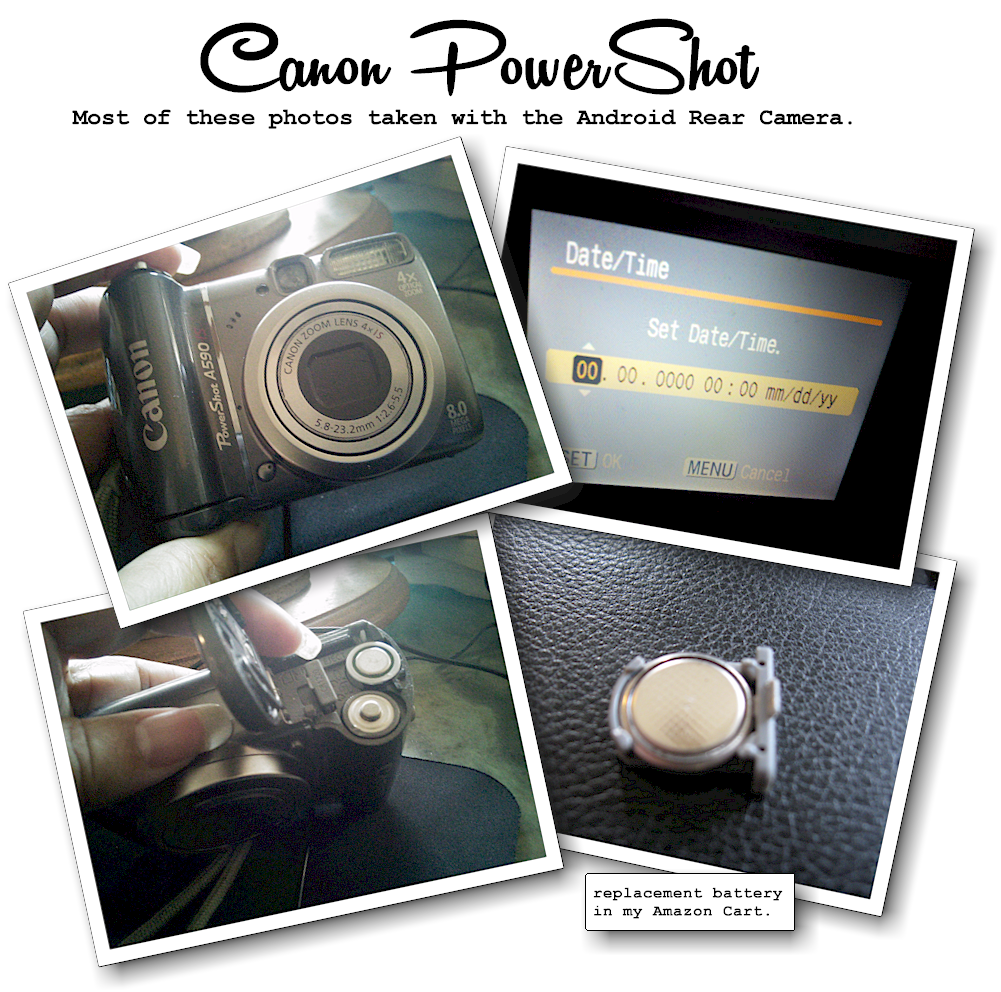 Awhile back, I took out the disc battery and discovered I reset the date/time for the camera-- so I decided it is time to replace that battery after almost 8 years. Easily found the battery on Amazon and since I am in "Holiday Shopping Mode"-- just added it to my cart.
The Android Tablet auto-rotate issue? I researched any number of fixes, including:
Using the Google Now Launcher
Clearing the Cache Partition at the Android System Prompt
I actually installed the Google Now Launcher App, however this option did not work. What did work? I started the Verizon FiOS Mobile App and selected a program to watch in full-screen mode. This worked.
I have had my Android Tablet since Feb. 2015 [2 years in February 2017] and have had very few problems-- even though I "rooted" it. I use a bluetooth keyboard and do a lot of site maintenance, shopping, bill paying and social media tasks with my Android-- so I use it like a mini pc rather than a tablet in that I normally have it in landscape mode. This means I need that auto-rotate mode to work.
Because I "rooted" the Android-- I am hesitant about trying things at the system prompt, the reason I did not try the "clear cache partition" option. If you are having a similar issue [auto rotate not working]-- you may want to look at this option.
And lastly, for some reason there is a conflict with the new USB Mouse and the RCA Windows10 PC/Tablet. I was using an older USB mouse and did not have an issue, however I want to continue using the new mouse so I had to find a workaround. The fix? Unplug the mouse until the system is started and then plug the mouse in.
I have also been researching external power banks for mobile devices. A relative recently purchased a BlackWeb 5200mAh for a trip, however never used the device. I decided to test it.
I plugged it in to my Android about 3:15 pm yesterday. I turned off my Android about 7:00 pm last night, however plugged it back in about 12:30 am this morning. I have been using my Android for most of the day-- including the early morning hours. I update my Amazon Stores in the early morning. About 10 minutes ago [2:30 pm, almost 24 hours later] the BlackWeb power-bank started flashing [indicating the power was low] so I plugged it in to the wall. I think the amount of time I used the external power bank over the last 24 hours is pretty good.
I have added a number of new items to the Computer and Home Electronics Store, including power banks that have been tried and tested. The power banks I have listed are slightly higher in power output than the BlackWeb Power Bank I tested. That said, I think these are great devices.
I am always concerned about the on-board battery life for my mobile devices and these power banks allow me to stay powered without electricity. My Android is always plugged in-- and when its not-- I have about 6-9 hours of battery life using the on-board battery. Even though my Android is almost 2 years old-- I have great battery life because I use electrical power most of the time. If I do not have electrical power-- these power banks will work too-- allowing me to use my on-board battery only when I absolutely have to.
To see all my stores- checkout the list in the upper right sidebar of this blog.

Sunday, September 11, 2016
I know Summer is over because I want to buy new computers and get busy with several business related projects.
I have also been researching every imaginable adaptor, hub, and accessory to ensure I have interconnectivity with all of my existing devices as well as devices I want to purchase.. see here and here.
Recently, I picked up a 4 Port USB Hub to use with my RCA Windows 10 PC/Tablet.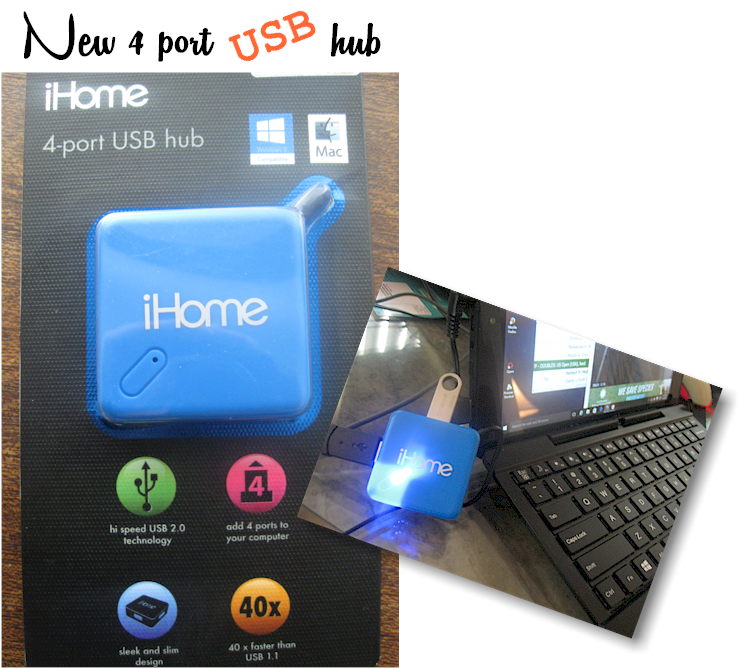 Though the system has both a touchpad and touchscreen, I have found I like using a USB Mouse as the primary input in addition to the keyboard.
The new hub works well. It allows me to connect multiple USB devices while using the USB Mouse.

Tuesday, August 16, 2016
Recently, I purchased an HDMI adaptor to allow output from my RCA Windows 10 Tablet/PC to a High Definition [HD] Television.
The following illustration shows some of the specs of the RCA Windows 10 Tablet/PC. Note the mini HDMI output bullet amongst the features.

The following is a demonstration video using the HDMI adaptor with the Windows 10 Tablet/PC and an HD Television.
Yes, I am still trying to come up-to-speed insofar as video production. I am thinking I need a camera which provides robust audio/sound quality and professional video editing software.
I currently own Windows Movie Maker and [Apple's] iMovie. iMove in particular- a nice package, however a bit dated in that I have the version for Mac OSX 10.4. I do not use either package for the videos on this blog, instead relying on my tripod, camera and me... Re-shoot as many times as needed.
I have read good things about Final Cut Pro X, so when I start upgrading my equipment and software that is the package I will purchase. What do you use?

Saturday, August 13, 2016
We are having a heat wave-- and all I want to do is stay in. I have caught a lot of television programming over the last couple of days.
Included in my viewing:
Friday night, caught the 2002 version of "The Count of Monte Cristo"
Tonight [Saturday], HBO is airing "Brooklyn" at 8:00.
Tomorrow night [Sunday], the latest episode of "Power" at 9:00-- Join STARZ Free Trial.
NBC and their affiliates' coverage of the 2016 Olympics.
Investigate Television & the "Snapped" series
A couple of weeks ago, I "fixed" an issue with a feed on the WiredPages Home page which has been in disrepair for over a year.
No, I have no plans to do more at this time. As I have explained in the past, because of an issue with how I secure my widgets/applications I will not update the applications until I can move the IP. I am not sure when this will happen. This recent "fix" only because it did not have the security feature I incorporate in most of the other widgets I developed for WiredPages.
BTW: Every so often I get requests to have links included on WiredPages. Because I am not maintaining that area [wiredpages.qisoftware.com sub-domain] of the qisoftware.com site-- I simply note the requests however make no updates.
Thank you for your interest in WiredPages. I would love to get started with the many changes and fixes I want to make. Unfortunately legal issues and the security of my code prevents this at this time. I plan to make the site more mobile friendly and make some changes to how I incorporate Java Applets.
Lately, I have been working a couple projects, however the heat and other health related issues have me a little slow about getting things done. I hope to be up to speed by early next week.

Saturday, July 23, 2016
I have had the RCA Windows 10 Tablet/PC for about week, and I have to say "my expectations were exceeded".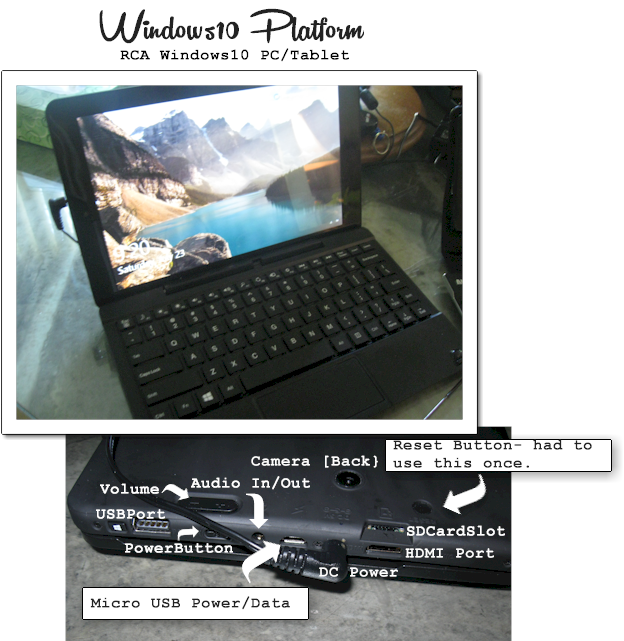 As mentioned, I needed a MS Windows 10 system to ensure my programs worked correctly in that environment and for the price-- I simply could not afford to pass on this option.
One of the areas I check, Java.
The 32GB SD Memory Card arrived on Monday...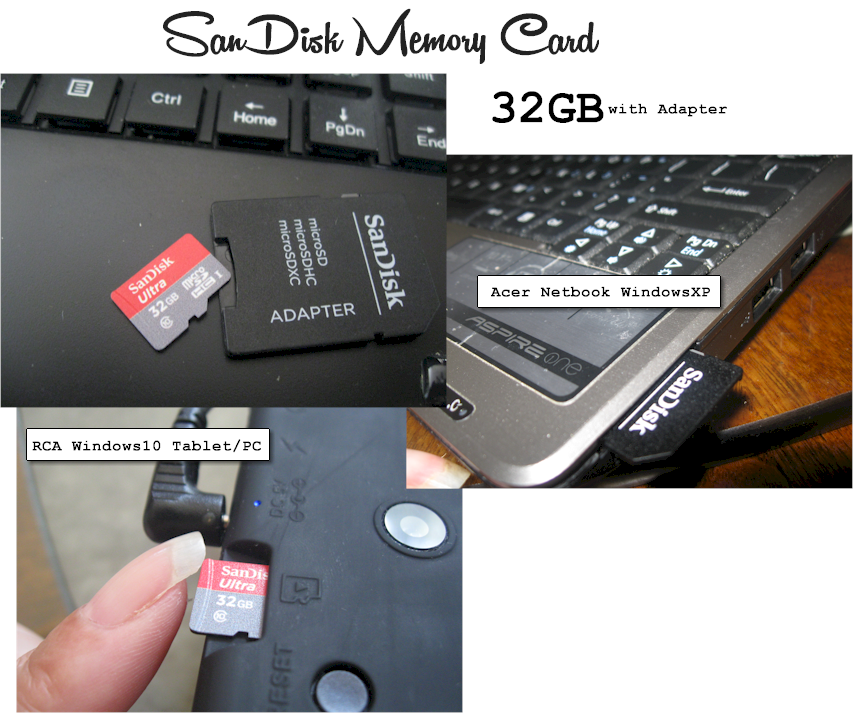 ...so I also installed my iTunes Library and ran a few tests. I had to copy the library from my WindowsXP system and install it on the SD Card for use with the RCA Windows10 Tablet/PC.
I now have several mobile devices, including:
MacBook
Acer Netbook
Nexus Android
RCA Windows10 PC/Tablet
My experience insofar as extending battery life with the older devices is to stay plugged in whenever possible. If I need to use battery power, I allow the battery to drain completely before recharging.
In addition, I calibrated the battery on each device before first use, by fully charging, then fully discharging and finally recharging the battery. This is often recommended by manufactures in their instruction manuals.
I have had great battery life with most of my devices, however keep in mind- I use the device battery, rarely.

Saturday, July 16, 2016
I have been busy this week with several projects. As mentiioned earlier I ordered several items last week, including:
Blank Bank Checks
Memory for my WindowsXP Desktop
Power and Data Sync Cables
Most of the items arrived this week [yesterday], so I have either been installing memory, designing check templates or setting up the new Windows10 Tablet, i.e., printer drivers, every internet browser I can find, etc.
For most of the week, I researched financial software features, legal questions and design issues as related to the use of blank bank checks.
I currently use MS Money to track business and personal finances. I have two checking accounts; a business account and a personal account. I have never ordered checks for either.
I am not sure why I will ever need to use a check, in that my business checking account provides a lot of services, i.e., Direct Deposit, Payroll, etc., because it is a business account. I have had my business checking account since 2004 and have only used counter checks twice over the entire time the account has been in use.
My personal account is a basic checking account, and both [business & peronal] have associated credit/debit cards.
That said, I thought I would design checks for use with MS Money, and discovered after I ordered the blank checks, my verison of MS Money does not print the account information on the checks. This the reason I decided to design my own checks.
I spent under $200 for everything I ordered last week, [not mentioned the 32GB card for the new RCA Windows10 Tablet/PC, however also included in the total amount spent]. My birthday is next week, so I will recoup most of what I spent.

The RCA Windows10 Tablet/PC? I could not be more pleased... It was a good decision in that I do not have a Windows10 platform [mom has an HP Notebook Windows10 in her bedroom- that I fix sometimes, however rarely use].
The new tablet allows me to see all of the issues as related to web and software desgin for that platform. It arrived yesterday afternoon, and I have already started working some of the design issues based on what I now know about Windows 10.
For well under $200 given my career-- it is perfect. No, the new tablet will not travel with me, it is heavy. It will be used as more a house internet tool on the main floor where shown [see above photo]. House gadget? Print recipes, maps, etc. It is always on.
I did install the WatchESPN app for that platform, however could not install Verizon FiOS, so it will not replace iPads nor Androids at this time. Overall there are more apps for iPads and Androids and a lot of the tools we all use on our tablets, are simply not available- for the Windows10 Tablet. Think of it more as a Windows 10 PC for a great price.

Wednesday, July 13, 2016
Recently, I have been discussing issues with my Windows XP Desktop, so I thought I would provide this video of how things look now [while the system is booting].
I have also been working on my Amazon Stores.
Are you ready for the upcoming school year? I have been adding new items like the "Travel Safe" under the Home Office & Electronics Category. I think that looks like a great idea for new college students living away from home.

Monday, July 11, 2016
In April [2016], I posted about the installation of a version of FireFox on an older Windows XP system that would allow HTML5 Video playback.
The system was a little sluggish with the new Firefox browser update so I researched memory upgrade options. Believe it or not the system only had 256 MB of memory installed. I use the system to insure my programs are compatible with an older Desktop Windows XP environment.
It took me an evening, but I found what I needed. My system is a bit odd in that it only has 3 slots and the first two were filled with 128MB memory modules.
In 1997 or so when the system was purchased it came with 128MB and in 2010 or so, I added another 128MB. It had been awhile since I opened up that CPU [to look at memory issues1] and that is why I was a bit surprised by the 3 slot configuration. The system manuals long gone. Purchased from my sister when she moved in 2006.

So in April or May, I ordered a 128MB module from Amazom. For whatever reason the order was never filled. Last week I tried again with another supplier [again via Amazon] and the memory arrived today.
It did not take long to install the module and I am happy to report the FireFox browser is no longer sluggish.
Over the last year and a half I have added the following upgrades to that older Desktop Windows XP System.
Upgraded the operating system from Windows 98 2nd Edition to Windows XP.
Added color laser printing.
Installed RW CD Writer1
Added another 128MB of memory.
I do not think there are any other upgrades I can install on that system, and though I do very little [on that platform]- other than a couple of desktop publishing tasks and ensuring my programs work in that [online] environment, I am happy- I still have the system.
1System board memory location on that system is hidden by drive ribbon connectors and power cords. Last year when I installed the internal RW CD Writer I did not notice nor concern myself with the on-board memory configuration.