Friday, March 03, 2023
Yesterday, I was working on a project which required the installation of a licensed copy of Microsoft Office 365, on the new HP Windows 11 laptop acquired over the holidays.
One of the subtasks involved creating an Excel spreadsheet, which once completed, I wanted to print to an older Brother Monochrome Fax/Laser printer.
I plugged in the USB cable from the printer to the new Windows 11 system and noticed it recognized the printer, however the print driver was unavailable.
Plug & Play was not available for either of my older printers while connected to the new Windows 11 system. My older printers include a Brother 2820 Monochrome Fax/Laser Printer and one of two- Konica Minolta Magicolor 1600W Laser Printers.
How did I resolve this dilemma?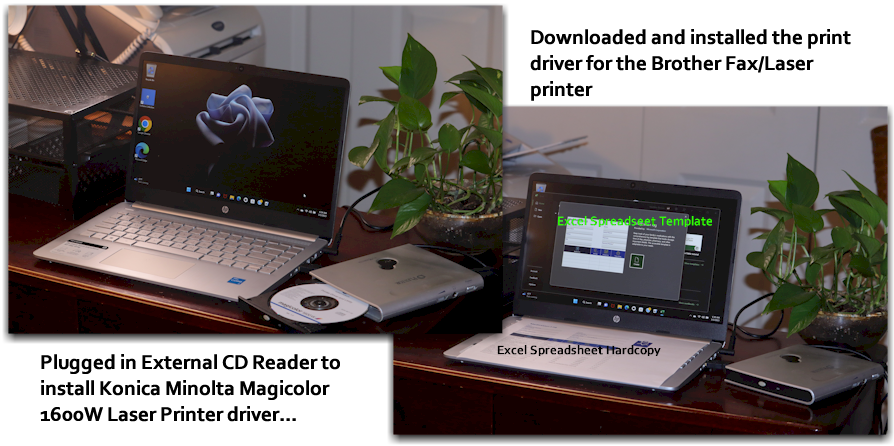 I used the CD disc that came with the Konica Minolta Magicolor 1600W Laser Printer to install the driver and for the Brother 2820 Monochrome Fax/Laser Printer, I downloaded the driver for the Windows 7 platform.
The manufacturer, Brother claimed the Windows 10 operating system came with a built in driver for the fax/laser printer, the reason I had no option but to download the Windows 7 version. Windows 11 is so new (and probably the printer is so old), Brother did not offer a Windows 11 download version for the printer.
Both drivers installed correctly on the Windows 11 laptop.
Why not purchase a color wireless laser printer? Do not use hardcopy print enough to warrant a new printer, however did consider this printer.