Friday, August 17, 2018
On November 29, 2011, I wrote about an incident involving my Celebrity Birthdays Database. The article is rather lengthy, however discusses in some detail how and why I created the database and related Java Applet & Servlet that were used to both update and display the database information.
The article, provides an illustration of the number of records I had in my local [offline] database at the time of the article [Nov. 29, 2011]. The following diagram shows the same illustration side by side with today's record count in my local database.
The data is credible because it was extracted from the Biography.com site. Initially, the data was gathered using a custom program [Java JDBC/servlet] I developed which parsed the biography.com html file relating to current birthday information and added the entries to the online database.
When I first developed the servlet which extracted data and updated the database, I was unaware my server and database were so accessible by anyone who wanted the data. I also discovered the data was being tampered with. That is why on April 29th, 2011 I accidentally, deleted all of the records. I used the "<>" the wrong way. So it really was an accident. I was trying to make the data less attractive.
Biography.com provides an HTML page showing all of the birthdays for the current day. The page also lists separate article links about each celebrity with a birthday on that day.
The custom program extracted each day; the individual celebrity article link, celebrity name, and the month and date mm/dd".
I could have left the program in place, however did not want others to use it so I deleted it. That program only needed to run for a full year. When I manually updated my local database, I did not do it with the program. I would have had to run the tool every day in local mode-- so I manually extracted the data from biography.com using cut and paste. Keep in mind, only the offline database is complete. I purposely left the online version corrupted.
The following illustration shows data in the online version of the database that I recently deleted. The records were deleted because someone inserted records with links to the biography.com html page of birthdays for the day and not the individual biography.com articles about the celebrity. I did not do this nor did my program.
In my current effort to remove all of the applets used on WiredPages, thereby using only servlets, I recently replaced the Celebrity Birthday interface used on the WiredPages Style & Events page to the new program which only uses the Java servlet.
If you do not see the interface that means the online version of the database does not have birthday records for the current day. My offline version does, and periodically I will export the records from the offline version and import them to the online database, as was the case for today, August 17, 2018.
I will install the entire Celebrity Birthday Database to hosting-q.com, when I am able to control who has access to the server. In the meantime, this provides explanation of why the interface is sometimes unavailable.
QiSoftware is a legal business entity and registered in the State of Maryland. When you tamper with my online assets you are interfering with my business ventures. Please cease and desist at once.
As of the entry time of this post-- hosting-q.com is having a problem with the with JSP, i.e., Java Servlet support. This means there are many "Service Temporarily Unavailable" messages throughout the pages of WiredPages, even though the main site, hosting-q.com is available. I host a lot of my programs on the hosting-q.com site.

Thursday, August 16, 2018
In May 2012, after I negotiated a settlement with several parties including the US Government, I was told this horrific situation would end any day. That is still being suggested.
What happened? The explanation given to me-- a far reaching investigation. I am told a lot of government people have lost their jobs. Many lawyers who were not really lawyers-- lost jobs. I am told this investigation has been wide spread.
Still any day, my part in all of this would be over and I could leave. Are there other things going on? Yes. That said, I have stopped posting about the horrific nature of all of this because I do not believe it helps to end my part in all of this. So I continue to wait for the FBI and DOJ.
What may be a mistake on my part? In late December 2017 I started doing a lot of software development work for WiredPages.
I have a lot of new tools I have not installed, however have discussed the development of the tools in blog posts and demonstrations. Seems to be a lot of the wrong interest in my work.
I said no...
Yesterday, we awoke to find one of the cars vandalized. A police report was filed. It looks like two BB gun pellets were shot into the rear window of the Honda.
Abstract noise identified the culprit as the "meth head" daughter of one of my sister's x-coworkers. My sister worked as first a secretary for DOJ, then as an immigration officer and now she is with Homeland Security. I believe she met the girl's mother when she worked at BWI. I provide this data to show why this individual may have access to equipment in this house.
The Federal government updated a lot of their security surveillance equipment with flat screen terminals [similar to those seen in today's crime shows or cia movies] and ordered a lot of older consoles destroyed. Many were stolen. For those of us who have earpieces this can be dangerous. Even considered torture. I did not know I had an earpiece until February 2012.
Have you compared my recent photos with those from 3 years ago?
Bottom line--- too many in Washington are not understanding no. I said no. DOJ and FBI owe. I explain this a lot to those who can hear. Now, I feel I must write it down, again. I said no.
Why would this daughter be allowed anywhere near our home? A lot of folks with Federal law enforcement have consoles with access to our home. Their claim-- because of our ties to a US President and European royalty, this gives them the right to put anyone on a console with access to our home and the surveillance equipment. Can I prove this? No. Am I sure it was her? No. Me nor my mother are a national security issue. The bigger problem-- the number of civil rights issues the government allowed me to be subjected to. Most agree they owe. For some reason they think I want a job. I do not. I want the FBI and DOJ to get these people off me.
This sounds far fetched? Why would I start writing about this again if I am hoping to leave? Because someone does not understand no-- and I said no. The car is going to be repaired-- but things like this should not be happening and they are. I said no.
I would like for the FBI to review the tapes for the access of this family and have them removed-- immediately. I am told that people simply want to steal my software. I am told I am owed a lot.
This is becoming too dangerous and I feel too many with surveillance equipment are the wrong element for these posts. FBI, how do I know she is a "meth-head"? Please get the tapes and get these people off me.
Extortion? Do the big boys understand the laws here? I said I am not interested in a job and to please leave me alone. I am sorry you forced this.
By the way-- a good way to understand someone who has had a lobotomy? They do not drive, or if they do- have too many accidents. You may be surprised by the number who have undergone this procedure.
Why is this important? Underage kids and those who have had this procedure are used a lot to man some of the consoles in this area. They are unlikely to be charged with a crime. Have you ever thought someone sounds a little whack? Do they drive? I said no-- FBI. Not kidding.
Again, I am sorry you forced this. Please get the illegal equipment out of the area and these people away from our property. They do not live here and this is becoming too crime ridden. School is starting again soon--and most of the prostitutes and meth heads were ordered out a year ago.. Why were they allowed back in?
The next post will show how US government employees are interfering with my online sites and business. I said no. You should have understood that. The tapes will also provide details about threats and why my software is desired. I said no.

Friday, August 11, 2017
Earlier in the week, I had problems with the MySQL databases associated with the NS&J Forums and Q's Wire Blog. The forums use PHPBB and Q's Wire is a WordPress blog that is hosted on qisoftware.com. If you tried to access either the forums or blog, error messages indicated there were "database connection errors".
Recently, my web hosting provider upgraded a number of system software services on my server- including PHP. Initially, I thought this may have been the problem, however now I am not so sure.
Somehow the database passwords became misaligned. I am the only authorized user with access to cPanel- [hosting domain management interface] for both domains [qisoftware.com & hosting-q.com]. So, it appears these errors were caused by someone's deliberate actions and no, I do not think it was the web hosting provider.
After realigning the passwords, I requested full- backups of both sites.
I also fixed the Blogger Calendar's servlet for Q's Wire. The screen-grab captured using a WindowsXP system running Firefox browser version 43.0.1 (the reason the applet works without any special security updates to the system's Java control panel).

I installed the Blogger Calendar in the current version of Q's Wire's template for this demonstration only, however if you view the source for any page of Q's Wire, you will notice the "commented out" script for the Blogger Calendar.
What else have I been up to?
Shopping online for a birthday present for my sister. I am pretty happy with my selection and picked two from my Gift Ideas store.
Updated Business Tools I Heart post, on the Remix Blog.
Other minor domain issues with qisoftware.com. Email spam options also affected by someone's deliberate actions. Also, changed the domain hosting password.
Rogers Cup Tennis
STARZ's "Power" series.
Arundel Mills Cobbler to have a pair of heels repaired. Liked this experience, 20 minutes my shoes are ready.
Social media tasks for the Hanover Maryland Businesses, Facebook page.
It was not all bad this week, in that the problems were resolved quickly. I was also happy to boot-up my Macbook and work on software code issues. I miss working software development issues...

Monday, March 20, 2017
Wednesday, March 01, 2017
Last Friday, I finally had news about my state taxes, that I am not sure about nor pleased with. My request for a hearing was ignored without explanation.
This post, simply to publicly note my objection.

Tuesday, January 31, 2017
Recently, I updated my résum&eacute. I also found a position on indeed.com that I applied for, but more on that later.
This post, I simply want to explain why over the years my linkedin.com résum&eacute reads more like a summary of my skills, however also offered links to WiredPages and other site areas which provided real examples of the type of software support and web design I offered.
I felt a widget was worth a thousand words-- or a least a two page résum&eacute of detailed work experience.
Over the years, I received a great many accolades for the work I did on WiredPages, however because of security issues-- I do not now maintain the site online. That said-- I do have the code and can easily recreate the many widgets I custom designed and developed for the site. That said, I repeat- I really need to move the site to a more secure hosting platform.
Late in my tenure with Rockwell [my last position as a defense contractor], we responded to a RFP from the Navy. I have working [draft] copies of several of our résum&eacutes which were completed/updated and submitted to the Navy [on earlier RFPs too]. The illustration below shows part of my draft résum&eacute-- and that of John Newcomb's, the program manager. Yes, I would have also been part of the staff providing input for our submission to the RFP.
Why am I providing this information?
Preliminary data, for a later post [that I really do not want to write].
There was a lot of abstract noise when I recently, uploaded my detailed résum&eacute to indeed.com. The "I did not know that"-- should not have been coming from the sources I was given. I also had immediate responses to the résum&eacute which if needed, I will also provide.
Question as to who doubts my credentials even at this late date.
Provides a timeline that can be traversed and found credible.
Provide a bit of discussion on why my résum&eacute reads as it does.
Indeed.com has the detailed version of my current résum&eacute. I am hoping I will need no further entries on this topic-- however may in the future, post photographs of my actual résum&eacute.

Saturday, January 28, 2017
Thursday morning, I was notified that my State Tax Return had been accepted by Maryland. Yesterday afternoon I checked the online reporting site for the status of the refund.
I was a little surprised and upset to get the following message...
In early January-- before I received the "Important Tax Information" for a revenue account, I hand prepared the Maryland State Tax Return. After getting the tax information, I had the online version of TurboTax generate both my Federal and State Tax Returns. Both returns submitted, showed the same results as those provided in the earlier "draft" versions.
Quite frankly, my returns are so easy-- because of low income- it is hard to make a mistake-- and all versions-- both mine and the final TurboTax submissions, agreed.
I was so upset yesterday evening, I posted a new entry to Q's Wire something I have not done in just under 2 years.
I know the Federal Refund reporting site updates their records around 3:00-3:30 am every morning, so I checked this morning and found my Federal Refund was approved [yesterday] and will be deposited to by bank account in the coming days.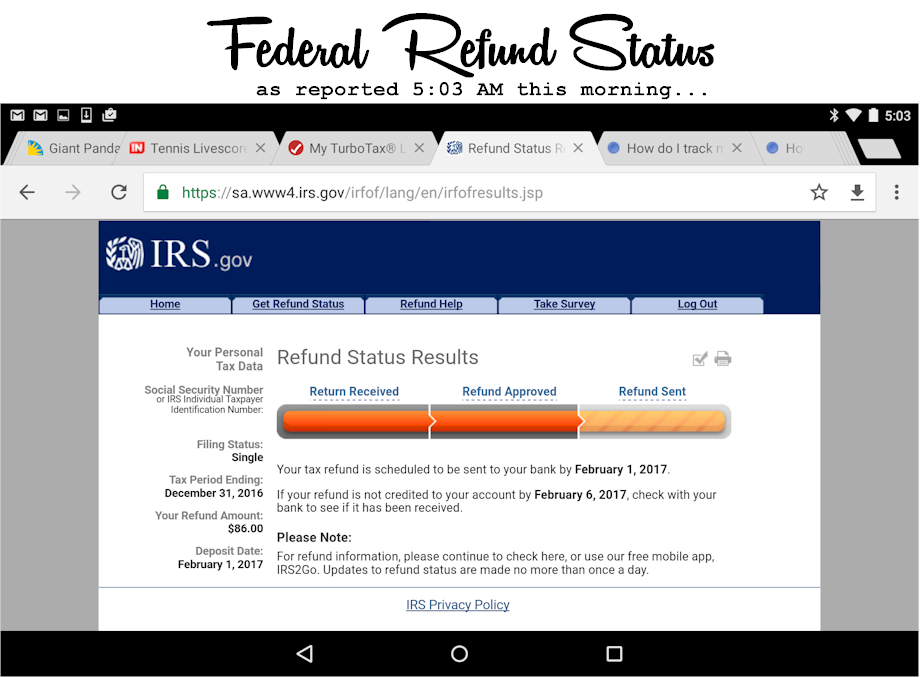 I have not received the letter from Maryland describing the problem, however I do have phone numbers and know how to file the appeal.
That said, if the IRS had no problems and both my versions and the official TurboTax versions lined up-- I cannot imagine what Maryland is doing.
Abstract noise? You do not want to know. It might suggest to many in government continue to think my situation is some sort of game. It is not.
How much noise did I make over the November 2014 Jury Duty? Faxes to the FBI, State Sheriff's Departments, US Attorney in Maryland, and a State Judge. Most know the ongoing issues with my case. I have been very open in my dealings.
Feds tell me there is an ongoing investigation. Why would I try to cheat you? I would not. This should not be the same crap that has been going on. Yes, I will find out Monday what the problem is-- however, as I have indicated-- I am too transparent for this not to be-- black is black and white is white. Why would this happen?

Wednesday, December 14, 2016
This week, finally put up the holiday decorations.
I have been busy with various projects and wanted to wait until a bit later, however the guest bedroom was being overtaken by presents.
Earlier in the week, I had a free moment to go through the boxes in the basement and I found my Mother's decorative plaid ribbons from years ago. I decided to use them on the tree again, this year.
Hope your plans are going well. FBI-- there is a problem. Please check into this.

Sunday, October 16, 2016
Last Thursday, while changing a light bulb in one of the lamps above the garage doors, I missed a step on the step-ladder and briefly lost my balance. I was also trying to avoid the hose caddy I left sitting right next to the ladder-- so when I stepped off [skipping the lower step] I saw the hose caddy and this caused more of a scare. Somehow I picked up the ladder in this balancing act-- and was finally able to gain control of both the ladder and me without harm- or so I thought.
Long story, short-- though I did not realize I strained my left knee during this balancing act-- I must have, because I have been hobbling around for the last 3 days. The pain did not start until several hours after the incident-- and that first night I was in excruciating pain. Almost impossible to walk without support. Today, is the first day-- the knee feels almost normal again.
Because of this, I have been either in front of a television or working on a computer for most of the weekend.
What have I been up to?
Shown in the photo above-- the Washington Redskins game is on.
Movies: "Insomnia" and "Manglehorn" both w/ Al Pacino and "Joy" w/Jennifer Lawrence and Robert De Niro.
Taking photos of my Fall Gardens... [see below].
Watching the new cub twin pandas at the Atlanta Zoo
Shopping for gifts. My mother's birthday is next month and of course, Christmas is coming. I always start researching this early in the season because [1] I order most things online and want to make sure I have time to return if I make a mistake and [2] I like researching for my Amazon Stores.
My Fall Blooms... [referenced above].

This year, I seem to think I need big ticket items and have added them to my Just Want category, however have added what I think are nice ideas [with lower price tags] under the Gift Ideas category. Are you spending big this holiday season?

Sunday, September 25, 2016
Like most, I have more [combination of personal and business] expenses between September and the end of December- than at any other time of the year. This in part, due to holiday spending and an annual web hosting bill for hosting-q.com. QiSoftware's [qisoftware.com] domain web hosting payments are quarterly.
I currently use Microsoft Money [Sunset version] for both personal and business finance management. Below, an itemized listing of some of my recurring business expenses/bills that are stored within the application. This allows for easy insertion and debit from the specified payment account[s] when the bills are paid.

Since in recent weeks I have had a number of both scheduled and unscheduled business related expenses, rather than provide copies of the bills I paid [as I have done in the past], I thought I would provide the MS Money illustration.
Unscheduled Business Expenses....
New USB Mouse for RCA/Windows 10 platform
New Blue Tooth Keyboard and Case for Android
Yes, running my business costs and I still have a number of legal issues. This just a reminder for law enforcement jurisdictions, i.e., FBI, DOJ.
What else have I been up to?
Updating Amazon Stores-- See upper right sidebar.
Tonight: Season Finale Starz's "Power" Series
Photography...
Minor adjustments to this blog's template.
Thinking about all the business related tasks I want to do with a new Mac Mini and trying to justify using credit. Would be another unscheduled business expense.

Monday, August 08, 2016
Since my last post, I celebrated a birthday [actually I have posted since my birthday, this morning's activity caused a rethink on what I should have posted]. I was actually not feeling well on my birthday [bad case of vertigo], so these photos were taken the following week.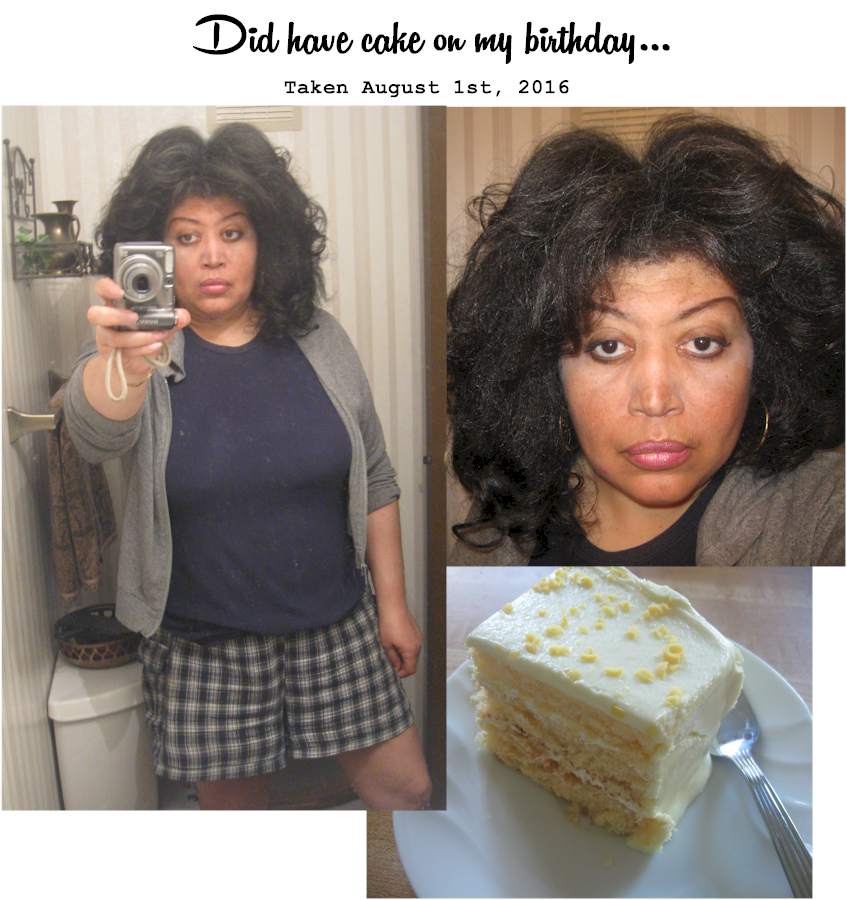 A month ago, I contacted a local cosmetic surgery center to inquire about removal of hearing implants. The cost-- $1395 each. I really need to have this done with a lawyer present, so I will have to hold off for now, however I believe part of my vertigo issues are being caused by the devices.
I have found ice greatly degrades the performance of each device. If you too have experienced vertigo caused by hearing devices-- you may want to try this solution or contact a laser surgeon.
Hearing implants are very popular these days. They are placed on the nerve in the inner ear-- and certain frequencies can reek havoc with their operation. Mine were implanted without my knowledge-- and I need a lawyer to insure legals issues are not swept aside.
Over the years, my mother has also experienced vertigo-- to the point of being taken to the hospital [BWMC].
I am hoping that alternately freezing and then allowing the device to defrost will eventually render all of the transistors dead. I have had a lot of success since the week of my birthday degrading the functionality of the hearing devices.
Abstract noise provided, the week of my birthday local authorities were contacted about issues some with hearing devices were experiencing. I am told there is a deaf person in my area. If you have a HAM radio you can listen in to some of the activity. I am not going to provide my earpiece tune in frequency, however many have it.
I have not posted about things like this in awhile. I think, some using the consoles in this area have no idea how bad this feels and I want there to be no misunderstanding about what these non-professionals are doing. Too many without even a high school education think this is a game. It is not.

Sunday, July 10, 2016
I eat in a lot. I never cooked before moving to Hanover and quite frankly do not mind preparing my own meals.
I rarely have breakfast unless working out and because all of my treadmills are in need of repair- I am doing very little of that these days. That said, today I had a mini bagel for breakfast and then a hamburger and fries for lunch.
I am kind of surprised- I have become quite handy in the kitchen.
It was a quiet week, last week. I celebrated the fourth with foods I love and mostly waited for Wimbledon matches to either begin or continue play. Weather in England was wet for most of the first week of the tournament.
Family rolled back into town on Tuesday and Wednesday I was over at one of my banks making a deposit [the old fashioned way, i.e., non-direct deposit].

Do I shoot video everywhere I go? No, however I do not get out much and when I do- I tend to take a lot of photos. The silly little video above? The bank tellers at that bank used to see me every week, this since 2004. Now it is only once a month, since 2015.
Since I am discussing financial issues, last week I ordered credit reports. You may recall in October 2015 I posted about My FICO Score.
The following month [November 2015]-- the score dropped to 690 [was 786] and then back up slightly to 692. Abstract noise suggested that the events of June 2012 were used to force this. I use credit and my banks wisely.
Abstract noise also provided that the negative item would be corrected since everyone agreed 2012 should not have happened. I ordered the reports to confirm it was what the abstract noise provided was the culprit. It was.
I expect this correction at any moment-- I am told the FBI and DOJ have looked into it. I am also told the same Maryland government employee that put a temporary hold on my business bank checking account in May 2012, shortly after settlement agreements were negotiated, was a motivating force behind this error on my credit report. At first she claimed to be a States Attorney, however later identified as some sort of investigator out of Annapolis.
Since December 2015, the promise this would be corrected, has been verbalized through abstract channels. I check every month. I am not sure why this correction has not taken place.
Other things I have been up to?
Movie: Black Mass w/ Johnny Depp
Wimbledon
Working on my Amazon Stores
Ordered some things, will discuss later.
Even though I was told the reason for the FICO Score drop and that it would be corrected, I was a little angry [this week] to see it actually in the report. It took a day to get over it. I am only surprised I did not post about it earlier in the week.

Tuesday, April 12, 2016
Within the last 21 days I have remitted payment for several business expenses including:
Skype Quarterly Payment for Business Number [443-393-6650]
Skype Annual Subscription Unlimited Calling U.S. & Canada
Domain Renewal qisoftware.com
Verizon Wireless Cell Phone [301-xxx-xxxx]
For legal reasons, ever so often- I remind the public, DOJ and the FBI that I do make these payments.
Skype receipts [business line]: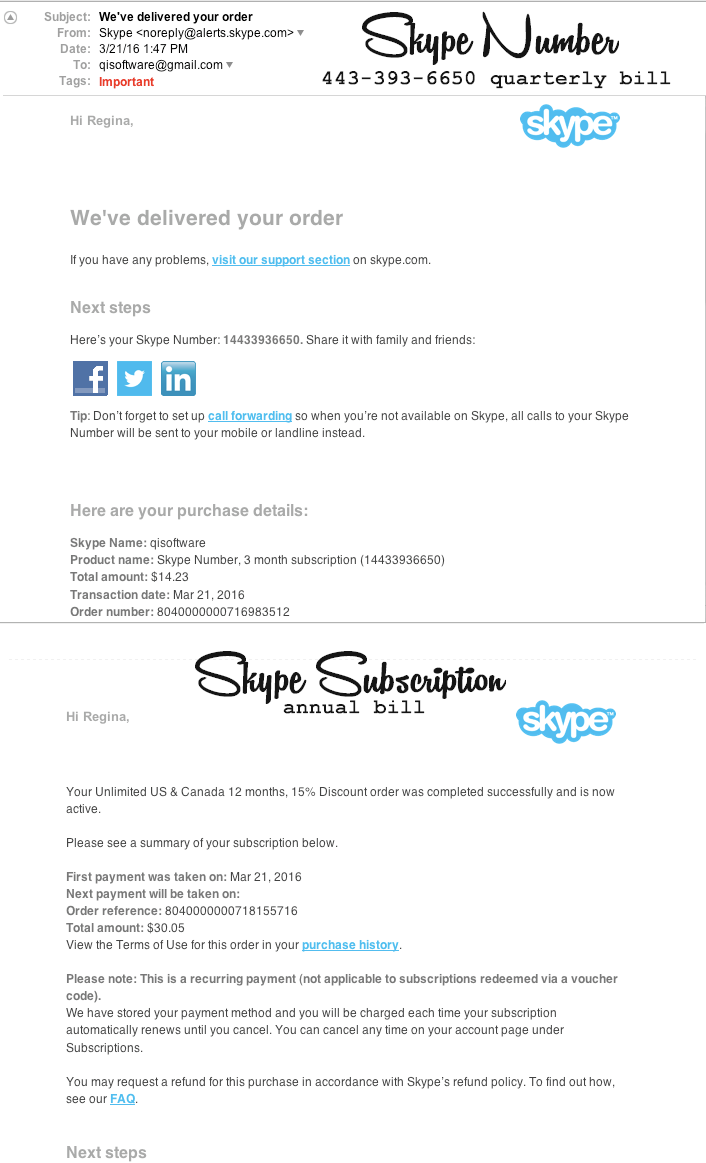 NetworkSolutions receipt [qisoftware.com domain renewal]:
Filed under legal notices. I seldom receive business calls. Abstract noise provides; some delete qisoftware.com domain log files and others answer telephone lines. FBI indicated there is a problem with interference with my business line. My telephone log files show the few calls I receive. Abstract noise provides the FBI thinks the router maybe redirecting the calls. Not sure what is true. I have repeatedly asked that since I do not receive my own calls, no one else should either.
Note the NetworkSolutions receipt shown above. Do you see the little Skype icon with the check mark in the upper left corner?

I use my Android night and day. Because Skype can wake my Android, I keep the device nearby at all times. The calls I do receive tend to be from overseas companies who wish to partner with me, i.e., QiSoftware outsource its business overseas. I get about one call every quarter. I decline these offers.

Sunday, March 13, 2016
Did you set your clocks an hour later before going to bed last night? This task was mine this morning. This included the Grandfather clock that has to be set counter-clockwise, i.e., move the big hand back eleven hours.
This week provided a preview of Spring-like weather which I was very pleased about. So was Bei Bei, the Panda Cub at the National Zoo. Of course, this would be his first experience to climb a tree in Spring. And boy did he climb.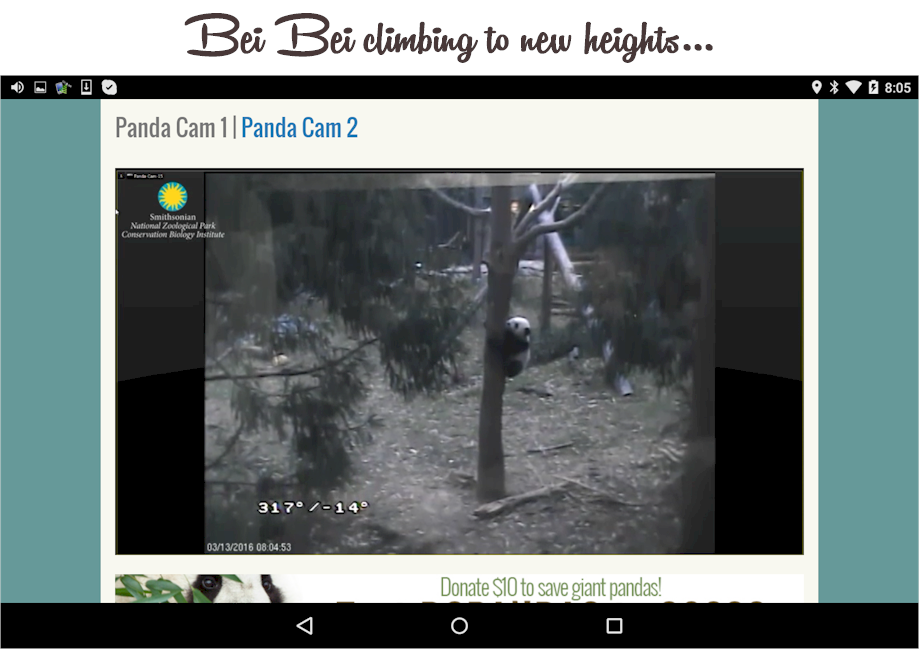 Spring emerging around here...
Issues that came up last week?
In 2012, because I felt there was an ongoing full investigation into my affairs, including my business- I removed instructions that blocked a lot of IPs from accessing qisoftware.com. Why would anyone do anything malicious while the FBI and DOJ were on the case?
The IPs that were being blocked through early 2012, according to my domain stats- were initiating a lot of bots that caused too much "false traffic".
Yesterday [Saturday], I discovered that one of my cgi programs was being exploited, so I installed the instructions that blocked the set of IPs causing the new problem along with the earlier instructions for IPs I was blocking through early 2012.
This should not cause a problem for most, however if you are experiencing issues accessing qisoftware.com from different locations-- this is offered in explanation.
How malicious was this? Unbeknownst to me-- the problem started in late February 2016 and used up over a 100MB of disc space. Internal emails to the domain account, which are not sent--explaining a quota problem. FBI-- you are there right? Yes, this problem was mine-- however this was too malicious and in "your" face, too. And, I solved this problem long ago... What are we investigating, now?
In other news, we are having a spring shower today.
This week I also watched "Babel" via FiOS' onDemand and several tennis matches.
You may have noticed, I post more infrequently now, so I tend to discuss often unrelated topics in my weekly posts. I have always blogged as if I were writing an online diary so this is really no different, just less often.

Monday, February 22, 2016
Every three months, I pay the web hosting for qisoftware.com. This year, the domain registration will also be extended which is currently due to expire in June 2016. I have had the domain since June 2002.
Every now and a again, I like to remind everyone-- that I pay this bill, along with my Skype business phone line & subscription, Verizon cell phone, Maryland business registration, my business address [in Columbia, MD], domain registrations for not only qisoftware.com but also hosting-q.com as part of the myriad of business expenses I incur to be in business.
Several years back, The Department of Justice sent a letter to my business address in Columbia. I still have the correspondence. What does this mean? Not only does the State of Maryland recognize QiSoftware as the legal business entity I own, but the Department of Justice also knows who I am.
This, just a reminder....

Thursday, February 18, 2016
I slept well last night. This is the first time I have been awake at 6:30 am in the morning and felt fully refreshed. I was asleep by 11:30 last night and slept straight through until 6:30 am. This is rare these days.
So I laid in bed, checked overnight and early morning results for tennis tournaments I am tracking, added two items to my Amazon wish list and researched a brand I recently referenced.
Anyway, so after I got up about [7:00 am], I went downstairs and made these Buttermilk Belgian Waffles, bacon and sausage for breakfast, unloaded the dishwasher then loaded it back up.
Here's what I look like this morning, except where noted.
I then gathered the trash for pickup tomorrow.
Gathered my dark clothes for the wash.
Also, took photos to show the current state of the tasks I am working this morning, including these.
Now why would I do this, i.e., take photos of the mundane tasks I have this morning? Well FBI, why would I do this? Yes, I want this morning flagged. Please get the tapes so we all understand.
Yes, horrific issues that have been ongoing for awhile were held at bay last night, however other issues still on the table. This morning, I remarked-- now that I am not in pain-- I can complain about issues still remaining. I thought someone threatened me again. Do you have the tapes?
FBI-- why do I have to layout my mundane morning in this manner?
It's 11:08 am and I am going to layout the photos for this post. All taken this morning except where noted.
FBI, do I look incompetent? You do know that all of the work for QiSoftware and my online interests is mine. I can also prove this. Why are so many under the impression I am incompetent? Don't believe me? Get the tapes from this morning.
What did you have for breakfast? Is your kid in school learning to solve for X? I learned in middle school. Get off me. I graduated with a four year degree in math... I repeat, get off me.... Because my mundane household tasks are not done? I can assure you, there are. DOJ-- I said no.. I really need you to shut this crap down.

Saturday, January 16, 2016
Out of bed at 12:20 pm today. Asleep by 10:45 pm last night, up again at 4:07 am this morning [not on purpose, however watched part of the ATP Sydney Final]. Then up and about after twelve noon. This is very unusual for me. I feel rested now, but it was a hard morning.
Anyway, tomorrow evening I plan on watching several of the early round matches from the Australian Open via ESPN.
Of course, since the Australian Open is one of four Grand Slams, prize money is higher than that for most of the other types of professional tennis tournaments. Australian Open prize money [AUD currency] break-down and points for the 2016 tournament: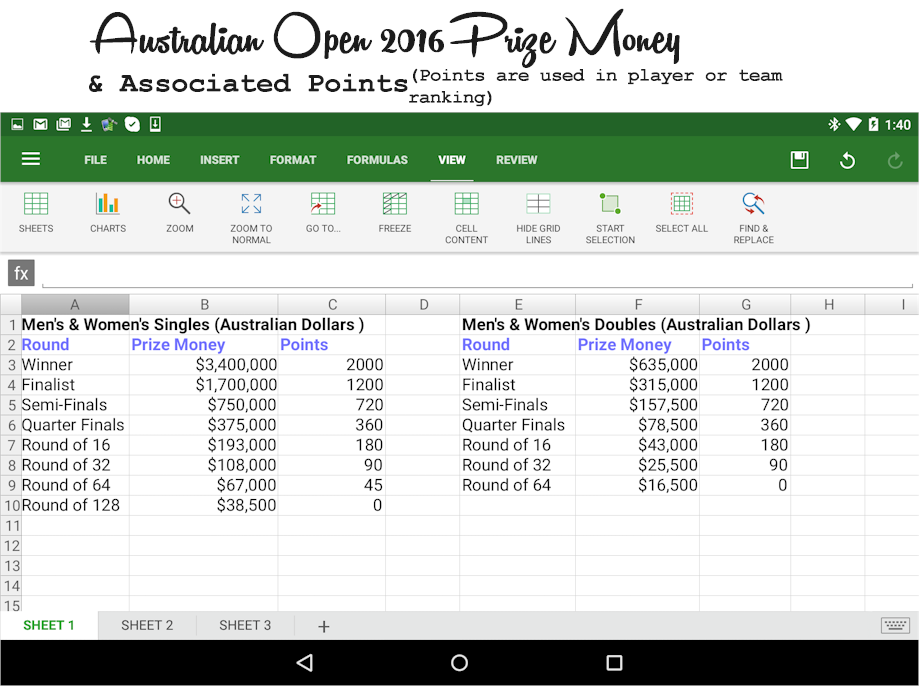 Shown, screen-grabs of the 2016 Men's Singles Draw.
Use the links below to print or save to file- this year's draws you wish to track.
The prize-money spreadsheet shown above was created using the OfficeSuite Pro App on my Android.
You can find the specific OfficeSuite Pro App for your device using one of these links: Apple App Store, Google Android App Store
Initially, I installed the non-Pro version of OfficeSuite, however found I could do more insofar as staying compatible with Microsoft Office Suite Tools and their file formats by upgrading to the OfficeSuite Pro version.
Here are the links for the non-pro version of OfficeSuite: Apple App Store, Google Android App Store

Thursday, January 14, 2016
Lately, I have been so tired that I have done very little. Over the last two days, I felt pretty good, however the seven days prior- too tired. Too much noise at night that I cannot escape from. FBI, I need relief from this, in that it is beginning to amp up, again. This is too invasive, too hard and too unfair.
That said, I did get a couple of things done. My Mother and I, both have extensive brass collections and when we combined them-- those collections became even larger.
I have discussed the set of brass fish in the main bath before, however earlier in the week I finally found a set that is very similar so I added it to my Amazon Store under the Brass category.
What have I been doing since waking this morning [out of bed at 9:00 am or so, this is late for me]:
Paid my Verizon cell phone bill
Lunch
Updated the blog I maintain at qisoftware.wordpress.com with my Gravatar photo. See note below.
Noting the Oscar News and posting to my Tumblr account.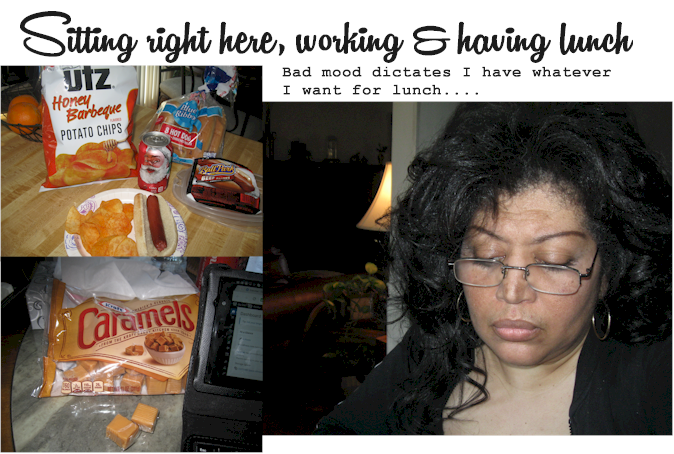 You may have noticed, more of my accounts [i.e., Facebook, Instagram, Patch, about.me, blogher.com, etc.] are now using the same profile photo. The photo was taken in the Summer of 2015 and originally posted in this blog entry.
The Australian Open begins Sunday, so this morning I also captured the screen-grab shown below. ESPN and the TennisChannel will be carrying a lot of the action.
Of course, most of the live action can only be seen between 8:00 pm and 6:00 AM Eastern Standard Time.
The fact that I been watching some of the early action from other down-under tournaments, these last two weeks- have anything to do with my lack of sleep? No. See the photo from the last post. I am extremely tired in that photo. It was taken last Saturday, January 9th, 2016. Compare the photos from August and last Saturday. Both are untouched. I have complained about being tired before. A photo of me taken today [where my eyes are lifted], does not look as tired. Why is this still happening? What really bothers me? I was so tired, but could not sleep. Then at last Wednesday, no problems. This morning, I slept because I stayed in bed late. The problem has been ongoing since about 4:00 this morning. I need this to go away... Please look into this. I am too tired with this constant hammering.
Could someone check with old prison guards. My earpiece was put in sometime around 1995. I am told they stopped using that version because it was too dangerous. I am being tortured by crazy people. Please check.
There should be tapes, that show the constant drum on my heart can cause me to fall asleep within hours of my waking. There should also be tapes of the constant hammering that keeps me awake at night. This is not on my heart. Massaging my heart puts me to sleep. Should a console in a house within a block of me-- be able to do that?
On tuesday, I could not sleep and yet I could barely keep my eyes open. Please listen to the idiots doing this. I never left my bedroom the whole day. This is dangerous and idiots are doing this... Please listen.

Sunday, January 10, 2016
I know, you have had your Instagram account for so long that my newbie research in this area- tends to suggest I need to get a life. That said, I am having fun playing around with this resource.
I have been researching how others are using their accounts. Recently, a Blogher article suggested ways to use Instagram as an advertising tool, however I have not gotten that far.
I simply take photos of every day things I see-- or, thinking about. For instance, one of my recent photos was of a Verizon FiOS remote. This because, at the time I was looking into issues related to my Android and FiOS Mobile television viewing.
I was out Saturday, and took these photos with Instagram in mind.
I have also been thinking about videos, however have not come up with anything I can post online. I am making Enchiladas one day this week-- however I don't think I am going to video myself doing this. Maybe photos, in-line with what I normally do when I cook and post online. I also found this great app which allows me to post Instagram images, I like to my Tumblr blog. I think I am going to be doing a lot with my Instagram account.
I have also been thinking about minor changes to my upstairs office. I used to work in there all the time-- however rarely these days. Well not since I decided to go mobile with my Macbook in 2008. Purchased my Macbook in January 2008 and we went broadband with Verizon FiOS Internet in March 2008. I tend to work from anywhere, but mostly downstairs in front of a nice view of the backyard or in bed.
The minor changes? Adding my diplomas and awards to my office walls, like lawyers tend to do. They call theirs "I love me" walls, this according to one of the attorneys I met with in 1995.
I used to have a Rockwell award on one of my office walls at work-- however, I can no longer find my "Engineering Excellence" award, or the Cup, but I do have an anniversary pendant. I never installed my diplomas and other awards in offices outside of the home.
Does it always seem as if I am always making a case? Just in case I need to prove something?
Anyway, Saturday when I was upstairs working, I also took photos of me in the office.
I am planning a full week of new projects and more Tennis. The Australian Open, a Grand Slam begins Sunday, January 17, 2016 for us-- for them its Monday, so I plan to catch a lot of that.

Wednesday, December 02, 2015
I went out Monday, to the airport [BWI] and other places in the area. Just wanted to get out. First, I went by the Observation Park [see image below], however there was nothing to observe. When I went by the airport departures terminal-- it was oddly quiet too.
When returning, I saw the results of what appeared to be a bad accident at the intersection of Dorsey Road and Rte. 170. Other than that, it has been a quiet week. The sight of the accident bothered me.
I have not been out since. I continued baking this week- using the leftovers from Thanksgiving. I had extra cream cheese and bananas [that were quickly ripening] so I decided to make Mini Banana Nut Loaves. [Photos below taken yesterday].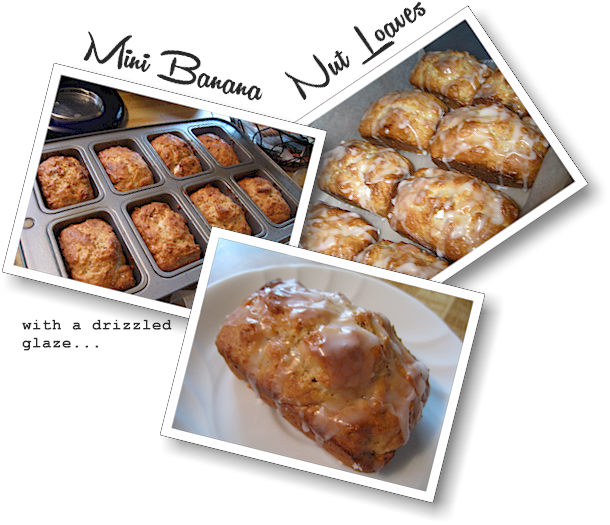 My recipe requires:
All Purpose Flour [2.25 cups]
Bananas [2 large overripe-- mostly black skins]
Cream Cheese [8 oz]
Sugar [1 cup]
Eggs [2]
Butter [quarter cup]
Baking Powder [1.25 teaspoon]
Baking Soda [.25 teaspoon]
Walnuts [1 cup coarsely chopped]
Icing Glaze [Confectionery Sugar, Water, White Sugar, Almond Extract]
In a separate bowl combine the flour, baking power, baking soda and nuts. Mix the cream cheese, butter and sugar. Add the bananas and eggs to the cream cheese mixture. On low, mix the dry ingredients with the cream cheese mixture until moist.
Coat your baking pan with baking spray. Bake for 35 minutes, in a 350 degree preheated oven if making mini loaves. Bake for about 1 hour and 10 minutes or until cake tester comes out clean for a single large loaf.
I keep the loaves in a sealed container until ready to eat. There are good warm so drizzle your glaze right after they come out of the oven [remove loaf/loaves from pan]. Let sit for 10 to 15 minutes after you drizzle, then dig in. If much later, put in a 1100 microwave for 15 seconds or so.

Wednesday, October 14, 2015
While researching for a project, I noticed some thumbwheels taken in November 2014. Here is one of the photos:
I have started aging more rapidly and though in the past, this would have never bothered me, it does now. Why? The reason. I believe it is due to a lack of sleep.

Sunday, October 11, 2015
One of my credit card issuers offers free FICO® Score reports. In June 2015, I noticed that the free report indicated I had a score of 689 or so. I do not have a screen-grab of that earlier report. The reason for the score? The report indicated a lawsuit might be pending.
Privately, I am told too many with power try to affect issues related to my financial picture-- however the Feds are keeping tabs. I have never been served with a civil [nor criminal] lawsuit, personally, or against my business, QiSoftware. Nor is there any reason I know of, that anyone may have to sue me, or my business.
That said, yesterday when I checked the score again-- the results were better.
There is now- no indication that a lawsuit is pending.
Other things I have been up too?
Updating my Amazon Stores. Also check out this store.
Researching a new recipe. Let me know if you try this. I want to- too!
Washed a lot yesterday, including my hair and a goose-down comforter [came out okay, my hair is kind of having a big/bad day-- show you tomorrow.]
Watching the NFL; Washington in Atlanta [right now].
Watched some of the recent Tennis finals in Asia [this morning].
Watching the new episode of "The Affair" tonight on Showtime.
Washington v. Atlanta: 7 to 3- Washington in the 3rd quarter. Going to finish watching...

Wednesday, August 12, 2015
In December 2014, I paid off the only credit card I have other than my debit card. For years, I paid $50 per month on the total bill with the high balance never over $1500. I mainly used the card to purchase necessities for my business, i.e.,
Macbook purchased from Apple in 2008
Canon PowerShot A530 Camera ~ 2008
Western Digital External Hard-Drive
Car Accident-- new bumper and battery [non-business]
Hotel stay July/August 2012 [non-business]
Now, because I do not carry a balance I use it more often, as I prefer the security features of the MasterCard as compared to my debit card [which also looks like a major credit card]. The MasterCard has a lot of fraud protection whereas my debit card is tied to my checking account. The debit card also has a credit limit--- but I never use more than I have in the bank.
Paid off? What this means? Since High School, I have worked [part time, fast food, internships in offices through school, etc]. Then it was work [part time] and college [full time]. Then corporate America as a Defense Contractor. Since, High School, whenever I walked out the door no matter where I was going-- I did my hair and makeup.
When all of this began, I stopped wearing makeup unless I was going out. I also stopped doing my hair-- just a ponytail [unless going out]. The reason? I really could not afford the makeup I used and I had to save it for when I was going out. I used to also work out quite a bit-- so hair and makeup were wasted.
Earlier this year, I started setting my hair every night. Because I paid off my credit card in December, I also decided I could once again afford makeup. Even if I never go anyplace. I have worn makeup since high school and quite frankly-- look better with it. These days, if my hair and makeup are not done-- I think I forgot to get dressed. I have only left the rollers in [all day] once and will never do it again.
Today, I did my hair and makeup, watched some of the Rogers Cup Tournament after my mother left for her luncheon and made lunch. I also thought about sending the RSVP for the Wedding. No, I am not going.

This morning, I awoke in a bad mood. [Bren-- I said no. I mean no.] I have been in a bad mood for most of the day. When my mother returned home-- she had the BabyBell Cheese I wanted to try [Costco had a good deal and I think its wonderful], a watermelon and Land-o-Lakes Whip Cream for my morning espresso. I am in a better mood now. That said, writing helps me. I wanted to scream a lot today. There is so much I want to say. Time to move on.... and really. Please let go. I said no-- and I am really not kidding. FBI-- serious conflict of interests and rights violations continue. I said no.

Tuesday, August 11, 2015
I have been working several projects since I last posted, including what to do about my sister's birthday. Of course, as many of you are aware- I have limited funds. When will this end? Not sure, but I continue to do the things I have always done.
For various reasons, I do not see most of my extended family, but do see my mother and sister. My brother was over Sunday, helping my mother with one of her yard projects- but I do not see him often.
So every year this time-- I wonder what to get my sister for her birthday. This year it is an assortment of plants. Typically plant gifts range from $50 to $100 depending on the arrangement, and that is a little too steep for my budget. So, I found an assortment online, along with a planter and decided to make it myself.
About 12 years ago, my niece [she was about 3 or 4] and I put together the arrangement shown in the first photo below [sitting on the mini bar]. We also gave her [my sister] an arrangement for her office which I am told she no longer has. So I am not sure how long she will keep this one.
I keep potting mix and decorative stones on hand. I may add clippings from one of my many pothos plants, I am not sure yet. Warning, this project could become expensive quickly, if you are not already a natural plant lover. What else have I been up to?
All last week, watched the Citi Open Tennis Tournament in Washington.
This week, started watching Canada's Major Tournament The Rogers Cup.
Researching Vernon, CA as my research provided it was the basis for this season's True Detective series. The finale for this season was Sunday night.
The finale for STARZ's Power series is this coming Saturday night.
Researching and photographing Hanover, MD Businesses.
Updating my Amazon Stores.
Insofar as professional tennis is concerned, August is a big month. The Rogers Cup, and Cincinnati's Western & Southern Open are majors [men's champion for each, over $650,000] which proceed the US Open [one of the four Grand Slams-- men's champion $3,300,000] in New York starting on the 31st.
What else? A relative is getting married later this year. The wedding and reception will be at a Washington area military installation. I have a lot of well known relatives. Last November [2014], I had jury duty, and I was very concerned about my bag, my software and other evidence that provides proof of my claims.
When my mother asked recently, if I had sent my RSVP- I explained I had not, however- would not be attending. The same issues I was concerned with last November and whether or not authorities would want to search or keep the bag until my service was complete. My bag now looks like a lawyers case- however, I still cannot risk that I may not be able to keep it with me all times. I am told the US Government agrees it owes me. A lot of proof never leaves my sight.
Initially, abstract noise provided many of my family members [I have not seen over the years], wanted to see me and the wedding would have been a good opportunity. It was also felt this would be over. For whatever reason, I do think the US government would like to obtain my bag-- however law enforcement groups may have also expanded their investigation. Many in Washington, I am told are unhappy. I am still hoping for a resolution to my situation before the wedding, however in any event- I will not be attending the wedding.
Very recently, a "sting" was offered as a possible reason for the location selection... Who do they want? FBI is all over me. They know how to find me. On a daily basis, I ask if they want me to come in for a discussion. I am owed many explanations. I was told I could be a draw, however I never considered going. I tell anyone that asks-- if you are worried go to the FBI. I continue to wait for the FBI to call me. I can only go out a legal door. I am still waiting.
I get a lot of information on a daily basis. I do not report any of it. FBI is listening. Any of it of a national security nature? No. Mostly, how to get me to trip up and give them a libel suit. I am sorry the US Government is allowing this.. too many hear this idiocy. Please stop. I long ago divested on anything provided that appeared to be more serious. I told what I was given-- with the "fiction Question" label. I said no...

Wednesday, July 22, 2015
For over a year, I have been using a commercial grade font that I really like. I failed to read the license properly and thought I could use the "personal use" version anywhere I wanted as long as the work in question, belonged to me or was for my personal use, i.e., I was not selling the work. This was a silly error on my part-- in that I often use the font in images I use on this blog, and this site is considered commercial in nature. [wish I had read the license].
There were two reasons I began researching purchase options for the font:
Recently, I modified the QiSoftware Remix Blog Template and incorporated the font in some of the new images. Before then, I had not used the font on that blog. Really silly part [my assumption]-- "It's Personal" is not a part of my commercial site. I also used the font on my Tumblr Blog, however my read of the license, indicated that was okay.
The free "personal use" version that I obtained awhile back, did not have the full character set.
The other day, I searched Amazon but could not find what I wanted. So today, I searched other offerings and that is when I checked the license for the version I have and found my error.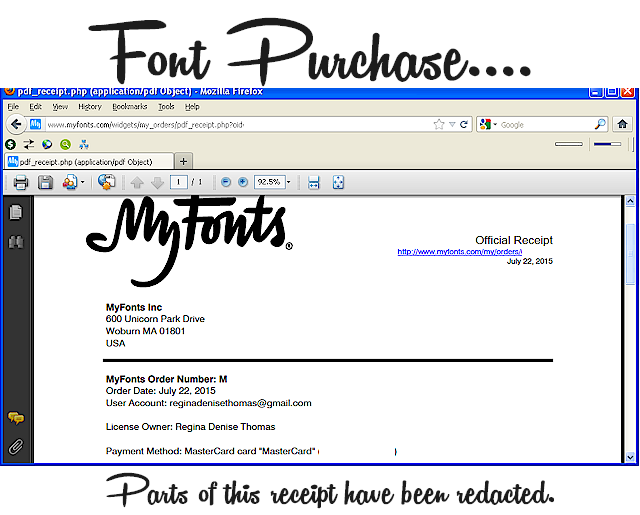 Happy to report, today I did obtain a fully licensed version of the entire character set for the font.
News? Always. Even some related to the acquisition I describe in this entry. One of my big complaints over the years-- others have broken laws that have hurt me and my ability to conduct business. Me, today I found out someone could have sued me for copyright infringement [because I failed to read the license for the "personal use" version of the font]. Needless to say, I am reading everything from now on. The rest of the news? Nothing I am going to report.