Tuesday, February 14, 2023
In an earlier post I discuss issues related to producing videos for online consumption. I wanted to provide more details specific to my production efforts.
First, allow me to discuss the equipment I use for video production.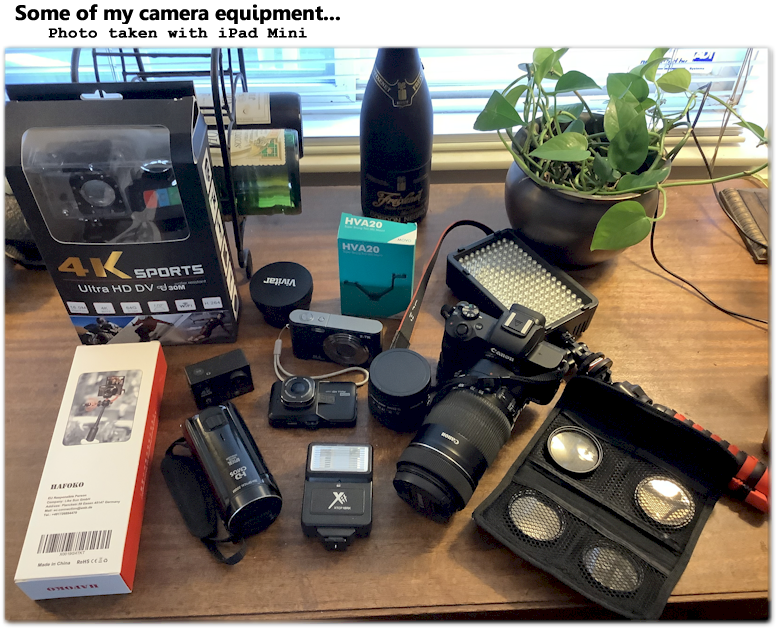 Starting in the back on the left:
Accessories for my action/sports cam
Vivitar magnification lens for my Canon M50 (one of several that came with my camera)
Dual Shoe Bracket for lights, microphones, etc.
Ultra High Dimmable 168 LED Video/Photo Light
Hafoko MT16 Mini Camera Tripod
Action/Sports Cam
2.7K Ultra HD mini Video Camera. Used for Zoom meetings.
Canon EF-M 15-45mm STM lens came with Canon EOS M50 Bundle
Canon EOS M50 Camera with Fotodiox Pro Lens Mount Auto Adapter, Canon EF-S 55-250mm
HD Dash Cam
Canon VIXIA HF R700 Camcorder
Digital Slave Flash
Not shown the Lavalier Microphone and 53 inch Camera Tripod
Some of my camera equipment is no longer available- the reason the link is not provided above.
Software I use includes Microsoft PowerPoint 365, Active Presenter, and Any Video Converter.
On Thursday, February 9, 2023 after finishing my weekly shopping, I took out one of the cars that I rarely use. I also decided to mount the dash cam I never use and ride around Hanover, MD where I reside.
The following Youtube video, shows part of my drive around Hanover and then the Chili I made for Super Bowl Sunday. As I have already explained, I used the dash cam for the tour footage and the Canon VIXIA HF R700 Camcorder for the Chili cooking footage. P.S. I should have removed the time stamp if I was not going to set the date on the dash cam, however I forgot. The stamp shows 01/01/2015 however the footage was shot around noon on February 9, 2023. Landmarks can be used as a guide.
Based on review of the video, do you wish to discuss the hair cut I need, which I mentioned in this post?
On Saturday, I received the mini tripod shown in several photos below, and I used for the cooking portion of the above video. I am pretty impressed with the mini tripod in that it actually supports my Canon EOS M50 with the telephoto lens and adaptor.
Video editing is very time consuming and I am not sure how others find the time for these endeavors. Maybe only those who can afford to produce these videos are seeing the profitability in this type of work.
So why am I continuing to purchase equipment for this type of work? I purchased the new mini tripod using a gift card I recently received through one of my banks. I have other interests like my ecommerce shop and real estate. I can justify the purchase of this type of equipment for other projects.
Video production errors with these experiments that I believe I have learned from include:
Hanover Tour video- should have removed the audio track.
If not removing the audio track, do not try to move the camera while filming.
Though I may find a use for dash cam footage in video production, I think it will be rare.
Clean the windshield.
Ensure cameras in storage for any length of time have the correct date set before filming or set the time stamp feature off.
No, cannot add video producer to my resume.
Background noise in the cooking segment is the television. Happy I did not have to add any voice overs for that segment, however I probably should have recorded without the television.
I think Active Presenter is a powerful video editing tool and I would recommend this software. I simply cannot figure where I can find the time to perfect my skills in this area. That said, I do feel I am well versed in the use of Active Presenter if you have any questions.