Monday, September 09, 2019
I am on a diet. You may recall, earlier this summer I decided to add to my wardrobe. Two of the dresses I ordered were a little tight so I decided to take seriously a diet.
The photos below, show the two dresses and my current weight. I lost several pounds in August, so can now wear the two dresses in question, however decided to continue with the diet.
Without my much loved treadmill, I have had to resort to habits used in the past to maintain my weight, i.e., simply not eating. My incentive? My old clothes. I have a lot of classic suits, so I am not worried about dated looks- and quite frankly, happy with my progress.
That said, things like the boots shown in the photos below are about 3 years old, however never worn. I am having fun thinking about the old things I can wear with these slouchy boots.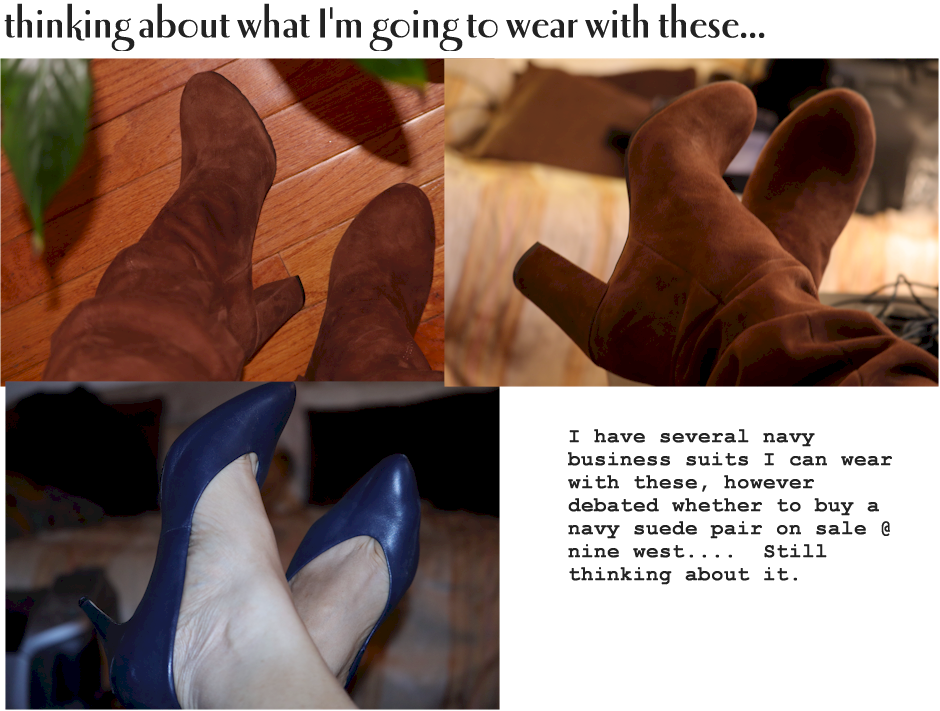 Slouchy boots are not in this upcoming season? Not sure, however I like long skirts (just below the calves) with this heeled boot so I am sure I can come up with a classic look.
As noted in the caption for the navy pumps, I wanted to purchase a suede pair of navy pumps. Instead I may purchase a navy dress I already have in aqua green (shown in the above photo). The style is flattering on me, however I will have to purchase the smaller size.
My diet? Eating a meal (daily) like the one shown in the following set of photos. I may have a mini bagel either mid-morning or late afternoon and that is about all.
I am ready for Fall 2019. Football, new business projects, my old clothes on a slimmer me.