Thursday, October 31, 2013
I took the photo on the left in October 2010 of the stand at the local peach orchard [right down the street from my house].
Today, there is construction going on. A new pool and housing development. I think the stand is still there-- however not the orchard, which you can see in the background.
The photo reminded me of how gorgeous it is in my area this time of year and to wish you a happy start to the Autumn/Winter Festivities.
What do you get when you go to Costco? It is just my mother and I-- however we still manage to load up on bulk items. Yesterday's haul.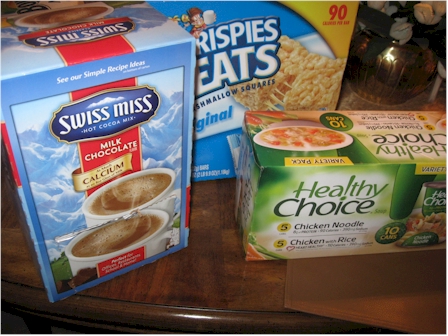 Not shown the Italian Meatballs I wanted to try with a Spaghetti dish. I normally have ground beef mixed with Ragu-- but for some reason we stopped buying ground beef. Yesterday, I put about 3 meatballs [Kirkland's Brand] in the convection oven and they are pretty good-- so they should be really great in a spaghetti sauce.
Washington has been pretty quiet. They provided sales data, and feedback to yesterday's post on Q's Wire.. but that is about all. Am I worried they stopped saying -- today is the day? No. But that just stopped [a day or so ago]. The last was Tuesday of this week. I am not sure why they are quiet. I have been doing some business research-- and there was a little noise as related to that-- but other than that--- nothing.
I have also been using my wii console a bit more lately, exercising...

Tuesday, October 29, 2013
I work in the informal dining area just off the kitchen, so it is nothing for me to stop, whip up a banana nut bread or this brunch [today]...
... and then continue working. Gaining weight? Yes. That said, sometimes I microwave a Lean Cuisine entree like this Sesame Chicken dish-- and feel like I am making progress.
This is one of my favorite Lean Cuisine entrees. Others?
Glazed Chicken
Sweet and Sour Chicken
Lasagna With Meat Sauce
I think I want to try the Pot Stickers entree. I noticed it while researching their site for this post. Wanted to make sure I knew the correct names for the entres I love.
I have been eating the Lean Cuisine's Glazed Chicken entree since l left home after college. I still love them.

Monday, October 28, 2013
Recently, I ordered some items including the blouse highlighted [from "Things I Heart"]:
Shown- my blouse, I ordered the Peach, Size: Medium.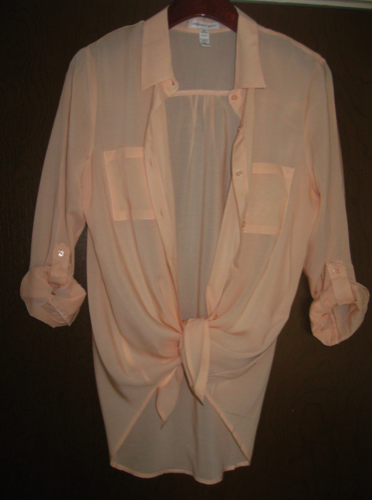 I love the blouse, especially the fabric- 100% Rayon. That said, the blouse does run a little small. If you are more on the petite side- this is a great deal.
I also ordered this ROMEO & JULIET COUTURE Oversized Sweater w/ Detachable Faux Fur-- for an unbelievable price [see post title]: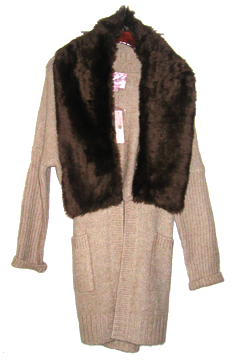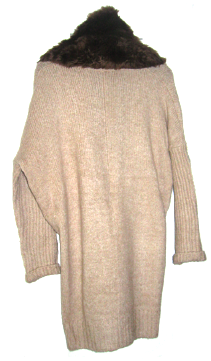 Yes, I love this sweater. I was a little concerned when I opened the box, however after I shook it out- I knew I had gotten a great deal. I ordered another item, but it is a gift so I cannot discuss it here-- however can say, I am very pleased with all of my recent purchases.
What else have I been up too? Updating my Amazon Stores, made a loaf of Banana Nut Bread on Friday and finished off the Pot Roast I made on Thursday. I am getting news from Washington, however holding off with updates until- "if and when" the news becomes more firm.

Friday, October 25, 2013
Yesterday. I put a pot roast in the slow cooker around 11:30 am. I let it cook until 3:00 pm or so- and had for lunch/dinner.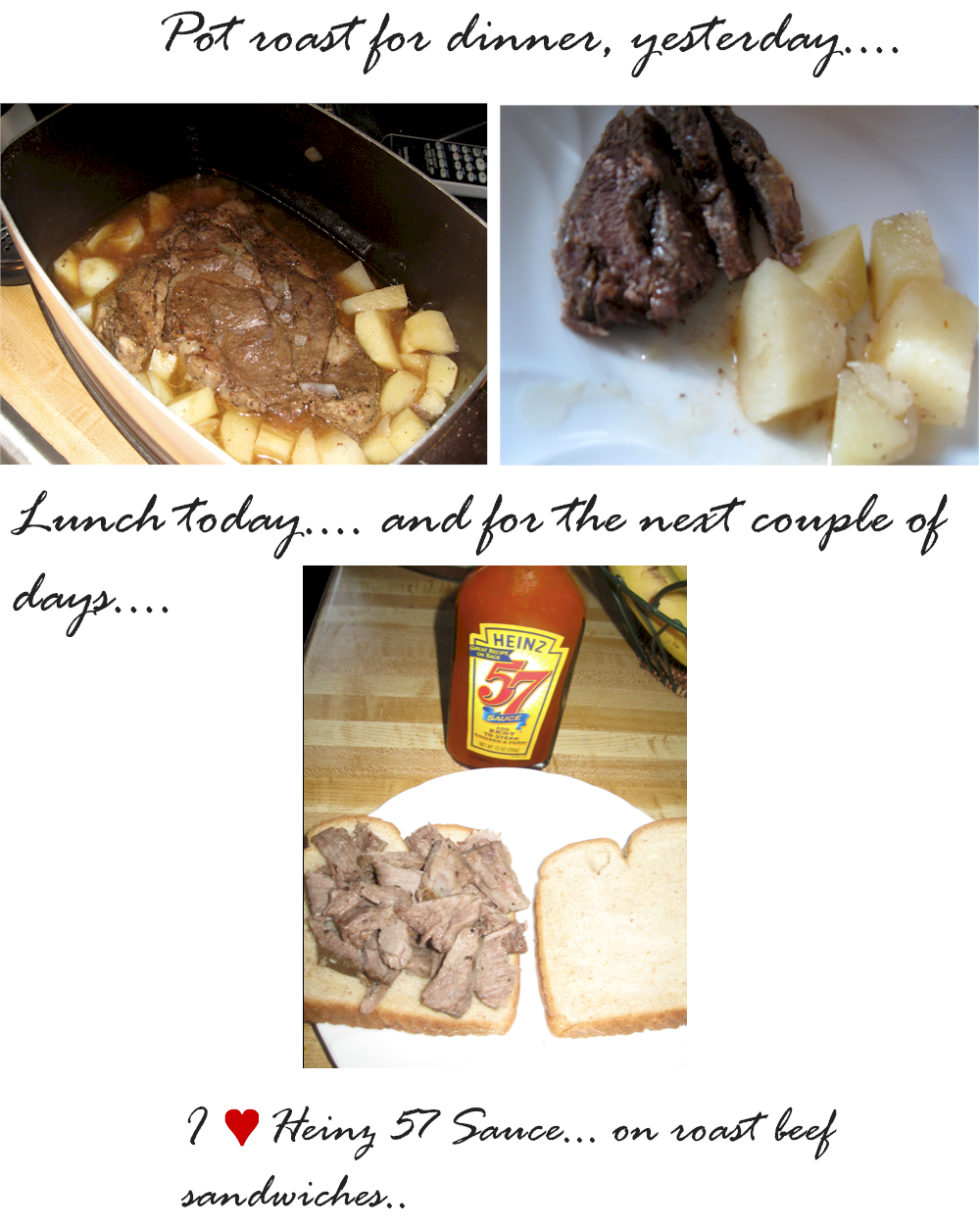 My mother is always doing this or that. Here she is checking her iPhone for messages... Photo taken today.

Tuesday, October 22, 2013
You will recall, in July, I started a new philodendron plant from clippings:

I wanted to show how it is doing: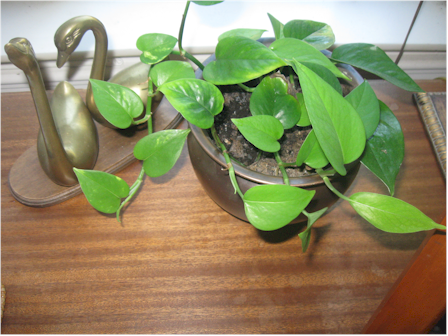 Here are my newest plants from clippings [early Oct. 2013]:
With the holidays right around the corner, I have been thinking about gift ideas. What do you think of these? A unique gift idea for a bedroom fireplace?
My schedule is a little off and it has affected most things, including updates to this blog. Trying to get it back in sync.

Friday, October 18, 2013
My mother and I often dredge around in the yard [pruning trees, cutting back gardens, etc.] in these boots and this Totes Rain Poncho.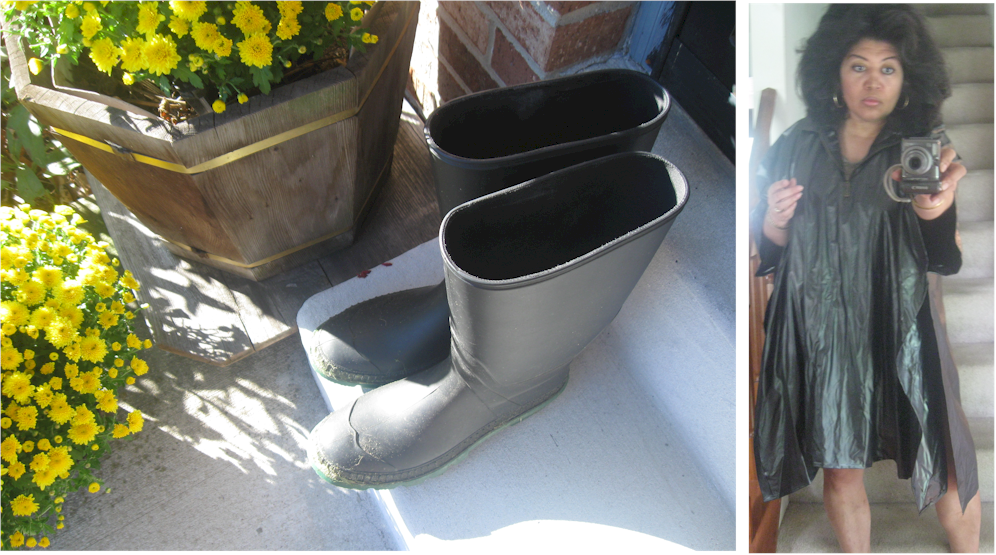 Though the boots are kind of cute, they would clash with a suit.
Did I wear rain boots to the office? No. When I think of the many days I trekked in from South Parking to the Pentagon schiff where I worked as a Defense Contractor, my feet still hurt.
Insofar as fashion is concerned-- I am not eclectic, so it would have never occurred to me to wear socks and sneakers with stockings and a suit-- a popular style back then. I wore heels that matched my suit- all the time even when it rained.
Today, rather than ruining a pair of leather or suede pumps on a rainy day, I would choose something like this. Yes rubber boots but with color...
Because I am older and wiser? Maybe, but mostly I like keeping my old things for as long as possible. I hate ruining shoes.
Speaking of Fall, do you love this jacket? I do. I want it in black. Do I need another Fall jacket? Okay, maybe not- but I do not have a nice black jacket [yes, a black sweater like jacket]-- and I really love this style.
So what are you doing this weekend? It has been so warm in our area, the leaves have not yet turned, let alone fallen-- however as you can see from the photo with the boots- our Mums are out.
I have started my Holiday shopping and pretty happy about that. News from Washington? Not so happy about things there, however nothing I can do at this time. Teasers. Two or three issues they are working on, etc.

Monday, October 14, 2013
I added another category to my Amazon aStore-- Career Dressing.
Some of the items I added to the store:
The longevity of a well tailored, classic business suit is enhanced by the fact it is dry cleaned-- and I still have many of mine.
Some feel I am too conservative or dress "old". For business and my career-- yes, this is true. That said-- a well tailored suit can add more credibility than you can possibly know. I never realized this until recently, because I have worn business suits since high school and my first internships in offices.
Recently, because now I do go to the mall in a more casual state- I tend to get more of the wrong notice. I used to go to the mall at lunch or right after I left the office- still wearing my business suit. I have always had big hair and makeup- no matter the outfit, so I do get notice-- however now I get come ons-- and not an offer for dinner.
In a suit (negating today, many seem to know of the issues surrounding me), I would not have to deal with this crap. Translated, in a suit I can look attractive, sexy and not have a guy ask if I want to know him-- the wrong way.
Some feel that a suit is simply "not sexy". I cannot tell you how many guys told me I looked attractive in my size 6-8 fitted suits-- without asking me if I was in the business. What do I know about being in the business? Nothing back then. Now- for some reason guys tell me about this side to their lives, way to often. When this happens, I indicate I wrote the code for the "Blogger Calendar" and not interested in what they can do for me.
Yes, I purposely turn it around, because most should know better. I have been me-- for way too long and I am known. And yes, I could go on and on about my accomplishments [Linkedin, developer/publisher WiredPages (yes, I can fix it...), owner QiSoftware, etc.], but usually choose the "Blogger Calendar" because if Washington had not already known who I was before 2004 when I developed that code, the world began to know who I was, after. It put me on the map.
Do I need notice? No-- I always had more notice than I wanted and did not tend to raise my hand. Not as an introvert-- just back then, not really knowing who I was related to [and why an obnoxious person would want to talk to me]. I learned to disengage very early in my young life.
That said, I love style. I love dressing up. When we lived in England I first began to notice the difference in my mother when we went out. She put on makeup and a nice dress and I would think-- I am going to do that when I grow up. Not that I did not look nice and neat as a child when I left the house. Everyday-- I looked nice and neat. Just not grown up-- with my hair out and wearing makeup. I knew I would do this when I grew up.
The oxymoron? I am a nerd. I read a lot, I love math and I chose programming as a career field.
Do I dress differently than most engineers? Yes, even for a corporate engineer. Dressed, I look like a television lawyer-- and not a typical programmer/engineer.
Today, I read fashion bloggers, not really liking the womens' outfits in movies and television shows any longer. Where are the "Designing Women", LA Law, Angie Harmans' lawyer look?
I keep asking- did "Maid in Manhattan" fire all the entertainment stylists or did they decide she looked way to cute in that outfit and go home? Lets all look unprofessional rather than professional? Am I sometimes way too honest?
I do not really see the business attire I love. I try to find Earth Cams to see what business women are really wearing to the office. As I said-- I did not dress like my friends. I liked Charles Angels [the originals] in high school and college for casual wear, and in television shows and movies the star's roles as career professionals and what they were wearing for a business look. I considered college to be business.
That is why I have been searching online for business suits-- that I would buy today if I had to go to the office daily. I used to go out to shop-- trying on a suit before I purchased it.
Here are some examples today, of what I like for business. Any surprises?
I have always gone shopping well dressed-- and never had a problem with clerks not getting I spent money on clothes, makeup and shoes. Did I get their respect? Yes, looked like I spent money. As I said never a problem when out shopping.
I often see women with attractive figures in outfits that do absolutely nothing for them. Some have indicated, their guys do not need a sexy outfit. Mine do... For me, I simply like the "right" sexy.. a business suit with a pencil skirt. If I am thinking a guy looks good enough to know outside of work, I want him to know I want to look sexy.. my hips swing and my legs look nice in a pencil skirt.. Sexy is a state of mind. A business suit can achieve it.
I do not mind you like your girl. As a matter of fact, I tell you this often. I want you to like your girl. I mind her in my business. She is not qualified. She picked out the suits for my latest store category? How's that? Why even suggest that? My affiliates should pay her? These outfits "too me".. what does she have on? Please stop wasting my time. Get off me. Is anyone asking why? Get the tapes.

Friday, October 11, 2013
The new shoes-- these Anne Klein Booties in dark brown size 8.5.
Outfits I am planning to pair with the shoes?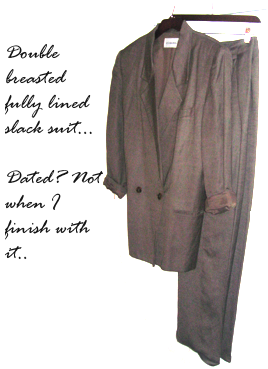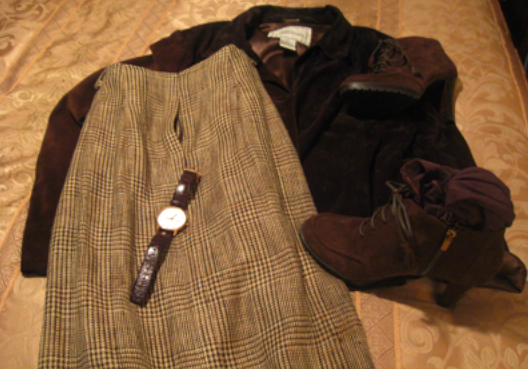 I planned to do a lot of things with this bootie. Originally, I wanted the olive shade [they did not have my size].
The dark brown matches my Brown Suede Jacket almost perfectly so I really have more options with the brown I purchased. They were only $31.99+ shipping.
That said, I had to get the 8.5 which is the size I wear with stockings and thin socks. They did not have the 9 and the 9.5 is simply too large. This means layering with thick socks is out, but I still think they were a great deal and will work with things I already have. Here is another look:
You can get the watch here
and the boots here
. The Brown Suede looks different in the photos because of lighting. The bootie is really the darker brown as shown in the photo with me wearing them.
Some of the reviews indicated a problem for some with the arch. I pranced around in my shoes for two or three hours yesterday and had no problems. I am used to wearing heels.

Thursday, October 10, 2013
I made lunch today, similar to this, however the photo below from today.
It was great. I also got a new pair of shoes. I ordered them last week and they arrived today. I will provide details later.
I am in a pretty good mood, though I think it was mostly because I knew my shoes were arriving today, and though I was awakened to many times last night, did not get up until 9:50 am, so did get enough sleep.

Wednesday, October 09, 2013
This post contains an entry from Q's Wire dated August 25, 2011. I am reposting on "it's personal" for severall reasons.
The outfits in these photos are very old. The scarfs relatively new. The trench coat looks like suede. I purchased it from the Tyson's Corner Garfinkels I think in the mid 80s. It was rather expensive. The leather coat- was another gift from my mother-- sometime in the early 90s. It works with suits because it is long and full.
If I ever get resolution to all of this, I will discontinue posting to Q's Wire. Too many change the text of the posts on that blog-- even though I have the originals-- and I am told the FBI long ago also started keeping copies my original posts.
I post about my fashion from years ago-- when I was a career professional to make subtle points about my continuing problems with all of this. Making the legal case of sorts. I am too skilled, dressed to well, too educated. QiSoftware is my work. why FBI.. why is this still going on? That sort of thing.
I have no income [$40 a week in loans living at home-- I pay for web sites, hosting, my phones, business addresses. I do all the work, cannot afford to outsource. I save Christmas money], no health care-- yet I own lots of suits, soft leather and can show w2 forms from Boeing, Rockwell and General Electric. I can show paper from local high schools and colleges. I can show property ownership from years ago. Yet today, I drive a 23 year old car, own QiSoftware, several computers, old clothes [thank you I will keep them], and not too much more. Why? I work day in and day out. The work I did for patch.com yesterday-- took a little while [most of the morning] because I was using my Mother's Nook and had to install the software to see how it worked. I sent out two emails, worked on that-- and went to bed tired around 9:00 pm last night just to be awakened with vibrations this morning.. I work too hard-- to get nowhere. I do not owe filth that wants to use me.. I work too hard. Yes, I am owed.
Did someone say I was crazy? No. Break the law? No. The guy who took me to BWMC in June 2012 said he could not arrest me. They wanted me evaluated. On the basis of what behavior? FBI do you have the tapes where someone suggests there is homemade Speed in the trunk of that car? That it was involved in any number of illegal things and that it belonged to a known criminal? I asked local police to run the vin number. Yes, my rights were violated. Why FBI? Allow me.. washington criminals will not let go.. Sorry I do not owe them. You [FBI] do. I said no-- FBI. I mean no..
Further-- those with too much power in washington continue to use this network to discuss things that sound inept which should cause many with the task of worrying about National Security any number of concerns. Please get them off me.. they are using the consoles incorrectly [torture] and quite frankly sound like filth. Filth too high on the totem pole in Washington.. They want me to buy their aidsy kids boutiques, link to their sites, promise to pay for their expensive homes. The only way I can do that is if DOJ releases my settlement funds-- and what really amazes me? One person said-- that if I say I will do something he knows I will do it. The thing is-- I am not going to promise to pay them. I do not owe them. The other thing? When I do put up links [real links I visit] without a lawyer-- it causes problem after problem. No, I will not be changing the list again until I get resolution.. Please get them out of my ear.
I think they are thinking-- if we just pound one more night, add one more insult to injury- I will come crawling. I have been here for 18 years. I did not know about most of the crap until Feb. 2012. I said no thanks to washington before that.. not really understanding everything until Feb. 2012. Why would I say I will join them after Feb. 2012? FBI-- I would not go near any of them.. Uneducated fakes from congress calling local police because they do not like a blog post? Please get them off me.
Go watch a Goldie Hawn movie... the marathon. I have been here for 18 years begging the FBI and DOJ to explain. You tell me you have aids and gave it to your wives and kids and that's why I would join you? I said no thanks before I knew this. Its only a matter of time? It was 17 years in Feb 2012. Go watch Goldie.. I would not promise any of you anything other than a jail cell if you keep promising to rape and steal from me. Don't believe me? Get the tapes. Get off me.
The old post about clothes and when they were purchased follows [Original Post]:
I love fall fashion. The thought of wandering the shops and streets of Georgetown as the leaves are turning, just makes me nostalgic for my past.
Though I did not attend Georgetown [university], and never worked in Georgetown [Tyson's Corner, Crystal City, VA]-- I always feel my twenties are irrevocably tied to Georgetown. On weekends and even some nights after work, I could be found in Georgetown-- shopping. I miss Georgetown.
My mother's purchase of several sets of these scarfs from Walmart last year also reminds me of Georgetown.. Walmart reminds me of Georgetown? Yes, you will see.
These were a great deal at Walmart-- think she said like $2.99 or $3.99 apiece. Not the set-- each scarf of which I think she purchased 3 sets and gave one to me.
I can find all sorts of things to wear with these scarfs-- even now as a bathing top suit cover or sarong.
Here with my long black leather:
Or here with my olive dress that looks like a trench coat and my trench coat:
I am ready for fall 2013 fashion too.

Thursday, October 03, 2013
I have been searching for a Sheer Navy Chiffon Tie Blouse to wear with a Navy skirt set. I want to update the look- wearing the blouse over the skirt [and showing beneath the jacket], with the tie just kind of hanging. The blouse I want similar to this sixteen dollar Forever21 offering, however maybe a bit sheerer.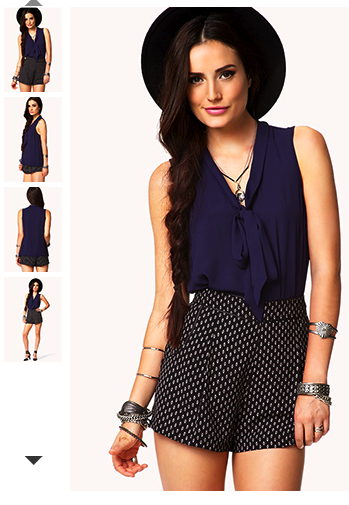 The skirt and jacket to this set are on the short side, so this update should work.
Today, the problems I have had finding blouses I like-- reminded me that some of my suits can be worn without a blouse. Here are some examples.
I wore these suits-- with ultra sheer off black stockings, black suede pumps, and minimal gold jewelry [watch and earrings]. I also wore hair and makeup. I liked my Black Cape as the overcoat-- but I rarely put it on all the way, preferring to just throw it over my shoulders.
I always carried a black briefcase and purse. Sunglasses-- completed my office look-- when I was travelling, running over to Navsea [Pentagon- Boeing], or trying to take care of errands at lunch.. Errands, I left the briefcase in the office.
Imagine a younger version of me in this photo [taken July 2013] with these outfits and not the photo with my hair uncombed in the last post.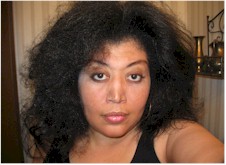 I have the complete text for the original post. 10.5.13 I removed most of the post because I was too irritated when I wrote it and want my irritations reflected in Q's Wire posts and not here.

Wednesday, October 02, 2013
I went to the bank this morning. This is what I looked like, I did not get out of the car... I blew out my hair [tangles] a little after I took the barrette out- before I went to the bank.
I have aged over the last year. No the photo is not larger when viewed in a separate window, however I actually thought it looked better before I shrank it with photo editing software [ImageComposer].

Tuesday, October 01, 2013
When I lived and worked in Northern VA, one of my favorite take out dishes was Kung Pao Chicken. The first time I had this dish was at Duck Changs in Annandale, VA with Boeing coworkers. It was one of our favorite destinations for lunch.
In Northern VA, I knew of several great Szechuan places near my offices [Boeing Vienna, Va; G.E. Reston, VA; Rockwell Crystal City, VA] and residences.
There was even a great restaurant in the Crystal City Underground that delivered to the office buildings in the area, so sometimes [I seldom ate after 6:00 pm in those days unless out to dinner] I enjoyed Kung Pao Chicken if I worked late.
When I decided to buy-- I moved back to Maryland [Bowie, MD]. For some reason I felt the Kung Pao Chicken in Northern VA was spicier. When I moved to Hanover, MD-- because I no longer patronized VA restaurants, I learned to make my own.
Ingredients in my Kung Pao Chicken:
Mr. Yoshida's Sauce
Karo Light Corn Syrup
Small Chicken Breast
White Onion
Scallions
Green Pepper
Red Pepper Flakes [my dish is very spicy]
Peanuts
Pam Cooking Spray
Minute Rice
What's missing in my version?
Hoisin Sauce
Bean Sprouts
Oyster Sauce
Rice Wine Vinegar
Peanut Oil
Whole Red Chili Peppers
Steamed Rice-- [sister took the rice cooker]
Salt, Pepper and other spices
I had a hard time finding Rice Wine Vinegar in Maryland to mix with Hoisin Sauce one of the main reasons I chose to use Mr. Yoshida's Sauce.
My version is pretty easy to make and I have it once or twice a week.
I had this for lunch-- Monday, September 30, 2013. I had a BallPark Hamburger today.
Do I really use those chopsticks? Yes. My Boeing coworkers would probably be amazed by this. I used to leave a mess at our table.