Tuesday, May 18, 2021
In late 2004, I converted my local news service, MarylandWired to WiredPages which offered more in the way of national/international news and services.
I wanted to showcase my custom software solutions and felt a news service would be the perfect vehicle to highlight what could be done with software to enhance any online presence.
Recently, because of security and cost issues related to the online installation of new tools and interfaces for WiredPages, I have sought less costly development avenues using economic data provided through the Federal Reserve FRED resource.
Two of the latest FRED interfaces will be showcased on the WiredPages Business & Markets page and are illustrated below.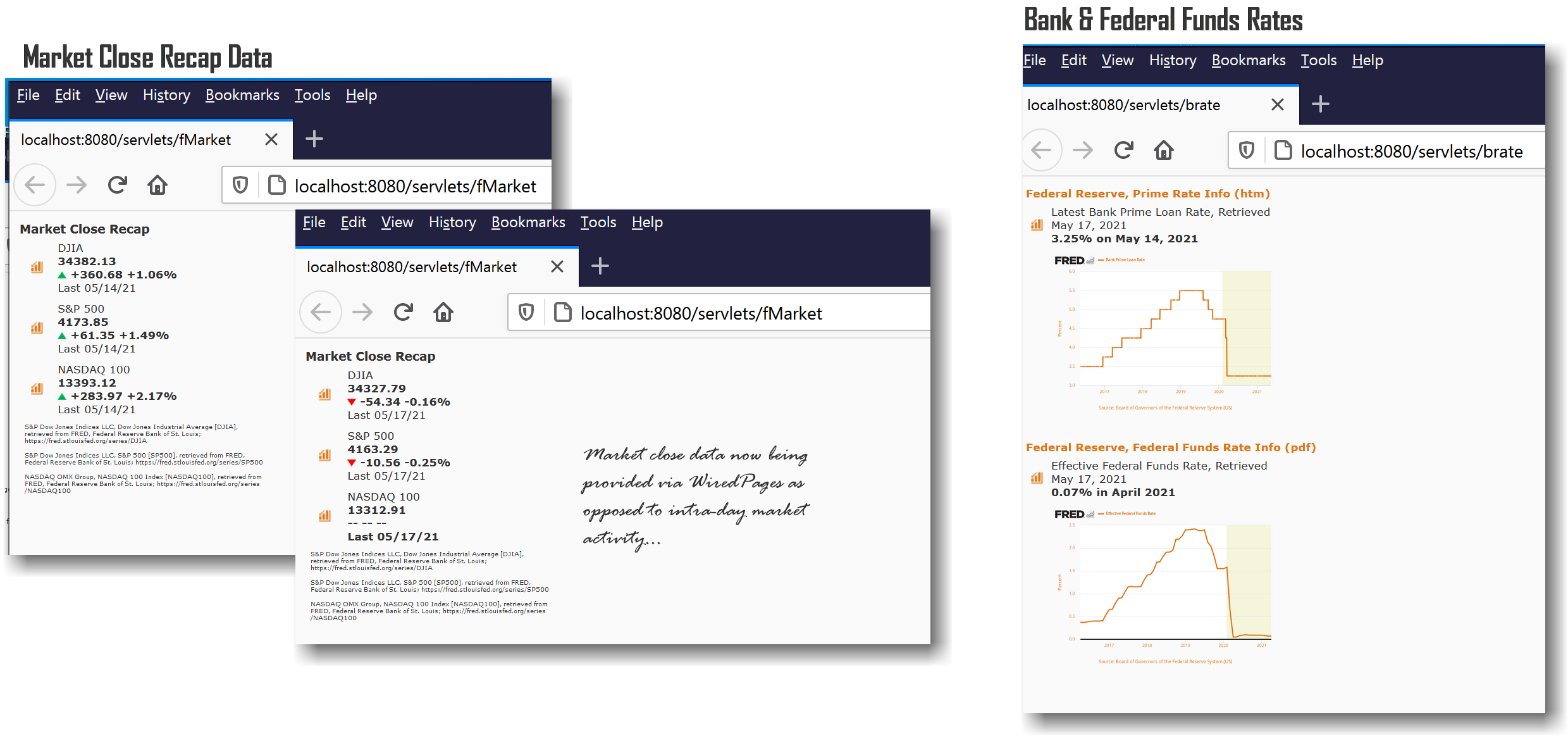 A potential client of QiSoftware may inquire- if you cannot afford to install your software online, why can I? Reference the following link while going through the list below.
I host my software on two sites, qisoftware.com and hosting-q.com. There is already a lot of software running, more than a normal personal or small business site, simply because my business is software.
Software security, I noticed long ago my custom databases were being hacked. The celebrity birthday database is one example. I keep a master copy of the MySQL database offline for development purposes. I also have the CIA World Factbook database. Both databases are very popular. My servers at this time, are not as secure as I would like and I cannot afford to install software that others can access and decompile. Why is DOJ/FBI not on this? I am not sure of the answer to this.
Cost to run tools like Alexa Site Rank, Google Places (replaces the eventful tool on the WiredPages Style & Events page), real time market data, etc., cost.
Tools like the Youtube Music Video Search and FatSecret were installed a long time ago, however although the software is ready for installation, are not installed. This is because, even though I believe I grandfathered in with Youtube API services, once installed online, this status may change. The old Youtube interface was rewritten to handle updates to the API service.
The NPR offering, was complicated to implement. I want a secure server.
Someone once advised, look into hosting your own sites and perhaps think about employing your own expensive security team. Did I think they were kidding? No. I can afford to do neither of these things.
He felt my two biggest expenses should have been, hosting my sites and a personal security team. T1 lines are very expensive. In any case, why on earth would I need personal security? What I can say, I have seen some pretty amazing things since the mid 90s. I used to ask why me. At the time, I had not developed the custom solutions, I have today. Part of the legal case, provides that my business is being interfered with. I did not start my business until 2004.
What happened to me-- insofar as a legal case, could be worth a lot. As a matter of fact, I am told my legal "worth" is considerable. My actual worth? One other factor. When I am out, people do suggest they understand that part of the equation. What do you think?
I get a lot of offshore partnership requests. In response to these requests, I provide, because of ongoing legal issues I cannot afford to partner with anyone. I have to be able to account for anything I do as related to business or my personal activities. Sometimes other business organizations do not see the problems that might happen. I can assure you, problems exist.
FBI/DOJ, problems you see and hear. I said no. I cannot afford my own security. The front door was smashed in, August 2018. I said no. Hard heads are not listening.