Monday, October 31, 2022
I am spending more time in online meetings and courses, so I have been trying to find affordable solutions to update the office. The last post showed some of the latest additions and included a photo of the old 13" television used to keep up with breaking news and business headlines.
I have wanted to replace the television for awhile, however could not justify the cost in that I rarely used the office before my real estate course and the onset of the pandemic.
In early October 2022, Verizon required upgrades to all of the set top boxes and the WiFi Gateway because the equipment was obsolete. There were two televisions that were not HDMI ready, so with the upgrade- HDMI channels were now accessible via the new set top boxes. One of the old televisions was in the office.
Allow me to digress for a moment. How is the cost of Verizon FiOS justified? I use FiOS for business and rarely go out for entertainment. The cost of the FiOS service is about $240.00 a month, however includes two land lines, internet, and television (6 set top boxes). There are several discounts applied because of customer loyalty and bundle selection.
Last week when I decided to get a new television for the office, I determined I could spend no more than $200.00. Initially, I selected a 24" Vizio.
After thinking about it, I decided to go with the smallest monitor I could find and use the existing RCA hookups from the set top box to the bookshelf stereo system for the audio. I thought the 24" Vizio, simply too large for the space and I did not want to mount it on the wall. There is a daybed in the room (behind the desk), however the wall is simply too close and would have made watching while sitting at the desk too awkward.
Shown below, the before and after photos of the old television versus the new monitor now being used as an HDMI television.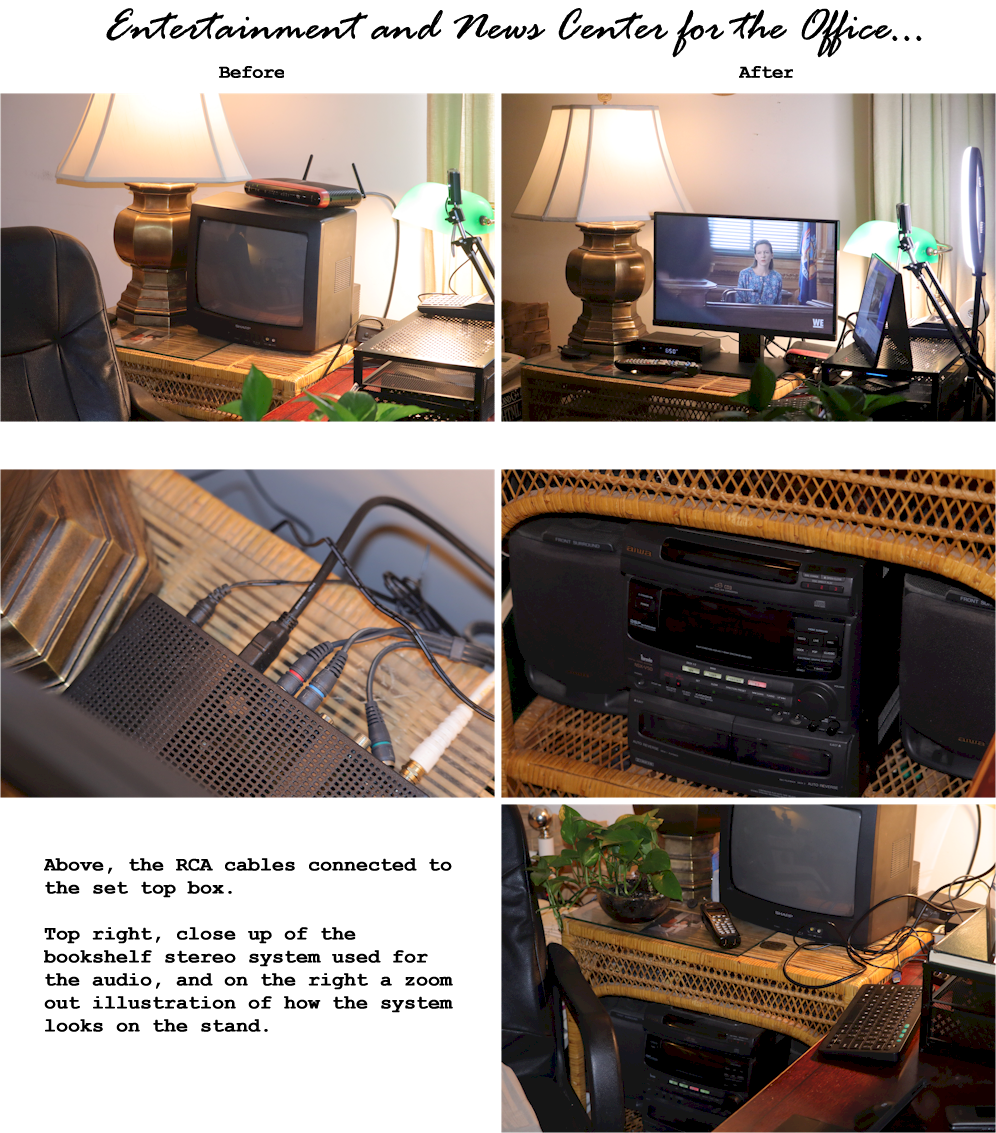 Below the invoice for the new monitor.
I had to adjust several settings on the monitor and the video sharpness level on the set top box to achieve optimal display results. I am pretty happy with the outcome of this project.