Tuesday, April 26, 2016
So far this Spring, we have had more delightful weather than not. Photos of the house and yard- taken over the last two weeks or so.
I have not been getting as much done as I would like, however I am staying busy. Out and about in Hanover yesterday. A little yard work. Researching several legal issues...
Anyway, do you shop Costco? I love Costco brands, especially Kirkland Chocolate Covered Raisins.
I also love those SkinnyCow Ice Cream Sandwiches.
I cleaned the grill last week so maybe I will do a little grilling later this week.
I am expecting a slight change to my situation in the near future, and think that is why I am a little hesitant about taking on new projects. Until the change is actually a tangible- my plans are more thoughtful, rather than anything else. Nevertheless, I am researching various options based on this expected change.
This sounds a little mysterious I know. It really is not.. It simply explains why I have been sitting around thinking about my options in more detail and not getting a lot done.

Friday, April 22, 2016
I worked a number of projects this week, starting with the creation of a new spreadsheet to help me track the Hanover, MD Businesses I list on a community page I maintain.
Background: My parents purchased property in Hanover, Maryland in the mid 80s [back then, mostly a small residential community just outside of Fort Meade]- which has since become a major commerce and residential area in the state. Primary reasons:
Arundel Mills Mall [opened 2000]
Maryland Live Casino [opened 2012]
Proximity of Fort Meade and the National Security Agency
I maintain the Facebook Business Community Page because I do know how much the area has grown, and though my own business has a Columbia, Maryland business address, I reside in Hanover and maintain a home office.
I enjoy maintaining this local business community page and my new spreadsheet helps me to track the businesses I have already listed since I tend to schedule the posts weeks in advance.
Another major project this week?
Extensive research into the use of the HTML5 video tag and running tests ensuring most platforms and browsers support the feature. To that end, I have installed several updates on systems including [make sure you check the system requirements, some of these updates require more memory than earlier versions]: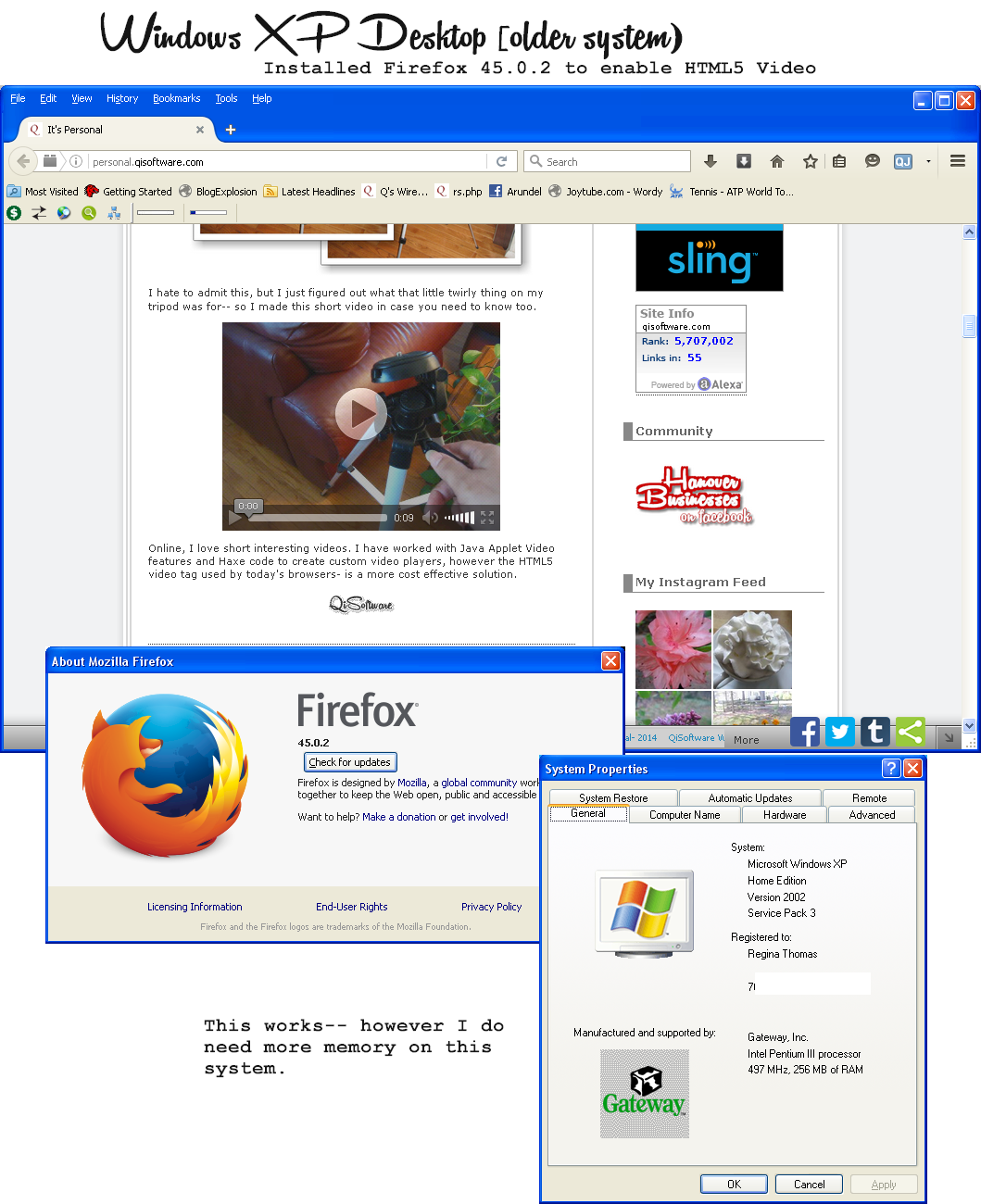 I have found a good reference insofar as browser support for the HTML5 Video tag that you may want to check out.
Another tool I use to check HTML5 browser support? Youtube's HTML5 browser checker.
One of the options the HTML5 Video Tag offers is the "Poster" option. This option defines the image the video player will load if the player is not running. Most browsers do not need the image defined-- in that the first frame of the video is displayed automatically if the player is not running.
One big exception to the automatic loading of the video's first frame? Browsers I maintain on my Android, which include Chrome and Firefox. So this week, I created a banner image that makes the white space less noticeable if the player is not running. I load the image if the userAgent is "Android".
I have to say, I am very pleased my old Windows XP Desktop can now run HTML5 Videos.

Wednesday, April 20, 2016
Thinking about adding short videos to your blog posts to enhance your advertising optons or add more interest to your content?
The HTML5 <video ... > </video> tags make this easier than ever.
What you will need:
A camera that records video with at least 640x480 or 320x240 resolution in vivid color.
A camera tripod that extends to at least 50".
Video file conversion utility that exports MP4, WEBM and OGV; the 3 formats supported by the HTML5 video tag.
Optional: Video record utility for your tablet or PC.
Here is a short video I made with the camera tripod shown in the group of photos in the header graphics for this blog and my Canon PowerShot A590. [If I were really using this for advertising I would have re-shot the footage. Whip cream application is kind of messy. This just to give you an idea of how easy this is].
In my opinion, using a camera tripod to record video helps to make the results more professional in appearance. My Canon PowerShot A590 is not that lightweight [can topple a flimsy desktop camera tripod], however my lightweight aluminum tripod that extends to 59" easily supports the camera.
More info about my tripod:
Photos of my tripod extended...
I hate to admit this, but I just figured out what that little twirly thing on my tripod was for-- so I made this short video in case you need to know too.
Online, I love short interesting videos. I have worked with Java Applet Video features and Haxe code to create custom video players, however the HTML5 video tag used by today's browsers- is a more cost effective solution.

Sunday, April 17, 2016
Ordered my Mother's gift for Mother's Day last week and the package arrived yesterday.
Included in the package was a USB stereo adapter I wanted for my Netbook because the onboard system connectors are a little unstable. I think something is loose, however thought I might have done more damage if I opened the case to investigate.
This seemed like a great idea-- and yes I was right. The gadget worked straight out of the box. My 2010 Acer Netbook does not support Bluetooth.

The weather is great... I have been sitting near the open back door, working and listening to music.
Other things I have been up to...
Added a great video capture utility [AZScreen Recorder] to my tablet. [see video below]
Potted the Marigolds in various outdoor planters.
Movie: Cinderella w/Cate Blanchett
Movie: Lilith w/Warren Beatty
Still looking for Mother's Day gift ideas?
National Zoo's Cam a little fuzzy when I grabbed this video..

Hope you are having a nice weekend.

Tuesday, April 12, 2016
Within the last 21 days I have remitted payment for several business expenses including:
Skype Quarterly Payment for Business Number [443-393-6650]
Skype Annual Subscription Unlimited Calling U.S. & Canada
Domain Renewal qisoftware.com
Verizon Wireless Cell Phone [301-xxx-xxxx]
For legal reasons, ever so often- I remind the public, DOJ and the FBI that I do make these payments.
Skype receipts [business line]: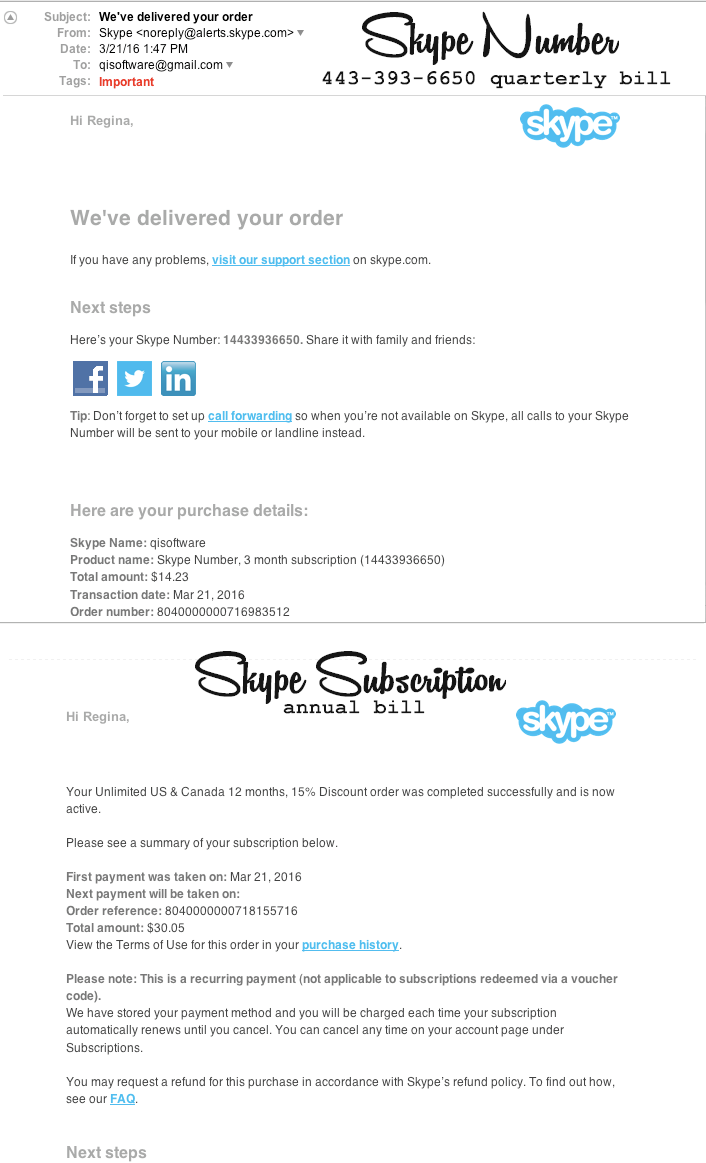 NetworkSolutions receipt [qisoftware.com domain renewal]:
Filed under legal notices. I seldom receive business calls. Abstract noise provides; some delete qisoftware.com domain log files and others answer telephone lines. FBI indicated there is a problem with interference with my business line. My telephone log files show the few calls I receive. Abstract noise provides the FBI thinks the router maybe redirecting the calls. Not sure what is true. I have repeatedly asked that since I do not receive my own calls, no one else should either.
Note the NetworkSolutions receipt shown above. Do you see the little Skype icon with the check mark in the upper left corner?

I use my Android night and day. Because Skype can wake my Android, I keep the device nearby at all times. The calls I do receive tend to be from overseas companies who wish to partner with me, i.e., QiSoftware outsource its business overseas. I get about one call every quarter. I decline these offers.

Friday, April 08, 2016
It has been raining a bit this week and everything is in bloom.
Over the last week, I have been out taking photos of beautiful Spring scenes in my area, however over the last two days- capturing short videos of things going on around here.
About the videos [in order]:
April 7th, 2016 downpour spout on the house
Workmen removing Harmans RD closed sign, April 7th, 2016. Yes, Harmans is open again.
State workmen working on the street drains, today.
Professional lawnmowers working at the house behind us, today.
What's interesting about these videos? I converted the AVI footage from my camera to MP4 format with a new APP I installed on my Android, MediaConverter. I had to install this APP- because Instagram does not upload AVI videos. I then ported the converted videos to my Netbook where I maintain this blog [Thingamablog - desktop publishing via FTP], so that I could publish them with this post. Yes, I know these videos do not work with all browsers.
Plans for the weekend?
Used easyhtmlvideo.com to create webm video files.