Monday, November 30, 2015
Illustration below shows [last Thursday] as I am putting the finishing touches on the Thanksgiving meal.
Over the weekend that followed, I stayed in and wrapped more gifts. Also...
Movie: "Skyfall"
Movie: "Kingsman, The Secret Service"
Movie: "Fifty Shades of Grey"
Latest episode of "The Affair"
NFL: Washington v. Giants..
Listening to a lot of Smooth Jazz, courtesy of Verizon FiOS and their Music Choice offerings. For some time, I have had the FiOS TV in the den, connected to the stereo however recently connected the smaller stereo in my room to the set top box in there. The music sounds great piped through to the stereo speakers... I was having a hard time finding an FM station that provided the Smooth Jazz experience [iTunes and the internet another option]. I like the FiOS option a lot.
I continue to look for unique gift ideas like this "keepsake" jewelry box, which I added to my Gift Ideas store. All of the stores:
Thanksgiving went off without a hitch... I think I am ready for the remaining year-end holidays.

Tuesday, November 24, 2015
I always start making the cornbread sausage stuffing early Thanksgiving week. Though I made the cornbread yesterday, I have been sautéing onions, celery and sausage most of the afternoon.
I also made a cheesecake earlier in the day. Before that, I was busy helping my Mother to renew her tags online.
I am almost finished with my holiday shopping and earlier wrapped another gift that arrived last night. Included in the package was a rose brass watch I wanted. There is only one left, however here is another that is similar.
I wanted to see the color before adding it to my Amazon Brass Store. I have to say, I absolutely love it. All of my Amazon Stores in case you need gift ideas:
Tomorrow, will continue my holiday cooking. Hope your plans are going well.

Thursday, November 19, 2015
My Mother's Birthday was this week, so in addition to other projects- I also made a cake and helped her to celebrate.
I have also been out in the area taking photos for the Facebook Hanover, MD Businesses Page.
Some of the photos I took:
I have also done more online holiday shopping and made updates to my Amazon Stores:
Thanksgiving is a week away, and I have most of the groceries I will need to get started next week. Are you planning a new dish this year?

Thursday, November 12, 2015
I have been working several projects this week, including:
New lamps for bedroom dresser.
New OTG SmartReader Adaptor for my tablet which resulted in rooting my Android.
Holiday cookies...
Awhile back a closet door fell on top of one of the black lamps I had on my dresser and was destroyed. I was lucky, in that it did not damage the mirror [an expensive birthday gift about 10 years ago]. The rest of the bedroom set I purchased years earlier when I lived in Arlington, VA.
Last week, I finally decided to replace the lamp but could not find exactly what I had-- and I also had to worry about a slightly faded lamp shade. I think I purchased the original lamps from Ikea. The following illustration shows the style of the old lamps and where the remaining lamp is now located.
Our house has gone into energy efficient mode and though I still had four working lamps in the bedroom, plus a computer lamp, I could not see anything on the dresser nor in the draws. I think the new energy efficient bulbs are a bit dimmer and the existing lamps just not close enough.
So anyway, I ordered two new, smaller lamps plus an OTG SmartReader for my Android. Total cost: about $40, including the light bulbs [okay, not so energy efficient].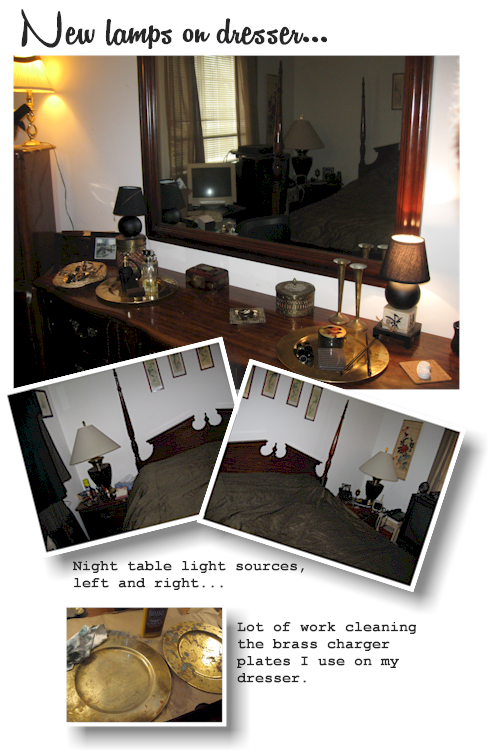 This is why I was clearing off the dresser as I discussed in the last post. In addition to the lamps and rearranging things-- I have spent a great deal of time rooting my Android so that my USB OTG SmartReader will work. Not going to go into the details here, suffice to say- this was a lot of research.
And finally, in addition to these projects, a new tin of holiday cookies from Costco arrived.
I stayed up late last night rooting my Android and eating a quarter of those cookies.

Monday, November 09, 2015
It seems I am always working on a list. This morning, it is the food shopping list for the holidays and my Mother's birthday.
Does it seem odd- with all of the computers I own, I use pen and paper to do things like this?
Last night, I cleaned off my dresser and found a photo of me- I think I have already shared. I decided to repost the photo to highlight the bookcase behind me in the photo-- a "then and now" concept.
My parents kept several of the pieces they purchased when they were young- including that bookcase, a nice buffet and a mini bar. There is also a stereo console in the basement in the same style and wood as that of the bookcase.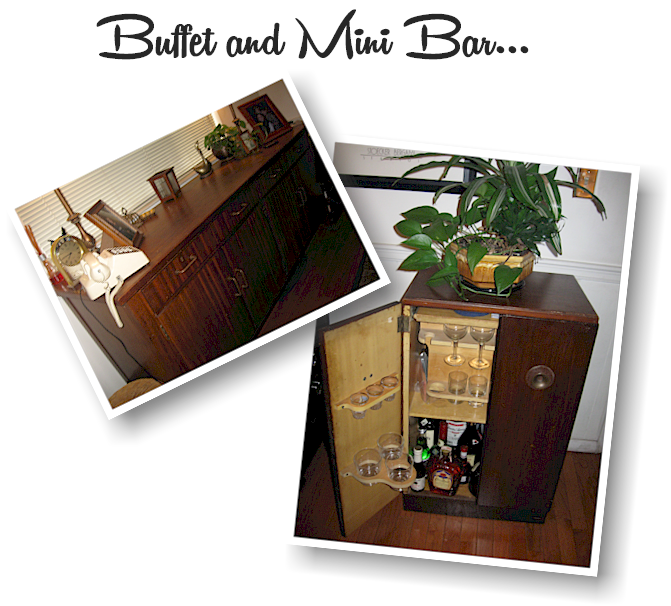 In addition to creating lists, it seems I am also doing a lot of research. Lately, it has been for holiday gift buying and updates to my Amazon Stores:
Hope you are having a productive day, too.

Saturday, November 07, 2015
Things I would love to find amongst my holiday gifts:
I have been researching new gift ideas for my Amazon Stores and purchasing a lot of the holiday gifts I plan on giving. I am pretty pleased with some of my finds. That is how [researching holiday gift ideas] I found the Fugoo Bluetooth Speaker listed above.
Do you worry about battery life for all of the new mobile devices on the market today, like the Fugoo Speaker?
I have found that if I have electric power available and my device, e.g. android/tablet is fully charged, then I use electric power and save the battery life. I would do the same for the Fugoo Bluetooth Speaker.
The caution: try not to leave mobile devices [using non-removable batteries] that are off connected to an electrical power source. That is, if you turn off your android/tablet; then unplug it from the power supply if you are leaving it unattended. Charge it while it is on, even if you leave it. The device can stop charging if fully charged in sleep mode.
Most new mobile devices that are OFF cannot determine if the battery is fully charged and therefore continue charging until the unit is turned ON and the monitor can check the charge level of the battery. This is often how batteries are damaged, so unplug your device if it is OFF.
That said, my older Macbook and Netbook use both electric and removable batteries as power sources. I can leave these mobile devices off and recharge the batteries, however I cannot with my android tablet, a bluetooth keyboard nor my Mother's tablet. These latter items all use non-removable batteries.
Other things I have been up to? Replacing batteries on some of my newest watches. New watches are often hard to open because they are water resistant. The backs are also hard to close once you get them open.
In the past, I spent between $6 - $10 to have a new battery installed. There used to be a little jeweler in the Crystal City Underground near my office. Today, I replace them myself. If you can afford to have a jeweler do it-- then you should...
Other things I will be doing?
Planning Holiday Dinners
ATP Men's Championships
Completing my Holiday Shopping
I have a couple of other distractions, however mostly busy with research for projects.

Sunday, November 01, 2015
It is really beautiful in Maryland during peak Autumn Season. This is the second weekend in a row that I have gone out to witness the spectacular color.
Yesterday, I was on Dorsey Road [Rte 176, borders BWI Airport] and took photos [with my tablet] of the bike trail and ornamental grasses that run between the highway and airport fence barrier.
When I returned, I posted the photos to my Instagram account and later in the evening decided to add an Instagram icon to the right sidebar of this blog.
Photos taken this morning, just outside the house. My Instagram account is less than a year old and I use it sparingly, because I post photos to this blog and my Tumblr Blog.
Other things I have been up to this weekend:
Christmas Shopping. I am pleased I have started this project.
Watched: WTA [Ladies Pro Tennis] Championships.
Movie: "Repulsion" with Catherine Deneuve. Not exactly what I thought it was going to be, nevertheless- interesting. I used to watch old movies all the time [Gene Tierney is one of my favorite actresses]. Surprised I never ran across this one before last week when I setup a FiOS reminder. Cinemoi Channel offering.
Resetting the clocks for Eastern Standard Time ["Fall Back" happened this morning].
Updating my Amazon Stores:
Breakfast and leftovers: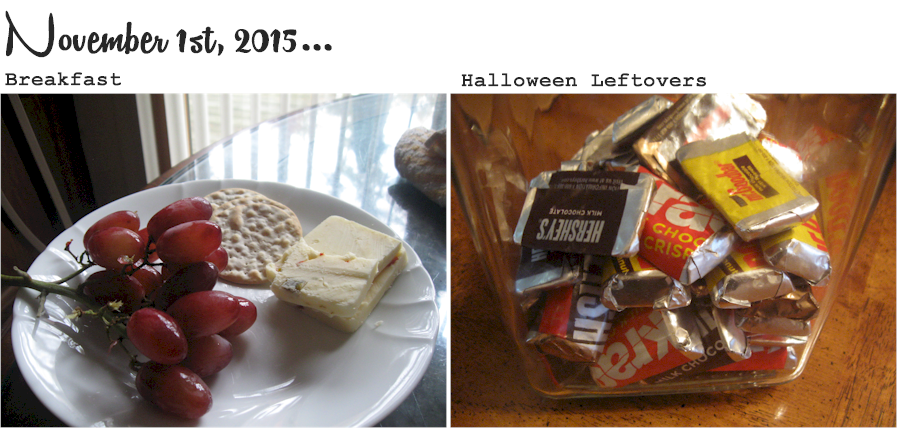 Things are moving along.